Here is another super easy dinner idea with endless possibilities for variation. I can't exactly say that Spinach Lasagna Roll Ups are a "quick" recipe because it does have to bake a while but the actual assembly is really quick and easy.
I filled my Lasagna Roll Ups with spinach and cheese but you could also do mushrooms, pesto, or any meat. You really can make this one your own.
Combine the roll ups with a classic salad and some quick garlic bread and you've got a stellar meal that has "date night" written all over it. If you don't have a date, simply pop them into individual containers and freeze. When you're ready for a serving just take one out and microwave until it's cooked through. Take that, Marie Callender!
Spinach Lasagna Roll Ups

Spinach Lasagna Roll Ups
Easier than lasagna, but every bit as delicious! These Spinach Lasagna Roll Ups are a freezer friendly family pleaser.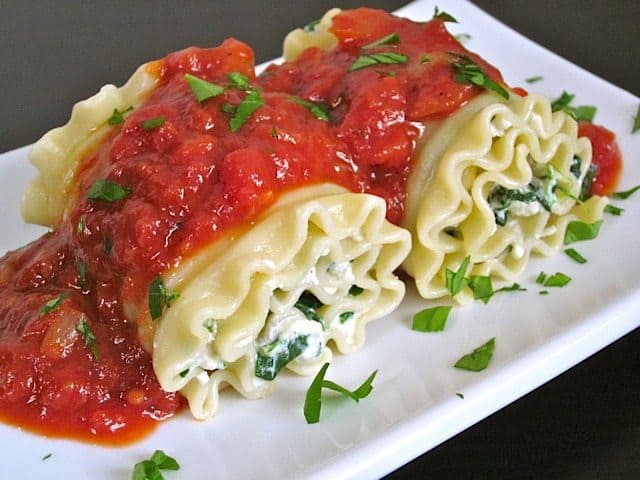 Ingredients
1

lb

lasagna noodles

($1.69)

15

oz

ricotta

($2.09)

1

cup

mozzarella, shredded

($1.18)

1/4

cup

grated Parmesan

($0.24)

1

large egg

($0.16)

10

oz

frozen spinach

($1.09)

2 1/2

cups

marinara sauce

($1.09)

salt and pepper to taste

($0.05)

non-stick spray, as needed

($0.05)
Instructions
Get a large pot of water boiling with a dash of salt. When it comes to a full boil, add the lasagna noodles and cook until al dente (soft but not soggy… about 12-15 minutes). When they are finished cooking, drain in a colander.

While the noodles are boiling, prepare the filling. Thaw the package of frozen spinach in the microwave and then squeeze out as much excess liquid as possible. Combine the spinach in a bowl with the ricotta, mozzarella, parmesan, egg, freshly grated pepper and about 1/4 tsp of salt. Mix until well combined.

When the noodles and filling are ready to go, preheat the oven to 400ºF. Prepare a glass casserole dish by spraying with non-stick spray.

On a clean surface, lay out a few noodles at a time. Place a few tablespoons of filling on each noodle and spread to cover from edge to edge. The filling does not need to be thick because once the noodle is rolled up, it will be compounded. Make sure to spread it all the way to the edges of the noodles.

Roll the noodles up and place in the prepared casserole dish. Repeat until all of your filling is gone (there may be some noodles left over, these are "back ups" in case any of the others rip during assembly). Pour the marinara sauce over the rolled noodles making sure to cover all surfaces. The sauce will keep the noodles hydrated and soft while baking.

Cover the dish in foil and bake for 30 minutes in the preheated 400ºF oven. Serve hot or divide into individual portions and refrigerate.
See how we calculate recipe costs here.
---
Nutrition
Serving:
1
Serving
Calories:
628.67
kcal
Carbohydrates:
63.59
g
Protein:
32.34
g
Fat:
26.47
g
Sodium:
980.73
mg
Fiber:
3.93
g
Read our full nutrition disclaimer here.
Step By Step Photos
Begin boiling water for the noodles. While you're waiting for the water to boil, prepare the lasagna filling. Thaw and squeeze dry the spinach. I literally take the whole clump in both hands (clean hands!) and squeeze the living day lights out of it. Combine the "dry" spinach ina bowl with the egg, ricotta, mozzarella, parmesan, salt and pepper.
Mix it all up until it's evenly combined.
By this time the water is probably ready for the noodles (heavy boil). Add the noodles boil until soft but not mushy. Occasionally stir the noodles while they cook to prevent them from sticking to each other and the pot. Stir gently because torn noodles = not usable.
Once your noodles are cooked, drained and cool enough to handle, lay a few out on a clean surface. Spread a few tablespoons of filling over each noodle. The filling doesn't have to be that thick because once they're rolled up, it will be compounded and seem thicker.
Roll 'em on up. (preheat the oven to 400ºF)

Place the rolled up noodles in a baking dish coated in non-stick spray. I was able to get 14 roll ups from that amount of filling. The number of roll ups you get will depend on how thickly the filling is spread on the noodles.
Cover the lasagna roll ups in marinara sauce, taking care to fully cover the noodles (this keeps them hydrated and soft). Cover the dish with aluminum foil (again to prevent drying during baking) and bake for 30 minutes at 400 degrees.