We're not going to argue whether or not the Potato is America's favorite vegetable; but what we can say is that it is certainly one of our favorite budget-friendly, easy to transform vegetables and the star of today's Easy Potato Recipes roundup! We've put together all of our favorite potato recipes from the best potato salads, creamy potato soups and crispy roasted potato recipes. Save this list for the next time you're looking for a new twist on the ultimate comfort food.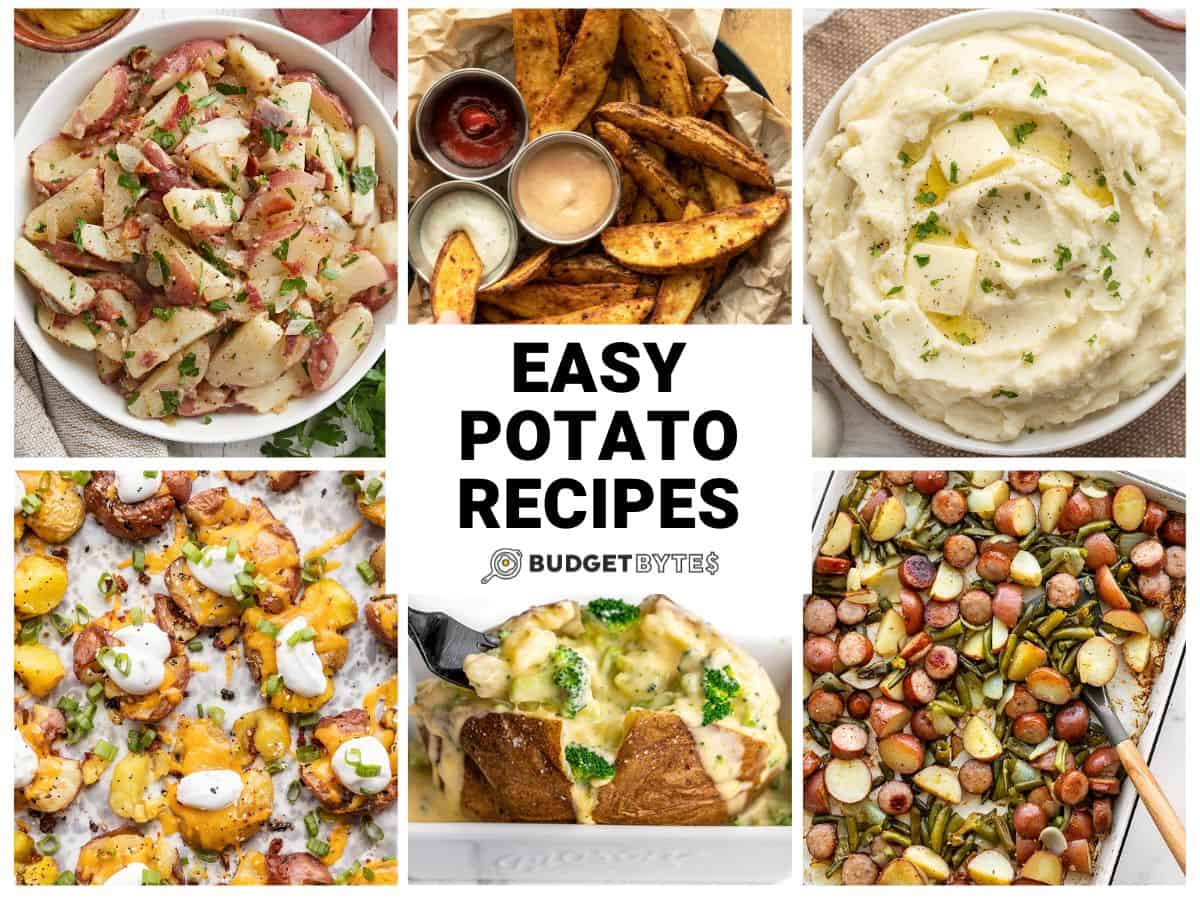 Potato Salad Recipes
Potato salads are definitely the star of the show when it comes to summer cookouts, potlucks and BBQs. Here are our top picks!
If you want a Classic Southern Style Potato Salad recipe then you definitely want to start here! It's creamy, tangy, rich and has the perfect amount of crunch.
If you prefer mayo-free potato salads, like myself, then you'll love this German Potato Salad recipe! It includes thick cut potatoes, a good amount of crispy bacon and a tangy mayo-free dressing.
Time to liven up the traditional potato salad with this spicy, flavorful Cajun Potato Salad! It has a little bit of a kick thanks to the cajun seasoning and a dash of hot sauce, but it still maintains that creamy, delicious flavor and texture that we all love.
This simple and fresh Herby Potato Salad is the perfect alternative when you want a lighter potato salad as a side for a quick & easy dinner meal.
Calling all pesto lovers! This Pesto Potato Salad combines a super easy and budget-friendly homemade pesto with baby gold potatoes for a vibrant, flavorful potato salad recipe!
Baked Potato Recipes
Baked potatoes are inexpensive and the perfect blank slate for lots of different toppings and loaded potato ideas!
What's better than a classic Baked Potato? We decided to share all of our favorite tips to make simple, baked potatoes along with some easy topping ideas.
Broccoli Cheddar Stuffed Baked Potatoes are such a fun mash-up between comfort food and good-for-you food.
If you've never had smashed potatoes before, let's just say you're totally missing out! These Loaded Smashed Potatoes are boiled, smashed and baked until crispy and then loaded with all of your favorite toppings.
When you need a simple & easy dinner recipe, this Sheet Pan Kielbasa Potatoes and Green Beans meal is the way to go! You only need six ingredients with very little hands on time.
Potatoes Au Gratin – a truly classic comfort food dish with thinly sliced potatoes in a rich and creamy sauce.
Mashed Potato Recipes
I grew up loving mashed potatoes! My mom made the best homemade mashed potatoes -and still does :) but what I love most is that they can go as a side dish with almost any meal. They're creamy, buttery and simple to make. Here are a few of our favorite ways to make mashed potatoes.
We can't think of anything that's better than a big bowl of buttery Mashed Potatoes. These classic mashed potatoes are fluffy, creamy and easy to make in just a few steps.
No more babysitting a pot of boiling potatoes. These Slow Cooker Mashed Potatoes makes cooking creamy, homemade mashed potatoes super easy and convenient.
These Olive Oil Mashed Potatoes are a lighter, but still delicious alternative to the classic mashed potatoes with butter or sour cream. They're perfect for vegans or those with dairy allergies!
Garlic plus Mashed Potatoes might just be a match made in heaven! These Garlic Herb Mashed Potatoes are infused with an easy garlic herb seasoning and absolutely perfect as a side dish to any meal.
Colcannon is a great budget-friendly recipe that combines two inexpensive vegetables to make a super filling and delicious dish.
Potato Soup recipes
Can we all just agree that there aren't too many things better than a big, warm and cozy bowl of potato soup? Adding potatoes to any soup recipe instantly elevates it to an entirely new level. Here are our top picks for the best potato soups!
The mother of all potato soup recipes – in my opinion :) Loaded Potato Soup is thick, creamy and has the perfect combination of chunky potato pieces and velvety smooth soup base. Load it with all your favorite toppings for the perfect comfort food.
Our version of Zuppa Toscana includes Italian sausage, kale, creamy potatoes, white beans and a choke full of flavor! It's a hefty does of vegetables and every bit of delicious.
This hearty and delicious Smoky Potato Chickpea Stew is full of lots of veggies and simmered in a smoky, warm broth that is perfect year-round but especially during the winter season.
This Cheesy Cauliflower and Potato Soup recipe is super creamy and satisfying without being overly heavy. It mixes half potatoes and half cauliflower for extra fiber while still maintaining that delicious potato soup flavor.
Roasted Potato Recipes
We definitely saved the best category for last! Roasted potatoes are easy to make, can usually be made all on one sheet pan and it's a lot less fuss when it comes to clean up. Roasting the potatoes at a higher temperature also gives the potatoes crispy edges while keeping the inside creamy and soft. You can easily toss these potato recipes in the oven and let them work their magic while you prepare the rest of your meal!
These Oven Baked Steak Fries are slightly addicting – don't say I didn't warn you. They're baked to perfection, perfect for dipping or dunking and can be enjoyed as a simple side dish…or main dish if you're like us!
Add these Smoky Roasted Breakfast Potatoes to your next big weekend breakfast or brunch for a simple, hands off side dish.
These Parmesan Roasted Potatoes are about as easy as it gets when it comes to budget-friendly side dishes. They're super flavorful thanks to the grated parmesan and a simple seasoning mix and they roast beautifully in the oven. Perfect for snacking, a side for dinner or even the base of a breakfast bowl.
Switch things up with these delicious Rosemary Roasted Potatoes. They're made with just 6 simple ingredients and oven roasted for an easy dinner side dish!