We're currently in the middle of summer and it's hot-hot outside! But that also means it's one of the absolute best times to make cool, fresh & easy summer salad recipes. We've got the perfect lineup for you including summer pasta salads, easy summer green salads, summer salads with sweet corn, refreshing cucumber salads, and quick & easy summer salad recipes – all are perfect to help you beat the summer heat!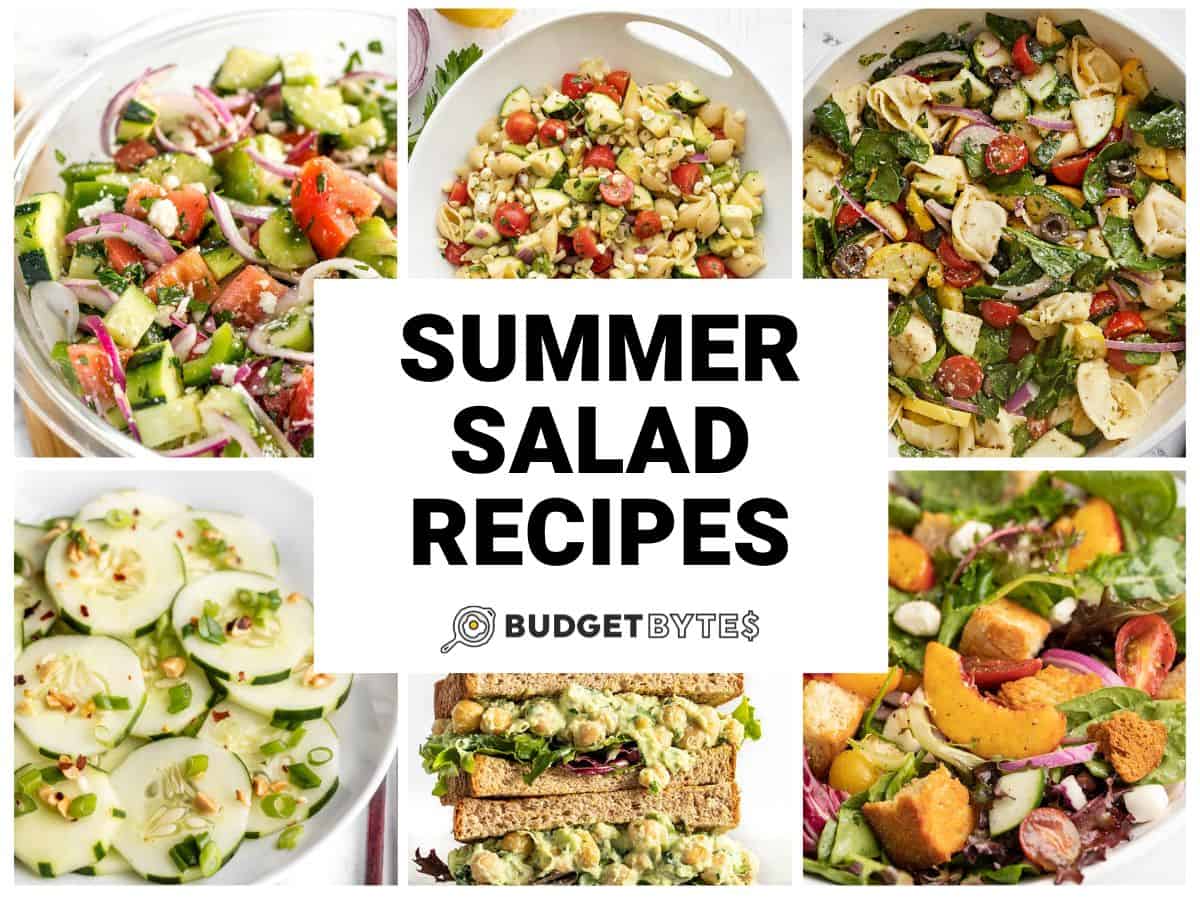 Summer Pasta Salad Recipes
We love salad recipes over here at Budget Bytes and especially pasta salads! This Summer Vegetable Pasta Salad is a reader favorite…and for good reason! It includes a medley of colorful vegetables, an easy homemade vinaigrette, and it's easy to customize based on what you have on hand. You really can't go wrong with this pasta salad so definitely save this one for later!
What's better than traditional pasta salad??…one with stuffed Tortellini pasta of course! Our Tortellini Salad includes cheese tortellini mixed with summer vegetables, herbs, greens, and a tangy vinaigrette dressing.
For all you broccoli lovers out there, this Broccoli Pasta Salad is just for you! It features our tangy homemade tomato vinaigrette and has the perfect flavor-texture combination.
If you love classic, juicy BLT sandwiches, then you'll also love this creamy, BLT Pasta Salad recipe! It's one of our newest salads to hit the scene and it's perfect for summer BBQs, picnics and potlucks.
Summer Green Salad Recipes
Have fun making this simple Panzanella salad with some day-old bread, your favorite summer fruits and veggies and our easy homemade balsamic vinaigrette.
This Big Kale Pasta Salad hits all the bases with massaged kale, chickpeas for extra bulk, grape tomatoes for freshness, red onions and of course parmesan cheese!
Spinach and Orzo Salad is another super simple salad that's packed with flavor. It includes sun-dried tomatoes, creamy-salty feta cheese, and a quick homemade balsamic vinaigrette dressing.
Summer Salad REcipes With Corn
A light, fresh and colorful Summer Sweet Corn Salad is absolutely perfect to enjoy during the hot weather months. This is another one that's great for cookouts and family gatherings.
Enjoy the best parts of summer with this Charred Corn and Zucchini Salad. So simple and extremely delicious!
This light and fresh Warm Corn and Avocado Salad has cumin, cilantro and lime mixed in and goes perfectly with enchiladas, cilantro lime rice, or even on top of homemade tacos.
Cucumber Salad Recipes
I absolutely love a good cucumber salad! Even better if its packed with delicious flavor like this Super Fresh Cucumber Tomato Salad. With feta cheese added in and a homemade red wine vinaigrette, it's an absolute must-have to enjoy all summer long.
Lemony Cucumber CousCous Salad is a simple, delicious summer salad made with just a few easy ingredients like fresh lemon and english cucumber and it stays good in the fridge for days!
This Cucumber and Black Bean Salad incorporates earthy black beans balanced with fresh cucumbers. This is also a flexible salad and easy to add other vegetables you might have on hand including corn, avocado, diced bell peppers and tomato.
We absolutely love serving this Sesame Cucumber Salad with our favorite Asian-inspired recipes. It's simple, refreshing and an easy addition to your summer recipes.
Easy Summer Salad Recipes
If it's hot, and I mean really hot, in your neck of the woods, then you'll love cooling down with this Creamy Cucumber Salad. It's a Budget Bytes favorite and perfect for the summer.
When you're craving guacamole, but want to keep things super simple and budget-friendly, this Avocado and Tomato Salad is perfect to make!
This creamy and delicious Scallion Herb Chickpea Salad includes a mayo-free dressing and can be served as a salad, stuffed into a pita, or piled between two slices of hearty bread.
We're finishing our list of the best summer salad recipes with one of our favorites – this super easy Classic Three Bean Salad! It has minimal ingredients, a tangy-sweet dressing, and the perfect summer salad for all of your BBQs, potlucks or busy weeknight meals.
Well hello, my favorite dessert from childhood! Jello Salad is a classic potluck dessert that's always fun to share at family gatherings. It's simple, sweet, and definitely a crowd favorite ;)