If there is one thing that I always keep around, it's eggs. Not only are they inexpensive and easy to cook, but there are so many ways to enjoy them. Scrambled, fried, poached, hard or soft-boiled, on their own, packed with veggies, loaded with melty cheese, or served with meat…the possibilities really are just about endless for eggs, and that's why they're one of my favorite refrigerator staples.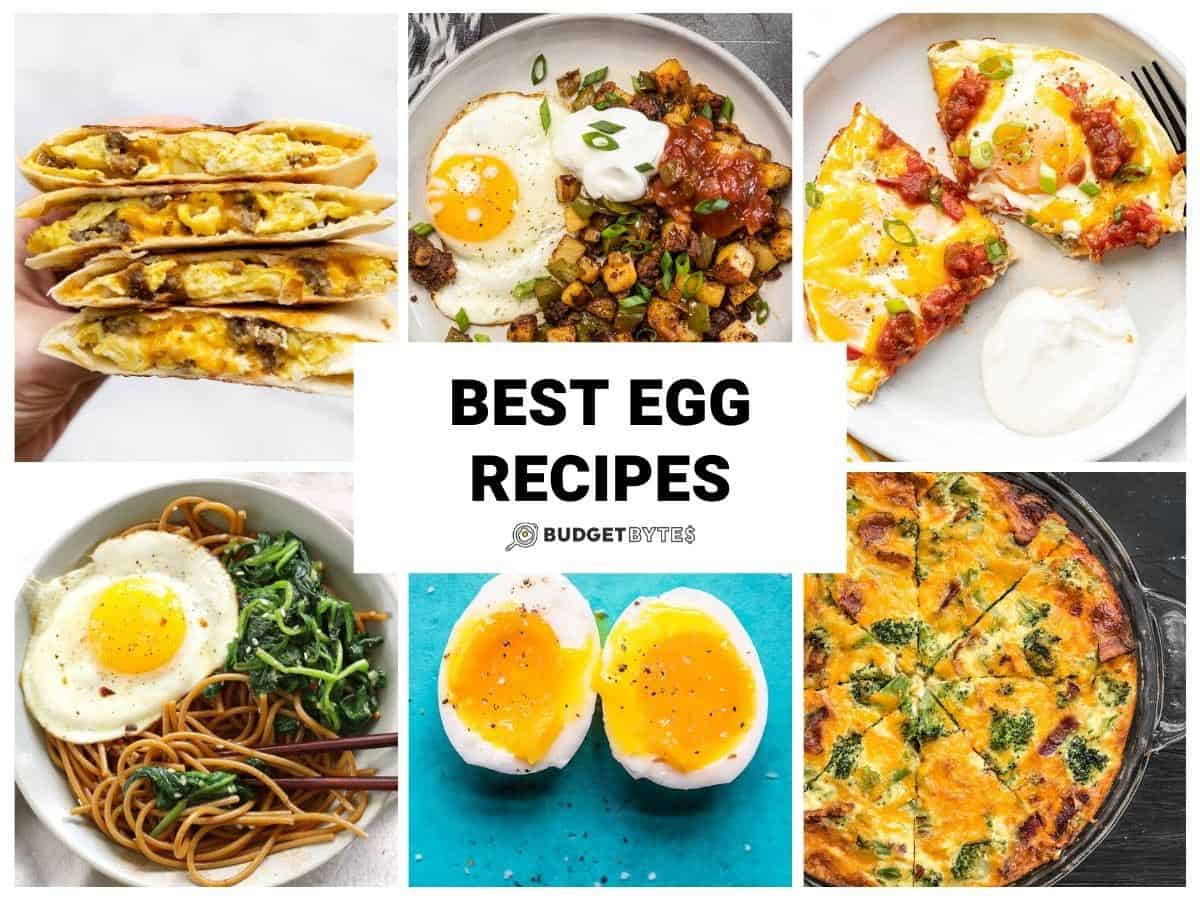 Whether you're looking for a quick and easy microwave egg scramble, a breakfast burrito or quesadilla, or eggs for dinner, this list of all of the Best Egg Recipes has something for everyone!
How to Cook Egg Tutorials
Soft-Boiled Eggs – Want to learn how to make the silkiest, creamiest soft-boiled eggs of all time? You're in the right place. This Soft-Boiled Eggs recipe is a super simple, 10-minute method for the perfect boiled egg. Serve these soft-boiled eggs on their own, on toast, added to breakfast bowls, in soup, as a salad topping, you name it.
Hard Boiled Eggs – Making perfect hard-boiled eggs is easy, once you get the formula right! Check out this easy tutorial for making hard-boiled eggs just the way you like them for snacking, making egg salad, and more.
How to Fry an Egg – Fried eggs are a breakfast time staple! But they're also a fast and easy way to add protein to any meal. Learn how to make fried eggs sunny side up, over easy, over hard, and more.
Scrambled Egg Recipes
Let's start with the classic: scrambled eggs. I love scrambling eggs because it's just so easy. You just crack a few eggs into a skillet, push them around for a few minutes, and they're good to go. The most difficult part is deciding what to serve them with because there are so many options!
Well, hopefully, these five recipes will help you narrow down your scrambled egg options. Try them in burritos, scrambles, bowls, tacos, you name it.
Vegetable Breakfast Scrambles – When I can't decide what to put in my eggs, I just add it all! This Vegetable Breakfast Scramble is a great way to use up leftovers and an easy way to pack some vegetables into your day. Scrambled eggs loaded with pepper, spinach, tomatoes, avocado, and more. Bonus: it's ready in a total of 10 minutes.
Freezer Breakfast Burritos – These Freezer-Friendly Breakfast Burritos are both delicious and easy to make. They make the perfect reheat, grab, and go breakfast or easy weeknight dinner. Plus, they're also super customizable. Load them up with your favorite meat, veggies, and cheeses.
Scrambled Eggs with Spinach and Feta – It might sound fancy, but it's actually so unbelievably easy to make. You just need four ingredients, a few simple seasonings, and the best breakfast or bunch is served. Enjoy these eggs as-is, with a side of toast, wrap them in a tortilla, stuff them into a pita, or sandwich them onto a toasted bagel.
Hummus Breakfast Tacos – If you know anything about me, you know that eggs and hummus are one of my favorite combinations. Not only do the two taste delicious together, but they pack a serious punch of nutrition. These Hummus Breakfast Tacos are a great 15-minute breakfast that is packed with flavor.
Country Breakfast Bowls – These Country Breakfast Bowls are one of the first meal prep breakfast recipes I made ever—and still one of my all-time favorites. They're loaded with potatoes, eggs, cheese, and salsa for a super flavorful AND filling make-ahead breakfast. I love to prep these bowls on Sunday so breakfast is ready to go all week long.
Baked Egg Recipes
Baked eggs are an easy, hands-off way to enjoy your morning eggs. There's no standing over a skillet babysitting your eggs, just pop them in the oven until they're rich, creamy, and oh so delicious. These four recipes are a few of my all-time favorite ways to serve baked eggs. They're creamy, savory, cheesy, perfectly seasoned, and oh-so-good.
Spinach and Mushroom Feta Crustless Quiche – This Spinach and Mushroom Quiche is the perfect addition to breakfast or brunch. It's loaded with protein and veggies and packed with flavor. While it looks, tastes, and sounds fancy, this crustless quiche is surprisingly simple, made mostly of pantry staples and takes just 15 minutes to prep.
Southwest Tortilla Baked Eggs – This Southwest Tortilla Baked Eggs Recipe is a delicious mashup of a breakfast quesadilla and a breakfast pizza. This recipe is made up of a tortilla crust that's topped with eggs, cheese, veggies, and more. It takes just 10 minutes to prep and can be easily customized to your liking.
Creamed Spinach Baked Eggs – I love any recipe that I can whip up with ingredients I already have laying around. And these Creamed Spinach Baked Eggs are one of those recipes. This delicious breakfast is quick to prep and is packed with eggs, frozen spinach, two types of cheese, and the perfect blend of seasonings.
Roasted Red Pepper and Feta Frittata – Frittatas are one of my favorite ways to cook eggs because they are so customizable. Pretty much any veggies or cheeses or meats you have laying around can be tossed into a frittata. This Roasted Red Pepper and Feta Frittata is creamy, salty, slightly spicy, and oh so good.
Egg Recipes for Dinner
While eggs are a classic for breakfast, no one said you can't enjoy them all day long. And who doesn't love a good breakfast for dinner option? These five recipes are just a few of my favorite ways to eat eggs for dinner.
Keep it classic with a Chorizo Breakfast Hash or think outside the box with Ratatouille Frittata or Smoky White Bean Shakshuka. There really is something for everyone!
Ratatouille Frittata – This colorful blend of roasted veggies baked into a creamy blend of eggs, milk, and seasonings is simple elegance at its best. A medley of roasted vegetables bring tons of color, flavor, and texture to this simple baked egg dish.
Bacon Broccoli Cheddar Crustless Quiche – Broccoli and cheddar is a combination we all know and love. Pair that combo with bacon and bake it into a creamy quiche and I'm not sure you will ever come across anything more perfect. This recipe is made up of basic refrigerator staples and uses frozen spinach for extra easy prep.
Green Chile Migas – Take your scrambled eggs to a whole new level of deliciousness with this Green Chile Migas Recipe. This recipe takes just 10 minutes to prep, is super inexpensive to make, and is absolutely loaded with delicious Tex-Mex flavor. This easy breakfast is creamy, cheesy, perfectly spicy, and will definitely be your new favorite way to enjoy scrambled eggs!
Smoky White Bean Shakshuka – This Smoky White Bean Shakshuka recipe is the ultimate breakfast for dinner recipe. Just five minutes to prep and 25 minutes to make, and dinner is ready to go! This recipe is made up of poached eggs, beans, fresh herbs, and feta simmered in a rich and flavorful tomato sauce.
Chorizo Breakfast Hash – Just because it has "breakfast" in the name doesn't mean that it's not also perfect for dinner. ;) It's loaded with tender potatoes, veggies, spicy chorizo, and perfectly fried eggs. This tasty plate is hearty enough for even the biggest dinner appetites.
Egg Sandwich Recipes
I lived off of egg sandwiches pretty much all through college, and I still love them. If that's not a testament to how awesome egg sandwiches are, I don't know what is. But if you want to explore beyond the basic egg sandwich, these five egg sandwich recipes will take you to the next level.
We've got a spicy twist on classic egg salad, egg breakfast sandwiches, and even cheesy egg breakfast quesadillas. These recipes keep egg sandwiches simple in preparation but make them so much more interesting in flavor.
Brown Sugar Bacon Breakfast Sandwiches – These Brown Sugar Bacon Breakfast Sandwiches take sweet and spicy to another level. These sandwiches pack a serious flavor punch with smoky and sweet brown sugar bacon, spicy homemade chipotle mayo, fried egg, lettuce, and tomato all layered on a buttery brioche bun. They make the best sweet and savory breakfast, lunch, or dinner option!
Veggie-Packed Freezer-Ready Breakfast Sandwiches – I love these Egg and Cheese Breakfast Sandwiches because I can prep them ahead of time and for quick weekday breakfasts. Plus, I can pack them with tons of veggies. I opted for roasted red peppers and frozen spinach, but you can load these up with whatever veggies you like. So easy, so customizable, and so delicious.
Sausage and Egg Breakfast Quesadillas – Let's just set aside the argument about whether a quesadilla is a type of sandwich and agree that they're the best thing ever. Especially when stuffed with egg and cheese. These Sausage and Egg Breakfast Quesadillas are loaded up with flavorful country sausage, perfectly cooked eggs, melty cheddar, salt, and pepper.
Sriracha Egg Salad – I am a major egg salad fan. I am also a major Sriracha fan. And this Sriracha Egg Salad is exactly what I want packed between two slices of hearty, toasted bread. Or you can spread onto some salty crackers, or maybe just loaded up onto the biggest spoon I own. This recipe is loaded with flavor, requires just 7 ingredients, and takes a quick 10 minutes to prep.
Chili Garlic Breakfast Quesadillas – These Chili Garlic Breakfast Quesadillas are the epitome of Budget Bytes (and not just because I was eating them every day when I started the blog). They're super inexpensive to make but still incredibly delicious. You've got rich eggs egg, melty cheddar cheese, spicy chili garlic sauce, and good-for-you spinach sandwiched between a toasty tortilla, making one of the best breakfast combos ever. Bonus: this meal is ready in a total of 10 minutes!
Easy Egg Recipes
Most egg recipes aren't overly complicated in general, but these five egg recipes are the easiest of easy. I'm talking 5-10 minutes, made in the microwave, and consisting of refrigerator and pantry staples. Make these recipes as easy weekday breakfasts or anytime when you just don't feel like cooking!
Easy Egg Salad – It really doesn't get any easier than this super basic egg salad that only requires a few simple ingredients. When you're hungry and need something cheap, egg salad is always there to save the day! Serve it as a sandwich or wrap, scoop it up with crackers, or even pile it onto a big green salad.
Make-Ahead Microwave Breakfast Scrambles – What if I told you that you could meal prep a protein and veggie-packed breakfast in the microwave in just 10 minutes? These Make-Ahead Microwave Breakfast Scrambles are a super quick, easy, and nutritious breakfast that take only 10 minutes to prep and 1 minute to warm in the microwave!
5-Minute Savory Microwave Breakfast Mug – This 5-Minute Savory Microwave Breakfast Mug is the perfect way to use up leftover bread, meat, and veggies…and yes, it really does take just 5 minutes to make! This breakfast is packed with eggs, bread, sausage, cheese, and your choice of veggies. Follow the recipe as-is or customize it to your liking.
Sesame Noodles with Wilted Greens – This dish really is all about the egg. The noodles and greens are just the supporting actors. It's that deliciously creamy yolk that should get all the glory as it drenches the noodles like a creamy sauce. You won't need a lot of ingredients for this one, just a few pantry staples and 10 quick minutes to prep, and you'll have a satisfying and easy lunch or dinner.
Cheddar Grits Breakfast Bowls – These Cheddar Grits Breakfast Bowls make the perfect cozy weekend-at-home-brunch. They're loaded up with the best ingredients like yellow grits, cheddar cheese, eggs, salsa, and more. They're also super customizable. Pack these bowls with your favorite veggies, swap out the seasonings to change the flavor, or top them off with a sprinkle of crispy bacon.
And here is one of my all-time favorite egg recipes:
So what about you? What is your favorite way to eat eggs? Tell me about your favorite meal with eggs in the comments below. 👇