If there was ever a recipe worthy of "breakfast for dinner" it would be shakshuka. This rich, saucy dish is full of smoky spices, hearty beans, and rich eggs. Make sure to buy or make some homemade crusty bread for dipping, because you're not gong to want to waste a drop of this delicious tomato sauce!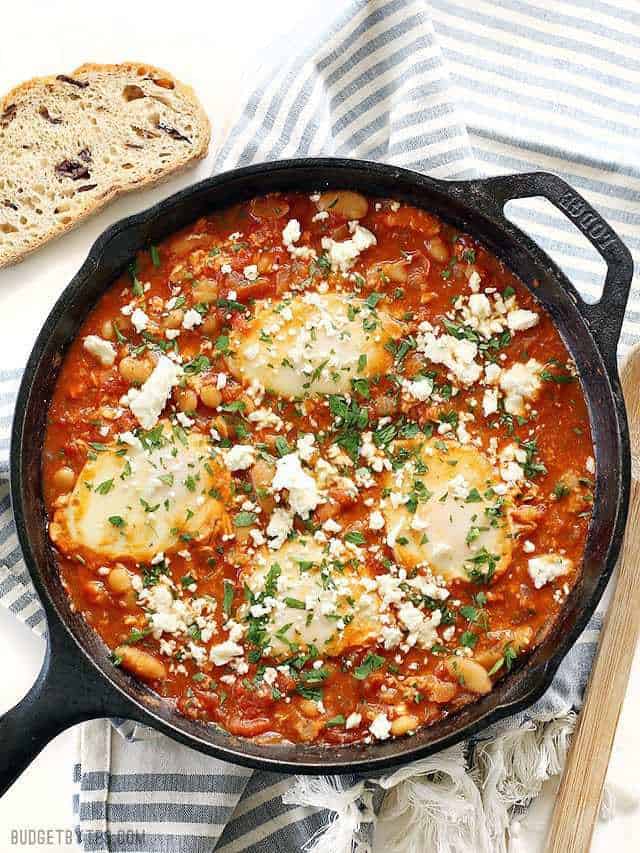 What is Shakshuka??
Shakshuka is delicious dish cooked all across the Middle East and North Africa. It's an incredibly simple and hearty dish consisting of eggs poached in a spiced tomato sauce. I decided to take my shakshuka in a slightly different direction by adding cannellini beans to bulk it up a bit, plus a hefty dose of smoked paprika to give it a deep, fire-roasted flavor.
How to Serve Shakshuka
Most people in the U.S. eat eggs mostly for breakfast, but this delicious dish is great for breakfast, brunch, OR dinner. You'll want to serve the shakshuka with some crusty bread, pita, or naan to sop of the delicious sauce. No bread? No problem. Spoon the saucy mix over a bowl of grits or rice (like we do here in the south). Just don't let one drop of that sauce go to waste, promise? K.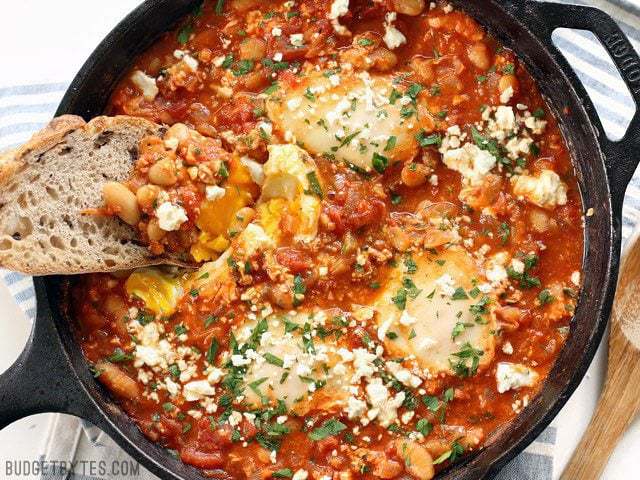 Smoky White Bean Shakshuka
Eggs poached in a rich and smoky tomato sauce speckled with white beans, this Smoky White Bean Shakshuka is a filling and inexpensive breakfast or dinner! BudgetBytes.com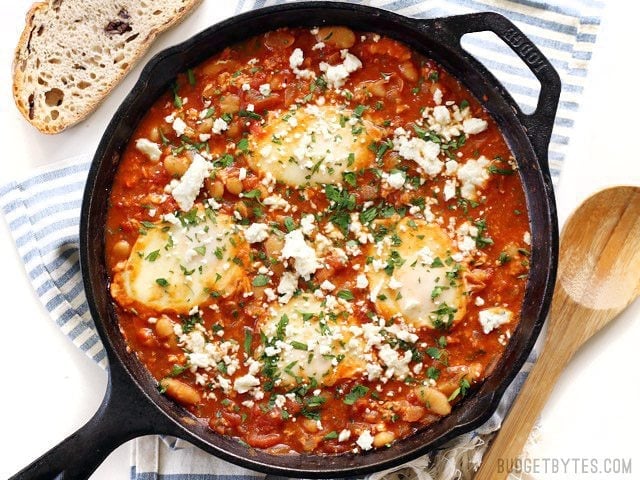 Ingredients
2

Tbsp

olive oil

($0.32)

4

cloves

garlic

($0.32)

1

yellow onion

($0.16)

1

28oz. can

whole peeled tomatoes

($1.69)

1/2

Tbsp

smoked paprika

($0.15)

1

tsp

ground cumin

($0.10)

1/2

tsp

dried oregano

($0.05)

1/8

tsp

crushed red pepper

($0.02)

Freshly cracked black pepper

($0.05)

1/4

tsp

salt, or to taste

($0.02)

1

15oz. can

cannellini beans

($1.19)

4

large eggs

($1.10)

1

handful

fresh parsley, chopped

($0.20)

2

oz.

feta, crumbled

($1.12)
Instructions
Mince the garlic and finely dice the onion. Cook both in a large deep skillet with olive oil over medium heat until the onions are soft and transparent (about 5 minutes).

Add the canned tomatoes and their juices, crushing the tomatoes with your hands as you add them to the skillet. Add the smoked paprika, cumin, oregano, red pepper flakes, and some freshly cracked pepper as well. Stir to combine.

Allow the sauce to come to a simmer. Let the sauce simmer, stirring occasionally, for 5-7 minutes, or until it has thickened slightly. Add 1/4 tsp salt, then taste the sauce and adjust the salt or other spices to your liking.

Drain the white beans, add them to the skillet, then stir to combine. Allow the skillet to return to a simmer. Simmer for 2-3 minutes more.

Crack four eggs into the skillet, then place a lid on top and let them simmer for 5 minutes, or until the whites are set but the yolks are still soft. Top the skillet with the crumbled feta and chopped parsley.
See how we calculate recipe costs here.
---
Nutrition
Serving:
1
Serving
Calories:
380.63
kcal
Carbohydrates:
47.2
g
Protein:
20.23
g
Fat:
12.53
g
Sodium:
716.38
mg
Fiber:
10.43
g
Read our full nutrition disclaimer here.
Scroll down for the step by step photos!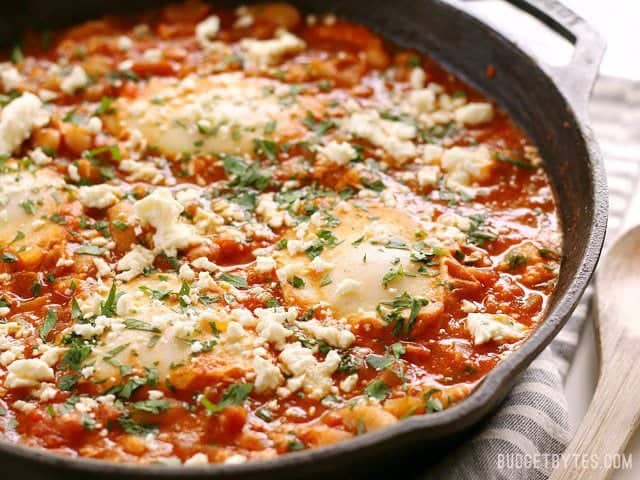 How to Make Shakshuka – Step by Step Photos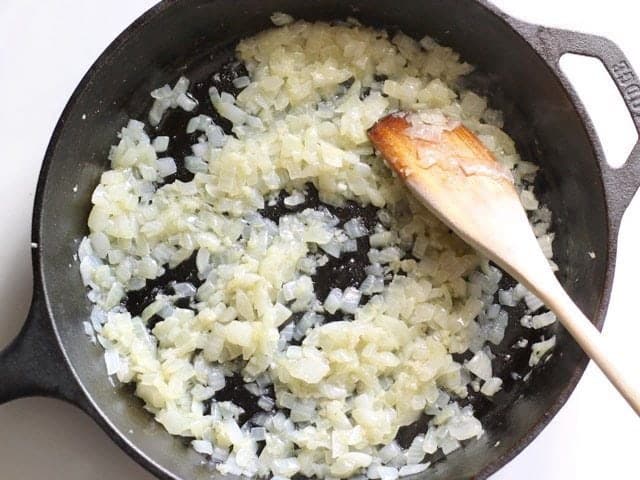 Start by mincing 4 cloves garlic and finely dicing one yellow onion. If you want to, you can also dice a jalapeño and toss it in there as well. Add the garlic and onion to a large skillet along with 2 Tbsp olive oil and cook over medium heat until the onions are soft and transparent (about 5 minutes).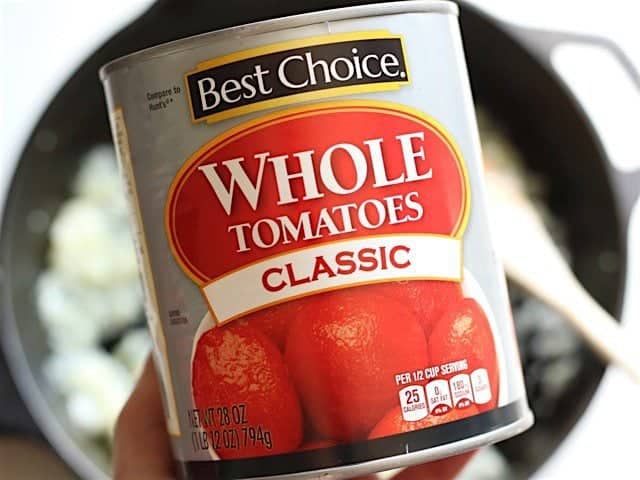 Add a 28oz. can of whole tomatoes (with the juices) to the skillet. Use your hands to crush the tomatoes as you add them to the skillet. Word on the street is that the best tomatoes are reserved for the "whole" canned variety, while lesser tomatoes are used for "diced" or "crushed". I'm not sure if that's true, I just liked the organic shapes of the hand crushed tomatoes rather than perfectly diced bits. You can use diced or crushed if that's easier for you.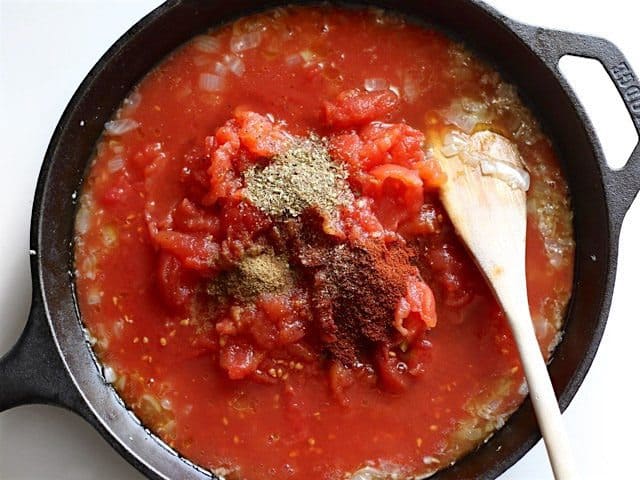 Along with the crushed tomatoes, add 1/2 Tbsp smoked paprika, 1 tsp cumin, 1/2 tsp oregano, 1/8 tsp red pepper flakes, and some freshly cracked pepper (about 10 cranks of a pepper mill). Stir to combine.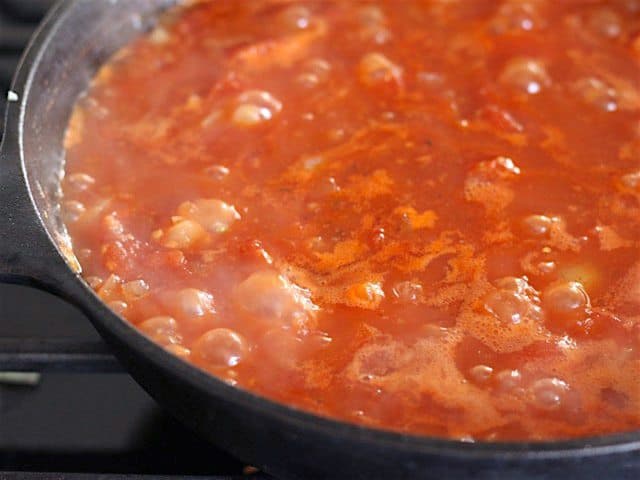 Let the sauce come to a simmer over medium heat. Let it simmer for 5-7 minutes, or until it's slightly thicker and saucy. It starts out more watery, but you want it closer to the thickness of V8 juice (if you're familiar with that!).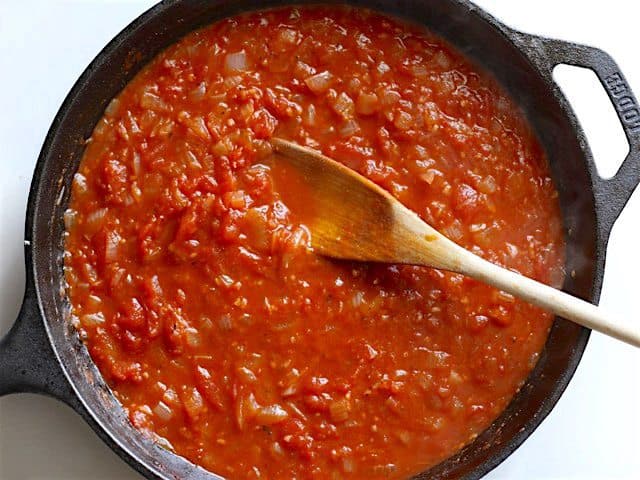 Now that the sauce has thickened, it's time to add the salt. Stir in 1/4 tsp salt, then taste and adjust to your liking. You can also add more smoked paprika or red pepper flakes, if you like an extra punch.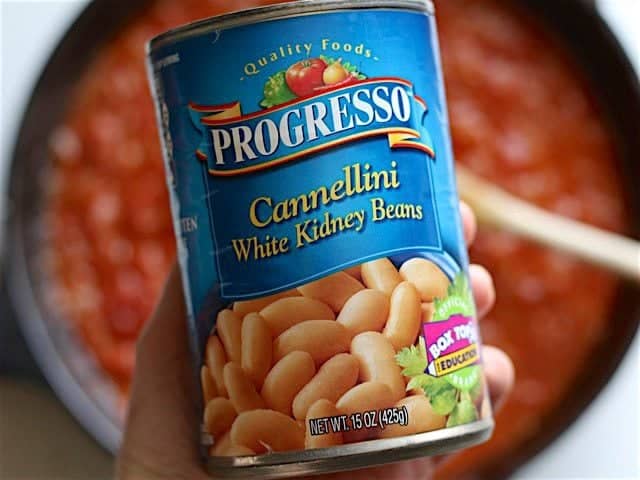 Drain a 15oz. can of cannellini beans and add them to the sauce. Cannellini is the best white bean to use for this recipe because they are larger, tend to be more firm, and don't break down as easily as navy or great northern beans. Garbanzo beans also work well in this.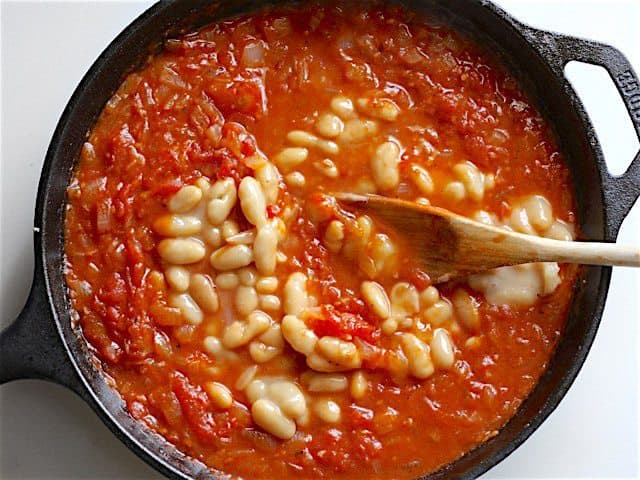 Stir in the beans and let it come back up to a simmer. Let it simmer just a few more minutes…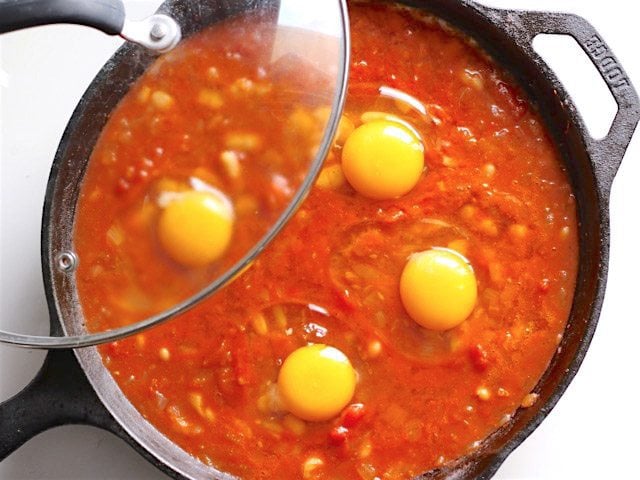 Finally, crack four eggs into the sauce and place a lid on the skillet. Let the eggs simmer in the sauce for about 5 minutes, or until the whites are set and the yolks are still soft. The yolks will be cloaked in a white veil when they begin to cook, so you'll have to watch the vibrations in the simmering sauce. When they're still liquidy, they'll shake from the popping bubbles of the simmering sauce. :)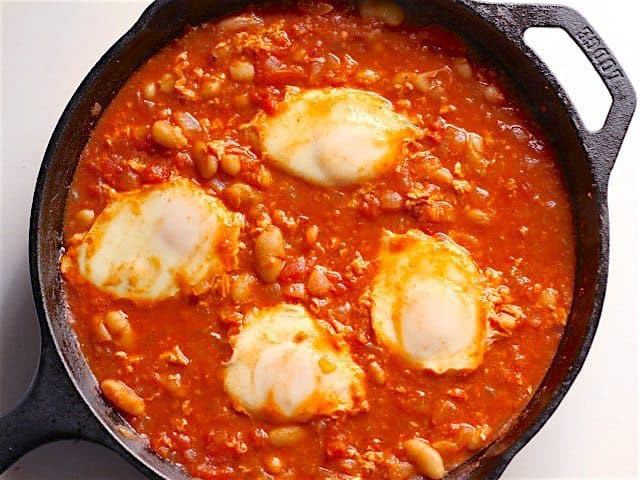 As it simmers, the sauce will settle some, so I always take a spoon and stir the sauce around the eggs to remix the beans and tomato pieces.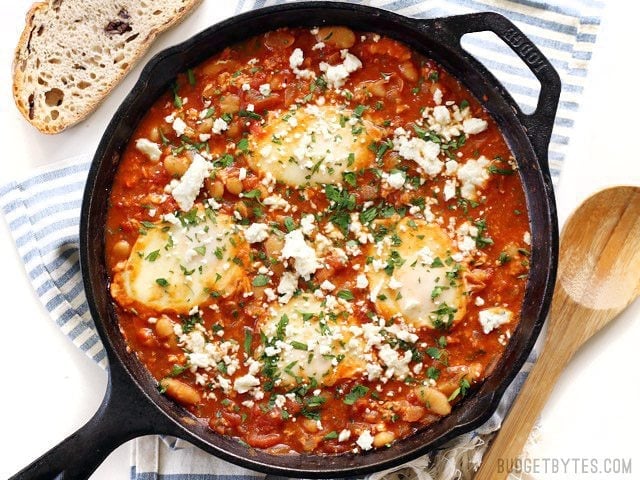 Finally, top the eggs and sauce with 2oz. crumbled feta and a handful of chopped parsley. NOM.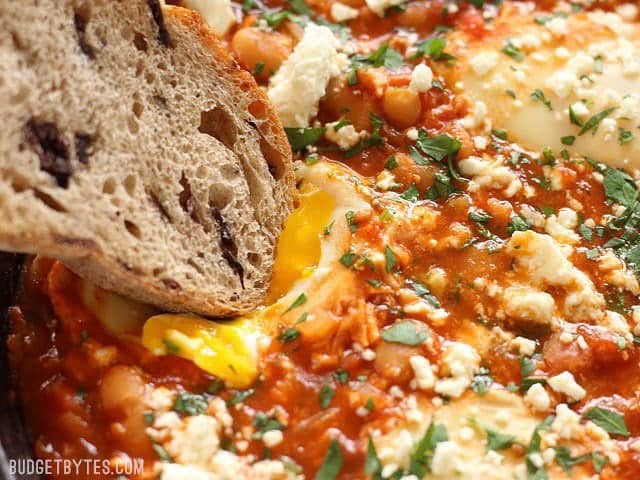 And seriously, every beautifully golden runny yolk deserves some bread for dipping, don't you think?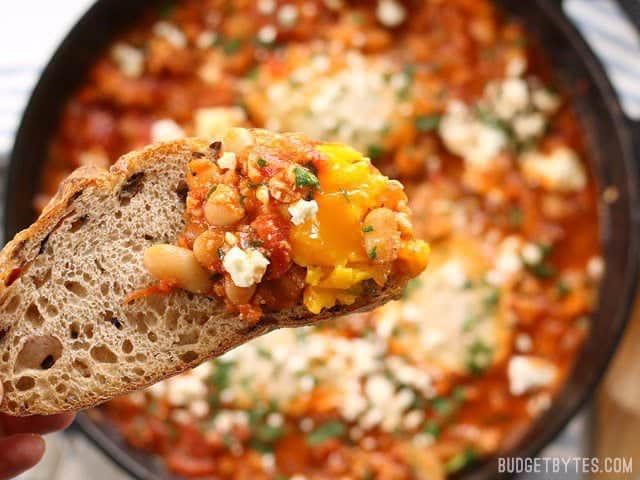 Smoky White Bean Shakshuka, it's what's for break… dinn… BRINNER!