Okay, this whole September Challenge is going super quickly! I can't believe I'm in my last week already. Week three went very smoothly, and I'm even contemplating continuing the challenge indefinitely. Week three's menu felt very balanced to me with plenty of vegetables, enough fruit to keep me happy, and I was full (but not overly so) every day. It was a good week and it gave me confidence!
I'm really loving the freedom that comes with planning a whole week at a time. I've always known that it helps, but you always forget how nice it is until you actually do it. I like knowing that I'm not going to be running to the store several times during the week for last minute items or refills of staples. I check everything before my weekly trip and then I'm set for the next seven days. Freedom!
Alright, so let's get to it…
Groceries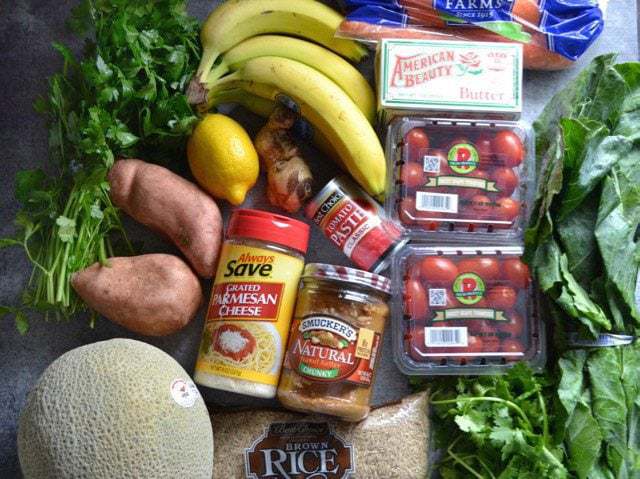 I was feeling a little produce-deprived after week two, so I made sure to get plenty of vegetables this week (check 'em all out!). I unintentionally planned a vegetarian menu, but I didn't miss the meat this time around and I didn't go overboard on eggs like I did in week one. I DID splurge a little with a couple pints of cherry tomatoes and a fresh lemon that was probably a bit too expensive, but the flavor was worth it and I was willing to sacrifice a couple other items on my list to purchase them.
I also had to restock on a few staple items, like peanut butter, regular butter, and Parmesan cheese. They were out of generic butter that week, so I had to get a name brand, which was a good $0.40 more than generic. :( Ouch.
What items did I sacrifice to get those expensive tomatoes and lemon? Brown sugar, flour, and yogurt. I decided I had enough brown sugar to last another week and if I ran out I'd rely on the sweetness of the banana to make my oatmeal delicious. Not a bad sacrifice since bananas are healthier anyway. I had listed flour and yogurt on the "maybe" section of my grocery list because I figured if I had some extra cash after getting the essentials that I'd also make a batch of naan to go with my peanut stew. Then I remembered that a scoop of brown rice is excellent in the stew AND much cheaper than the flour and yogurt for the naan. So, again, I wasn't sad to sacrifice those in the name of cherry tomatoes and a lemon.
These little compromises are decisions that have to be made quickly while your shopping and it can be difficult. Sometimes it's even a gamble if you're weighing options that aren't clearly priced, like produce or bulk goods. Luckily, this week those snap decisions worked out fairly well.
I decided to try melon for my main fruit option again, hoping that this one would be a bit better than the melon in week one, which was a bit flavorless and past its prime. Luckily, this one was great! After cutting it up there was enough for me to eat a huge serving every day for SEVEN days. It was still tasty on day seven. Yay!
What I Made
Here's what I made with this week's groceries:
This African Peanut Stew is vegan, but still extremely filling, thanks to it's creamy peanut butter and tomato based broth. Sounds strange, I know, but the flavor is SO GOOD. On top of that it's full of delicious and healthy sweet potatoes and collard greens. The recipe calls for a half bunch of collard greens, but I just went ahead and tossed in the whole bunch this time. Sometimes I topped my bowl with a scoop of cooked brown rice for more texture and to help fill me up. And OMG did it ever. One bowl of this with rice mixed in filled me for half the day!
I also made this incredible Parsley Pesto Pasta with Blistered Cherry Tomatoes. Sometimes I ate it with a fried egg on top, sometimes I was too lazy to fry an egg and just reheated the pasta and tomatoes in the microwave. Either way, it was AWESOME.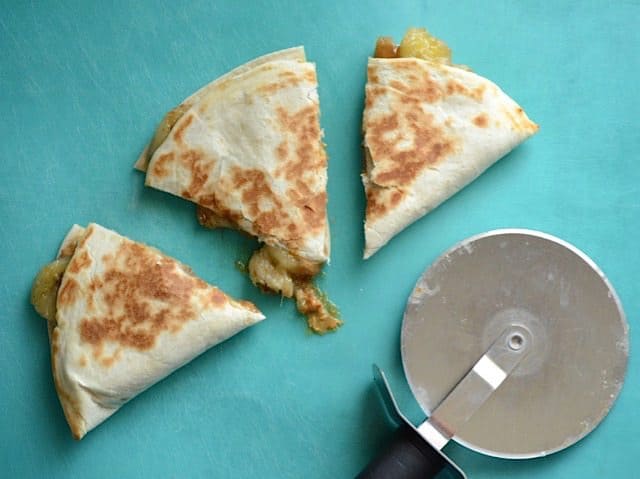 One day I was craving a sweet treat, so I took one of my super ripe bananas and made a delicious Caramelized Banana and Peanut Butter Quesadilla. Super fast and sooooo good. The September Challenge is not a snack-free zone! :D
I continued to enjoy oatmeal for breakfast (with peanut butter and brown sugar mixed in, usually with a little milk on top) and a cup of coffee. I find that the peanut butter makes the oats even more filling and I kind of like its savory spin.
I also ate a meal or two left over from previous weeks, like Bowties and Broccoli, a Burrito Bowl, Focaccia Rolls, and Chili Rubbed Pulled Pork. I love having these left over options that I can interject into my weekly menu for variety.
What I Ate
Alright, here it is… The day by day breakdown!
9-15 Total $3.04
9-16 Total $5.06
(So, I couldn't help myself while I was making the Parsley Pesto Pasta, and I pretty much ate a whole serving of the pasta and the blistered tomatoes while I was photographing the process, then ate the finished bowl with the egg after I photographed it. Oops. I was full for the rest of the day after that binge. #foodbloggerproblems)
9-17 Total $2.47
(A friend of mine is hosting a weekly "Soup and Scary Movie" event every week until Halloween, so I got free soup for dinner!)
9-18 Total $4.50
(Yep, Parsley Pesto Pasta for breakfast! I couldn't get enough of it.)
9-19 Total $3.22
(I woke up really late on Saturday, so my breakfast was kinda my lunch… you know how it goes.)
9-20 Total $3.94
9-21 Total $3.46
Weekly Intake Total: $25.69
Weekly Grocery Total: $28.13
Leftovers
I saved three servings of the African Peanut Stew in the freezer (it was just so filling that some days I chose other things) and, hilariously, I bought cilantro to go on the stew but completely forgot about it. The cilantro is still good as of today, so I'll be using that in my week four menu. I purchased a bag of carrots at the beginning of the week, thinking that I needed more vegetables in the menu. I planned on seasoning and roasting them, but never got around to it. Luckily carrots stay fresh in the fridge for quite a while, so I'm also going to use them in week four. Other than that, I ate up just about everything that I bought this week! Great job me! Ha.
Reflection
I felt really good about week three. It felt sustainable and that really made me consider moving to this system as my permanent method of shopping and eating. I'm loving raiding my pantry and trying to come up with new recipes to make with what I already have on hand. I thought I would run out of old stuff towards the end of the month, but it turns out I had a lot more stashed in my freezer and pantry than expected! Even into week four (which started today), I'm using up old stuff from before the challenge. That is definitely attributing to my weekly grocery expenses being low.
…And it really makes you think twice about food waste. It's SO easy to get out of the habit of trying to use every last piece of food, so I'm thankful that I'm doing this challenge because it's realigning my habits. Yay! I have barely been throwing away anything since the beginning of the challenge. This week all I threw away was a little leftover rice (and I could have frozen that if I had known it wasn't going to be eaten). That feels GOOD.
On to week FOUR! :D