I can't believe a whole week of this year's challenge is already finished! I kind of dreaded doing the challenge, but I've already learned a lot from just one week's worth of mistakes and victories. In the summary below I'll show you what I bought last week, the recipes I made, a daily breakdown of what I ate, and what hurdles, mistakes, or "wins" I encountered along the way. If you're just joining me, you can read all about my September Challenge here.
My Plan
Because I only have to feed myself, I planned on making two main recipes for the week that I could alternate for lunch and dinner, plus a side or two to help bulk out my meals and add variety. I don't really plan breakfast, because I usually stick to oatmeal or eggs, depending on my mood.
The two main recipes I chose this week were Mexican Lentil Stew and Bowties and Broccoli. Both provided a decent amount of vegetables, which was one of my goals for the challenge. I was trying to keep my protein intake a little on the higher side because of the strength training I've been doing, but I don't think I hit that mark this week. I could feel my body wanting meat, or more eggs at least. I ate way too many eggs this week.
I also baked a batch of Everyday Cornbread, which just about saved my life. That simple, no-frills cornbread really helped fill me up and I liked that I could eat it with my Mexican Lentil Stew or with eggs for breakfast in the morning. It was really versatile and really satisfying. I might another batch in week 2.
And then there was oatmeal. Not only did I eat it for breakfast for quite a few of the days, but I also found myself eating it in the evening when I didn't have much left in my daily budget, but was still hungry. Something about warm, thick oatmeal really fills me up and thankfully it's super cheap! #win
One of my other goals for this month is to make sure that I get a decent amount of produce. I felt like I had a decent amount of vegetables this week, but wanted to add some fruit to my menu. I bought a personal sized watermelon because they were on sale and a few bananas. There wasn't much plan to these choices, I just picked what was inexpensive and hoped that I would make myself eat them. *fingers crossed*
Groceries
As I mentioned in the intro to this year's September Challenge, I'm going to try really hard to use what I have on hand first. Learning to use up your leftovers is a skill that needs to be exercised, and this challenge is the perfect opportunity for me to hone that skill. As I progress through the four weeks of this challenge, I'll be running out of those leftovers and pantry staples, so most likely get more difficult as I go. Week one was pretty easy, thanks to those leftovers, and I stayed below budget at only $25.
I took a look at the three recipes that I wanted to make and made a list of the things I needed to buy (below left). Luckily, I had a lot of stuff in my fridge, like some half limp celery and old cilantro. The celery and cilantro were about a half day away from being bad, but I used them anyway and scratched them off my list.
Here are some challenges I ran into at the grocery store:
Here is what the week's groceries looks like…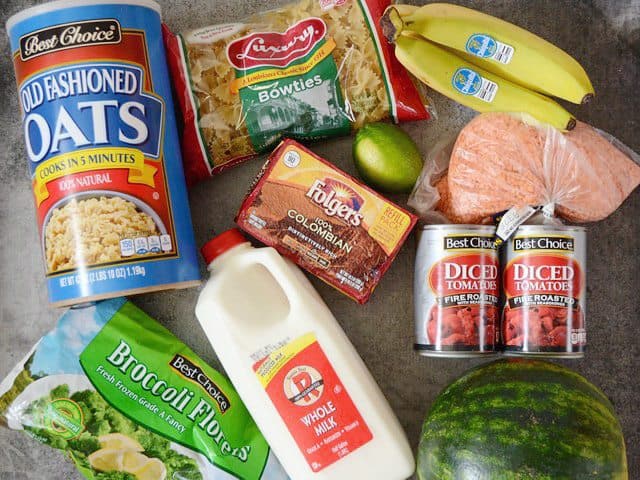 It's not a lot of food, for sure.
What I Ate
So, luckily I had some stuff in my fridge leftover from the week before, like Creamy Spinach Artichoke Pizza, eggs, cream cheese, mozzarella, pitas, and a few tortillas. That stuff helped me fill in the gaps between meals and made up for some of my poor planning. All that stuff is gone now, so I have to make sure to plan better for week two! I also made use of some pantry staples, like sriracha, brown sugar, and peanut butter. So here is all seven days of week one:
9-1 Total $2.57
(That pizza is really filling and the "hunger" from the challenge had not yet set in.)
9-2 Total $4.16
(My appetite increased dramatically from 9-1 to 9-2 because I had worked out really hard. Funny how much exercise impacts hunger.)
9-3 Total: $3.20
(Yes, I did wrap up that other half of the banana and save it for the next day! LOL)
9-4 Total $3.31
9-5 Total $4.08
9-6 Total: $3.39
(Because I had a big Labor Day BBQ to attend on this day, I ate breakfast at home and then used the remainder of my daily budget to make cookies to bring to the BBQ. I filled up on the potluck style food at the BBQ to last the rest of the day.)
9-7 Total: $3.20
(I was still pretty full from the BBQ the night before!)
Weekly Total: $23.91
Receipt Total $25.01
I came in below goal for both totals, so I know I have a little wiggle room to work with next week!
Leftovers
Eating on a strict budget is all about the leftovers. I didn't eat all of my Mexican Lentil Stew, so a few portions went into the freezer. Those will be nice to fall back on over the next few weeks when I need a change of pace. I also have enough for a few more portions of Bowties and Broccoli that I'll work into my rotation. The coffee and oats both came with about 30 servings per package, so those two purchases should last me throughout the duration of the challenge.
I divided the Mexican Lentil Stew into seven portions of 1.5 cups each right when I was finished cooking. This helped me keep my portions in check and made sure it would last throughout the week. Once cooled in the fridge, I transferred a few to the freezer.
Lessons
Okay, so week one was hard and I think I only survived thanks to the "cheat day" with the potluck BBQ. Despite that, I'm optimistic about week two and have already done my shopping and begun cooking. It's going to get more difficult from here on out, but hopefully with the extra practice I'll also get better. :)