Wow, week two is finished already! I have to admit, I'm really enjoying the challenge this year. Because the rules for my September Challenge are a little more lax than the SNAP challenge, I'm really having fun with it. Instead of pretending I'm in someone else's shoes, I'm simply trying to live my life with a smaller grocery budget, and it feels like a game. A game that requires a lot of creativity and problem solving—two things that I LOVE.
Week two started off great. My fridge was full and I had so many options that I really felt rich (I almost took a photo of my fridge because it was so full of delicious things). It was exciting. My food was satisfying and really filled me up. Life was great. I thought I had done a superb job planning my menu for week two. Until…
Something in my menu started causing me extreme stomach pain, like to the point that I wanted to curl up in a ball on my couch and not move. It took until Saturday for me to pinpoint the source of the pain, which ended up being a cucumber (there was a Salmonella outbreak linked to cucumbers last week, although I don't think that's what I was experiencing because the symptoms and timing of the pain were different). Anyway, that extreme pain kinda put a huge kink in my menu/eating habits for the week. I also had a house guest, which drastically changed my daily routine, including my eating and exercising habits. But that's life. You gotta roll with the punches!
Groceries
So what did I buy? Not a whole lot! I didn't need a lot for the recipes that I chose last week, so I had a little extra wiggle room in my weekly grocery budget.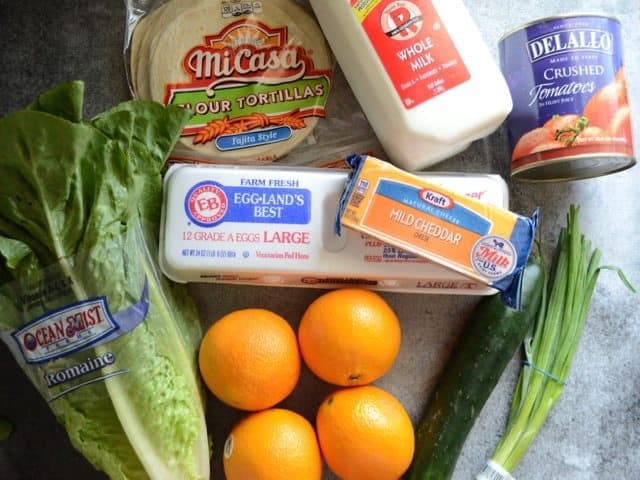 Romaine lettuce was on sale this week, so I decided to make a simple salad (romaine and cucumber) for my "vegetables". Other vegetables last week included tomatoes in the marinara and salsa in the burrito bowls. There weren't really any good deals on fruit this week, so I snagged these oranges for $1.49/lb. Not the best deal, but I didn't want more bananas. Towards the end of the week I definitely felt like my fruit and vegetable intake was lacking. I don't think this was really due to budget restrictions, but rather poor planning. Just with any diet, it's hard to work those fresh items into your plan and get the recommended amount.
(Oops, forgot to put the garlic in the first photo.) I picked up some fresh Italian sausage for one of my recipes and a big pork roast as a "bonus" with my extra wiggle room cash. That's way more meat than I could eat in a week, so about half of it was saved in the freezer for future weeks.
Also purchased, but not pictured: a jar of salsa. Despite having a grocery list (below), I forgot to grab it, so I picked up a jar a couple days later when I was at Target, for $2.27 (after tax).
And here's a little peek at what my grocery list and receipt looked like. Such a short grocery list and I STILL forgot the salsa. Ha! #brainfart
I had to stock up on a few staples last week, like tortillas (I ALWAYS have tortillas in my fridge), eggs, garlic, and milk. The price of eggs shot up since the last time I purchased them, but since I had so much meat in my menu this week, I barely ate any.
What I Made
So what did I make with those groceries? Lots of yummy stuff!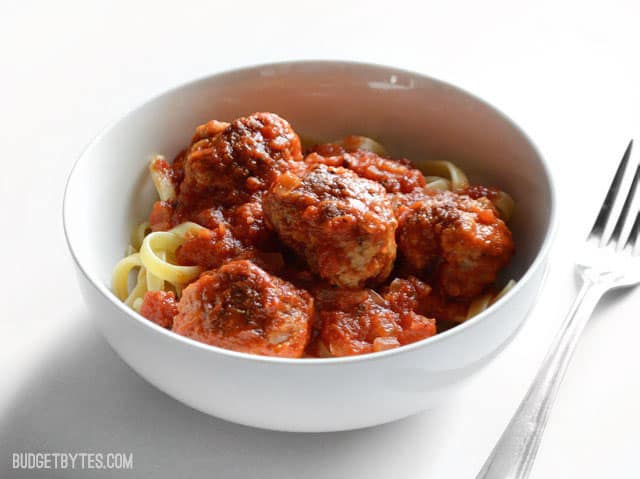 Skillet Meatballs and Marinara was my "anchor" meal, if you will. I ate all six servings of this and NEVER got tired of it. Looked forward to it each and every day! (I have a lot of random leftover pasta in my pantry, so I didn't need to buy any for this recipe.)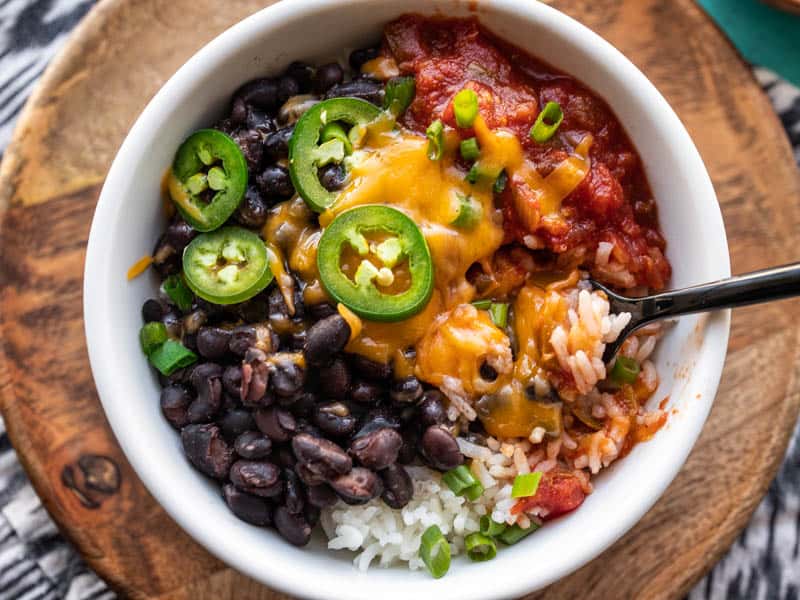 Poor Man's Burrito Bowls were my second meal option for the week. I actually ended up eating this for breakfast a couple of times.These bowls were huge and extremely filling, but you can top them with an egg for more protein, or add a little of this…
Chili Rubbed Pulled Pork is what I made out of that "bonus" pork roast. I ate two half cup servings last week and saved the rest in the freezer for the future. OMG I love this stuff so much. I could have eaten the entire thing.
I also made a VERY simple salad with just romaine lettuce and sliced cucumbers (until I realized that the cucumbers were waging war on my stomach). The lettuce was $1.50 and the cucumber was $0.89, so together, estimating about five salads, the salads were $0.49 a piece. Why five salads? Because I figured I could only keep the lettuce good for about five days. How did I keep it good that long?
After chopping, washing, and draining the lettuce, I popped it into a zip top bag with a layer of paper towels on the bottom. It worked pretty good. I prepared this lettuce on Tuesday, and on Saturday it looked like this:
It's hard to see in this iPhone photo, but there was a little bit of browning on the edges. I ate one more salad on Sunday, and there was quite a bit more brown that day, so I tossed the rest.
What did I top my salad with? I made a very simple red wine vinaigrette…
To a small blender I added: 1/4 cup canola oil, 1/4 cup olive oil, 1/4 cup red wine vinegar, 1 clove of garlic (crushed), 1/2 Tbsp dried oregano, 1/2 tsp salt, 1 Tbsp Dijon mustard, and some freshly cracked pepper. After blending for a couple seconds I had a delicious homemade salad dressing. The whole batch was about 3/4 cup (12 Tbsp) and about $1.28. So, each 2 Tbsp serving was about $0.22. That's probably more expensive than a store bought jar of dressing, but I already had everything on hand, so why not use what I have instead of buying something new?
After it's blended the oil emulsifies and it looks like this. SO delish. If vinegar is a bit harsh for you, a pinch of sugar helps mellow the dressing out a bit.
Oh! I also made some Focaccia Rolls… which are totally addictive. I ate too many, probably.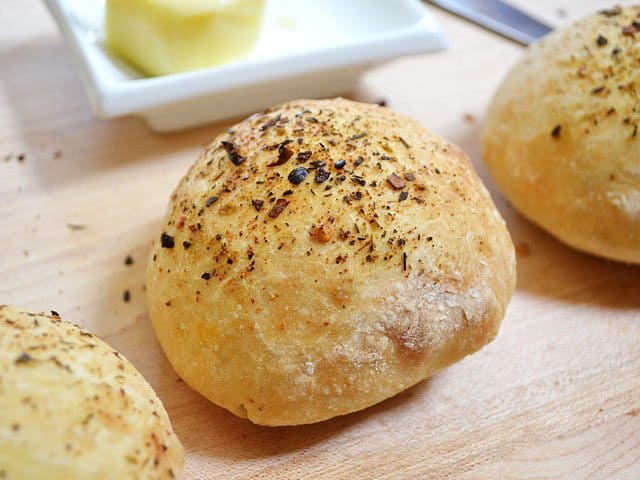 After these were baked and cooled, I put them in a freezer bag and kept them in the freezer. Then I just took one out at a time and microwaved for 20-30 seconds to warm. That way I don't have to worry about the whole batch going stale before I can eat them. I'll be eating the leftovers over the next couple of weeks.
What I Ate
Okay, ready? Here's the day by day breakdown.
9-8 Total $3.73
(Nothing was eaten after that salad because OUCH, stomach pain.)
9-9 Total $2.94
(This was the second day of stomach ache and therefore I didn't eat much after lunch when the pain kicked in.)
9-10 Total $2.92
(Thank goodness that ginger ale was in my fridge because I was in PAIN and desperate. The only thing I could stomach was a couple tortillas and a little melted cheese.)
9-11 Total $4.34
(I was super hungry in the morning because I hadn't eaten much the night before, so I had a huge burrito bowl with pulled pork for breakfast – late breakfast. Between that and the meatballs for dinner, I was full for the day!)
9-12 Total $3.99
(YAY! No pain! Later in the day I was kidnapped, taken on a date, and fed tapas. Challenge or no challenge, when a man buys you tapas, you EAT TAPAS. Lots of tapas.)
9-13 Total $3.91
(Again, the combo of the large burrito bowl + pork, then the meatball pasta was extremely filling and pretty much did me in for the day. I may have had leftover fullness from the tapas the night before, too.)
9-14 Total $3.44
Weekly Intake Total: $25.27
Weekly Receipt Total: $31.31 (Wow! A hair below the $31.50 goal!)
Leftovers
I ate pretty much everything I made this week, except one burrito bowl, which I froze for later consumption. I have a little salad dressing leftover and I might drizzle that over some pasta at some point. I only ate three of the four oranges (boo on me!), so that will carry over to next week. There are a few rolls left in my freezer, so I can use those as future snacks. I also have a couple leftover servings of both the Mexican Lentil Stew and Bowties and Broccoli from week one. The more leftovers I have in my freezer, the more my future menus will have variation! :D
Reflection
While I was very full and happy this week, I definitely didn't get enough fruits or vegetables. I started to feel a bit weighed down by the end of the week after all those meatballs and pasta. I'll definitely reconsider my fruit options next week, as well. While the price per pound was on the low side for the oranges (compared to the other fruit that week), each orange weighed a lot, so the money didn't go far. Better planning ahead! Always learn from your errors. :)
I enjoyed a couple more "freebies" this week, just like last week, and it's amazing how one free meal or one free ginger ale can change how you feel for a whole day or even a couple days after! That one ginger ale was 190 calories, which truly can be the difference between hungry and not hungry. That one free meal I had on Saturday night gave me enough variety and extra calories to keep me from feeling like I was "wanting" for the rest of the week. So, if you're just taking the first steps towards refining your grocery budget, cutting back to one meal out per week can still go a long way to keeping yourself satisfied mentally and physically. OR, if you want to do something nice for someone, treating them to lunch or dinner can sometimes do much more than you realize. :)