There's nothing quite like a slow-cooked, tender, juicy shredded pork. It's versatile and freezes well, so I love making a big batch of this Chili Rubbed Pulled Pork to keep on hand for quick dinners later. This heavily spiced pulled pork has become one of my favorites over the years and is probably one of my most cooked recipes. It's just too easy, with the slow cooker doing all the work, and the results are soooo delicious!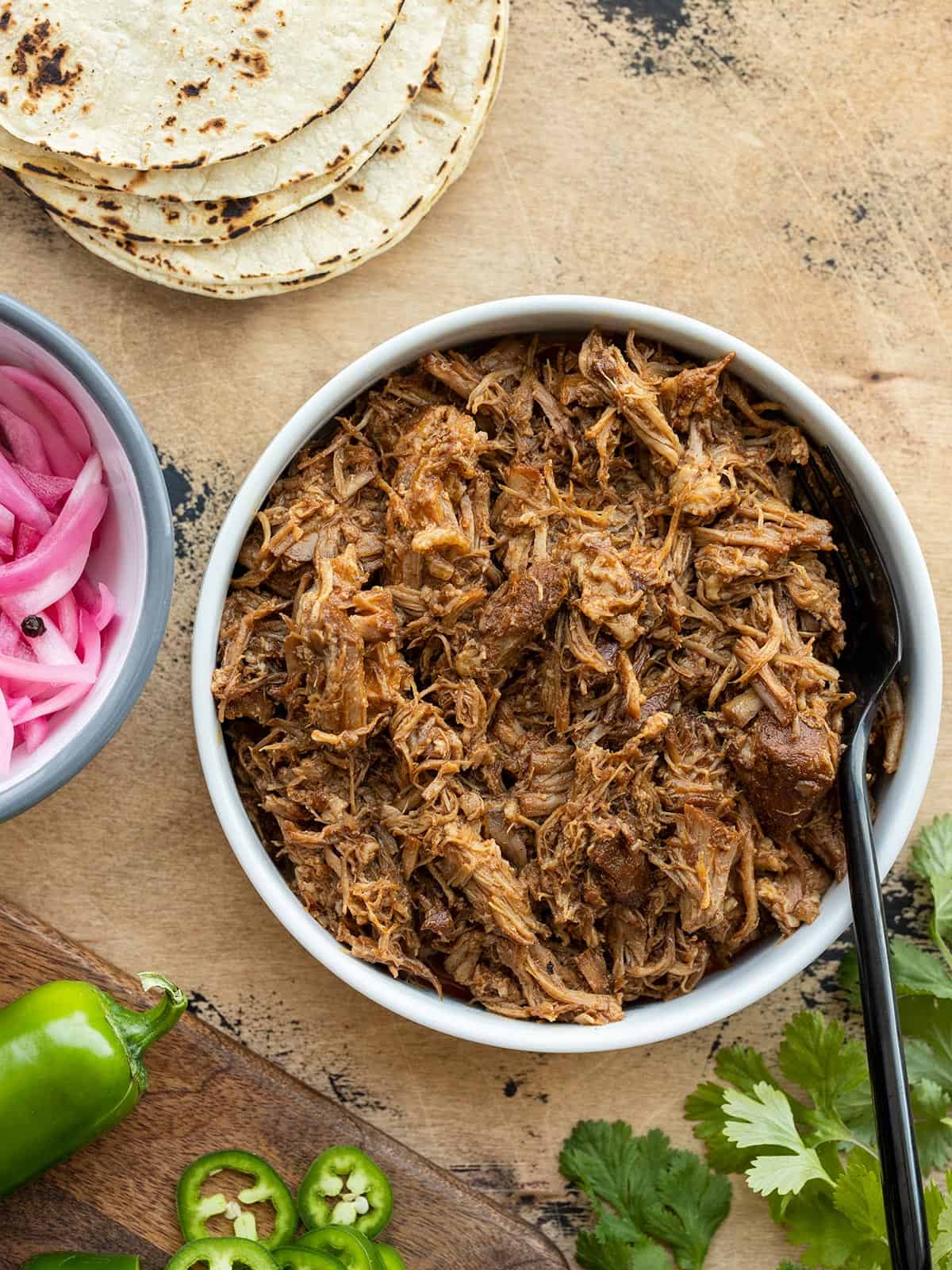 Use a Slow Cooker for Tender, Moist Meat
Pulled pork is super easy to make, especially if you have a slow cooker. Slow cooking holds in all the moisture during cooking and slowly breaks down connective tissue, so the meat is so tender that it just falls apart and shreds with the touch of a fork. Combine those spectacular results with the fact that slow cookers are essentially hands off, and this is, without dispute, my favorite way to make pulled pork.
How To Use Chili Rubbed Pulled Pork
This delicious shredded meat can be used so many different ways. Pile the pork into rice bowls, burritos, quesadillas, tacos, or just enjoy on a bun. I also love using it to top salads for an extra shot of protein.
Freeze the Extras
This makes a BIG batch, so keep some in your fridge for the week and freeze the rest. To freeze the pulled pork, divide the pork into more manageable portions (I usually do 1-2 cup portions), then chill it completely in the refrigerator overnight. Transfer the pork to the freezer once completely cooled and keep frozen for up to 3 months. Any freezer safe container works.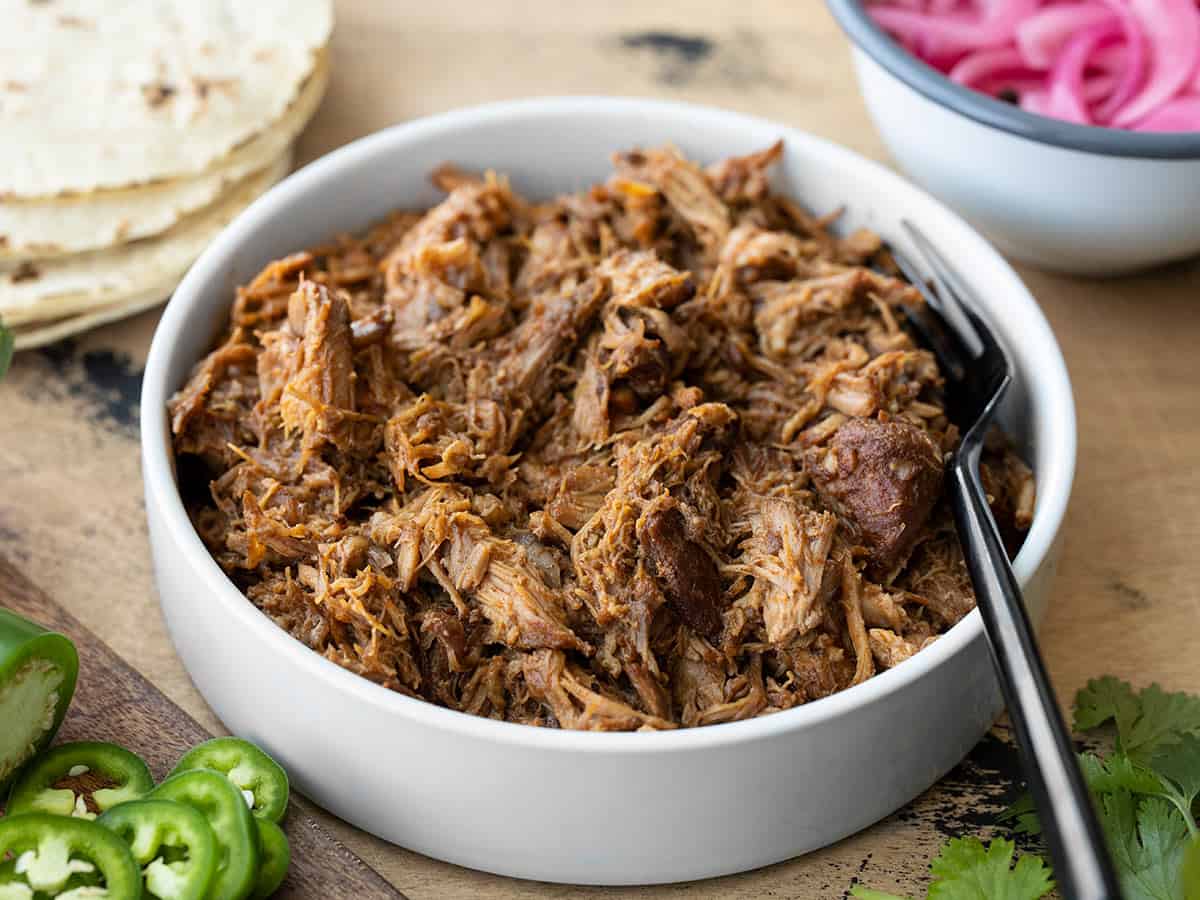 Chili Rubbed Pulled Pork
Chili Rubbed Pulled Pork is a tender, juicy, and flavorful meat that can be used for tacos, nachos, burritos, salads, and more!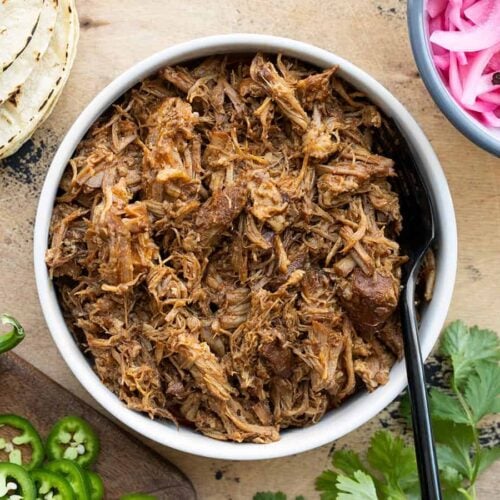 Instructions
Combine the chili powder, smoked paprika, cayenne pepper, garlic powder, onion powder, salt, and some freshly cracked pepper in a bowl.

Cut the pork butt into 2-3 inch cubes. Place the pork cubes in a large bowl, sprinkle the prepared spice mix over top, then stir to coat the meat in the spices.

Place the seasoned meat in a slow cooker, place the lid on top, and cook on high for 4-5 hours, or low for 8-9 hours.

After cooking, stir the meat with a fork to shred the meat. If it's not tender enough to fall apart when stirred, return the lid and cook for an additional 30 minutes adn try again. After shredding the meat, it is ready to serve, or portion and refrigerate or freeze until ready to use. Keep the shredded meat in the juices from the slow cooker until ready to serve for the best flavor.
See how we calculate recipe costs here.
---
Notes
*This chili powder is not spicy. It is a mild, earthy blend of chiles and other spices commonly referred to as "chili powder" in the United States.
Nutrition
Serving:
0.5
Cup
Calories:
434.52
kcal
Carbohydrates:
2.37
g
Protein:
40.1
g
Fat:
28.6
g
Sodium:
649.27
mg
Fiber:
1.42
g
Read our full nutrition disclaimer here.
Scroll down for the step by step photos!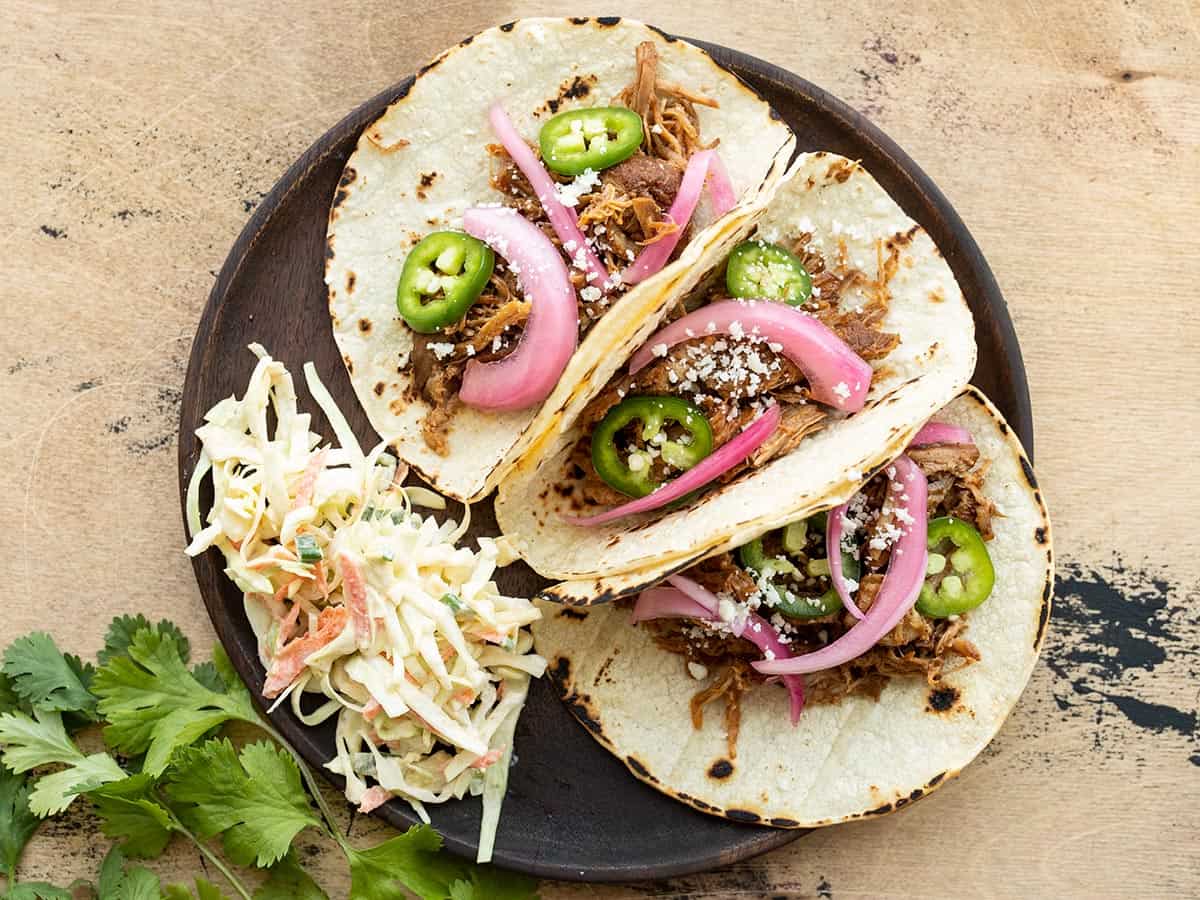 Chili rubbed pulled pork served as tacos in corn tortillas with sliced jalapeños, pickled red onions, and cotija, Cumin Lime Coleslaw on the side.
How to Make Slow Cooker Pulled Pork – Step by Step Photos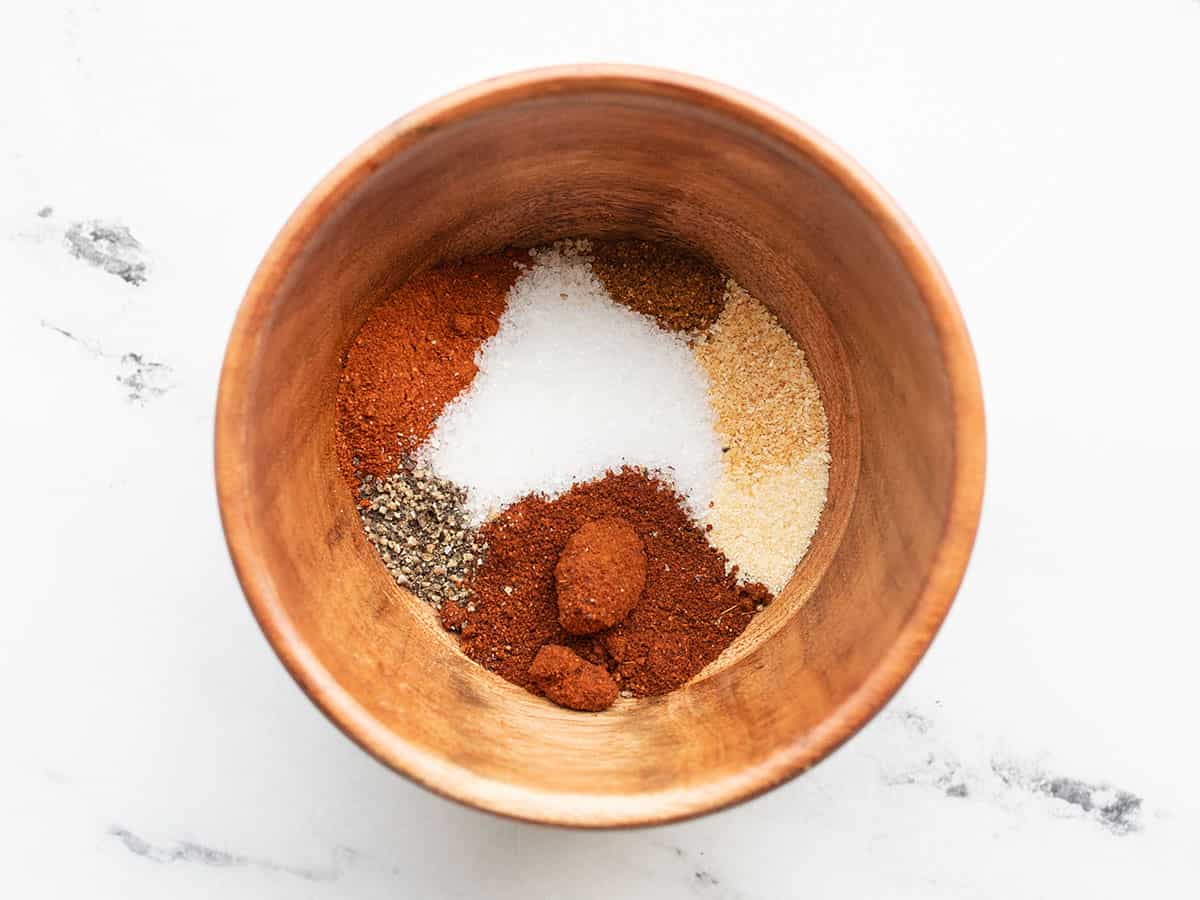 Prepare the chili spice rub first. In a small bowl, combine 2 Tbsp chili powder, 1 Tbsp smoked paprika, ¼ tsp cayenne pepper, ½ tsp garlic powder, ½ tsp onion powder, 1 tsp salt, and ¼ tsp pepper. Stir until they're evenly mixed.
Cut one 3 lb. boneless pork butt or shoulder into large chunks (about 2-3 inch pieces).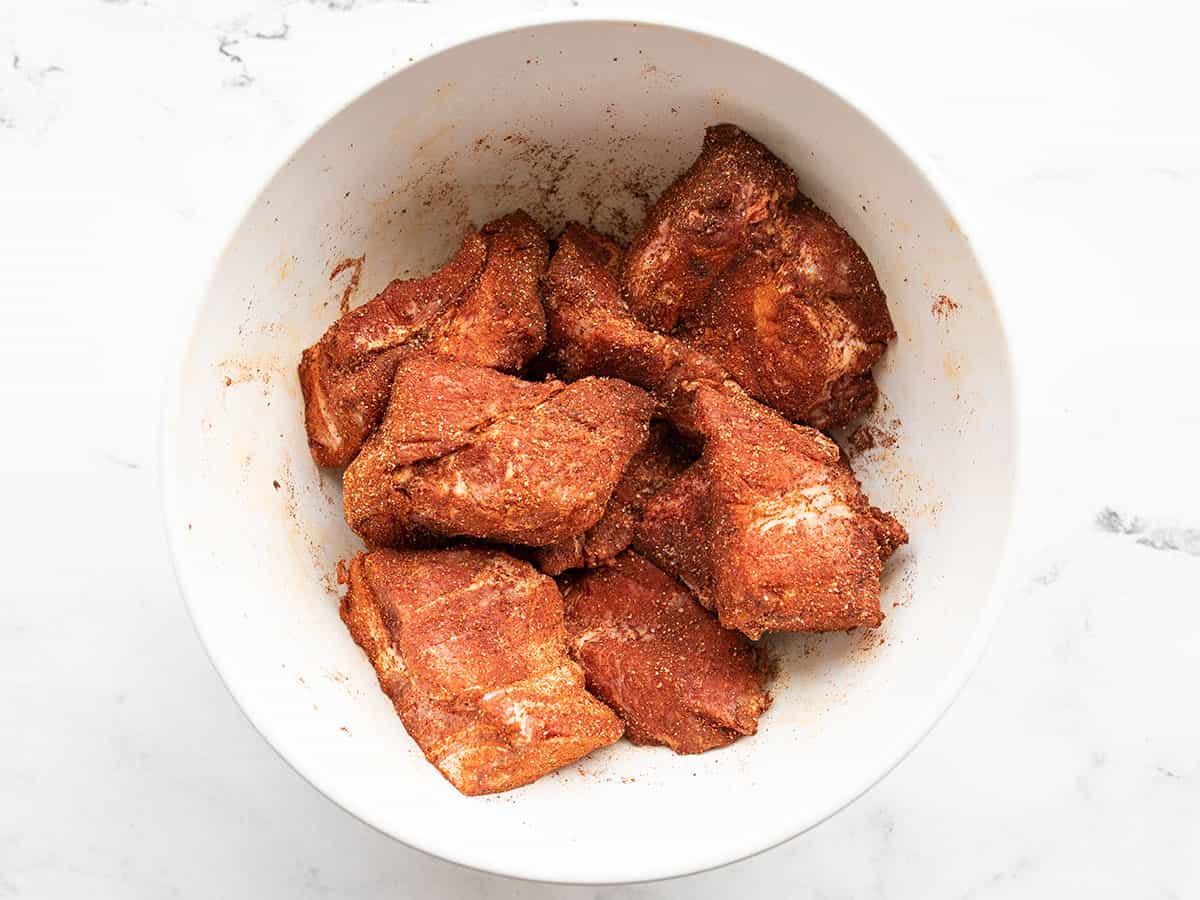 Place the pieces of pork in a bowl and pour the spices over top. Stir the pork pieces until they're evenly coated in spices.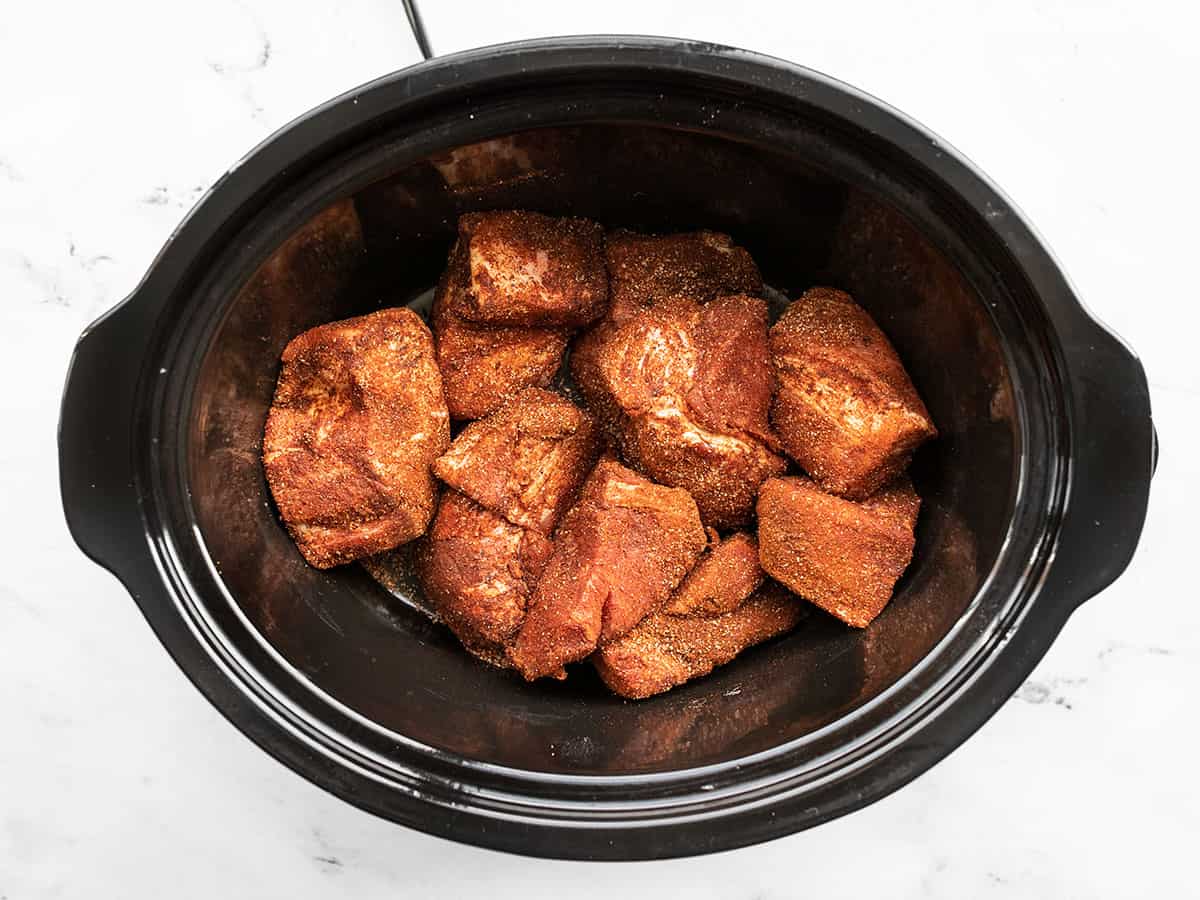 Place the seasoned pork in a slow cooker (I'm using a 5 qt slow cooker and it's only about half full). I do not add any water or liquid to the slow cooker, as the meat will release quite a bit of liquid as it cooks. If your slow cooker specifies that you must add some liquid, you can add a cup of water.
Place the lid on the slow cooker and cook on high for 4-5 hours or low for 8-9 hours. After cooking it should be so tender that it begins to fall apart when stirred. If it doesn't, simply put the lid back on and continue to cook for 30-60 minutes more. Sometimes that last little bit of time makes a huge difference in the texture.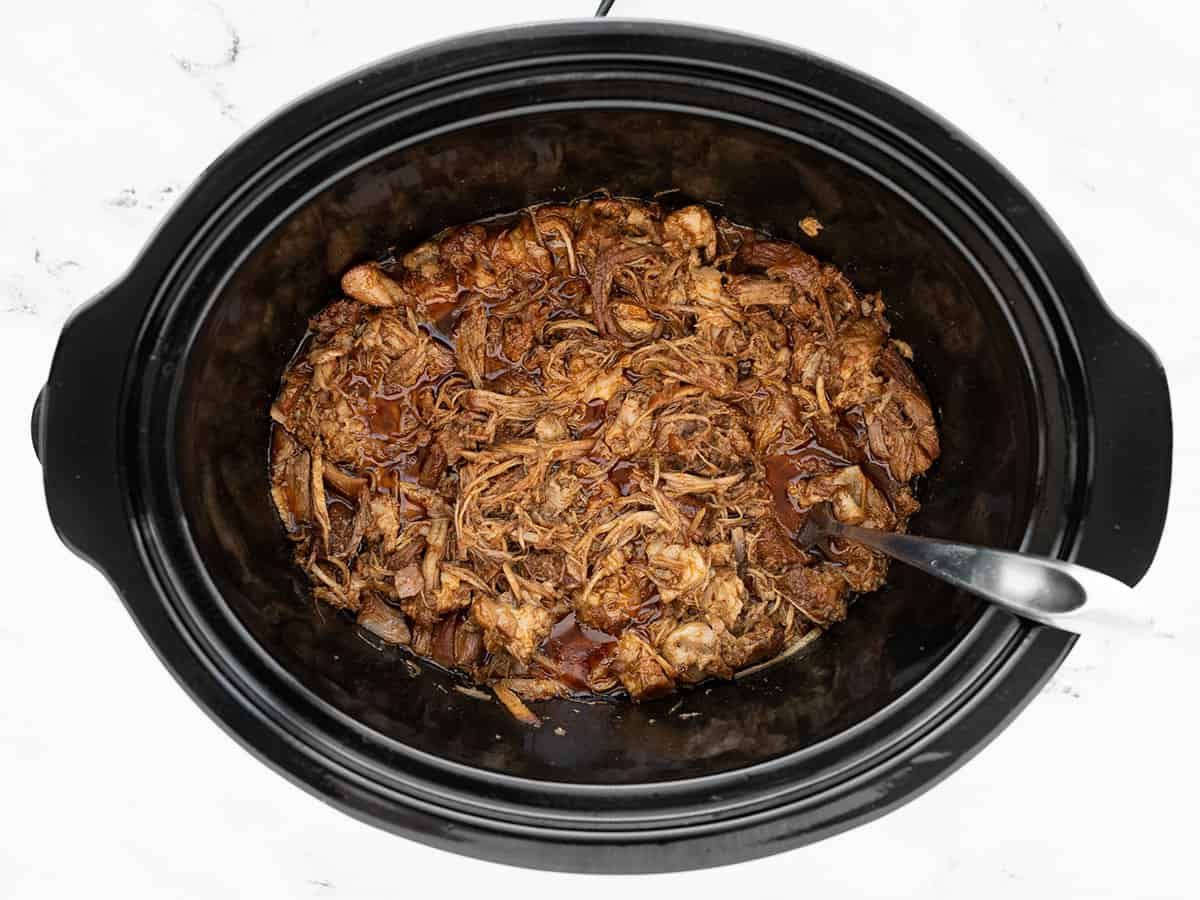 Stir the pork in the slow cooker until it has shredded into smaller pieces. Serve immediately or transfer to a food storage container and refrigerate and/or freeze for later. I like to keep the meat right in the cooking juices during storage for maximum flavor.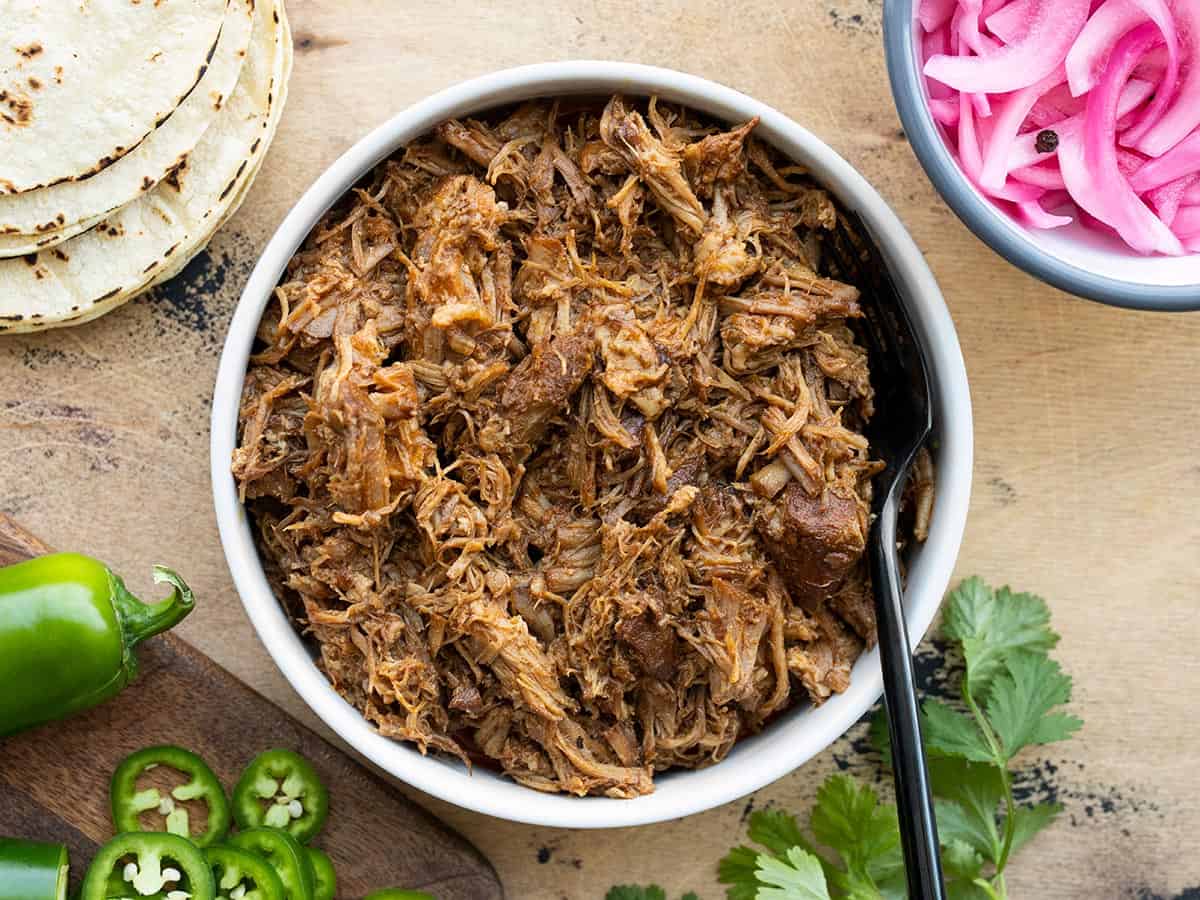 It's soooo tender and juicy! And those spices!!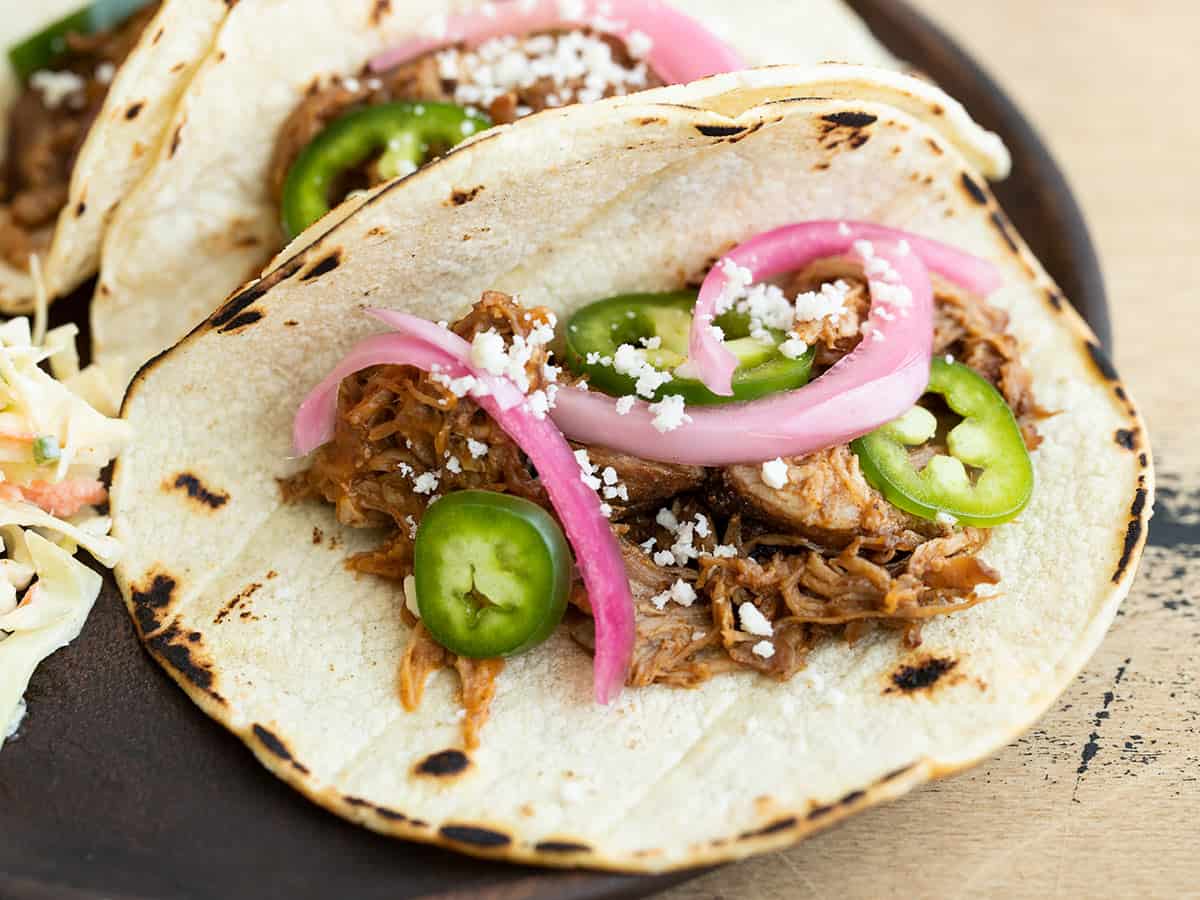 And it makes the absolute BEST tacos!!