How did September get here so quickly?? For the past month I've been trying to decide if I was going to attempt last year's SNAP Challenge again this year. It was a tough decision because the challenge itself was extremely difficult, but also extremely insightful. In the end, I decided to compromise. It's not the SNAP challenge, but it's similar. I'm calling it my "September Challenge".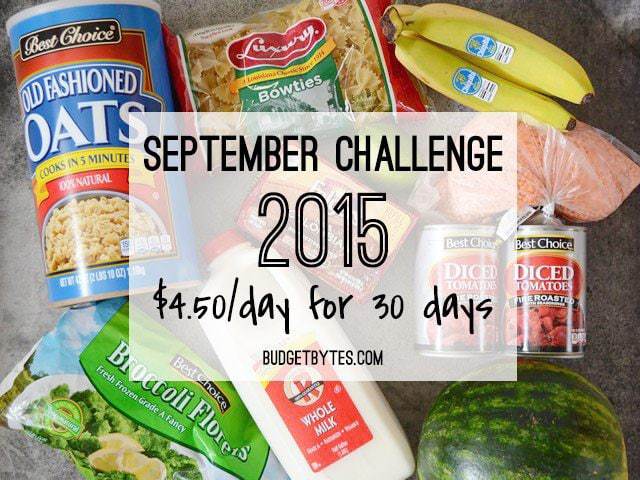 Why I'm Not Doing the SNAP Challenge
Last year's SNAP challenge was hosted by Feeding America, but I noticed that this year they had removed all references to the challenge from their website. I'm not sure why they're not promoting it this year, but not having them backing the challenge makes it difficult for me to explain the concept of the challenge to those who are unfamiliar (and it also stinks because now all the links in last year's challenge go nowhere).
I also feel like my life is SO different than it was last year and that I don't think it's fair to say that I'm attempting to replicate the experience of someone on food stamps. Not only do I have all the "advantages" that I had last year (walking distance to grocery stores, ample kitchen equipment and pantry staples, a lot of cooking experience, no family to care for, etc.), but I also work from home now. So, yeah. I have all day to plan and cook my budget meals. I think it's borderline insulting to say that I'm going to try to live like I'm on food stamps, because honestly it's just not even close.
Last year's SNAP challenge was incredibly insightful into how hunger affected my mental state (stress, concentration, emotional stability) and the social effects of food restriction. I'm not sure doing the challenge again would produce different effects, so I think for the most part, that aspect would just be a rehash. If you haven't read through last year's posts, I highly suggest it because I experienced many unexpected mental and social effects that were quite eye opening.
Why I Still Want To Do a Challenge
Doing the SNAP Challenge last year reconnected me to my roots. This blog was born out of my own personal challenge to eat on $6 or less per day, so going back to a regimented grocery budget helped me refocus the efforts of this blog. Some of my favorite recipes came out of that month of restriction because I was forced to really tap into my creativity.
It also forced me to do more menu planning, which is one of my least favorite tasks. I think that was also beneficial to many of you. Seeing how someone else pairs recipes to form complete meals or even a day's worth of meals can be very helpful.
I like having the opportunity to show you the full picture – the entire grocery receipt, a photo of all the goods purchased, what was eaten each day, and how much it costs ingredient by ingredient versus the actual grocery receipt. The big picture is very important.
What is the September Challenge?
So here is what I decided to do. I'm going to stick to the $4.50/day, $31/week budget because it truly is a challenge. I'm going to do it for the entire month of September. I'm going to flex my creative muscles and use a mix of old and new Budget Bytes recipes to create weekly menus for myself. I'll share the new recipes, update the old recipes with new prices and photos, and give you a weekly breakdown of what I ate and what it cost me, as well as any insights or struggles I experienced.
I'm going to take full advantage of things I already have on hand because I believe in reducing waste and I want this to be an exercise in clearing out my pantry. This means that the first week or two may have unusually low grocery bills as I use up my own stockpile, but the grocery bills will go up towards the end of the month as I begin to replenish my staples.
I'm going to use this time to recalibrate my grocery and cooking habits and hopefully come up with some new, very budget minded recipes for all of you.
My September Challenge Goals
Use plenty of dry beans and whole grains
Don't forget about protein (I don't usually concentrate on protein, but I'm doing a lot of strength training lately and I can feel my body craving it).
Make sure I get both fruit and vegetables every day
Make room for coffee in the budget this year! Last year I skipped it because I was afraid it would cost too much.
NOT BE HUNGRY! (that was the biggest challenge last year and I failed miserably)
I hope this exercise is mutually beneficial to both you and me! Remember to follow me on social media (Facebook, Twitter, Pinterest, Instagram) so that you don't miss links to old recipes that I'll be updating throughout the month (the first of which will probably be finished tomorrow!).
And as always, feel free to share your thoughts, opinions, and constructive criticism in the comments below. I love hearing what you think!