If you love vegan recipes that are easy to make, super flavorful, and budget-friendly…then this roundup is just for you! We've put together a well-rounded list of Easy Vegan Recipes including vegan dinner recipes, vegan pasta recipes, and vegan soup recipes. Although these recipes are vegan, don't let the title fool you! They are still hearty, full of bold flavors, and would probably impress some omnivores too! ;)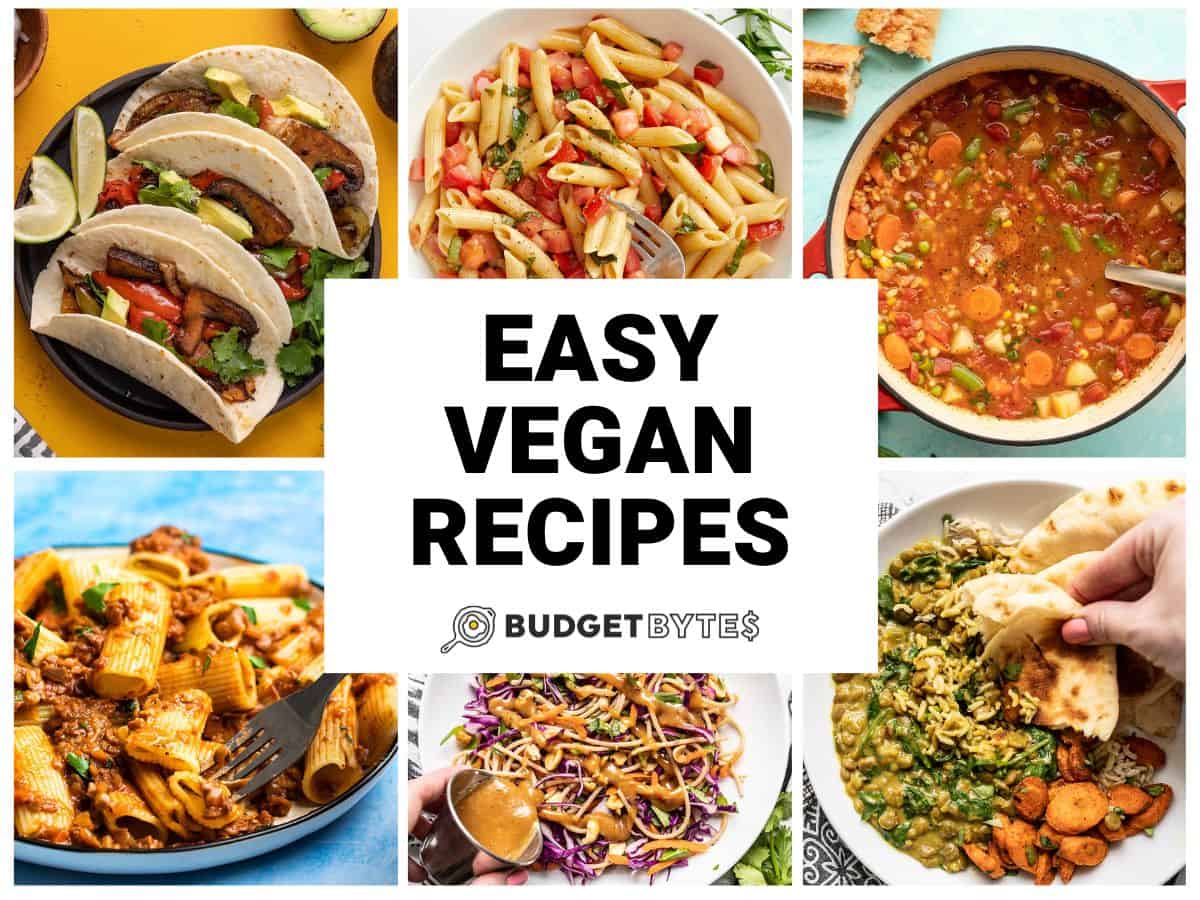 Vegan Dinner Recipes
We're starting things off with this super hearty, rich, and flavorful Lentil Bolognese sauce. The lentils work as a great meat substitute in this pasta sauce along with lots of veggies, herbs, and spices for an incredibly delicious dinner meal.
This rich and creamy Vegan Peanut Stew is so incredibly flavorful, super comforting, and truly a meal in a bowl!
Creamy Coconut Curry Lentils with Spinach are made with a delicious, rich and creamy coconut sauce that goes perfectly with some fresh naan!
Switch things up for dinner this week with these easy Sheet Pan Portobello Fajitas! They're smoky, spicy, and perfect with some avocado and a little lime juice squeezed on top!
Easy Vegan Recipes
Ditch the traditional ramen…this Vegan Creamy Mushroom Ramen recipe is rich in flavor, includes a delicious broth and comes together in just 15 minutes!
If you love a good breakfast scramble, then you've got to try this Southwest Tofu Scramble. It has lots of flavor and comes together in just 15 minutes!
This Vegetable Curry will be your go-to recipe when you really want a fast, simple and delicious dinner meal.
I absolutely love stir-fry recipes and this Vegetable Stir Fry is super simple to make and easy to customize with your favorite veggies or extra add-ins!
Vegan Pasta Recipes
This Cold Peanut Noodle Salad is a super simple salad recipe that comes together with just a few ingredients and is topped with a creamy, tangy, peanut-lime dressing.
This fresh Bruschetta Pasta is the perfect summer pasta that's inspired by the flavors and ingredients in Bruschetta. It makes a great side dish for dinner or you can add other ingredients and make it a meal!
A super scaled back 15-Minute Vegetable Lo Mein recipe that's simple to make, convenient, and satisfying. It includes crisp veggies, comforting noodles, and an easy salty sauce!
These Peanut Tofu Noodle Bowls are light and fresh with crispy tofu, fresh vegetables, and a simple peanut lime dressing.
Vegan Soup Recipes
This creamy, cozy, Rosemary Garlic White Bean Soup comes together with just eight simple ingredients and its perfect with homemade croutons or a piece of crusty bread for dipping.
Tomato Lentil Soup is super hearty, comforting, packed with veggies, and perfect to enjoy any time of the year.
This Cabbage Soup recipe is extremely flavorful, loaded with veggies, and made with a simple herb-filled broth. And this recipe makes a LOT so it's perfect to enjoy throughout the week or freeze some for later.
If you want a soup that's super filling, packed with tons of flavor, and vegan…then definitely try this Vegetable Barley Soup recipe. It's extremely versatile and it makes a huge batch so it's perfect to freeze and enjoy later.