Sometimes recipes surprise me. The concept for this southwest tofu scramble had been in the back of my head for a while, but I kept putting it off because, to be honest, it didn't sound very exciting. But then I finally tried it this weekend I was pretty blown away by how good it tasted despite being incredible fast to make. And then when I realized how many different ways you could serve it, this tofu scramble instantly became a new favorite. 🙌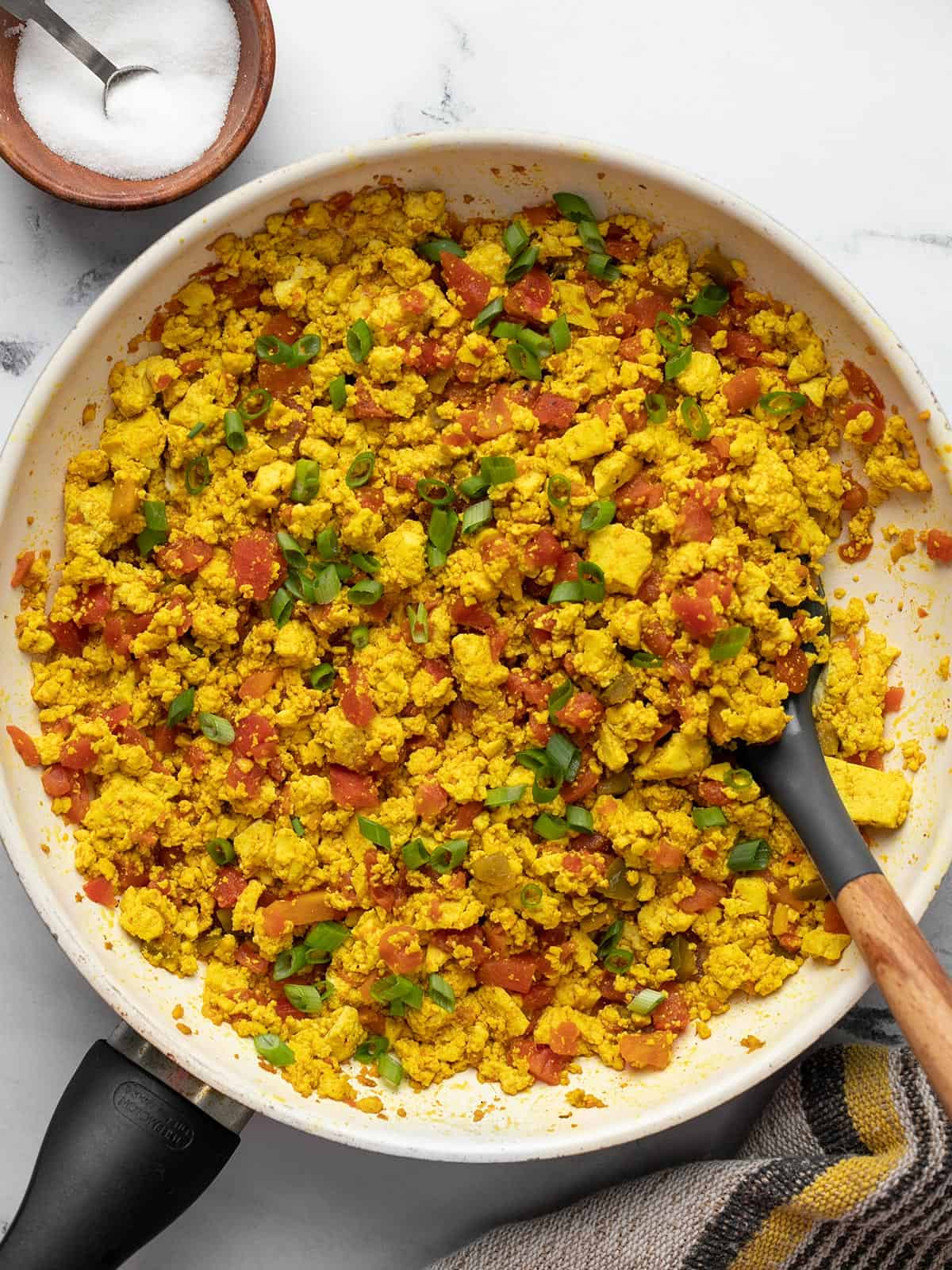 What is a Tofu Scramble?
If you're a tofu newbie, a tofu scramble is simply crumbled tofu that looks a bit like scrambled eggs (but vegan!) and has whatever flavorful add-ins you like. The best part about this scramble is that you don't have to press the tofu like you do with many other tofu recipes, so the overall process is super fast from start to finish. Today we went with a simple southwest flavor profile for the seasonings and add-ins, but you can switch it up to include whatever you want!
For this tofu scramble you'll need these ingredients:
Firm or extra-firm tofu: firm tofu is soft enough to crumble, but strong enough to hold that scrambled egg-like shape.
Spices: tofu has almost no flavor on its own, so we added a hefty dose of spices to flavor up the skillet. We also used a little turmeric to give the tofu a bright yellow color, similar to that of scrambled eggs (that's optional).
Diced tomatoes with green chiles: the diced tomatoes with green chiles add both heat and acidity to the dish which really make the flavors pop! If you can't find diced tomatoes with green chiles (like Rotel), you can use one can of plain diced tomatoes (drained) and one small can of diced green chiles.
Green onion: a little fresh green onion on top adds a final punch of freshness to the scramble that really rounds out the flavor. Definitely don't skip the green onion at the end because it takes the dish to the next level!
What Else Can I Add?
This easy tofu scramble is just begging to be customized with whatever leftovers you might have in your fridge. Try adding some jalapeño, fresh or pickled onion, maybe some black beans, diced bell pepper or zucchini, or even avocado. The sky's the limit!
How to Serve Tofu Scramble
My favorite thing about this tofu scramble is all the different ways you can serve it. You can serve it on a plate with traditional breakfast sides (as you would scrambled eggs), serve it over toast, roll it up into a tortilla with cheese for a breakfast burrito, or serve it over tortilla chips like nachos! The nachos were my absolute favorite. I couldn't stop eating them after the photo shoot. 😆
Storing Leftovers
The leftovers of this tofu scramble hold up pretty well, so if you're cooking just for yourself you'll definitely have a little leftover for you next meal or two! Just pop the tofu scramble into a resealable food storage container and refrigerate until ready to eat. You can reheat it quickly in the microwave,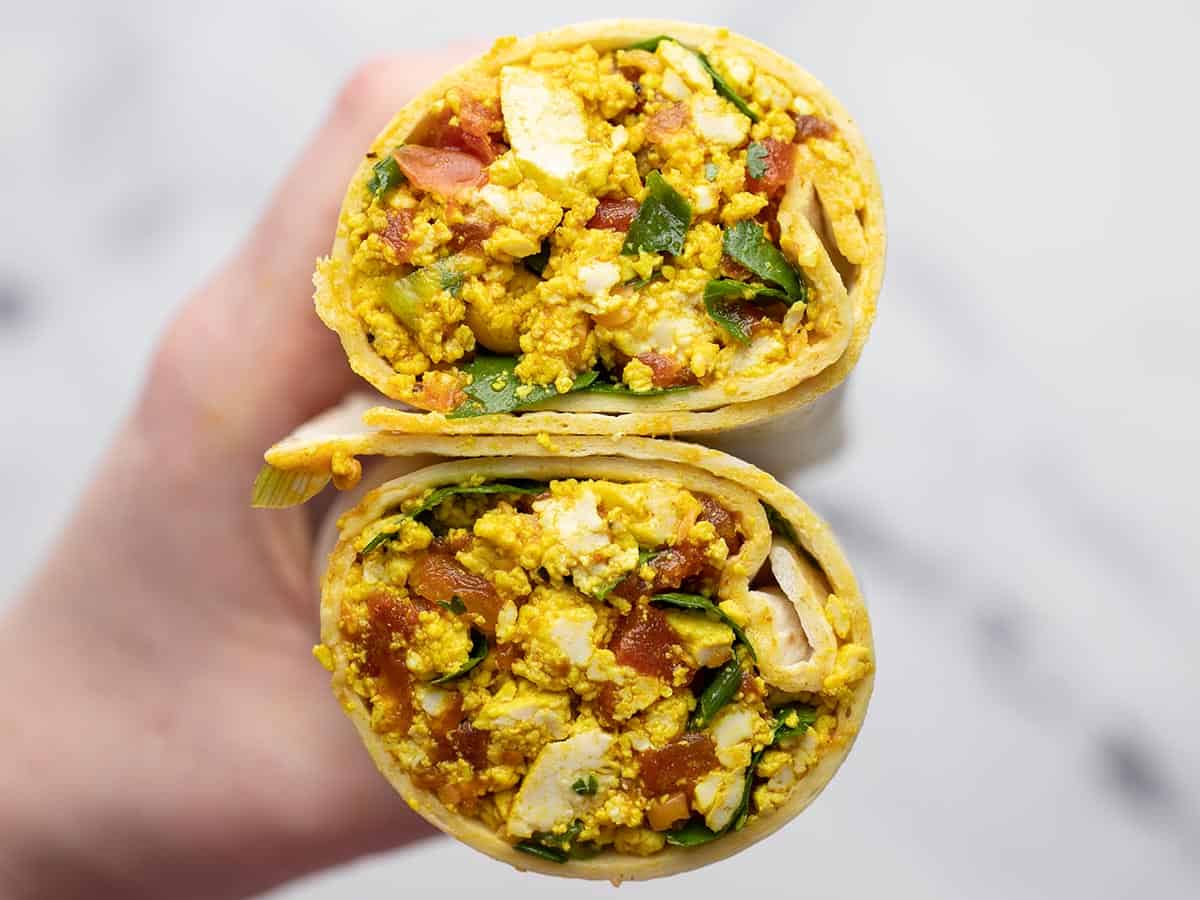 Southwest Tofu Scramble
This southwest tofu scramble is a super fast and filling meal that easy to customize and can be served several different ways.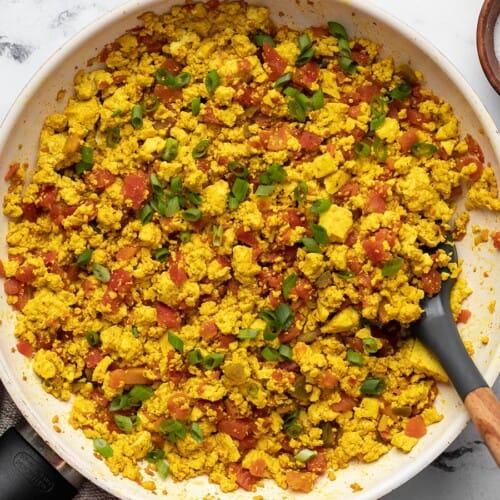 Instructions
Remove the tofu from the package and drain the excess liquid (no need to press the tofu). Place the tofu in a bowl and use your hands to break it into crumbles.

In a small bowl, combine the turmeric, cumin, chili powder, garlic powder, salt, and pepper.

Sprinkle the spice mix over the crumbled tofu and then gently stir until the tofu is evenly coated in spices.

Heat a large non-stick skillet over medium heat. Add the cooking oil to the skillet, swirl to coat the surface, then add the tofu.

Cook the tofu for about five minutes, stirring occasionally, or until heated through. The color of the turmeric will brighten as it cooks.

Drain the canned tomatoes well, then add them to the skillet. Stir to combine, then cook another five minutes or until heated through.

Taste the tofu and adjust the seasonings to your liking. Sprinkle the sliced green onions over top, then serve.
See how we calculate recipe costs here.
---
---
Nutrition
Serving:
1
cup
Calories:
176
kcal
Carbohydrates:
8
g
Protein:
13
g
Fat:
11
g
Sodium:
407
mg
Fiber:
3
g
Read our full nutrition disclaimer here.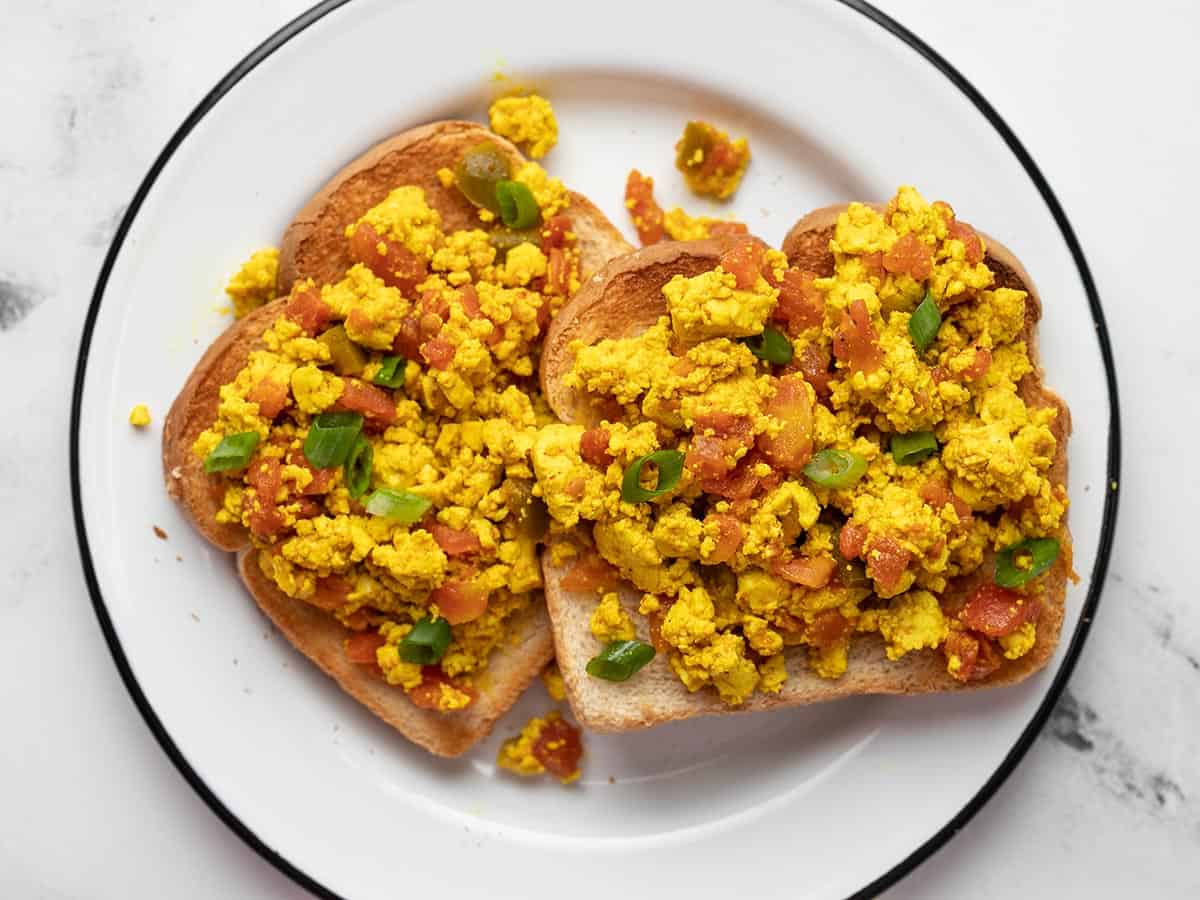 How to Make Southwest Tofu Scramble – Step by Step Photos
Drain one 14oz. package of firm or extra-firm tofu, then place it in a bowl and break it apart into crumbles with your hands. There is no need to press the tofu first.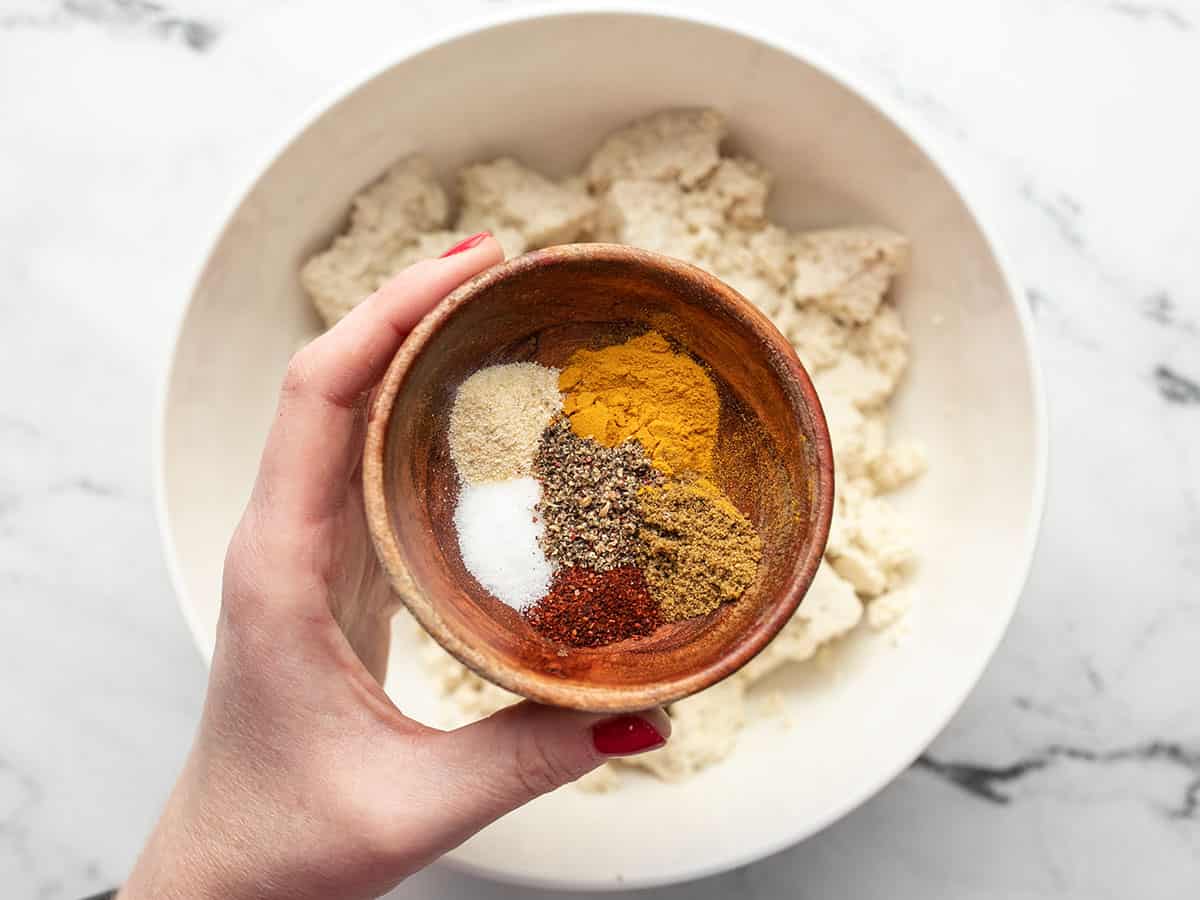 In a small bowl, combine 1 tsp turmeric (optional for color), ½ tsp cumin, ¼ tsp chili powder, ¼ tsp garlic powder, ½ tsp salt, and ¼ tsp freshly cracked pepper. Stir until the spices are evenly combined.
Sprinkle the seasoning over the crumbled tofu.
Gently stir the tofu until it is evenly coated with seasoning. The color of the turmeric will not be very bright at this point, but the color will pop once heat is applied.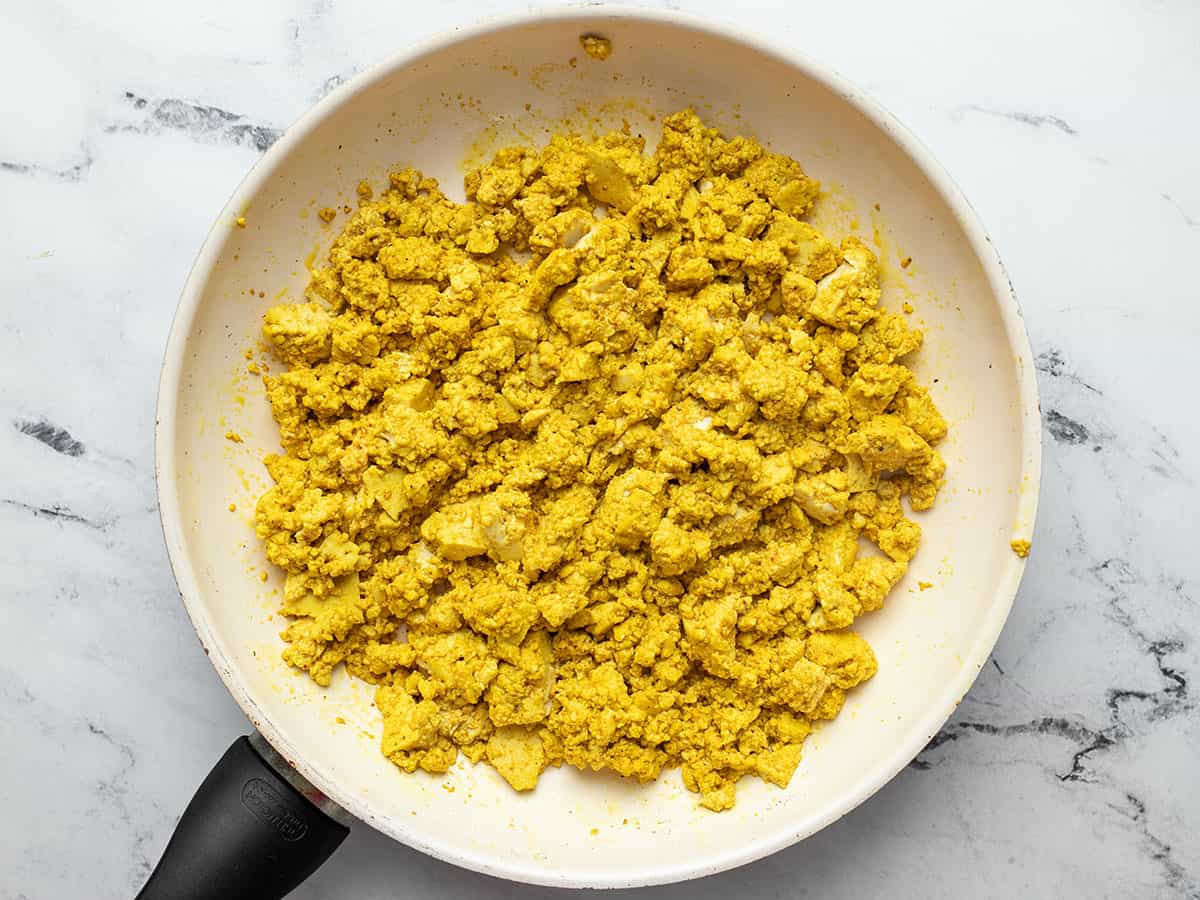 Heat one tablespoon of cooking oil in a non-stick skillet over medium heat. Once hot, add the tofu. Cook over medium heat, stirring occasionally, for about five minutes or until heated through.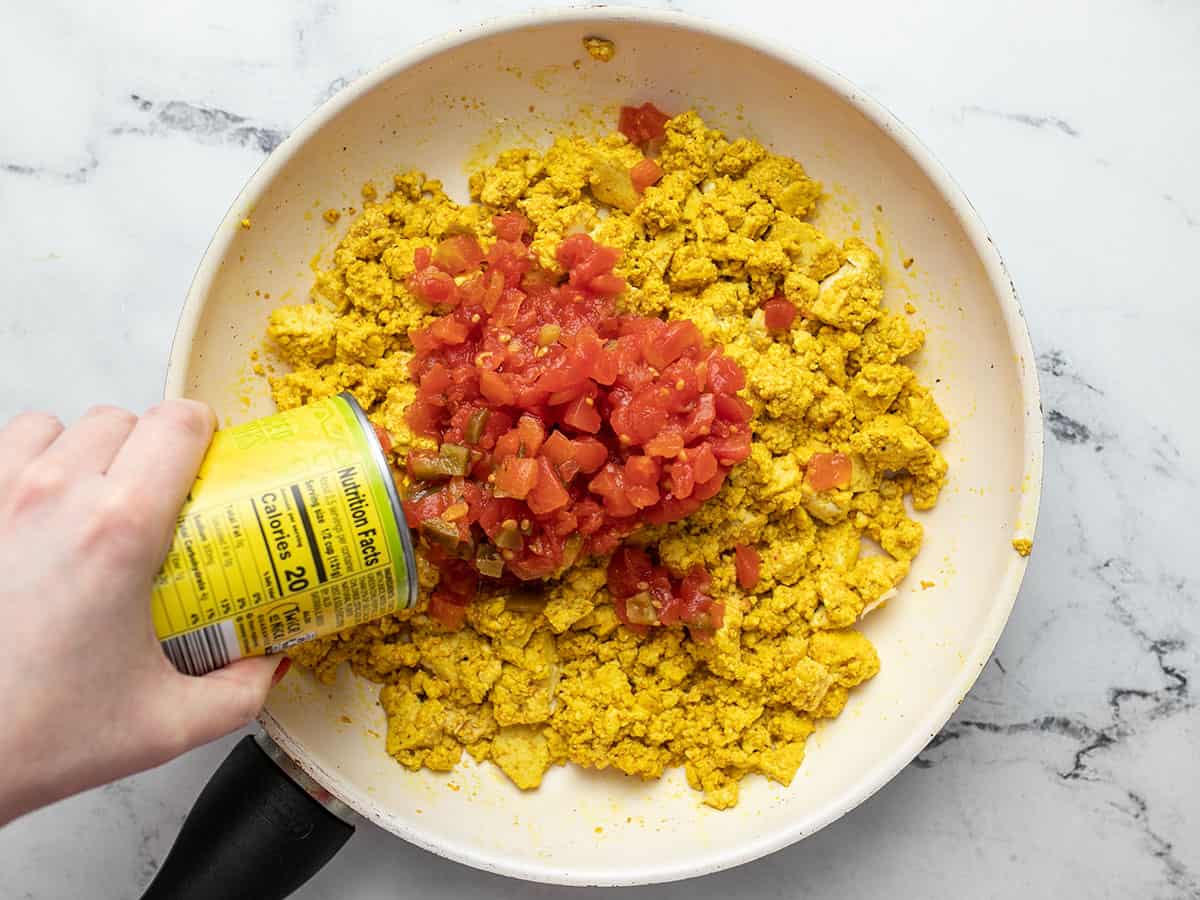 Drain one 10oz. can of diced tomatoes with green chiles, then add it to the skillet with the tofu.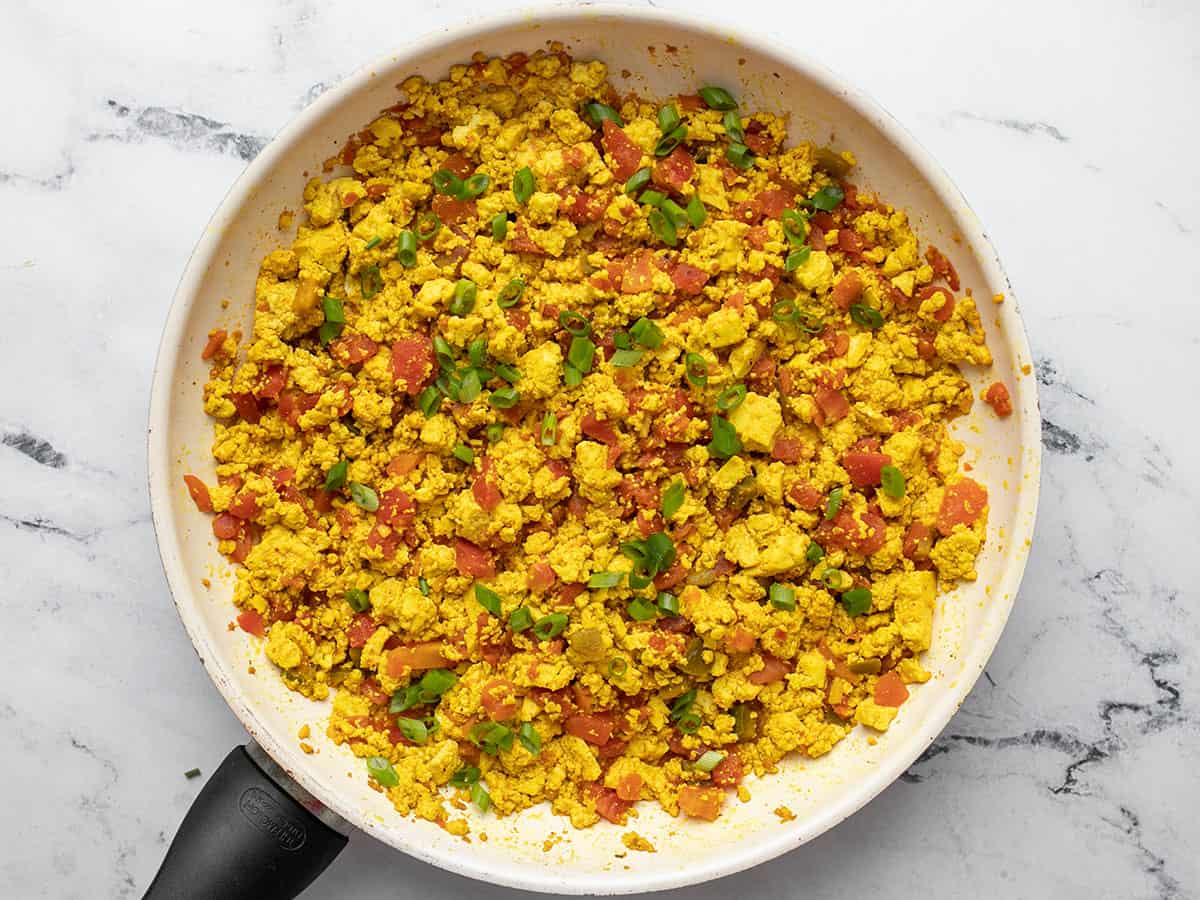 Stir and cook the tomatoes and tofu until heated through and any excess liquid has evaporated. Top with sliced fresh green onions and serve!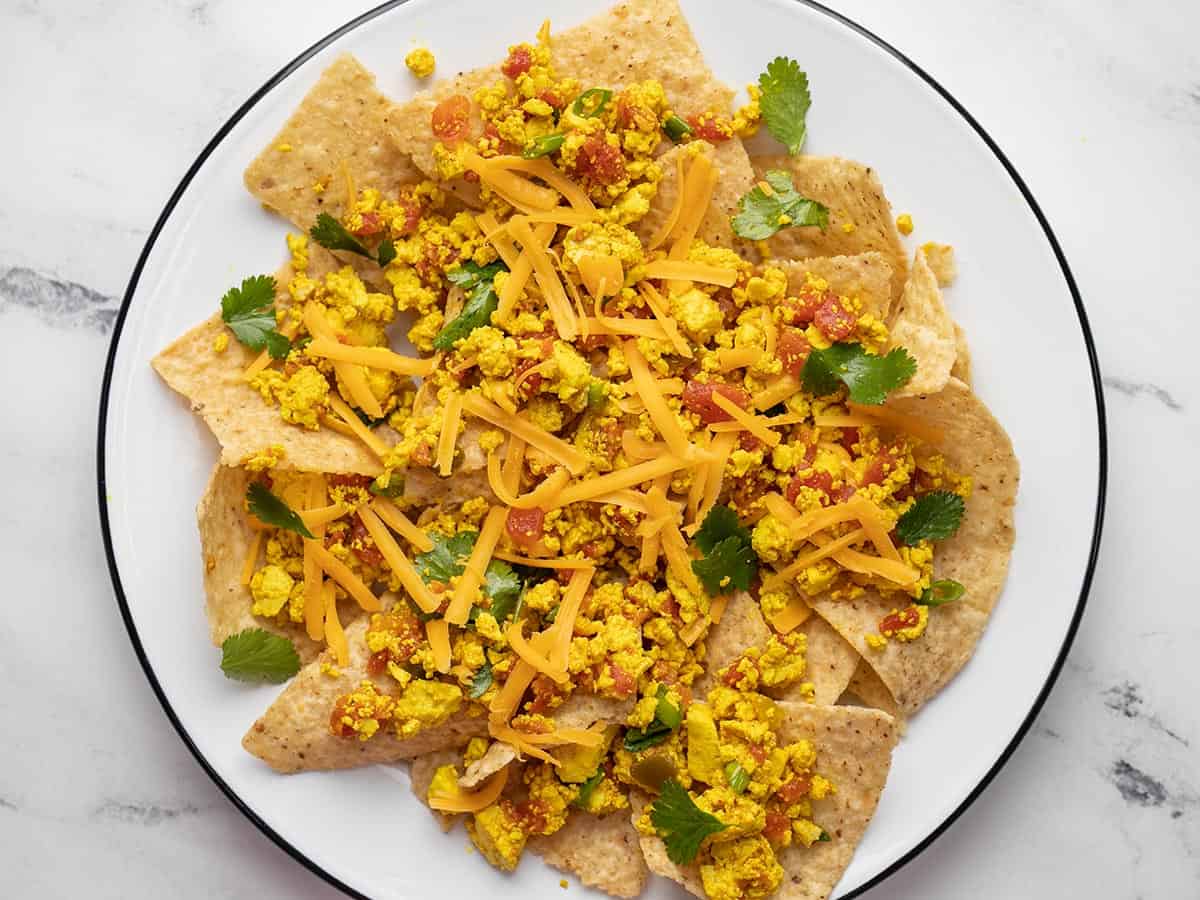 My favorite way to eat this tofu scramble is on tortilla chips with a little shredded cheese on top. 😋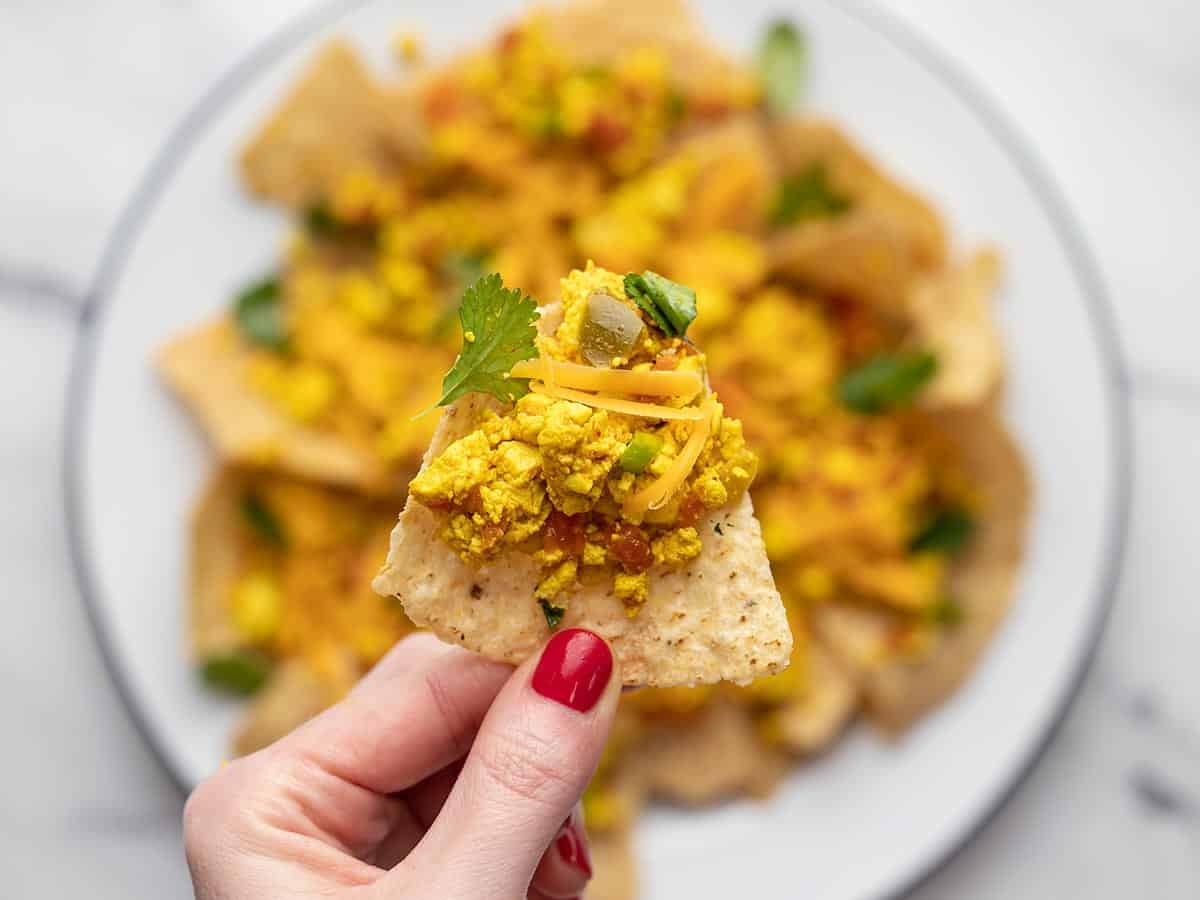 YUM!