I'm so over the cold and dreary weather. How about you? With the arrival of this latest arctic blast, I felt myself craving a warm, rich bowl of chili, but I didn't want to spend all day in the icy cold kitchen making it. So, I made this super fast and simple Weeknight Black Bean Chili and crawled back under the cozy blankets as fast as possible (with a warm bowl of chili, of course!).
What makes it a "weeknight" black bean chili? The fact that it comes together in about 30 minutes and with very little prep. It's also super filling and comforting, but still healthy enough to leave you light and energized for the next day. There's nothing worse than feeling sluggish mid-week from stress eating a heavy dinner the night before (hi, takeout pizza, I'm looking at YOU). This Weeknight Black Bean Chili is healthy and nourishing for both your body and soul, which will help you make it to Friday in one piece. But hey, if you still need a little indulgence, you can top it off with a little shredded cheese, sour cream, sliced jalapeños, or even scoop it up with some tortilla chips. You don't have to be 100% good 100% of the time. ;)
Weeknight Black Bean Chili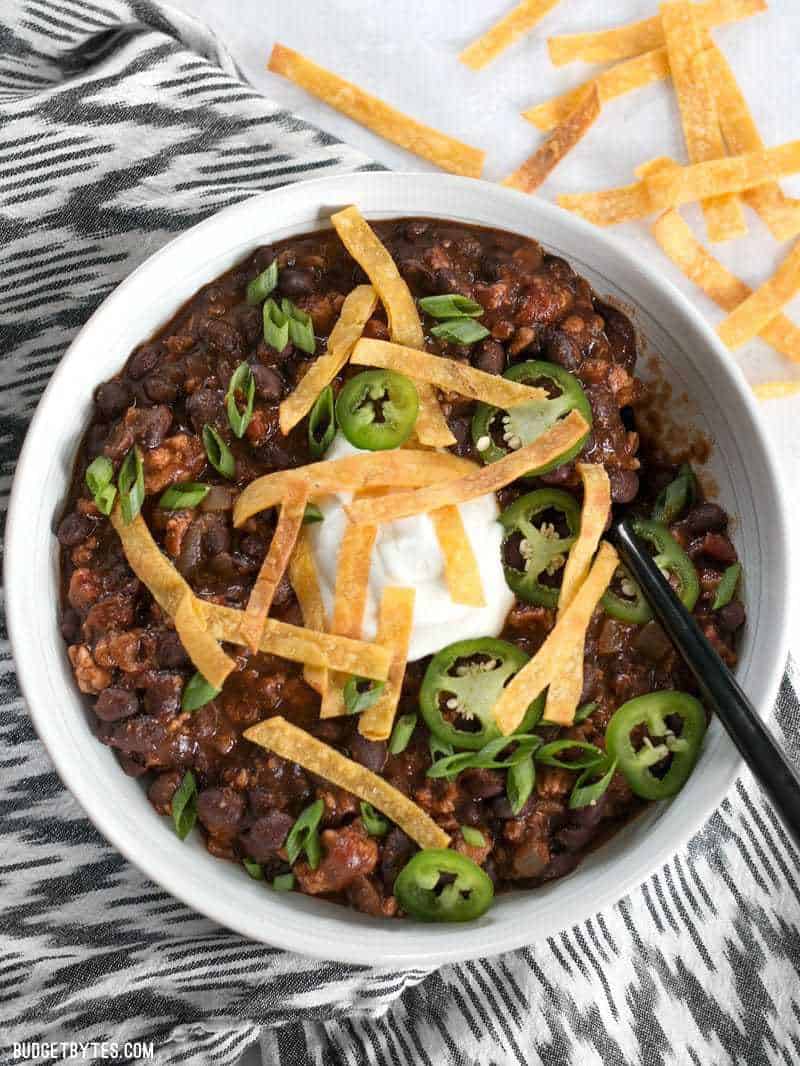 Serve with a side of Jalapeño Cheddar Cornbread!

Weeknight Black Bean Chili
This easy and comforting black bean chili is rich, full of warm chili spices, and fast enough to pull together on a busy weeknight.
Ingredients
1

Tbsp

olive oil

($0.16)

1

yellow onion

($0.32)

4

cloves

garlic

($0.32)

1/2

lb.

ground turkey

($2.50)

3

15oz. cans

black beans

($2.37)

1

15oz. can

diced tomatoes with green chiles*

($0.79)

3

oz.

tomato paste (1/2 of a 6oz. can or about 1/4 cup)

($0.26)

1

Tbsp

chili powder**

($0.30)

1/2

tsp

ground cumin

($0.05)

1/2

tsp

smoked paprika

($0.05)

1/2

tsp

dried oregano

($0.05)

1/4

tsp

salt (or to taste)

($0.02)
Instructions
Dice the onion and mince the garlic. Add the onion and garlic to a large pot with 1 Tbsp olive oil and cook over medium-low heat just until softened (2-3 minutes).

Add the ground turkey to the pot and continue to sauté until the turkey is cooked through (5-7 minutes). Break the turkey up into small crumbles with your spoon as it cooks.

Add the three cans of beans (undrained), the diced tomatoes (undrained), tomato paste, chili powder, cumin, smoked paprika, and oregano. Stir everything to combine.

Let the chili simmer for about 10 minutes to let the flavors blend and help the liquid thicken slightly. Taste the chili and add salt as needed (this will depend on the salt content of your canned goods. I added about 1/4 tsp). Serve with your favorite chili toppings.
See how we calculate recipe costs here.
Notes
*If you want a mild chili, you can use plain diced tomatoes instead of diced tomatoes with green chiles.
**This chili powder is a mild, earthy blend of spices, including mild red chiles.
Nutrition
Serving:
1
Cup
Calories:
414.68
kcal
Carbohydrates:
61.3
g
Protein:
27.08
g
Fat:
8.32
g
Sodium:
1193.58
mg
Fiber:
23.25
g
Step by Step Photos
Begin by dicing one yellow onion and mincing four cloves of garlic. Sauté the onions and garlic with 1 Tbsp olive oil in a large pot over medium-low heat until softened (2-3 minutes).
I used 1/2 lb. of ground turkey (saved the other half in the freezer), but you could use beef, pork, or chicken. Whatever type of meat you prefer.
Add the half pound of ground turkey to the pot and continue to sauté until the turkey is cooked through. Break the turkey up into small crumbles as it cooks. You'll know the turkey is done when the little pieces are firm and white (no more soft pink bits).
Now it's time to add the canned goods. I usually drain and rinse my beans, but in this case I don't want to. The starchy liquid that surrounds the beans in the can will help thicken the chili sauce up very nicely. So, add three 15oz. cans of black beans, 1 15oz. can of diced tomatoes with chiles (or plain diced tomatoes for a mild chili), and 1/2 of a 6oz. can of tomato paste (not pictured because I pulled that from my freezer). The tomato paste will also help thicken the sauce.
Add 1 Tbsp chili powder, 1/2 tsp smoked paprika, 1/2 tsp oregano, and 1/2 tsp cumin. The chili powder I use is a mild blend of spices used to make chili, including mild chile peppers. It is not straight red chile powder, which is quite spicy.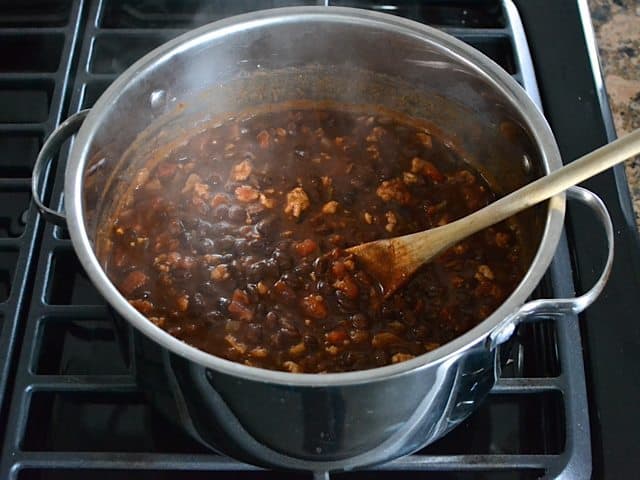 Let the chili simmer over medium-low heat for about ten minutes, which will help blend the flavors and thicken the sauce. Give it a taste and add salt if needed. I added about 1/4 tsp. And that's it! You're DONE making dinner!
Chili is such a crowd pleaser and it really doesn't have to simmer all day like it's in a chili cookoff to be good.
This recipe for Weeknight Black Bean Chili made just over seven cups, or six heaping cup-full sized servings. To make the crispy tortilla strips on top of the chili, I used my Baked Tortilla Chips method, but cut the tortillas into skinny strips instead of triangles. The cooking time is shorter because of the small size, but still incredibly easy!