Chicken thighs are one of my favorite ingredients to cook with because they're fairly inexpensive, they always stay juicy and tender, and they can be added to just about anything. If you're a new cook, chicken thighs are perfect because they're really hard to mess up! So today we've rounded up some of our favorite cheap and easy chicken thigh recipes for you to dive into. Bookmark this list so the next time someone asks, "What's for dinner?" you've got a lot of great ideas in one place. :)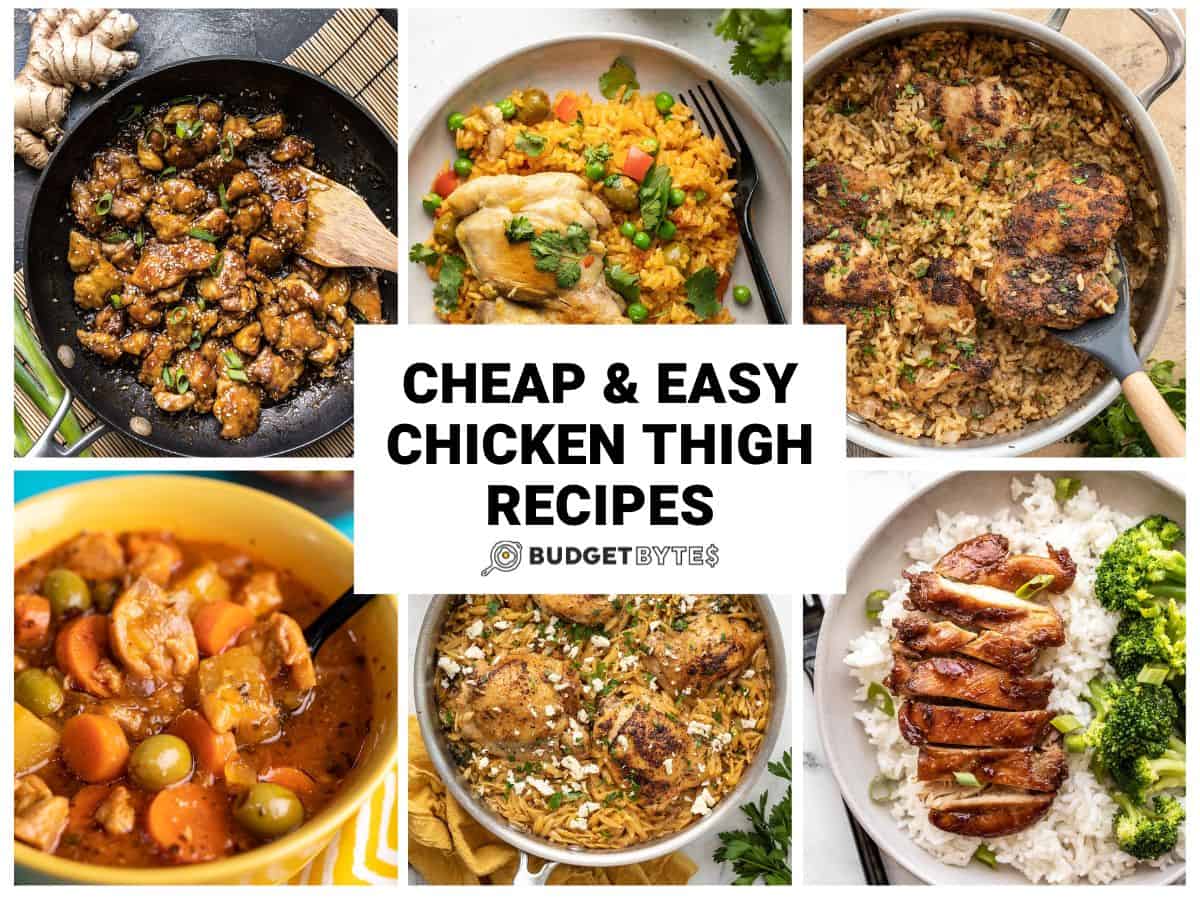 Like chicken breasts better? Check out our Quick and Easy Chicken Breast Recipes round-up.
Easy Chicken Thigh Recipes
I'll start with the easiest recipes, and some of the most loved by our readers. These easy chicken thigh recipes will help you have dinner on the table in no time!
This takeout-fake-out Sesame Chicken has been a reader favorite for almost a decade! It's faster than ordering takeout and is lip-lickin' good.
When you don't have time to fire up the grill, these easy BBQ chicken sandwiches can be made in a skillet in no time. Perfect for quick weeknight dinners!
Pan sauces can transform any boring piece of meat into a masterpiece and this quick honey mustard chicken is the perfect example! Just a few simple ingredients combined with the browned bits leftover after searing the chicken makes the most drool-worthy sauce. You've got to try it!
Tender, juicy, full of flavor and EASY, this Teriyaki Chicken has earned a permanent place in my meal prep rotation!
This deceptively easy Balsamic Chicken and Mushrooms comes together quickly in a skillet and will impress any guest!
One of my favorite summertime dinners is this bright and refreshing Cilantro Lime Chicken. It's so easy and can be eaten as a main dish or chopped up and used in tacos!
Another viral reader favorite, these Sweet and Spicy Glazed Chicken Thighs never disappoint! The sticky sweet and spicy glaze is nothing short of addictive.
One Pot Chicken Thigh Recipes
We love one pot recipes around here and chicken thighs are the perfect protein to add to a one pot recipe. They always stay juicy and tender when simmered in the pot, so your dinner will turn out perfect every time! Here are some of our favorite one pot chicken thigh recipes:
Bright and lemony with rich chicken thighs and salty punches of feta cheese, this one pot lemon pepper chicken with orzo is a show stopper!
The flavors in this Arroz con Pollo just don't quit! It's hearty and flavorful, and makes the best leftovers, so tomorrow's lunch will be covered, too. ;)
Cozy comfort food that comes together in under an hour with only one pot to clean? Count me in! This classic one pot chicken and rice is sure to become a dinnertime staple.
If you love cozy, creamy pasta dishes, you're going to love this one pot creamy chicken and orzo skillet. It's ultra-rich and creamy and restaurant quality, except you can make it at home for a fraction of the price AND using only one pot. WIN!
12. Pollo Guisado (Puerto Rican Chicken Stew)
When we made this Pollo Guisado (Puerto Rican Chicken Stew) in the studio, I took home the leftovers and at them ALL, by myself, within two days. I'm talking, breakfast, lunch, and dinner. That's how good this stuff is!
Air Fryer & Slow Cooker Chicken Thigh Recipes
If you love your specialty kitchen appliances, like air fryers and slow cookers, chicken thighs are great for those cooking methods, too! Not only are they small and cook quickly, but they don't dry out as quickly as breast meat, making them perfect for just about any appliance you've got. Here are some of our favorite chicken thigh recipes for air fryers and slow cookers:
If you want superbly juicy bone-in chicken thighs with perfectly crispy skin, you've GOT to try air fryer chicken thighs. I've never had thighs this juicy. …And in only 20 minutes?! Incredible.
When the weather gets cooler or you just need something extra warm and comforting, this Slow Cooker White Chicken Chili fits the bill. And because it's an easy "dump and go" recipe, it's perfect for those days when you're too busy to cook.
This Slow Cooker Chicken Tikka Masala starts out in a skillet to get some extra browning and flavor, but finishes in the slow cooker so all of the spices have time to penetrate every last bite. The chicken is tender and oh so delicious.
This hearty rice porridge with tender chicken thighs is the mother of all comfort food. It's the perfect savory warm dish for a cold winter morning, but it's great any time of day!
What's your favorite way to eat chicken thighs? Let us know in the comments below!