I have to come clean about something. I've spent more years than not actively avoiding cooking a Thanksgiving dinner. Pandemic or not, my boyfriend and I often eat some version of this Thanksgiving Grazing Board below instead of a full Thanksgiving dinner. This grazing board is festive, it's easy, it's all of my most favorite foods on one tray, and it pairs perfectly with wine and a day of relaxing. And OMG, so much easier than a full meal. 😅
So whether you feel like you just want to skip the big meal all together, or you need something to keep the hungry mouths busy while you're preparing the big meal, a Thanksgiving grazing board is a great option.
P.S. If you're like me and would be just as happy with a grazing board of goodies instead of a traditional Thanksgiving meal, give me a shout in the comments so I don't feel like I'm a weirdo. 😅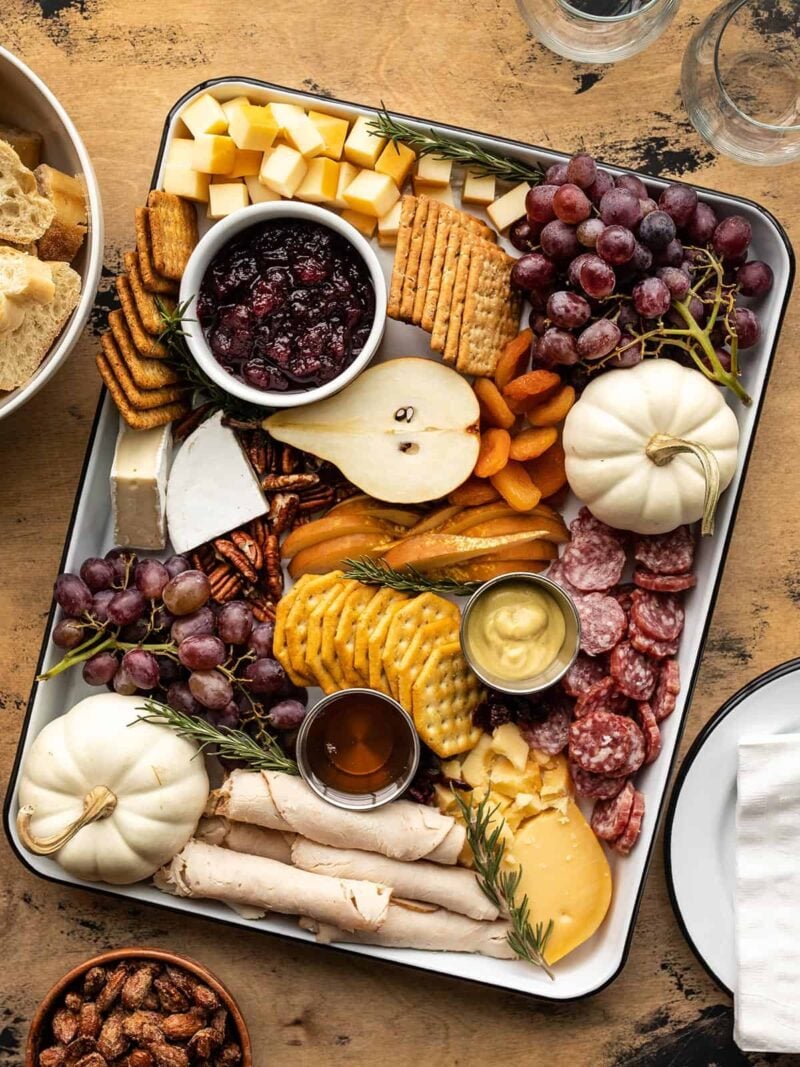 What Goes on a Grazing Board?
When building a grazing board, I like to have items from the following categories: meat, cheese, fruit, bread, dips or spreads, nuts, and pickled vegetables. That way you have an excellent mix of sweet, salty, crunchy, creamy, acidic, and maybe even spicy, that can all be mixed and matched into an endless combination of delicious bites. I think I just described my heaven.
Oh, and garnishes are always a nice touch, if you want it to look pretty. And food that looks pretty is always more fun.
Thanksgiving Grazing Board Options
For each of the categories I listed above, I'll list what I used as well as some alternate ideas that stay in that Thanksgiving/fall theme, so you can easily build your own custom board.
Meat: I used salami medallions and slices of roasted turkey. Other ideas include: peppered salami, prosciutto, honey ham, genoa salami, or soppressata.
Cheese: I included brie, smoked cheddar, and aged gouda in my Thanksgiving Grazing Board. You want to try to have a variety of textures and flavors. Here are some other cheese options (try not to choose two from any category):
Creamy: Chevre, Camembert, Burrata
Hard: Parmesan, Manchego, Pecorino, aged cheddar or gouda
Slicing cheeses: Cheddar, Provolone, Havarti, Swiss
Blue: Roquefort, Stilton, Blue
Fruit: I included grapes and pears on my grazing board, as well as a few dried apricots and dried cranberries to fill in the nooks and crannies. Other fall-inspired fruits could include: apples, pomegranates, figs, or satsumas.
Bread: I used a variety of crackers (from a variety pack) to provide multiple shapes and textures on the board. I also sliced up a baguette and offered that on the side, since there wasn't much more room on the board for bulky pieces of bread. You can use virtually any type of cracker or sliced bread for your grazing board.
Dips and Spreads: I included whole-berry cranberry sauce, honey, and Dijon mustard. Other fall-inspired spreads include: fig jam, pumpkin or apple butter, whole grain mustard or spicy honey.
Nuts: I used a few pecan halves that I had in my pantry to fill in the gaps on the board, but candied walnuts, almonds, or pecans would also be a nice festive touch.
Pickled Vegetables: I ran out of room to include any pickled vegetables on my tray, but they really do offer a nice flavor contrast to the rest of the items and I usually try to include at least one. Sweet mini gherkins would be my preference for the flavor profile of this Thanksgiving Grazing Board, but a classic olive is always nice, too.
Garnishes: I went with a couple of mini pumpkins and rosemary sprigs for my garnish, since I already had both on hand. Another fun option would be to get some fake or fresh sunflowers, fake leaves, or fake pinecones.
How to Save Money on Your Grazing Board
It's so easy to go overboard when buying meats, cheeses, and other specialty ingredients, so here are my tips for keeping your costs in check:
Stick to one or two items from each category. You'll run out of room on your board faster than you think!
Check your fridge and pantry for shelf-stable items you may already have on hand: nuts, dried fruit, mustard, jam, honey, etc.
Buy a variety pack of crackers rather than multiple boxes of single crackers. Crackers are always strangely expensive, IMHO.
Check for a discount bin at your grocer's deli section. A lot of deli department will place pre-sliced meats and cheese, or even specialty cheeses on discount when they get close to their sell-by date! If you don't see a discount section, ask! You can save big using this method, just make sure to buy the discounted items no more than 1-2 days before you plan on serving your grazing board.
Use a baking sheet as your "board" (this white enameled baking sheet is linked in my shop). No one is going to see it through all of those beautiful cheeses anyway! Haha! If your baking sheets are looking a little worse for wear, lay down a piece of parchment paper first.
How Much Does a Thanksgiving Grazing Board Cost?
This board cost me about $27.54, with leftovers of most of the ingredients that I could refill as the board gets eaten down (almost two boards-worth of ingredients). I literally "grazed" on this board and the leftovers all week long. Here is a breakdown of what I purchased and what I already had on hand:
Purchased:
Salami $3.99
Turkey slices $2.99
Brie $2.99
Smoked cheddar $3.49
Aged gouda $3.69
Grapes $3.53
Pears $1.59
Cranberry sauce $0.89
Crackers $2.89
Baguette $1.49
On hand (I didn't measure these ingredients so I can't calculate estimate costs):
Honey
Mustard
Pecans
Dried Cranberries
Dried Apricots
Mini-pumpkins
Fresh rosemary
How to Make A Thanksgiving Grazing Board – Step by Step Photos and Styling Tips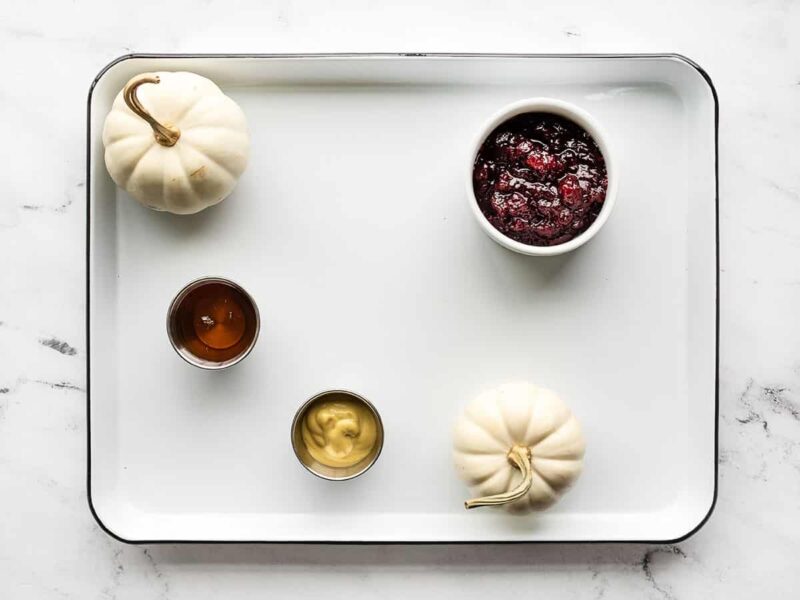 I like to start my board with any larger items and dips and spreads. I find that the little bowls or dishes of spreads make great central pieces to "wrap" other food around. So here I have a bowl of cranberry sauce, two small cups with mustard and honey, and two mini-pumpkins. I also like to avoid having the board look too symmetrical, so I just sort of scattered these pieces around the board.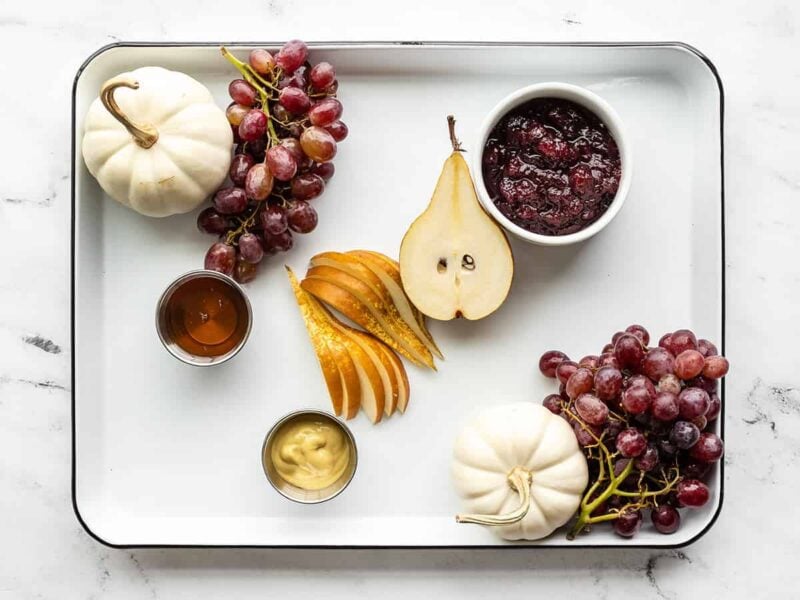 Next I added the grapes and pears because again, these are larger items that will be difficult to place once more ingredients are added. I left half of the pear whole for visual appeal. More pear can be sliced as the the board gets eaten (I actually purchased two pears, so I had an extra waiting to be sliced).
Next I went in with the cheeses. In addition to having a variety and flavors of cheeses, you want to present them in a variety of ways. Hard aged cheeses look beautiful when crumbled. Slicing cheeses, like cheddar, are great as slices or cubes, and softer cheeses are good to present whole or in larger pieces that people can slice off or scoop up as needed.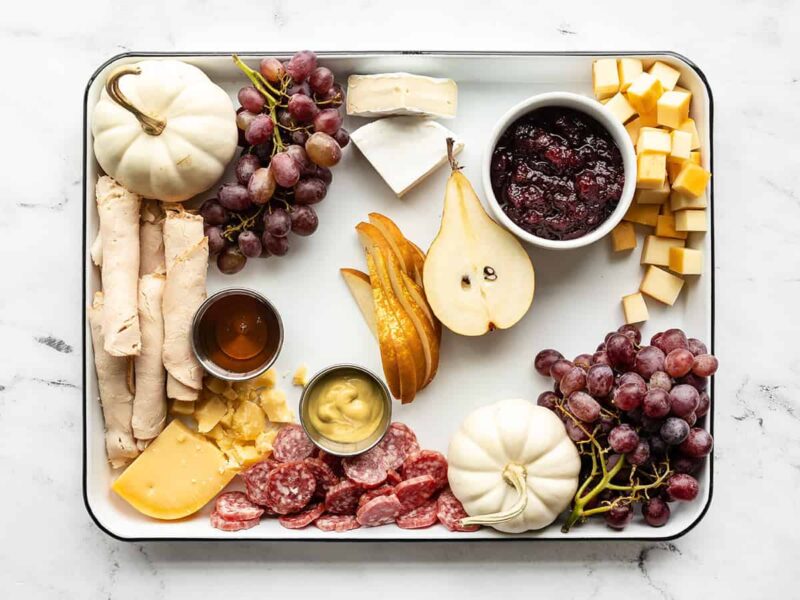 Now it's time for the meat. Again, you want to present the meat in a variety of ways to really maximize the visual texture of the board. There isn't a lot you can do with these little salami medallions, so I just piled them on to make the board look "abundant." For the turkey slices, I rolled them into cigars. If you have thin slices of salami or cured meat, it's fun to fold them in half, then in half again to create a sort of ruffled appearance.
Next came the crackers. I like to fan the crackers out and snake them around other items.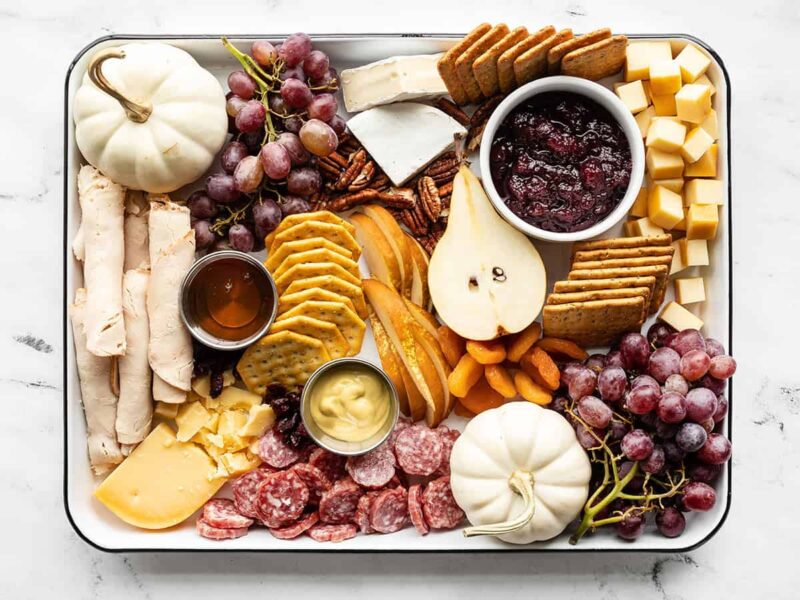 Now the board should be very full, save a few very small blank spots. I used small items like nuts and dried fruit to fill in the blanks.
And finally, I added a few rosemary sprigs as a garnish. The board looks abundant, full of color, texture, and flavor, while still having a distinct fall theme.
What Else Might I Need?
If you do decide to make a Thanksgiving Grazing Board this year, don't forget some plates, napkins, and toothpicks! Oh, and bring your appetite, too. ;)
Looking for a full Thanksgiving dinner? Check out our Thanksgiving Dinner for Two or How to Make Thanksgiving Dinner for Beginners.