When my body is tired and achy, or I'm feeling a bit under the weather, I always throw together a big pot of this Homemade Chicken Noodle Soup. The aroma that fills my house as it cooks is absolutely soothing to the soul, and the "from scratch" flavor make it the ultimate comfort food. There's no bouillon or canned broth here folks, because this chicken broth is the real deal. But don't worry, despite being made from scratch, this surprisingly simple and easy recipe makes the BEST homemade chicken noodle soup with very little hands-on time!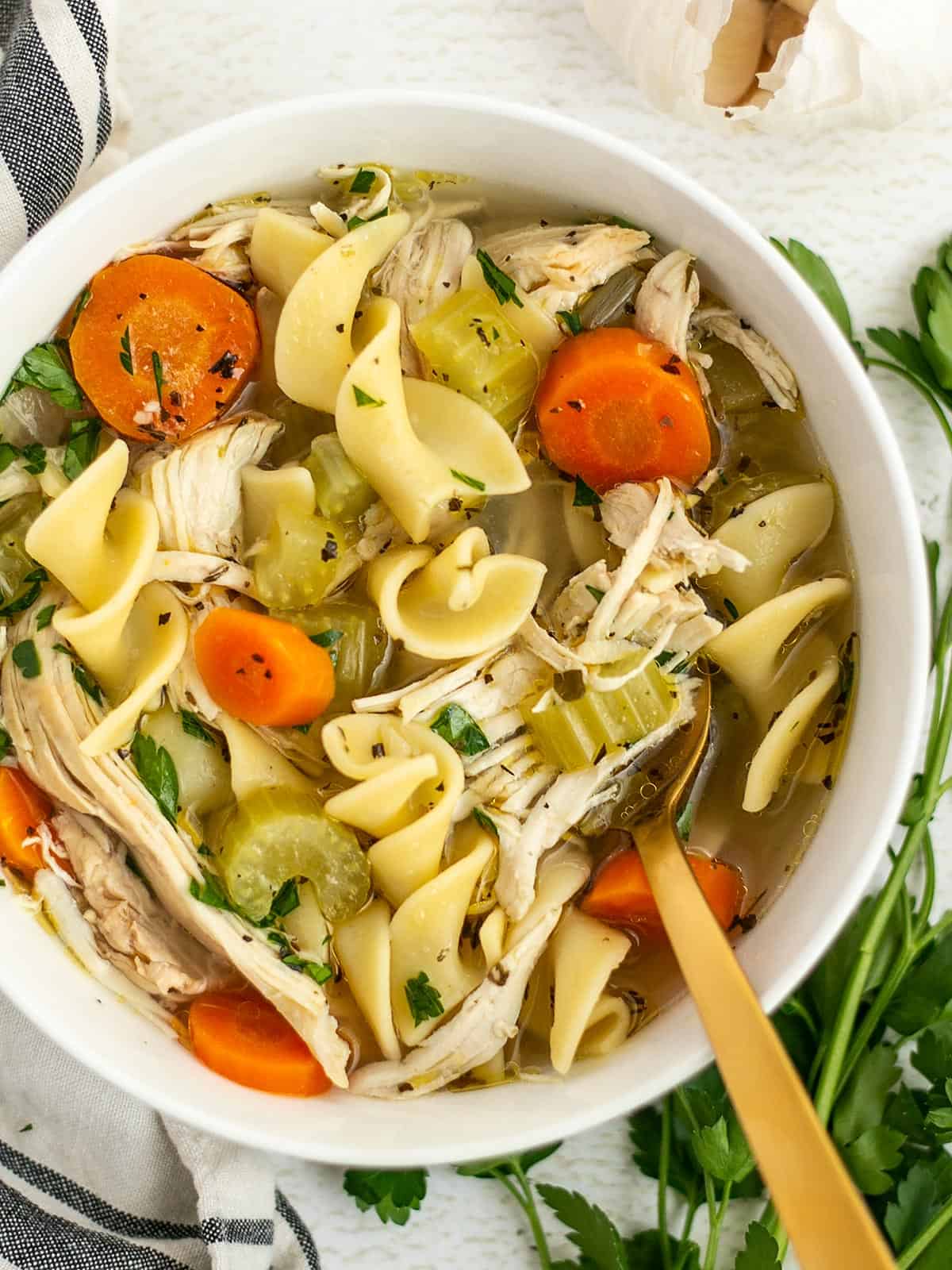 What's in Chicken Noodle Soup?
Making chicken noodle soup from scratch doesn't require a lot of ingredients or any complicated ingredients. Just chicken, a few simple vegetables, herbs, and spices, and you're good to go! Here are the ingredients you'll need to make chicken noodle soup:
Vegetables: I use a simple mirepoix (onion, carrot, and celery), plus a little garlic for extra depth. This medley of vegetables simmer with the chicken to create an incredible homemade broth for the soup. The vegetables also add a lot of color and texture to the soup.
Bone-in Chicken: Using bone-in chicken is critical to creating the most flavorful chicken noodle soup. I use skinless chicken breast (bone-in) so my soup has delicious pieces of white meat throughout. If you're more of a dark meat person, feel free to use thighs or drumsticks. I like to remove the skin to reduce the extra fat, but you can leave the skin on while simmering and remove it later if you want an extra-rich soup.
Herbs and Spices: A combination of basil, parsley, thyme, bay leaf, and pepper give this soup its classic warm flavor. And of course, we add some salt to really help the natural flavors pop!
Water: The chicken, vegetables, and seasoning simmer in water to create a truly amazing homemade broth.
Tips for Making Chicken Noodle Soup More Flavorful
To make sure your homemade chicken noodle soup has the most flavor possible, follow these easy tips:
Use bone-in chicken, not boneless. The bones give the broth a TON of flavor.
Make sure your dried herbs are fresh. Dried herbs lose flavor over time, so check those expiration dates!
Don't rush it. This soup needs to simmer for quite a while to get the most flavor out of the chicken, vegetables, and herbs. But don't worry, it doesn't require much attention as it simmers away.
Don't forget the salt. Salt doesn't just make food taste "salty," it actually helps our tongue distinguish different flavors. So make sure you salt the soup to taste at the end to get the full effect of all of those delicious flavors.
Can I Use Rotisserie Chicken?
To take a short cut with this homemade chicken noodle soup recipe, you can swap out the raw chicken with shredded rotisserie chicken. Pull the chicken meat from the bones before you begin making the soup, then add the leftover carcass to the soup pot and simmer that with the vegetables instead of the whole chicken breast. Remove the bones before adding the shredded chicken back at the end.
Or, instead of simmering the bones, you can use a pre-made chicken broth and simply add the shredded rotisserie chicken at the end. This is a super fast method for making chicken soup, but the flavor won't be quite as amazing as making your own broth!
Slow Cooker Chicken Noodle Soup
This recipe adapts very easily to the slow cooker. Click here to see the instructions for my Slow Cooker Chicken Noodle Soup recipe (with step by step photos).
Freeze the Leftovers!
This recipe makes a big batch, so I always freeze about half of it for those days when I'm really under the weather. A quick reheat in the microwave or in a pot and this soup instantly makes me feel better. To freeze this soup, first divide it into single portions, make sure it is chilled completely in the refrigerator, then transfer it to the freezer, for up to about three months.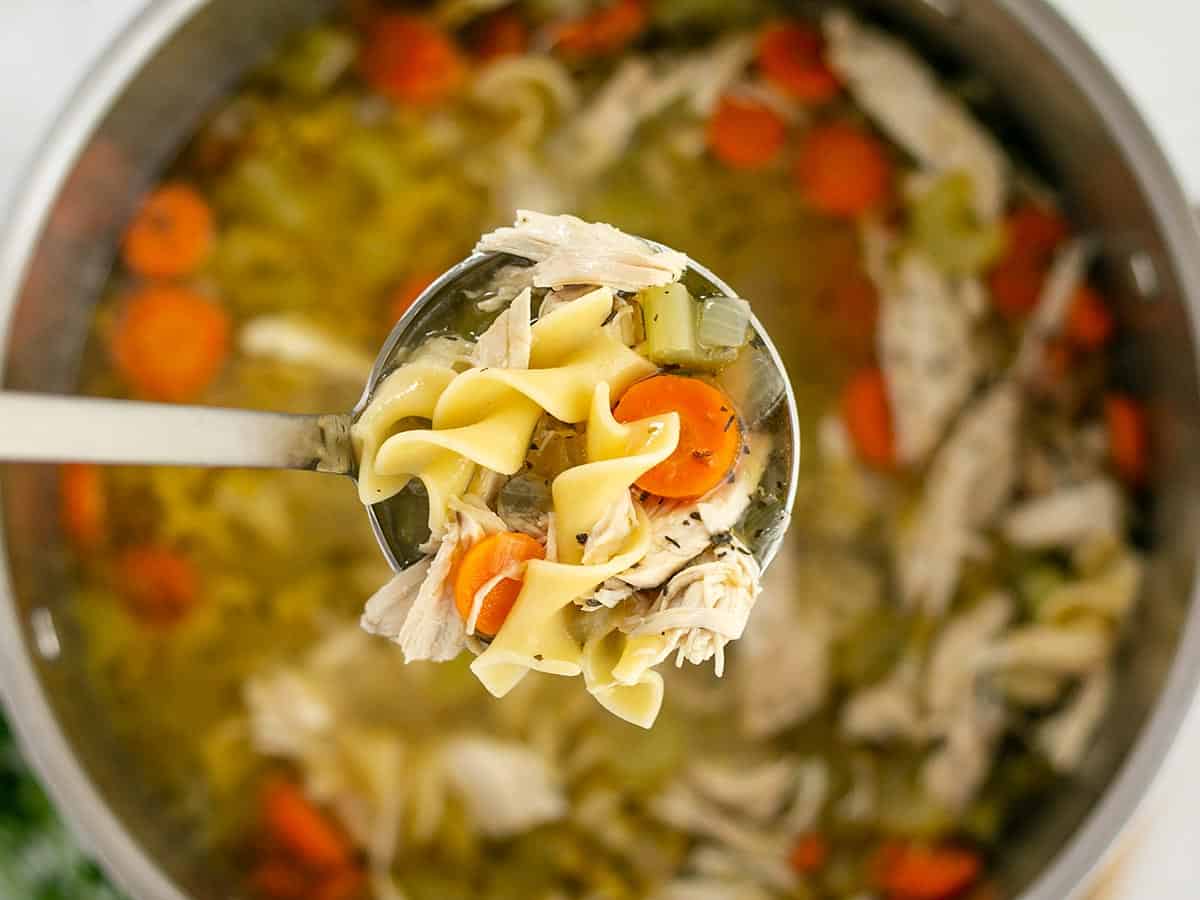 Pairs perfectly with homemade No-Knead Focaccia Rolls!
The Best Homemade Chicken Noodle Soup
This Homemade Chicken Noodle Soup is made 100% from scratch, with plenty of chunky vegetables, herbs, and a homemade broth, just like Grandma used to make!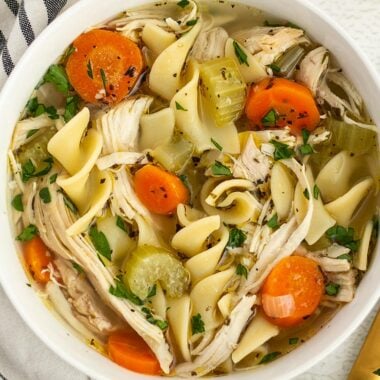 Ingredients
2

Tbsp

olive oil

($0.32)

1

medium

yellow onion

($0.37)

3

cloves

garlic

($0.24)

1/2

lb.

carrots

($0.49)

1/2

bunch

celery

($0.83)

2

split chicken breasts, bone-in

($6.64)

1

tsp

dried basil

($0.10)

1

Tbsp

dried parsley

($0.15)

1/2

tsp

dried thyme

($0.05)

1

bay leaf

($0.15)

1/4

tsp

Freshly cracked pepper

($0.05)

2-3

tsp

salt

($0.05)

6

oz.

egg noodles

($1.00)
Instructions
Dice the onion and mince the garlic. Add the onion, garlic, and olive oil to a large pot and sauté over medium heat for about 5 minutes, or until the onions are soft and transparent.

While the onion and garlic are sautéing, wash and slice the carrots and celery. Add them to the pot and continue to sauté for a few minutes more.

Pull the skin and any excess fat from the chicken breasts. Add the breasts to the pot along with the bay leaf, basil, parsley, thyme, some freshly cracked pepper, and

8

cups of water. Cover the pot, bring it to a boil over high heat, then reduce the heat to low and simmer for one hour. Make sure the pot continues to simmer for the whole hour. If the heat is turned down too low and it is not bubbling away, the chicken will not shred easily.

After an hour of simmering, remove the chicken from the pot. Using two forks, pull the meat from the bone and shred it slightly. Season the broth with salt. Begin with one teaspoon and add more to your liking. I used 2-3 teaspoons. The flavor of the broth will really pop once the salt is added.

Add the noodles to the pot, turn the heat up to high, and boil the noodles until tender (about 7 minutes). Return the shredded chicken to the pot. Taste and season again with salt if needed (I didn't need to). Serve hot!
See how we calculate recipe costs here.
---
Nutrition
Serving:
1
Serving
Calories:
211
kcal
Carbohydrates:
20
g
Protein:
13
g
Fat:
9
g
Sodium:
638
mg
Fiber:
2
g
Read our full nutrition disclaimer here.
Love chicken soup? Then you'll LOVE my Chicken Stew. It's like chicken noodle soup's heartier, more rustic cousin!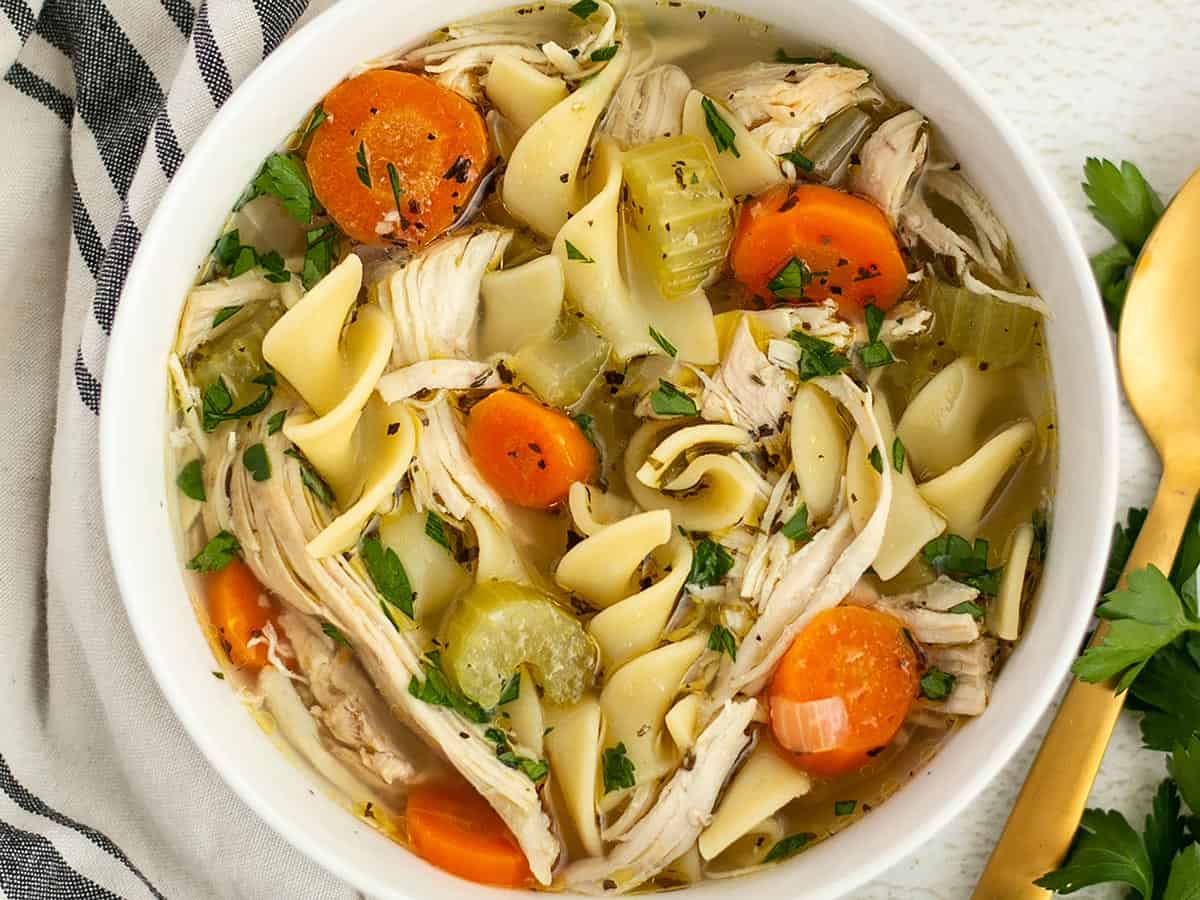 How to Make Chicken Noodle Soup From Scratch – Step By Step Photos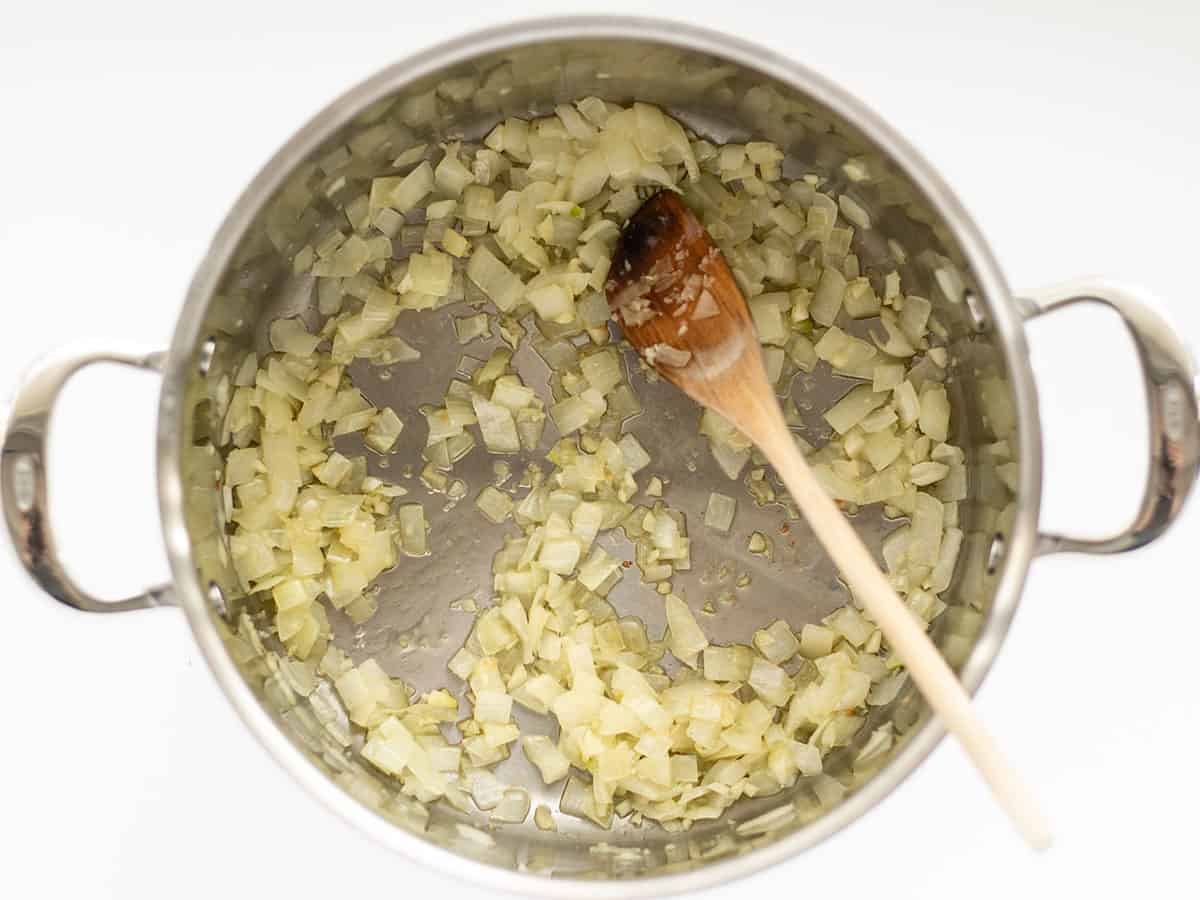 Begin by dicing one onion and mincing three cloves of garlic. Place them in a large pot with 2 Tbsp olive oil and sauté over medium heat until the onions are soft and translucent.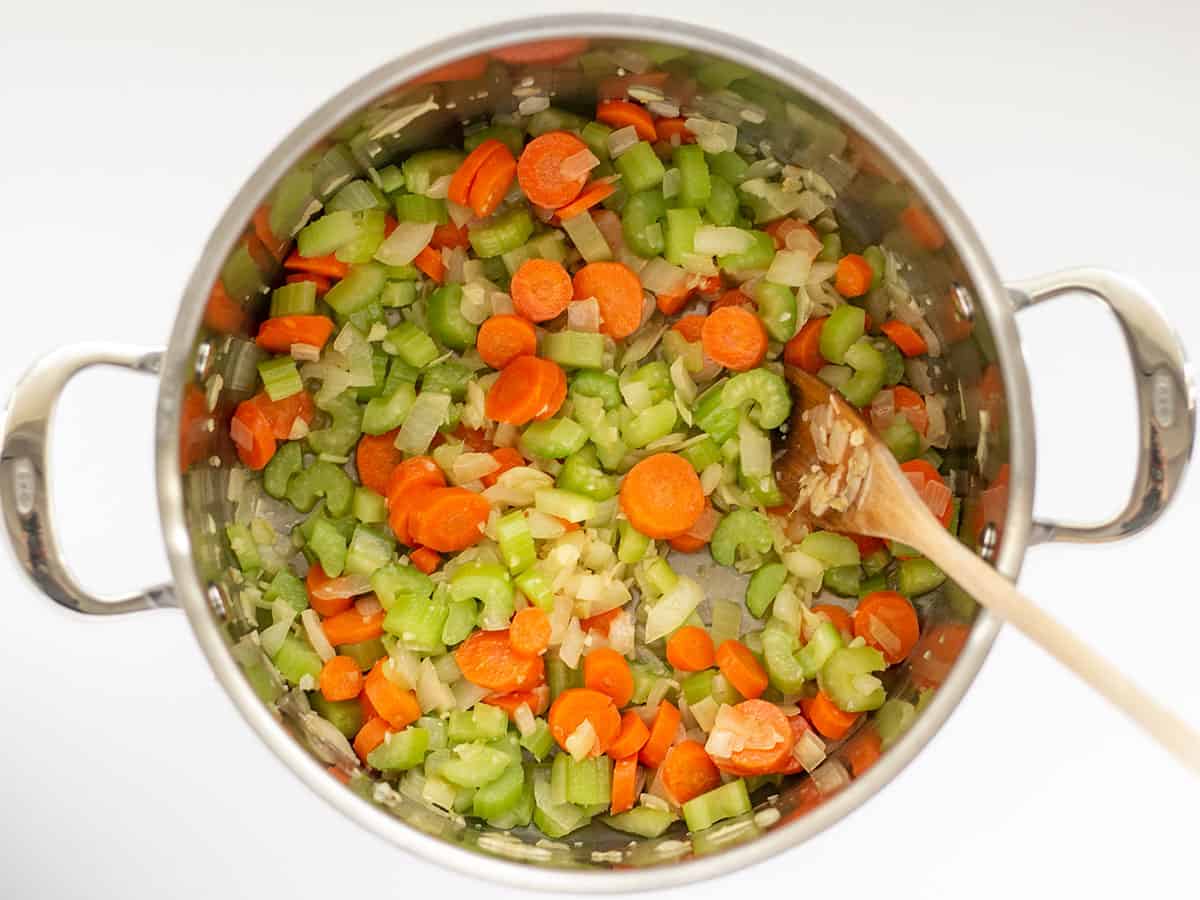 While the onion and garlic are cooking, clean and slice 1/2 lb. carrots and 1/2 bunch celery (3-4 stalks). Add them to the pot. Continue to sauté the onions, carrots, and celery together. You'll only use half of a one-pound bag of carrots and half of a bunch of celery, but the rest doesn't need to go to waste. You can clean and slice the rest and freeze them to make another batch of soup later. I do it every (other) time. It takes just a few more minutes and is super convenient later!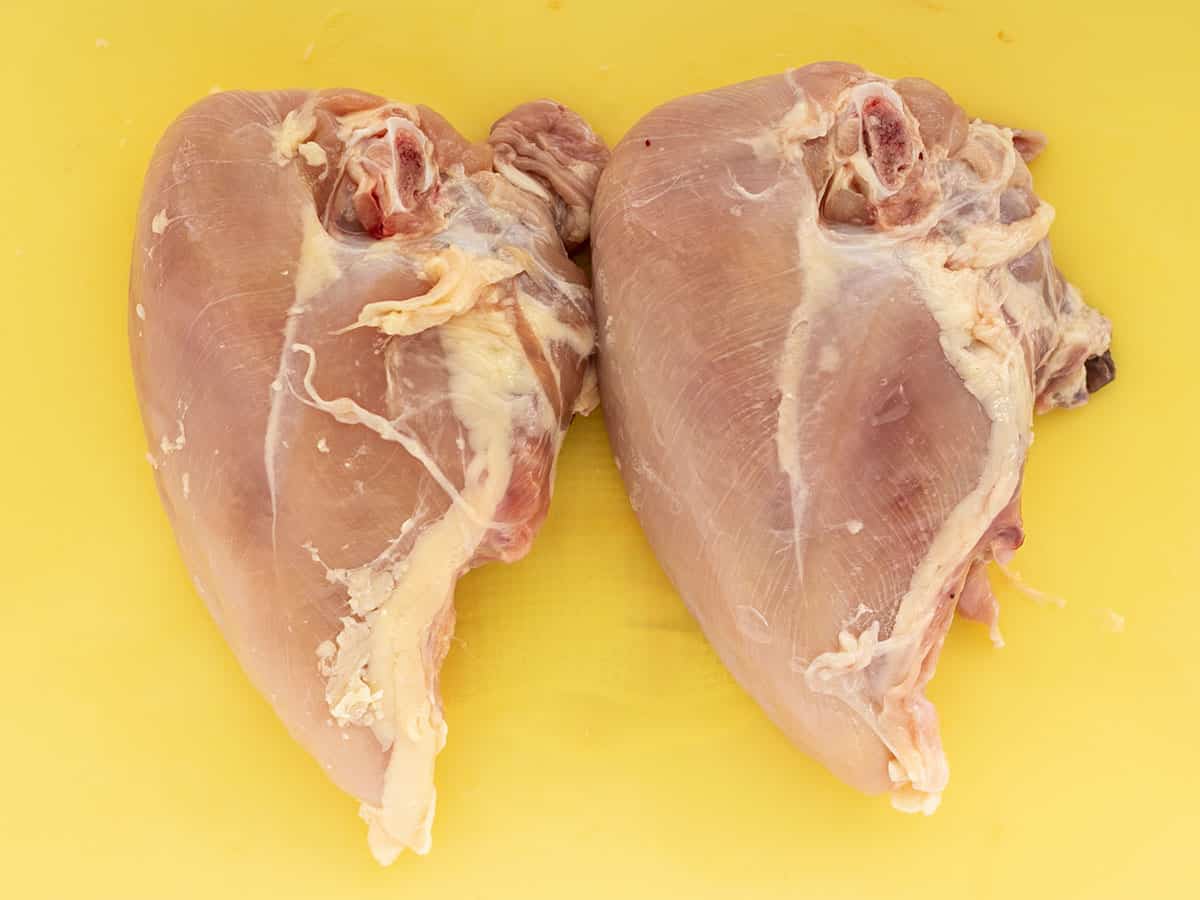 Remove the skin from two split chicken breasts (2.5-3 lbs. total). Split chicken breasts come with bones and rib meat, both of which add a LOT of flavor to the broth. They will also sometimes be labeled "bone-in chicken breast with rib meat".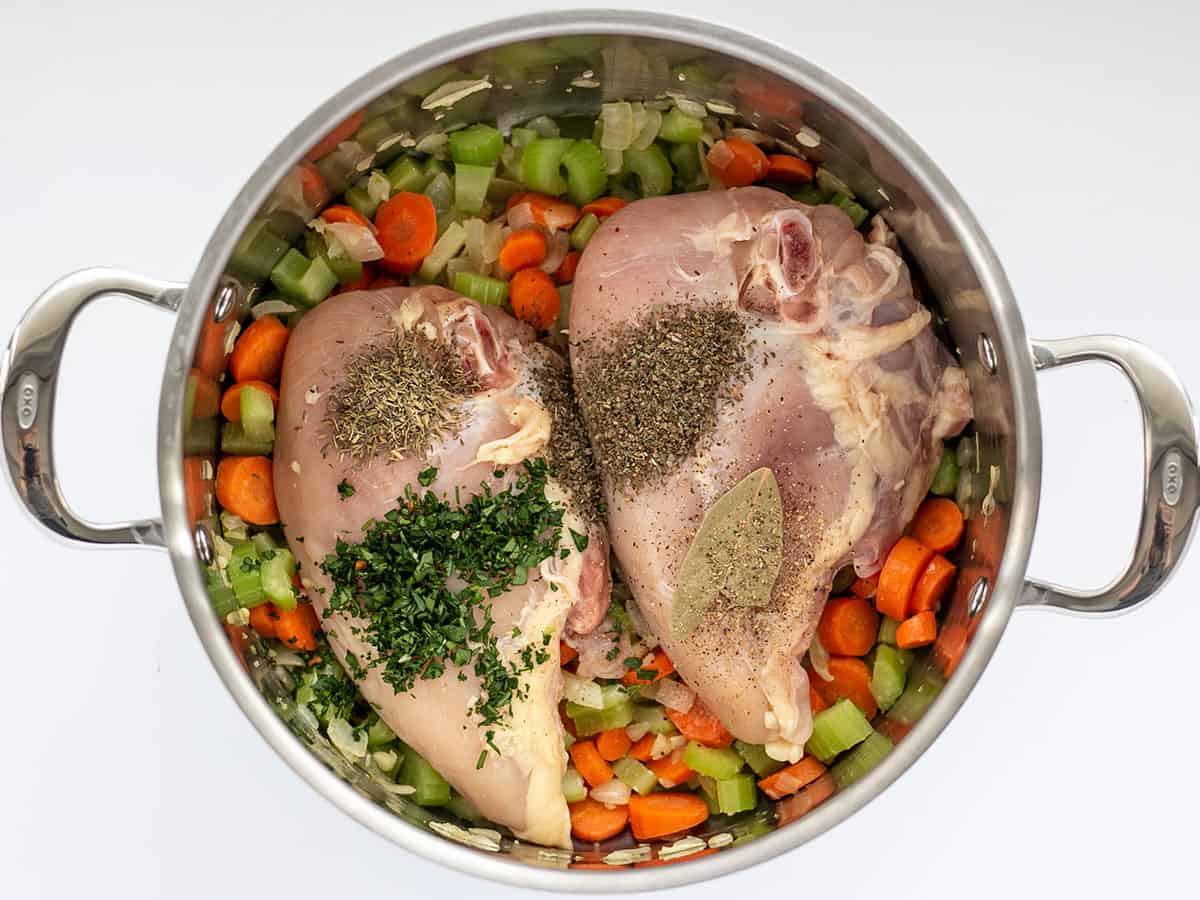 Add the chicken breasts to the pot along with 1 tsp dried basil, 1/2 tsp dried thyme, 1 Tbsp dried or fresh parsley, 1 bay leaf, and about ¼ tsp freshly cracked black pepper.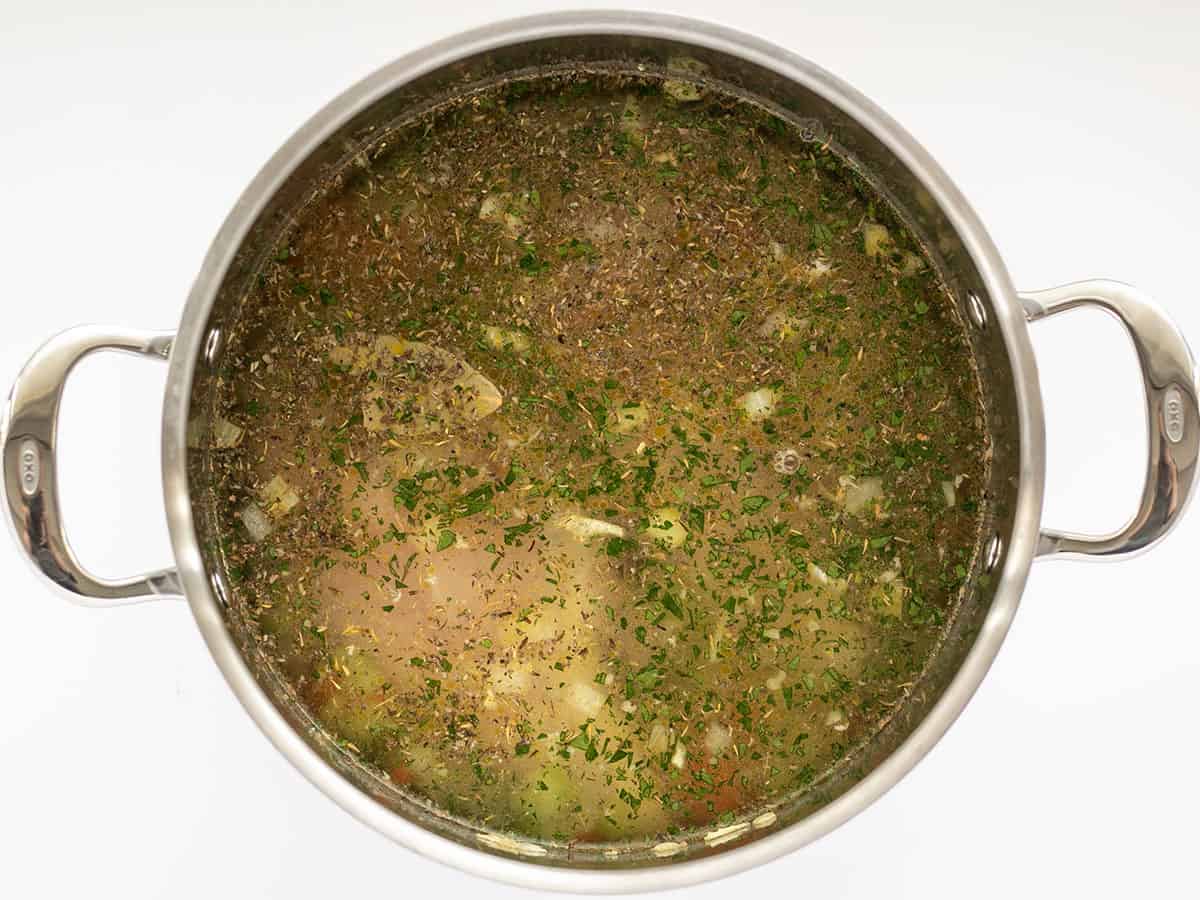 Add eight cups of water, cover, and bring up to a boil over high heat. As soon as it reaches a boil, reduce the heat to low and let simmer for one hour. Make sure that you don't turn the heat down so low that it stops simmering. It needs to simmer the whole time.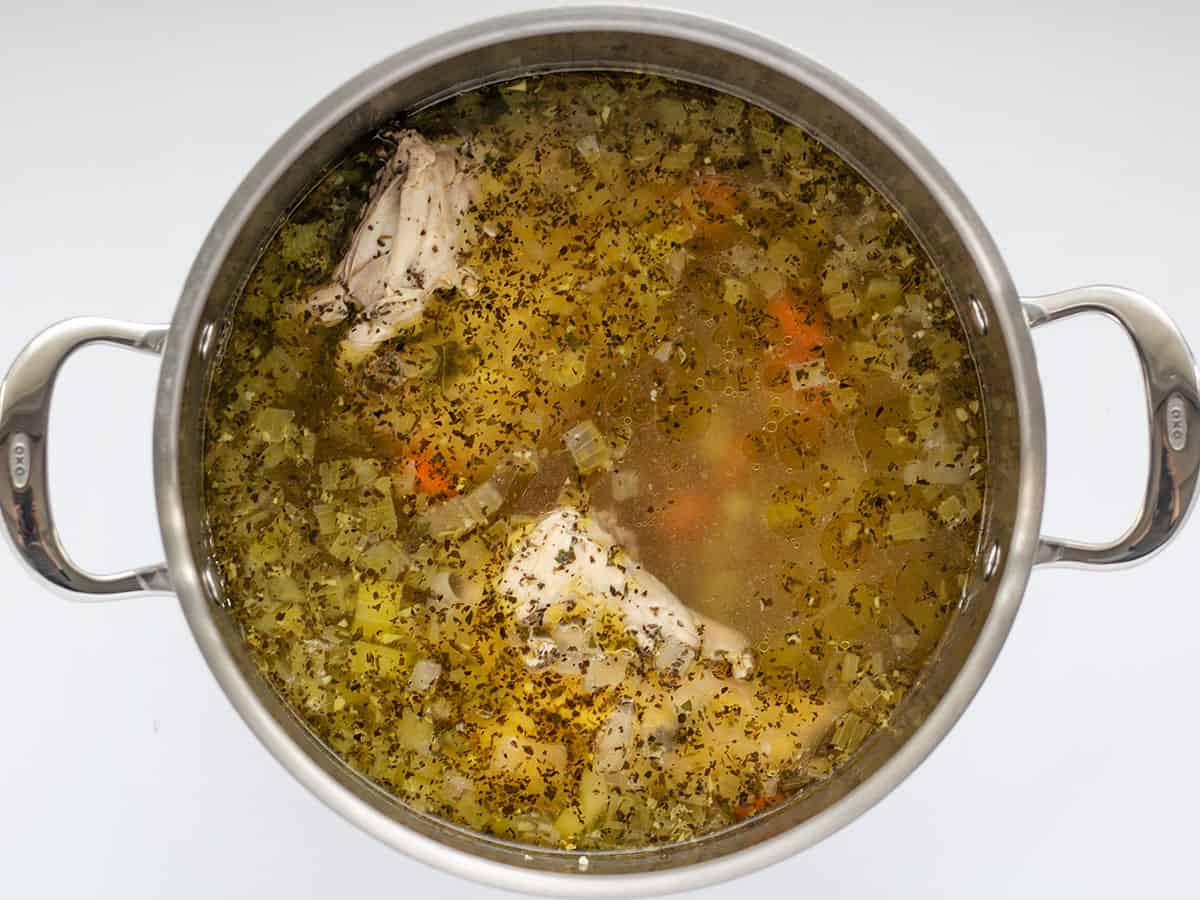 After an hour, it will look something like this. Pull the chicken out of the pot…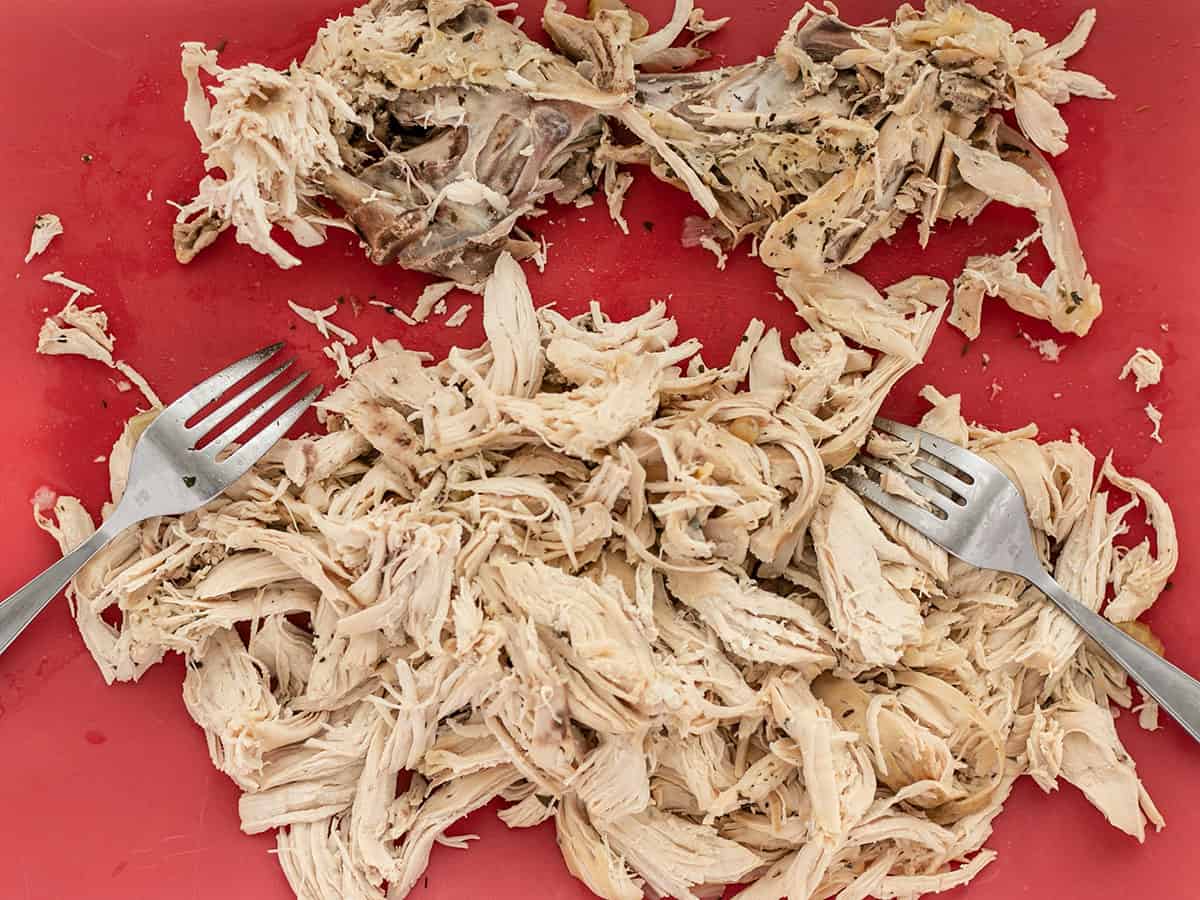 Use two forks to pull the chicken from the bone and shred it into bite-sized pieces.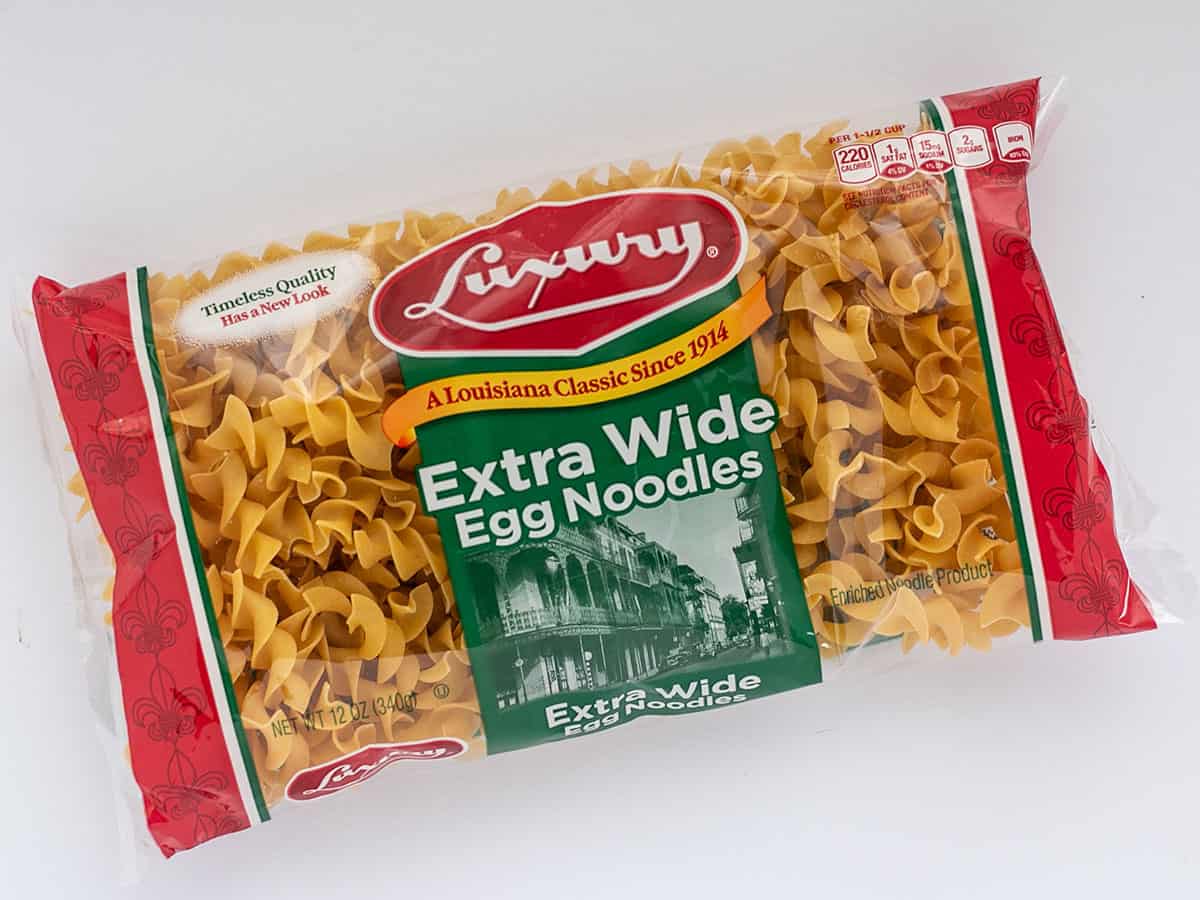 Add 6oz. egg noodles to the pot while you're working on the chicken, turn the heat up to a boil, and cook until tender (about 7-10 minutes). You can use any noodle that you like, but I really like egg noodles for this soup. They have a nice firm texture and they don't disintegrate in the soup. Season the broth with salt, beginning with one teaspoon and adding more until the flavor of the broth really pops (2-3 teaspoons).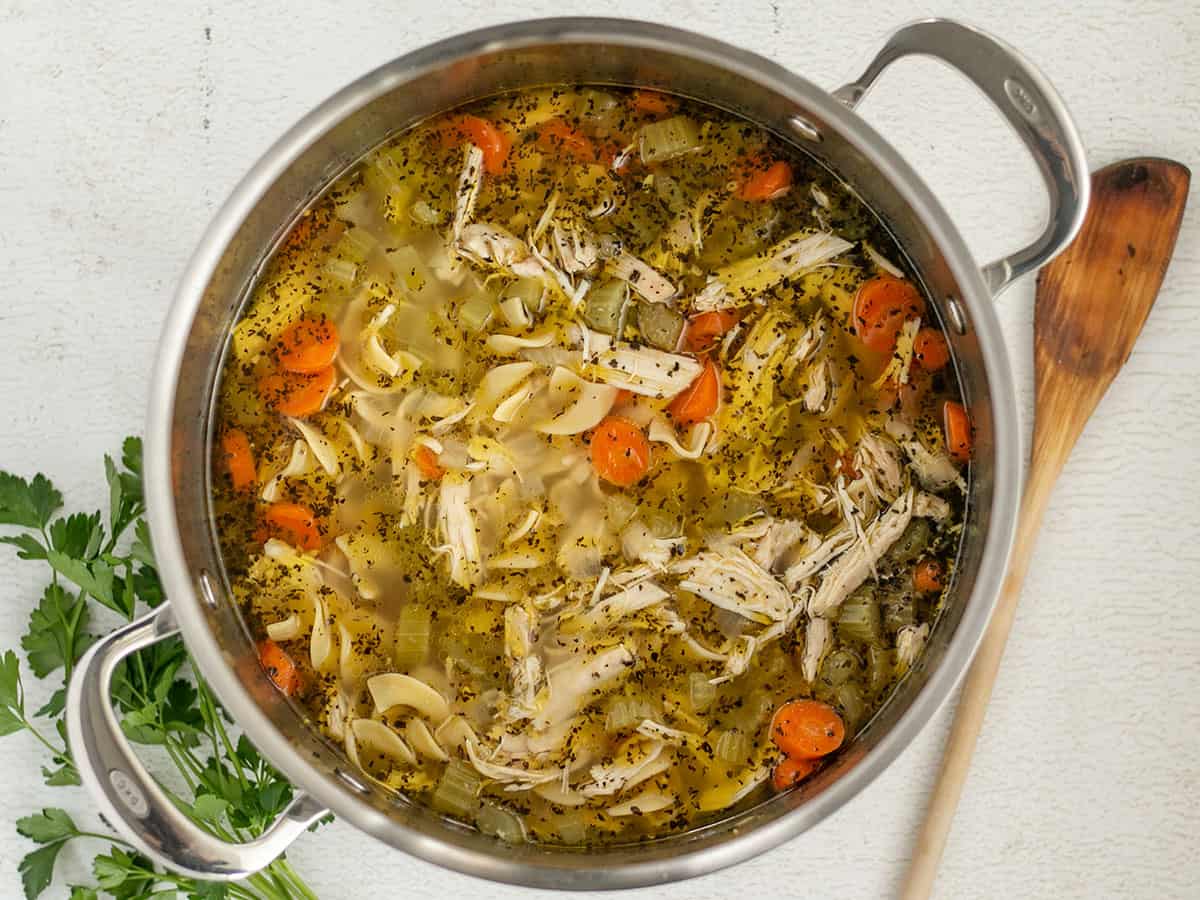 Add the shredded chicken back to the soup, stir to combine, and you're ready to eat! It's never a bad idea to give it one last taste and adjust the salt if needed.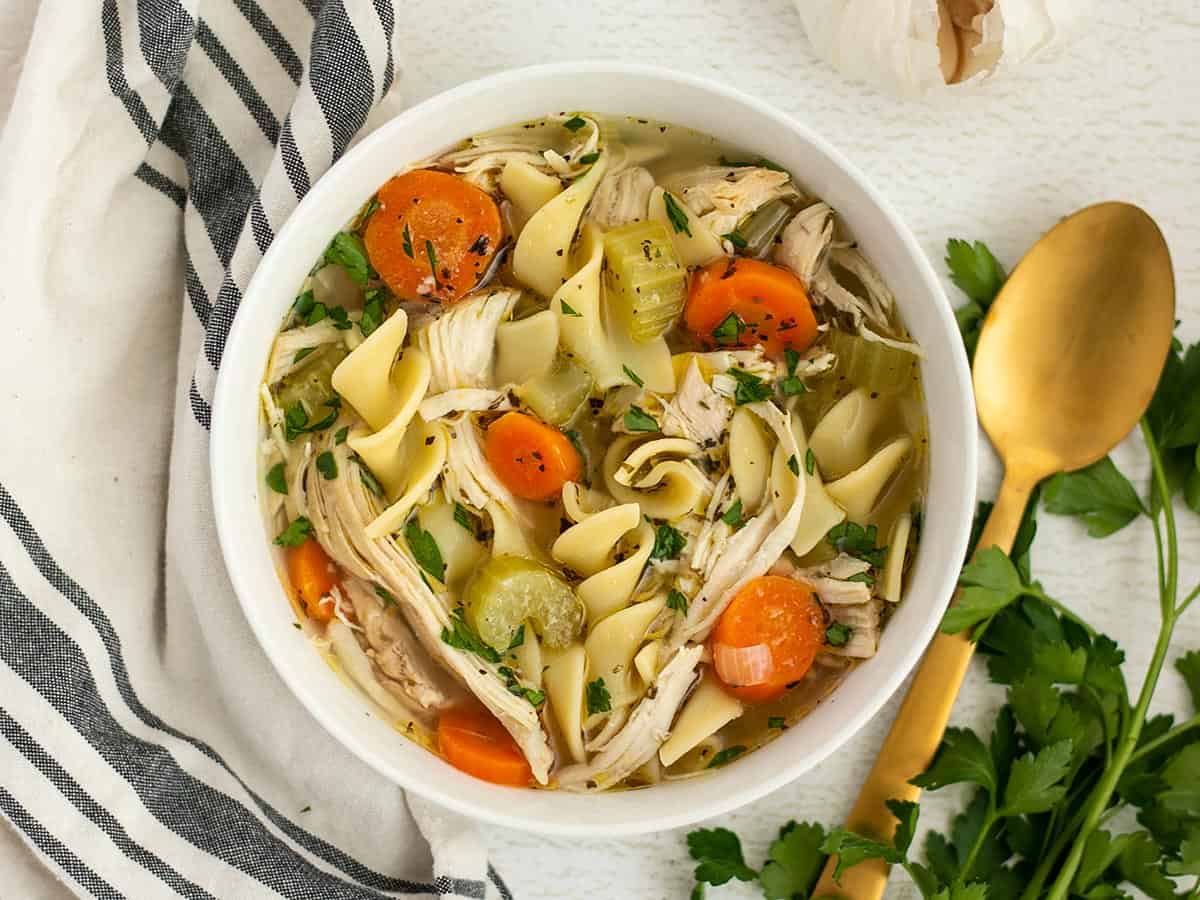 This chicken noodle soup recipe makes about 12 cups, so it's not a bad idea to freeze some for later. Always refrigerate the soup fully before transferring it to the freezer. When making big batches, it's a good idea to divide it up into smaller portions before refrigerating. This helps the hot liquid to cool down faster once in the refrigerator.