Our original 5-Minute Nacho Cheese Sauce has been a reader favorite for years, but the traditional cheese sauce method using a flour and butter roux can be a bit tricky for new cooks. But everyone deserves to have a ooey-gooey cheese sauce, even if you're new in the kitchen. 😉 So here's a super simple no-roux nacho cheese sauce that only requires a few simple ingredients and is guaranteed to bee smooth and delicious every time. Promise!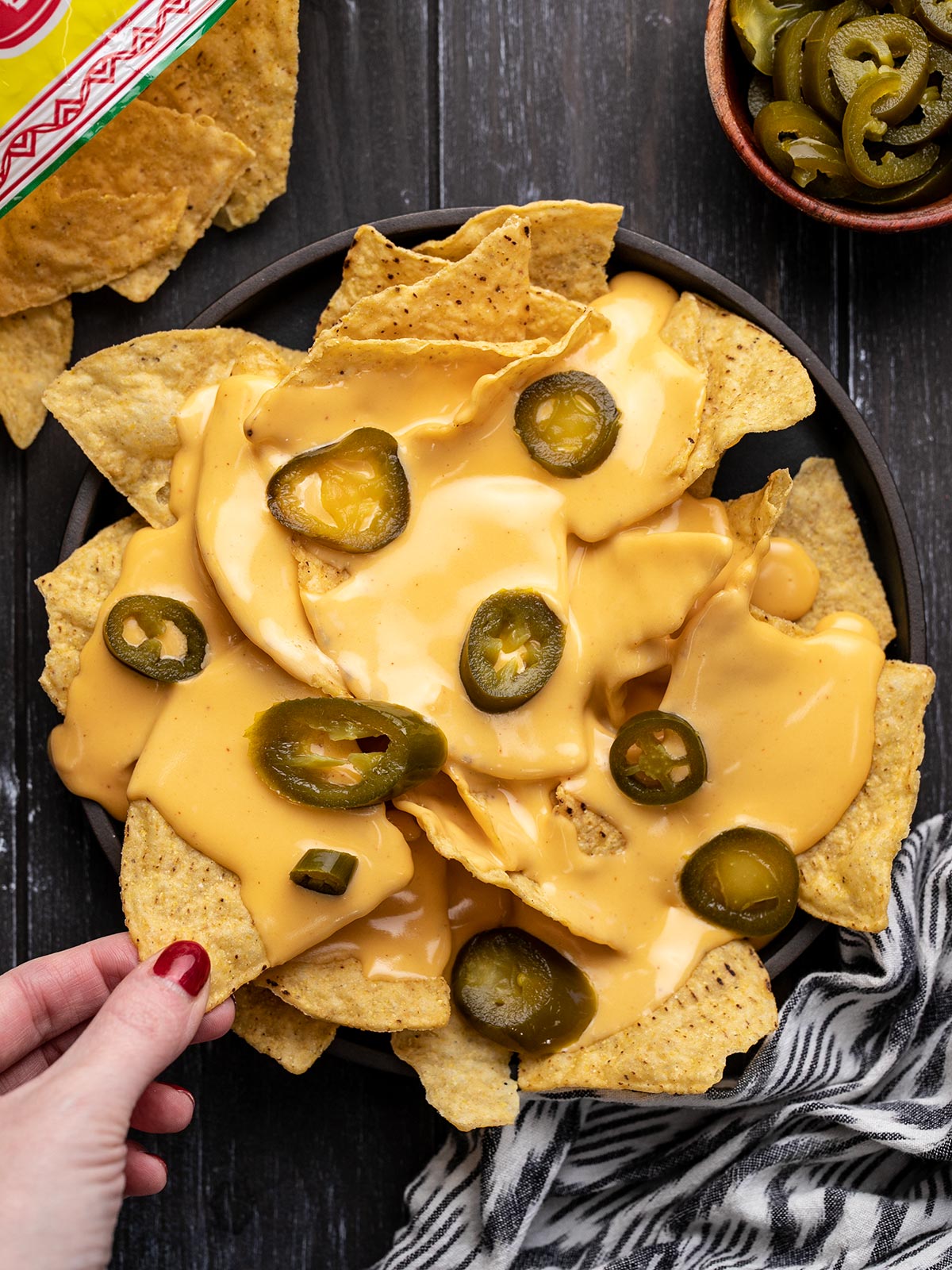 The Science of Cheese Sauces
Cheese sauces can be tricky for new cooks because the fat in cheese and the water in milk tend to repel each other, making it difficult for them to melt together into a smooth sauce. To get around this oil and water conundrum you can do two things: use an emulsifier (a molecule that attracts both water and oil) or use a milk product with very little water content so the fat isn't repelled.
Traditional cheese sauces use a mix of flour and butter that act as the emulsifier, but this technique can be a little tricky. For this nacho cheese sauce recipe, we just eliminate most of the water to begin with by using evaporated milk instead of whole milk. The fat and proteins in the evaporated milk combine seamlessly with the fat in the cheese, making a smooth and creamy sauce with no special tricks needed!
Do I Have to Use Evaporated Milk?
The low water content of the evaporated milk is what allows the cheese to melt into the sauce smoothly without using an emulsifier. Another low-water option to use in place of the evaporated milk is heavy cream, although that will create an extremely rich cheese sauce. Regular milk is far too watery and will not work for the method presented below. Instead, in order to make nacho cheese with milk you'll need to use the technique used in our 5-Minute Nacho Cheese Sauce.
What Kind of Cheese Is Best for Nacho Cheese
Sharp cheddar gets my vote for nacho cheese. It melts smoothly without being stringy, while having a nice flavorful punch. You can use mild or medium cheddar if you prefer, but the flavor will be a bit blander. Monterey jack and pepper jack also melt really well into sauces and make a great white nacho cheese sauce.
And ALWAYS buy block cheese and shred it yourself for cheese sauces rather than buying pre-shredded cheese, which is coated in anti-caking agents and will not melt as smoothly.
How to Serve Nacho Cheese
On nachos, of course! But you can also use this thick and smooth cheese sauce on many other dishes. Dry pouring it over vegetables (like broccoli or asparagus), bowl meals, mashed, roasted, or baked potatoes, or even pasta for a quick mac and cheese dupe!
Can It Be Reheated?
One of the other benefits of using evaporated milk is that it makes this cheese sauce very stable. This sauce reheats well over low heat without separating (just don't over heat it or the cheese will break!). You can also keep it warm for parties using the low setting on a slow cooker.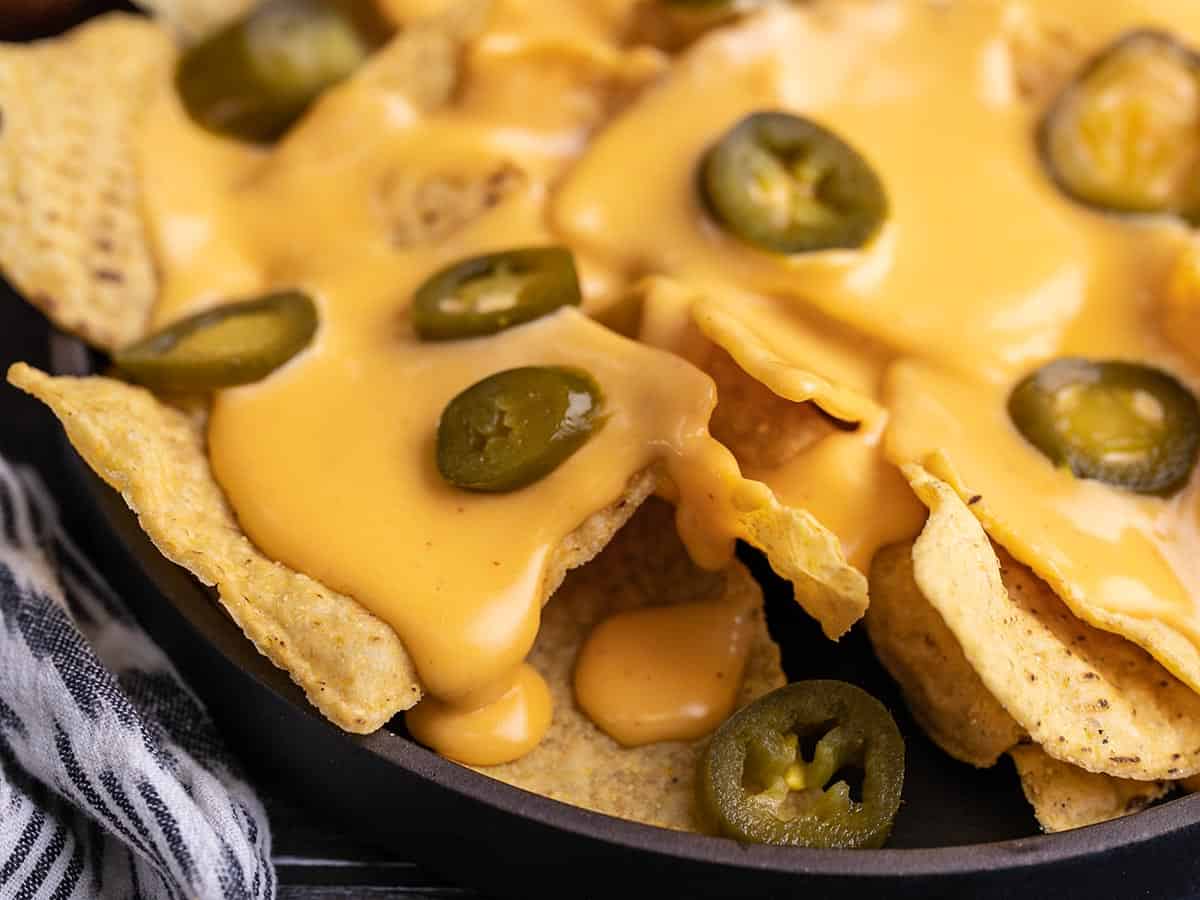 Easy Nacho Cheese
This easy no-roux nacho cheese sauce recipe is smooth, melty, and absolutely fool-proof. Great for nachos, vegetables, and more!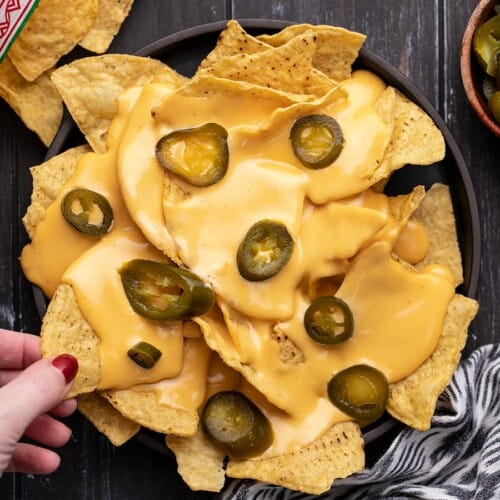 Ingredients
8

oz.

sharp cheddar

($2.49)

1

cup

evaporated milk

($1.00)

1/4

tsp

chili powder

($0.02)

1

Tbsp

pickled jalapeño brine (optional)

($0.10)

1/8

tsp

salt

($0.01)
Instructions
Shred the cheddar cheese.

Add the evaporated milk and chili powder to a sauce pot and heat over medium. Allow the evaporated milk to come up to a simmer.

Reduce the heat to low and start adding the shredded cheese, one handful at a time, stirring it in until fully melted before adding another handful. Continue until all of the cheese has been melted into the sauce.

Add the pickled jalapeño brine and stir to combine. Give the nacho cheese a taste and add a pinch of salt, if needed. Enjoy the cheese poured over your favorite foods!
See how we calculate recipe costs here.
---
Equipment
Nutrition
Serving:
0.25
cup
Calories:
160
kcal
Carbohydrates:
4
g
Protein:
9
g
Fat:
12
g
Sodium:
284
mg
Fiber:
0.02
g
Read our full nutrition disclaimer here.
How to Make Nacho Cheese – Step by Step Photos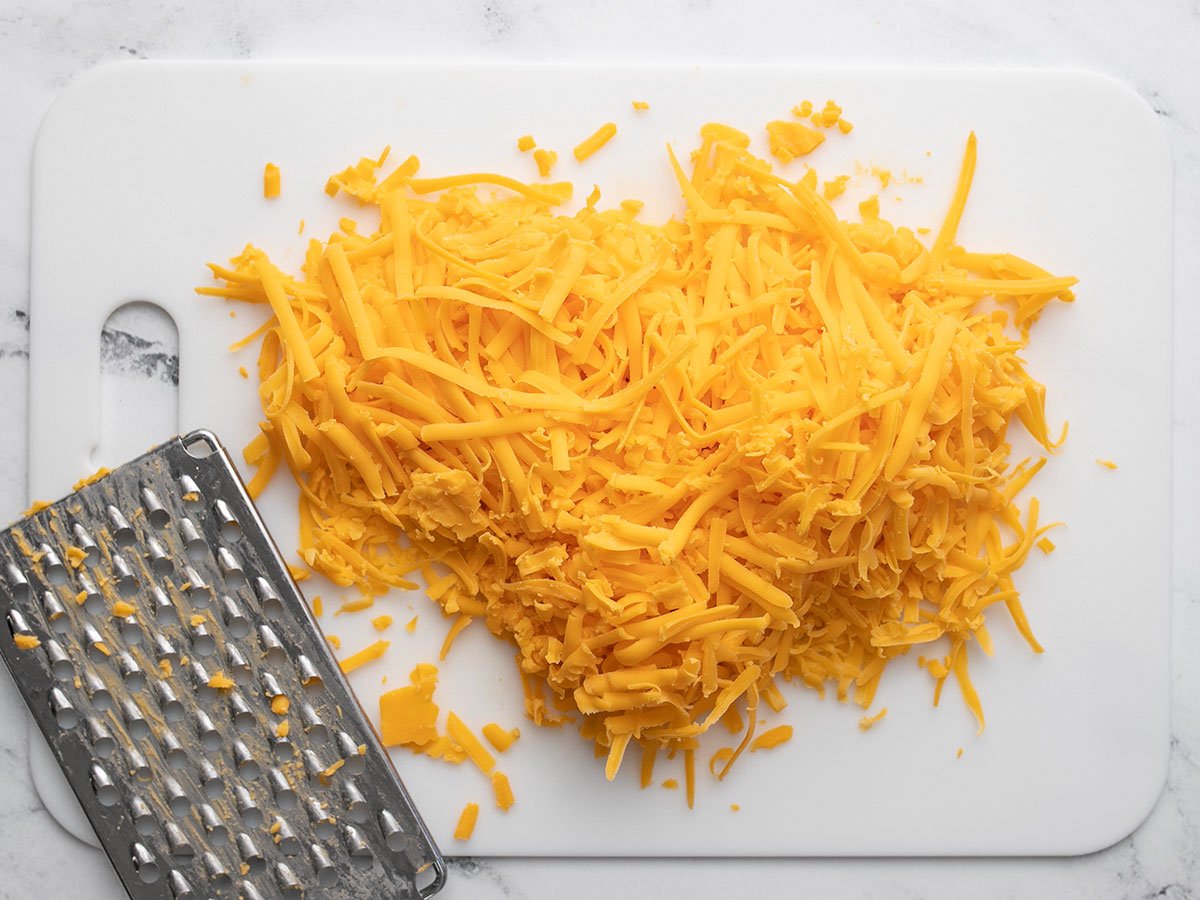 Start by shredding an 8 oz. block of sharp cheddar cheese. Using block cheese that you shred yourself instead of pre-shredded cheese makes a much better sauce.
Add one cup of evaporated milk to a sauce pot along with ¼ tsp chili powder. Heat and stir over medium-high until it comes to a simmer.
When it reaches a simmer, turn the heat down to low. Begin adding the shredded cheese, one handful at a time, stirring it in until completely melted before adding the next handful.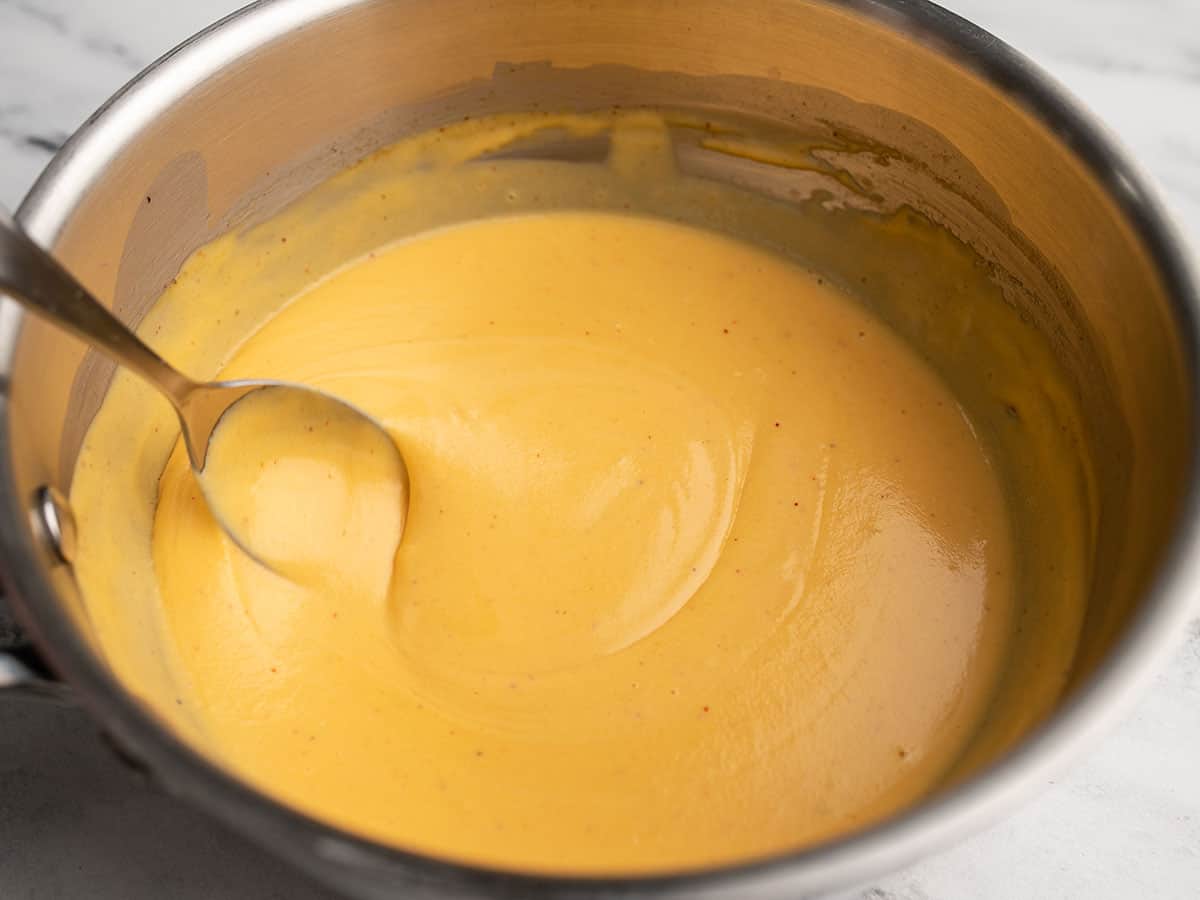 Continue adding cheese until it has all been added to the sauce. Finally, stir in 1 Tbsp brine from pickled jalapeños. Give the cheese a taste and add a pinch of salt, if needed.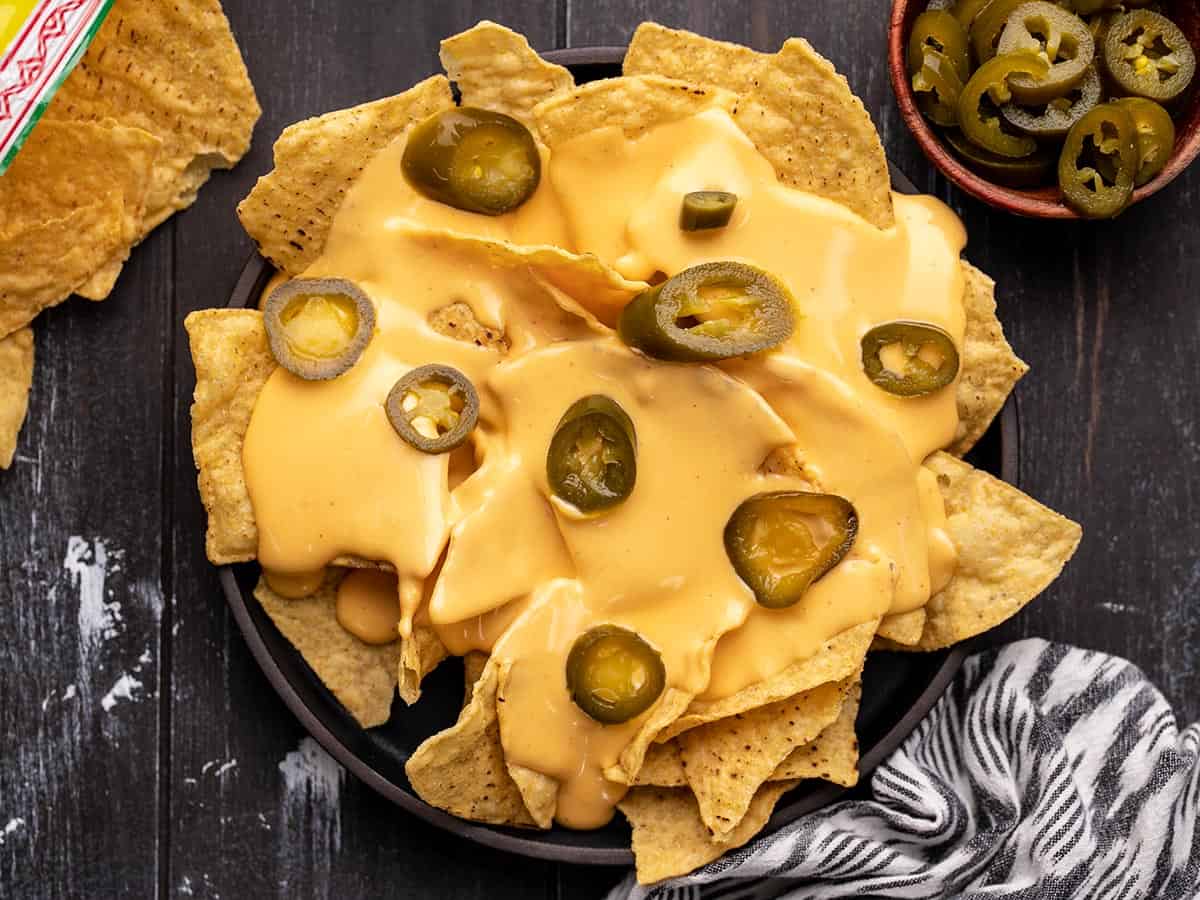 Pour your nacho cheese sauce over a plate of chips, your favorite vegetables, or just about anything. Cheese makes everything better. :P