If you haven't started making your own homemade hummus, you're totally missing out. It only takes about five minutes, you can adjust the taste to be juuuuuust the way you like it, and you can make a different flavor every week so that it never gets old! I promise, once you make your first batch of homemade hummus, you'll never go back to store bought.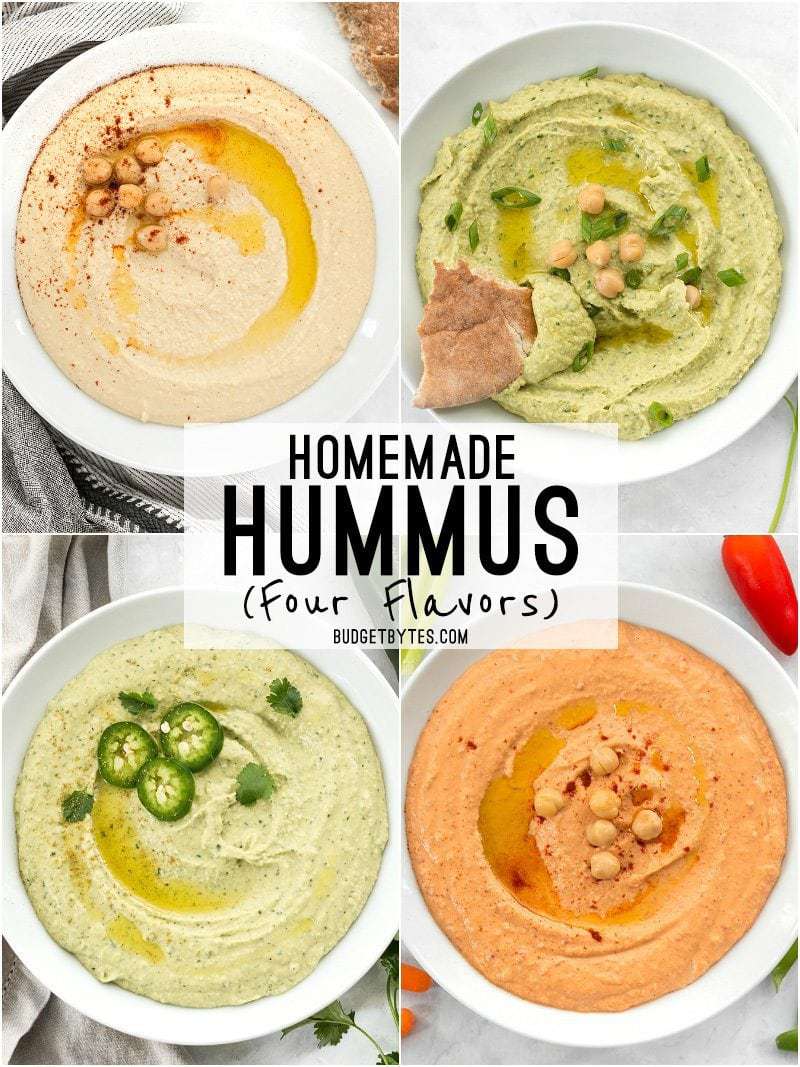 What is Hummus?
Hummus is a Middle Eastern chickpea dip or spread, made with just a few simple ingredients. At its most basic, hummus includes:
Chickpeas
Tahini
Olive Oil
Lemon
Garlic
Salt
There are a million different things you can add into hummus and I have posted the basic recipe below, plus add-ins for three flavor variations (Jalapeño Cilantro, Roasted Red Pepper, and Parsley Scallion). I've also garnished my "original" flavor with a drizzle of olive oil, a sprinkle of paprika and a few whole chickpeas. All of that is completely optional.
How to Use Hummus
Hummus is great to keep in your fridge to eat as a snack with some pita bread, naan, vegetables, or chips, but it also makes a great spread for sandwiches, wraps, and loaded flatbreads. It has a really great richness and adds moisture so I find that it makes a great substitute for mayo or cheese. I also love adding hummus to scrambled eggs, using it in place of a pasta sauce, or even as an addition to pizza!
How Long Does Homemade Hummus Last?
Homemade hummus will stay good in your refrigerator for about 5 days. Unlike some store bought hummuses, homemade hummus does not contain any preservatives, so you'll want to only make the amount you can eat within a five day time frame.
Can I Substitute the Tahini?
I strongly advise against substituting tahini in hummus. While many people substitute either peanut butter or almond butter for the tahini, they have very different flavors from tahini and this will definitely change the final flavor of your hummus. To get that true authentic hummus flavor, you definitely need to use tahini.
Can I Make Hummus in a Blender?
While you can make homemade hummus with some of the more powerful blenders available on the market (like Blentec or Vitamix), it might be too thick for many blenders to handle. I suggest using a food processor to make your hummus. You don't need a heavy duty, expensive food processor, though. The Hamilton Beach model I use is fairly inexpensive for a food processor and is a total beast. I love it.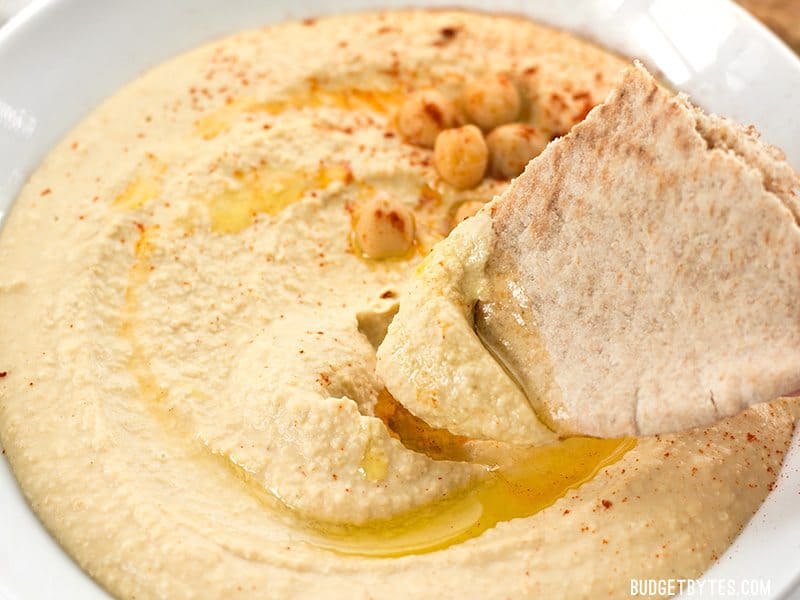 Homemade Hummus
You only need a few simple ingredients to make the BEST homemade hummus! Plus four extra hummus flavors to try.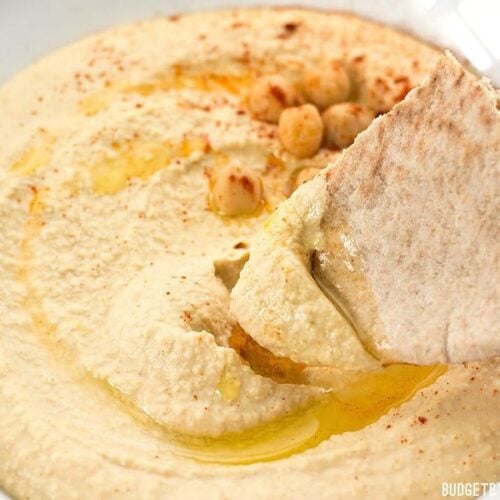 Ingredients
1

15oz. can

chickpeas*

($0.79)

2

Tbsp

olive oil

($0.26)

1/4

cup

lemon juice

($0.182)

1/4

cup

tahini

($0.85)

1

clove

garlic

($0.08)

1/2

tsp

salt

($0.05)

1/4

tsp

ground cumin

($0.03)
Instructions
Drain the chickpeas. Place the drained chickpeas in a food processor along with the olive oil, lemon juice, tahini, garlic, salt, and cumin.

Pulse the mixture until it is fairly smooth. If the mixture is too dry to process smoothly, add a couple tablespoons of water, extra olive oil, or liquid from the canned chickpeas.

Taste the hummus and adjust the salt, cumin, lemon, or garlic to your liking.
See how we calculate recipe costs here.
---
Notes
*About 1.75-2 cups chickpeas
Nutrition
Serving:
1
Serving
Calories:
201.53
kcal
Carbohydrates:
18.55
g
Protein:
7.4
g
Fat:
11.5
g
Sodium:
371.85
mg
Fiber:
5.92
g
Read our full nutrition disclaimer here.
Scroll down for the step by step photos!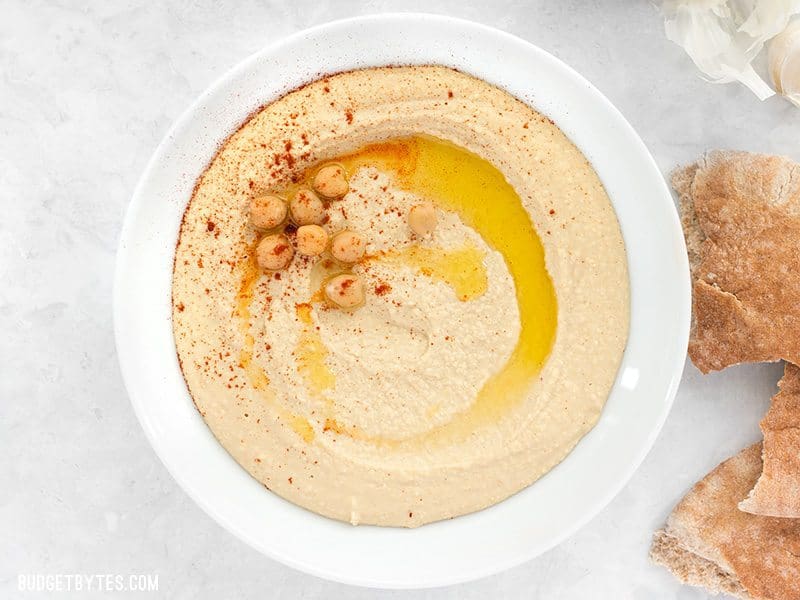 How to Make The Best Hummus – Step by Step Photos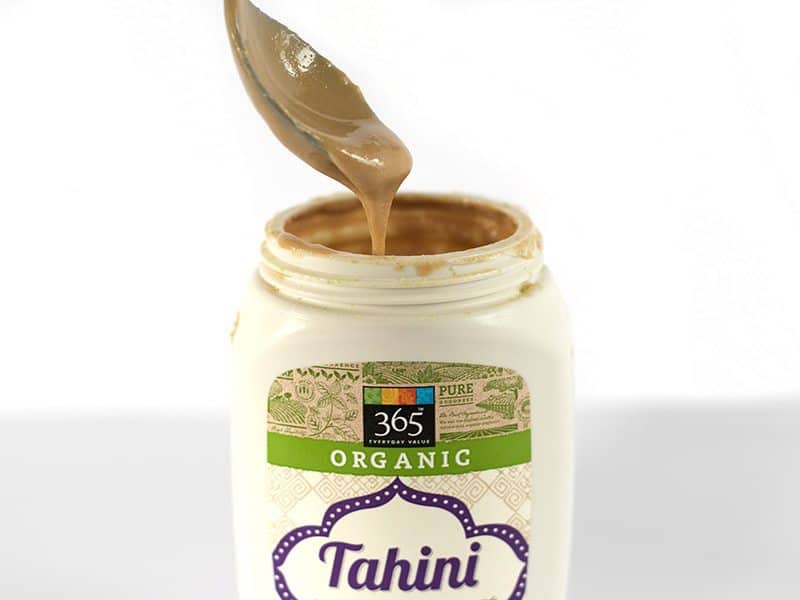 Let's start by taking a closer look at tahini. Tahini is like peanut butter but made with sesame seeds instead of peanuts. It even has a similar texture to natural style peanut butter, but a very different flavor. A flavor which is critical, IMHO, to getting an authentic hummus. Tahini has a slightly nutty, slightly bitter flavor that is totally unique. Some people use peanut butter in its place, but I find their flavors to be vastly different. Tahini is about twice the price of peanut butter, but you'll only need a small amount at a time and it stays fresh in the refrigerator for quite some time (it may need an occasional stir). You can find tahini in grocery stores either near the peanut butter, near Mediterranean ingredients like olives and artichokes, or in the natural foods aisle.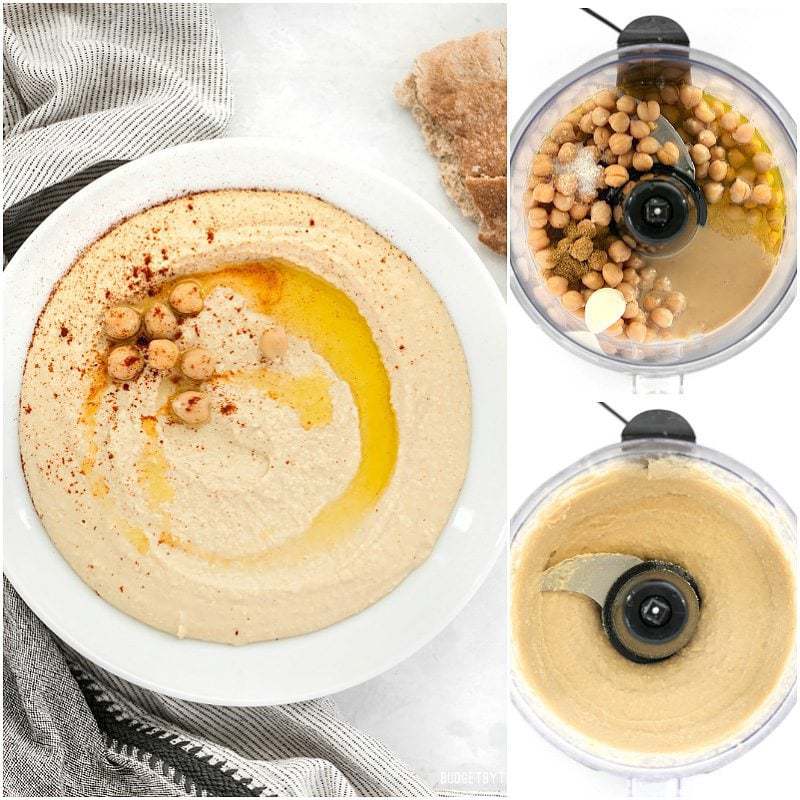 Drain one 15oz. can of chickpeas and add them to a food processor along with 2 Tbsp olive oil, 1/4 cup lemon juice, 1/4 cup tahini, 1 clove of garlic, 1/2 tsp salt, and 1/4 tsp ground cumin. Pulse the ingredients until they become smooth. If the mixture is too dry to properly purée, add a couple tablespoons of water, olive oil, or even the drained juice from the canned chickpeas. Taste the hummus and adjust the salt, lemon, garlic, or cumin to your liking. And that's it! That's all it takes. You can garnish with a drizzle of olive oil and a sprinkle of sumac or paprika.
Jalapeño Cilantro Hummus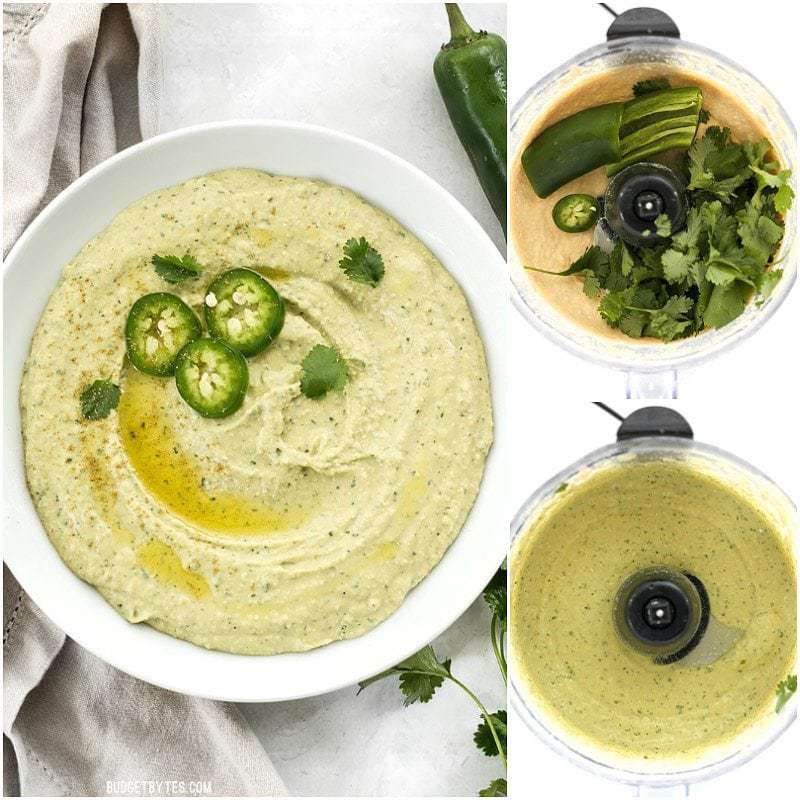 To make Jalapeño Cilantro Hummus, remove the stem from one jalapeño, slice it lengthwise, and scrape out the seeds with a spoon. Add the seeded jalapeño and about 1 cup fresh cilantro leaves to the food processor with your basic hummus and process until smooth. This hummus tastes great with a little extra cumin! You can also try roasting the jalapeños in the oven until soft and blistered for a more subtle flavor (don't forget to remove the seeds).
Roasted Red Pepper Hummus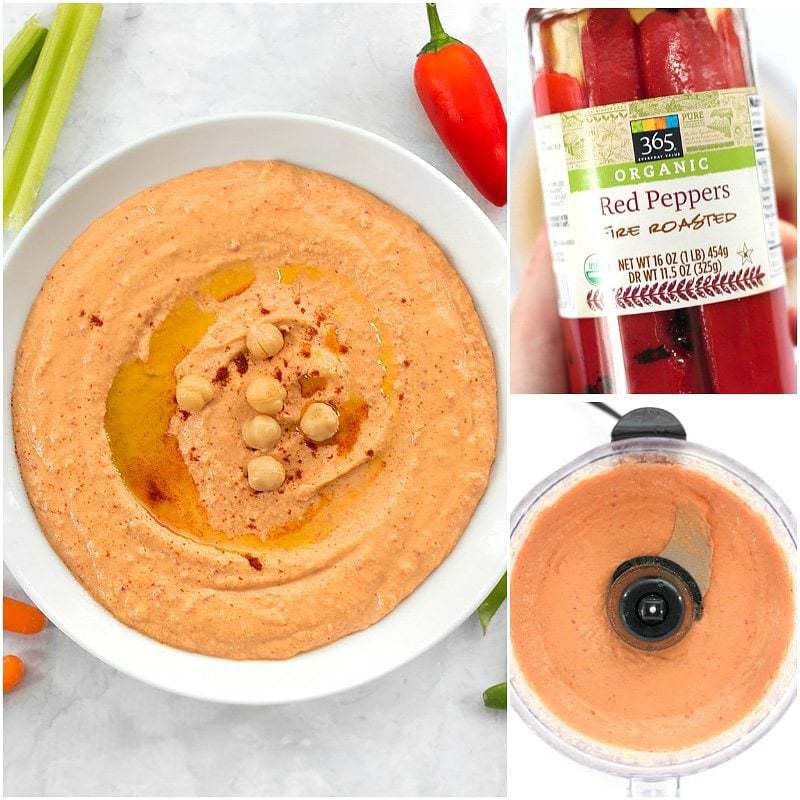 To make Roasted Red Pepper flavored hummus, simply add one to two roasted red pepper to a batch of plain Homemade Hummus and process until smooth. Make sure most of the liquid from the jar is drained from the pepper before adding it to the processor to avoid thinning out the hummus too much. This hummus tastes great with a little smoked paprika added to the mix!
Parsley Scallion Hummus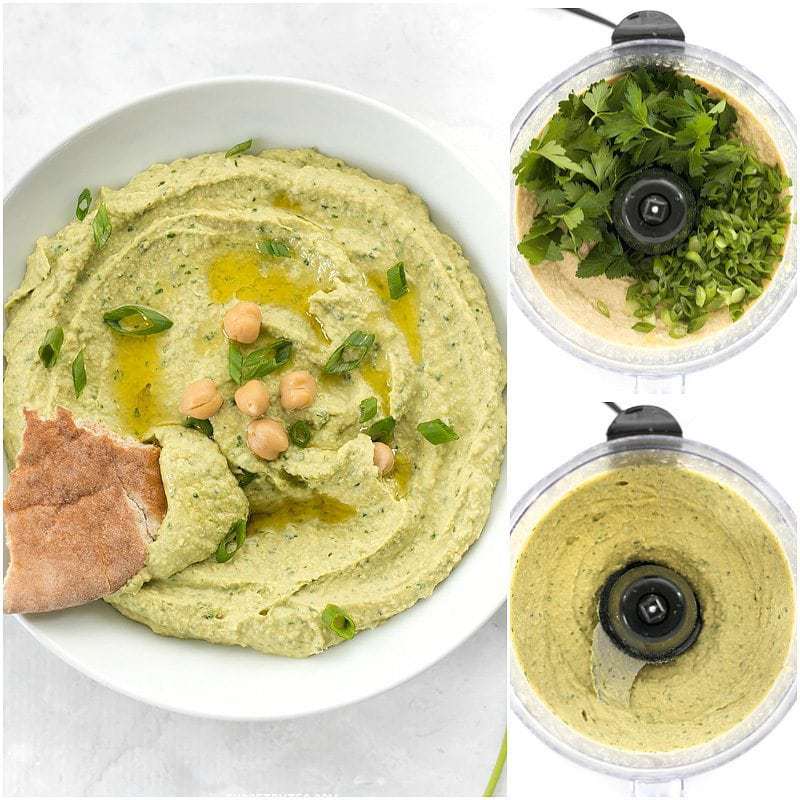 For Parsley Scallion Hummus, thinly slice three to four scallions (green onions) and pull about 1/2 cup of parsley leaves from their stems. Add the parsley and scallions to a food processor with a batch of plain hummus and process until smooth. This hummus is great with vegetables, as a sandwich spread, or even as a vegan pasta sauce!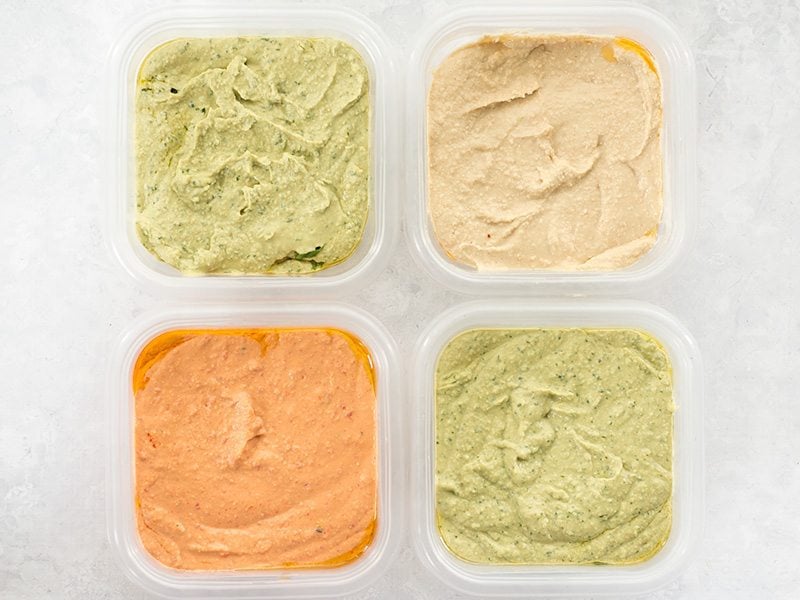 What is your favorite flavor of Hummus? I might try adding some roasted garlic next!