Oven roasting is hands down my favorite way to prepare vegetables and that includes fresh summer sweet corn. Roasting the fresh ears while still in their husks keeps them ultra sweet and juicy, plus it's just so incredibly simple. I added some sweet and spicy honey chili butter to rub onto the roasted corn but, truth be told, when corn is prepared this way it's so good that I'd be just as happy eating it plain!
Why Roast in the Husk?
Leaving the husk on the corn while it roasts helps hold in the corn's natural moisture, yielding super juicy kernels that pop with sweetness when you bite into them. It's truly amazing. Once the corn has roasted, the husks and silk peel away easily so it's ready to eat in no time.
How to Pick Good Corn
Choosing corn that is fresh and in season is key because that's when the corn is the sweetest and juiciest. Older corn can tend to be dry and more starchy rather than sweet. To make sure your corn is fresh, look for husks that are bright green, tight against the cob, and not dry or brown. If the silk is sticking out the top, it should look fresh, moist, and maybe a bit brown, but never black, shriveled, or dry.
What to Serve with Oven Roasted Corn
Just give me this sweet, sweet corn by itself and I'll be happy. But alas, that's not a very well-rounded meal, so here are some ideas of what you can serve with this amazing corn: Fish Tacos with Cumin Lime Coleslaw, BBQ Cheddar Baked Chicken, Beef Taco Skillet, Baked Beef and Black Bean Tacos, or Cilantro Lime Chicken.
About That Honey Chili Butter…
As if the juicy roasted corn wasn't magic enough, have you tried honey chili butter yet?? It's perfectly sweet, a little spicy, and creamy like a dream. The heat level of the honey chili butter will depend on how spicy your chili powder is. Some brands, like McCormick, are very mild, while others can carry some substantial heat. Keep your leftover honey chili butter in the fridge, where it should stay good for a few weeks.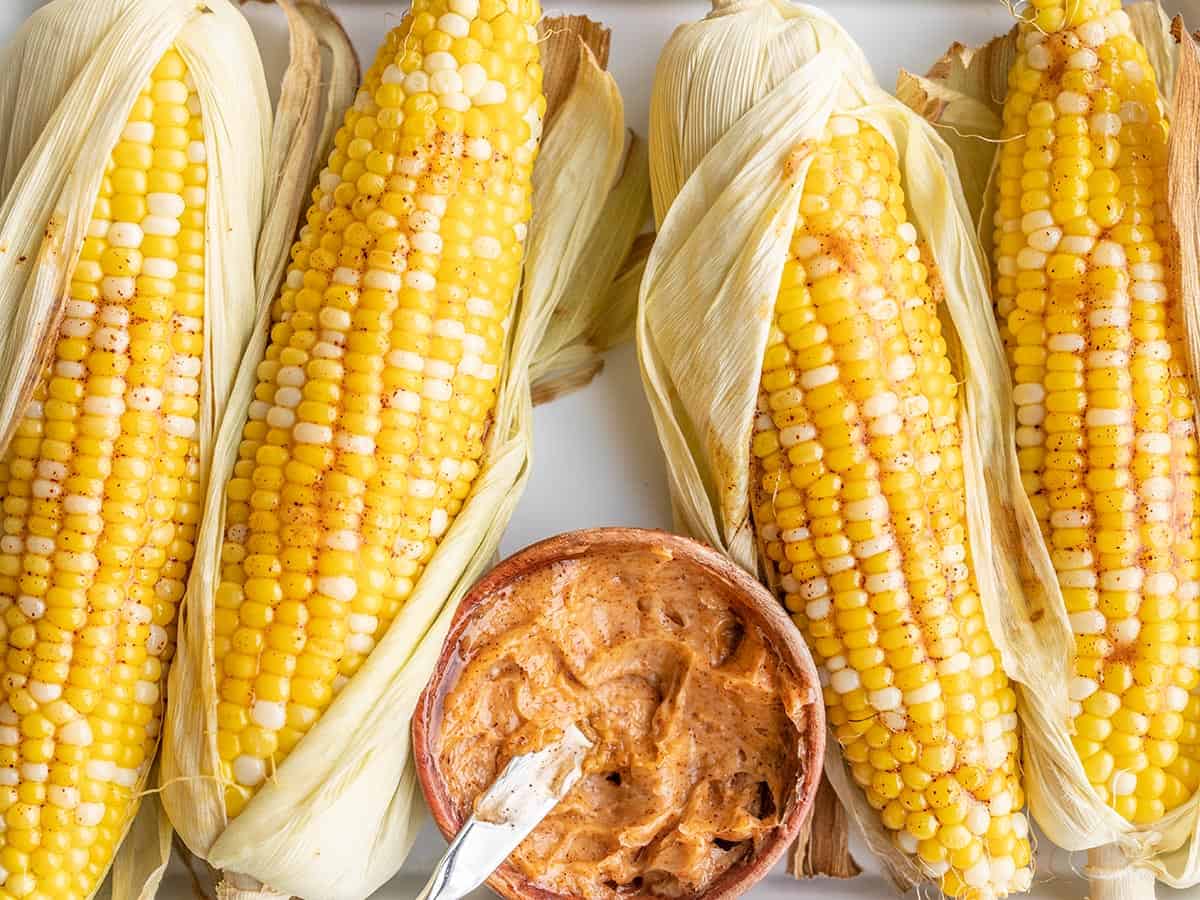 Oven Roasted Corn with Honey Chili Butter
Super sweet and juicy oven-roasted corn slathered with sweet and spicy honey chili butter is a true summer treat.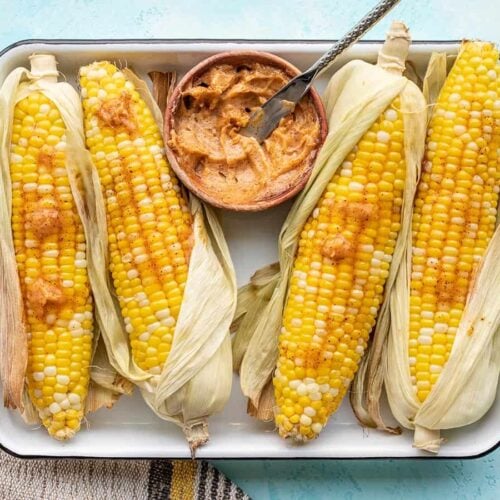 Ingredients
4

ears

fresh corn

($1.20)

4

Tbsp

butter, room temperature

($0.37)

1

Tbsp

honey

($0.12)

1/2

tsp

chili powder

($0.05)

1/8

tsp

salt

($0.01)
Instructions
Preheat the oven to 350ºF. Prepare the ears of corn by cutting off the very tip of the ear to remove most of the silk, and removing the outer husks (the thicker bright green layers), leaving the inner layers (the thinner lighter green husks).

Transfer the prepared ears of corn to the fully preheated oven, placing them directly on the oven rack. Roast for 35 minutes.

While the corn is roasting, prepare the honey chili butter. In a small bowl, combine the butter, chili powder, honey, and salt. Whip the mixture with a fork until smooth and evenly combined.

After 35 minutes the husks on the corn should be slightly browned and papery in appearance. Carefully remove the corn from the oven using oven mitts or a thick towel. Let them rest for about five minutes, then carefully pull back the husks and remove any remaining silk.

Serve hot with the bowl of honey butter for smearing over the kernels just before eating.
See how we calculate recipe costs here.
---
Nutrition
Serving:
1
Serving
Calories:
194
kcal
Carbohydrates:
21
g
Protein:
3
g
Fat:
13
g
Sodium:
190
mg
Fiber:
2
g
Read our full nutrition disclaimer here.
How to Make Oven Roasted Corn – Step By Step Photos
Preheat the oven to 350ºF. To prep the ears of corn, cut the very tip off to remove most of the silk, then remove the first couple of layers of husk, leaving a few layers of the thinner husks. Basically, just remove the thicker bright green husks leaving the more tender leaves still attached (prepped ears on the right, unprepped ears on the left). Place the prepped ears of corn in the fully preheated oven, directly on the oven rack. Roast for about 35 minutes.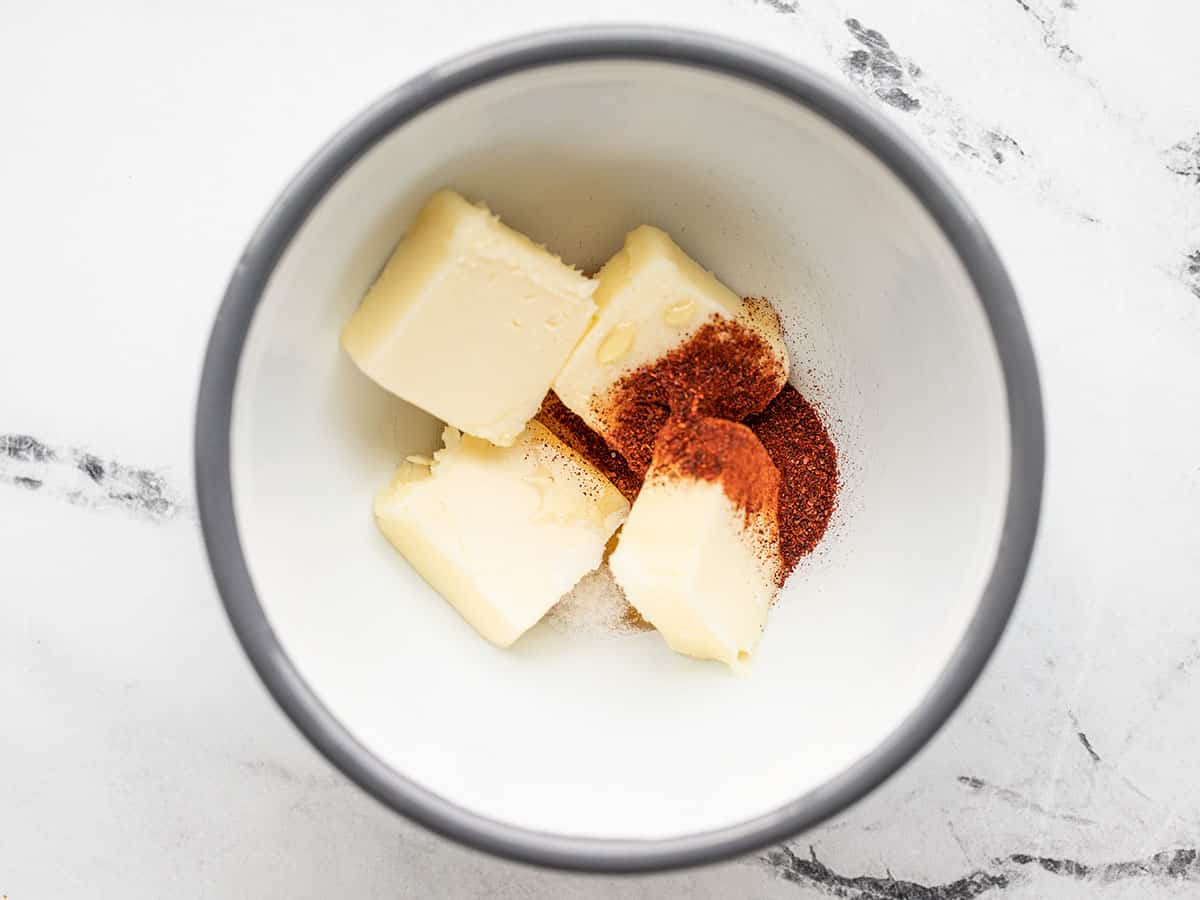 While the corn is roasting, prepare the honey chili butter. Combine 4 Tbsp room temperature butter with 1 Tbsp honey, ½ tsp chili powder, and ⅛ tsp salt.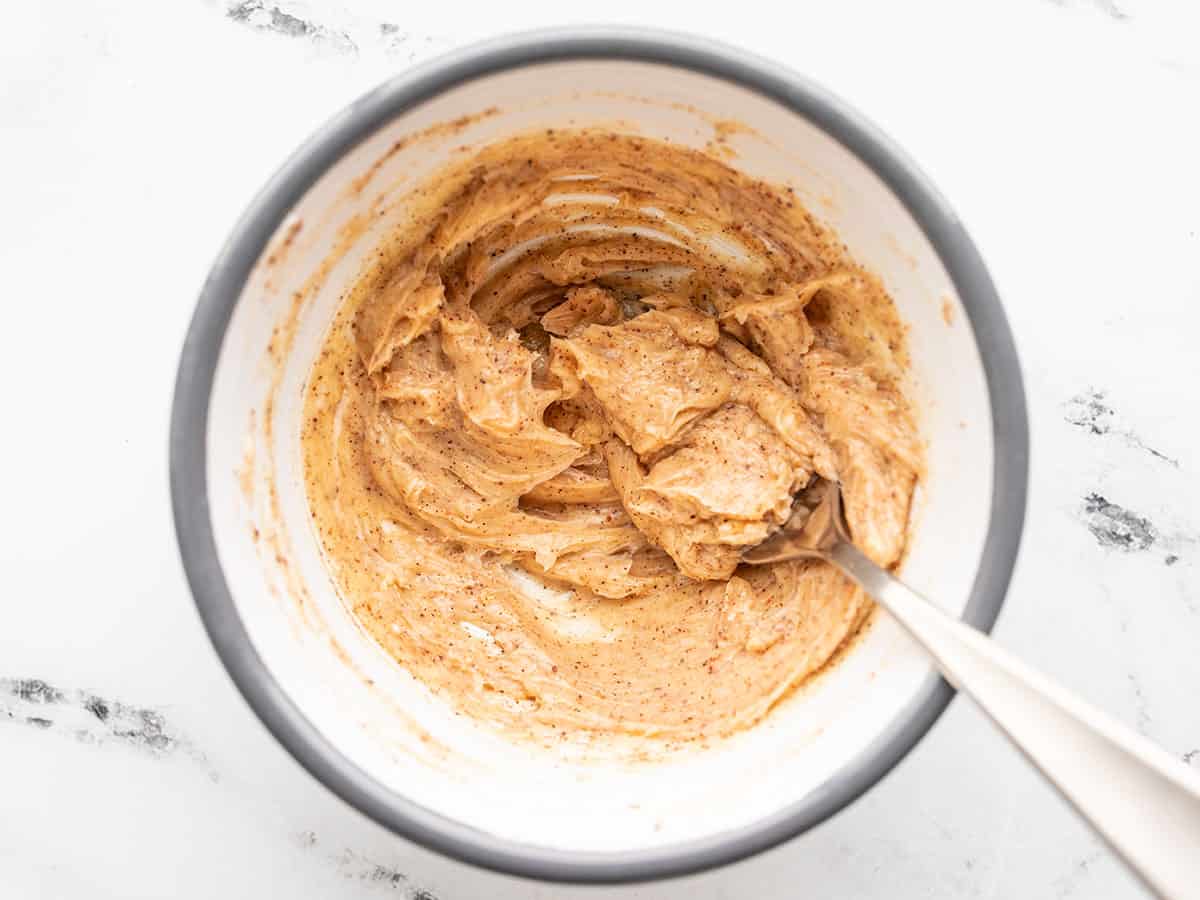 Use a fork to sort of whip the honey chili butter together until it is evenly mixed. Set the butter aside.
After the corn has roasted for 35 minutes, the husks should look slightly browned and more papery. Remove them from the oven (use an oven mitt or thick towel to grab them). I placed them on this tray just to transport them, but they roasted directly on the oven rack with no tray. Let them rest for a few minutes, then carefully peel back the husks. The remaining silk will pull off easily.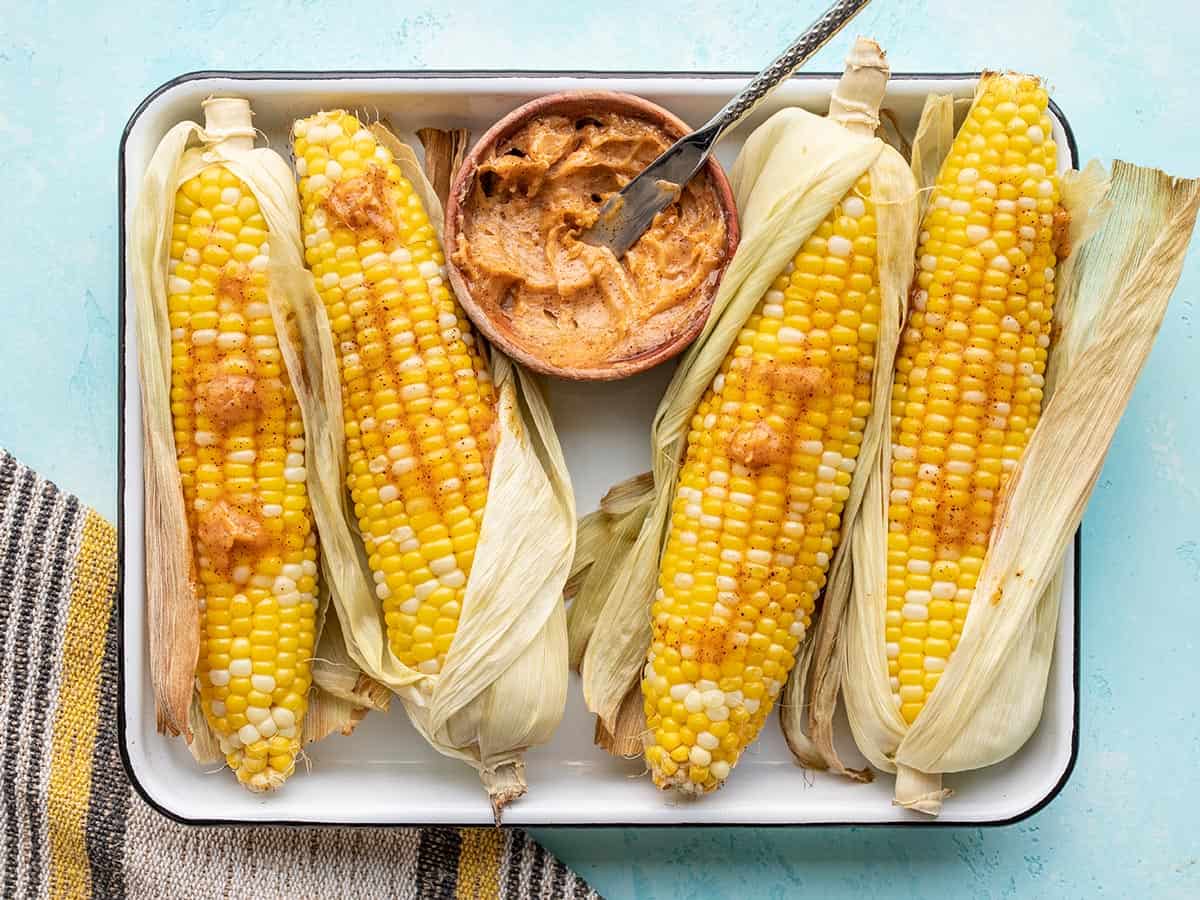 After removing the husks and silk, smear honey chili butter over the warm ears of corn. Serve immediately!