You can't have a summer potluck or BBQ without a big ol' bowl of macaroni salad. It's a classic summer comfort food. Cold, creamy, carby, and delicious. And cheap! Which is great because we all need that right now. But macaroni salad isn't just good for gatherings, it's also a great side to meal prep for your lunches for the week.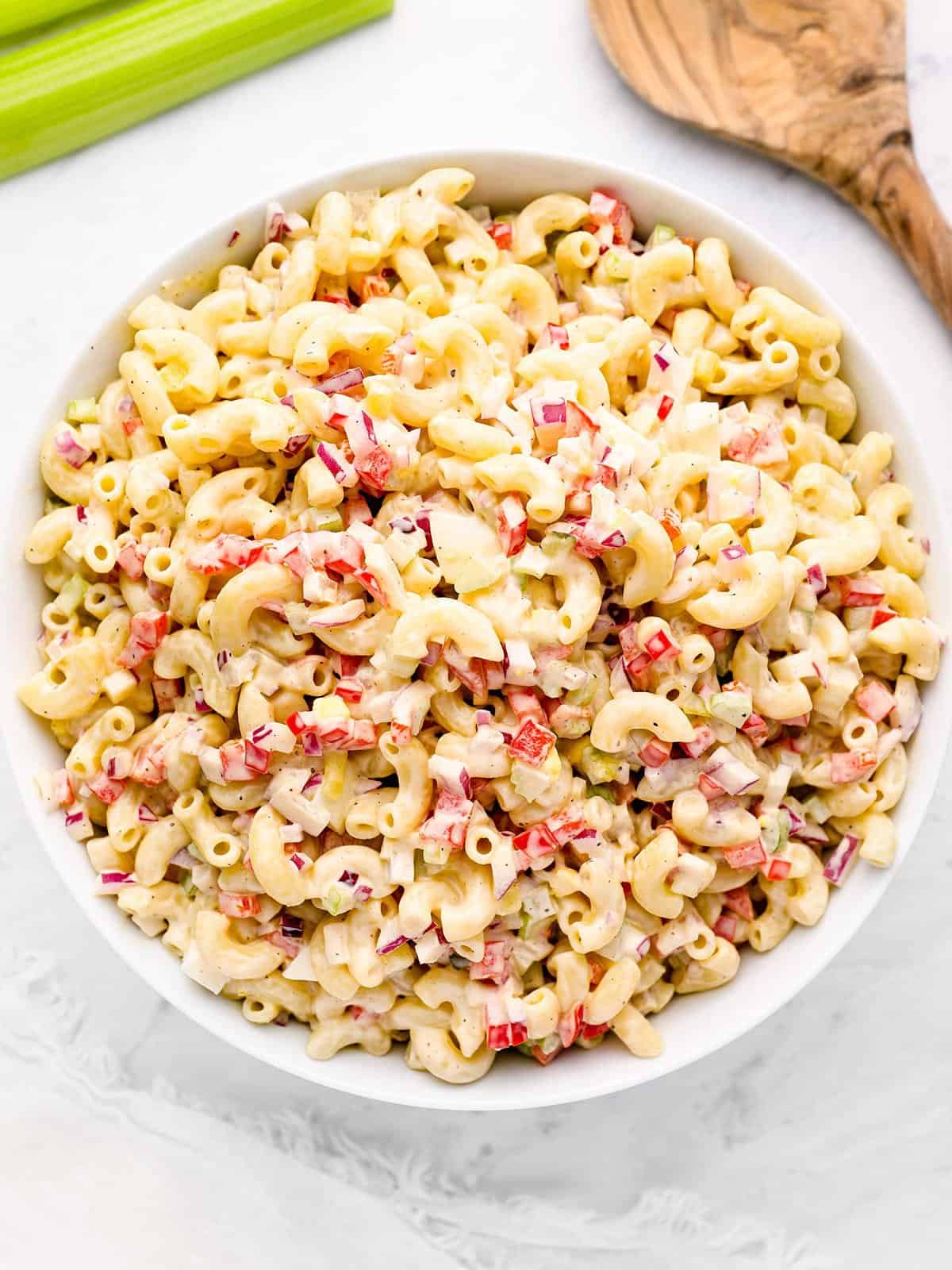 What's In Macaroni Salad?
Macaroni salad starts with a base of one of our favorite budget-friendly ingredient, macaroni. We add a little celery, bell pepper, and red onion for color and crunch, and a couple of hard-boiled eggs to give the salad more heft. All of this gets finished off with a super creamy dressing made with mayo, Dijon, sweet pickle relish, vinegar, sugar, salt, and pepper. Classicly creamy, sweet, tangy, crunchy, and delicious.
Adjust the Sweetness
There are two main camps when it comes to macaroni salad, sweet and not so sweet. I like my macaroni salad with just a touch of sweetness to balance the acidity and creaminess of the dressing, so that's what you'll get with the recipe below. If you like a sweet macaroni salad, you can simply add more sugar to taste (up to about ¼ cup sugar).
What Else Can I Add to Macaroni Salad?
Macaroni Salad is another one of those great catch-all recipes. You can add all sorts of ingredients for color, texture, and flavor. Here are some ideas for other ingredients to add to your macaroni salad:
Cheddar cheese cubes
Broccoli florets
Peas
Black olives
Shredded carrots
Diced ham
Chopped parsley
How Long Does Macaroni Salad Stay Good?
Macaroni salad can be kept in the refrigerator for about 4-5 days. The macaroni will continue to absorb moisture as it sits in the refrigerator, so you may find it gets a little drier each day. If taking your macaroni salad to a potluck or BBQ, make sure to not let it sit out at room temperature for more than two hours.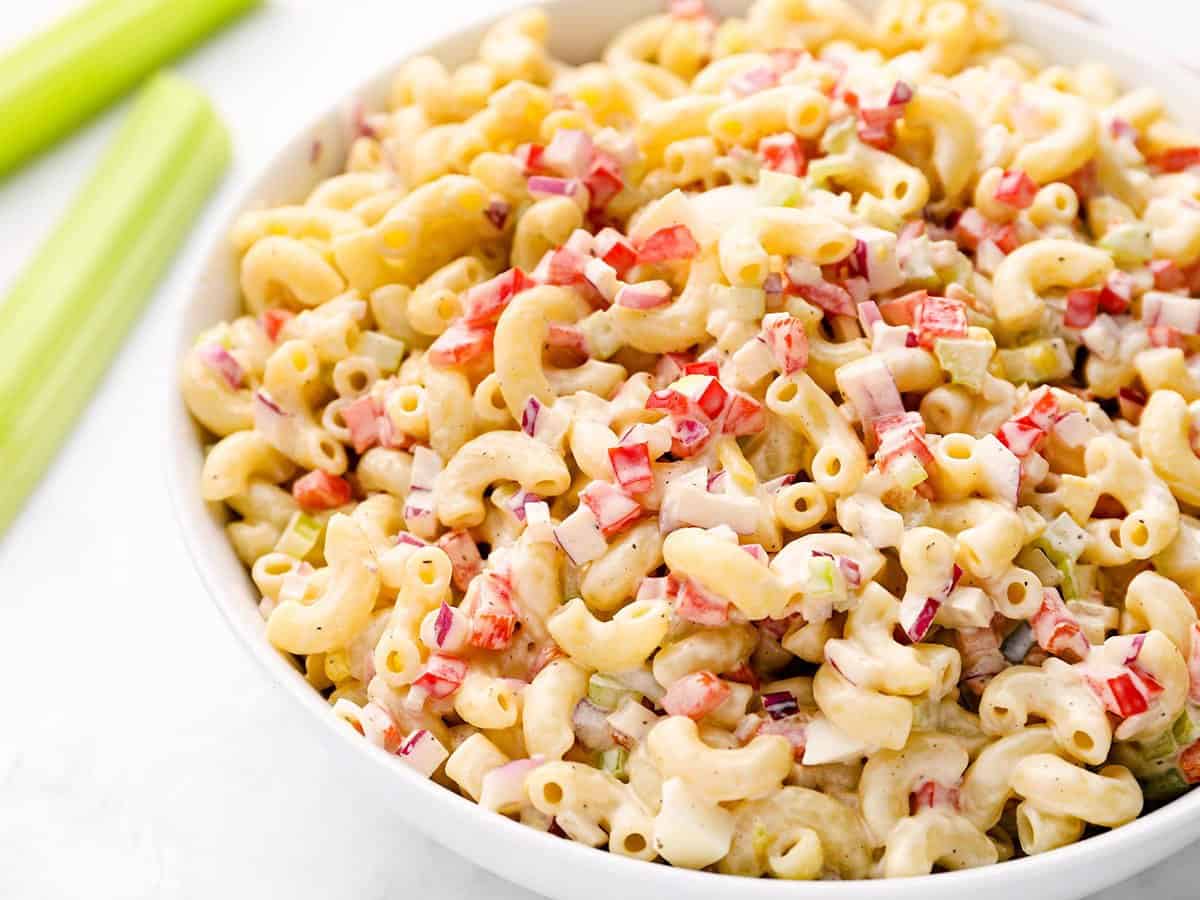 Macaroni Salad
Macaroni Salad is an easy and inexpensive classic for potlucks, summer BBQs, or an easy side dish for dinner.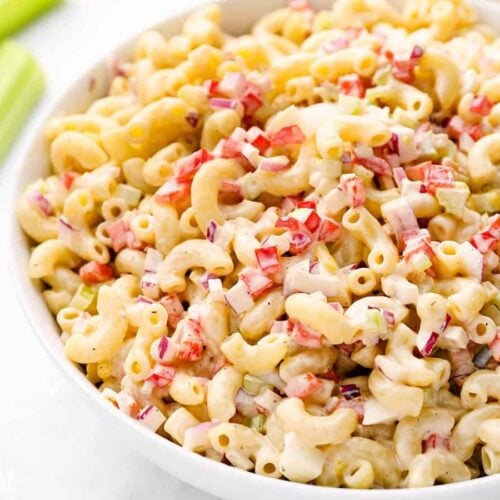 Ingredients
2

hard-boiled eggs

($0.48)

1/2

red bell pepper

($0.75)

1/2

red onion

($0.20)

2

ribs

celery

($0.47)

8

oz.

macaroni

($0.67)
Dressing
1

cup

mayonnaise

($1.16)

1

Tbsp

Dijon mustard

($0.18)

1

Tbsp

sweet pickle relish

($0.08)

1

Tbsp

red wine vinegar

($0.10)

1

Tbsp

sugar

($0.01)

1/2

tsp

salt

($0.02)

1/4

tsp

freshly cracked pepper

($0.02)
Instructions
Chop the salad ingredients first, so they're ready to go. Dice the hard-boiled eggs, bell pepper, onion, and celery.

Boil the macaroni until tender, then drain it in a colander. Briefly rinse the pasta with cool water to cool it off.

While the macaroni is boiling, prepare the dressing. Stir together the mayonnaise, Dijon, relish, red wine vinegar, sugar, salt, and pepper.

Combine the cooled and drained macaroni, egg, bell pepper, celery, and onion in a bowl. Pour the dressing over top, then stir until everything is well combined and coated in dressing.

Serve the macaroni salad immediately or refrigerate until ready to eat.
See how we calculate recipe costs here.
---
Nutrition
Serving:
0.75
cup
Calories:
332
kcal
Carbohydrates:
25
g
Protein:
6
g
Fat:
23
g
Sodium:
385
mg
Fiber:
2
g
Read our full nutrition disclaimer here.
How to Make Macaroni Salad – Step by Step Photos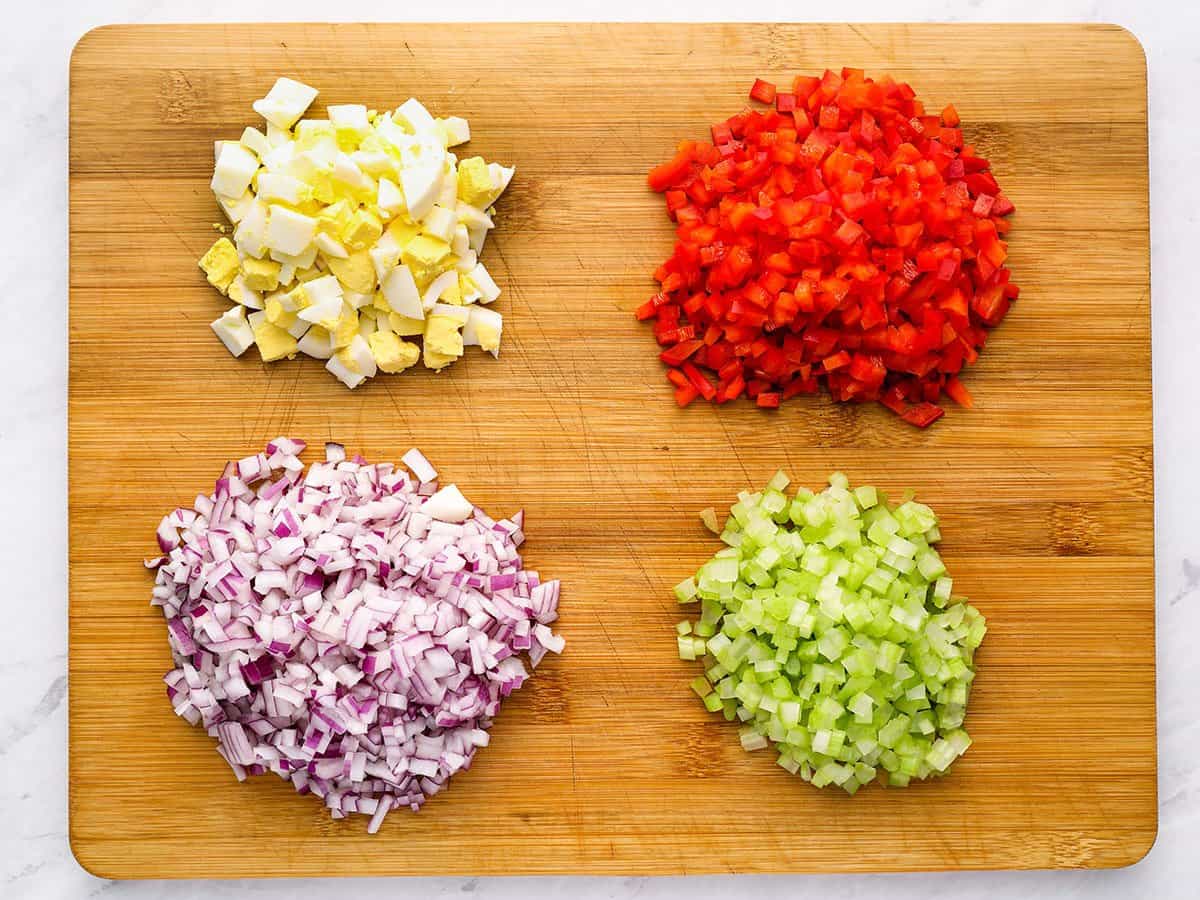 Chop the macaroni salad add-ins first. Dice two hard-boiled eggs (here's a tutorial on how to make hard-boiled eggs, if needed), ½ of a red bell pepper, 2 ribs of celery, and ½ of a red onion.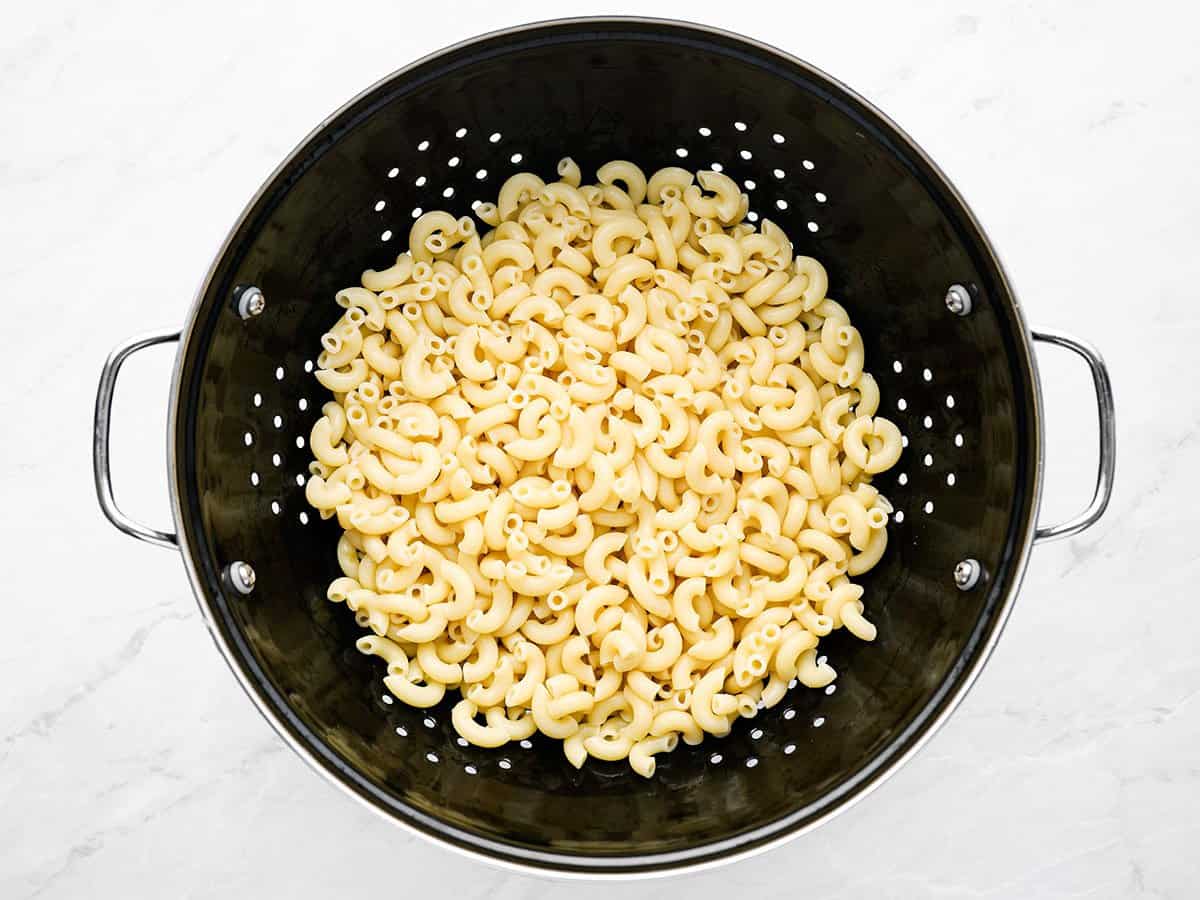 Next, boil 8oz. elbow macaroni until tender. Drain the pasta in a colander and rinse briefly with cool water to cool down the pasta.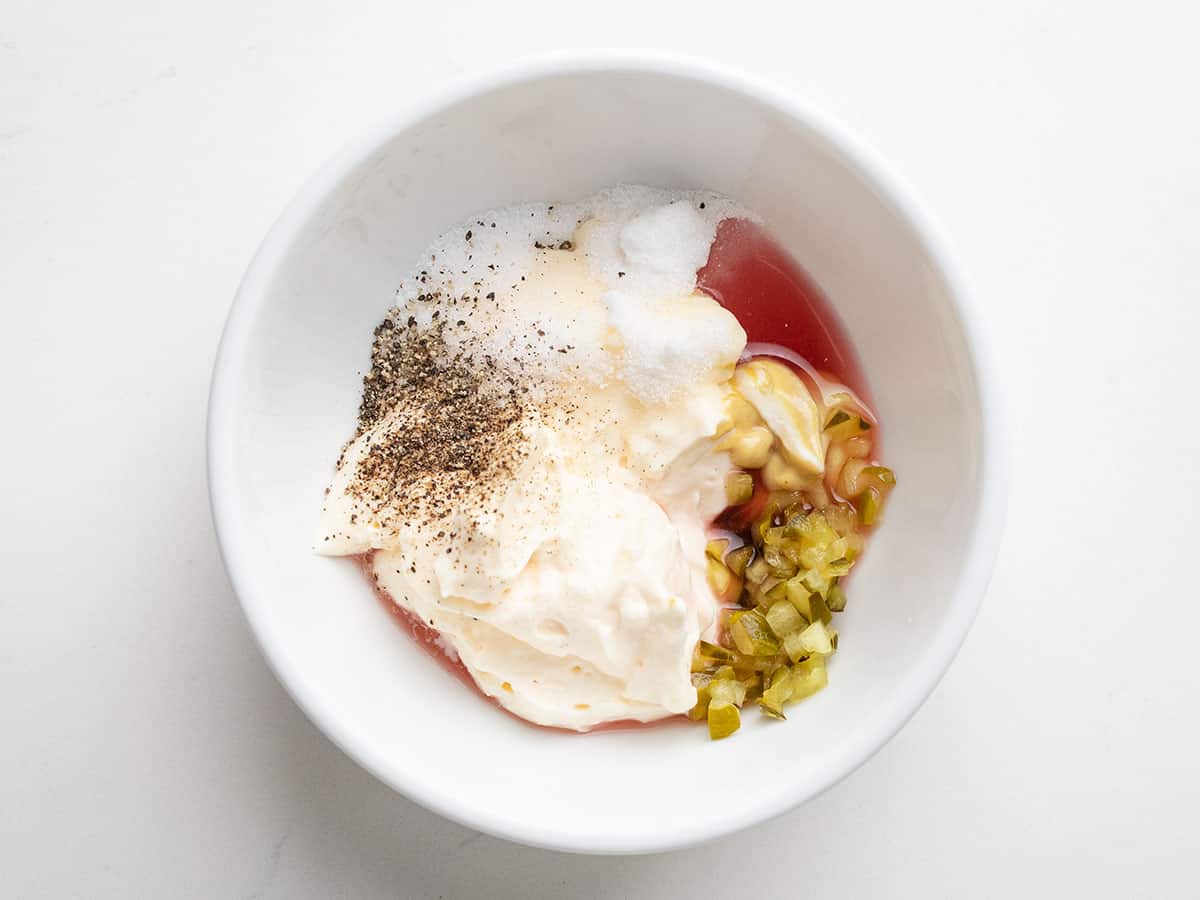 While the macaroni is cooking, prepare the dressing. Combine 1 cup mayonnaise, 1 Tbsp Dijon mustard, 1 Tbsp sweet relish, 1 Tbsp red wine vinegar, 1 Tbsp sugar, ½ tsp salt, and ¼ tsp freshly cracked pepper.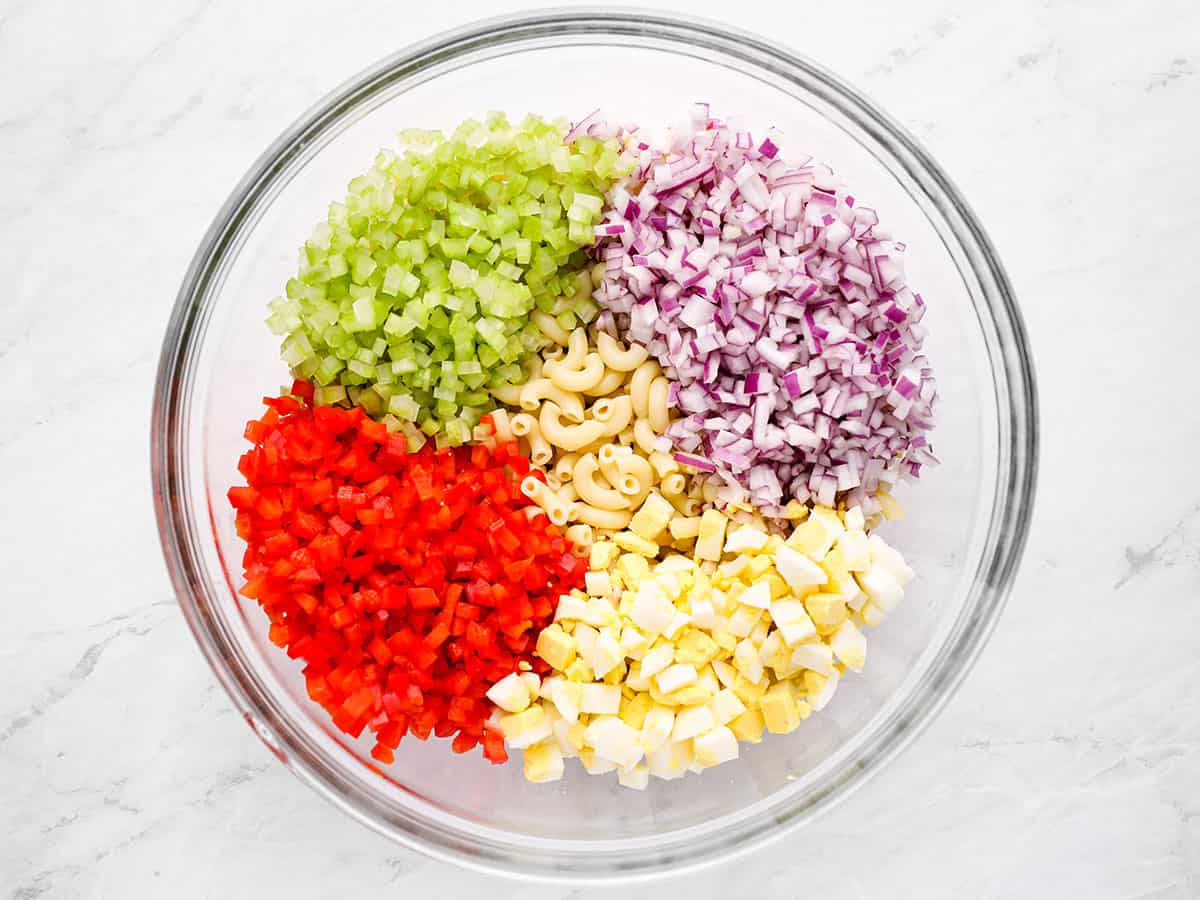 Add the cooked and cooled macaroni to a large bowl along with the chopped egg, bell pepper, celery, and red onion.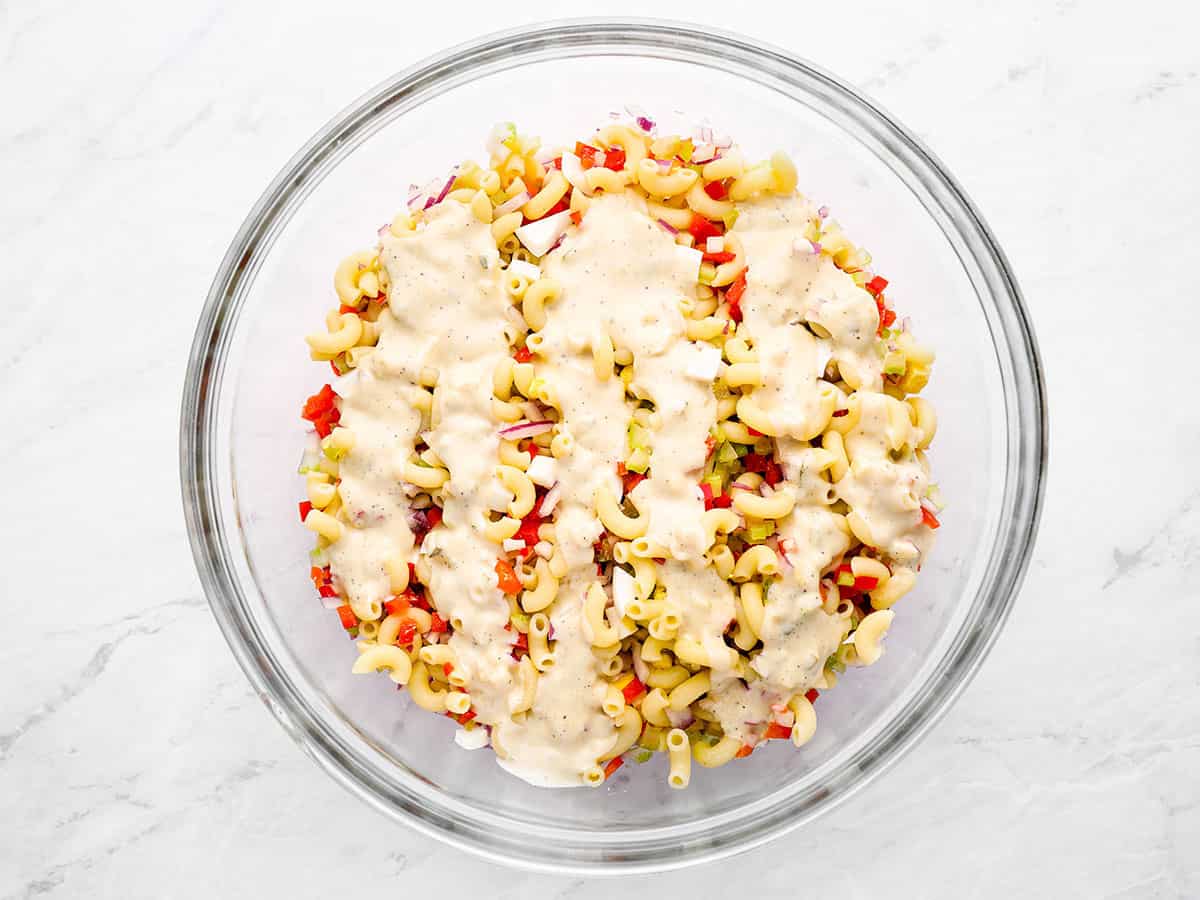 Pour the prepared dressing over the salad in the bowl.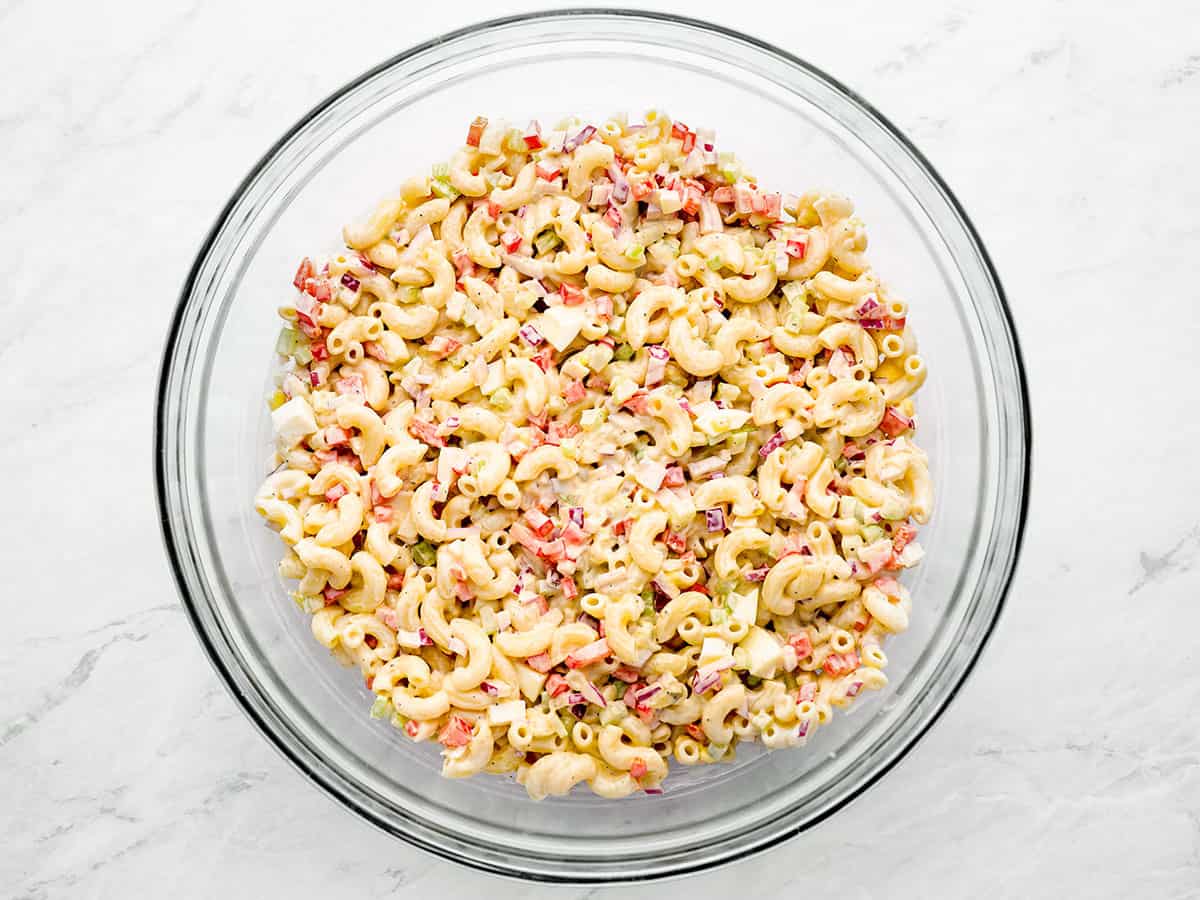 And now your macaroni salad is ready to eat! Make sure to keep it in the refrigerator if you don't plan to serve it right away, and give it a good stir again just before serving.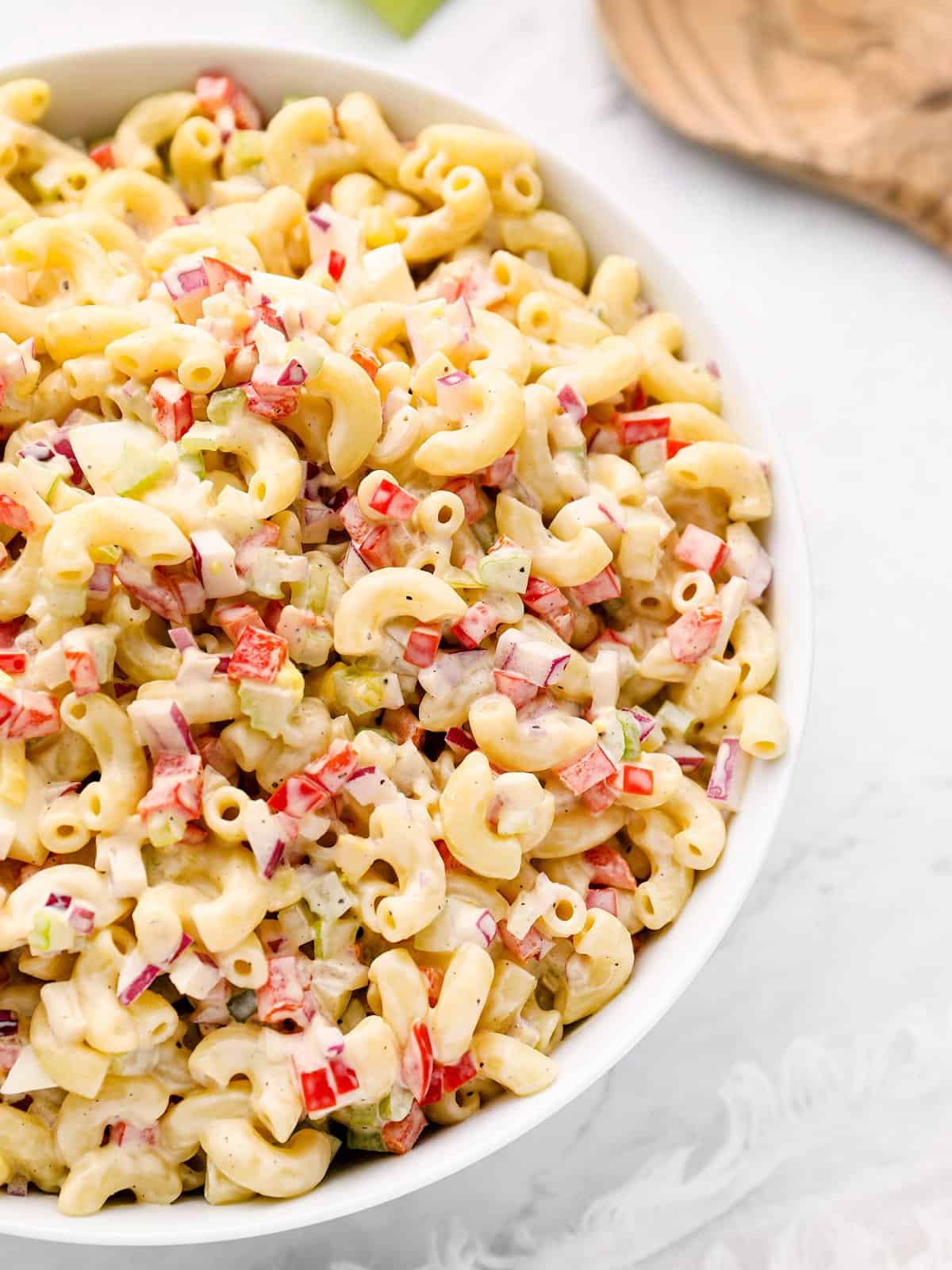 Need more recipe ideas for your summer gatherings? Check out our round-up of Recipes for Summer BBQs and Potlucks.