I hope everyone had a wonderful Christmas yesterday! I decided to take advantage of this "holiday hangover" day to compile my very favorite recipes of 2016. I've been making these year-end recipe round ups since my very first year of blogging and every year the list seems to get longer. As I sat down last night to review the recipes from 2016, I found myself writing down nearly every recipe onto my favorites list! Even after what seemed like a fairly conservative "first pass" I had 36 recipes on my list. Yikes! I've knocked it down some, but I just can't narrow it down any further than these awesome Top 25 Recipes of 2016.
It was a delicious year, to say the least, so if you are new to Budget Bytes or just want to start cooking more in 2017, these 25 recipes are a great place to start! Here's to making next year even tastier than the last!
Top 25 Recipes of 2016
Listed in Chronological order from oldest to newest…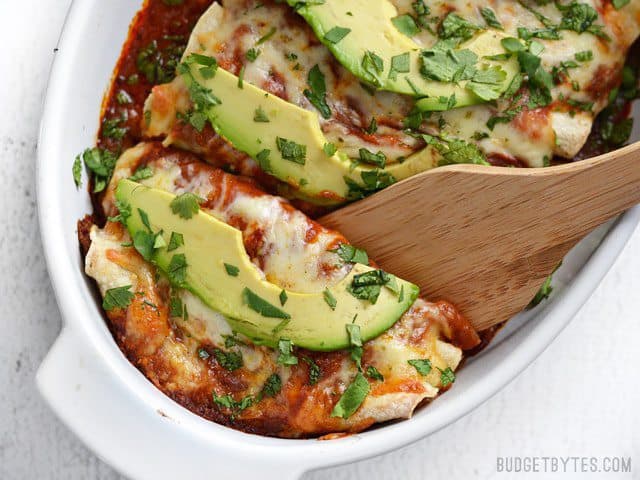 Weeknight Enchiladas – A few extra steps, like toasting your tortillas and making your own quick enchilada sauce, takes these simple enchiladas to the next level. Seriously good, seriously simple.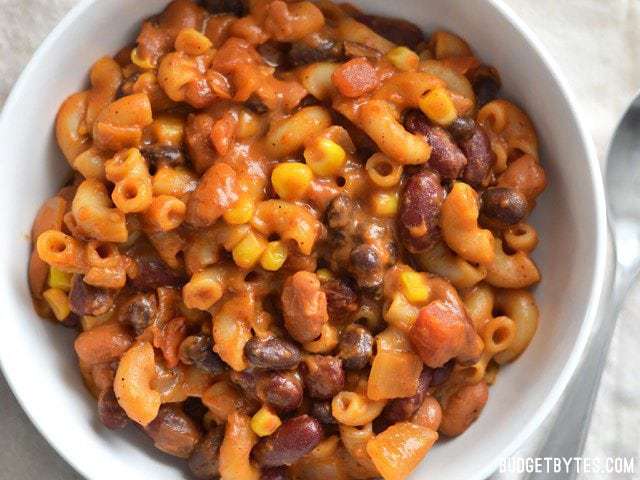 Cheesy Vegetarian Chili Mac – This is what it's all about right here. My "meat and potatoes" type of meal. Filling, cheap, and very satisfying with its cheesy goodness!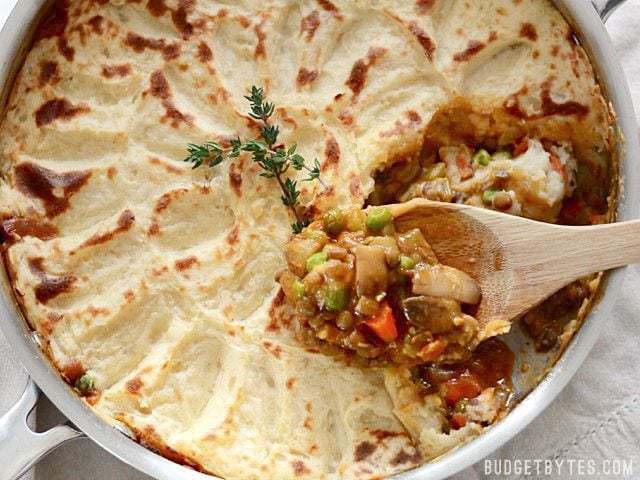 Vegetarian Shepherd's Pie – Lentils make the perfect earthy swap for ground beef or lamb in this Shepherd's Pie. It's warm and cozy like cold-weather meals should be. :)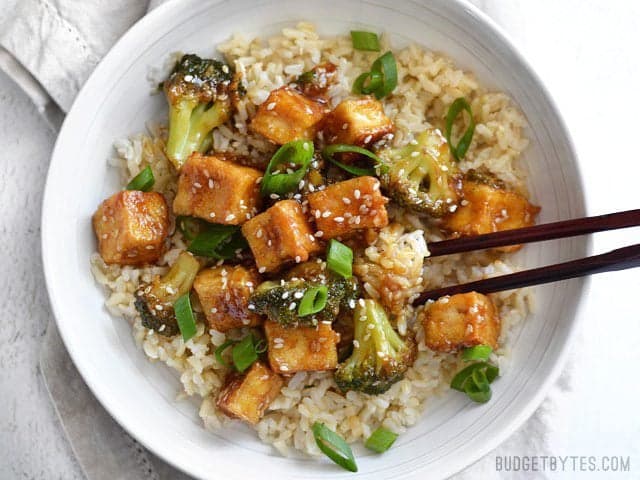 Pan Fried Sesame Tofu with Broccoli – This is the recipe that got me loving tofu. Learning how to properly pan fry the little tofu cubes to create a crispy exterior is life changing. TRY IT.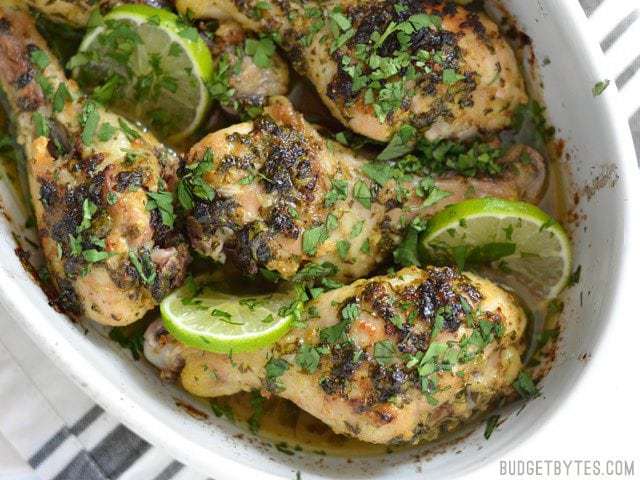 Cilantro Lime Chicken Drumsticks – Just when the bleak winter weather starts to do you in, these fresh and vibrant chicken drumsticks will bring you back to life. Light, fresh, and January-diet friendly. ;)
Curried Red Lentil and Pumpkin Soup – It might look unassuming, but don't let that fool you! This incredibly simple soup is every bit as flavorful as it is healthy and that's why I love it!
Crispy Baked Honey Sriracha Chicken Drumsticks – I learned so many amazing things that cornstarch can do this year! Like make baked chicken extra crispy, as if it was fried! But let's not forget about that amazing honey sriracha sauce that I slathered over top…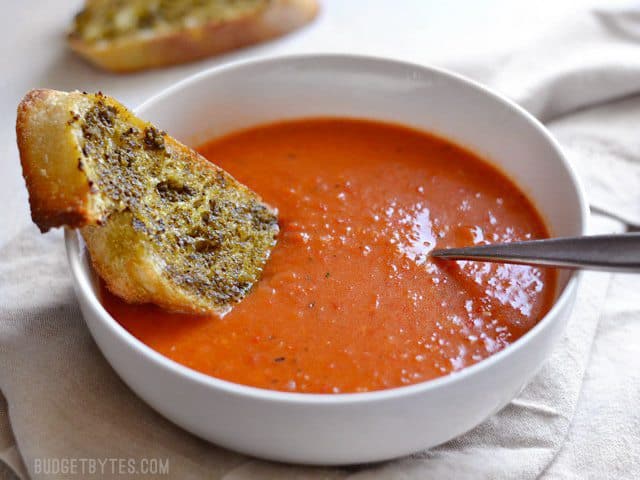 Roasted Red Pepper and Tomato Soup – Roasted red peppers give this rich soup a slight sweetness and a flour and butter roux gives it a thick, luxurious texture. I'll never make tomato soup without a roux ever again.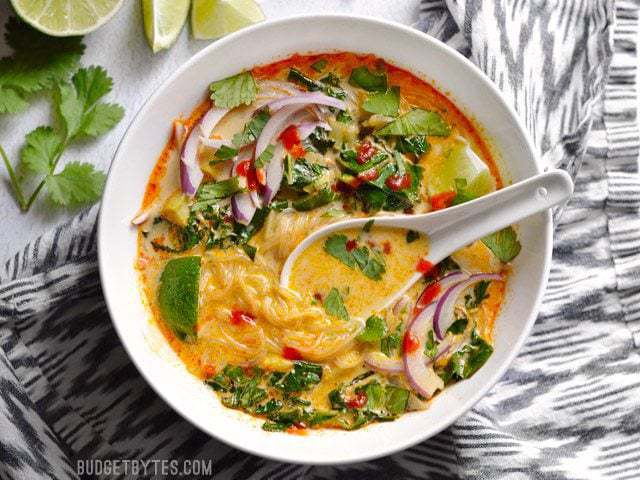 Thai Curry Vegetable Soup – If I had to pick one recipe as a favorite for the whole year (which I never could), this would be in the running. The flavors are incredibly vibrant and multidimensional. I want to eat it every day.
Creamy Pesto Mac with Spinach – Because I put frozen spinach in everything. This isn't a mac & cheese so much as it is a creamy pesto sauce with pasta and enough spinach to make you feel good about what you're eating. ;)
Lime Shrimp Dragon Noodles – I decided to play around with my original recipe for Dragon Noodles and came up with this winning combo! Lime brightens up the sauce and shrimp is a natural with the spicy flavors. I even used a different type of noodle just for fun.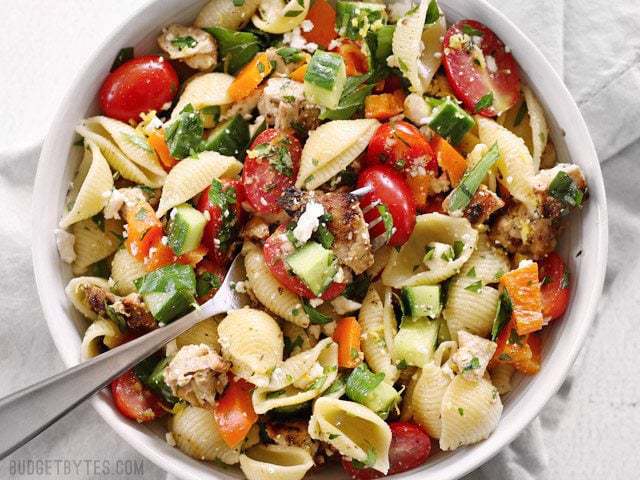 Greek Chicken Pasta Salad – When it comes to summer eating, I always crave cold pasta salads. This one has enough protein, vegetables, and flavor to count as a whole meal.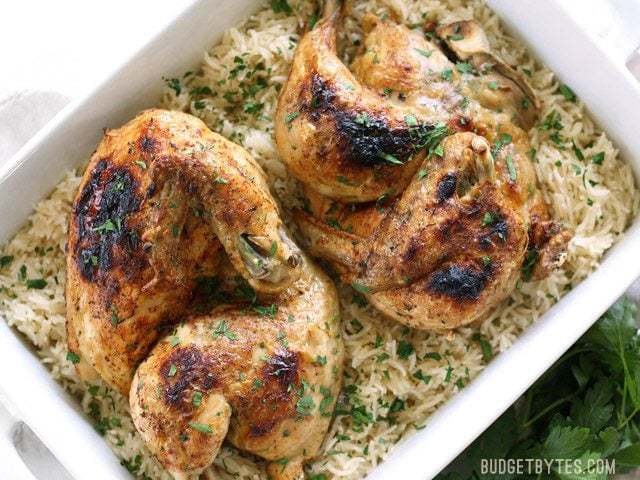 Pressure Cooker Chicken and Rice – I'm still learning with my pressure cooker, but discovering that you can cook rice in the left over juices from cooking a chicken was the best thing EVER. So much flavor and so little waste.
No Sugar Added Apple Pie Overnight Oats – They definitely don't look like apple pie, but these overnight oats taste surprisingly similar to apple pie, despite the fact that there is NO added sugar. I'll be eating these through most of January!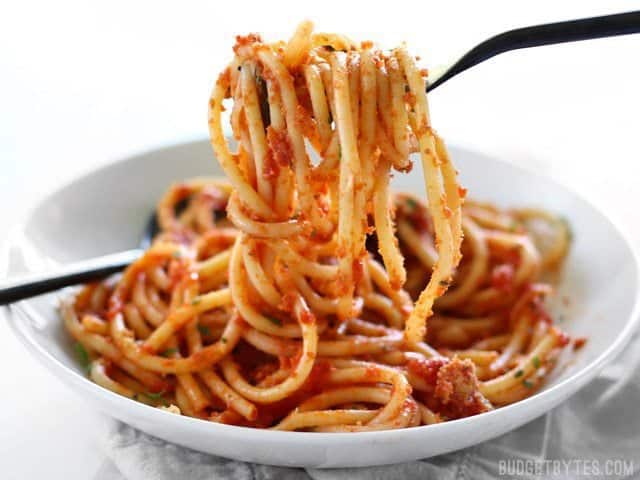 Pasta with 5-Ingredient Butter Tomato Sauce – This 5-ingredient tomato sauce is IN-SANE. I love it when simple ingredients make a final product that is absolutely extraordinary. (Plus a recipe for optional toasted breadcrumbs!)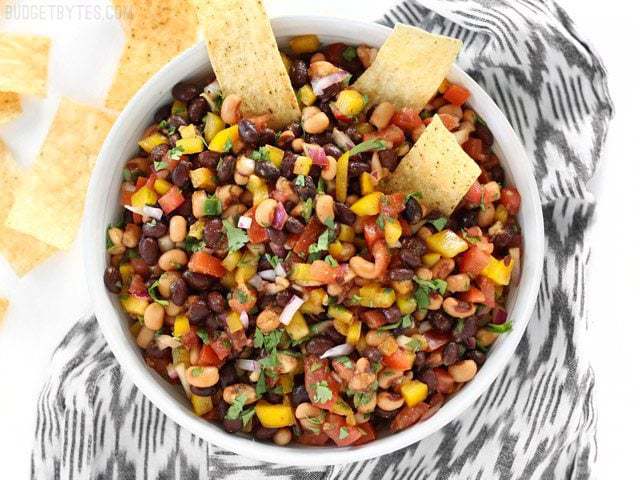 Cowboy Caviar – So, I don't know if you've noticed this about me, but I LOVE BEANS. This vibrant bean salad can be eaten as a side dish, as a party dip, as a taco topper, or even a burrito filling. It's a keeper.
Slow Cooker Coconut Curry Lentils – Slow cookers to the rescue! This meal is cheap, super yummy, and crazy easy, thanks to my trusty slow cooker. And extras freeze well, too!
Baked Beef and Black Bean Tacos – Ever tried baking your stuffed tacos? Prepare for your Taco Tuesday to be changed forever. Baking your tacos takes them to the next level (I know, I didn't think it was possible for tacos to get better, but IT IS.).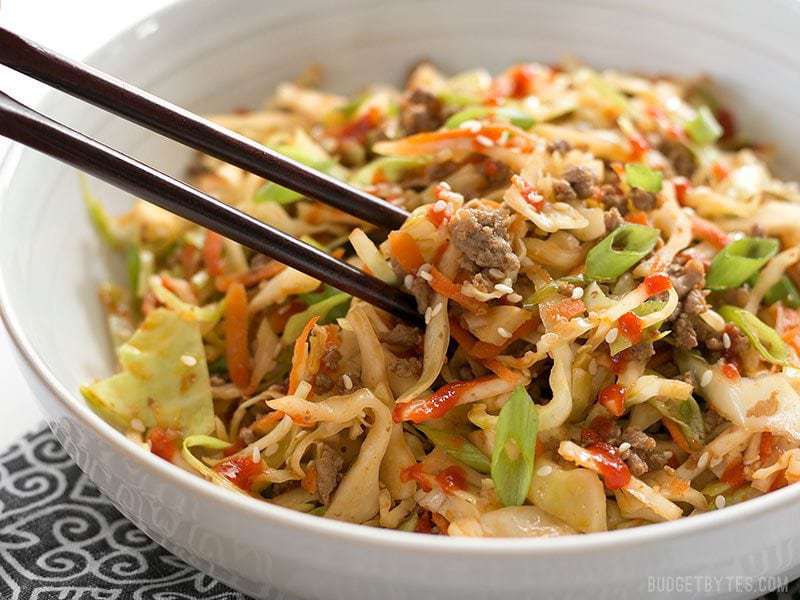 Beef and Cabbage Stir Fry – This is probably the "reader's favorite" winner of the year and I've also made it several times in the few months since posting it. Why? Because it's SO freaking good, so filling, and so cheap! WINNER.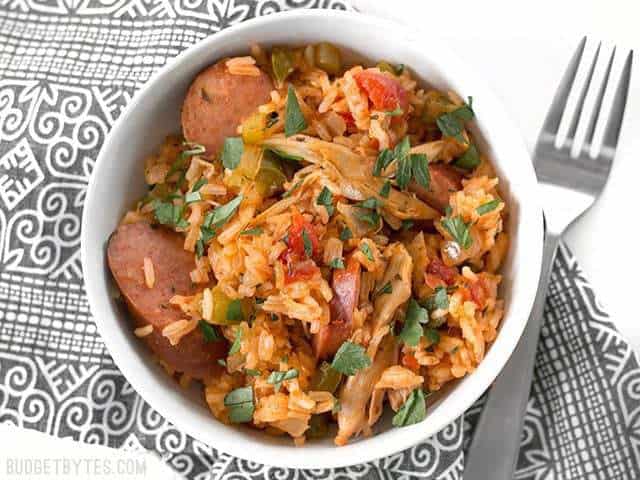 Slow Cooker Jambalaya – It's a good thing that I don't have a Cajun grandmother because she might roll over in her grave at the thought of this one, but I don't care. It's easy, it's delicious, it's filling and that's what this modern girl needs.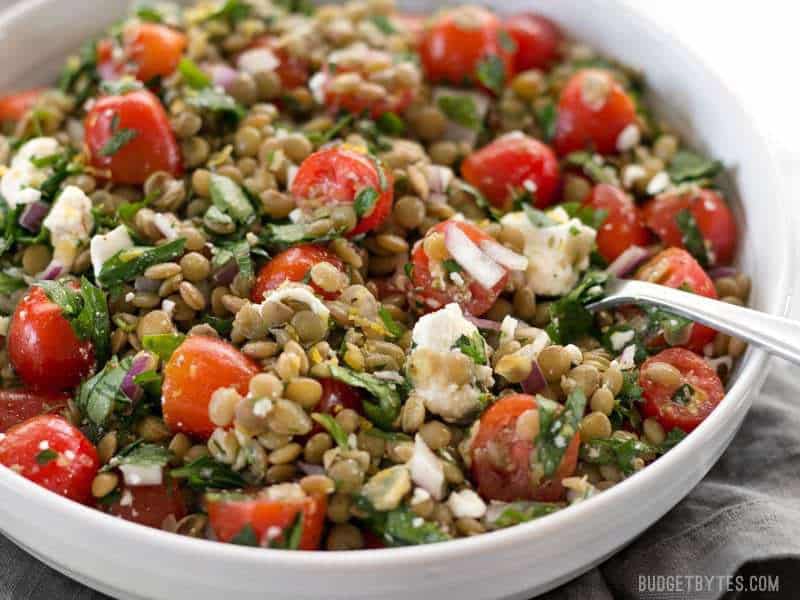 Marinated Lentil Salad – BANG-POW-WOW! That's what my brain says when I eat this one. Between the tangy vinaigrette, fresh tomatoes, feta cheese, and lemon zest, there are a LOT of loud flavors in this salad.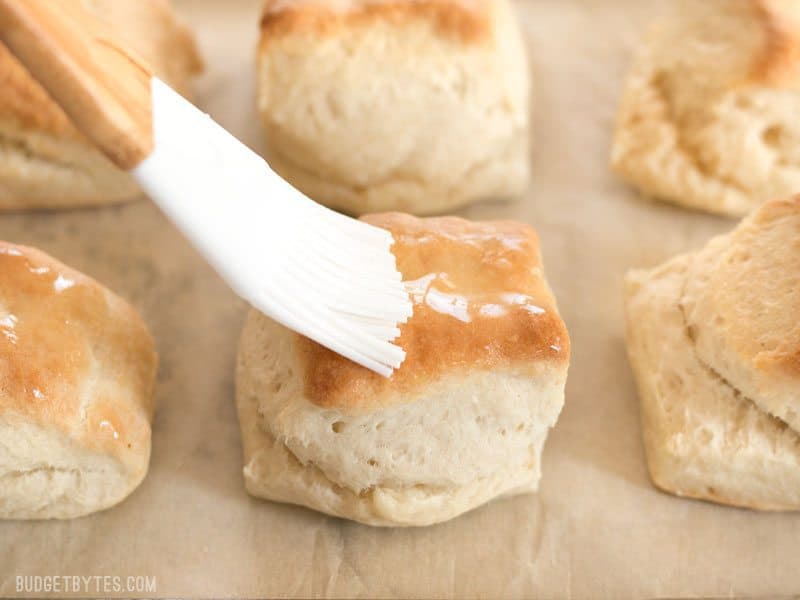 5-Ingredient Freezer Biscuits – These biscuits may be the death of me. Not only are they beautifully tender and slightly sweet, but I can keep the unbaked biscuits in my freezer and bake up one, two, three, or however many I need at a moments notice. Absolutely dangerous.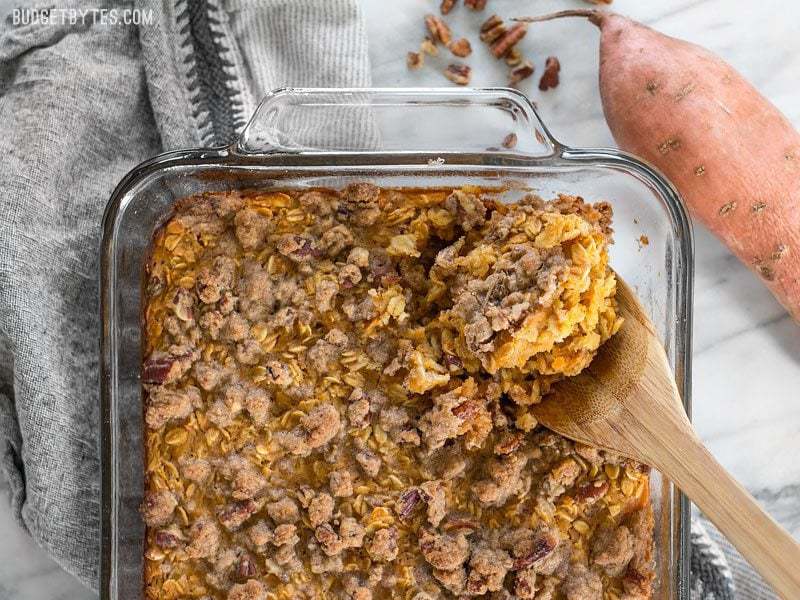 Sweet Potato Casserole Baked Oatmeal – Just when I thought I had made all possible flavors of baked oatmeal, the idea of a sweet potato casserole/baked oatmeal hybrid came to me. And wouldn't you know, it's my favorite one yet!
Vegetarian French Dip Sandwiches – I only made these portobello "French dip" sandwiches a couple of weeks ago, but am still dreaming about them. The herb infused vegetable au jus was so good.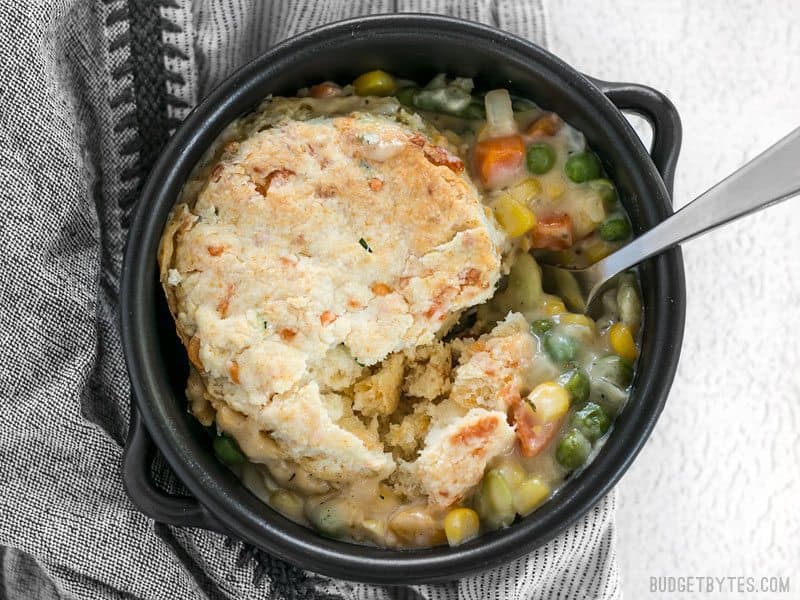 Vegetarian Pot Pie Skillet with a Cheddar Biscuit Topping – I'll take these cheddar chive biscuits over a traditional pie crust any day! Eating this skillet casserole is like wrapping yourself in a warm fluffy blanket and getting cozy next to a fireplace. It's 100% comfort.
What are your favorite recipe discoveries of 2016? Feel free to share yours, from anywhere around the web, in the comments below. (Just remember, that if you've never commented on this site before your comment will be held in moderation until I can review them. All subsequent comments will post immediately.)