I've wanted to do a series on Dragon Noodle variations for a while. The wildly popular original Dragon Noodle recipe is so simple that it's the perfect jumping off point for several interpretations. You've all chimed in with your own favorite ways to personalize the recipe, so I thought I'd bring some of those ideas to life and give direction to those who are not ready to experiment on their own. First up, Lime Shrimp Dragon Noodles! 👏👏👏 (that's the crowd applauding, btw)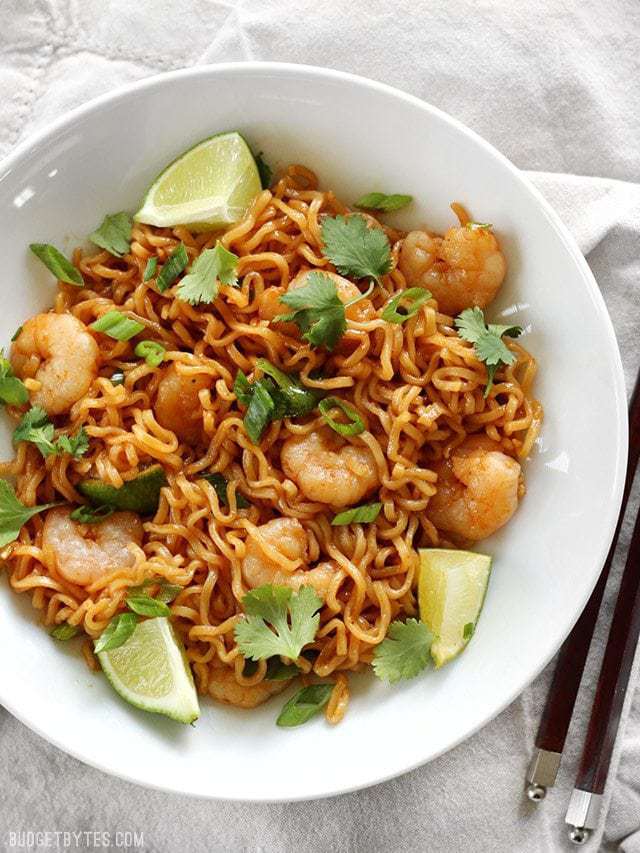 This version is a great demonstration of three ways to customize the original recipe: switch out the protein, use a different type of noodle, and add to the sauce. So, I used shrimp for protein instead of egg this time around. While shrimp are just as easy to cook as eggs, they can be a little more expensive, so I also switched out my favorite wide lo mein noodles for a less expensive ramen (because once they get drenched in that spicy sweet sauce, who cares what kind of noodle it is, gnome sayin'??). Finally, I added some fresh lime juice to the sauce (and served it with wedges for squeezing over the noodles) to add freshness and help highlight the seafood flavor.
Can I Use a Different Type of Noodle?
Yep! I've made variations of my Dragon Noodles many types of noodles. My favorite are the wide lo mein noodles, but these inexpensive ramen noodles also work well. If you're in a pinch you can even use regular pasta, although lighter egg noodles will probably be a better fit (and are also inexpensive).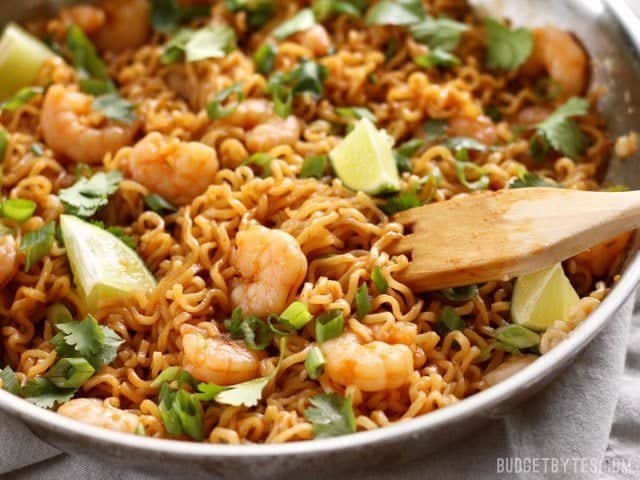 Do I Have to Use Shrimp?
Nope. The original Dragon Noodle recipe uses scrambled eggs and I think that would work just as well here, and cut the cost even further.
How Spicy Are Dragon Noodles?
Dragon Noodles are VERY SPICY. They're for spicy food lovers. If you want to lighten up the heat just a bit you can opt for half the amount of sriracha. If you want to make something like this with absolutely no heat, I suggest trying my Garlic Noodles recipe instead.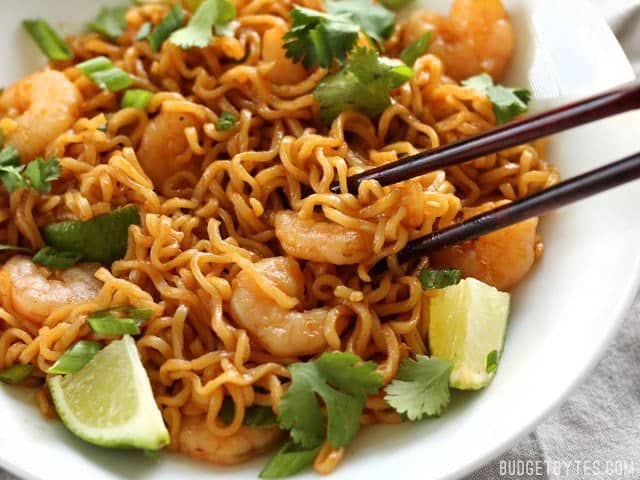 Lime Shrimp Dragon Noodles
These spicy Lime Shrimp Dragon Noodles are a fast, easy, and inexpensive alternative to take out. This version features tender shrimp and fresh lime.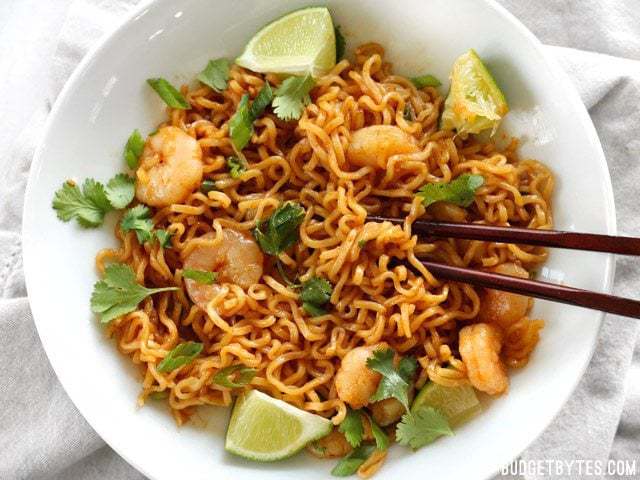 Ingredients
1/2

lb

frozen peeled & deveined shrimp (51/70 size)

($3.00)

2

packs (3 oz. each)

ramen noodles

($0.50)

2

Tbsp

sriracha

( $0.18)

2

Tbsp

soy sauce

($0.10)

2

Tbsp

brown sugar

($0.08)

1

lime

($0.50)

2

Tbsp

butter

($0.18)

2

cloves

garlic

($0.16)

2

green onions

($0.17)

Handful fresh cilantro

($0.10)
Instructions
Place the shrimp in a colander and rinse with cool water until thawed. Let the shrimp drain until ready to use.

In a small bowl stir together the sriracha, soy sauce, brown sugar, and about 1 Tbsp juice from the lime. Set the sauce aside.

Fill a medium sauce pot with water, place a lid on top, and bring to a boil over high heat. Once boiling, add the ramen noodles (without the flavoring packet) and continue to boil until the noodles are tender. Drain the noodles in a colander (if using the same colander for the shrimp, make sure to wash it with soap and water first).

While waiting for the water to boil, mince two cloves of garlic. Add the butter and garlic to a large skillet and sauté over medium heat until the garlic is soft (about one minute). Add the shrimp and continue to sauté until the shrimp turn pink and opaque (about 3-5 minutes). Remove the skillet from the heat.

Once the noodles have drained, add them to the skillet with the shrimp, then pour the prepared sauce over top. Toss the noodles in the sauce until everything is coated in sauce. Top the dragon noodles with sliced green onion, fresh cilantro leaves, and a squeeze of lime.
See how we calculate recipe costs here.
---
Nutrition
Serving:
1
Serving
Calories:
676.4
kcal
Carbohydrates:
73.5
g
Protein:
33.8
g
Fat:
28.1
g
Sodium:
3442.45
mg
Fiber:
4.35
g
Read our full nutrition disclaimer here.
Scroll down for the step by step photos!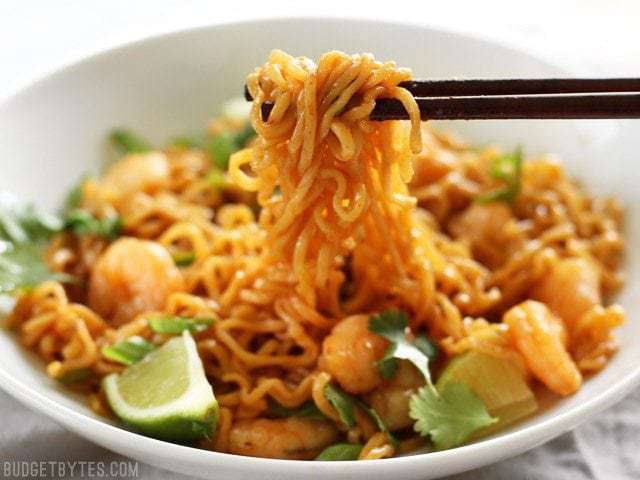 How to Make Lime Shrimp Dragon Noodles – Step by Step Photos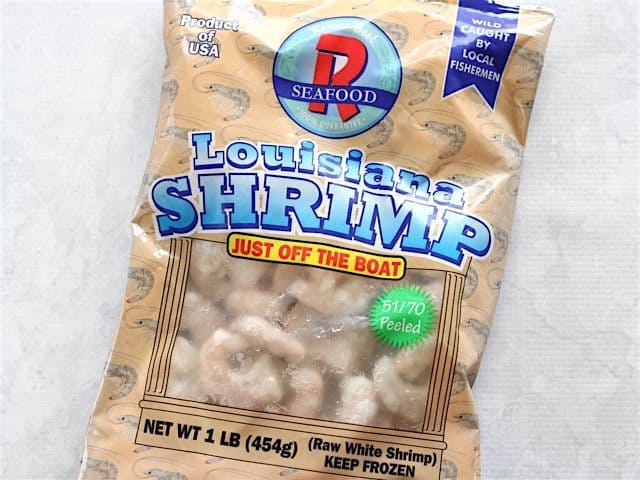 Defrost 1/2 lb. of frozen peeled and deveined shrimp. They defrost quickly if you place them in a colander and run cool water over them. Let them drain until you're ready to use them. I used 51/70 size, which I found to be just right for the noodles. "51/70" means there are on average between 51 and 70 shrimp per pound.
Next, prepare the Dragon Noodle dressing so it will be ready to go when you need it. In a small bowl stir together 2 Tbsp sriracha, 2 Tbsp soy sauce, 2 Tbsp brown sugar, and about 1 Tbsp of lime juice. Save the rest of the lime to serve as wedges with the meal.
Bring a medium sauce pot full of water to a boil, then add two packages of ramen noodles (without the seasoning packet). Boil the noodles until tender, then drain in a colander. If you use the same colander to drain the noodles as you used to rinse the shrimp, make sure to wash it out with soap and hot water first.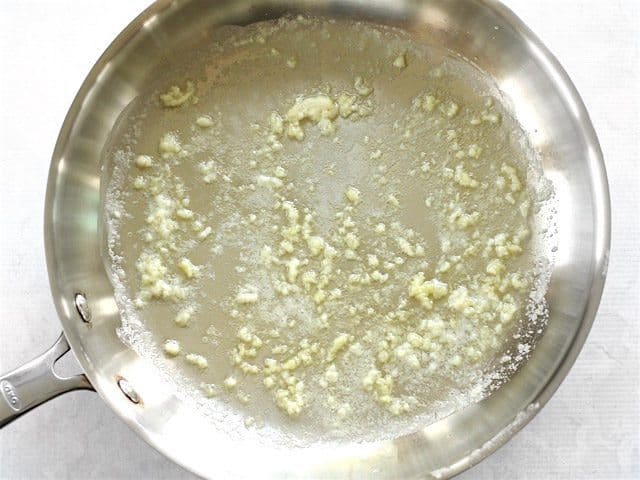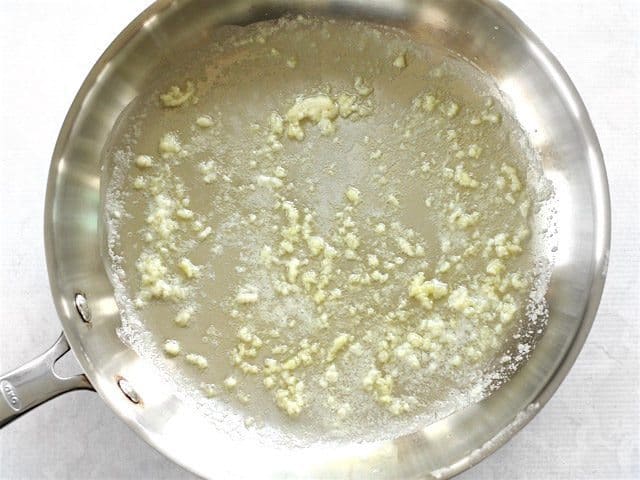 While you're waiting for the water to boil, you can continue preparing the shrimp. Mince two cloves of garlic and add them to a large skillet along with 2 Tbsp butter. Sauté the garlic in the butter over medium heat for about a minute, or just until it softens a bit and gets really fragrant, but doesn't brown.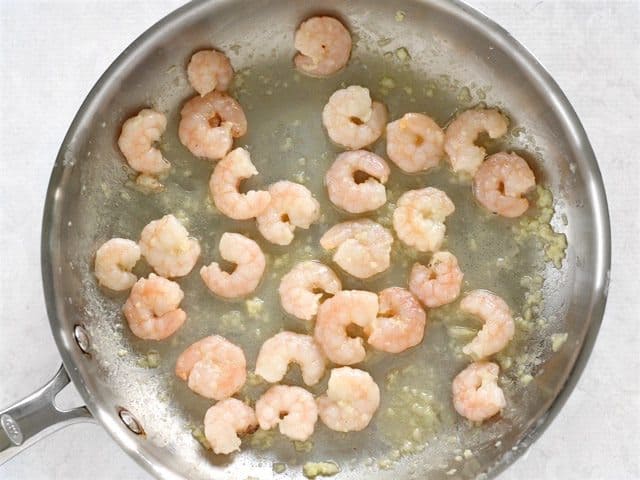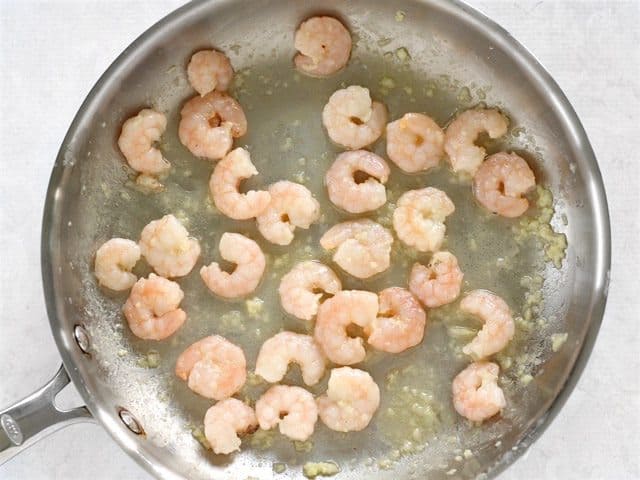 Then add the thawed and drained shrimp and continue to sauté until they turn pink and opaque. Shrimp cook really quickly, so this should only take a few minutes. If you continue to cook them, they will shrink and become very tough, so remove the skillet from the heat at this point.
Finally, add the cooked and drained noodles to the skillet and pour the sauce over top. Toss the noodles in the sauce until everything is coated.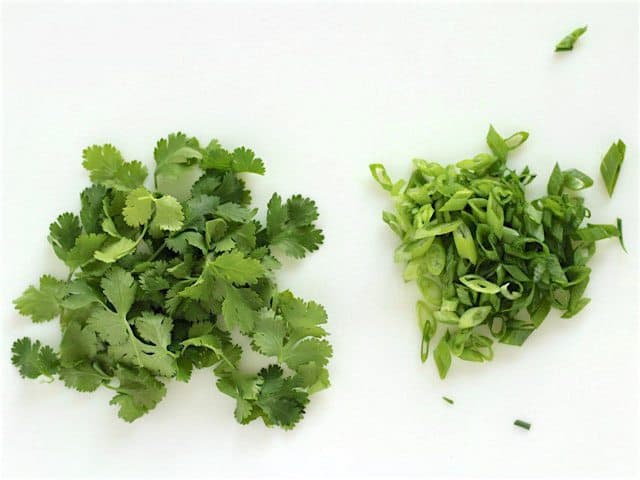 Slice up a couple of green onions and pull a handful of cilantro leaves from the stems.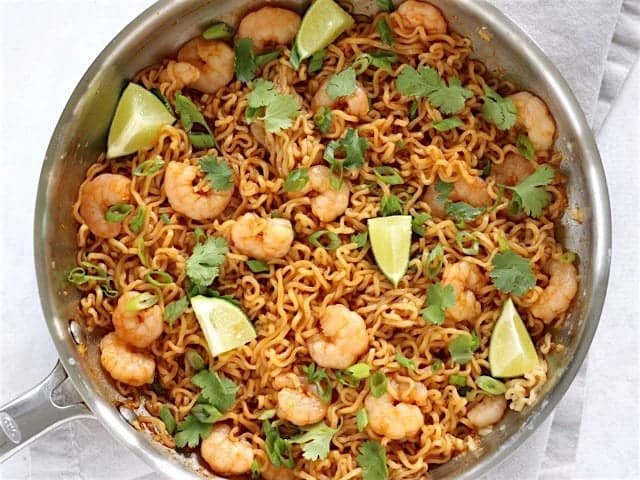 Sprinkle the green onions and cilantro over the noodles. Cut the remaining lime into wedges to serve with the noodles.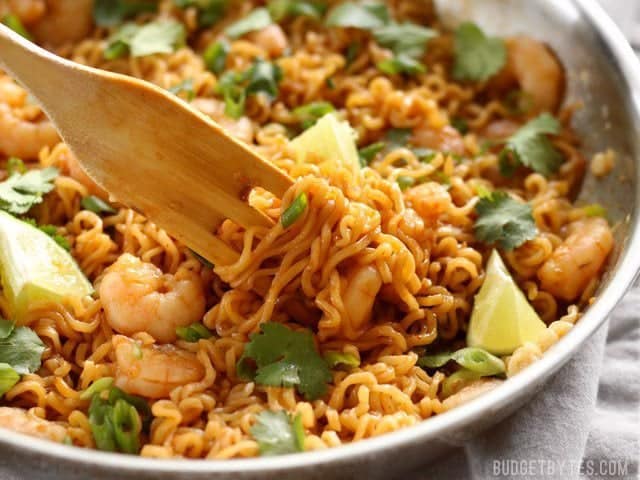 #dragonnoodlelove