Hooray for easy soups! This Curried Red Lentil and Pumpkin Soup is the type of recipe that saves the day—very few ingredients, fast, and really delicious. Oh yeah, and did I mention how incredibly inexpensive it is?? Seriously, just pennies per bowl. It's also freezer-friendly, super healthy, just happens to be vegan-friendly, and you can have fun customizing the toppings. It basically checks all my boxes! Bookmark this recipe for later because I promise it will become part of your regular rotation.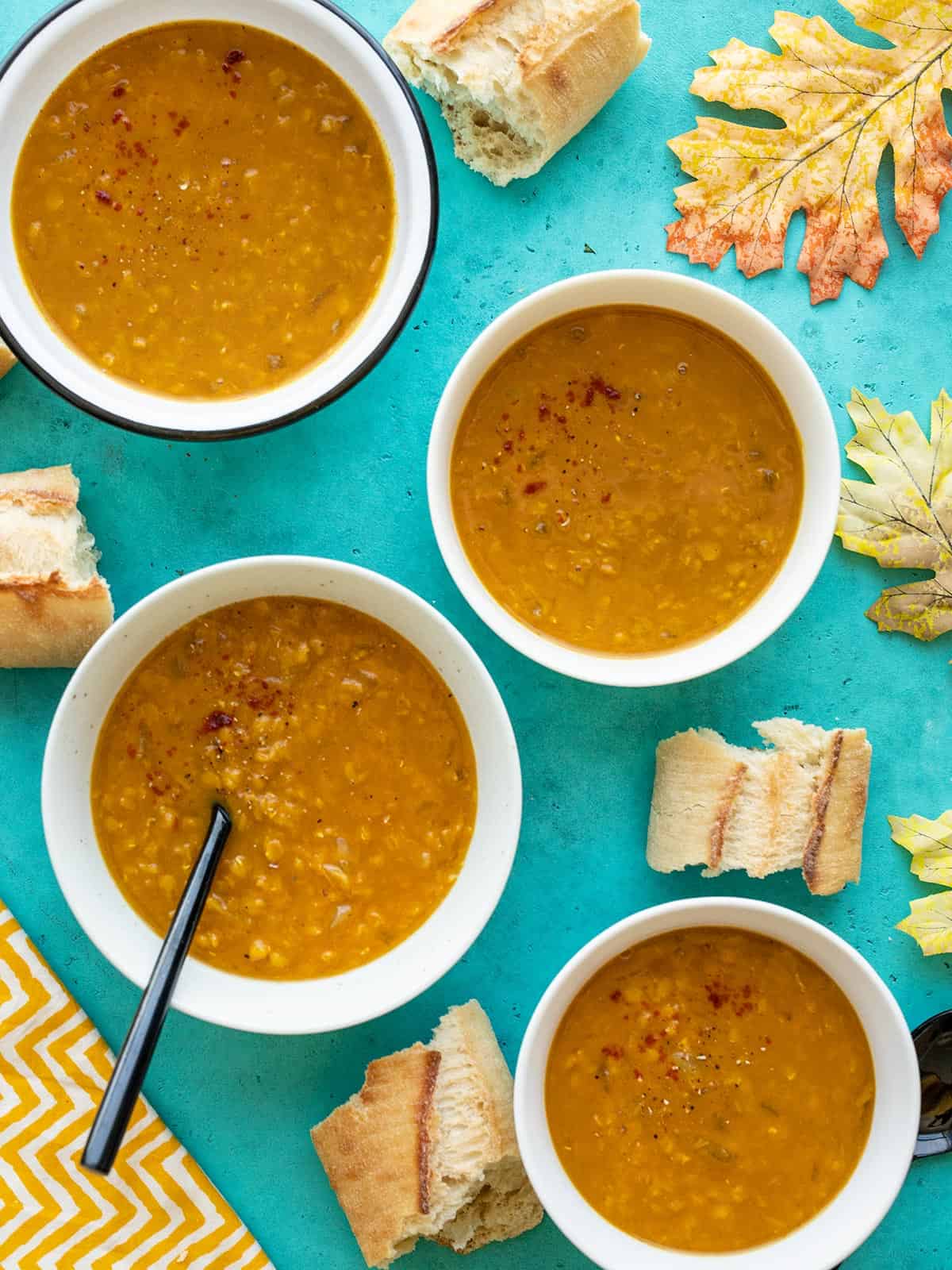 Have Fun with the Toppings
I just LOVE any meal where I can add toppings and this pumpkin soup is the perfect blank slate. Not that it's not awesome on its own, it's just that the flavors in this lentil and pumpkin soup are versatile and can handle being paired with all sorts of add-ins. So here are some ideas: go creamy with a dollop of plain yogurt or sour cream, spice it up with a few red pepper flakes or sriracha, toss in some crunchy pepitas (pumpkin seeds) or croutons, or sprinkle on a few sprigs of fresh cilantro. Or hey, DO THEM ALL. I won't judge.
Can I Substitute the Pumpkin?
If you don't have canned pumpkin, you can use about a cup and a half of mashed sweet potato or butternut squash in its place. Just make sure they're really soft and well-mashed so there is no stringiness in the final soup. Oh, and speaking of that, you can take an immersion blender to the finished soup for a super silky finish if you'd like. Me? I prefer to have a little texture from the lentils.
Can I Use Brown or Green Lentils for Pumpkin Soup?
While you can use a different type of lentil, it will definitely change the outcome of the soup. Red or yellow lentils are best for this soup because of their mild flavor and the fact that they break down quickly when cooked, giving the soup a nice thick consistency (like split pea soup). A brown or green lentil will give the soup a much earthier flavor and have a chunkier texture.
What Kind of Curry Powder Do You Use?
I'm not very picky about curry powder and haven't come across one yet that I don't like. I do prefer to use mild curry powder for this soup, that way I can adjust the heat by adding my own cayenne pepper if I want. One brand that I've enjoyed is Sharwood's mild curry powder. Or you can try making your own curry powder using this recipe for Easy Homemade Curry Powder from Spiceitupp.com.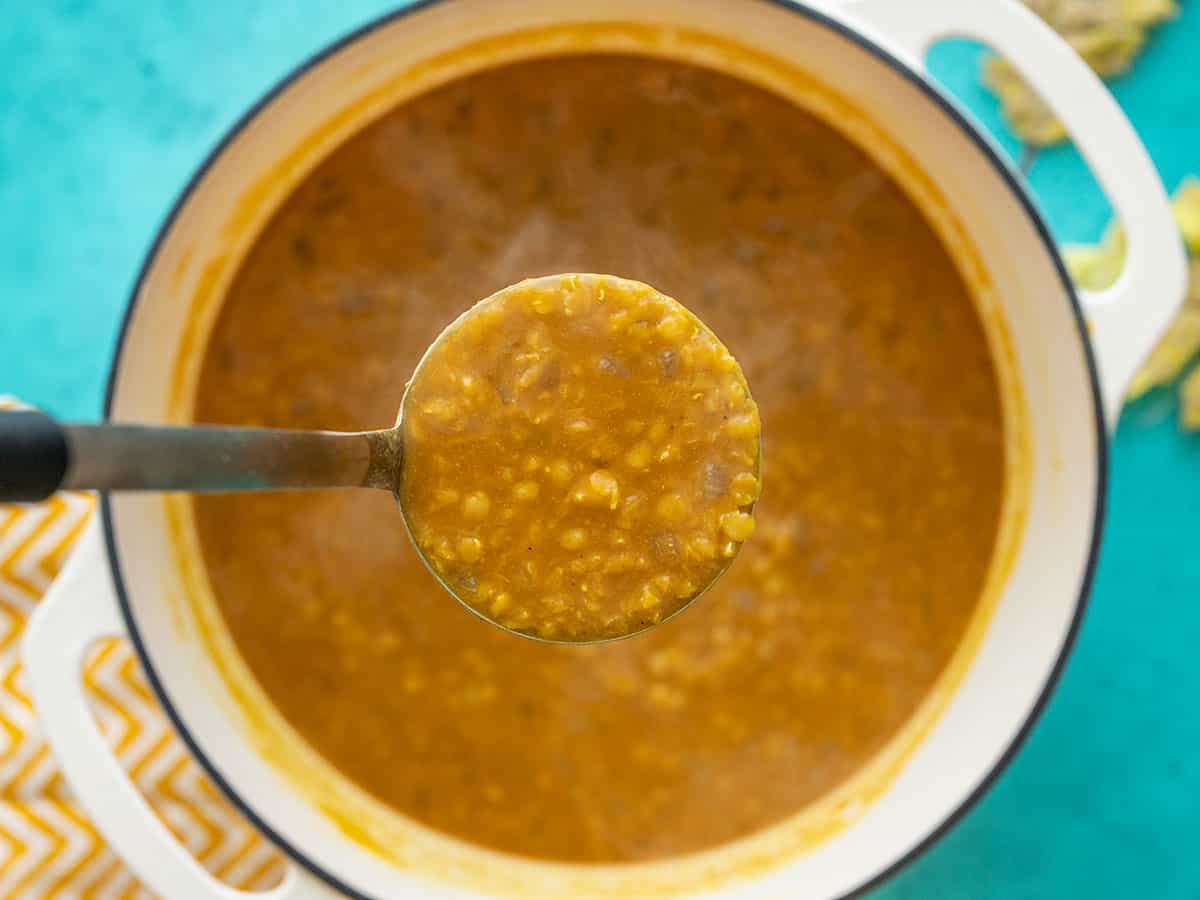 Red Lentil and Pumpkin Soup
This Curried Red Lentil and Pumpkin Soup is super fast and easy, and will keep you warm from the inside out on chilly fall evenings!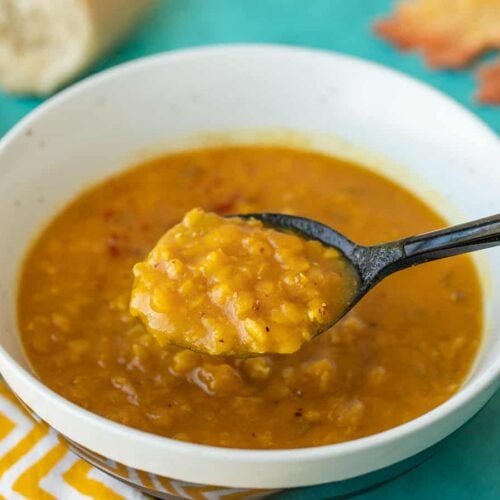 Ingredients
1

yellow onion

($0.31)

2

cloves

garlic

($0.16)

1

tsp

grated fresh ginger

($0.10)

1

Tbsp

olive oil

($0.16)

1

Tbsp

curry powder

($0.30)

1

15oz. can

pumpkin purée

($1.05)

1

cup

dry red lentils

($0.67)

6

cups

vegetable broth

($0.78)

1/2

tsp

salt

($0.02)
Instructions
Dice the onion, mince the garlic, and grate the ginger. Add the onion, garlic, and ginger to a large pot with the olive oil and sauté over medium heat until the onions are soft (about 5 minutes).

Add the curry powder and continue to sauté for about a minute more.

Next, add the pumpkin purée, lentils, and vegetable broth. Stir to combine.

Place a lid on the pot and bring the soup up to a boil over medium-high heat. Once boiling, turn the heat down to medium-low. Simmer the soup, stirring occasionally, for 20 minutes.

Finally, taste the soup and add salt to taste (about ½ tsp). Serve hot with bread for dipping!
See how we calculate recipe costs here.
---
---
Equipment
Nutrition
Serving:
1.33
cups
Calories:
175
kcal
Carbohydrates:
29
g
Protein:
9
g
Fat:
3
g
Sodium:
1141
mg
Fiber:
12
g
Read our full nutrition disclaimer here.
Love savory pumpkin recipes? You should also try our Spicy Coconut and Pumpkin Soup, Chipotle Pumpkin Pasta, or Easy Pumpkin Soup.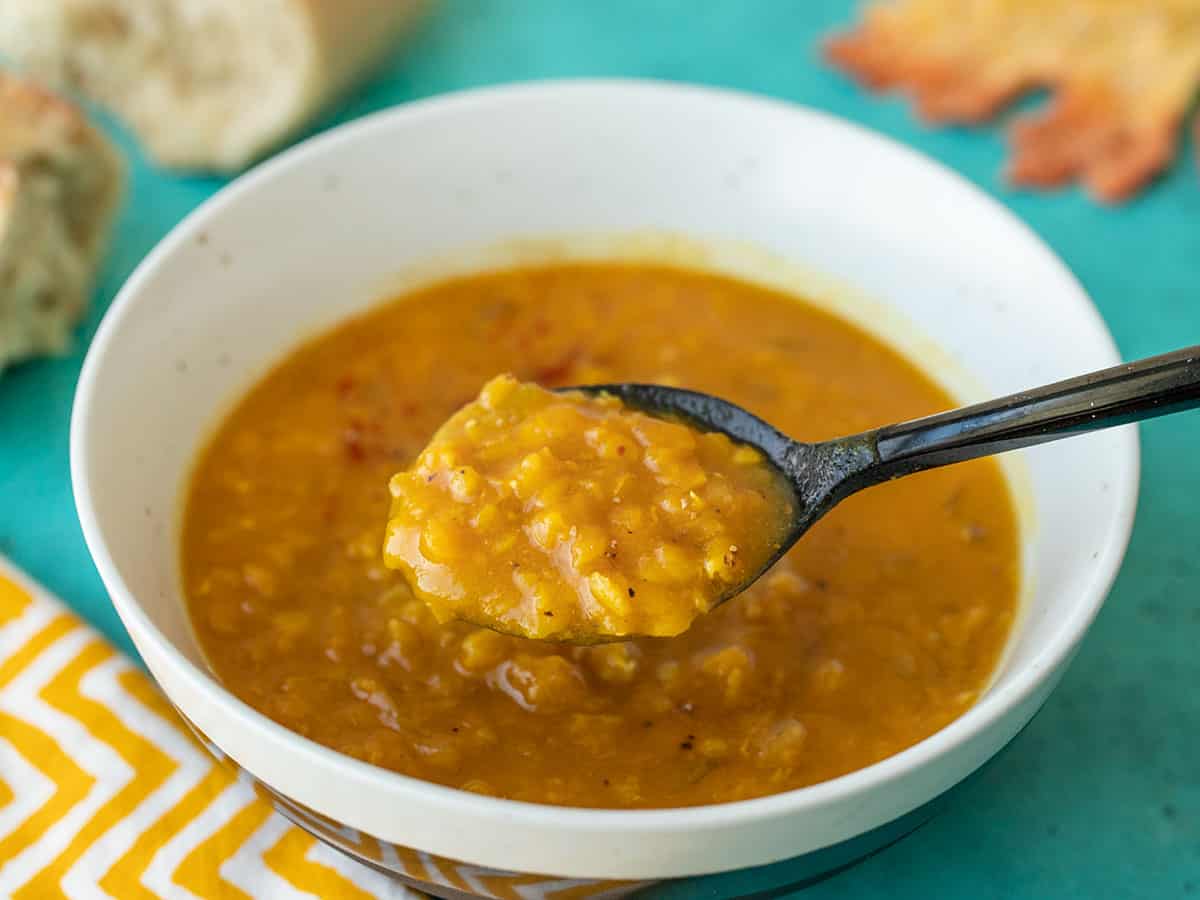 How to Make Curried Red Lentil and Pumpkin Soup – Step by Step Photos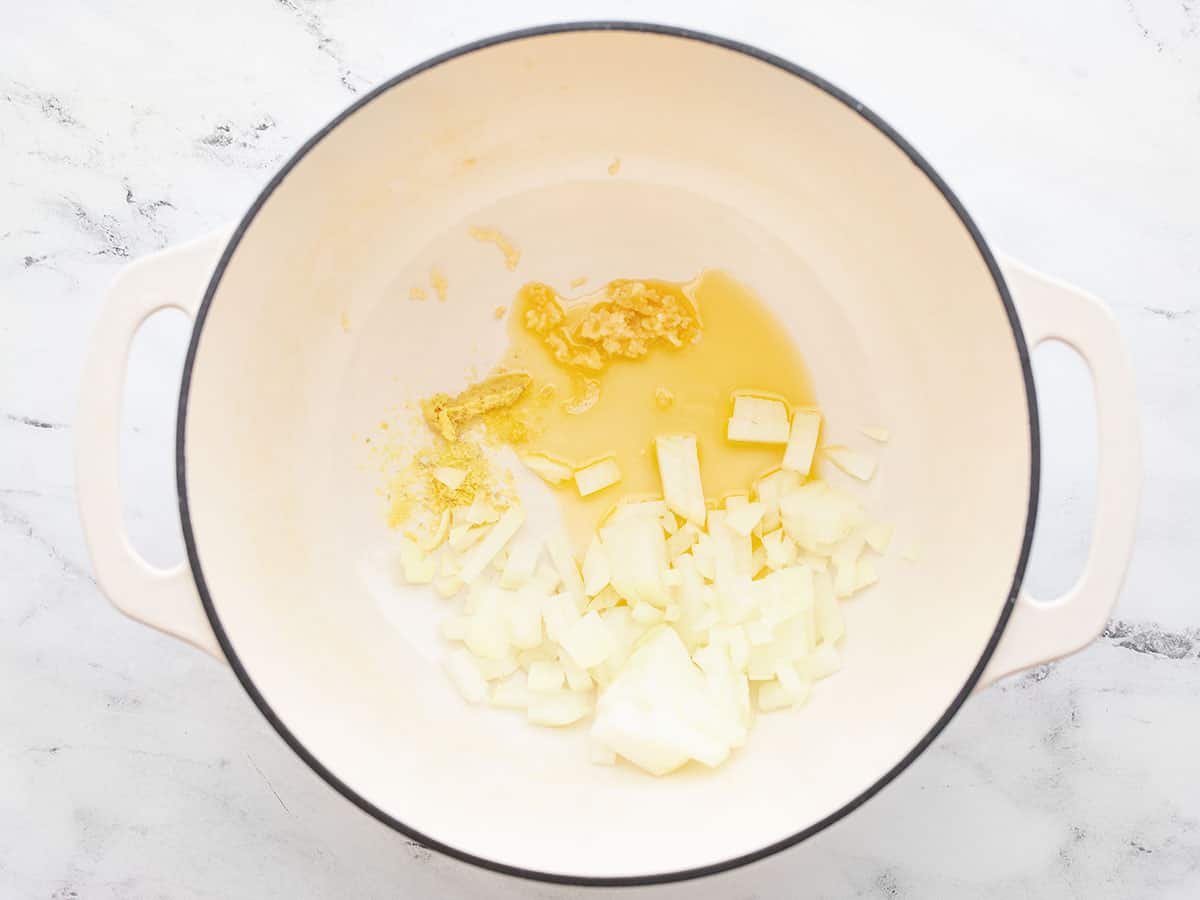 Dice one yellow onion, mince two cloves of garlic, and grate about 1 teaspoon of fresh ginger (I use a small-holed cheese grater). Add the onion, garlic, ginger, and 1 tablespoon of olive oil to a large pot and sauté over medium heat until the onions are soft and translucent.
Add one tablespoon curry powder to the sautéed vegetables and continue to sauté for one minute more.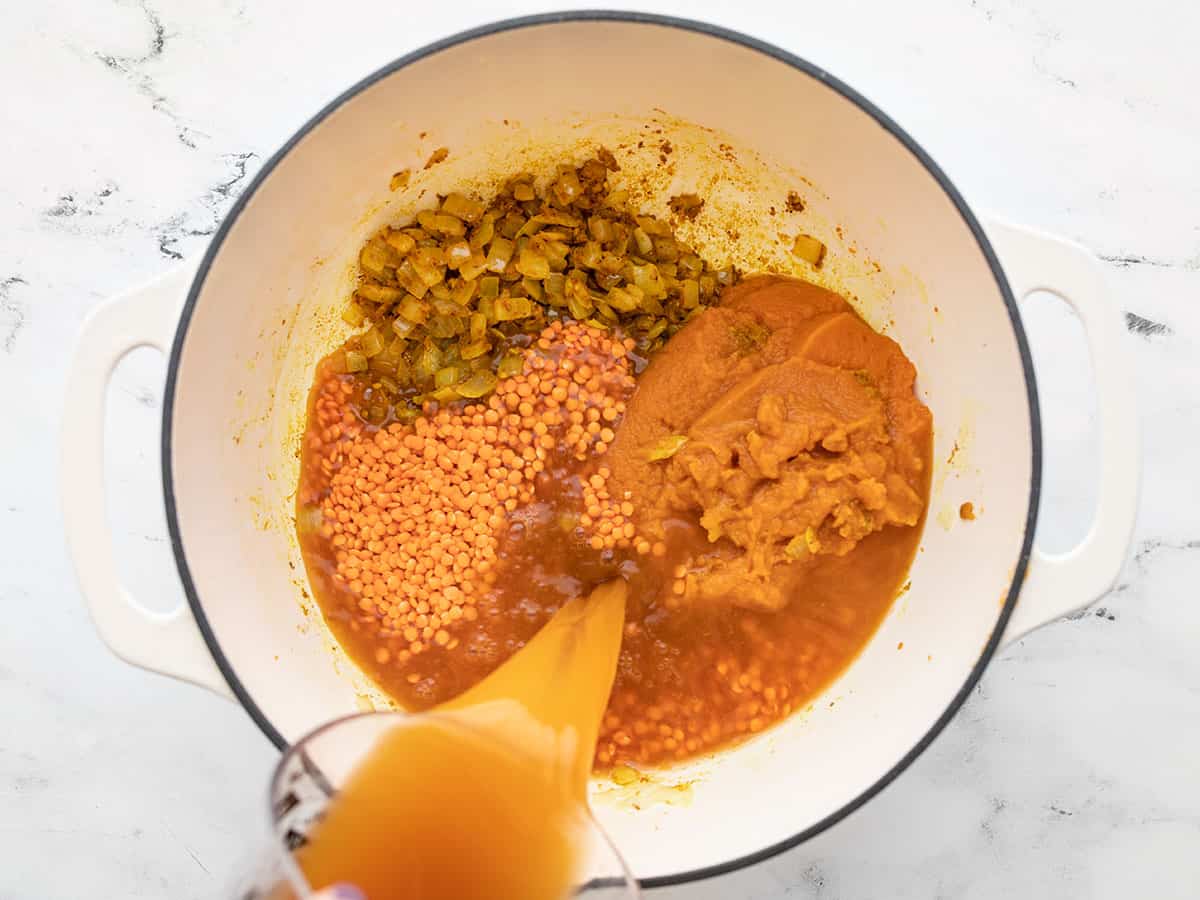 Next add 1 cup uncooked red lentils, 1 15oz. can of pumpkin purée (NOT pumpkin pie filling), and 6 cups vegetable broth. Stir to combine the ingredients.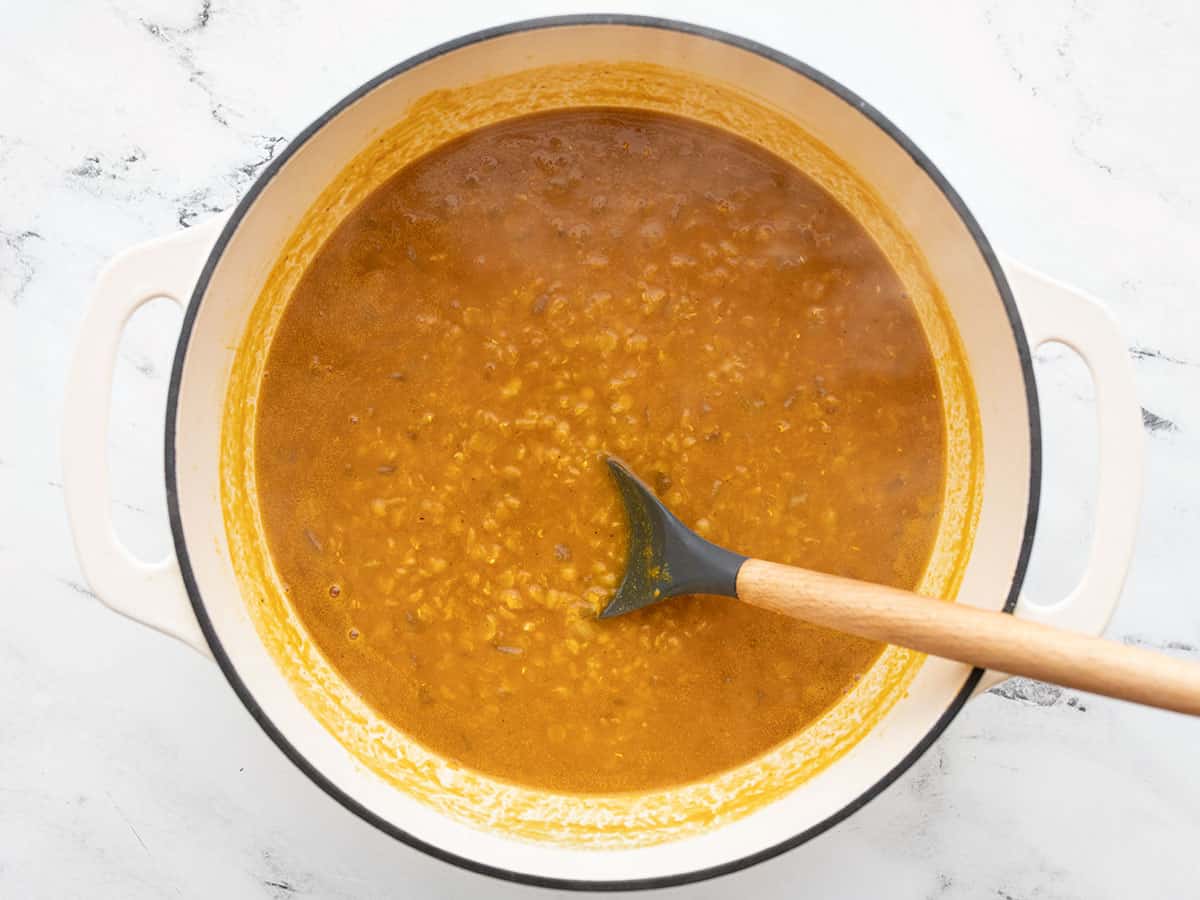 Place a lid on the pot, turn the heat up to medium-high, and bring the soup up to a boil. When it reaches a boil, turn the heat down to medium-low and let the soup simmer for 20 minutes. After 20 minutes the lentils should be broken down and tender, resulting in a thickened soup.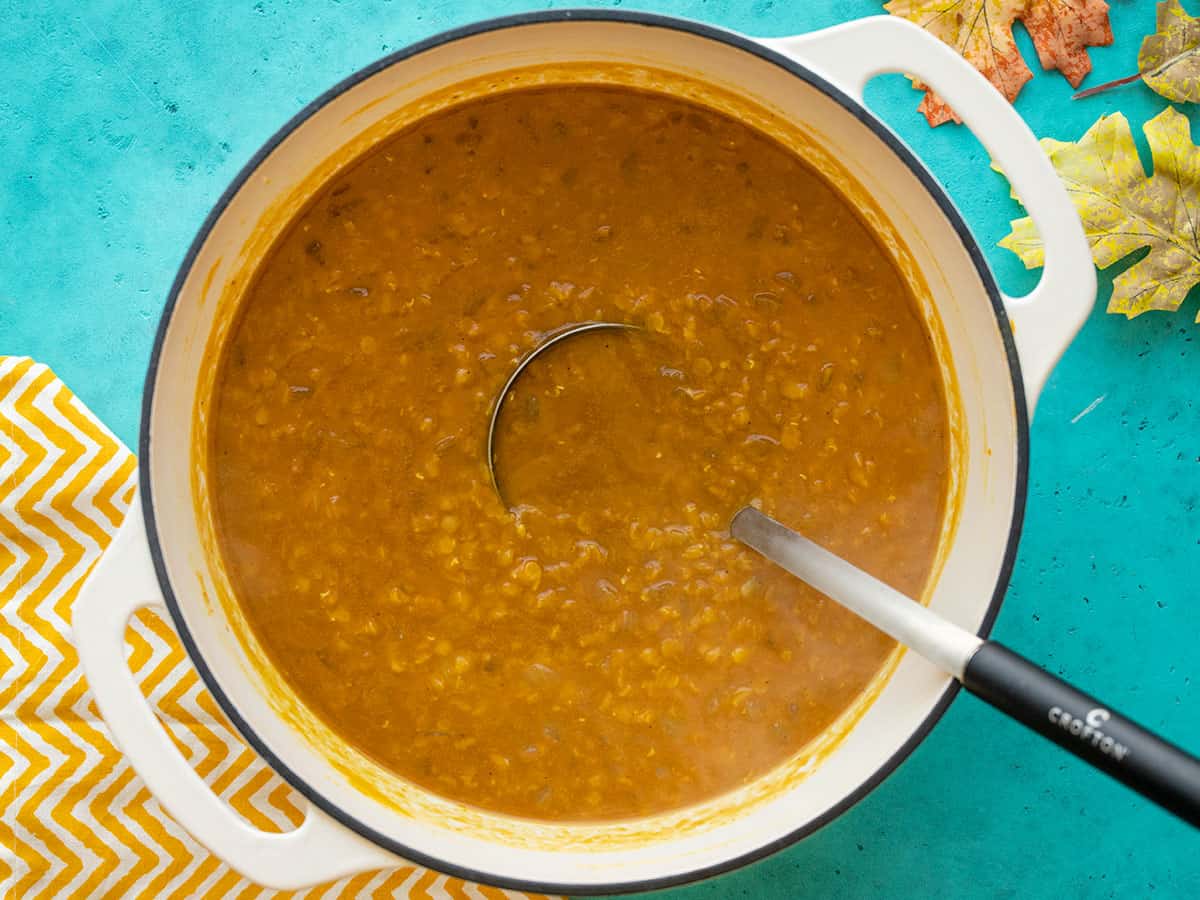 Give the soup a taste and then add salt. Salt is what is really going to make the flavors pot, so don't skip it! The amount of salt you'll need will ultimately depend on the salt content of the broth you used, but I added about a ½ teaspoon of salt.