For the entire month of September, I'll be participating in the SNAP Challenge and attempting to eat on $4.50 per day. Read more here.
**UPDATE: Well, I overlooked the fact that you can't buy rotisserie chicken with SNAP benefits! You can, however, buy a fresh chicken and roast a home if you have time. There are links throughout the post on how to roast your own chicken, if needed.**
I'm back! I've completed the move to my new house, my internet is hooked up, and I can finally update week four of the SNAP Challenge. I was worried about not having time to cook before packing up my apartment, but I made it work. I was able to whip up these enchiladas in just a short amount of time and they helped keep me fed all week through the tough move.
For these enchiladas I utilized the convenience of a grocery store rotisserie chicken. Roasting a chicken at home is actually quite easy, but you have to have a little time on your hands. If you're short on time or too intimidated to do it yourself just yet (promise me you'll try it eventually), grocery store rotisserie chickens can be a good option. Sometimes they're the same price or even slightly less expensive than fresh chickens and all the work is done for you. Just make sure to price compare. My chicken was $6.99 and I used half of the meat (about two cup, loosely packed) to make the enchiladas. I'll explain how I used the rest of the chicken, including the carcass, in the week summary. ;)
I made a quick and easy creamy red sauce similar to the sauce used for this Creamy Tomato and Spinach Pasta, except I used canned tomatoes with green chiles for a southwest flavor. I then added my usual can of black beans and a cup of frozen corn (I just love that combo) to fill out the enchiladas and stretch the meat a bit further. I quickly made a batch of my favorite red enchilada sauce to pour over top (seriously, only takes about ten minutes) and then they were ready to go in the oven. Pretty easy!
Creamy Chicken and Black Bean Enchiladas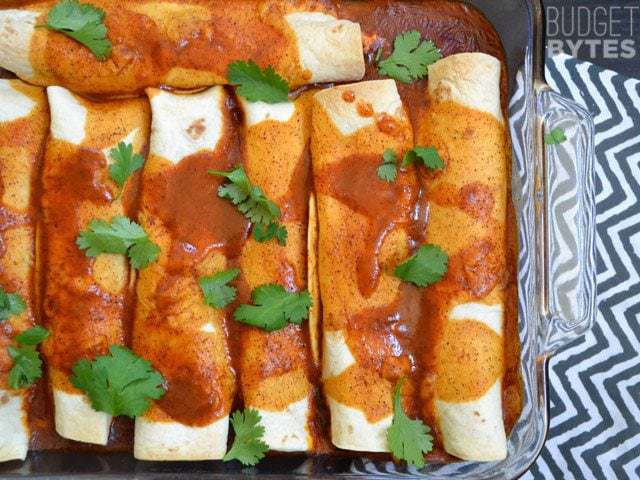 SNAP Challenge: Creamy Chicken and Black Bean Enchiladas
These enchiladas are filled with a creamy southwest sauce, shredded chicken, black beans, and sweet corn. A homemade enchilada sauce brings it all together.
Servings: 8 enchiladas
Ingredients
1 Tbsp cooking oil ($0.02)
2 cloves garlic ($0.16)
1 15oz. can diced tomatoes with green chiles ($0.73)
4 oz. cream cheese ($0.75)
2 cups shredded chicken (about 1/2 of a rotisserie chicken) ($3.50)
1 15oz. can black beans ($0.89)
1 cup frozen corn kernels ($0.60)
1/2 tsp ground cumin ($0.05)
8 soft taco sized 8 inch tortillas ($1.12)
Instructions
Mince the garlic and sauté it in a large skillet with cooking oil over medium heat for one to two minutes, or until slightly softened. Add the can of diced tomatoes with green chiles and let simmer for about 5 minutes, or until the tomato liquid has reduced by about half and become slightly thick.

Cut the cream cheese into chunks and stir it into the tomato mixture. The sauce will become smooth and creamy as the cheese melts in.

Rinse and drain the can of black beans, then add them to the skillet along with the frozen corn kernels, shredded chicken, and cumin. Stir to combine. Taste the filling and add salt if needed.

Preheat the oven to 350 degrees. Scoop about 1/3 to 1/2 cup of the creamy chicken mixture into each tortilla and roll it up like a cigar. Place the filled and rolled tortillas into a 9x13 inch casserole dish, seam side down.

While the oven is preheating, make a batch of

homemade red enchilada sauce

(or use canned), then pour it over the enchiladas in the casserole dish (you may or may not use all the sauce, it's up to you). Bake the dish in the preheated oven for 40 minutes or until the sauce is bubbly and the edges of the tortillas are slightly brown and crispy.
Notes
Flour or corn tortillas may be used. Corn tortillas are usually smaller, so this recipe would yield about twice as many small enchiladas using corn tortillas.
See how we calculate recipe costs here.
---
Nutrition
Serving: 1 Serving ・ Calories: 413.23 kcal ・ Carbohydrates: 47.16 g ・ Protein: 20.25 g ・ Fat: 17.08 g ・ Sodium: 1170.31 mg ・ Fiber: 8.79 g
Nutritional values are estimates only. See our full nutrition disclaimer here.
---
The equipment section above contains affiliate links to products we use and love. As an Amazon Associate I earn from qualifying purchases.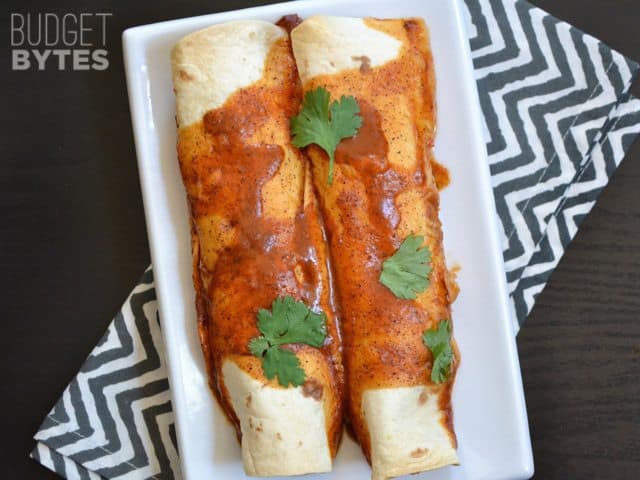 Step by Step Photos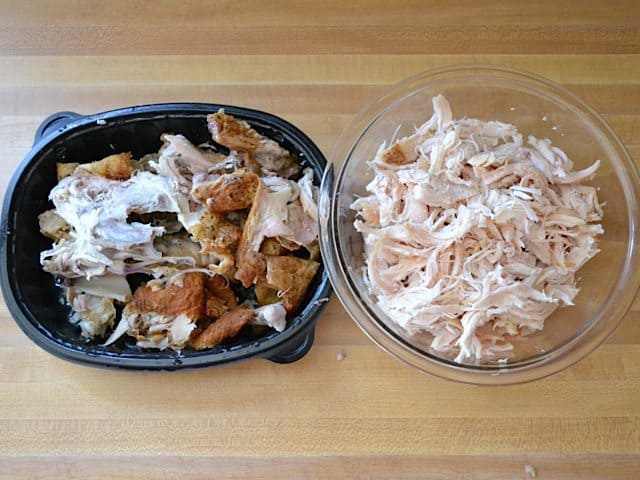 I used about half of the meat from one grocery store rotisserie chicken for this recipe. I was able to pull about four loosely packed cups of meat from one chicken. I find the meat easier to pick when it's chilled, so I just popped it into the refrigerator when I got home from the grocery store. If you want to roast your own chicken instead, you can find great instructions at thekitchn.com.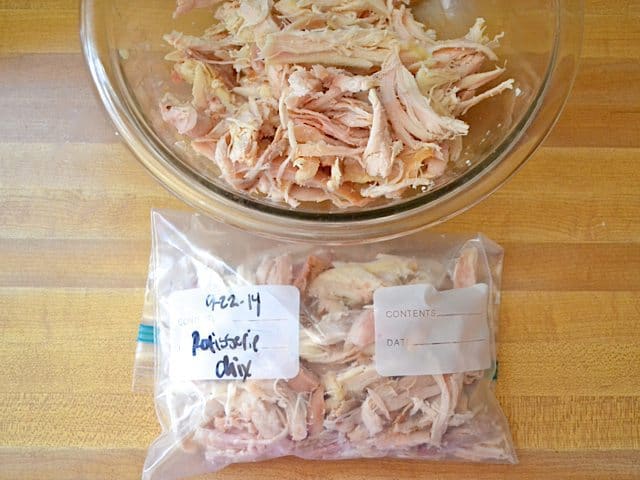 I divided the chicken in two, about two loosely packed cups each. I froze half for use in a second recipe later.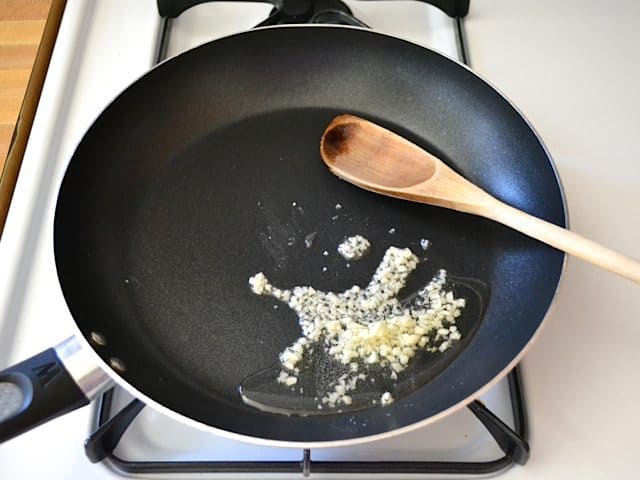 To begin the enchiladas, mince two cloves of garlic then sauté them in one tablespoon of vegetable oil over medium heat for one to two minutes, or until the garlic is softened and slightly fragrant.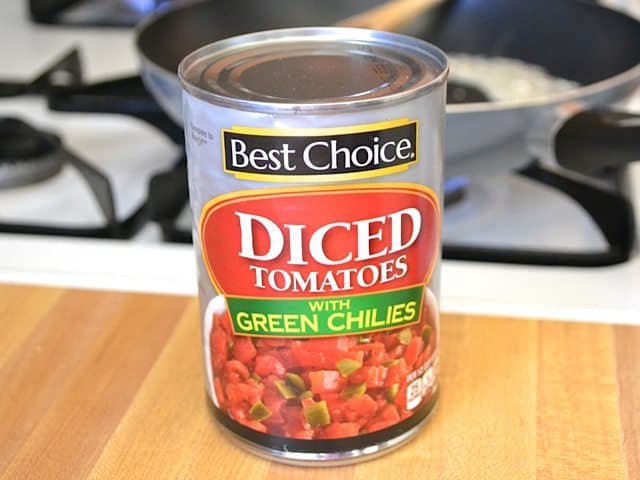 Next, add one can of diced tomatoes with green chiles. This is the generic version of Rotel. If you can't find Rotel or a generic version at your local grocery store, you can sub one 15-oz. can of regular diced tomatoes and one 4-oz. can of diced green chiles (usually found in the ethnic food aisle). Add the can of tomatoes to the skillet and let it simmer for about five minutes, or until some of the liquid has evaporated and it's a little thicker.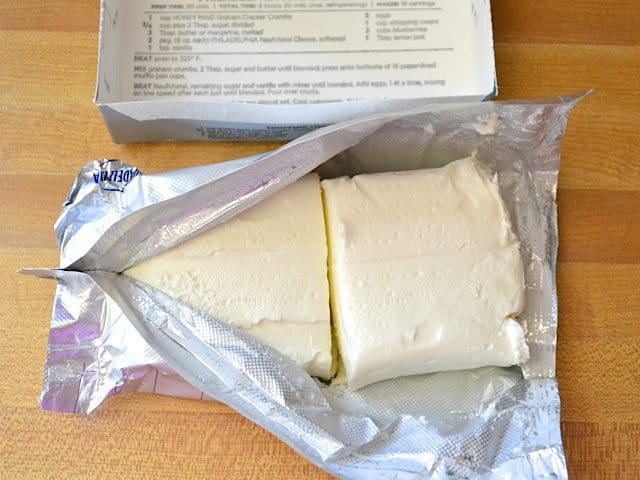 Next you'll need 4 ounces (half a block) of cream cheese. Cut the cream cheese into pieces so that it melts into the sauce easier.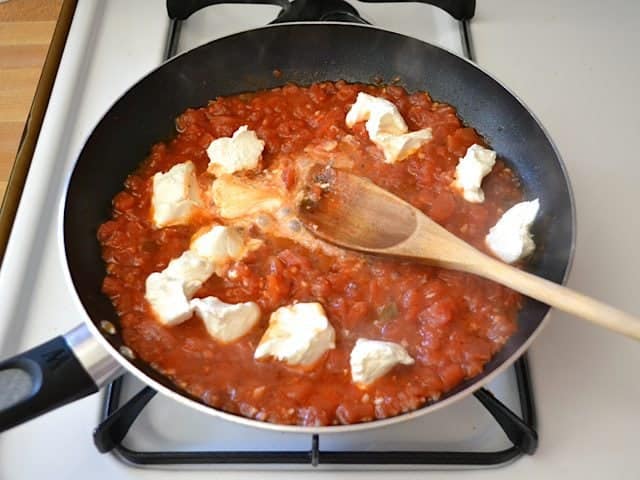 Stir the cream cheese into the tomatoes until it melts in. It will look a little chunky to begin with, but as it melts it will become smooth…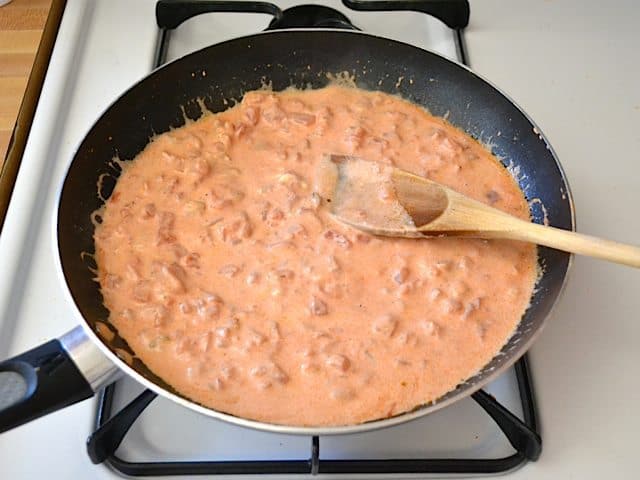 Like this!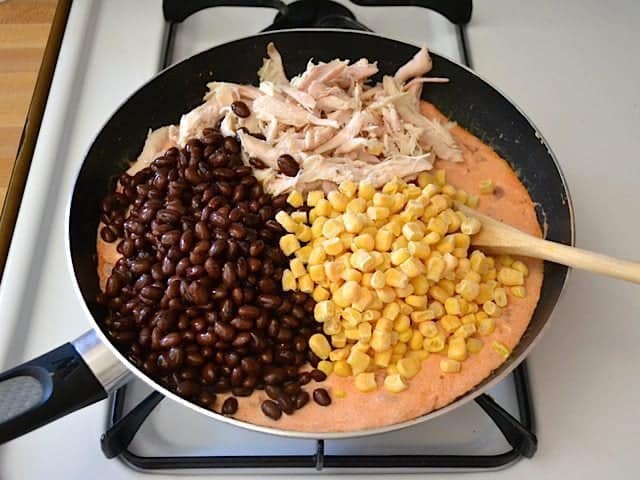 Rinse and drain one 15-oz. can of black beans, then add them to the skillet with two cups of shredded chicken. one cup of frozen corn kernels.and 1/2 tsp of cumin.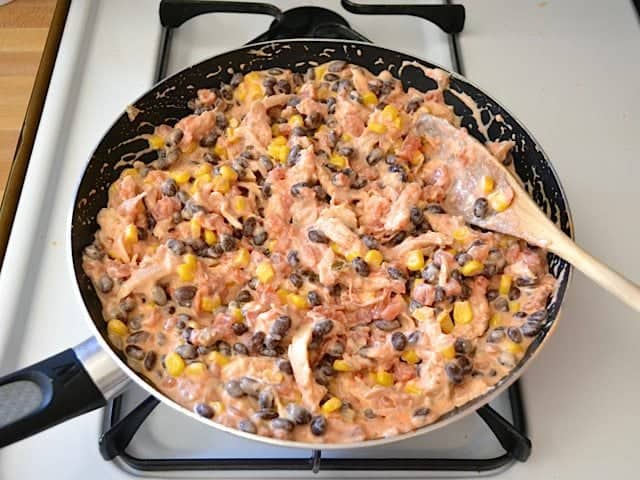 Mix it all up and now you've got a creamy and delicious chicken enchilada filling. (taste the sauce and add salt if needed. I didn't add any to mine, but that's personal preference.)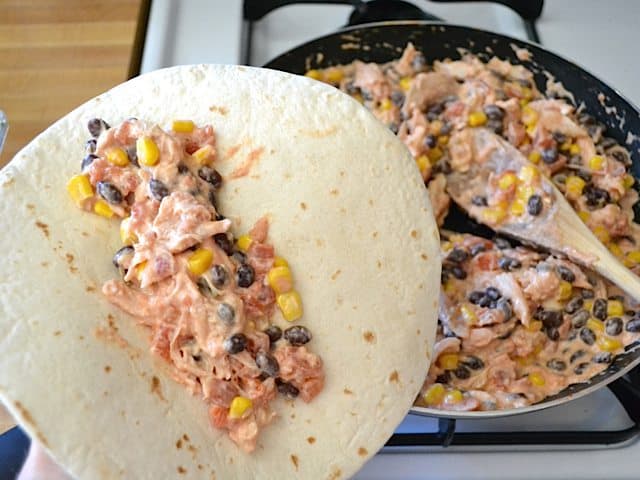 Fill your tortillas with the chicken mixture, then roll them up like cigars. The amount of filling and number of enchiladas you get will depend on what size tortillas you buy. I prefer smaller tortillas for enchiladas, but these particular tortillas were buy one get one free this week, so I hopped on that. There is a lot of filling, so I was able to make eight large enchiladas.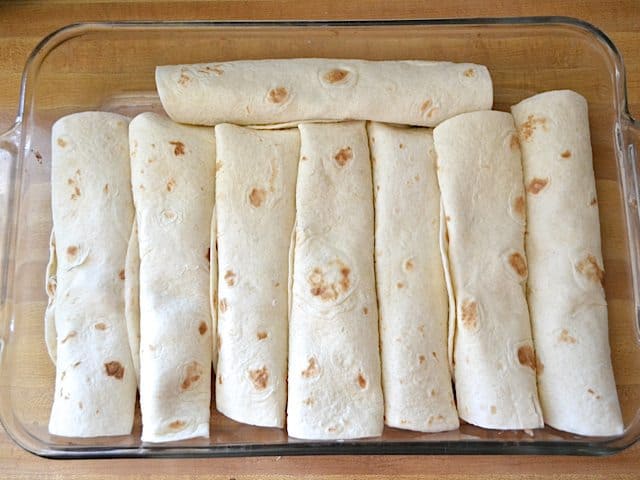 Place the filled and rolled enchiladas into a large (9×13 inch) casserole dish, seam side down.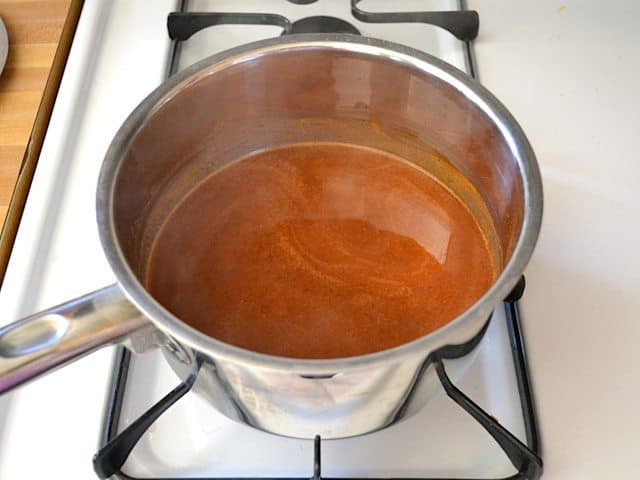 Start preheating the oven to 350 and whip up a batch of red enchilada sauce while you wait (or use canned, but this homemade sauce is FAR superior). That recipe makes about two cups of sauce and you may or may not use all of it on the enchiladas, just depending on how saucy you like them.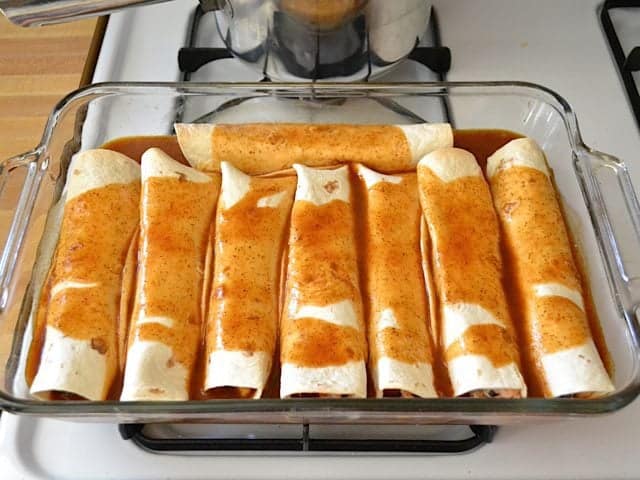 Pour the sauce over the enchiladas and pop them in the oven for about 40 minutes, or until the sauce is bubbly and the edges of the tortillas are a little brown and crispy.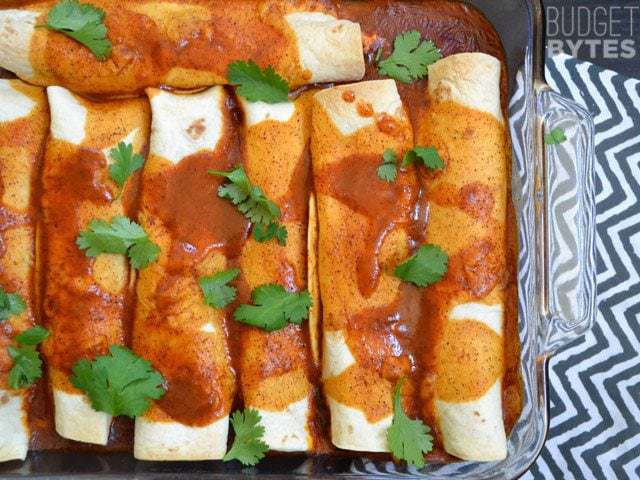 I poured the remainder of my sauce over top when they came out of the oven and I happened to have some cilantro in the fridge, so I threw that on there for the photo's sake. As I mentioned, these were fairly large so I ate one per sitting along with a big helping of some cilantro lime rice.
I never get sick of enchiladas!