Enchilada sauce is one of my very favorite things, ever. I love when it soaks into tortillas while baking and makes everything all tangy, spicy, and good. Mmmmm. 🤤 But when the selection of enchilada sauce at my local grocery store was less than impressive, I decided it was high time to make some red enchilada sauce myself. This Easy Red Enchilada Sauce is a total game changer and now I can never go back to store-bought. It has ten times more flavor than anything I've ever tasted from a can and literally takes minutes to make. It's a total #winner.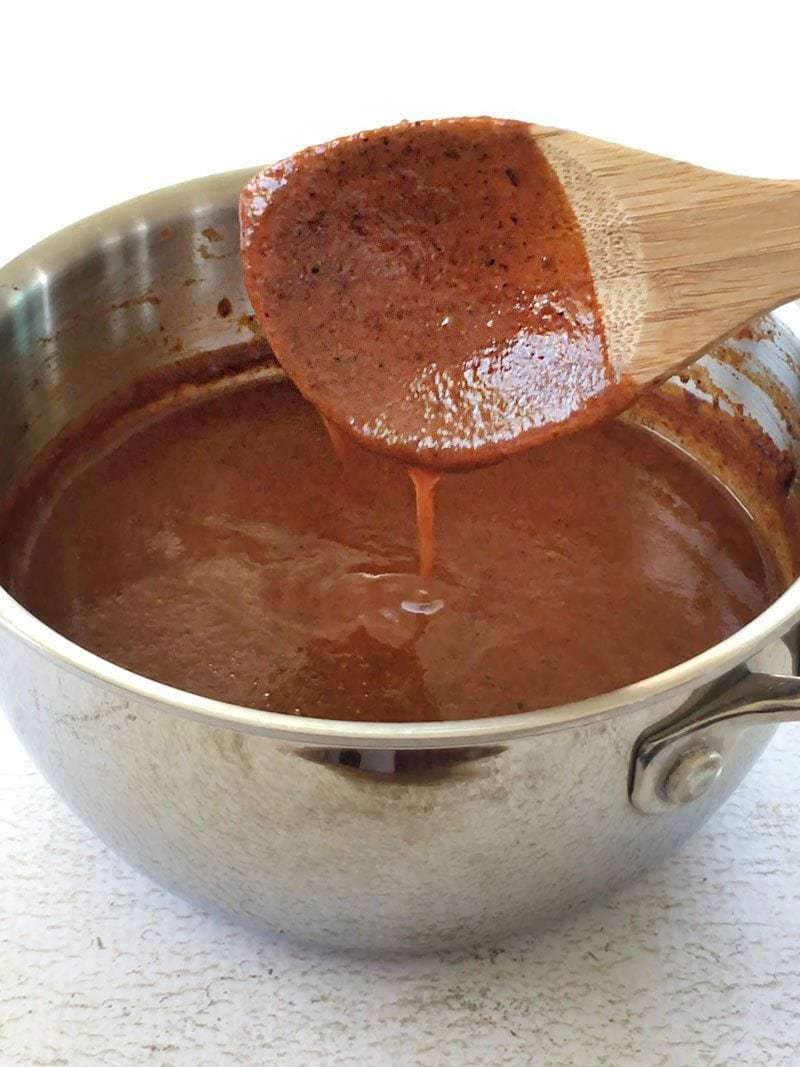 Quick Method, Big Flavor
This EASY red enchilada sauce is not an authentic, made with dried chile peppers enchilada sauce that you'll find in Texas or Mexico, but rather a quick and easy version that anyone can whip up in their kitchen using basic pantry staples. But I promise, once you taste it, you won't regret the shortcuts. It's still bursting with flavor and you'll want to pour it over everything.
How Spicy is Red Enchilada Sauce?
The "chili powder" listed in the recipe below is a mixture of spices used to season chili and other foods, it is not "chile powder," or pure ground chile peppers, which can be extremely spicy. The brand of chili powder I use is completely mild, but other brands can sometimes carry some heat. If you are using a spicy chili powder, simply reduce or eliminate the cayenne powder from this recipe to compensate. The heat level of the recipe below, using McCormick's chili powder, is "medium" spicy, like a medium salsa.
How to Use Enchilada Sauce
Enchilada sauce is not just for Enchiladas! Here are some other great ways to use red enchilada sauce:
as a simmer sauce for meat (in a slow cooker or skillet)
as a rich sauce to smother burritos
combined with eggs and fried tortillas for Migas
combined with sour cream to make a creamy and spicy dip
as a replacement for taco sauce
a soup base (30 Minute Posole)
to sauce up casseroles like Mexican lasagna, enchilada casserole, or Taco Stuffed Shells
But if you do want to use it for enchiladas, make sure to check out these great enchilada recipes: Chorizo and Sweet Potato Enchiadas, Black Bean and Avocado Enchiladas, and Weeknight Enchiladas.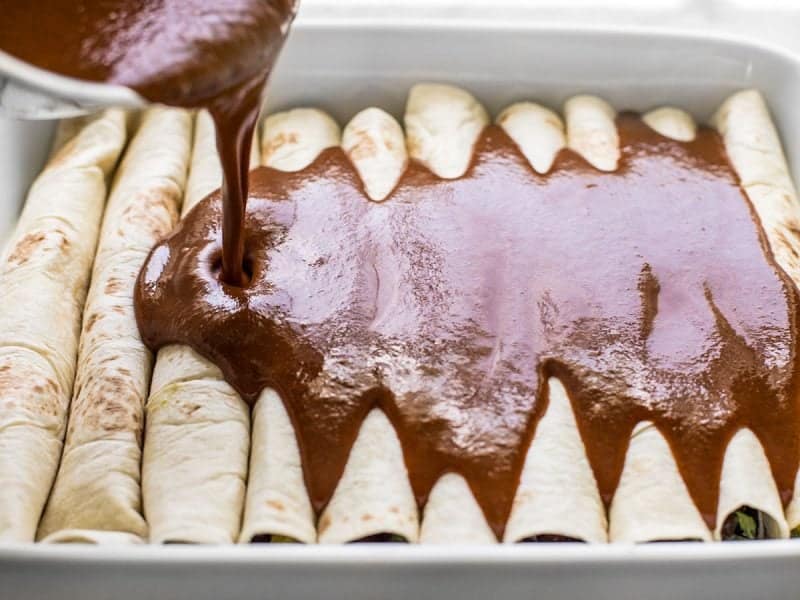 Easy Red Enchilada Sauce
It only takes 10 minutes to make this super easy red enchilada sauce that is bursting with flavor. Never buy the canned stuff again!
Servings: 2 cups
Ingredients
2 Tbsp vegetable oil ($0.10)
2 Tbsp all-purpose flour ($0.02)
2 Tbsp chili powder ($0.30)
2 cups water ($0.00)
3 oz. tomato paste ($0.27)
1/2 tsp cumin ($0.03)
1/2 tsp garlic powder ($0.03)
1/4 tsp cayenne pepper ($0.02)
3/4 tsp salt or to taste ($0.03)
Instructions
Add the vegetable oil, flour, and chili powder to a medium pot. Turn the heat on to medium and whisk the ingredients together. Continue to whisk as the mixture begins to bubble. Whisk and cook the mixture for one minute once it begins bubbling.

After one minute, whisk in the water, tomato paste, cumin, garlic powder, and cayenne pepper until smooth. Allow the sauce to come up to a simmer. Once it reaches a simmer it will begin to thicken slightly.

Starting with a 1/2 teaspoon, add salt to taste. I used about 3/4 teaspoon total. The sauce is now ready to use!
Notes
The water can be replaced with either vegetable broth or chicken broth for more depth, just be sure to reduce the salt to compensate.
See how we calculate recipe costs here.
---
Nutrition
Serving: 2 Cups ・ Calories: 211 kcal ・ Carbohydrates: 18.9 g ・ Protein: 4.05 g ・ Fat: 15.2 g ・ Sodium: 1140.5 mg ・ Fiber: 4.9 g
Nutritional values are estimates only. See our full nutrition disclaimer here.
---
The equipment section above contains affiliate links to products we use and love. As an Amazon Associate I earn from qualifying purchases.
Scroll down for the step by step photos!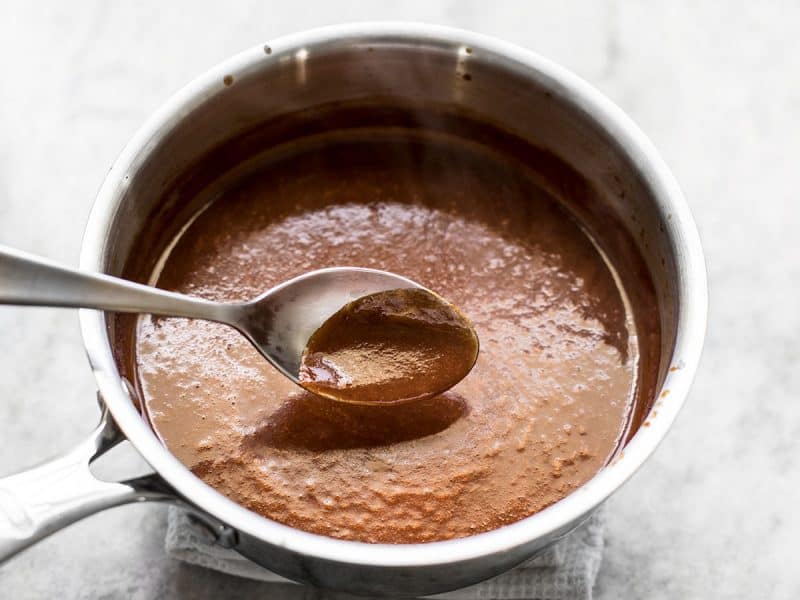 How to Make Red Enchilada Sauce – Step By Step Photos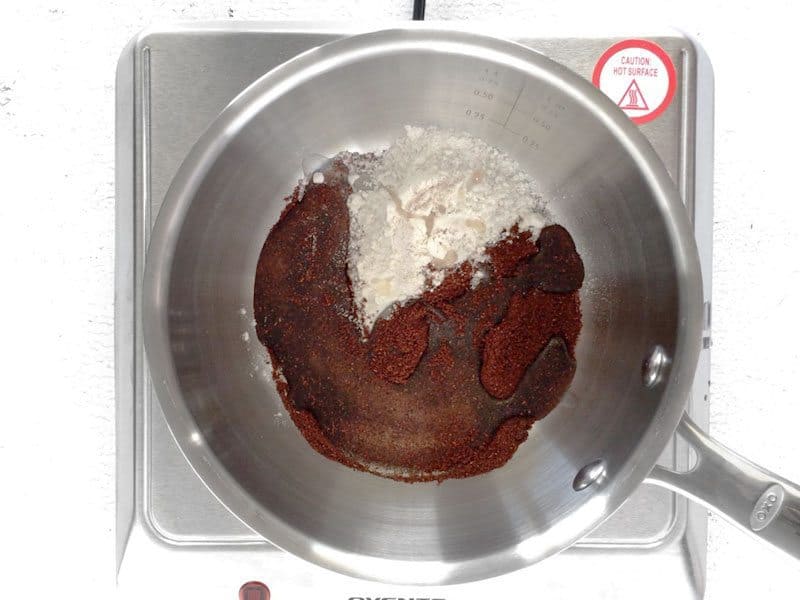 Start by adding 2 Tbsp flour, 2 Tbsp chili powder, and 2 Tbsp oil to a pot. I use McCormick's chili powder, which is not spicy, just flavorful, so don't be frightened by the large quantity in the recipe. All of the heat comes from the cayenne pepper.

Whisk these ingredients together and allow them to come up to a bubble over medium heat, whisking the whole time. Whisk and cook for one minute. This will toast the flour and chili powder, adding to the flavor depth and making sure that the flour doesn't taste like paste.

After one minute, whisk in the 2 cups water.

Also whisk in 3oz. tomato paste (half of one of those small 6oz. cans), 1/2 tsp cumin, 1/2 tsp garlic powder, and 1/4 tsp cayenne.

Let the sauce come up to a simmer and it will begin to thicken.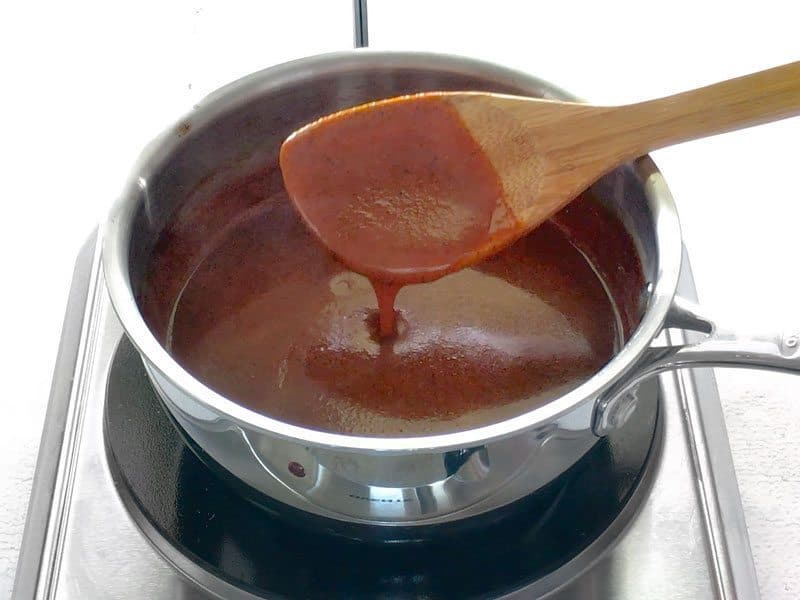 See how it coats my spoon? Perfect. Now taste it and add salt to your liking. Start with about 1/2 teaspoon and add more if needed. The salt will really help bring out the flavors. If you're using chicken broth, you might not need to add any at all.
And now you're good to go! Enjoy!