It's about time this delicious, magical elixir got its own blog post. I first used this dressing on a cauliflower salad years ago, and have been adding it to salads, side dishes, meal preps, and more ever since. So here is the famous Lemon Tahini Dressing recipe on its own, so you can bookmark it and easily refer back or share it whenever you want. And if you haven't tried this lemon tahini dressing yet, get on it! You're missing out!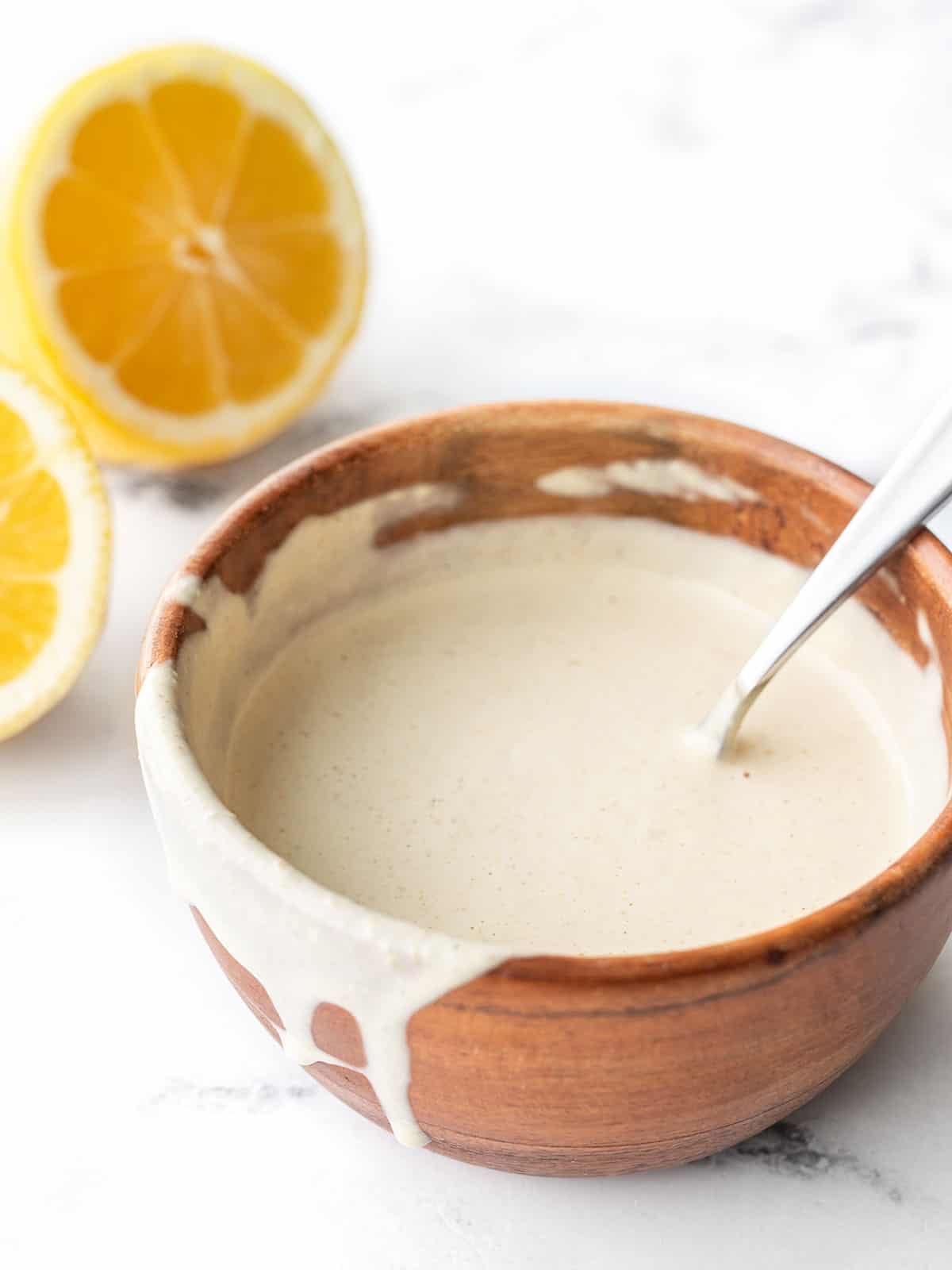 What is Tahini?
Tahini is a paste made out of ground sesame seeds. Think peanut butter, but made with sesame seeds instead of peanuts. It has a very distinct flavor that is slightly nutty and mildly bitter. You can find tahini in the grocery store either near the peanut butter or near middle eastern ingredients.
Tahini stays good in the refrigerator for months, just like peanut butter, so don't worry about not being able to use the leftovers. Not only will you want to make this dressing over and over, but it's the key ingredient for making really good homemade hummus. You can check out the rest of our recipes that use tahini in our tahini archives.
Can I Substitute the Tahini?
I don't suggest substituting the tahini in this recipe because the tahini is what makes this dressing what it is. Not only is the nutty-bitter flavor perfect for balancing the lemon and garlic, but the thick texture emulsifies with the lemon juice and water to create a thick and creamy dressing (without using dairy).
How Long Does This Dressing Last?
For any homemade dressing, I suggest refrigerating it for a maximum of about five days. Fresh ingredients, like garlic, and even dry spices can contain yeast and mold that can eventually begin to ferment the dressing.
How to Use Lemon Tahini Dressing
The original recipe where I used this incredible dressing is my Roasted Cauliflower Salad, but I've also used it on other salads, like this Mediterranean Farro Salad. This dressing is also great drizzled over roasted vegetables, bowl meals, or used as a dressing for wrap sandwiches.
Do I Have to Use Fresh Lemon?
Nope! While I do have some pretty fresh lemons in the photos, I most often make this recipe with bottled lemon juice for convenience (and price). If you do have fresh lemons that will definitely make the dressing even more flavorful, but I wouldn't consider it a deal breaker, by any means. And if you need it, here are 5 tips for getting the most juice out of your lemons.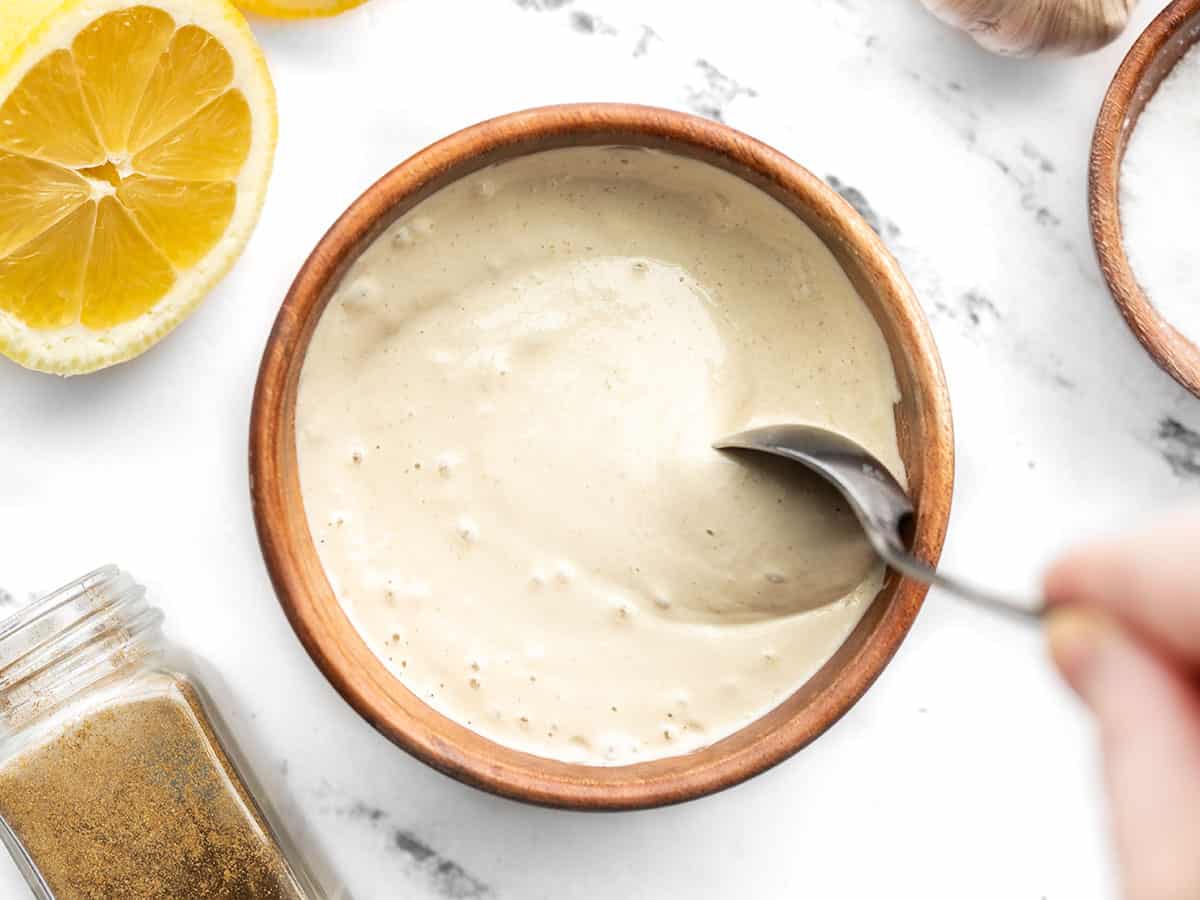 Lemon Tahini Dressing
This super fast and easy dressing has bold flavors of garlic, lemon, and nutty tahini. Drizzle over salads, roasted vegetables, and more!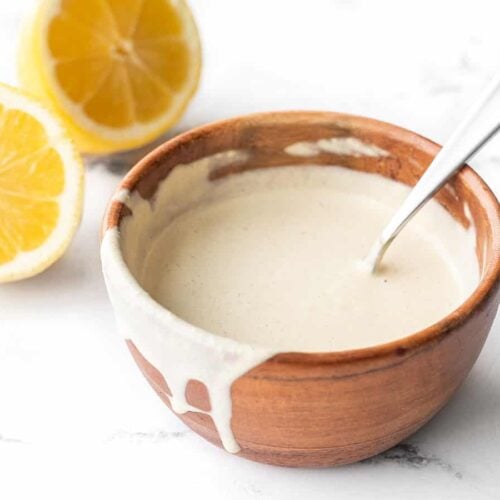 Ingredients
1/3

cup

tahini

($1.13)

1/3

cup

water

($0.00)

1/4

cup

lemon juice

($0.18)

2

cloves

garlic, minced

($0.16)

1/2

tsp

ground cumin

($0.05)

1/4

tsp

cayenne pepper

($0.02)

1/4

tsp

salt

($0.02)
Instructions
Place all of the ingredients into a blender and blend until smooth, thick, and creamy. Serve immediately or refrigerate until ready to eat.
See how we calculate recipe costs here.
---
Equipment
Nutrition
Serving:
2
Tbsp
Calories:
62.31
kcal
Carbohydrates:
2.95
g
Protein:
1.79
g
Fat:
5.39
g
Sodium:
74.73
mg
Fiber:
0.99
g
Read our full nutrition disclaimer here.
Try these other homemade dressing recipes:
How to Make Lemon Tahini Dressing – Step by Step Photos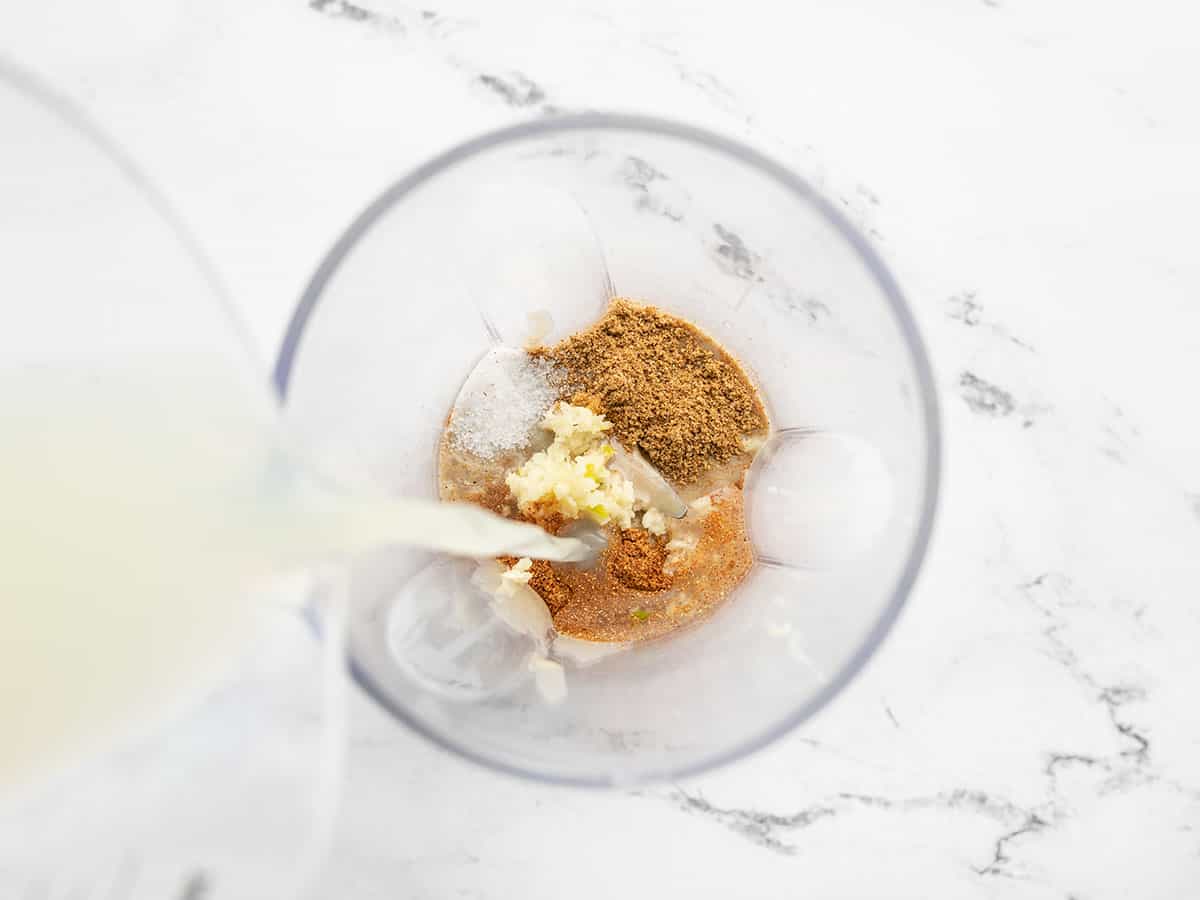 Add ⅓ cup tahini, ⅓ cup water, ¼ cup lemon juice, 2 cloves of garlic (minced), ½ tsp ground cumin, ¼ tsp cayenne pepper, and ¼ tsp salt to a blender.
Blend the ingredients until the dressing is thick, smooth, and creamy.
Serve immediately or refrigerate for later!