I've never really been a ranch dressing person. And definitely not one of those "ranch dressing on everything" people. But then, last January while I was doing my Vegetarian Challenge, I got hooked. I was eating vegetable snack plates just about every day and the Ken's Steakhouse buttermilk ranch dressing that I dipped my veggies in was my savior. After that I wanted to dip everything in ranch. I got addicted.
…Until I took a peek at the nutrition label, that is. One glance at the label and I just about choked on my carrot stick. How on earth were they packing so many calories and fat into two tiny little tablespoons?? No wonder it was so freaking good.
This stuff was so calorie dense that it was clear that I would either need to cut back or find another option. So I found another option. I made this Homemade Ranch Dressing that I like every bit as much (or dare I say more?) than my cherished Ken's, and it has much more reasonable nutrition stats.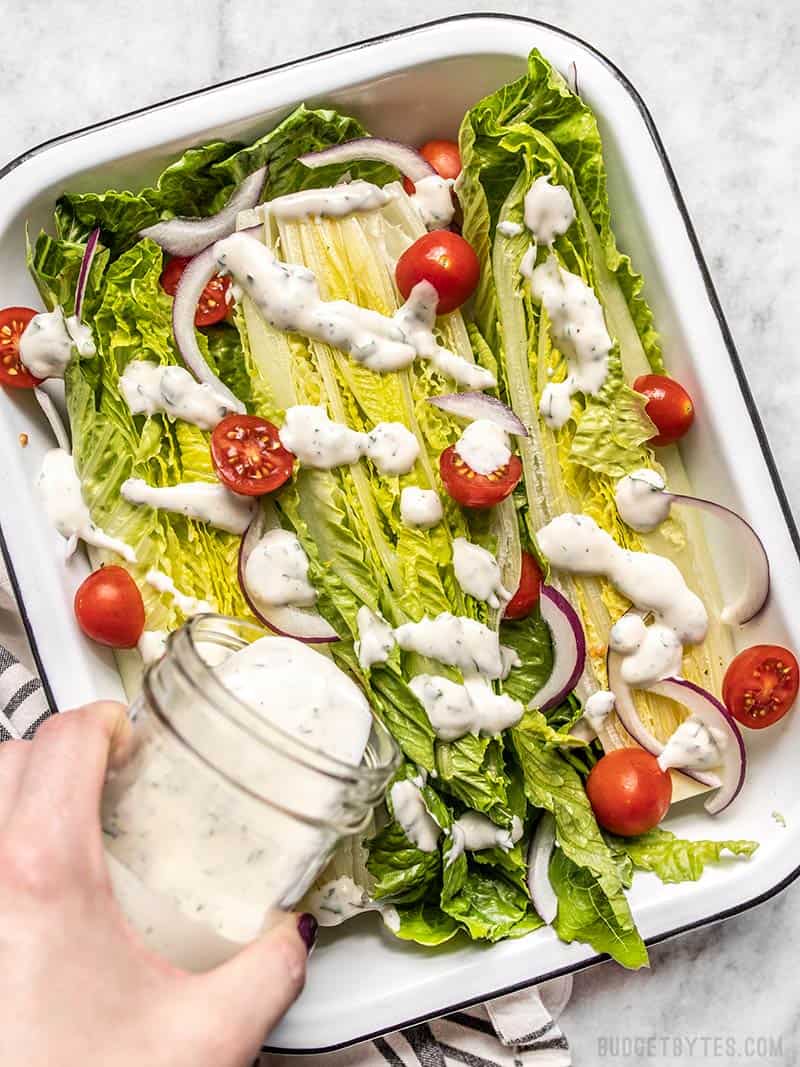 While crafting this recipe I kept a spoonful of the Ken's Steakhouse ranch dressing right next to my mixing bowl so I could taste back and forth between the two, in attempt to make them as close as possible. After a while the Ken's started to taste too salty and almost cloyingly sweet, and I no longer wanted my dressing to match. My final version of homemade ranch dressing is lighter, fresher, less salty/sweet, and definitely my preferred ranch going forward.
Full Fat, Low Fat, or No Fat?
You have a lot of flexibility with this recipe to make it as rich or as light as you like. You can use regular or light mayo, and with the yogurt you can choose either non-fat, 1%, 2%, or whole milk versions. It probably goes without saying, but the higher fat option the better the dressing will taste. That being said, I made my dressing with some of the lowest fat options (light mayo, non-fat yogurt) and it was still AH-MA-ZING. So I know it's good, even at it's "worst."
Fresh or Dried Herbs?
I used fresh parsley and green onion in my dressing because I almost always have those in my refrigerator and I like to use them up, but they also give spectacular flavor and texture. If you prefer not to use fresh herbs, you can substitute 1/4 tsp dried parsley and 1/4 tsp dried chives for the green onion.
Ranch Dressing or Ranch Dip?
This recipe works great as either a salad dressing or a vegetable and chip dip. Make it without milk for a nice thick and rich ranch dip, or add a little milk to thin it out and make a more pourable ranch dressing.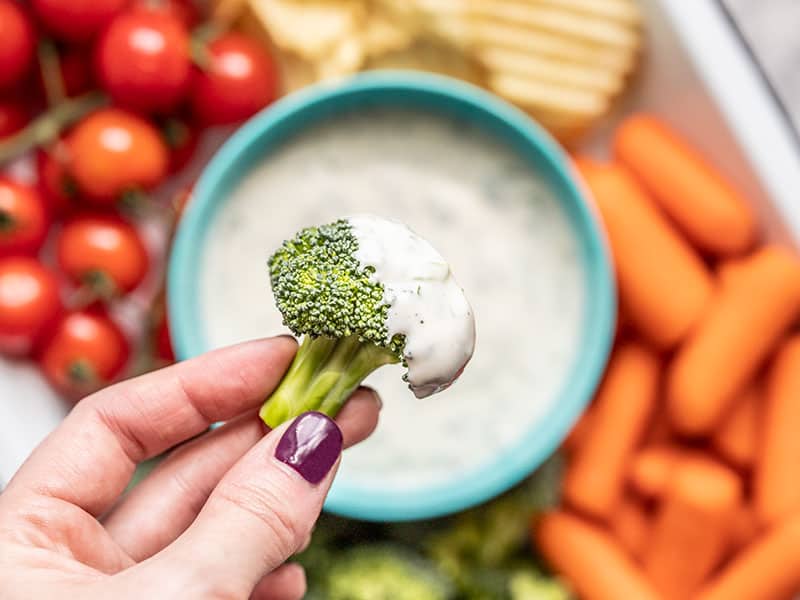 Small Batch Salad Dressing
This is a small batch recipe. It makes approximately 1/2 cup ranch dressing. I purposely made this recipe small, since you don't want to store it for longer than about 5 days. If you need to make a larger batch, simply adjust the number in the "servings" box below and all of the ingredient quantities will auto-adjust.
Can I Leave Out the Sugar?
Look, I'm not going to make you add the sugar to this recipe, but I will say that it does make the dressing better. The sugar mellows the acidity from the yogurt and lemon just enough to make the dressing really smooth, and it gives a hint of sweetness that is decidedly ranch-like. It is better with the sugar, but if you are opposed to any added sugars you can leave it out and still have a tasty dressing.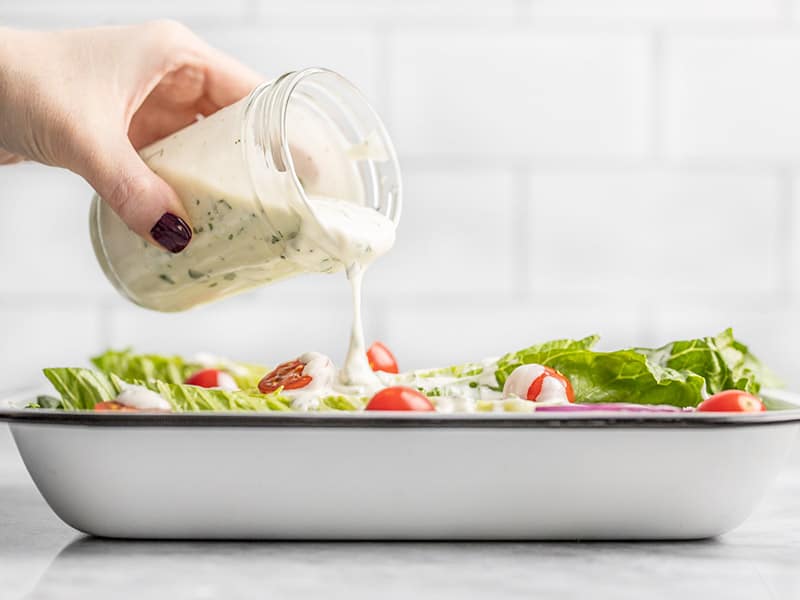 Homemade Ranch Dressing
Homemade ranch dressing is creamy, tangy, and fully of savory herbs and spices. Drizzle on your favorite salad, or use as a dip for vegetables and chips!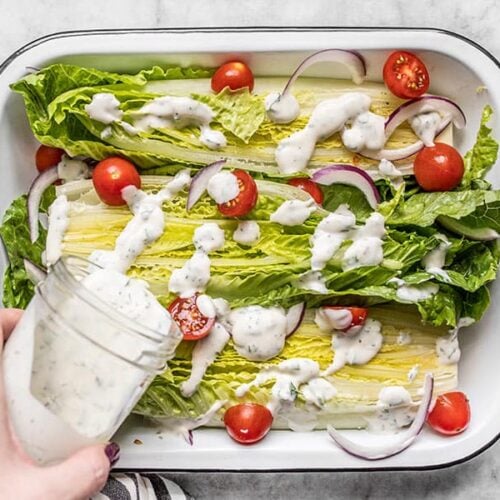 Ingredients
1/4

cup

mayonnaise

($0.13)

1/4

cup

plain yogurt*

($0.11)

1

tsp

lemon juice

($0.04)

3/16

tsp

garlic powder**

($0.02)

1/8

tsp

onion powder

($0.01)

1

Tbsp

finely chopped fresh parsley, loosely packed

($0.05)

1

green onion, finely chopped

($0.11)

freshly cracked pepper

($0.01)

1/8

tsp

sugar (optional)

($0.01)

1

Tbsp

milk (optional)***

($0.02)
Instructions
Combine all of the ingredients in a bowl and stir to combine.

Use the dressing immediately, or for the best flavor refrigerate for 30 minutes to allow the flavors to blend.

Store the ranch dressing in the refrigerator for up to 5 days.
See how we calculate recipe costs here.
---
Notes
*You can use Greek style yogurt if needed, just use more milk to thin out the dressing.
**3/16 is a weird measurement, I know. Just use a 1/8 tsp measuring spoon and fill it 1.5 times.
***Make this recipe without milk for a thicker dip, or add the milk to thin it out to a pourable dressing.
Nutrition
Serving:
2
Tbsp
Calories:
114.48
kcal
Carbohydrates:
2.6
g
Protein:
0.78
g
Fat:
11.63
g
Sodium:
145.2
mg
Fiber:
0.15
g
Read our full nutrition disclaimer here.
Other Ranch Dressing Flavors
Like a lot of my recipes, this homemade ranch dressing recipe can be used as a template for a number of variations. Here are some fun variations to try:
Cilantro Lime: sub lime juice for the lemon juice, add chopped cilantro and lime zest
Chipotle Ranch: add chipotle powder
Avocado Ranch: mash one avocado into the dressing, can also add cilantro and lime.
Blue Cheese: add crumbled blue cheese
Love homemade dressings? Try my Honey Mustard Sauce, Lime Crema, Teriyaki Sauce, or Chimichurri.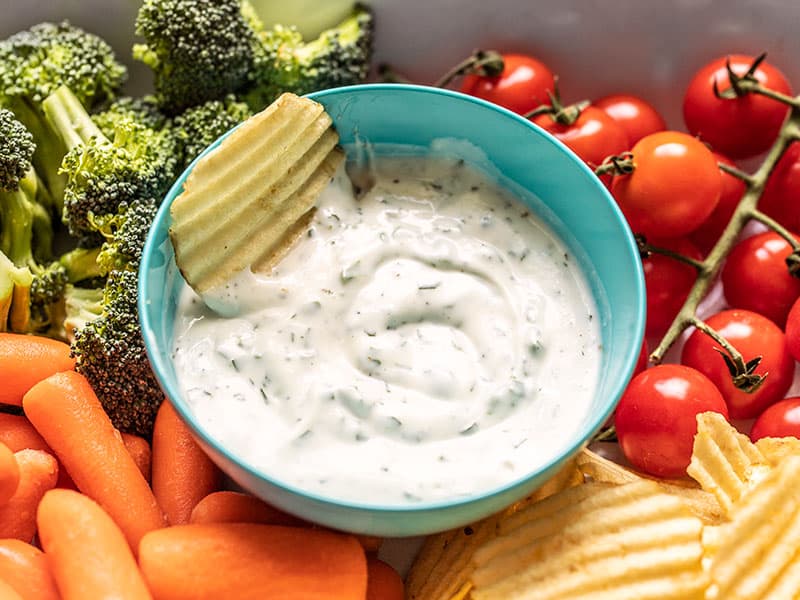 Yes, please!
How to Make Ranch Dressing From Scratch – Step by Step Photos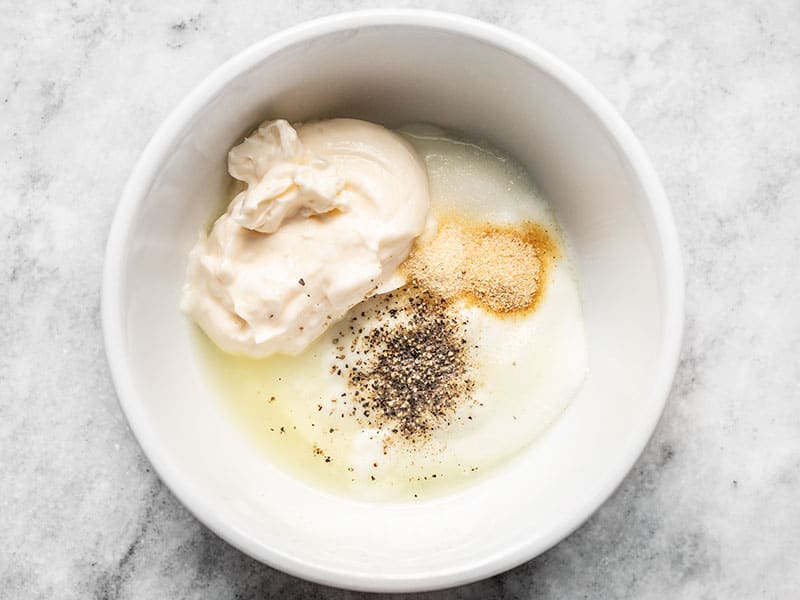 Combine 1/4 cup plain yogurt, 1/4 cup mayonnaise, 1 tsp lemon juice, 3/16 tsp garlic powder (that's just a little more than 1/8 tsp), 1/8 tsp onion powder, 1/8 tsp salt, 1/8 tsp sugar, and some freshly cracked pepper (about 10 cranks of a pepper mill).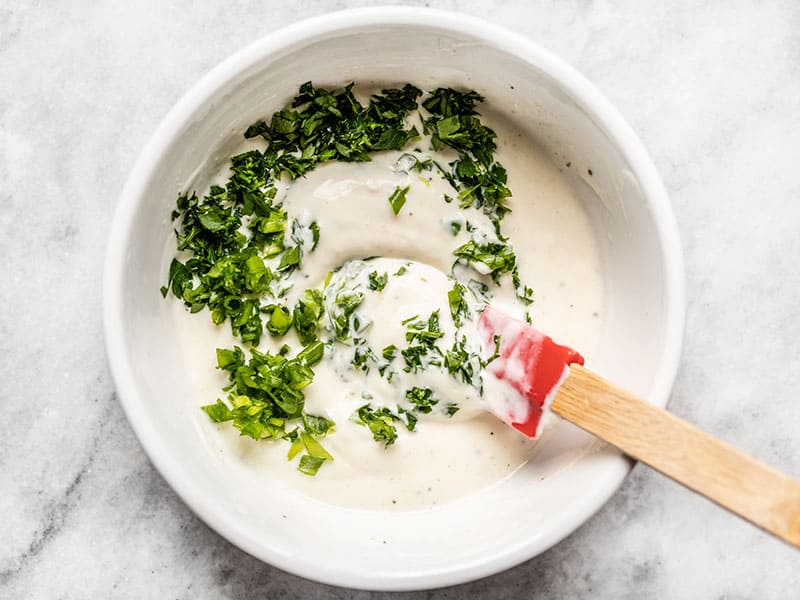 Finely chop about 1 Tbsp fresh parsley and one green onion. Stir them into the dressing.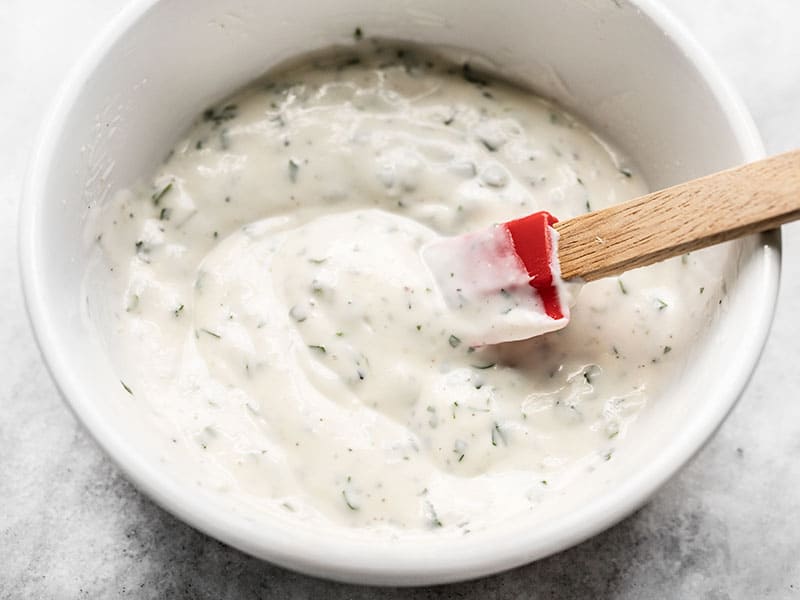 You can use the dressing as-is, but the flavor gets better with at least 30 minutes of refrigeration. In this form it is a really thick ranch dip, but if you prefer a pourable dressing, stir in about 1 Tbsp milk.
Dip away, my friend! Get those veggies in!