If you know me, then you know I always have some tomato paste stashed in my freezer. Haha. So today I have another great way you can use the odds and ends of one of those little cans of tomato paste. This tangy Tomato Basil Vinaigrette is super simple, has incredible flavor, and is great poured over salad and pasta alike.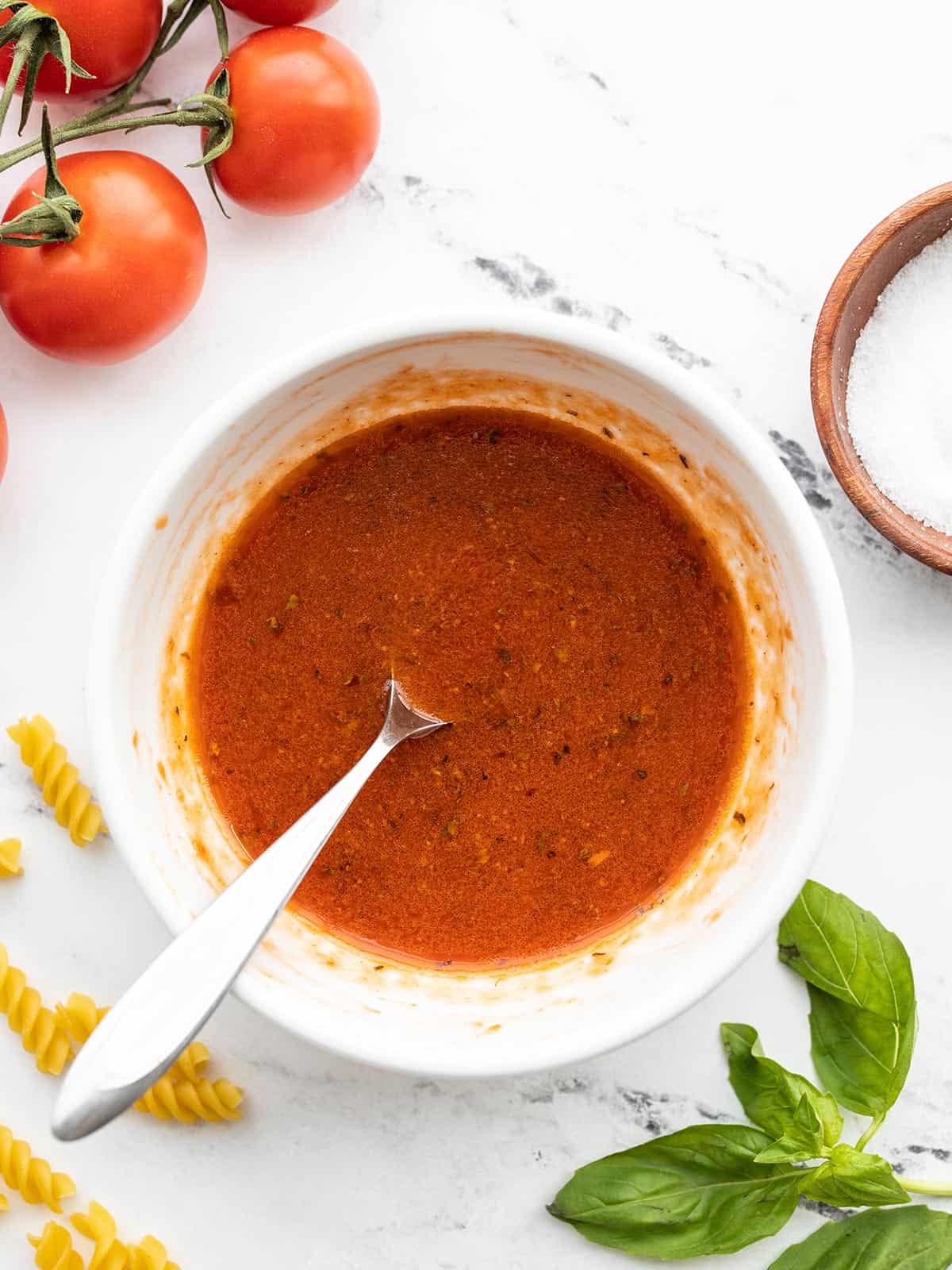 Adjust the Oil to Your Liking
The cool thing about making your own salad dressing is that you can adjust the flavor to your particular taste buds. And since for this dressing you are going to add the oil a little at a time, you can stop before you get to the full six tablespoons if you prefer. You can also add a little more red wine vinegar if you want your vinaigrette even more tangy.
Can I Use Fresh Basil?
Yes, absolutely! Dried basil is obviously the more budget-friendly option, but if you have access to fresh basil I would absolutely use that in this salad dressing. Just finely chop your basil and stir it on it. I'd probably use about a tablespoon chopped fresh basil.
How Long Does it Last?
Make sure to store your tomato basil vinaigrette in the refrigerator. I generally don't suggest keeping homemade vinaigrettes more than five days in the refrigerator, although your mileage may vary.
What to Serve with Tomato Basil Vinaigrette
This tomato basil vinaigrette is going to be good on just about any basic green salad, but it would also be good poured over a mix of fresh tomato slices and fresh mozzarella slices. In addition to fresh vegetable salads, this dressing would be great over a pasta salad (see my Broccoli Pasta Salad with Tomato Vinaigrette). And, to be honest, I liked this dressing so much I wouldn't mind using it a dip for a nice piece of crusty French bread!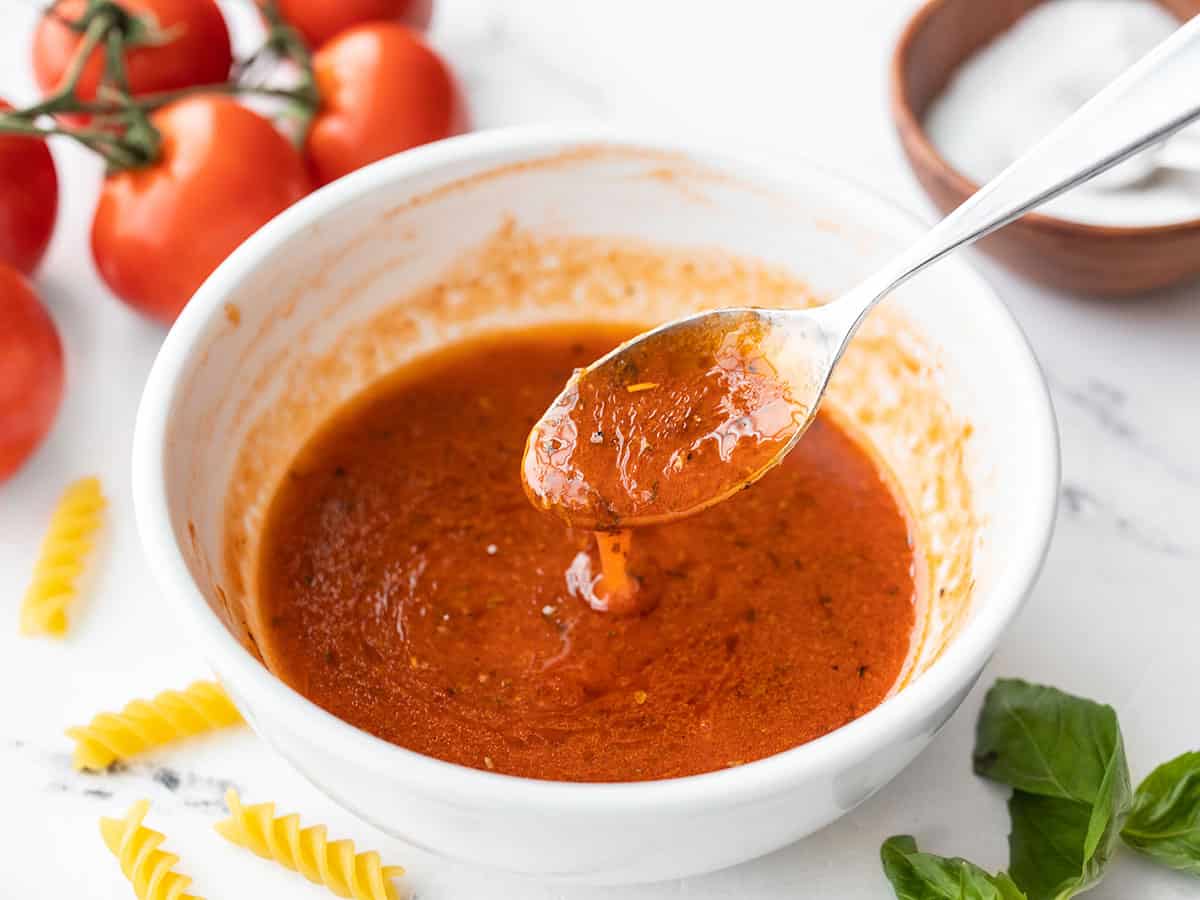 See how to turn this tangy dressing into Tomato Basil Chicken.
Tomato Basil Vinaigrette
This tangy and slightly sweet tomato basil vinaigrette only requires a few simple ingredients and tastes great over salad and pasta alike.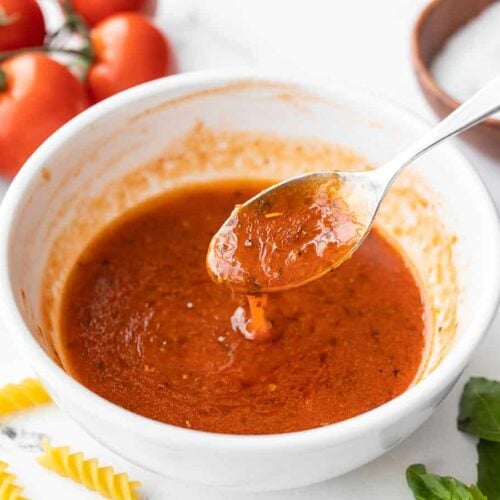 Instructions
Combine the tomato paste, red wine vinegar, basil, garlic powder, sugar, salt, and pepper in a bowl or a blender. Whisk or blend until smooth.

Begin whisking in the olive oil, one tablespoon at a time, making sure it's fully incorporated before adding more. This allows the oil to emulsify into the tomato mixture, creating a smooth dressing. The dressing may separate slowly as it sits, but a quick whisk before drizzling over your salad will bring it back to a thick mixture.
See how we calculate recipe costs here.
---
Equipment
Nutrition
Serving:
2
Tbsp
Calories:
191.33
kcal
Carbohydrates:
1.23
g
Protein:
0.25
g
Fat:
21.03
g
Sodium:
210.53
mg
Fiber:
0.28
g
Read our full nutrition disclaimer here.
Try these other homemade dressing recipes:
How to Make Tomato Basil Vinaigrette – Step by Step Photos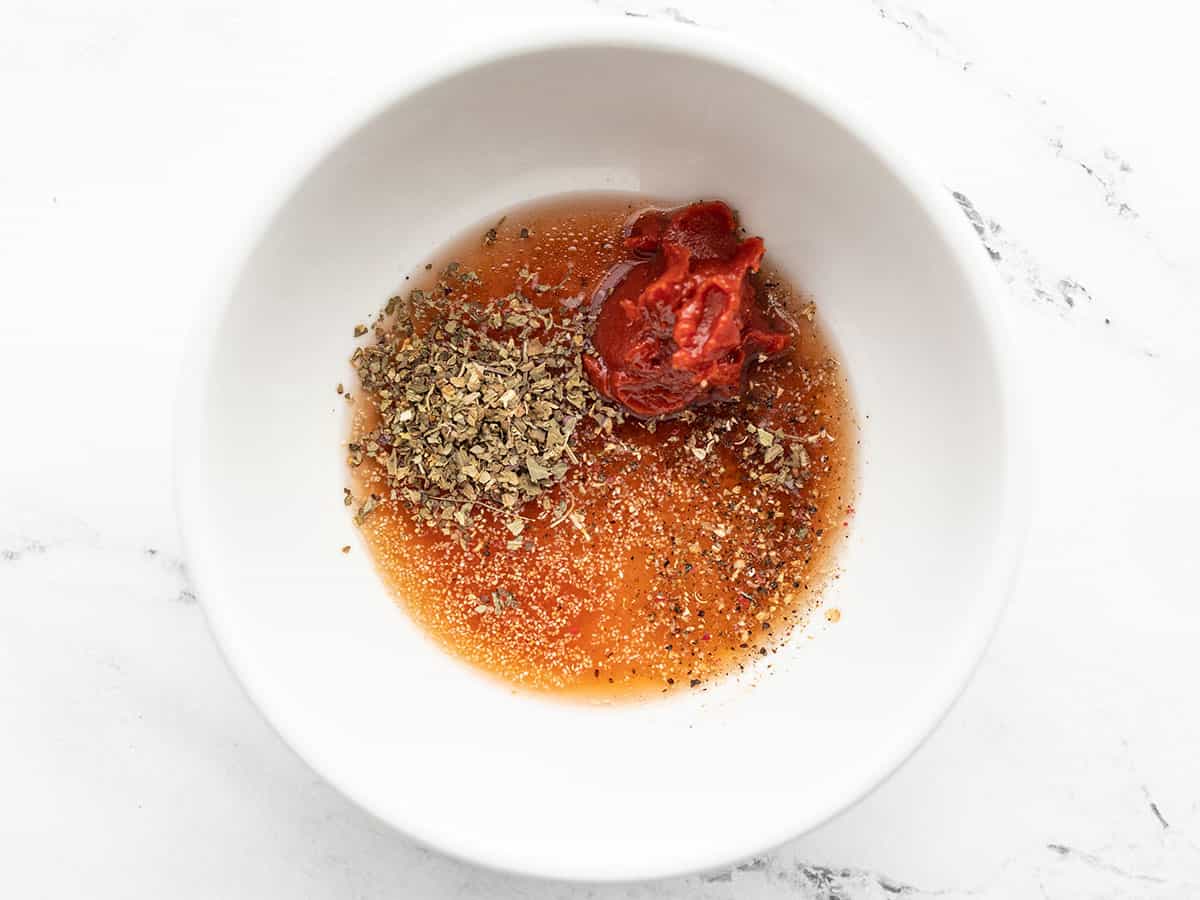 Start by combining 1 Tbsp tomato paste, 2 Tbsp red wine vinegar, ½ tsp dried basil, ¼ tsp garlic powder, ¼ tsp sugar, ¼ tsp salt, and ¼ tsp freshly cracked pepper in a bowl or blender. Whisk until smooth.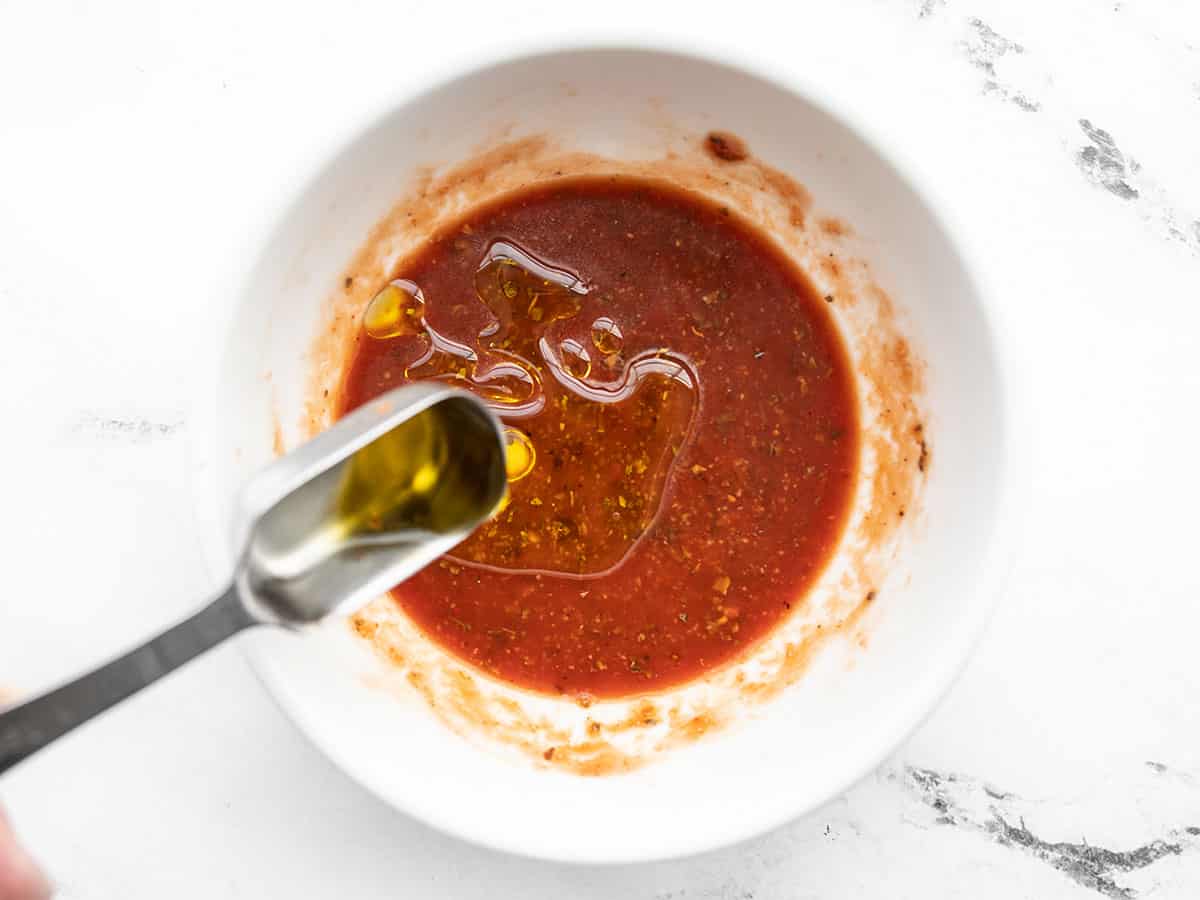 Begin whisking in olive oil, one tablespoon at a time, making sure the oil is fully incorporated before adding more. This allows the oil to emulsify into the dressing, creating a smooth, thick vinaigrette. Add up to 6 Tbsp olive oil.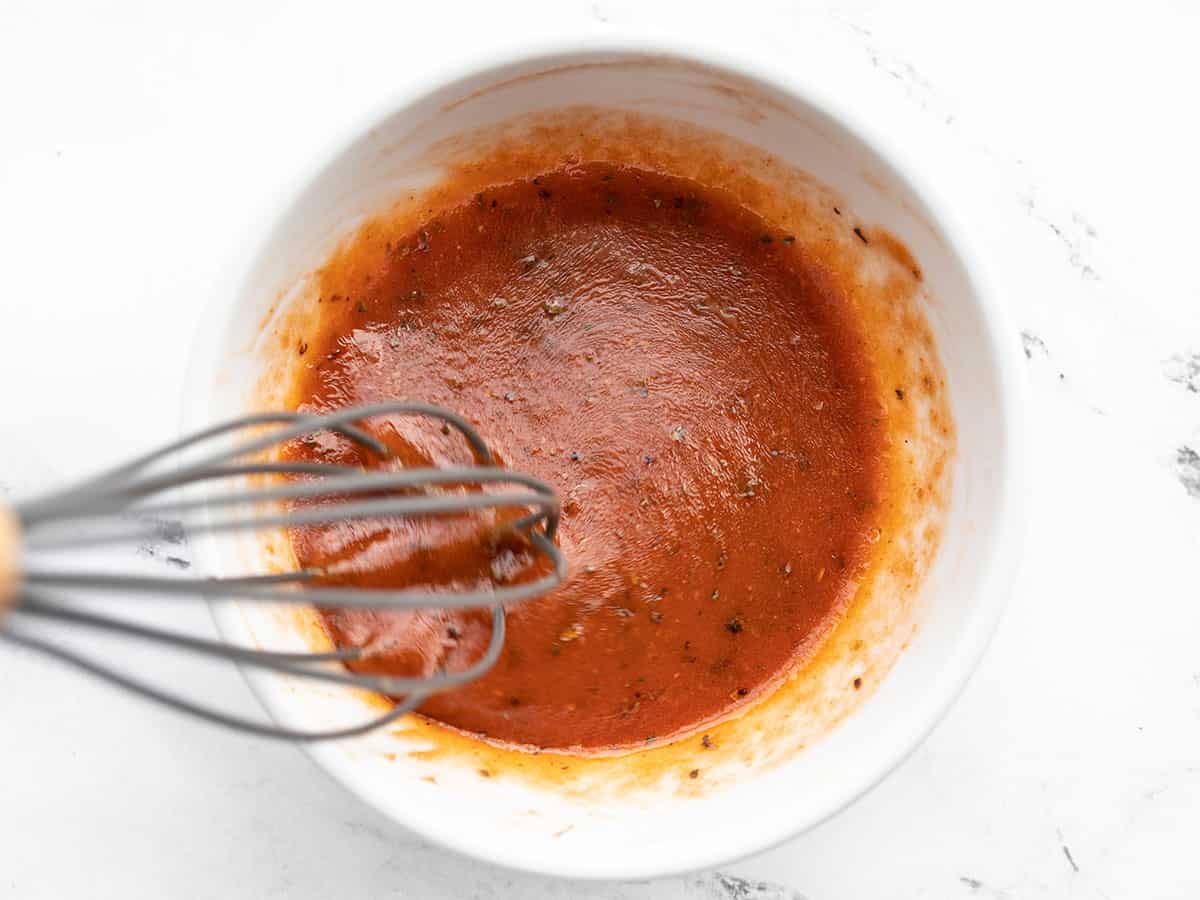 If you try to add all the oil at once the dressing will separate quickly with a thick layer of oil on top. If you add it slowly and allow it to emulsify, it will still separate a little, but very slowly and a quick whisk will return it to its nice smooth texture.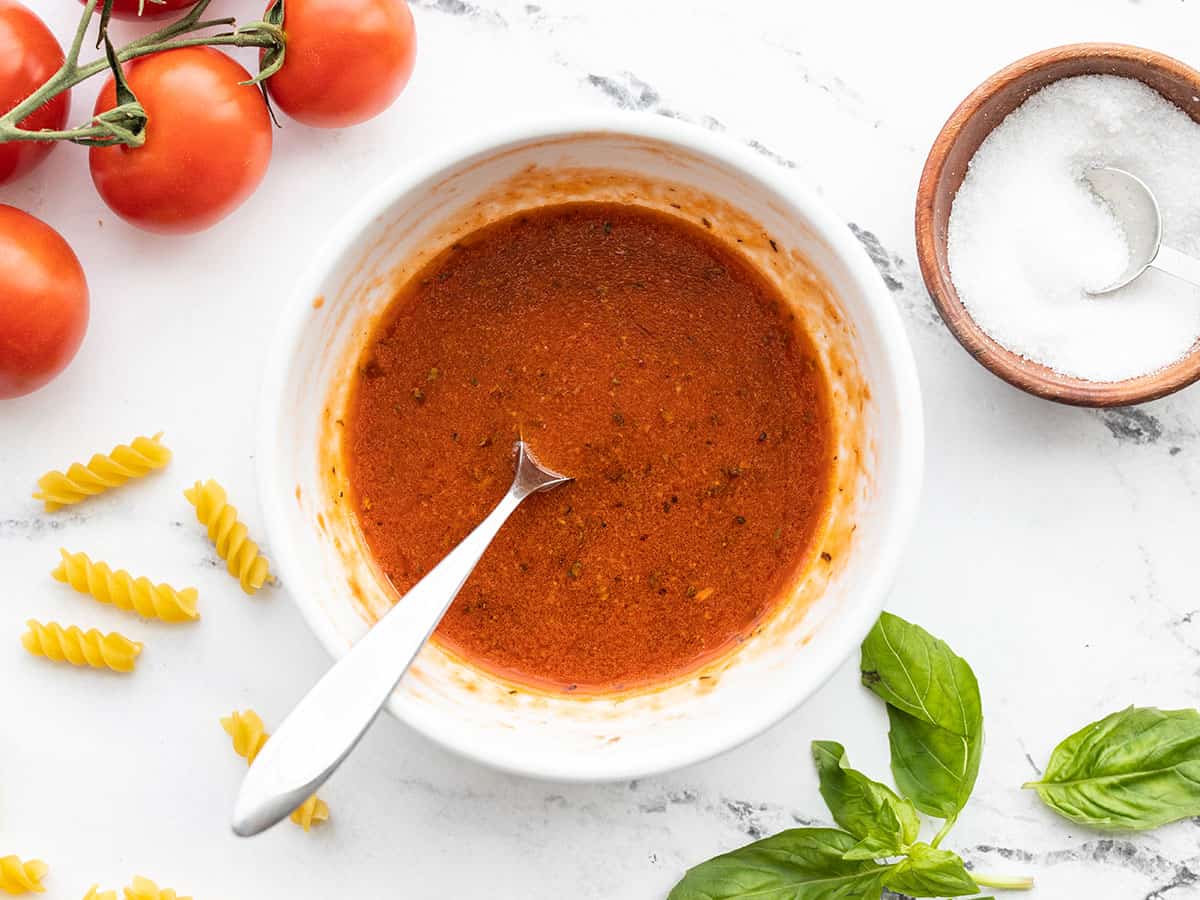 Serve immediately or refrigerate until you're ready to eat (up to five days).