If you haven't noticed, I make this Easy Homemade Vinaigrette with a lot of my salad recipes. It's pretty much my go-to when I'm not making a lemon tahini dressing. But anyway, it's so simple, so versatile, and has so many options for tweaking, that I thought I'd give the recipe its own post. Commit this recipe to memory, because it will serve you well.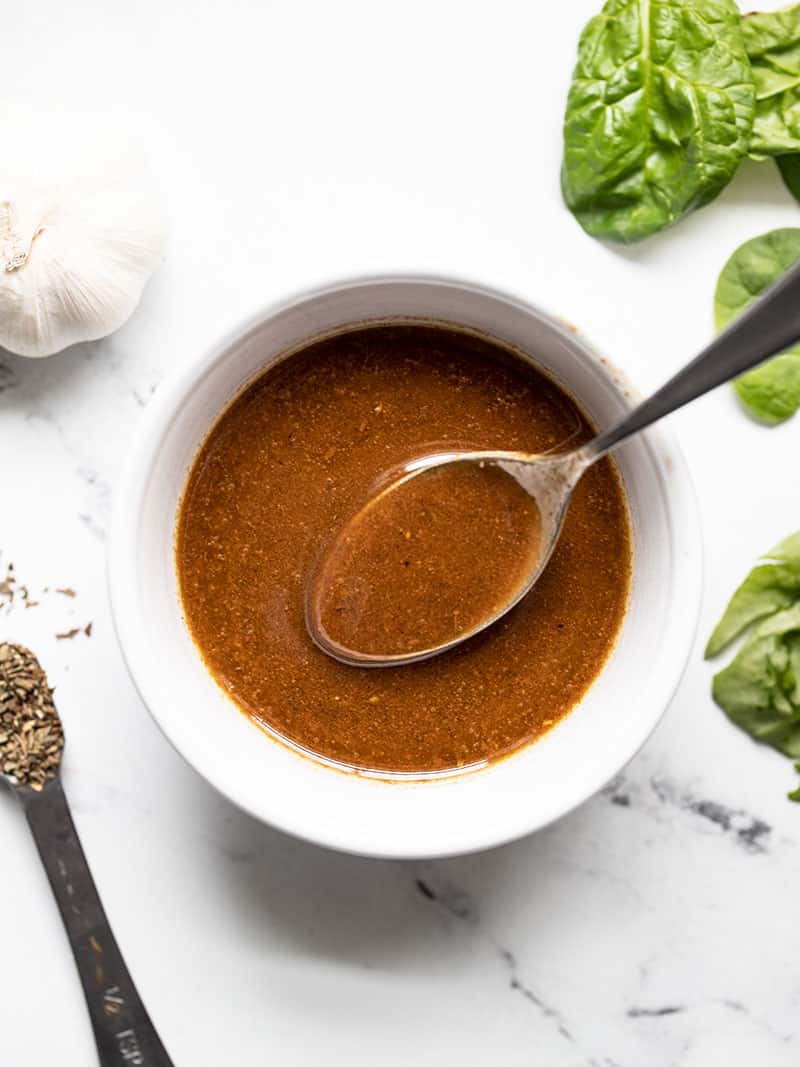 Is Balsamic Vinegar the Same as Balsamic Vinaigrette?
First things first, balsamic vinegar is not the same as balsamic vinaigrette, a point which confuses a lot of new cooks. Balsamic vinegar is one ingredient in balsamic vinaigrette. A vinaigrette is simply an oil and vinegar based salad dressing. So now that we have that cleared up, let's move on…
How Long Does it Stay Good?
Since this homemade dressing does not contain stabilizers and preservatives, you should only keep it refrigerated for about four to five days. The fresh garlic and dried herbs contain natural yeasts and molds that can cause spoilage. Because of this, I've made this recipe for a fairly small, 3/4 cup sized batch so you hopefully won't have much leftover or going to waste.
What Do You Serve it With?
As I mentioned above, I use this salad dressing all the time and I sometimes make variations on this basic recipe. Here are some recipes where I've used this delicious balsamic vinaigrette in the past: BIG Kale Pasta Salad, Autumn Kale and Apple Salad, Tomato Mozzarella Pasta Salad, Grilled Vegetable Pasta Salad, and Spinach and Orzo Salad with Balsamic Vinaigrette.
Customize Your Balsamic Vinaigrette:
Here are a few options for customizing your balsamic vinaigrette:
Skip the mayo, this will create a thinner, lighter balsamic vinaigrette
Add grated Parmesan
Use minced shallots instead of minced garlic for a milder flavor
Add a touch of honey for a sweeter vinaigrette
Use fresh herbs if you have them. Oregano also goes well with this dressing
Add Roasted Garlic for a mellow-sweet garlic flavor
Don't Skip the Dijon!
People always ask if they have to use Dijon mustard in my dressing recipes because they don't like the flavor of Dijon. Dijon mustard plays a very important role in vinaigrettes. Dijon has the unique molecular quality of being an emulsifier, which means it can bond to both water and oil. This is what keeps your dressing mixed instead of it immediately separating after stirring. And don't worry, the amount is so small that you can't taste that Dijon flavor!
Easy Homemade Balsamic Vinaigrette
This super simple homemade balsamic vinaigrette is perfect for all your green salads and pasta salads and has several options for customizing!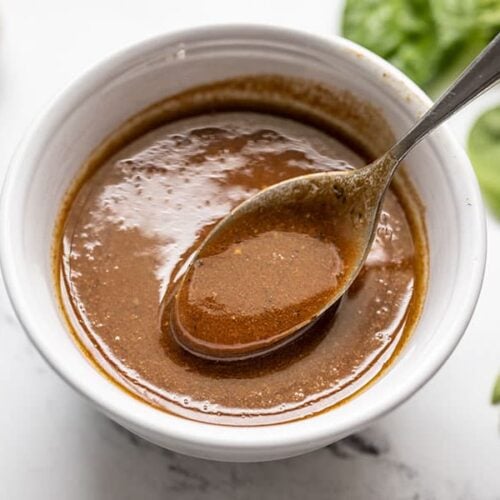 Ingredients
1/3

cup

olive oil

($0.55)

3

Tbsp

balsamic vinegar

($0.41)

2

Tbsp

mayonnaise

($0.17)

1/2

Tbsp

Dijon mustard

($0.09)

1

clove

garlic, minced

($0.08)

1/2

tsp

dried basil

($0.05)

1/4

tsp

salt

($0.01)

freshly cracked black pepper

($0.02)
Instructions
Add all the ingredients to a jar, bowl, or blender. Close the jar and shake, whisk in the bowl, or pulse in a blender until the ingredients are combined and smooth.

Let the dressing stand 5-10 minutes for the flavors to blend, then serve or refrigerate for up to 5 days.
See how we calculate recipe costs here.
---
Nutrition
Serving:
2
Tbsp
Calories:
148.77
kcal
Carbohydrates:
1.58
g
Protein:
0.1
g
Fat:
15.67
g
Sodium:
185.57
mg
Fiber:
0.07
g
Read our full nutrition disclaimer here.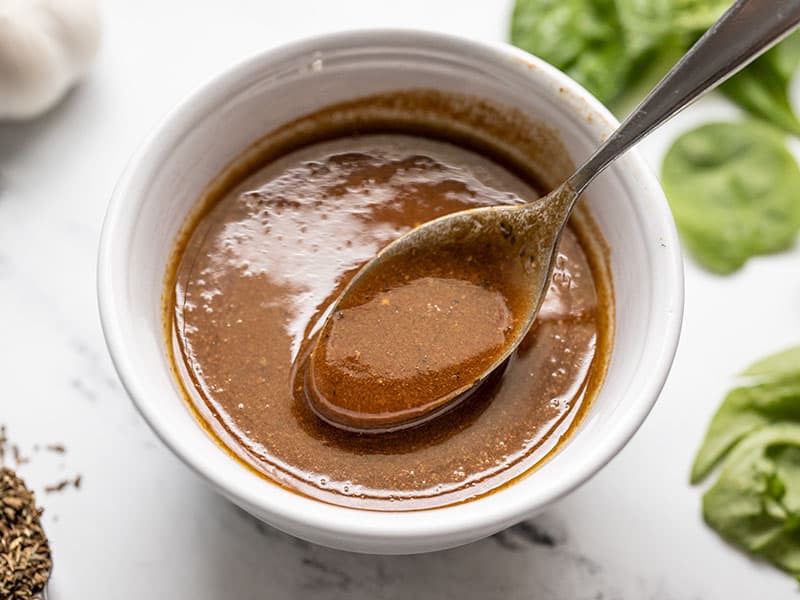 How to Make Balsamic Vinaigrette – Step by Step Photos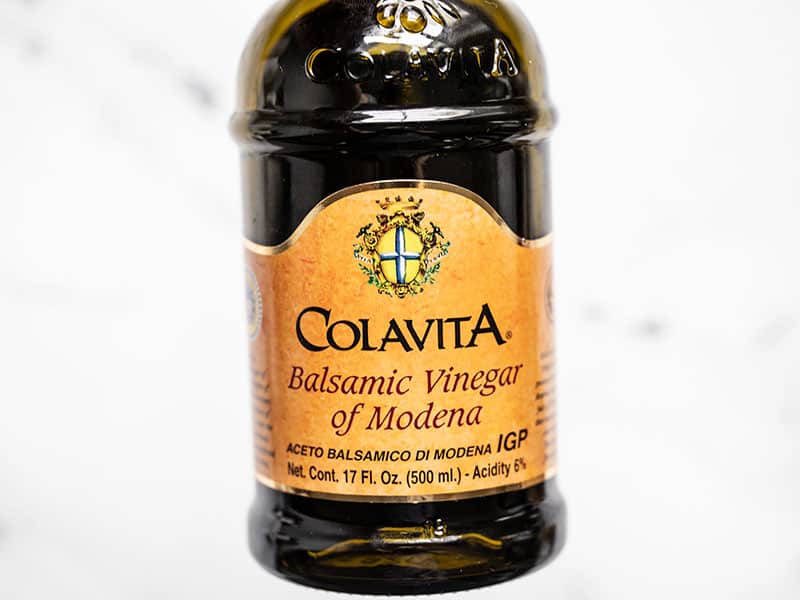 Since balsamic vinegar is the main flavor in this salad dressing, you do want to make sure you use one that is decent. Lately I've been loving this Colavita balsamic vinegar (not sponsored). It is a mid-range priced balsamic vinegar, but the flavor is really great.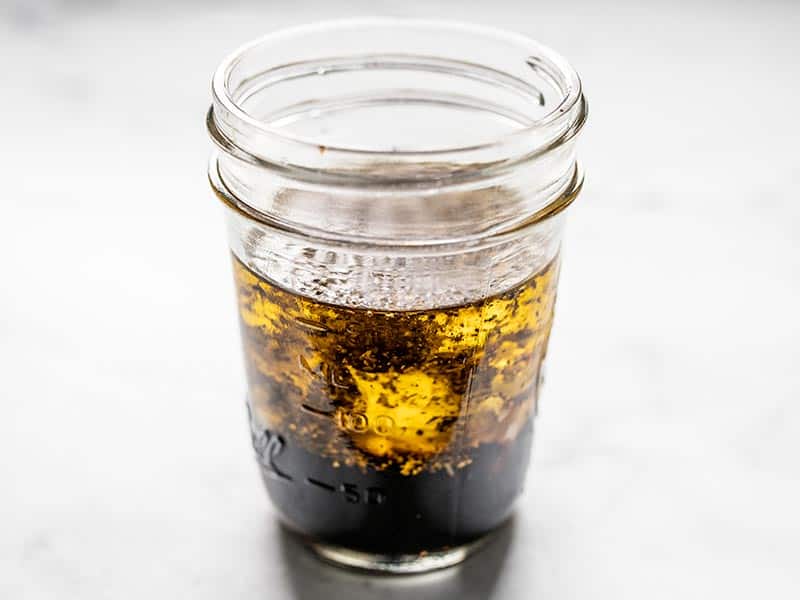 Add 1/3 cup olive oil, 3 Tbsp balsamic vinegar, 2 Tbsp mayonnaise, 1/2 Tbsp Dijon mustard, 1 minced clove of garlic, 1/2 tsp dried basil, 1/4 tsp salt, and some freshly cracked pepper to a jar, bowl, or blender.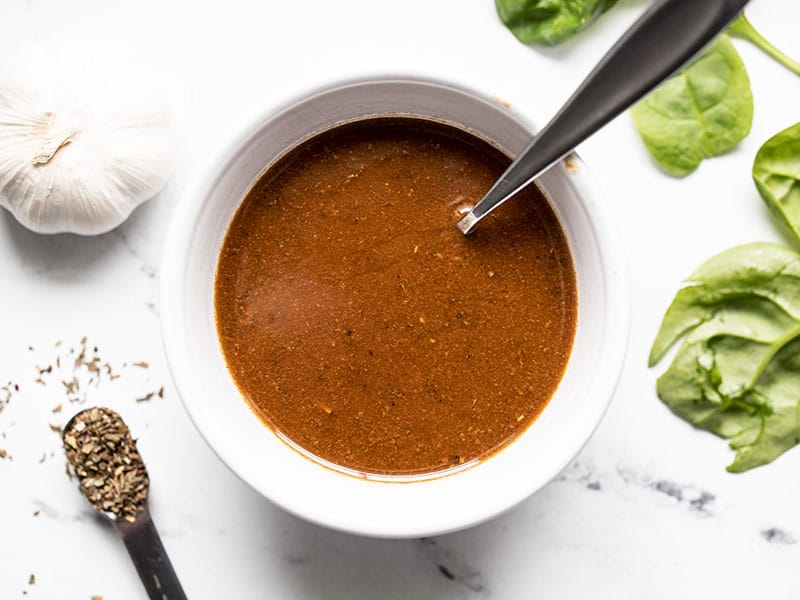 Then just close up the jar and shake, whisk if it's in a bowl, or pulse with the blender until the ingredients are incorporated. Let the dressing sit for five to ten minutes to allow the flavors some time to blend, then serve or refrigerate for up to five days!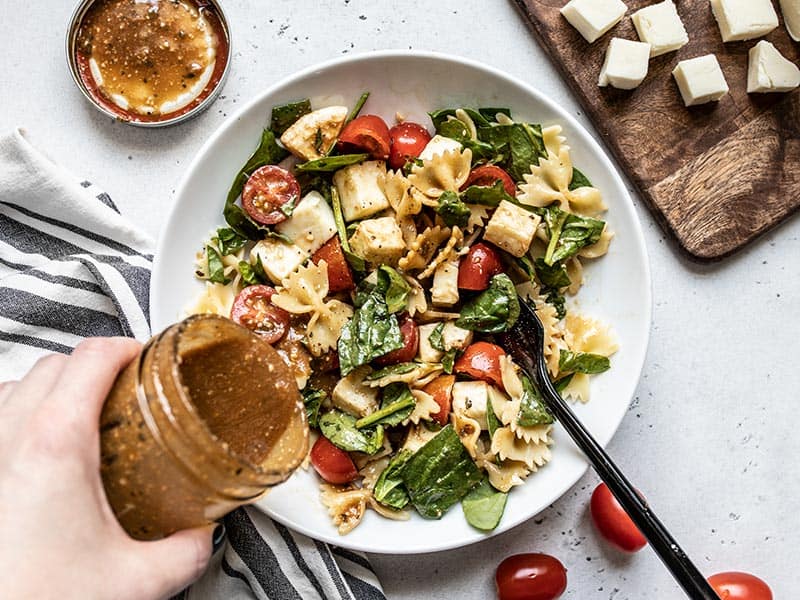 Homemade Balsamic Vinaigrette shown here with my Tomato Mozzarella Pasta Salad (this version has grated Parmesan added).