Okay… some of you are going to think this is the grossest thing you've ever seen, while others will think it's the best idea ever. I'm in the second camp. This quick microwave hummus breakfast mug is my new favorite quick fix for breakfast. I'm obsessed.
The idea came the other day when I needed something really filling, really fast and didn't want to wait for a skillet to heat up (that takes, what, 2 minutes? Yeah, pathetic, I know). So, I thought I'd just nuke some eggs and see what I could find in the fridge to mix in with them. What I found was my homemade jalapeno hummus and it was WAY better than expected! I've been making them non-stop ever since, so I just had to share it.
I already knew that hummus and eggs go great together – I've been putting hummus on my egg sandwiches and egg quesadillas for years, but served this way it's almost like an egg salad made with hummus instead of a mayo dressing. It's very satisfying to a hungry belly, but won't make you feel overly full or weighed down… which is why it's not only my new favorite quick breakfast fix, but it's also my new favorite post-workout meal.
I've tried it with a few different flavors of hummus now, and I think it's definitely best with a flavored hummus. I like it with Jalapeno, cilantro, or siracha flavors the best.
P.S. Every microwave is different, so you'll definitely want to experiment a little with the cooking time and intervals. I've shown what works for me below, but the cooking time and speed will depend on the size and weight of your mug and microwave strength.
Hummus Breakfast Mug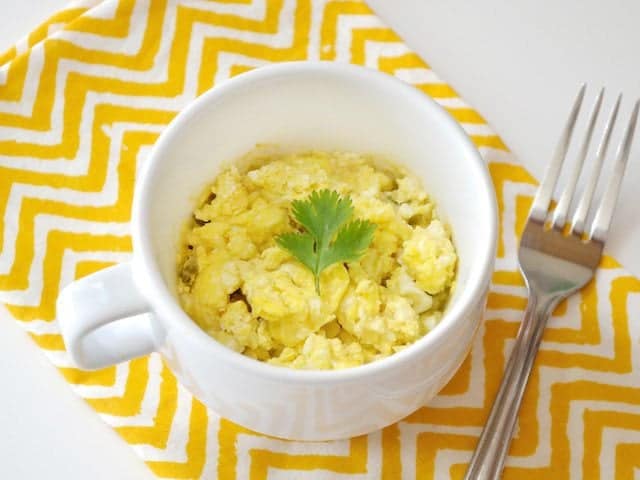 Hummus Breakfast Mug
Hummus and eggs get together to make this egg salad-like hummus breakfast mug that cooks up in just a couple of minutes!
Ingredients
2

large eggs

($0.34)

1/4

cup

hummus

($0.24)
Instructions
Crack two eggs into a large mug. Microwave on high for 30 seconds and then stir until the eggs are slightly scrambled.

Microwave on high for 15 seconds and then stir. Repeat the 15 second cooking and stirring interval two more times, or until the egg is cooked and fluffy.

Stir in 1/4 cup of your favorite hummus and then enjoy!
See how we calculate recipe costs here.
---
Notes
If your hummus is a little on the bland side, you may want to add a dash of salt to the eggs while cooking.
Nutrition
Serving:
1
Serving
Calories:
303.6
kcal
Carbohydrates:
12.8
g
Protein:
17.4
g
Fat:
20.6
g
Sodium:
413
mg
Fiber:
3.5
g
Read our full nutrition disclaimer here.
Step by Step Photos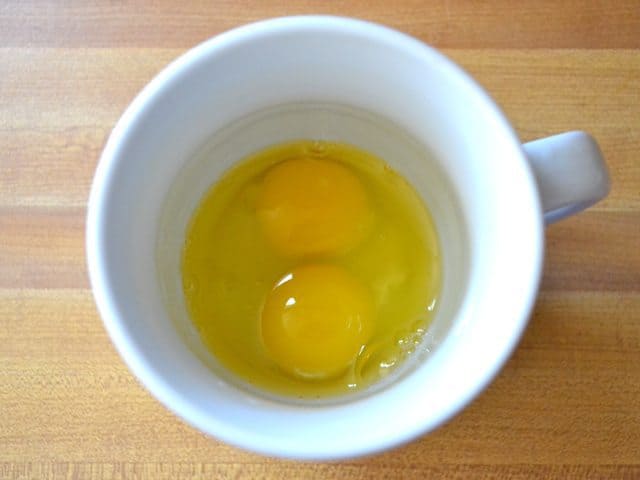 I don't even bother with non-stick spray or butter. Sometimes I add a dash of salt, though.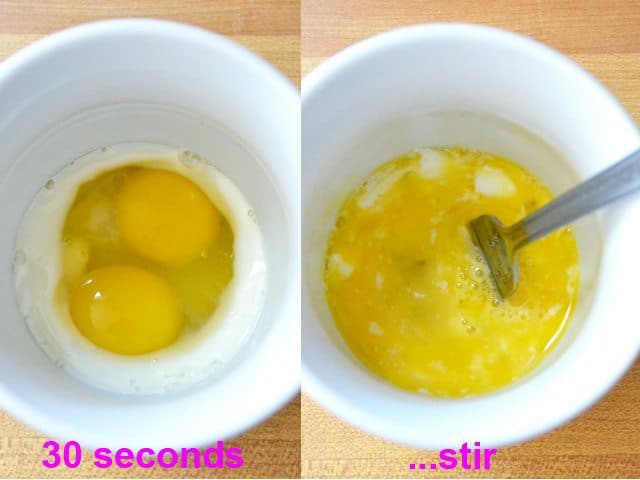 So first, I pop it in the microwave for 30 seconds then give it a good stir to scramble the eggs. (It just seems to mix up better once the edges have firmed up)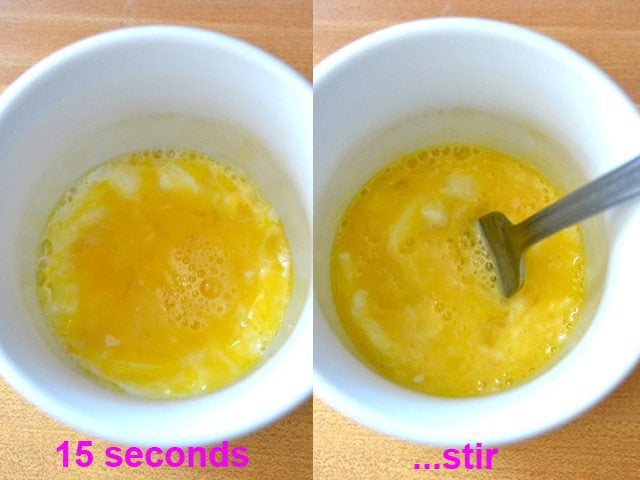 Then I cook for 15 seconds more and stir again. I found that if I went for a full 30 twice in a row without stirring it would get kind of dense and rubbery.
Cook for 15 more seconds and then stop to stir once again… It's almost done now.
One last 15 second nuke and it's all cooked. Light and fluffy. That was only 1 minute and 15 seconds total.
Add your favorite hummus (this is jalapeno flavored hummus).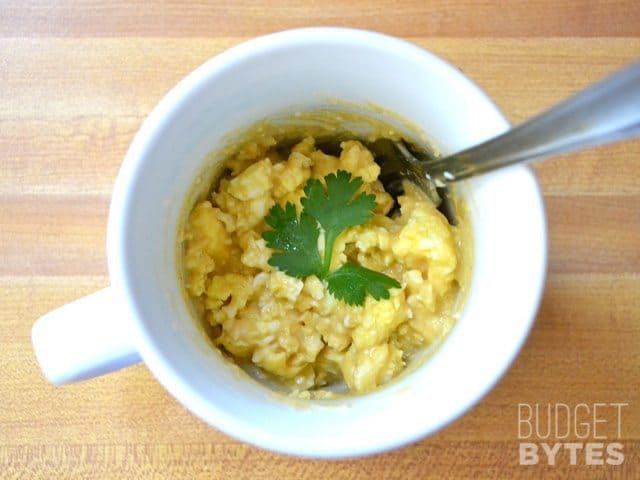 Stir and then EAT! I added a sprig of cilantro to try to make it pretty, but let's face it, this one is never going to be pretty. But the little ugly duckling sure does taste amazing!
Admittedly, I am new to the microwaving eggs game. I don't do it often because I REALLY like a skillet fried egg with a perfectly half-set yolk. I saw a Buzzfeed video that showed different methods and apparently if you whisk in milk first, you don't need to keep stopping and stirring to get a light, fluffy end product. I haven't tried it yet, though.
Got tips and tricks for microwaving eggs? What is your favorite microwave egg mug add-in? Feel free to comment below…
But no haters, please. It's okay if you think microwaving eggs is 100% wrong. No one is making you do it. K? K.