I love making simple homemade vinaigrettes, and this classic Italian dressing has been a favorite lately. This dressing is similar to the bottled "Italian dressing" that you'd find in the grocer store, except made with simple ingredients that you'll find in your fridge and pantry. It's the perfect mix of bright lemon and vinegar, flavorful herbs, and savory Parmesan to take your homemade salads up to the next level.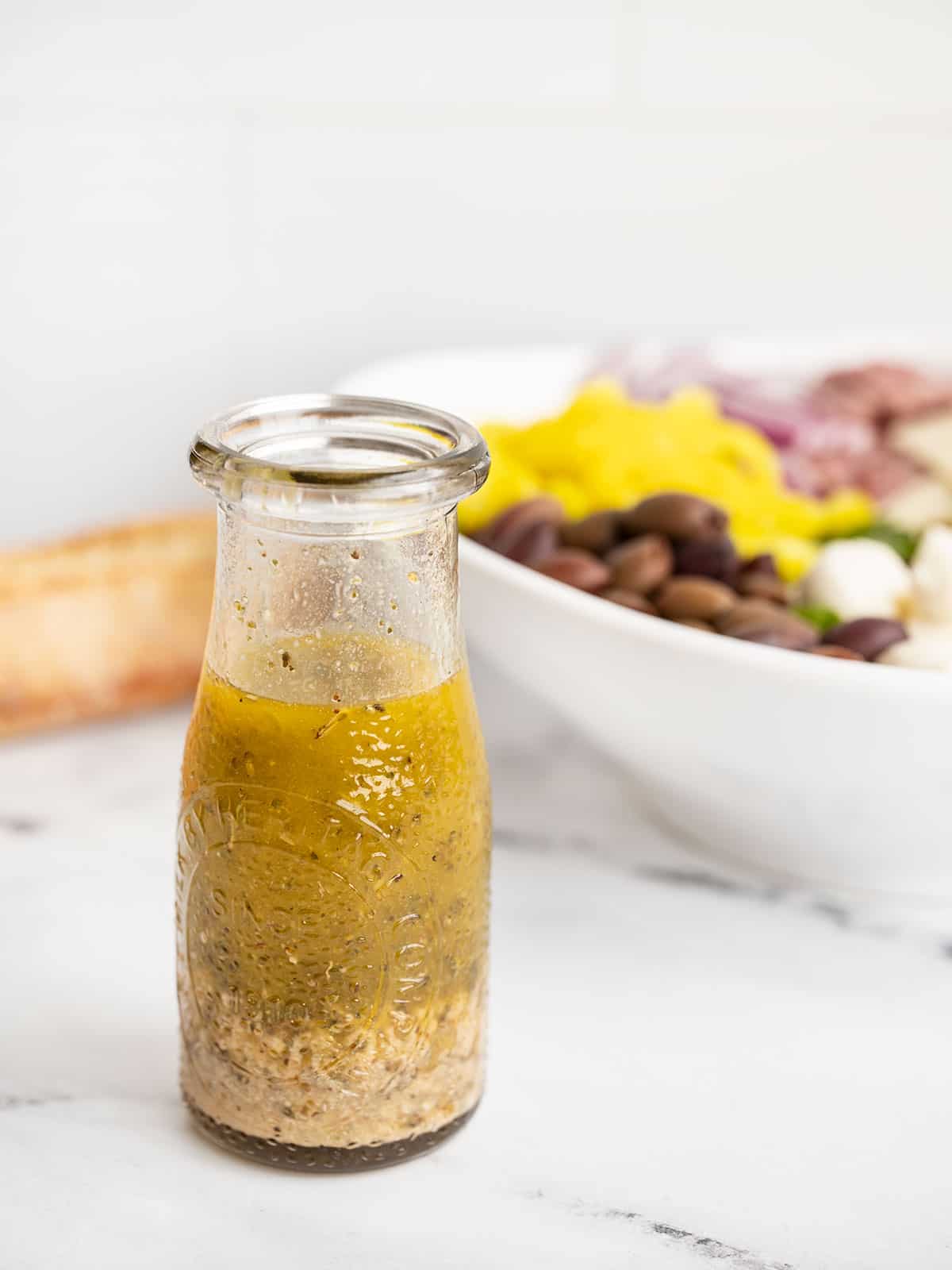 What's in Italian Dressing?
This all-purpose homemade dressing is a simple vinaigrette base packed with dried herbs and Parmesan. The base is olive oil and red wine vinegar, plus a little lemon juice to freshen things up and Dijon mustard to help emulsify the vinegar into the oil. I added a hefty dose of herbs, in the way of an Italian seasoning blend for convenience, plus a little garlic, and a touch of sugar to soften the acid every so slightly. Lastly, grated Parmesan adds so much umami and depth of flavor that it will make you want to eat the dressing by the spoonful!
Can I Skip the Sugar?
Technically you can skip the sugar if you really have to, but even that small dose of sugar goes a long way toward creating a really smooth dressing and reducing any bitterness, so I don't suggest skipping it if at all possible. It's only ½ tsp for the entire batch, so the dose per serving is extremely small.
Can I Skip the Parmesan?
Yes. This still makes a really stellar vinaigrette even without the Parmesan. I will say that the Parmesan totally takes the dressing to the next level, but I find plain vinaigrettes quite enjoyable on their own as well. So if you want to make a vegan dressing or just don't have Parmesan on hand, don't let it hold you back from making this homemade dressing.
How to Store Levtover Italian Dressing
Store your leftover dressing in an air-tight container in the refrigerator for about a week. The olive oil may solidify when the dressing gets very cold but will liquify again if set out at room temperature for 5-10 minutes.
How to Serve Italian Dressing
The flavors in this simple dressing are so universal that it will taste good on just about any salad. But it's also great on pasta salad, on a simple sliced tomato and mozzarella salad, or even as a marinade for chicken! I think this dressing would also be amazing soaked into a crusty piece of bread as part of a pressed deli sandwich. YES!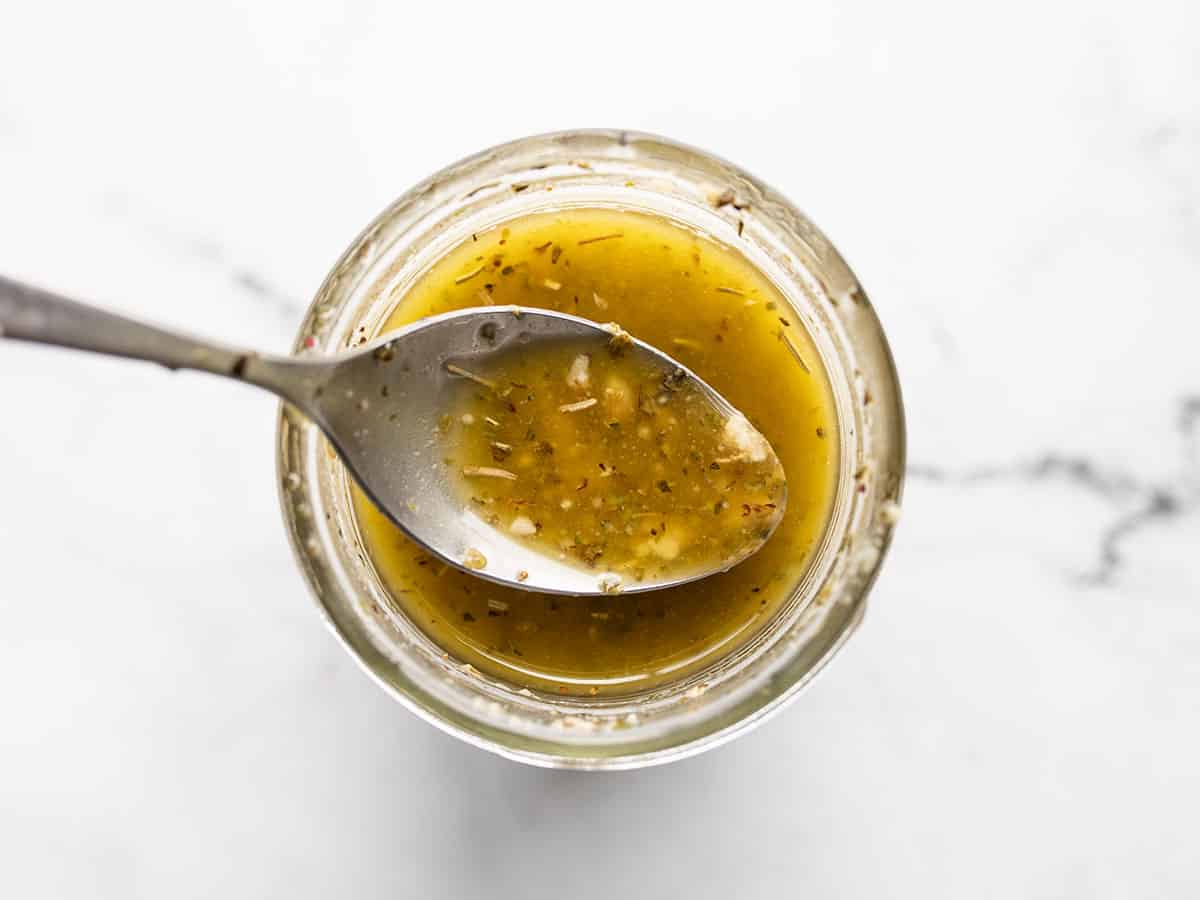 Homemade Italian Dressing
This simple homemade Italian Dressing is a zesty mix of flavorful herbs, savory Parmesan, and bright lemon to complement any salad.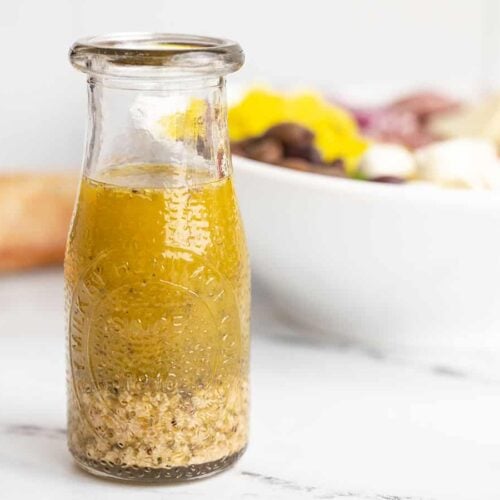 Ingredients
1/2

cup

extra virgin olive oil

($0.84)

3

Tbsp

red wine vinegar

($0.30)

1

Tbsp

lemon juice

($0.04)

2

tsp

Dijon mustard

($0.12)

1/4

tsp

garlic powder*

($0.02)

1

Tbsp

Italian seasoning blend

($0.30)

1/2

tsp

salt

($0.02)

1/4

tsp

freshly cracked pepper

($0.02)

1/2

tsp

sugar

($0.01)

2

Tbsp

grated Parmesan**

($0.22)
Instructions
Add all of the ingredients to a jar or bowl. If using a jar, screw the lid on tightly and shake until the ingredients are incorporated. If using a bowl, whisk until the ingredients are incorporated. Give the dressing a quick shake or whisk just before serving.
See how we calculate recipe costs here.
---
---
Equipment
Notes
*You can use one minced clove of fresh garlic in place of the garlic powder if you prefer a stronger garlic flavor.
**Bottled grated Parmesan with cellulose (an anti-caking agent) may clump slightly, but will still taste great.
Nutrition
Serving:
2
Tbsp
Calories:
130
kcal
Carbohydrates:
1
g
Protein:
1
g
Fat:
14
g
Sodium:
180
mg
Fiber:
1
g
Read our full nutrition disclaimer here.
Try these other homemade dressing recipes:
How to Make Italian Dressing – Step by Step Photos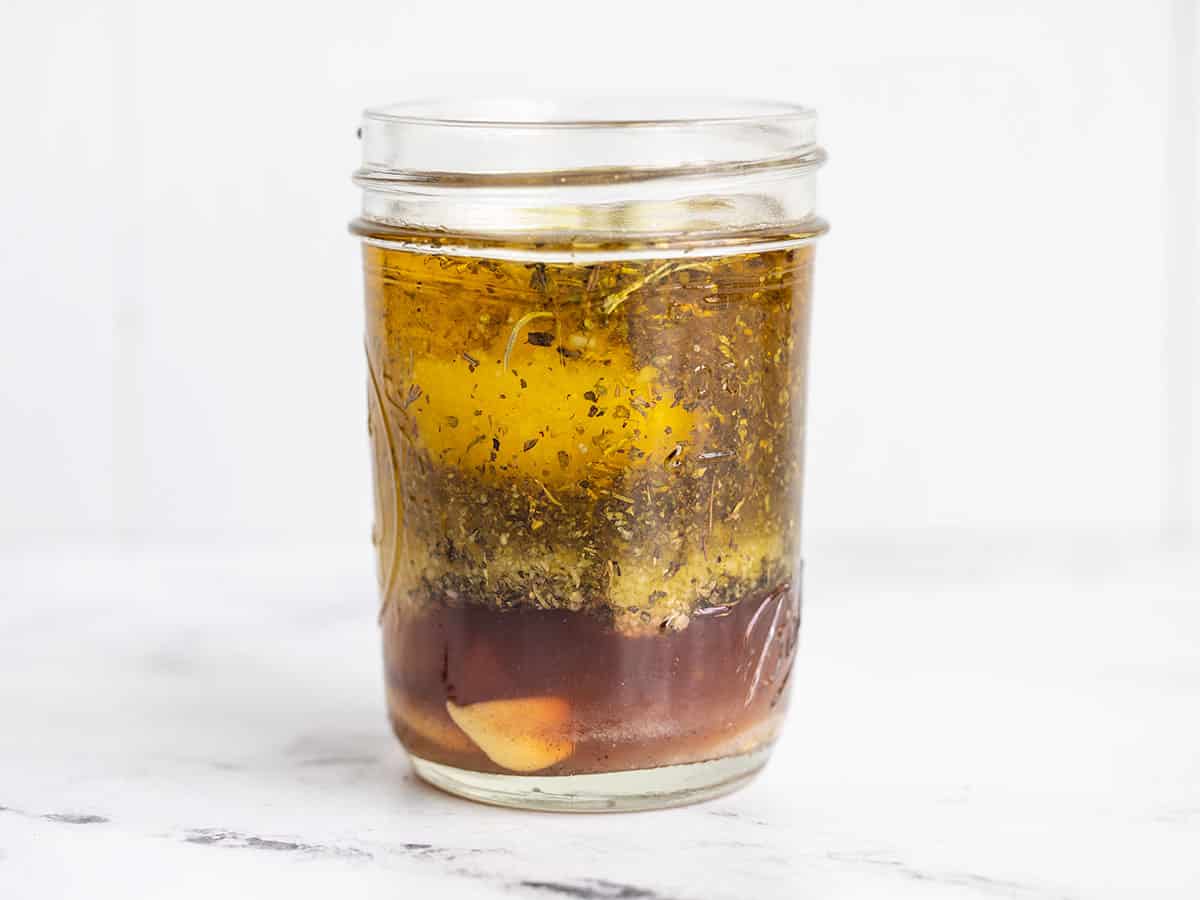 Combine ½ cup extra virgin olive oil, 3 Tbsp red wine vinegar, 1 Tbsp lemon juice, 2 tsp Dijon, ¼ tsp garlic powder, 1 Tbsp Italian seasoning blend, ½ tsp salt, ¼ tsp freshly cracked pepper, ½ tsp sugar, and 2 Tbsp grated Parmesan in a bowl or jar.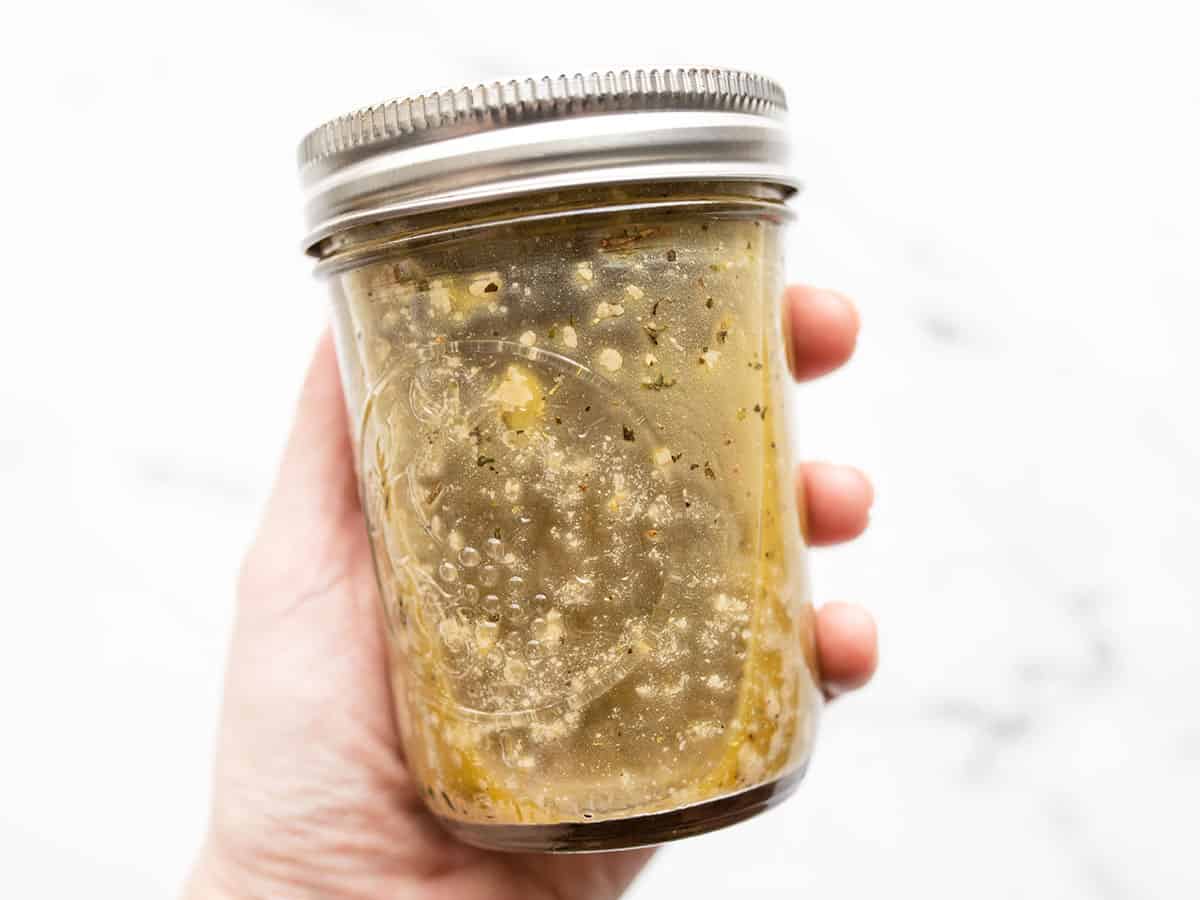 If using a jar, close the lid on the jar tightly then shake until the ingredients are incorporated. If using a bowl, whisk the ingredients together until incorporated.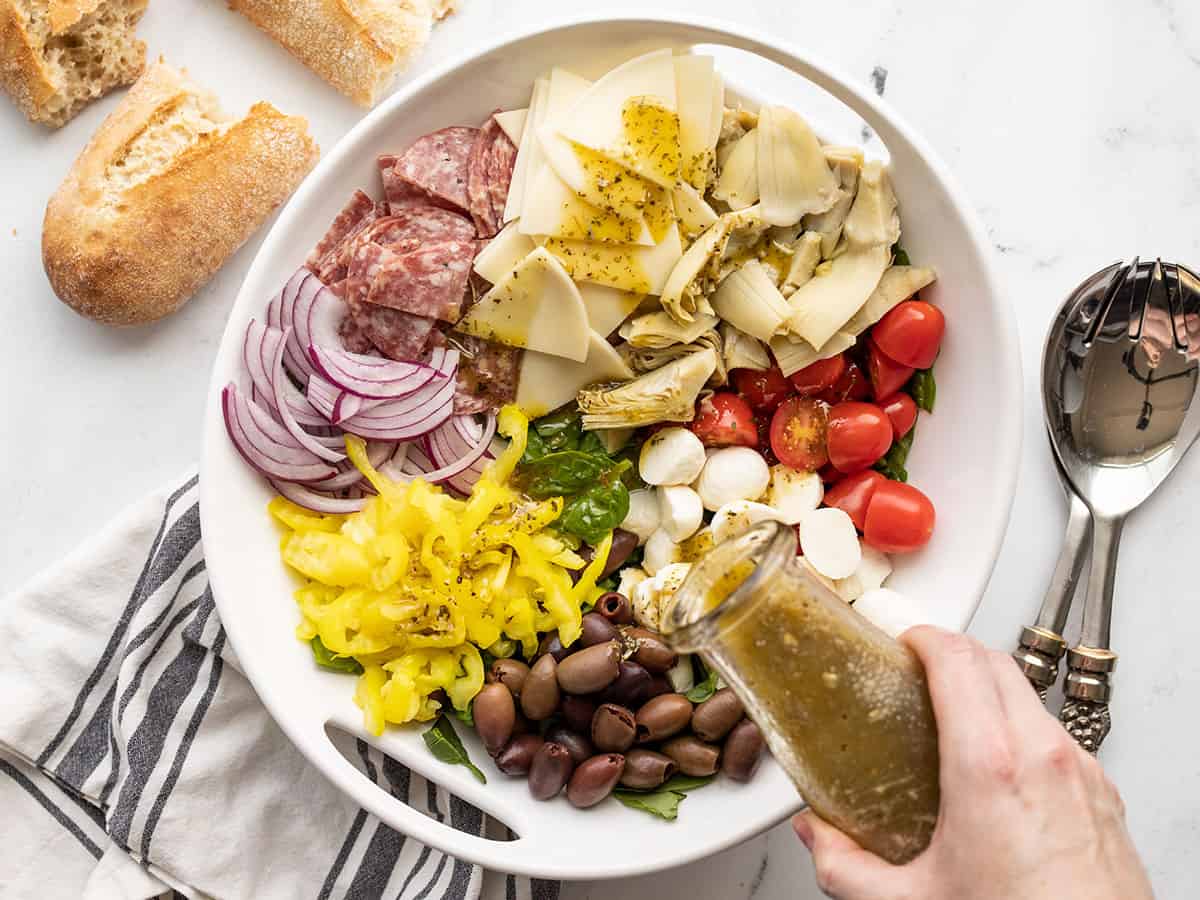 Serve your homemade Italian dressing over your favorite salad (Antipasto Salad pictured above), sliced vegetables, or even as a marinade for chicken!