I didn't find out about National Kale Day until after the fact, but seeing pictures of delicious kale recipes all day made me really crave kale bad. What's the fastest, easiest fix? Garlic Parmesan Kale Pasta! This one is SO easy and SO satisfying, guys!
See this recipe used in my weekly meal prep.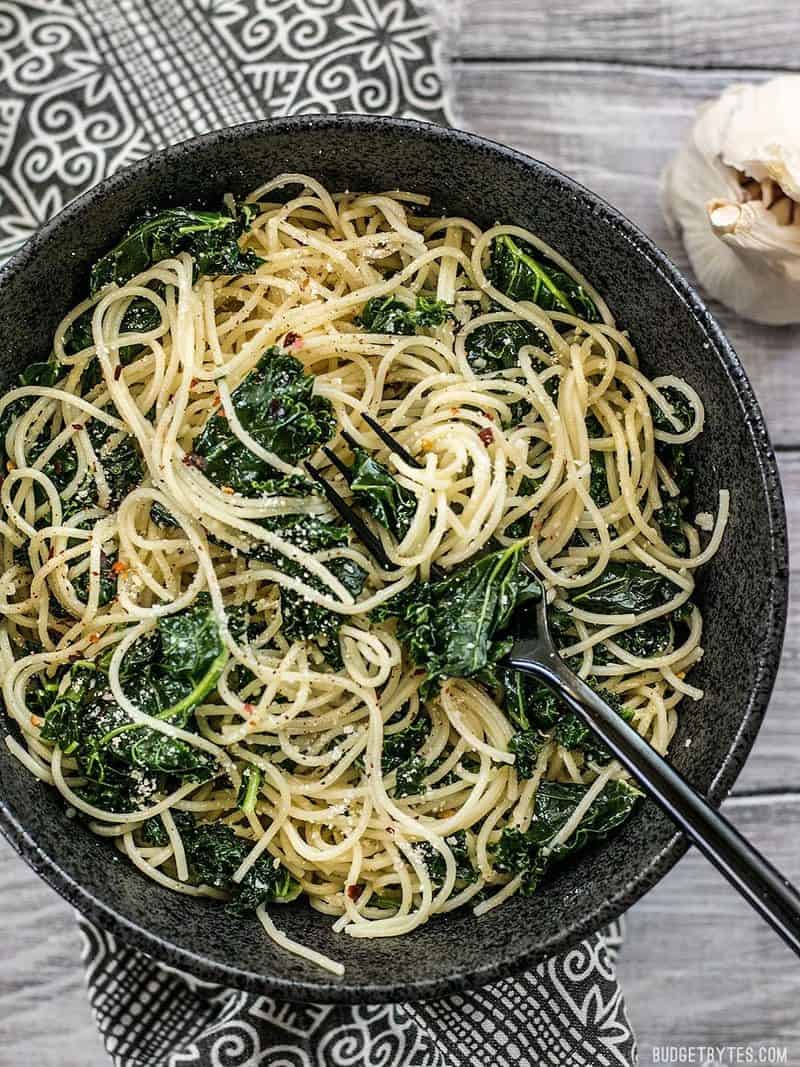 Use Whole Wheat Pasta for Extra "Nutty" Flavor
Whole wheat pasta with kale may sound like the most boring, torturous diet meal of all time, but when you lace them with garlic, parmesan, and a little butter, they take on a whole new personality. Add a pinch of crushed red pepper flakes if you're feeling sassy and it's like pasta heaven.
Sometimes whole wheat angel hair is hard to find, though, in which case you can just use regular. Either way, I do suggest using angel hair pasta rather than other shapes because I find that the thin texture really balances the mouthfeel of the dish.
Use a Different Vegetable
Not a fan of kale? No problem! I use this pasta-butter-Parmesan combo with all sorts of other vegetables. Spinach is great, but so is broccoli (see Bowties and Broccoli), or sautéed mushrooms. If you have leftover roasted vegetables, toss them in there. :)
How to Serve Garlic Parmesan Kale Pasta
This Garlic Parmesan Kale Pasta recipe makes four side dish-sized servings, but you can bulk it up and make it a meal by adding a chopped hard-boiled egg or a fried egg, adding some chopped fresh tomatoes (or sun-dried), or even crumbling some bacon over top. I also love topping it with my Garlic Marinated Chicken, cut into strips. This is just a starting point and it can go in about a million different directions. Have fun with it!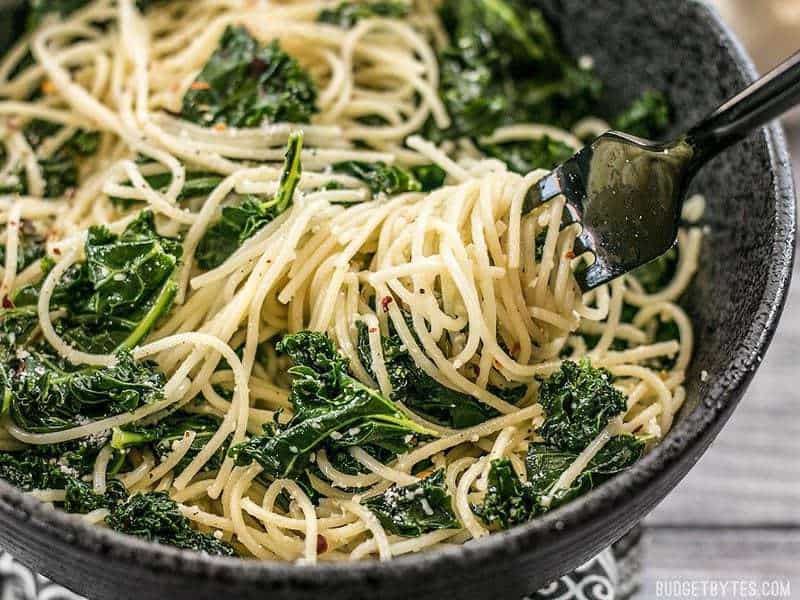 Garlic Parmesan Kale Pasta
When you're in a hurry, this Garlic Parmesan Kale Pasta is a filling and flavorful meal. Few ingredients, BIG flavor.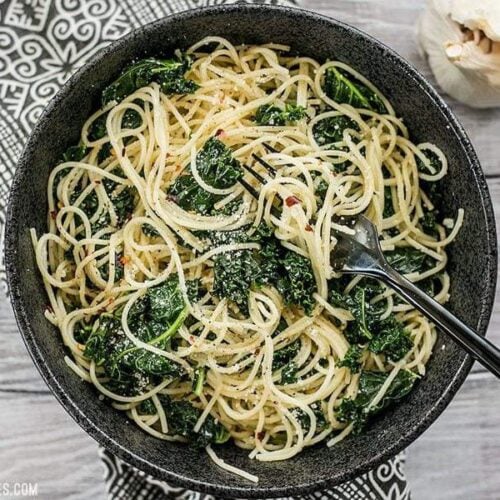 Ingredients
1

bunch

1/2 lb kale

($1.69)

1/2

lb

angel hair pasta*

($0.50)

2

Tbsp

olive oil

($0.26)

2

Tbsp

butter

($0.27)

2

cloves

garlic, minced

($0.16)

1/4

cup

grated Parmesan

($0.41)

Pinch

salt and pepper

($0.05)

Pinch

red pepper flakes (optional)

($0.03)
Instructions
Pull the kale leaves from the woody stems and tear them into small 1 to 2-inch pieces. Rinse the torn kale well in a colander under cool, running water and allow it to drain.

Bring a large pot of water to a boil. Break the pasta in half, add it to the boiling water, and cook until al dente (about 7 minutes). Drain the pasta in a colander.

While the pasta is cooking, add the olive oil, butter, and minced garlic to another large pot or skillet. Cook over medium heat for 1-2 minutes, or until the garlic is soft and fragrant. Add the kale and continue to sauté until the kale has wilted and has turned a deep green color (about 5-7 minutes). Turn the heat off.

Add the drained pasta to the pot with the sautéed kale. Toss the pasta and kale together. Allow them to cool to the point that steam is no longer rising from the pot. You want the pasta warm, but not hot enough to melt the Parmesan.

Season the pasta and kale with salt and freshly cracked pepper to your liking. Add the grated Parmesan cheese and toss to coat. Add a pinch of red pepper flakes over top if desired.
See how we calculate recipe costs here.
---
Notes
*Whole wheat pasta goes very well with this dish.
Nutrition
Serving:
1
Serving
Calories:
373.7
kcal
Carbohydrates:
48.98
g
Protein:
11.48
g
Fat:
15.33
g
Sodium:
309.9
mg
Fiber:
4
g
Read our full nutrition disclaimer here.
Scroll down for the step by step photos!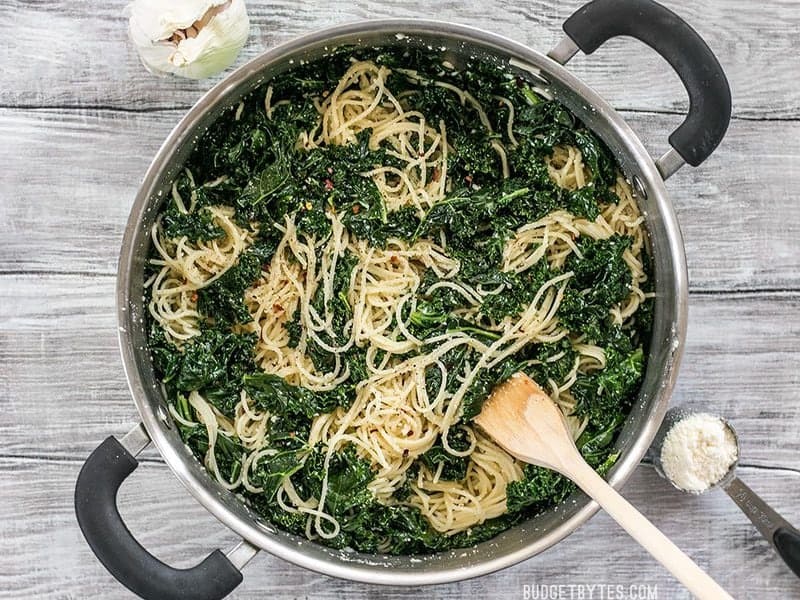 How to Make Garlic Parmesan Kale Pasta – Step by Step Photos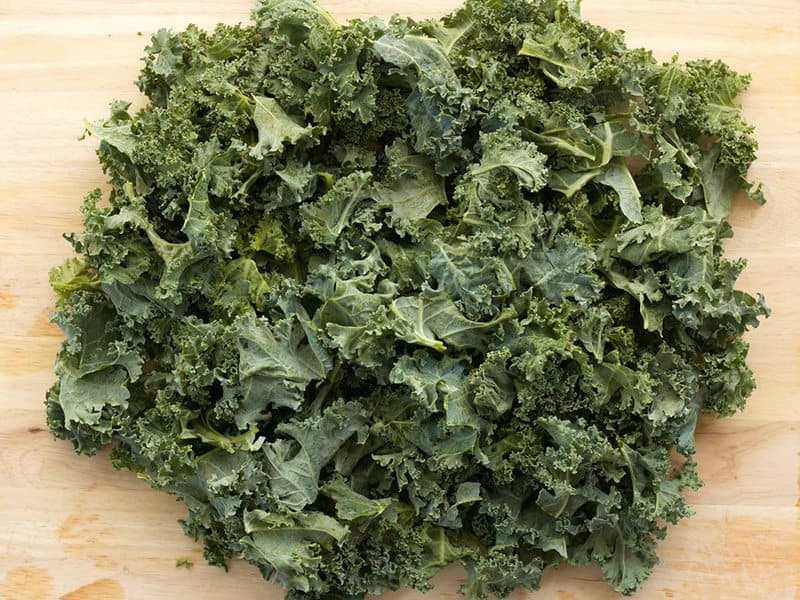 Pull the leaves from the woody stems of one bunch of kale (about 1/2 lb.). Tear the leaves into 1 to 2-inch pieces as you go. You can also use bagged, pre-chopped kale, if desired.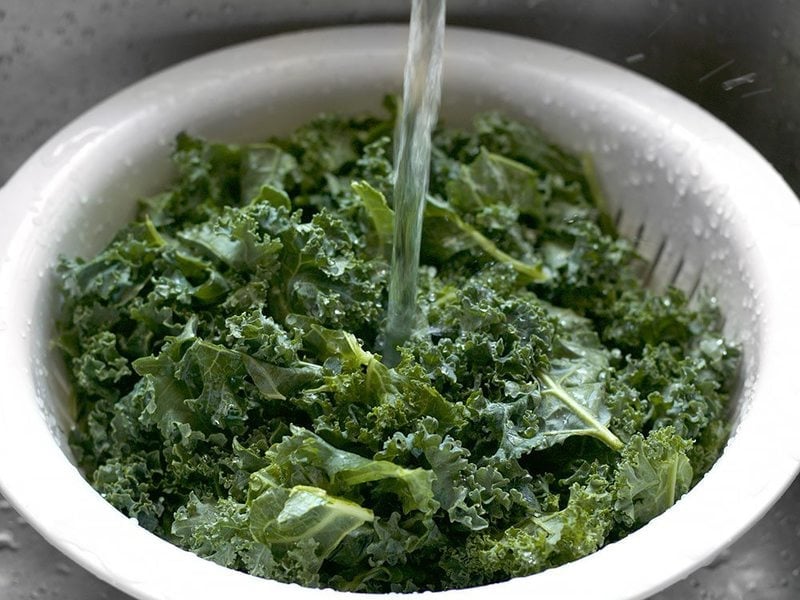 Place the kale in a colander and rinse well with cool running water. Allow the kale to drain.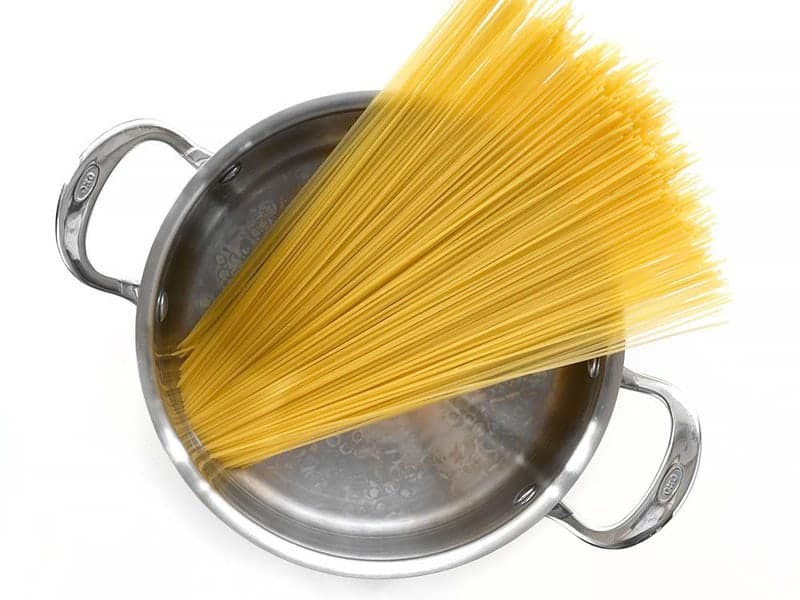 Begin cooking 1/2 pound angel hair pasta according to the package directions. You'll want to get the pasta going first because the rest of the dish will be finished cooking in the time that it takes the pasta to boil. Breaking the pasta in half before boiling makes it MUCH easier to mix in with other ingredients when it's slightly shorter (it still looks just like long pasta once mixed).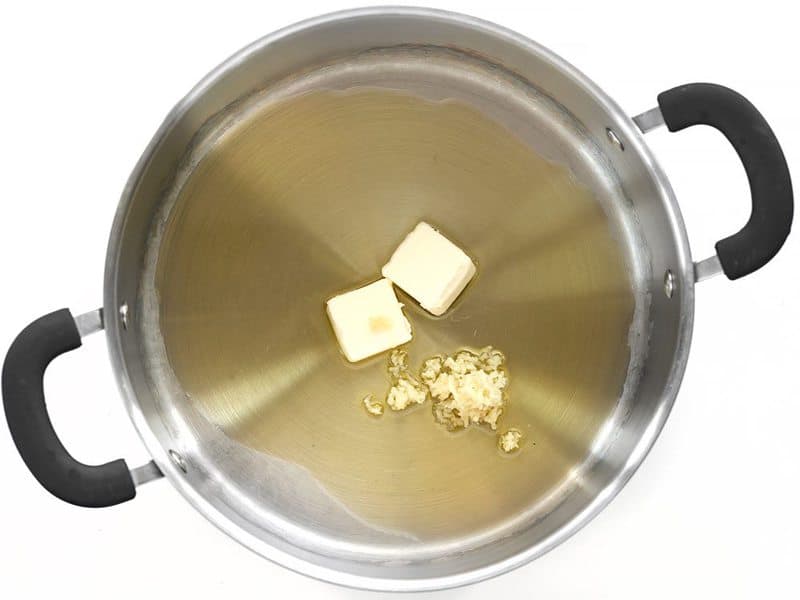 Add 2 Tbsp butter, 2 Tbsp oil, and 2 cloves minced garlic to a large pot or skillet. I like to us a pot with tall sides so that the kale doesn't spill out as I try to stir it. Sauté the garlic over medium heat for a couple minutes, or just until it becomes soft and really fragrant (it should smell like the best garlic bread you've ever laid your nostrils on).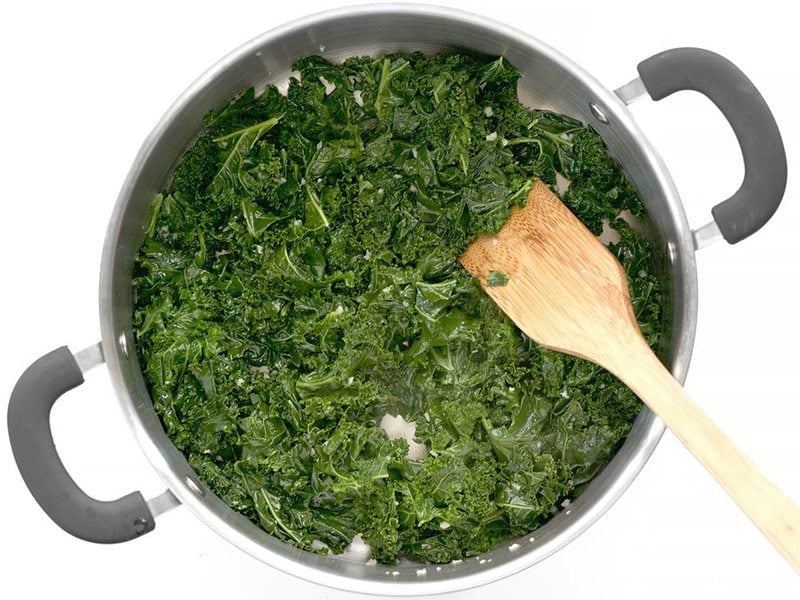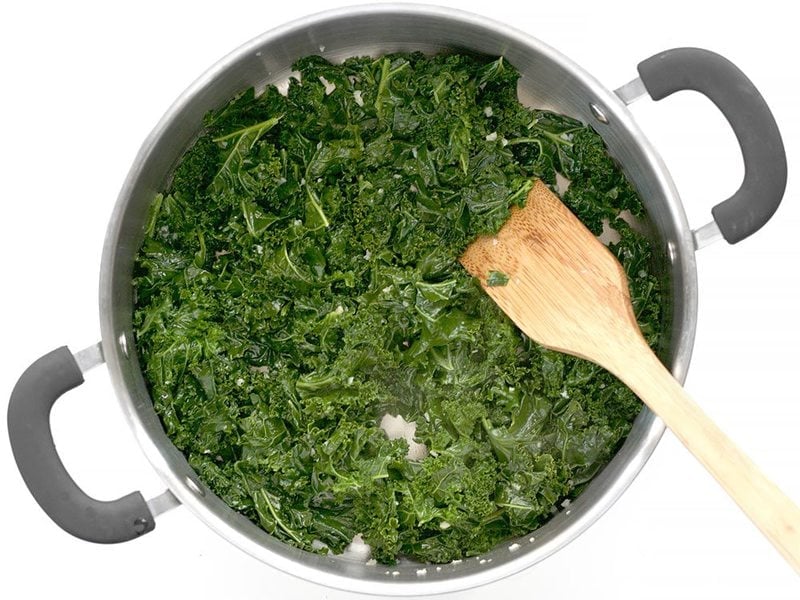 Add the kale and continue to sauté until the kale wilts down and is a really beautiful deep jade green. When I first put the kale in the pot it pretty much filled it up to the top, but it wilts down pretty quickly. This was after about 5 minutes. Turn the heat off after it's wilted.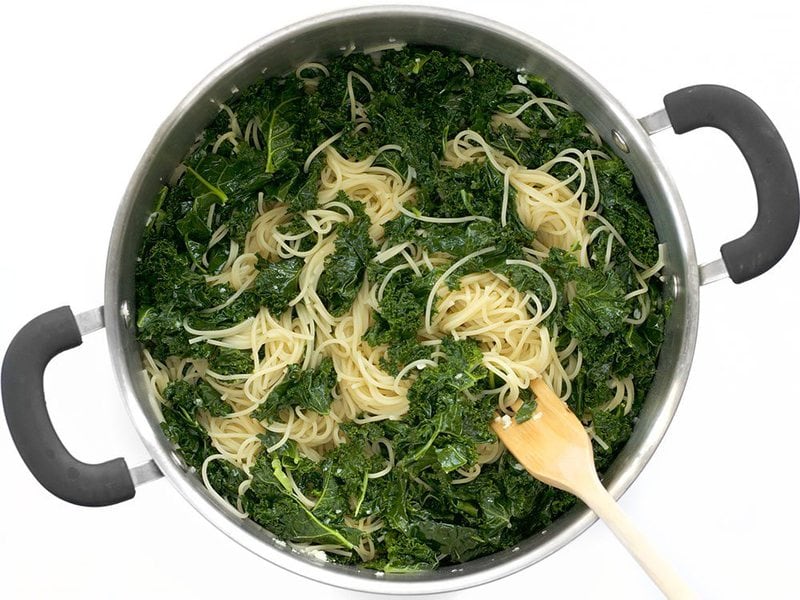 By now your pasta has finished cooking and you can let it drain in a colander. Let it cool for just a minute., then add it to the pot with the kale and toss them together. Let them rest for a few minutes here until it cools to the point where no steam is coming off of the pasta. You want the pasta to be warm, but not so hot that the Parmesan melts into it and disappears. Use this time to season the pasta and kale with salt and pepper. I just sprinkle some on as if it was my dinner plate, give it a toss, taste, then add more if needed.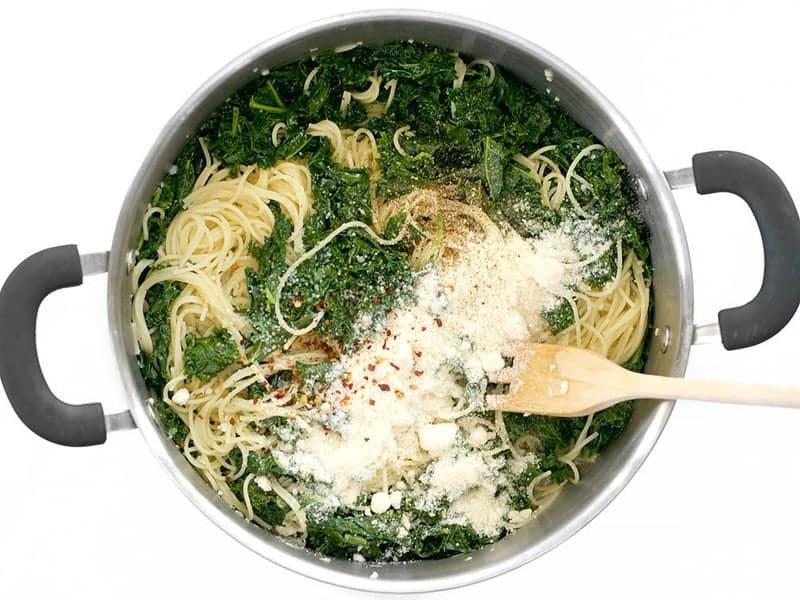 Finally, add the grated parmesan and toss to coat. You can add a pinch of red pepper flakes to the Garlic Parmesan Kale Pasta if you want a little kick, too.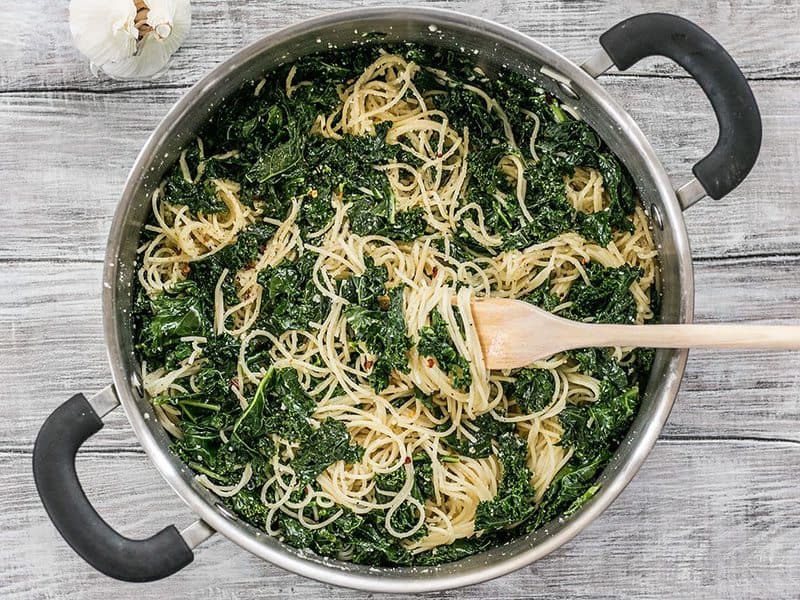 I went ahead and made the Garlic Parmesan Kale Pasta into a meal by topping it with a fried egg because that's how I roll. A diced hard boiled egg would also be awesome. And maybe some sriracha.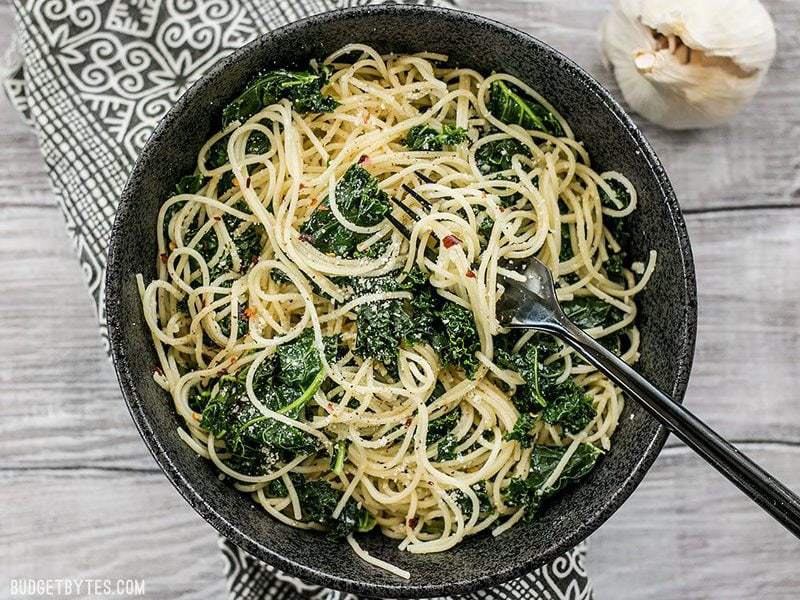 TRY THESE OTHER QUICK PASTA RECIPES