I'm in love. The dressing alone on this Apple Dijon Kale Salad was enough to make me swoon. It's just a very simple Dijon vinaigrette, but it's so good that I kept dipping my spoon in for taste after taste. And because kale is so sturdy, it stands up well to being pre-dressed with the vinaigrette, making this salad great for weekly meal prep. In fact, I'm sure that as the juice from the apples begins to mingle with the dressing, it will only make it even better.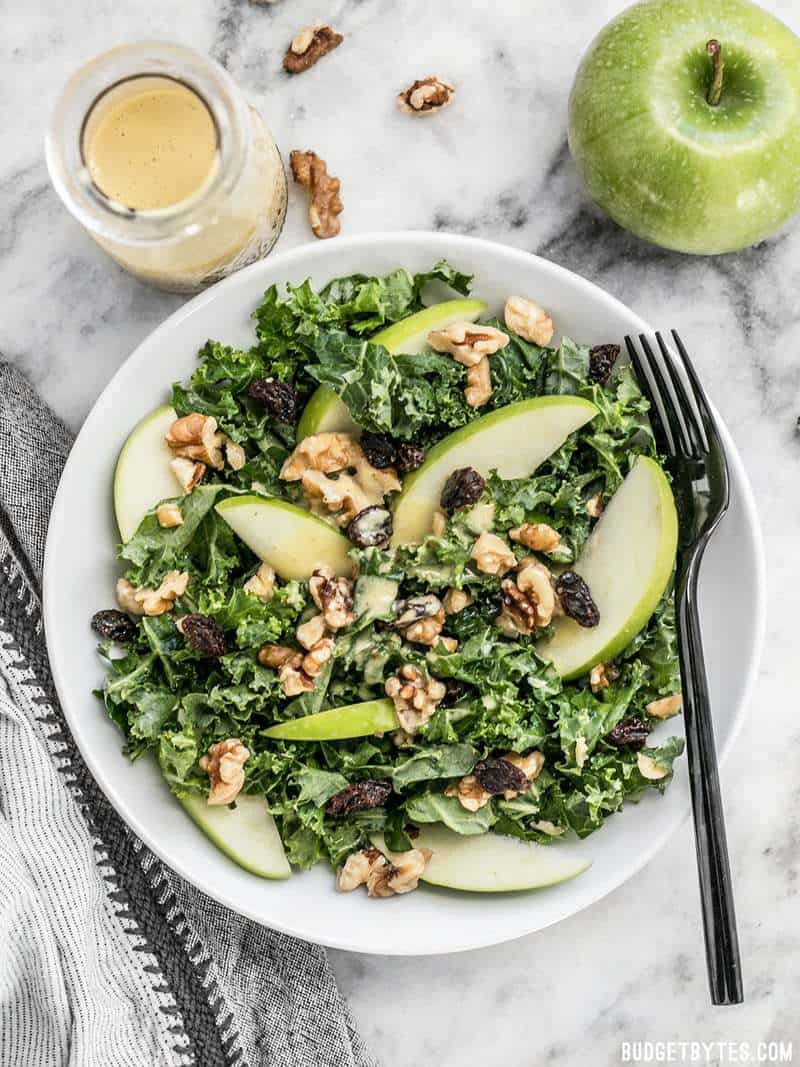 I love that this salad combines so many flavors and textures in one bowl. You have the slightly bitter flavor of the curly kale, the sweet and crispy apples, crunchy walnuts, and super sweet raisins. Then, all of that is topped off with a tangy dijon vinaigrette. It just all works.
How to Serve Apple Kale Dijon Salad
Eat this Apple Dijon Kale Salad with a cool glass of crisp white wine, some awesome crusty bread, and maybe some cheddar cheese. That's what I call the perfect summer dinner.
See this recipe used in my weekly meal prep.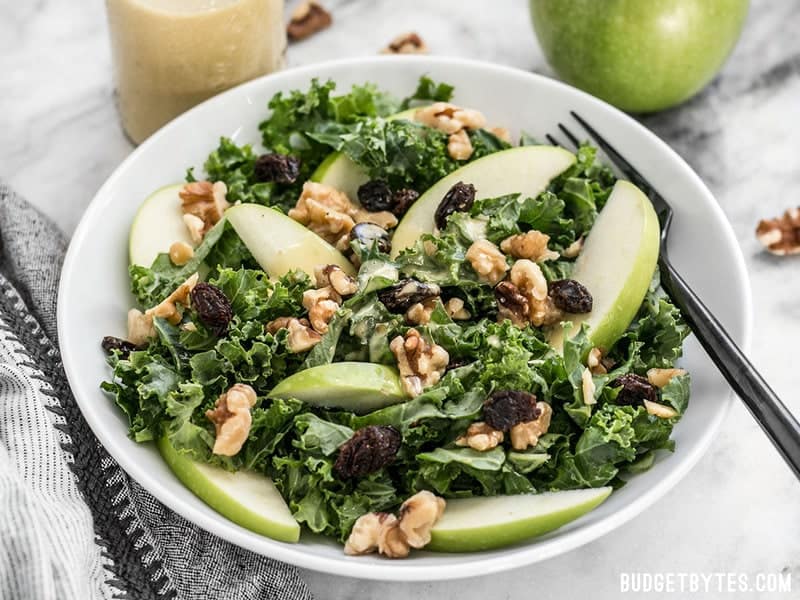 Apple Dijon Kale Salad
This Apple Dijon Kale Salad is tangy, sweet, and crunchy with Granny Smith apples, walnuts, raisins, and a homemade Dijon vinaigrette.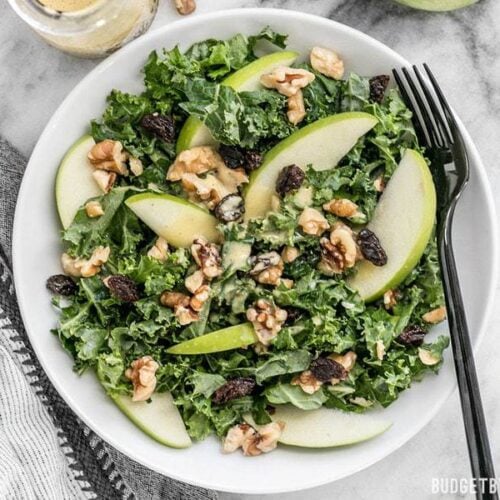 Ingredients
1/3

cup

olive oil

($0.69)

1/4

cup

apple cider vinegar

($0.24)

1

clove

garlic

($0.08)

1 1/2

Tbsp

Dijon mustard

($0.14)

1/4

tsp

salt

($0.02)

10-15

cranks

freshly cracked pepper

($0.05)

1/2

lb

chopped kale (about one bunch)

($2.32)

1

medium granny smith apple

($0.79)

1/4

cup

raisins

($0.27)

1/2

cup

walnut halves

($0.80)
Instructions
Rinse the kale well in a colander under cool running water. Allow the kale to drain as you prepare the rest of the salad.

In a blender combine the olive oil, apple cider vinegar, Dijon mustard, clove of garlic, salt, and pepper. Blend until the garlic is minced and the dressing is smooth.

Wash the apple and slice it into thin wedges, or dice it into cubes. Roughly chop the walnut halves. Make sure the kale is as dry as possible and then add it to a large bowl along with the apples, walnuts, and raisins. Starting with just half, drizzle the dressing over the salad and toss to coat. Add more dressing as desired (I used the whole batch).
See how we calculate recipe costs here.
---
Nutrition
Serving:
1
Serving
Calories:
344.48
kcal
Carbohydrates:
20.7
g
Protein:
5.45
g
Fat:
28.65
g
Sodium:
238.15
mg
Fiber:
4.83
g
Read our full nutrition disclaimer here.
Love kale salads? Try these other awesome kale salads: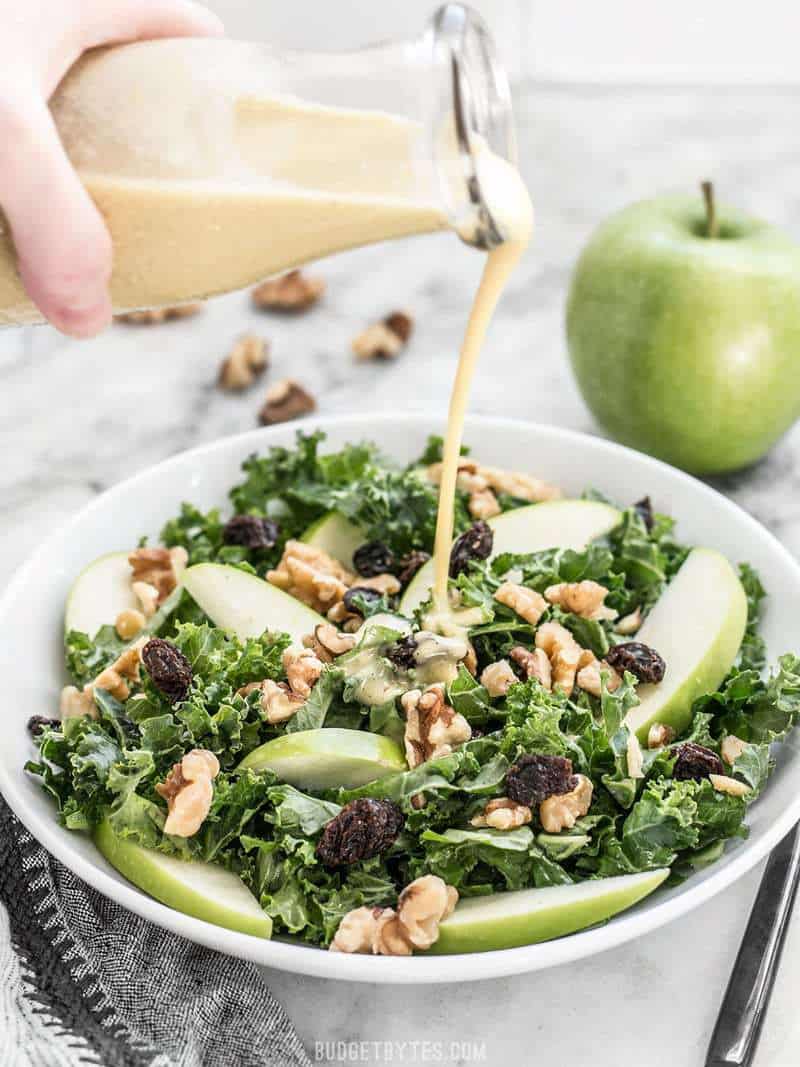 How to Make Apple Dijon Kale Salad – Step By Step Photos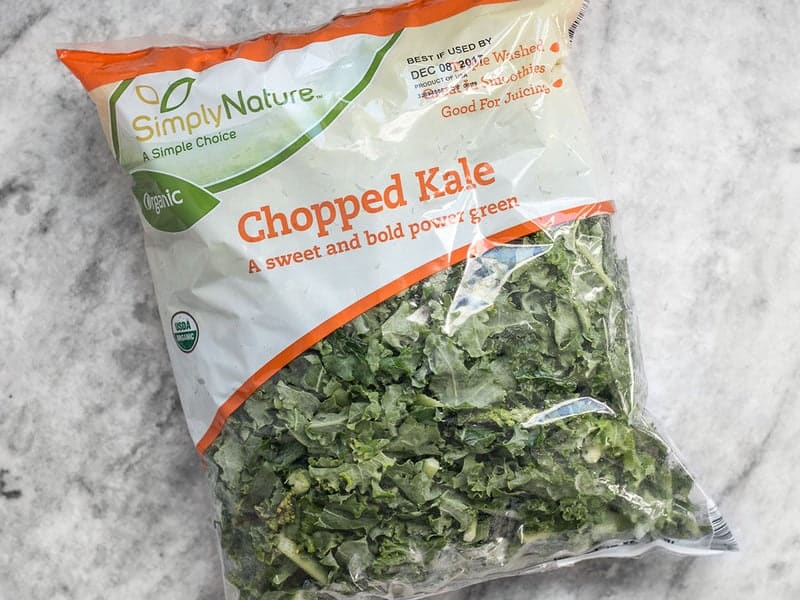 Pre-chopped bagged kale is pretty easy to find these days and fairly inexpensive (since it doesn't wilt quickly), so I usually pay for this convenience. I used roughly 1/2 pound, or about what you'd get from one large bunch of kale.

I like to chop the kale into even smaller pieces for use in fresh salads because it makes the kale easier to chew and eat (if cooking the kale I generally leave it in larger pieces). Place the chopped kale in a colander and rinse well under cool running water. Let the kale drain as you prepare the dressing.

Now it's time to make the AH-MAZING dressing. Just add 1/3 cup olive oil, 1/4 cup apple cider vinegar, 1.5 Tbsp Dijon mustard, one clove of peeled garlic, 1/4 tsp salt, and some freshly cracked pepper to a blender.

Then blend the dressing until smooth. Taste the dressing and adjust the salt or pepper if you'd like. If you find the dressing too tangy for your liking, you can add a small amount of honey or sugar to help tone it down, but I suggest leaving it really tangy because it creates a nice juxtaposition of flavors in the salad. I love this little $15 Hamilton Beach blender, BTW! (affiliate link)

Now chop the toppings. I sliced the apple into thin wedges, but you could also dice it. Roughly chop 1/2 cup walnuts because smaller pieces mean more in every bite… but pieces that are *too* small means not enough texture. Find the happy medium. The raisins are already the perfect size.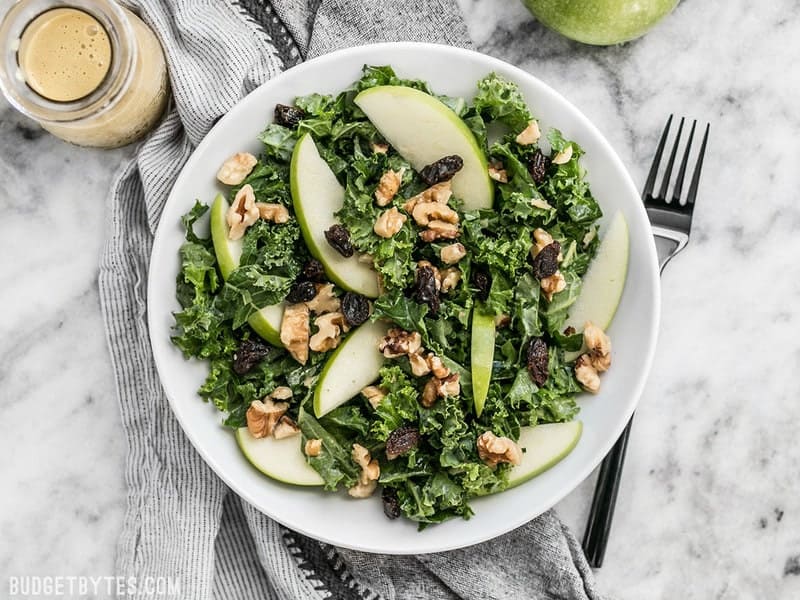 Before you build the salad, make sure that kale is as dry as possible. Shake the water off and if you're feeling like an over achiever, get in there with a paper towel to absorb some more. Put the kale in a large bowl, add the apples, walnuts, and raisins. Pour the dressing on, starting with just half, then toss to coat. Add more dressing if desired. I desired ALL OF IT. ;D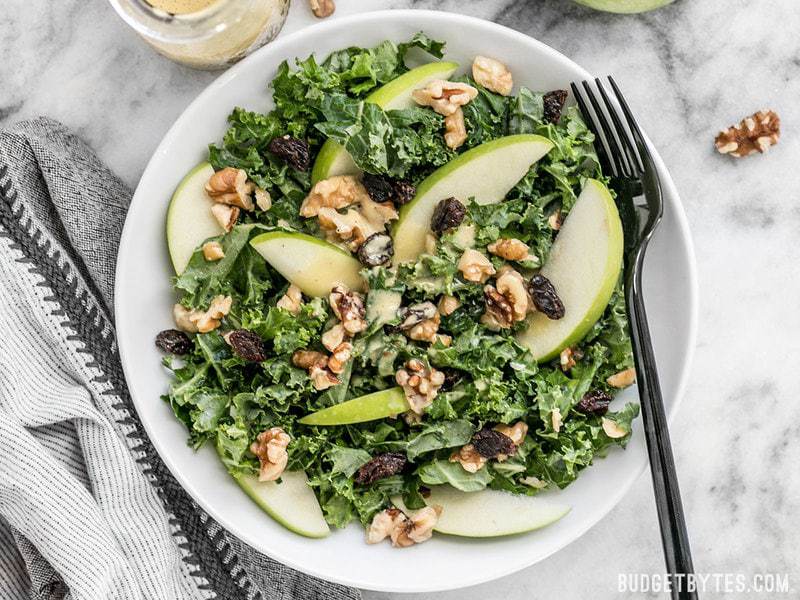 And now you're ready to eat this epic Apple Dijon Kale Salad. Seriously, add a glass of some dry riesling or something else crisp. You won't be sorry. Oohh, this would be great with some grilled meat. I LOVE SUMMER.