Zuppa Toscana is probably one of the richest, most hearty soups out there, and definitely one of my favorites. This creamy soup with tender potatoes and flavorful Italian sausage is modeled after the famous Zuppa Toscana from The Olive Garden restaurant, but I threw in my own personal twist. I've added an extra budget-friendly ingredient and lightened it up just a touch so I can slurp up a giant bowl without feeling too ful.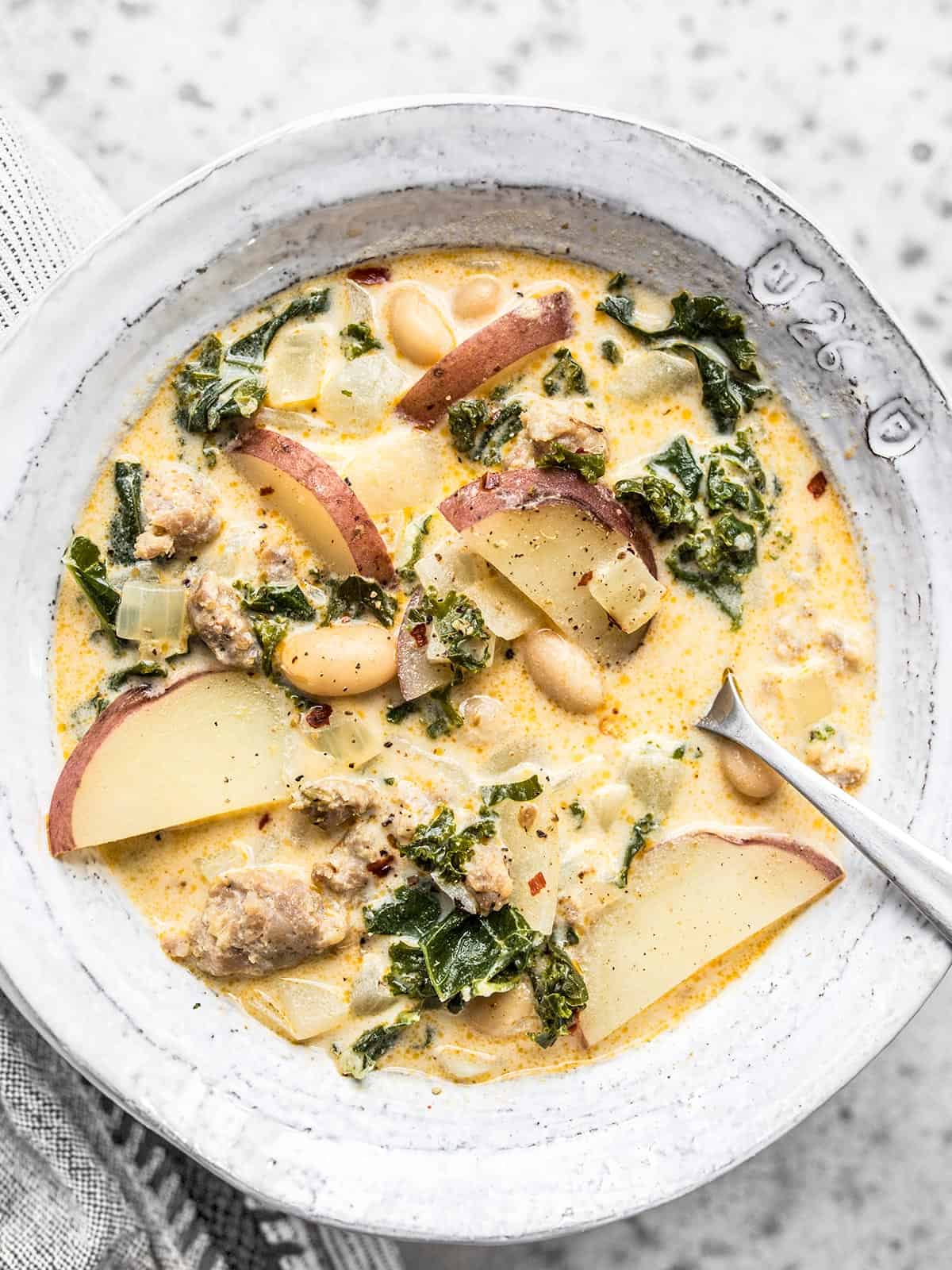 What is Zuppa Toscana??
If you've never been to Olive Garden or had Zuppa Toscana anywhere else, I'd describe it as a creamy potato soup loaded with flavorful Italian sausage, kale, and bacon. The original version uses heavy cream, bacon, and a whole pound of sausage, but I decided to try to lighten it up a bit. I used half and half instead of heavy cream, subbed half the sausage for white beans, used smoked paprika for smokiness instead of bacon, and then loaded up on potatoes and kale. The result? Still totally creamy and chock full of flavor, plus a hefty dose of vegetables. I'm probably going to eat nothing but this soup for the next four days straight (it has kale, so it's okay, right?).
Ingredients for Zuppa Toscana
Here are all of the ingredients you'll need to make this homemade Zuppa Toscana:
Italian Sausage: You can use hot, mild, or sweet Italian sausage for this soup, although I prefer hot because I love the combination of spicy with the creamy broth. Buy loose ground Italian sausage rather than sausage in casings.
Onion and Garlic: These aromatics provide a deep base flavor for the soup.
Great Northern Beans: These mild white beans add bulk to the soup without adding a lot to the total cost of the recipe. The flavor blends seamlessly and you get a lot more fiber and nutrients in every bowl! If you don't like beans, you can leave them out and add more sausage or potatoes.
Chicken Broth: The base for this soup's broth is chicken broth, which adds both flavor and salt. Make sure to get a really flavorful broth or else your soup will be lacking. I like to make my broth using Better than Bouillon because it's inexpensive and super flavorful.
Half and Half: This is what makes the broth rich and creamy. If you don't have half and half, you can substitute with an equal mix of whole milk and heavy cream.
Red Potatoes: Potatoes add a lot of bulk to this soup which helps you feel full and satisfied. Their tender texture is also great with the creamy broth and they soak up tons of flavor.
Kale: Dark green kale adds a ton of texture and color to the soup and really helps round it out to make the soup a full meal in a bowl. If you don't like kale, you can toss in a couple handfuls of spinach at the end of the recipe and just stir it in until wilted.
Spices: The Italian sausage and chicken broth bring a ton of flavor to the soup already, so all we need to add is a little smoked paprika (to mimic the smoky flavor of bacon), some crushed red pepper, and freshly ground black pepper!
make it vegetarian
The sausage in this recipe is responsible for adding a lot of flavor to this soup, so if you plan to skip the sausage you'll need to ramp up the seasoning. I suggest adding a tablespoon or so of Italian seasoning blend to make up for the spices that are found in the Italian sausage. You may also want to add an extra can of beans to bulk up the soup a bit.
What to Serve with Zuppa Toscana
This is truly a meal in a bowl with the starchy potatoes, protein-filled Italian sausage and beans, and veggilicious kale, but if you want something on the side I've got you covered. Garlic bread would probably be my first pick, or you can do something simple like No-Knead Bread or Soda Bread. Or maybe you want to go a little lighter and add a simple side salad to really make you feel like you're at The Olive Garden!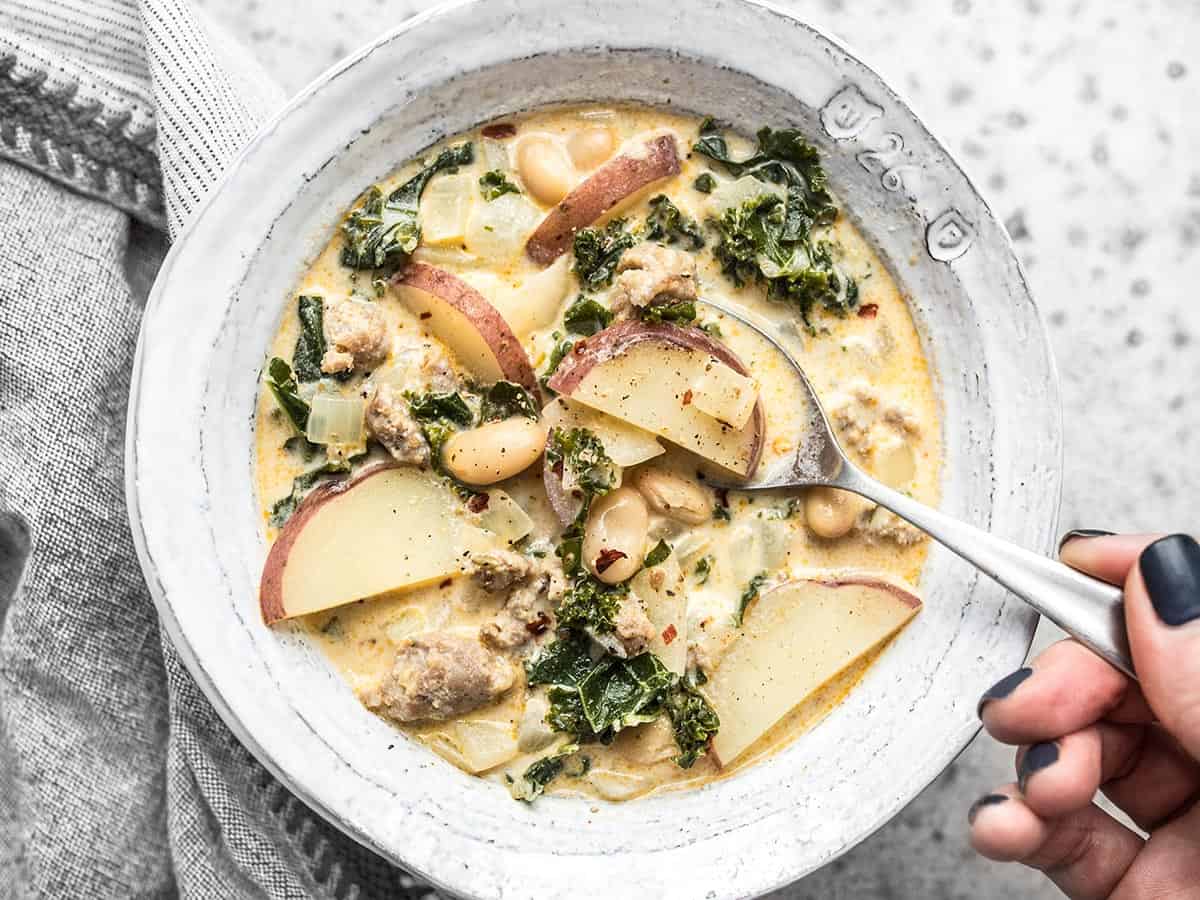 Zuppa Toscana
Zuppa Toscana is a creamy, filling, and flavorful soup with Italian sausage, potatoes, and kale. Just like The Olive Garden's, but made from scratch!
Ingredients
1/2

lb.

Italian Sausage, hot or mild

($1.75)

1

yellow onion

($0.32)

2

cloves

garlic

($0.16)

1

15 oz. can

Great Northern beans

($0.49)

1/2

tsp

smoked paprika

($0.05)

3

cups

chicken broth*

($0.39)

1

cup

water

($0.00)

2

cups

half and half

($1.49)

1

lb.

red potatoes

($1.29)

1/2

lb.

kale, chopped

($1.50)

1

pinch

red pepper flakes, optional

($0.02)

freshly cracked black pepper, optional

($0.05)
Instructions
Add the sausage to a large soup pot and sauté over medium heat, breaking it up into small pieces as it cooks. The sausage should contain enough fat to keep it from sticking, if not add a touch of olive oil. It's okay if a small amount browns on the bottom of the pot.

While the sausage is cooking, dice the onion and mince the garlic. Add the onion and garlic to the pot and sauté until the onions are softened. The moisture from the onions should help dissolve any browned bits of sausage off the bottom of the pot.

Drain and rinse the can of beans. Add the beans, smoked paprika, chicken broth, one cup water, and half and half to the pot. Place a lid on the pot and let it come up to a simmer over medium heat.

While the pot is heating, cut each potato into quarters lengthwise, then slice across into thin, 1/8-inch thick slices. Add the potatoes to the pot along with the pre-chopped kale. The kale will fill the pot when it's first added, but the heat from the liquid will wilt it within a few minutes. Stir it occasionally to help the wilting process.

Let the pot simmer over medium heat for about 15 minutes, or until the potatoes are tender. Season with red pepper flakes and freshly cracked black pepper if desired.
See how we calculate recipe costs here.
---
Notes
*I use Better Than Bouillon brand soup base to make my broth.
Nutrition
Serving:
1.5
Cups
Calories:
299.81
kcal
Carbohydrates:
27.85
g
Protein:
13.89
g
Fat:
15.56
g
Sodium:
723.19
mg
Fiber:
5.15
g
Read our full nutrition disclaimer here.
Scroll down for the step by step photos!
How to Make Zuppa Toscana – Step by Step Photos

Add 1/2 lb. Italian sausage to a large soup pot and sauté over medium heat, breaking it into chunks as it cooks. I didn't use any extra oil because sausage tends to be pretty fatty. It's okay if a little sticks to the bottom of the pot because it will dissolve off in the next steps. While the sausage browns, dice one yellow onion and mince two cloves of garlic. Add the onion and garlic to the pot and continue to sauté until the onions are soft.

Drain and rinse one 15oz. can of Great Northern beans, then add them to the pot with 1/2 tsp of smoked paprika. The smoked paprika will give that smoky hint that the bacon would have supplied. Sneaky, right?

Next add 3 cups of chicken broth, 1 cup water, and 2 cups (one pint) of half and half. If you're not from the U.S., "half and half" is like a lighter version of light cream. Read about it here. Put a lid on the pot and let it come to a simmer over medium heat.

While the pot is heating up, wash and slice one pound of red potatoes into 1/8-inch thick slices. Slicing them thinly helps them cook faster, plus makes a great texture in the soup. Add the potatoes to the pot.

Instead of buying a regular bunch of kale, I bought this bag of pre-chopped kale (it's actually less expensive than regular bunches at my local store). This is a 12oz. bag, so I just used about 2/3 of it. If you are buying your kale in a bunch, use about one bunch. Make sure to remove the stems and tear the leaves into 1 to 2-inch pieces.

Add the kale to the pot and it will likely fill it up to the top. Let the heat from the liquid begin to wilt the kale. Give it a stir occasionally to help it contact the hot soup and wilt.

After a few minutes, it will have wilted down into the soup nicely. Let the soup simmer over medium heat for about 15 minutes, or until the potatoes are tender.

I like my soup spicy (and had used mild Italian sausage), so I seasoned it with a pinch of red pepper flakes. A little freshly cracked black pepper is also nice. Depending on what type of broth you use, you may need to add a little salt (I did not add any).

And that's it!! The potatoes and beans help thicken the broth up nicely, without having to use heavy cream.
Absolutely deserving of all the internet hype. SO. GOOD.