It's chili season! Whether the temperature has started to change in your area or you're just dreaming of cooler nights, we're ready to cozy up to some of our favorite chili recipes from white chicken chili recipes to slow cooker chili recipes. And of course we've got to have allll the toppings! Let us know which chili recipe is your favorite and save this post for when you're craving a big hearty bowl of chili this season! ;)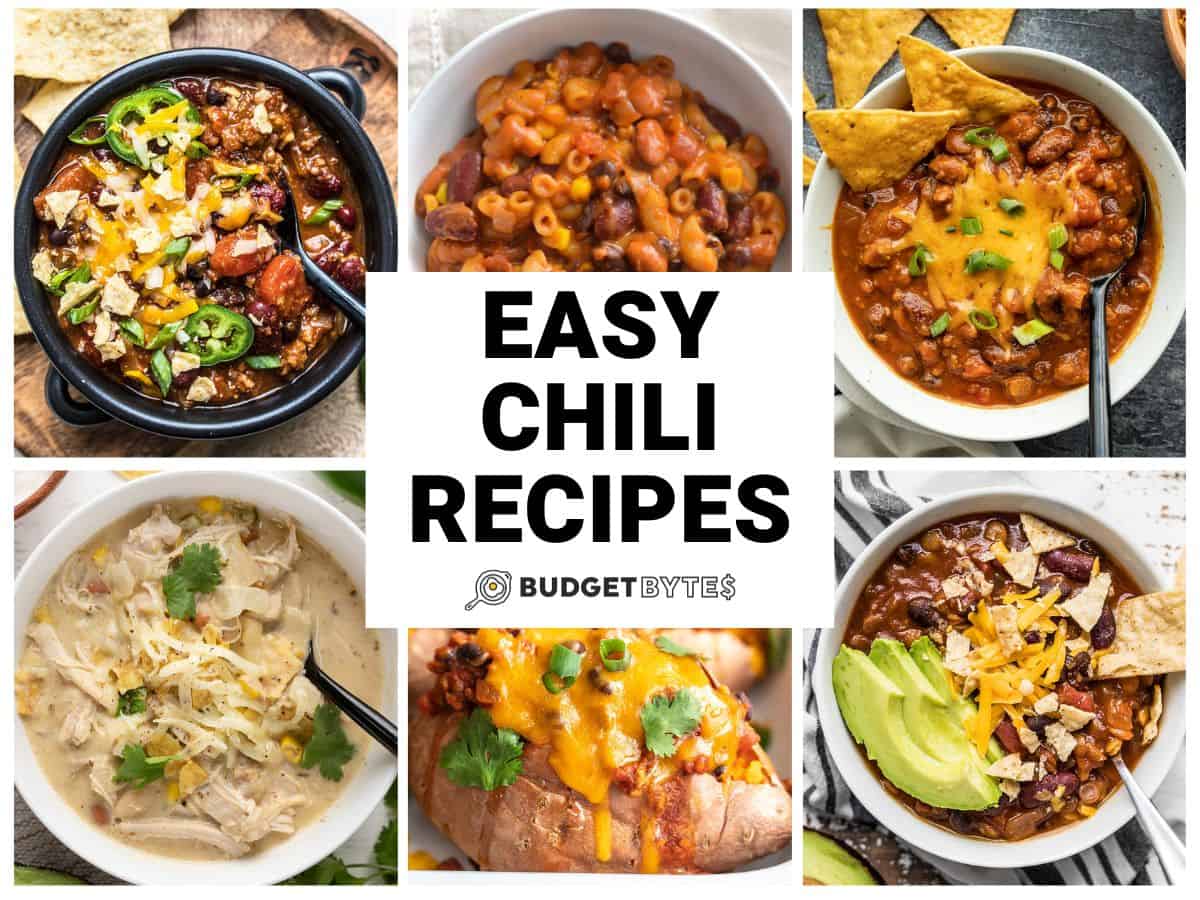 If there's one chili recipe to keep in your back pocket, it's definitely a good Classic Homemade Chili! This chili recipe is a Budget Bytes reader-favorite and can be customized in a number of ways to make it your very own.
Creamy White Chicken Chili is a thick and rich chicken and bean stew that's made with tender chicken, beans, veggies, and a medley of southwest-inspired spices. Easy enough for any weeknight dinner meal.
This Slow Cooker White Chicken Chili is the perfect dump-and-go recipe. Add all of your ingredients to the bottom of the slow cooker, set your timer and when you come back you'll have a big batch of hearty, delicious white chicken chili!
Make this Slow Cooker Vegetarian Lentil Chili your own with various toppings, and take advantage of this opportunity to use up some leftover vegetables from your fridge!
If you love all things pumpkin then you'll definitely love this Easy Pumpkin Chili recipe! The pumpkin adds a little earthiness and a subtle sweetness. The perfect recipe to switch things up!
Turkey Chili Smothered Sweet Potatoes are the perfect mashup between the subtle sweetness of sweet potatoes and the smoky, spicy flavor of the chili. They're a great pre-portioned meal that's filling, delicious, and great for weekly meal prep!
If you love a good chicken chili then you definitely have to try this Chipotle Chicken Chili! It brings in lots of flavor courtesy of the sweet-spicy-smokey chipotle peppers in adobo sauce.
This Weeknight Black Bean Chili recipe is easy to make, comforting, super filling, and comes together in about 30 minutes!
One pot recipes are just so convenient! This one pot Cheesy Vegetarian Chili Mac is not only filling and delicious, it's also perfect for a quick & easy weeknight dinner meal!
Chili and cornbread just go together like peanut butter and jelly. This Chili Cornbread Skillet combines the best of both worlds! It has all the comfort of a pot of chili, with homemade cornbread baked right on top to avoid excess dishes…WIN!
Chorizo Sweet Potato Chili combines spicy Mexican chorizo and sweet potatoes together for a super flavorful, rich, and filling chili recipe.