I've made a few variations of pasta sauce over the years, but this Slow Cooker Spaghetti Sauce is definitely one of my favorites. The long slow simmer caramelizes the sugars in the tomatoes and creates a depth of flavor that can't be matched. Plus, what more could you ask for than to just throw some ingredients in a pot, forget about it for 8 hours, and then come back to a rich, delicious homemade sauce? Then you can divide the sauce into portions, freeze, and you'll have delicious homemade pasta sauce on hand for quick busy weeknight dinners.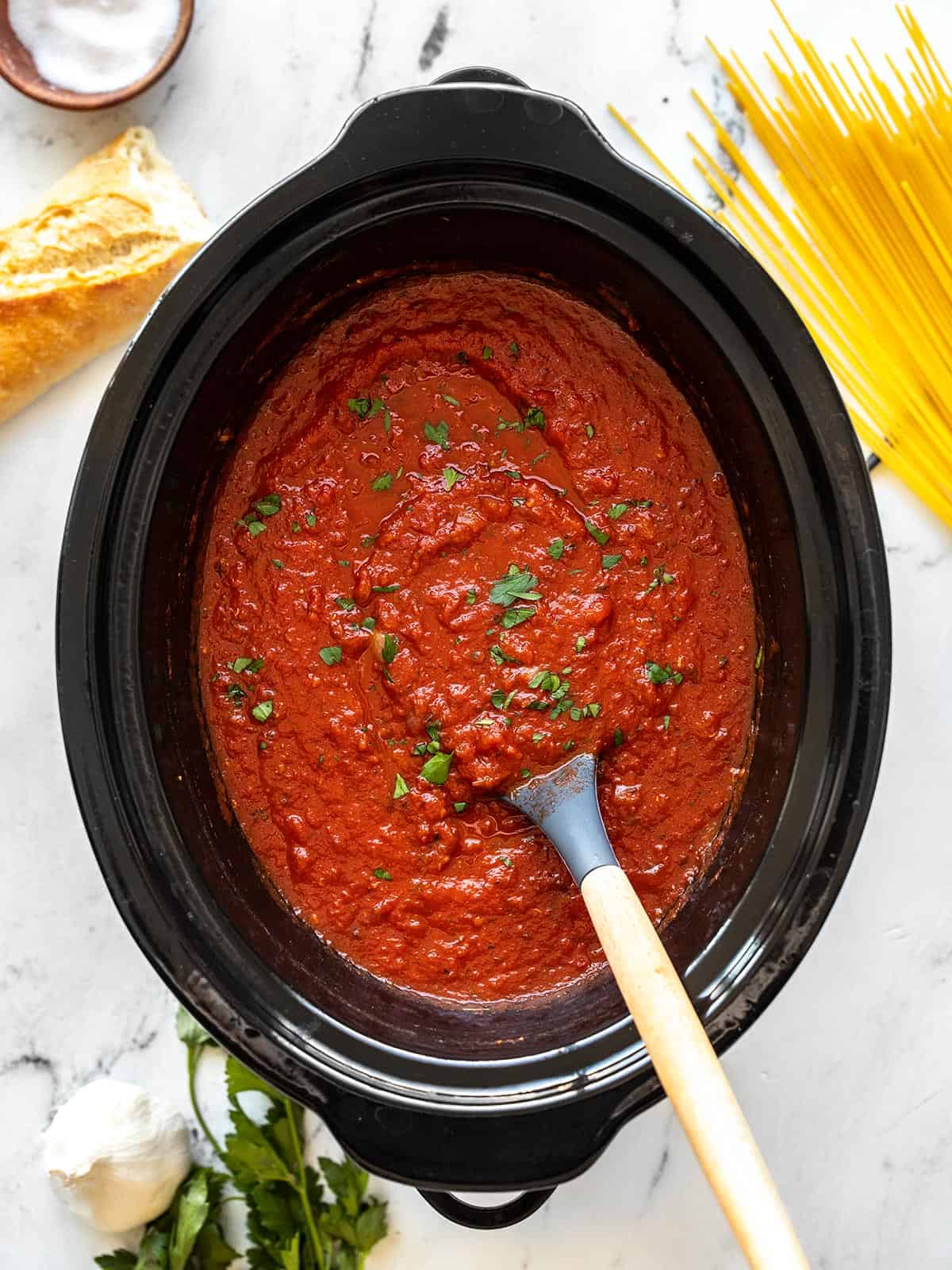 Why make Homemade Spaghetti Sauce?
Pasta sauce can be bought premade really cheaply, so I think in a lot of cases it does make sense to just buy a jar and go with it. But if you want to have a little more control over the quality and ingredients of your pasta sauce while still keeping costs low, this Slow Cooker Spaghetti Sauce is a great option.
What Size Slow Cooker to Use
This recipe makes about 2 quarts of sauce, so I would suggest using a 3 quart or larger slow cooker. You don't need anything fancy, just a very basic slow cooker with basic functions like warm, low, and high. I do find that slow cookers made with a thick ceramic insert (or "crock") cook much more evenly than metal inserts, like you'd have when using the slow cooker function on an Instant Pot.
Why Add Balsamic Vinegar?
The balsamic vinegar in this recipe adds a subtle depth and brightness to the sauce. It can seem strong at first, but it mellows out as the sauce is cooked. If you're not a fan of balsamic vinegar or just don't have any on hand, this recipe will still make a really amazing sauce even if you leave it out.
Can I Add Meat?
I've tried this sauce before with ground beef and I found the cook time to be far too long for the ground beef, so if you do want to add meat I suggest browning it separately and then just stirring it into the sauce after cooking. You can also check out my quick Weeknight Pasta Sauce for an easy and flavorful meat sauce option.
How to Freeze Pasta Sauce
This recipe makes about 7 cups. I suggest dividing the sauce into two or three cup portions before freezing so you can take out just enough for one recipe at a time to thaw. Let the spaghetti sauce cool completely in the fridge, then transfer to freezer-safe containers to freeze. The sauce will stay good in the freezer for about three months, but this can vary depending on the conditions in your freezer. If you use quart-sized freezer bags and freeze them laying flat they stack nicely in the freezer without taking up much space.
You can thaw the sauce in the refrigerator overnight or just cut the bag away from the frozen sauce, place it in a saucepot, and heat over medium-low until it's heated through (stir occasionally).
This sauce goes great with Homemade Meatballs (also freezer-friendly)!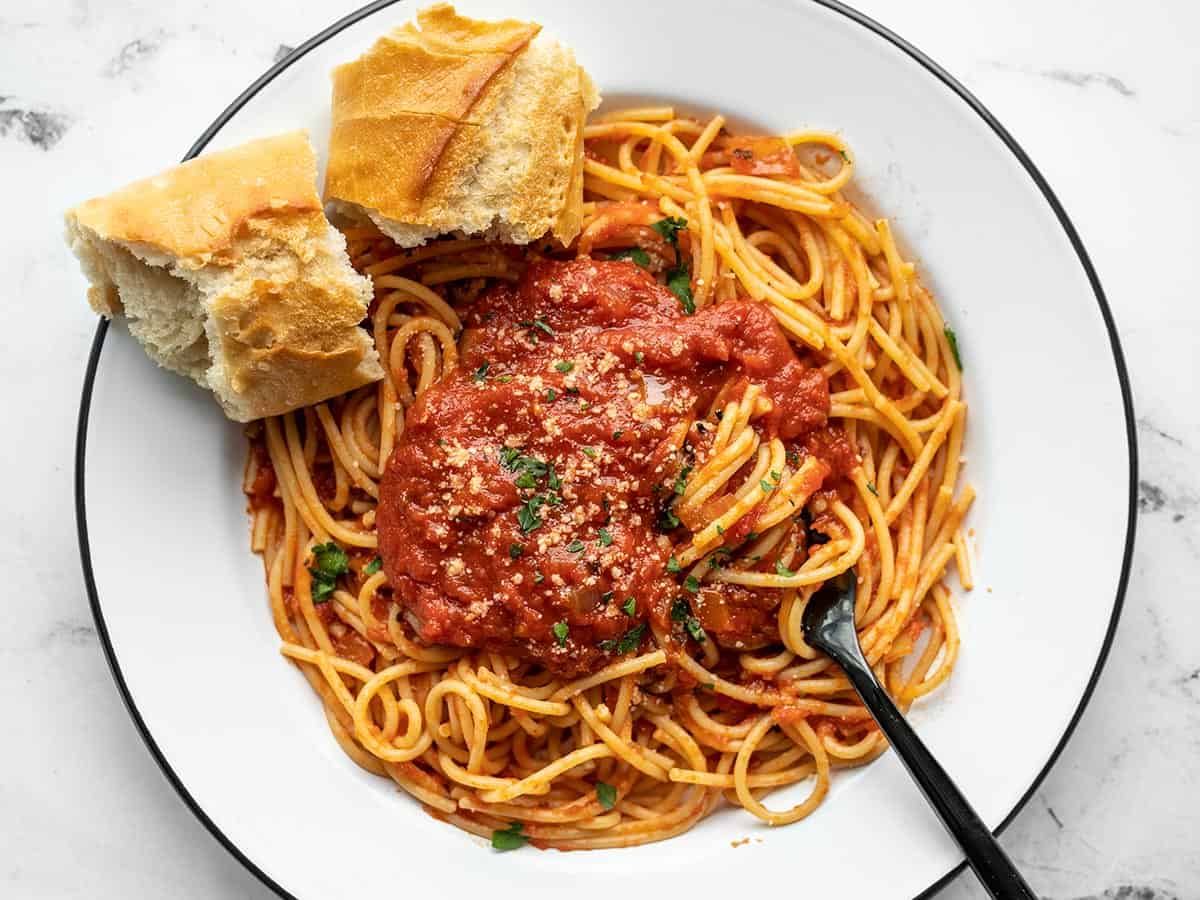 Slow Cooker Spaghetti Sauce
Let the slow cooker do all the work for you when you make this big batch of freezer-friendly homemade spaghetti sauce.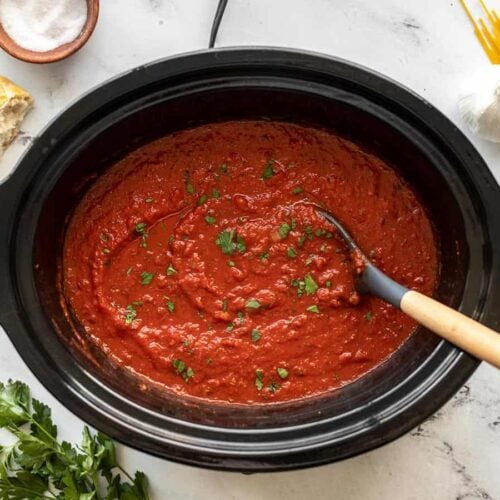 Ingredients
1

yellow onion

($0.32)

4

cloves

garlic

($0.32)

2

28oz. cans

crushed tomatoes

($2.00)

1

6oz. can

tomato paste

($0.69)

1

Tbsp

dried basil

($0.30)

1.5

tsp

dried oregano

($0.15)

1

Tbsp

brown sugar

($0.03)

1

Tbsp

balsamic vinegar

($0.14)

4

Tbsp

butter

($0.40)

1

tsp

salt (or to taste)

($0.05)
Instructions
Dice the onion and mince the garlic. Place both in a 3 quart or larger slow cooker.

Add the crushed tomatoes, tomato paste, basil, oregano, brown sugar, balsamic vinegar, and butter to the slow cooker. Stir everything together well.

Place the lid on the slow cooker and cook on high for four hours or low for eight hours.

After cooking, give it a good stir, then add salt to taste. Start with just ½ tsp of salt and add more if needed (I added 1 tsp). Use the sauce immediately, refrigerate, or freeze for later.
See how we calculate recipe costs here.
---
Nutrition
Serving:
1
cup
Calories:
77
kcal
Carbohydrates:
5
g
Protein:
1
g
Fat:
7
g
Sodium:
393
mg
Fiber:
1
g
Read our full nutrition disclaimer here.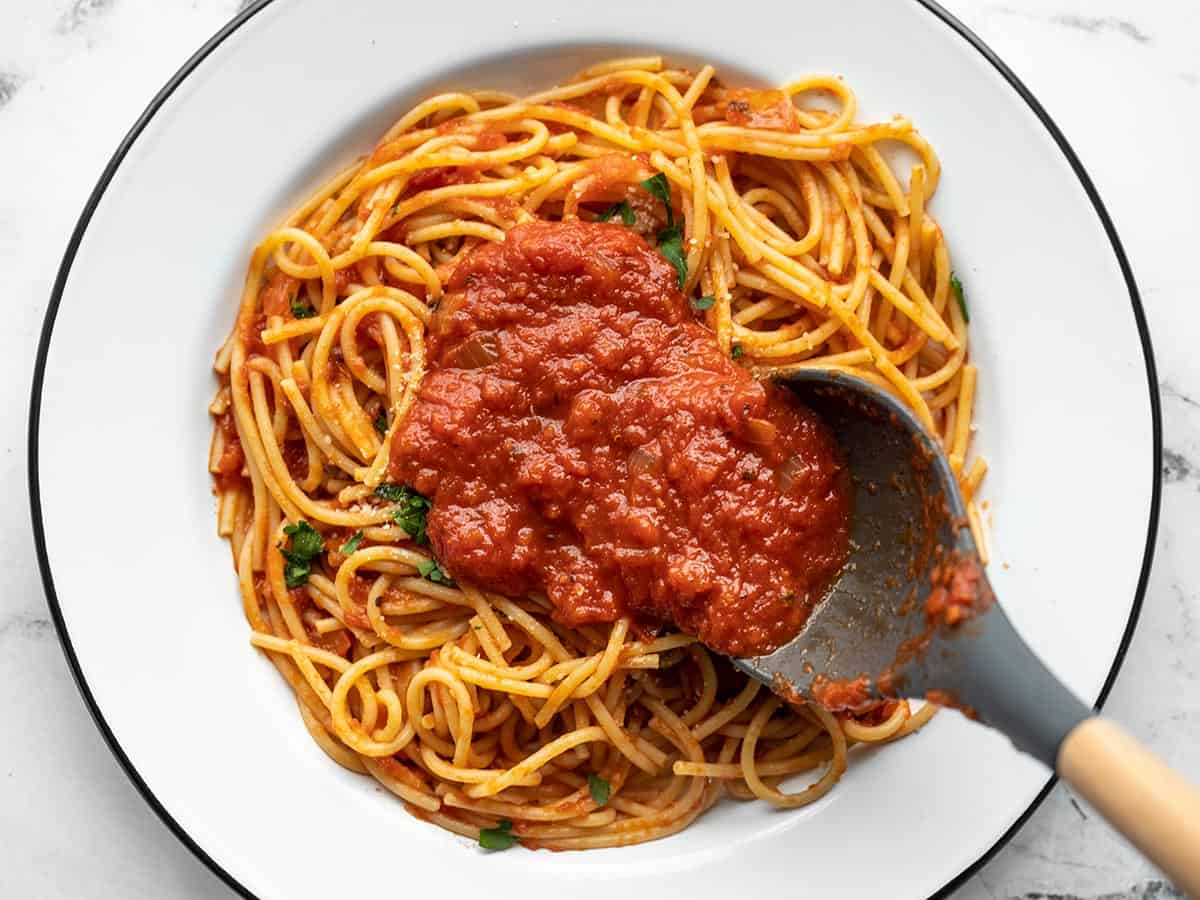 How to Make Slow Cooker Spaghetti Sauce – Step By Step Photos
Dice one yellow onion and mince four cloves of garlic. Add both to a 3 quart or larger slow cooker.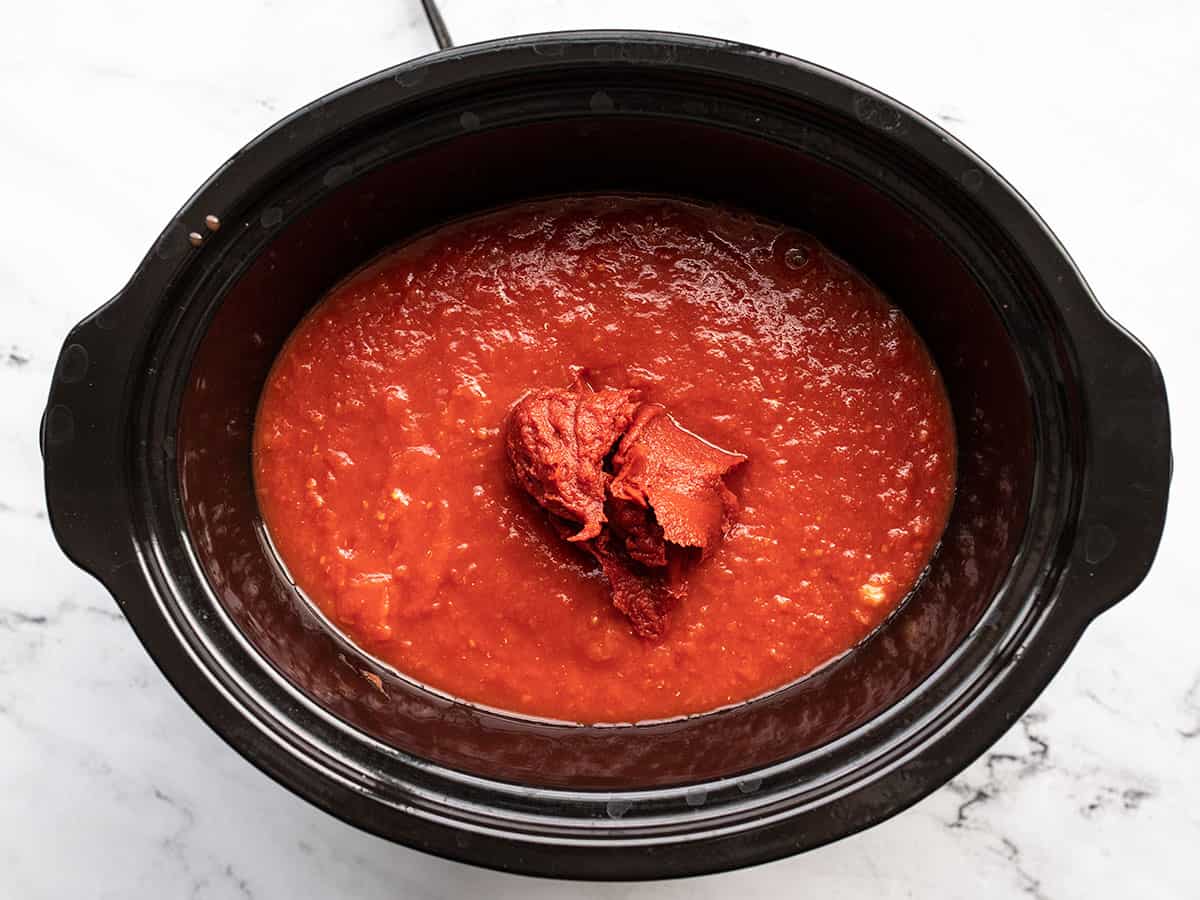 Add 2 28oz. cans of crushed tomatoes and one 6oz. can of tomato paste to the slow cooker.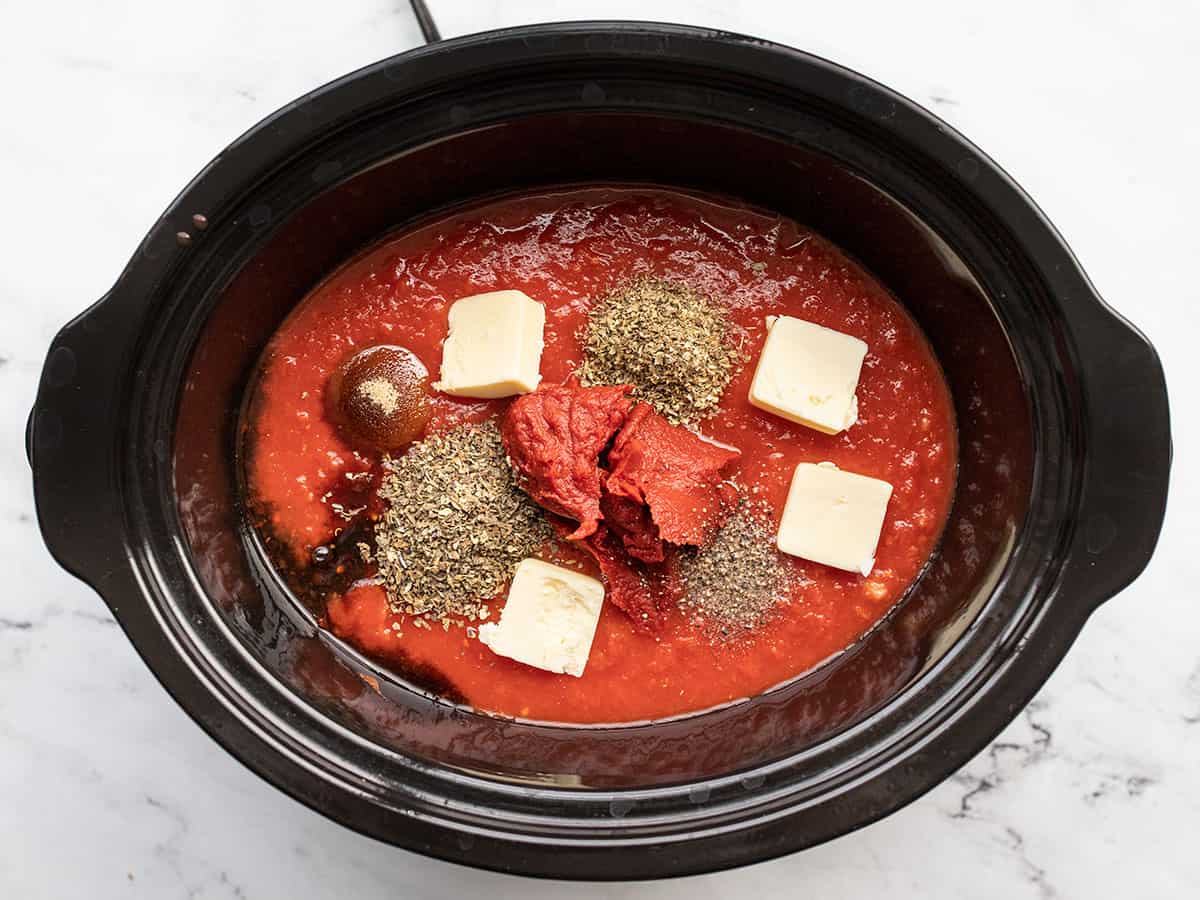 Also add 1 Tbsp dried basil, 1.5 tsp dried oregano, 1 Tbsp brown sugar, 1 Tbsp balsamic vinegar, and 4 Tbsp butter to the slow cooker.
Give the ingredients a good stir until they're evenly incorporated.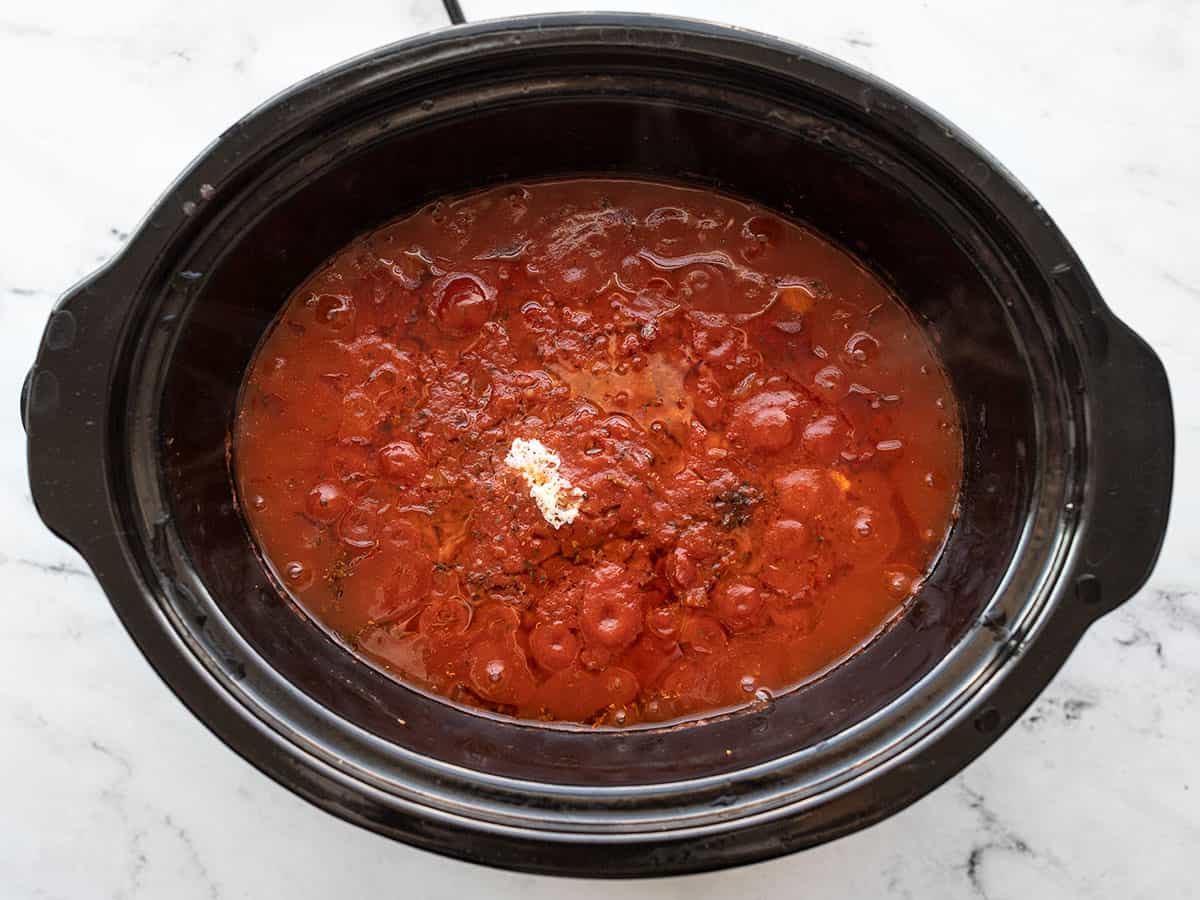 Place the lid on the slow cooker and cook on high for four hours or low for eight hours. After cooking, it will look a little like the photo above (the white is just the milk fats from the butter). Give it a good stir.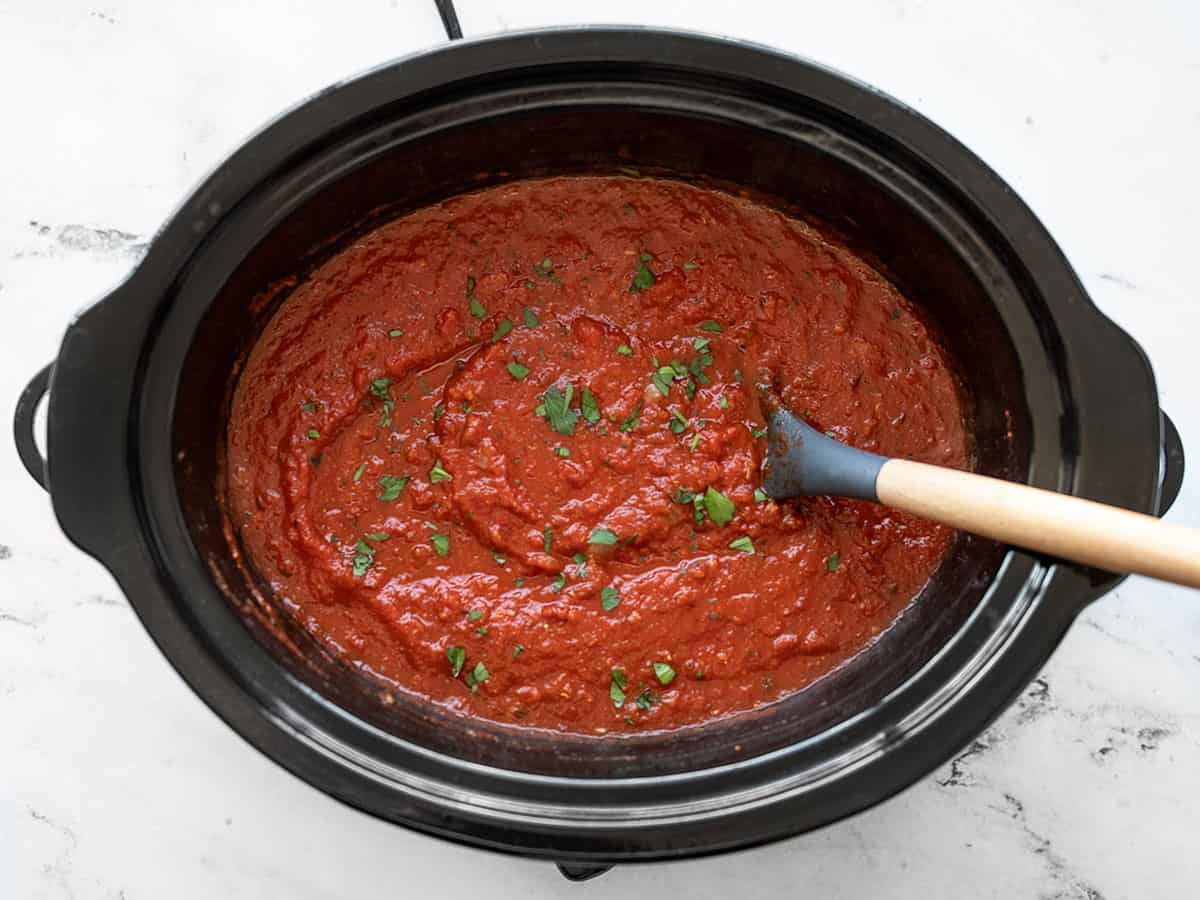 Add salt to the sauce to taste. Start with ½ teaspoon and add more until the flavors pop. I ended up using one teaspoon total.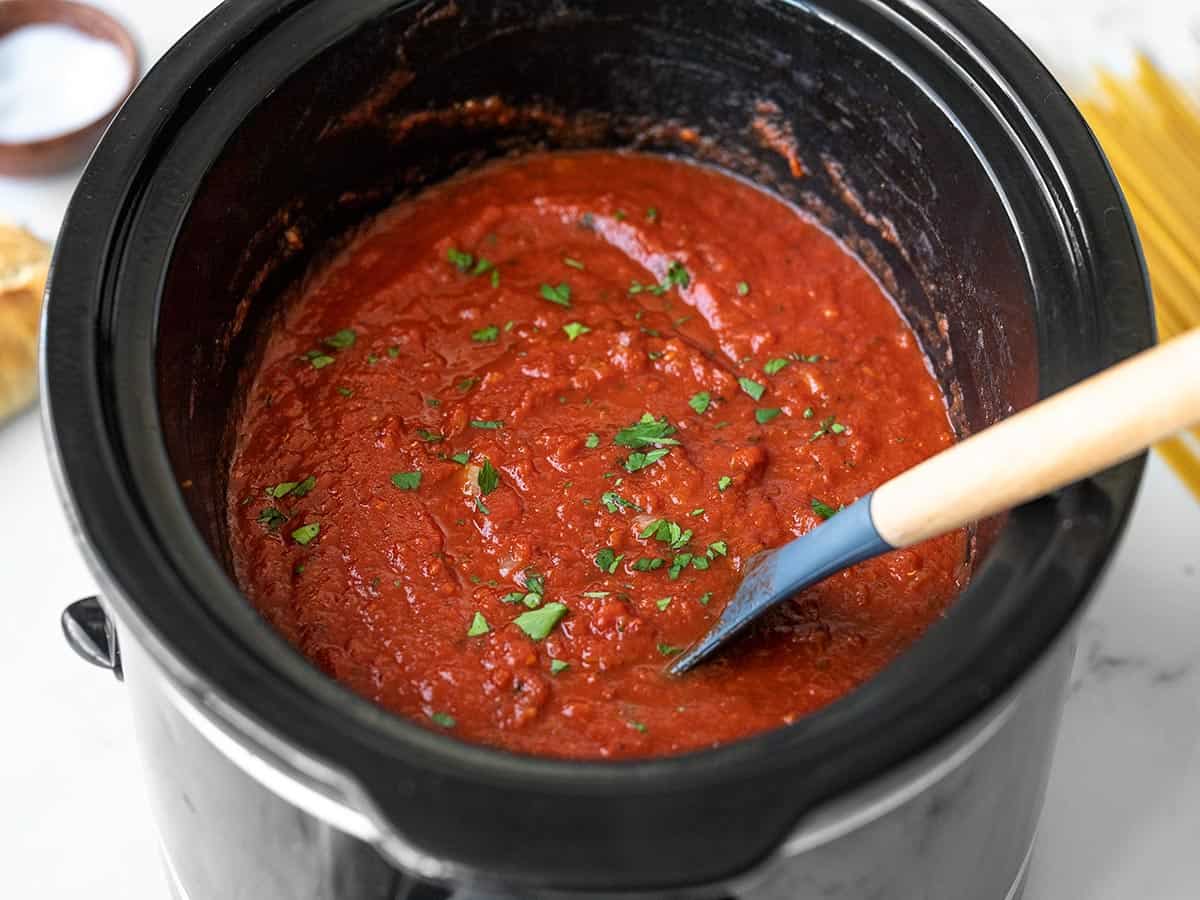 Use the slow cooker spaghetti sauce immediately or refrigerate then freeze for long-term storage.