Have you ever had refried beans that were so good that you wanted to just eat them plain out of a bowl? If you've been getting them out of a can, I'm gonna guess not.
These beans are just that. They have an incredible, complex flavor thanks to the jalapeno, chili, and other spices… and they're completely GUILT FREE. Actually, you should not only feel guilt free, you should feel proud. You deserve to wear a little gold star pin that says "Winner!" on it just for eating these beans. Beans are full of fiber, protein, and antioxidants… and I promise you'll want to come back for more.
My batch was just a tad on the spicy side and I know that many of you can't go there for various reasons. So, I would suggest using half of a jalapeño and making sure you scrape out ALL the seeds. The jalapeño brings a lot of flavor with its heat, so I wouldn't suggest nixing it all together. Just be sure to remove ALL of the seeds and white ribs on the inside of the jalapeño because that is where most of the heat lives.
This recipe makes about the same amount as three standard 15oz. size cans of refried beans. The left overs can be frozen so don't worry about the volume. I used my (not) Refried Beans in a recipe, but you can also eat it as a dip, fill up some freezer burritos, or even stuff them into tacos. Refried beans are all-purpose, which is probably why they come as a side to every single entree at Mexican restaurants! Well, that and they're cheap.
Photos and prices updtaed 8-19-16
(not) Refried Beans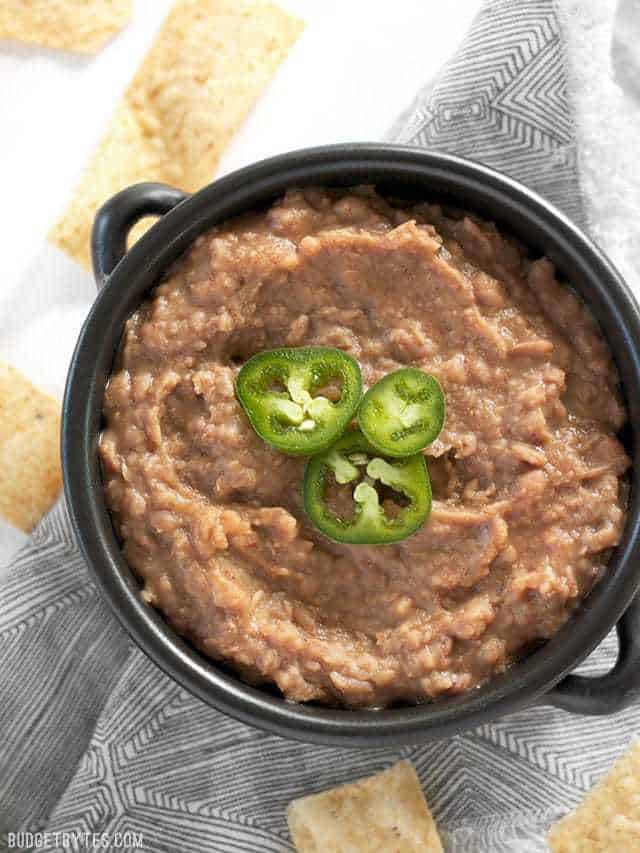 (Not) Refried Beans
Use your slow cooker to make these incredibly flavorful (not) refried beans and barely lift a finger. They're low in fat and high in flavor!
Total Time
5
hours
15
minutes
Ingredients
1

lb.

dry pinto beans

$1.45

1

medium onion

$0.42

1

medium jalapeno

$0.13

2

cloves

garlic

$0.16

1

tsp

cumin

$0.10

1/2

Tbs

chili powder

$0.15

10-15

cranks cracked black pepper

$0.05

6

cups

water

$0.00

2-3

tsp

salt

$0.05
Instructions
Spread the dry beans out onto a baking sheet to pick through them and remove any stones or bad pieces. Place the beans in a colander and rinse with cool water.

Dice the onion. Cut the stem off the jalapeño, slice it open lengthwise, and remove the seeds and ribs by scraping with a spoon. Dice the jalapeño and mince the garlic. Place the onion, garlic, and jalapeño in the slow cooker along with the cumin, chili powder, and black pepper. Do not add the salt.

Add the sorted and rinsed beans to the slow cooker along with 6 cups of water. Stir everything to distribute the seasoning. Secure the lid and cook on high for 4-5 hours or on low for 8. It's okay if they cook longer, they'll just be easier to mash.

After cooking, remove about 1 cup of the water and reserve it in a bowl. Mash the beans and add the reserved water back in as needed. Make the beans a little thinner in texture than you'd expect because they will thicken as they cool. Season the mashed beans with salt, beginning with one teaspoon and adding more to taste. I used approximately 1 Tbsp but add a little at a time until you're satisfied. Serve warm!
To freeze, divide the beans up and refrigerate until thoroughly cooled. Place in freezer safe containers, remove as much air as possible, label and date, and then transfer to the freezer.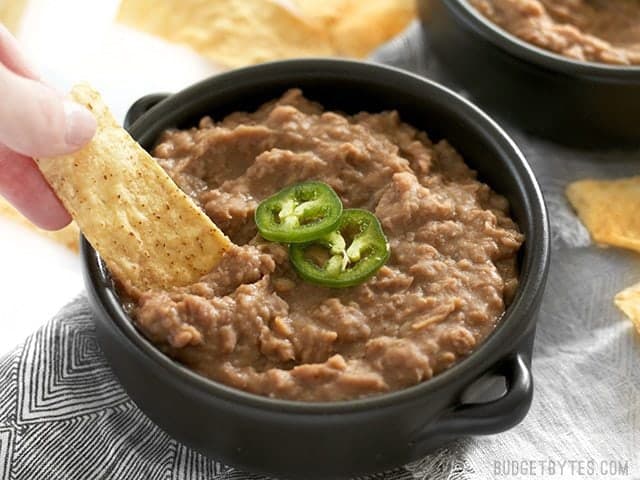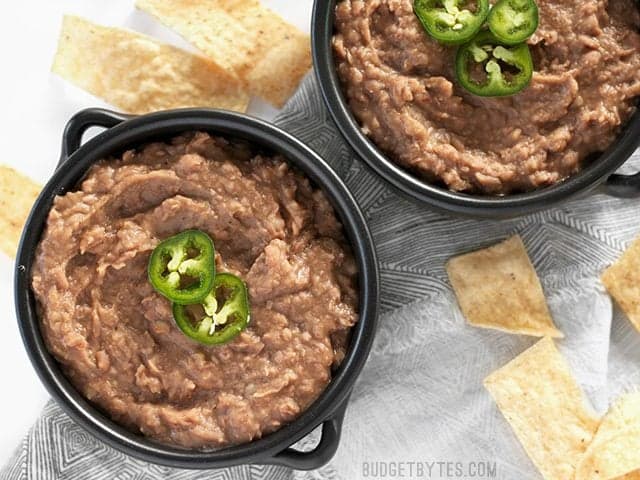 Step By Step Photos

Start by sorting through one pound pinto beans to remove any stones or debris. Transfer the beans to a colander and give them a good rinse.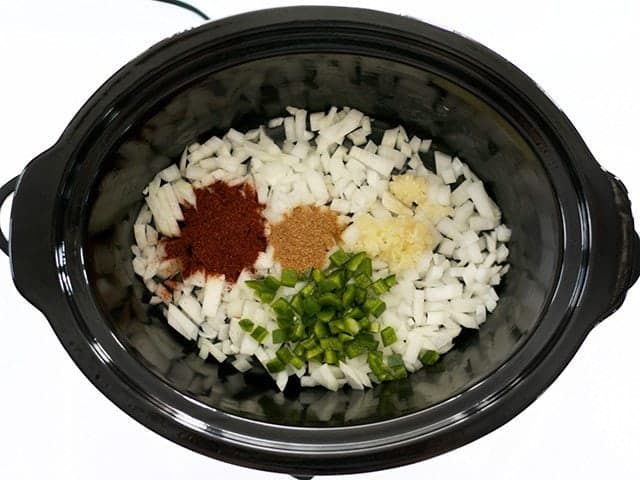 Dice one yellow onion and mince two cloves of garlic. Cut the stem off one jalapeño, then slice it open lengthwise. Use a spoon to scrape out the seeds and ribs. Dice the jalapeño. Add the onion, garlic, and jalapeño to the slow cooker along with 1 tsp cumin, 1/2 Tbsp chili powder, and some freshly cracked pepper (about 10-15 cranks of a pepper mill).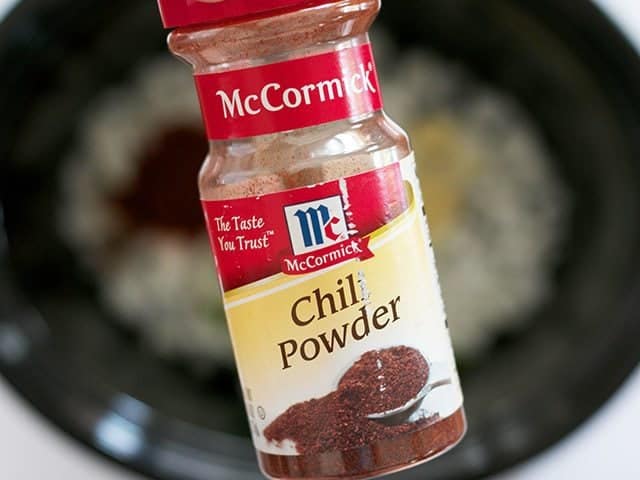 This is the chili powder that I use. It's completely mild and contains very little salt. If you use another brand, it may have spicy red chiles in it, so be aware of the amount that you're using and adjust accordingly.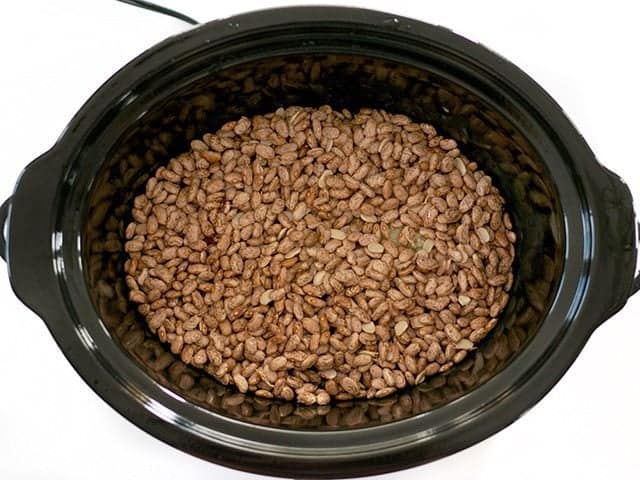 Add the rinsed beans to the slow cooker.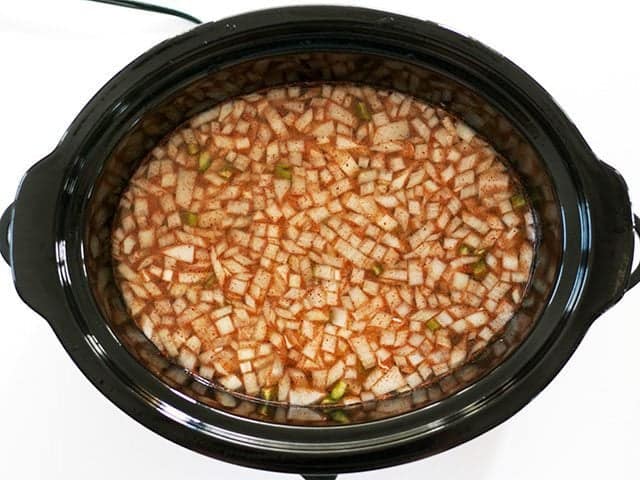 Add six cups of water and give everything a stir.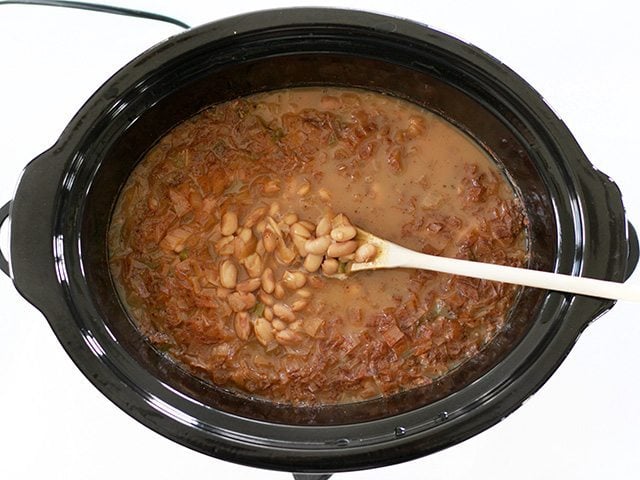 Secure the lid and cook on high for 4-5 hours or on low for 8 hours. After, it will look a little something like this. The longer it goes, the better because the beans will become more tender and easier to mash.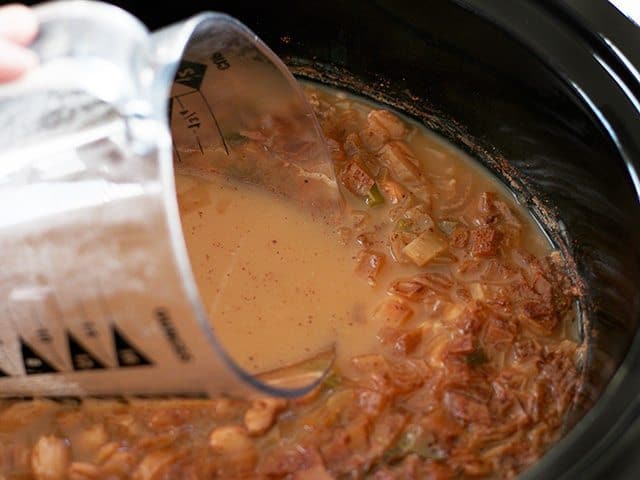 Stir everything up to see how much extra liquid is in the pot. Remove about one cup of water, but don't throw it away.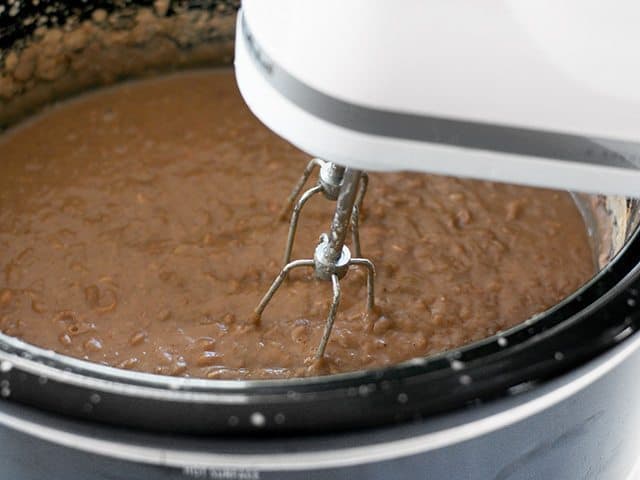 Mash the beans with a potato masher or even use a hand mixer. Add more of the reserved liquid back in as you mash if needed. Mash until the beans are fairly smooth. Make them a little thinner than you'd think because when they'll thicken up some when they cool down to eating temperature. Once mashed, it's time to finally season with salt. This is when you'll see the flavors pop. Start by adding 1 tsp of salt at a time until they get to where you like. I ended up using about 1 tablespoon (or 3 teaspoons) of salt.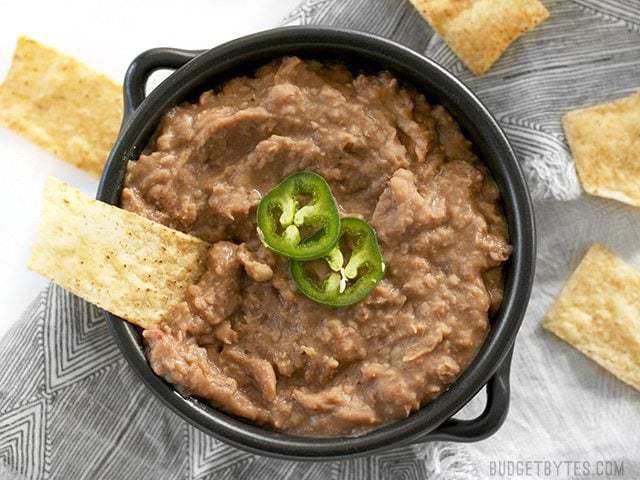 Eat them with chips, in a burrito, or just with a spoon like I did! :P