I used to be a "packet seasoning" junkie. Store bought packets of taco seasoning seemed so easy. But really, if you have a decently stocked spice cabinet, making your own homemade taco seasoning takes five minutes, max. So, I've experimented with different combinations of spices for taco seasoning over the past year, and I think today I found the winner! One batch of this is roughly equal to one of those packets that you can get at the grocery store and it's 10 times more flavorful. You can even mix up big batches of it and store it pre-mixed in an air-tight container.
I use a flat cost estimate for herbs and spices because they're just too hard to measure/weigh, so this cost is purely an estimate. I generally estimate ten cents for every teaspoon of an herb or spice, unless it's a particularly expensive item. For salt I generally estimate half that. So, take the cost of this recipe with a grain of salt (pun intended).
Originally posted 2-19-12, updated 7-27-18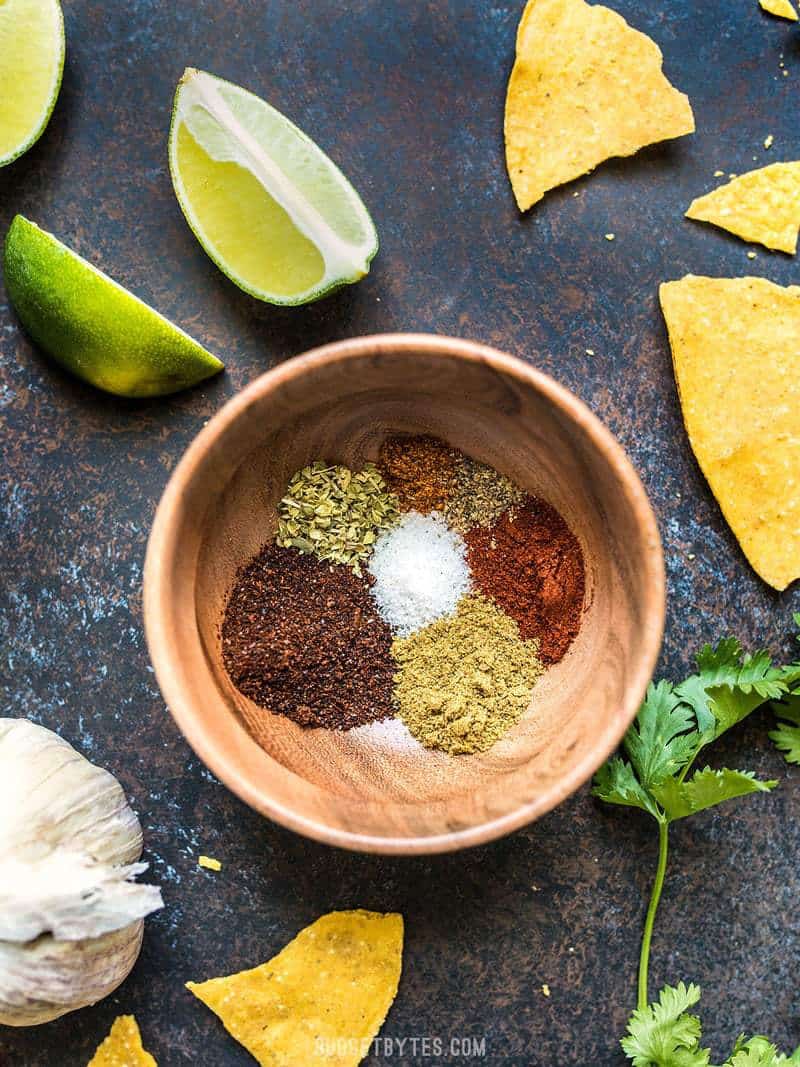 What is In Taco Seasoning?
This homemade taco seasoning recipe has just seven simple ingredients that you probably have in your pantry right now!
Chili Powder
Smoked Paprika
Ground cumin
Cayenne Pepper
Dried oregano
Salt
Pepper
Options and Add-ins:
Smoked Paprika – I really think the smoked paprika made the flavor of this seasoning pop, but if you can't get it, you can use regular paprika in its place.
Garlic Powder and Onion Powder – When I make taco meat I generally am also adding a diced onion and a clove or two of minced garlic, so I didn't include any garlic powder or onion powder in this mix. If you prefer not to use fresh onion and garlic, you can add 1/4 tsp garlic powder and 1/4 tsp onion powder to the recipe below.
Cornstarch – If you like your taco meat to have a slightly saucy consistency, add 1/2 tsp of cornstarch to your spice mix and add 1/3 cup water to your taco meat or beans when you add the spices. The water and cornstarch will create a nice taco flavored sauce to coat the meat or beans.
How Much Taco Seasoning Do I Need for 1 Pound of Meat (or beans)?
This taco seasoning can be used in any recipe in place of one store bought taco seasoning packet. You can use it as a beef taco seasoning, chicken taco seasoning, or even a vegetarian taco seasoning (seasoning beans and vegetables). One batch of the recipe below will season approximately one pound of ground beef (beef, turkey, chicken) or about 3 cups of cooked beans. The recipe below makes approximately 2 Tbsp of seasoning, so if you plan to scale the recipe up to make the seasoning in bulk, use about 2 Tbsp seasoning for every one pound of meat.
How to Use Taco Seasoning:
Brown the ground meat first, then add one batch of the taco seasoning recipe below and continue to sauté for about two minutes more to toast the spices. For beans, simply add the spices and heat through. If you plan to use this taco seasoning for whole chicken breasts, simply sprinkle the taco seasoning over the entire surface of the chicken breast, then cook in a skillet until browned on the outside and cooked through. You can also use it to season potatoes or chicken before roasting.
Recipes that Use Taco Seasoning Mix: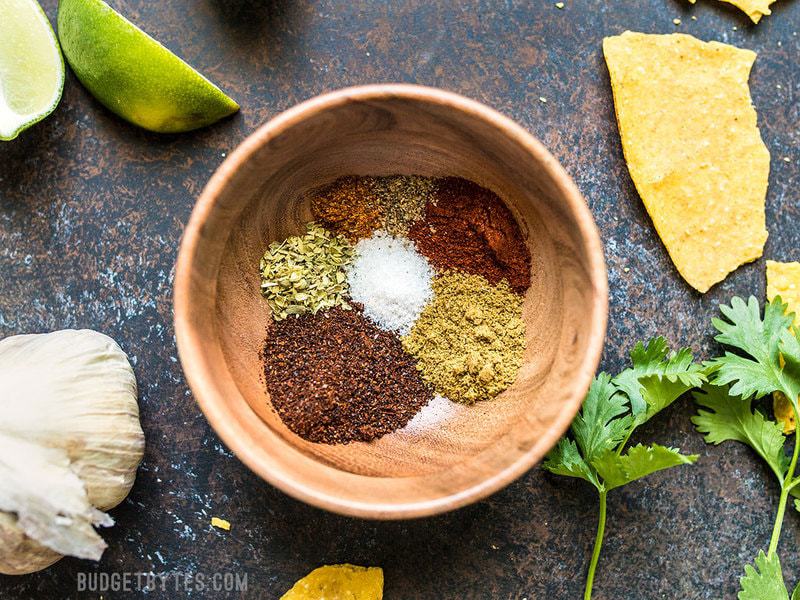 Homemade Taco Seasoning
This is the BEST homemade taco seasoning recipe. It's fast, easy, and can be made with just a few ingredients from your spice cabinet!
Servings: 1 recipe
Ingredients
1 Tbsp chili powder ($0.30)
1 tsp smoked paprika ($0.10)
1 tsp cumin ($0.10)
1/4 tsp cayenne pepper ($0.02)
1/2 tsp oregano ($0.05)
1/2 tsp salt ($0.05)
1/2 tsp 15 cranks fresh black pepper ($0.05)
Instructions
Combine everything in a small bowl and stir until evenly mixed. Use immediately, or store in an air-tight container, away from heat and sunlight, until ready to use.
Notes
Optional add-ins: 1/4 tsp garlic powder, 1/4 tsp onion powder (either or both, depending on if you are using fresh garlic or onion); 1/2 tsp cornstarch (add 1/3 cup water to your meat or beans to create a saucy consistency).
See how we calculate recipe costs here.
---
Nutrition
Serving: 1 Serving ・ Calories: 20.3 kcal ・ Carbohydrates: 3.1 g ・ Protein: 0.5 g ・ Fat: 0.4 g ・ Sodium: 1901.9 mg ・ Fiber: 1.3 g
Nutritional values are estimates only. See our full nutrition disclaimer here.
---
The equipment section above contains affiliate links to products we use and love. As an Amazon Associate I earn from qualifying purchases.