The other day I got a request to create recipes for some simple seasoning blends, like garlic herb. I thought that was a fantastic idea, since having simple blends like this in your arsenal can really help you customize simple dishes and whip up tasty impromptu dinners. Garlic Herb Seasoning is one of those flavors that just about everyone likes and is so versatile you can seriously add it to just about anything. I've simplified this all-purpose seasoning blend so it can be made with simple spice cabinet basics, and I've got a long list of ways to use it below!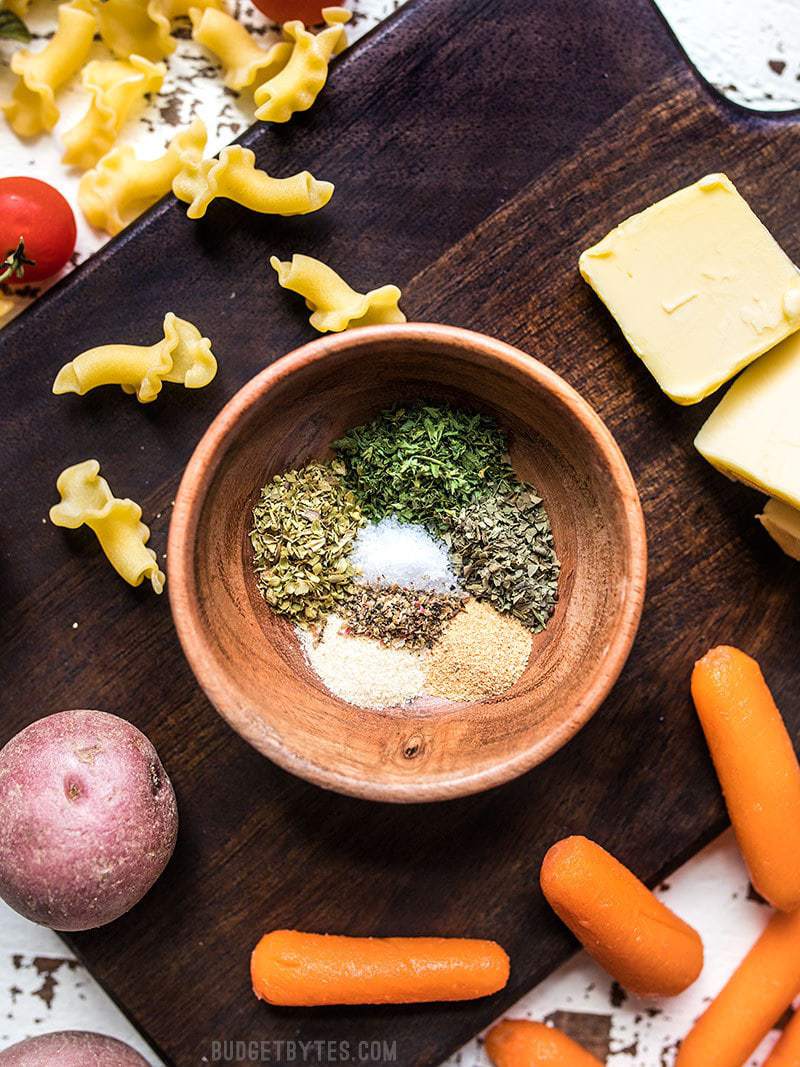 How to Use Garlic Herb Seasoning:
I'm not being hyperbolic when I say it goes with everything. Meat, seafood, vegetables, pasta, rice, bread, dips, sauces, BUTTER, everything. But here are a few specific ideas for you to try:
Stir it into your mashed potatoes
Use it to season chicken before roasting
Mix with butter or olive oil, then coat meat or vegetables for roasting
Season a batch of Oven Fries
Stir it into sour cream for a quick chip or vegetable dip
Add it to melted butter and toss with pasta or stir into rice
Combine with butter and slather over crusty bread, then bake for an herb-infused garlic bread
Add it to a hot skillet with olive oil or butter to quickly sauté vegetables or shrimp
Mix this into your bread or pizza dough for a herby, garlicky kick
Combine with melted butter then drizzle over popcorn
Add to cream cheese and whip for a garlicky whipped bagel spread
See what I mean? I made three different recipes using this garlic herb seasoning today, and I'll share those photos below.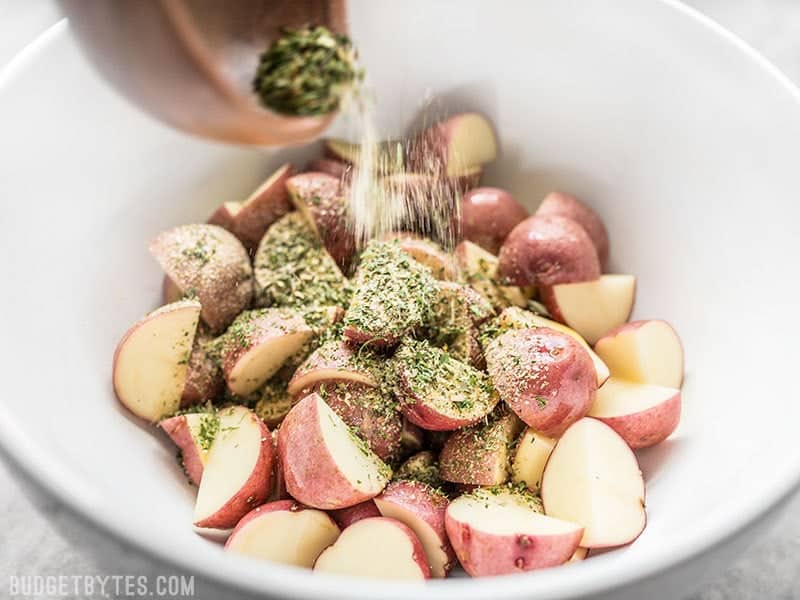 Garlic Herb Seasoning
This easy All-Purpose Garlic Herb Seasoning goes great with meat, seafood, vegetables, pasta, rice, and more! Add it to all of your favorite food for a burst of garlicky flavor.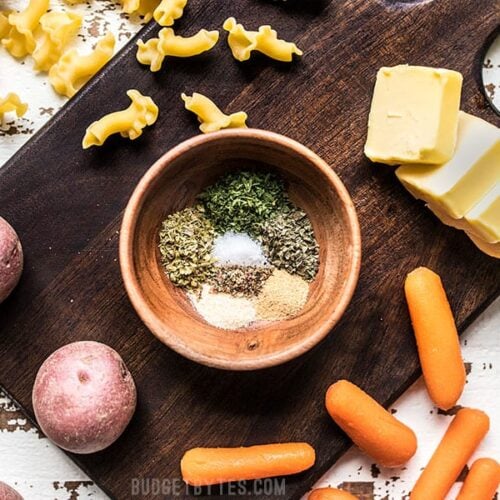 Instructions
Combine all the ingredients and use immediately, or store in an air-tight container away from direct sunlight until ready to use.
See how we calculate recipe costs here.
---
---
Notes
*About 15 cranks of a pepper mill.
Nutrition
Serving:
1
Tbsp
Calories:
10.2
kcal
Carbohydrates:
2.3
g
Protein:
0.6
g
Fat:
0
g
Sodium:
833.9
mg
Fiber:
1
g
Read our full nutrition disclaimer here.
Examples for Use: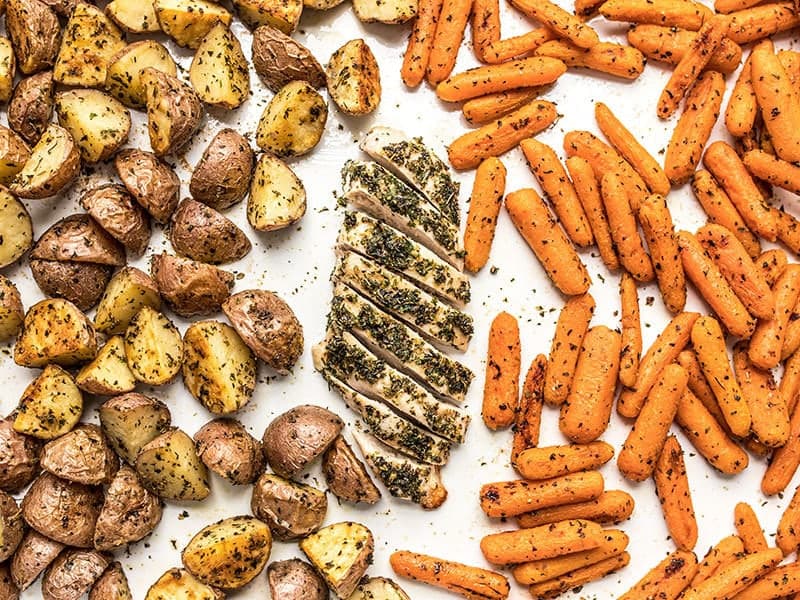 Today I roasted some potatoes and carrots with my Garlic Herb Seasoning, as well as baked some chicken.
Potatoes: 1.5 lbs. potatoes (cut into 1-inch pieces) + 1 batch Garlic Herb Seasoning + 1 Tbsp olive oil. Toss to coat, roast at 400ºF for 30 minutes, or until golden brown and crispy (stir once).
Carrots: 1 lb. baby carrots + 1/2 batch Garlic Herb Seasoning + 1/2 Tbsp olive oil. Toss to coat, roast at 400ºF for 20-25 minutes, or until tender (stir once).
Chicken: Full recipe coming tomorrow!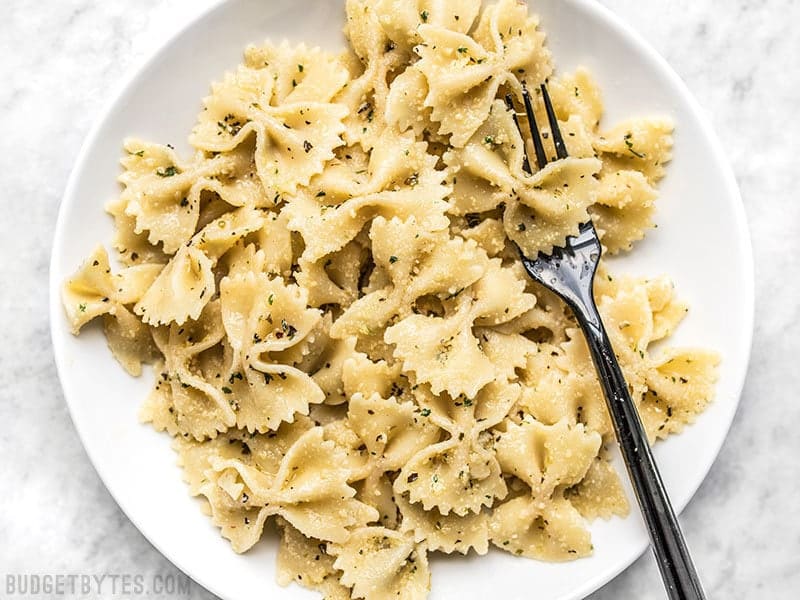 I also used my Garlic Herb Seasoning for a simple pasta, which would make an excellent side dish. I used 1/4 lb. pasta + 1 batch Garlic Herb Seasoning + 2 Tbsp Butter + 1 Tbsp Parmesan. SO GOOD.