Happy Friday! I'm sure you're busy getting your big Friday night plans together, so I wanted to leave you with this quick how-to (new recipe tomorrow). If you've followed Budget Bytes for a while, you already know that I always freeze my leftover tomato paste. Why? Because, despite coming in a super small can, I rarely use the whole thing in one recipe. Instead of tossing the rest of the can, I keep the leftovers in the freezer, so I don't have to buy a new can for the next recipe.
It sounds easy enough, but after freezing my tomato paste for years I've developed a better method for freezing and storing my leftover tomato paste. I used to just shove it in a freezer bag, squeeze it all down to the bottom, and pop it in the freezer. But that presented problems the next time I wanted to use it. How do you measure a frozen clump of tomato paste? What if I only wanted to use part of the clump? I would end up breaking off a chunk, never truly knowing how much I was using.
So this tutorial is for all of you who have been throwing away their partially used cans of tomato paste and those who have been just spooning it into a freezer bag like I used to. This is what you should be doing with your leftover tomato paste, and it's as easy as 1-2-3.
How to Freeze Tomato Paste – Step by Step Photos
Step 1: Prepare the Tomato Paste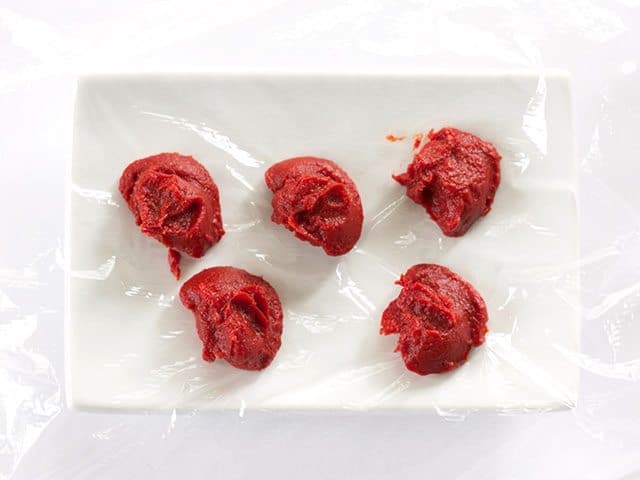 Measure your leftover tomato paste into 1 tablespoon dollops and place them on a plate or baking sheet covered in plastic wrap. The plastic wrap keeps the paste from sticking to the plate while they freeze and will be used to wrap the tomato paste within the freezer bag. Make sure the dollops are not touching, so they freeze individually and are easy to separate into 1 tablespoon servings later. Plate the plate or baking sheet into the freezer uncovered for 2-3 hours, or until the dollops are frozen solid.
Step 2: Transfer the Tomato Paste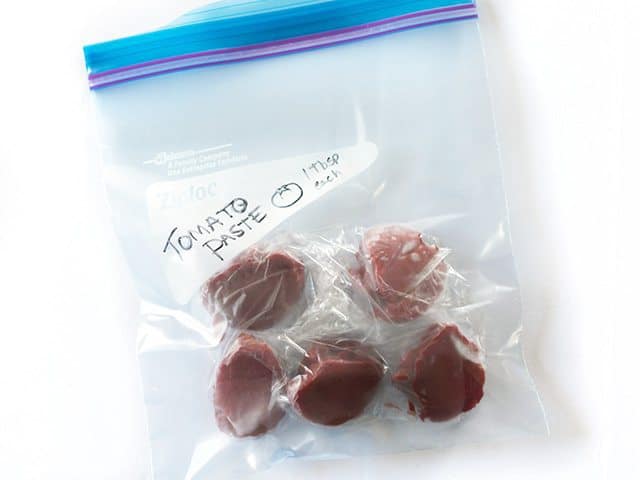 Freezing the tomato paste uncovered on a flat surface helps them stay separated into individual lumps, but leaving them like that for an extended period will cause them to dry out and get freezer burn. So, as soon as they are solid you need to transfer them to an air-tight container for long term storage. I used a quart sized freezer bag, which I made sure to label with the contents. Just lift the plastic wrap up off the plate and wrap it around the balls and place the package inside the freezer bag. Since the balls are already frozen solid, they won't fuze together if you just wrap them up in the plastic.
Step 3: Freeze for Long Term Storage
Squeeze as much air out of the bag as possible before sealing, then return it to the freezer. Now you can just grab one or more lumps of tomato paste as needed for your next recipe! Because tomato paste has such a low moisture content to begin with, I find that they last quite a while in the freezer. I tend to use tomato paste often, so I've never had any in the freezer longer than 4-5 months, but it's always maintained its quality up to that point.
So how about that? Pre-measured tomato paste ready and waiting to be used in your freezer. Because the lumps are small, I usually just drop them into whatever soup or sauce I'm using it in, straight from the freezer. They melt and stir in within moments.
I hope you found this quick tip useful! Have a great weekend!