These fun little Rice Pancakes were something my mom used to make when we were growing up. If there was leftover rice from the night before, instead of letting it go to waste, it would get whipped up into this special breakfast treat. They're not fancy, but they're a nice change of pace from your regular breakfast routine, and waaaay easier than traditional pancakes, IMHO! Make sure to read below for tips about rice safety and making sure your leftovers are good for use the next day!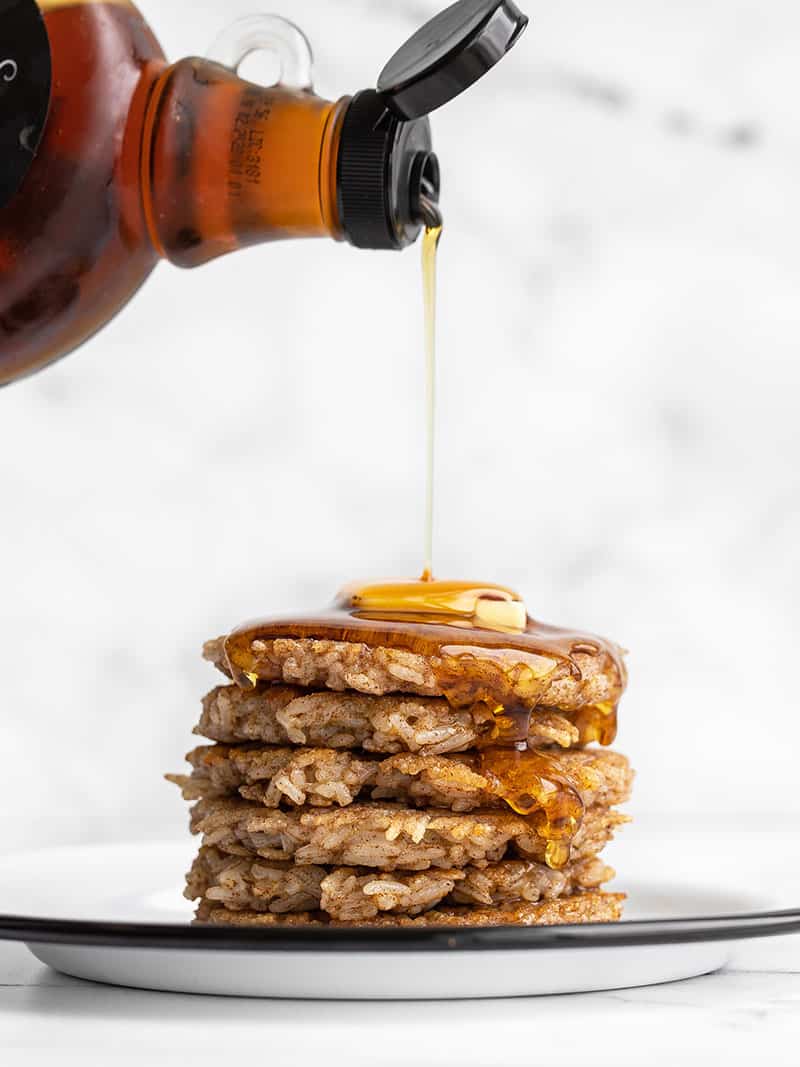 Is Leftover Rice Safe to Eat?
Yes, IF it has been cooled and stored properly after cooking. Rice can naturally contain a bacteria called Bacillus cereus, which has spores that are resistant to cooking. After cooking, these spores can "hatch" if the rice is left at warm temperatures (between 40-140ºF) for too long. Once the spores hatch, the bacteria goes to work eating the rice and producing a toxin that can make us sick. While reheating the previously cooked rice may kill the active bacteria, it does not kill the spores or eliminate the toxins in the rice, making the rice still potentially dangerous.
How to Properly Store Cooked Rice
Bacillus cereus contamination does not produce any visible signs or smells, so it's of utmost importance that rice be cooled properly immediately after cooking. Transfer your cooked rice to a new container (do not leave it in the hot container it was cooked in), divide the rice into smaller portions if cooked in a large batch, and then place it in the refrigerator to cool. Do not let your rice sit out at room temperature. The goal is to cool the rice to below 40ºF in under two hours, so the sooner it gets in the fridge, the better.
Fun fact: I used to be a microbiologist and worked with Bacillus cereus on a daily basis! It's one of those environmental organisms that is on the surface of almost everything and is usually benign, unless it gets someplace that it shouldn't be, like our food.
What Are Rice Pancakes Like?
Rice pancakes taste a little like rice pudding, but have a wonderfully crispy-crunchy exterior. If you're not a fan of crispy rice (like you'd find on the bottom of a bowl of authentic bibimbap), then you might not be a fan of rice pancakes. I don't put a lot of sugar in my rice pancakes because I usually drizzle some maple syrup over top, so the rice pancake itself is not very sweet. If you want the pancake to be a little sweeter on its own, try adding 1-2 tsp sugar to the batter.
How to Serve Rice Pancakes
I like to drizzle maple syrup over my pancakes, which goes really well with the very cinnamon-y flavor of the pancake. A little butter on top, if I'm feeling really indulgent, but since the pancakes are fried, that isn't always needed. Sometimes I also like to smear a little peanut butter on top of the pancakes, too! 😋
How Much Does This Recipe Make?
This is a small batch recipe, perfect for when you just have a couple cups of leftover rice. This recipe makes two servings of three small pancakes. If you wish to make a larger batch, simply change the number of servings in the recipe card below, and the ingredient amounts will change to match your desired number of servings.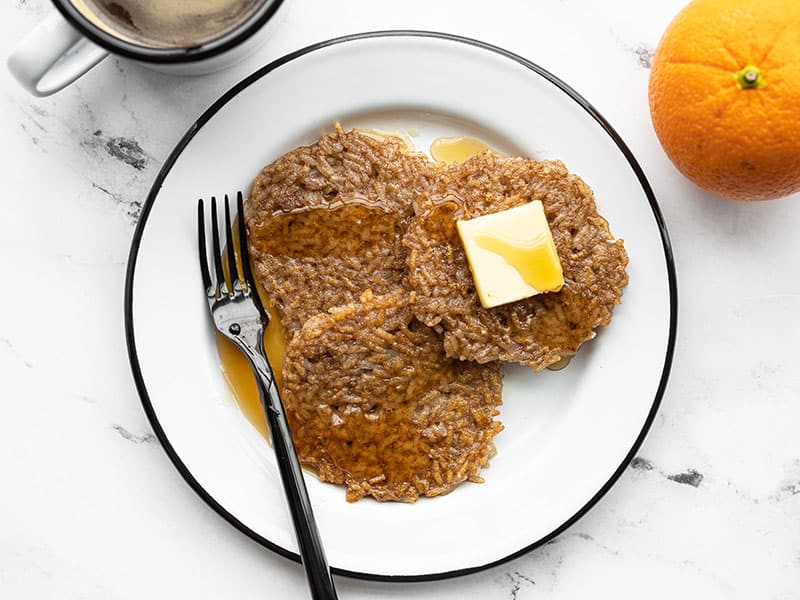 Rice Pancakes
Use your leftover rice from the night before to make these quick and easy Rice Pancakes for breakfast. Reduce food waste and keep your budget in check!
Ingredients
1 1/2

cups

cooked rice (cooled)

($0.26)

1

large egg

($0.23)

1/2

tsp

vanilla extract

($0.15)

1/2

tsp

cinnamon

($0.05)

1/4

tsp

salt

($0.02)

1

Tbsp

cooking oil

($0.08)
Instructions
Combine the leftover rice, egg, vanilla, cinnamon, and salt in a bowl until it is evenly mixed.

Add 1/2 Tbsp cooking oil to a large, non-stick skillet (cast iron, ceramic, or teflon, your choice). Using a 1/4 cup measuring cup, scoop some of the rice mixture onto the hot skillet. Use a spatula to press the mound of rice down until it is about 1/2 inch thick.

Cook the pancakes for a few minutes on each side, until they are firm, a little browned, and crispy on the outside. Do not try to flip the pancakes before the eggs have set, or they won't hold together. Make sure the entire pancake is on the spatula before attempting to flip.

After cooking the first three pancakes, add the second ½ Tbsp cooking oil to the skillet and cook the second batch in the same manner.
See how we calculate recipe costs here.
---
Nutrition
Serving:
3
small pancakes
Calories:
254.85
kcal
Carbohydrates:
34.1
g
Protein:
6.3
g
Fat:
9.85
g
Sodium:
617.85
mg
Fiber:
0.85
g
Read our full nutrition disclaimer here.
Want more ideas for using up leftover rice? Check out these 7 Ways to Use Leftover Rice.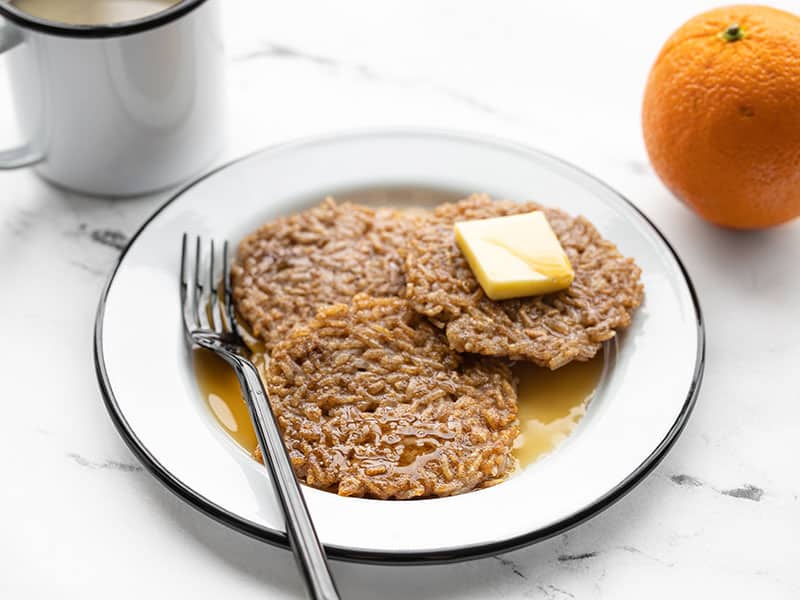 How to Make Rice Pancakes – Step By Step Photos
Start with 1.5 cups cooked and cooled rice. Add that to a bowl along with one egg, ½ tsp cinnamon, ½ tsp vanilla extract, and ¼ tsp salt.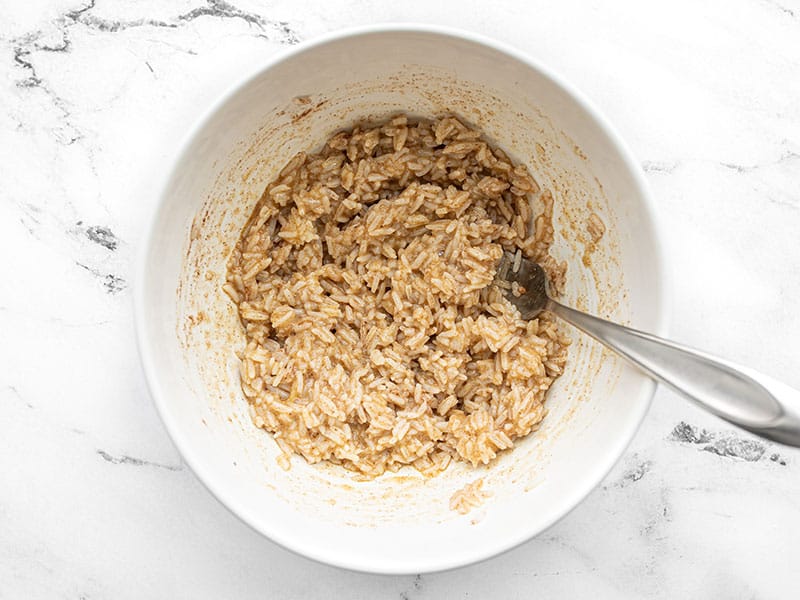 Mix the ingredients together until they form a sort of batter.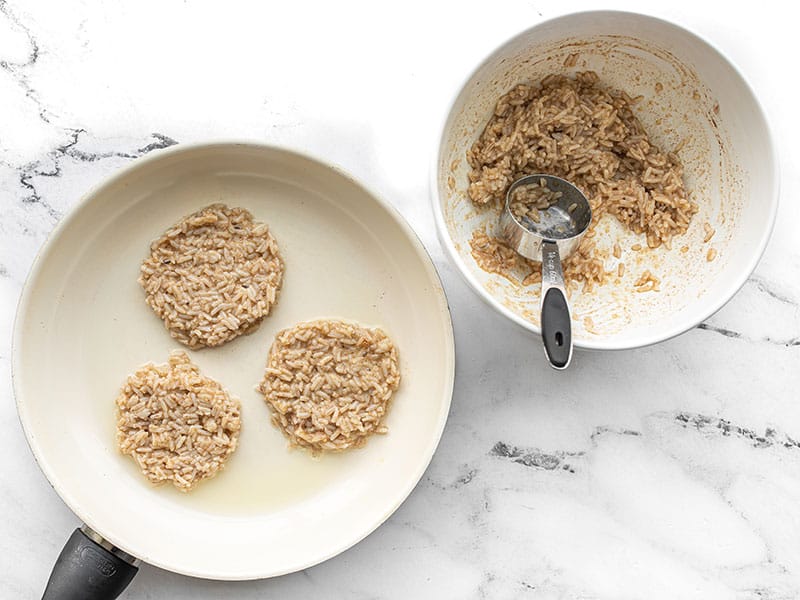 Heat about ½ Tbsp cooking oil in a large skillet over medium heat. Once hot, scoop the rice mixture out onto the skillet in about ¼ cup scoops. Press the pancakes down slightly until they are flat (instead of mounds), leaving them about ½-inch thick.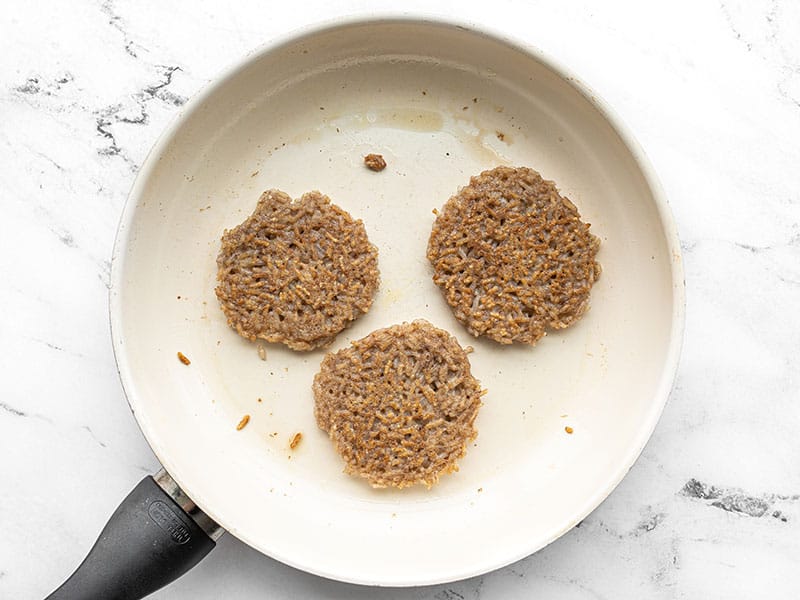 Cook the rice pancakes for a few minutes on each side, or until they are lightly browned and crispy. If you try to flip them too early, before the eggs have firmed up, they will fall apart, so be patient! After cooking the first batch, add another ½ Tbsp oil to the skillet and cook the second batch in the same manner.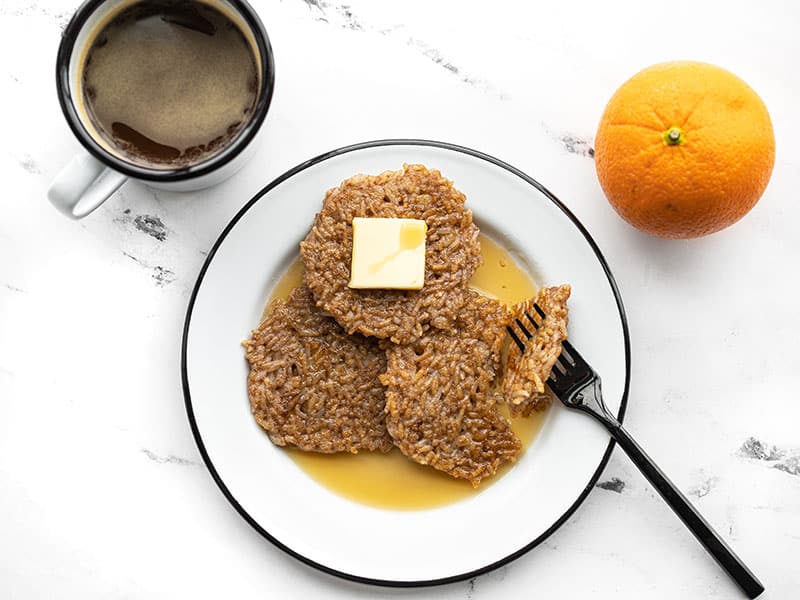 Serve with maple syrup, butter, or peanut butter!
TRY THESE OTHER PANCAKE RECIPES: