I know, it seems kind of weird that I'm posting this homemade Nacho Cheese Sauce recipe the day after the super bowl. But, the reason I made this nacho cheese sauce has nothing to do with the super bowl and everything to do with the fact that I have just had a crappy week. :) After a series of unfortunate events and two recipe flops, I had an, "Ugh, I give up. Just give me some chips and nacho cheese." moment.
Don't judge. Nacho cheese dip is powerful stuff.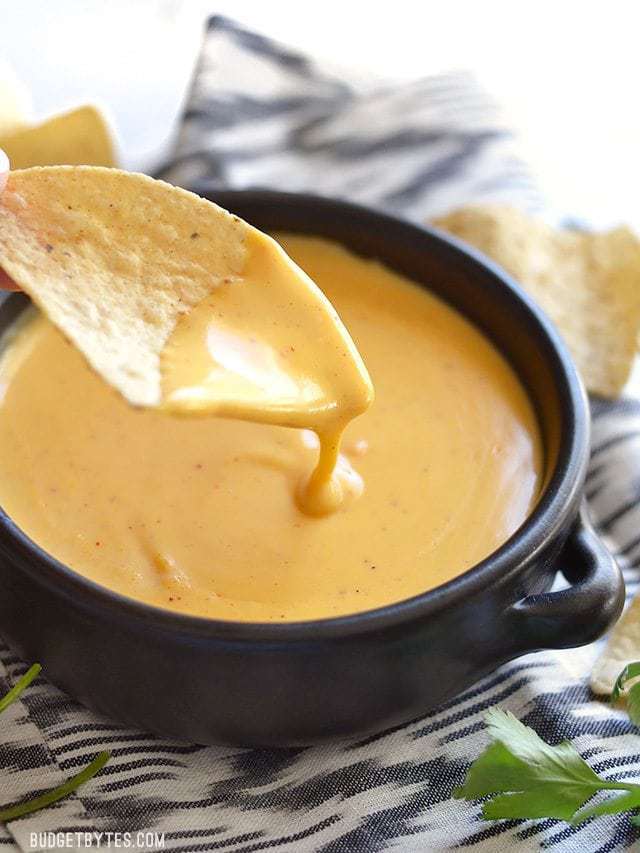 NO Processed Cheese, Please
Rather than going totally off the deep end and buying a gelatinous block of Velveeta, I decided to try to make the nacho cheese sauce myself, with real, simple ingredients. To my surprise (and probably to my detriment), this homemade nacho cheese recipe made with real cheddar cheese is extremely fast and easy to make.
Spice it Up!
The nacho cheese recipe below is the very basic version of nacho cheese, which you can customize or embellish in many different ways. Try substituting half of the cheddar with pepper jack, or stirring in a 4oz. can of diced green chiles. Experiment with the seasonings by adding a pinch of garlic powder, cumin, or even cayenne pepper. Stir in a few sliced green onions, or a can of Rotel tomatoes (drained). You can really have fun with this one.
Tips for Cheese Sauce Success
Here are a few tips to help make sure your homemade nacho cheese recipe is a success:
Make sure to cook the flour in the butter for one minute. This helps cook out the "floury" flavor.
Use medium cheddar for smoother results. Sharp cheddar tends to "break" or become grainy easier than medium cheddar.
Remove the pot from the heat before stirring in the cheese. Overheating the sauce once the cheese has been added can cause the sauce to seize up and become thick and/or grainy. If needed, use only low heat to help the cheese fully melt.
Use block cheese and hand shred it when possible. Pre-shredded cheeses sometimes contain a lot of anti-caking powders, which can cause a powdery flavor in your cheese sauce.
New to cheese sauce? Try making our no-roux Easy Cheese Sauce that melts together smoothly in minutes and is absolutely fool-proof!
5 Minute Nacho Cheese Sauce
This rich and tangy homemade nacho cheese only takes about 5 minutes to make and uses only real, simple ingredients.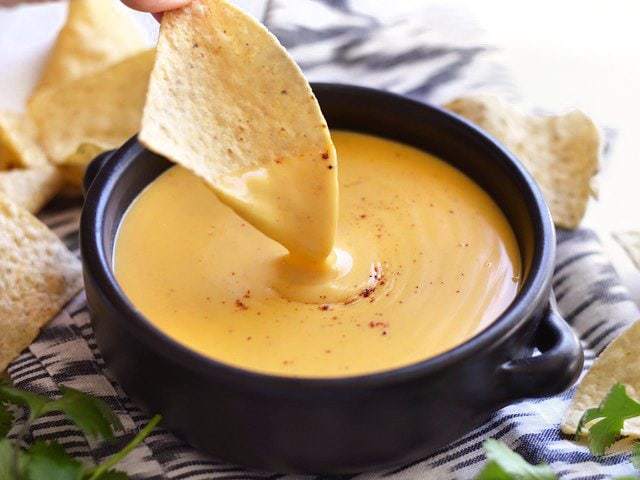 Ingredients
2

Tbsp

butter

($0.22)

2

Tbsp

flour

($0.02)

1

cup

whole milk

($0.30)

6

oz.

medium cheddar, shredded (about

1.5

cups)

($2.25)

1/4

tsp

salt

($0.02)

1/4

tsp

chili powder

($0.02)
Instructions
Add the butter and flour to a small sauce pot. Heat and whisk the butter and flour together until they become bubbly and foamy. Continue to cook and whisk the bubbly mixture for about 60 seconds.

Whisk the milk into the flour and butter mixture. Turn the heat up slightly and allow the milk to come to a simmer while whisking. When it reaches a simmer, the mixture will thicken. Once it's thick enough to coat a spoon, turn off the heat.

Stir in the shredded cheddar, one handful at a time, until melted into the sauce. If needed, place the pot over a low flame to help the cheese melt. Do not overheat the cheese sauce.

Once all the cheese is melted into the sauce, stir in the salt and chili powder. Taste and adjust the seasoning as needed. If the sauce becomes too thick, simply whisk in an additional splash of milk.
See how we calculate recipe costs here.
---
Nutrition
Serving:
1
Serving
Calories:
183.1
kcal
Carbohydrates:
4.92
g
Protein:
8.13
g
Fat:
14.65
g
Sodium:
337.23
mg
Fiber:
0.32
g
Read our full nutrition disclaimer here.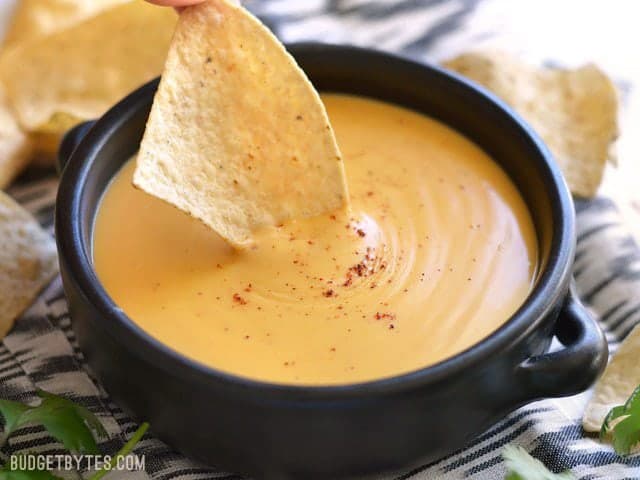 How to Make Nacho Cheese – Step by Step Photos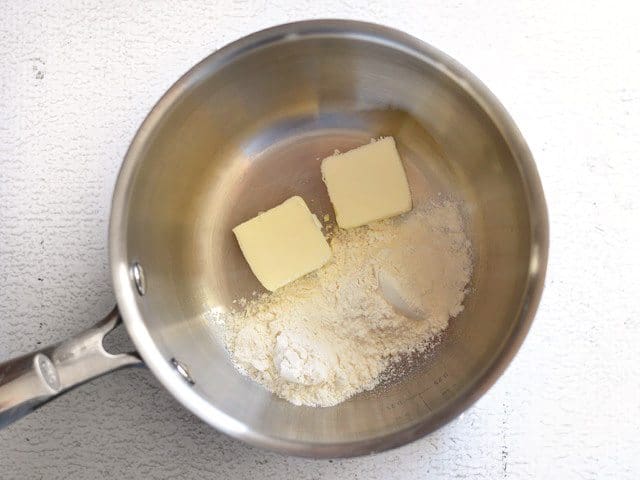 Start by placing 2 Tbsp butter and 2 Tbsp flour in a small saucepot.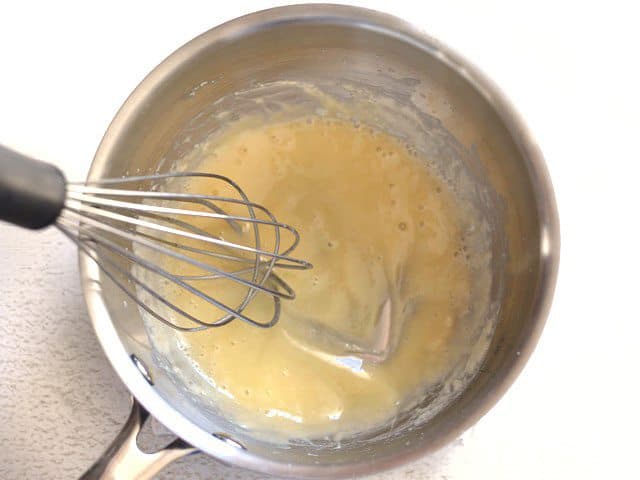 Heat the flour and butter over medium flame and whisk together until they become bubbly and foamy. Continue whisking for about 60 seconds. This mixture is called a "roux" and is what will thicken your sauce. Letting the roux cook for about 60 seconds slightly toasts the flour and gets rid of that raw floury flavor, but you want it to stay "blonde", so if it begins to brown, remove it from the heat.
Whisk in one cup of whole milk. Turn the heat up slightly and let it come to a simmer (whisking frequently). Because the small volume, it should come to a simmer very quickly (about a minute).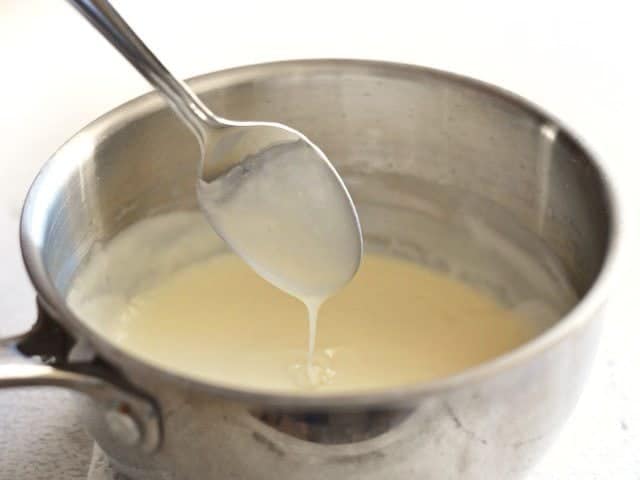 When it reaches a simmer, the milk will thicken. When it's thick enough to coat a spoon like in the photo, turn off the heat.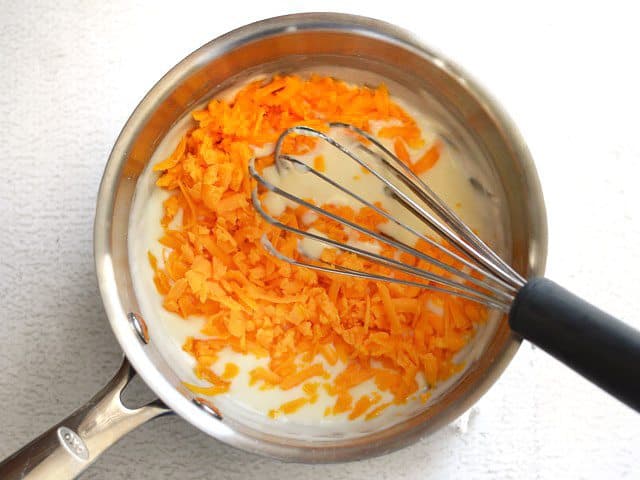 Whisk in 6oz. (or about 1.5 cups) shredded medium cheddar, one hand full at a time, until it is melted into the sauce. If needed, put the pot back over a low flame to help it melt, but the residual heat should do most of the work.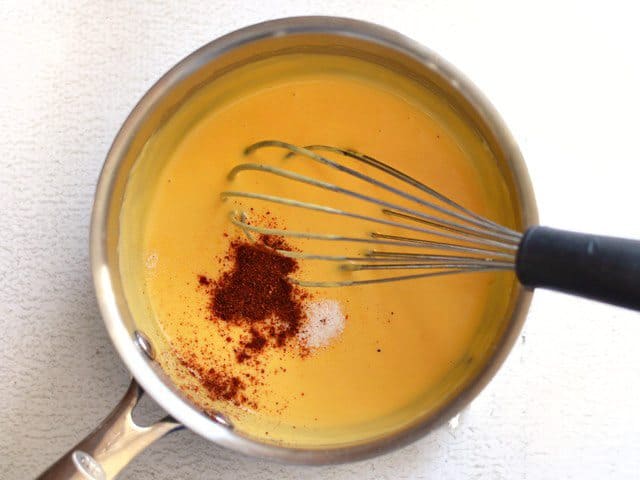 Finally, season the nacho cheese sauce with 1/4 tsp salt and 1/4 tsp chili powder.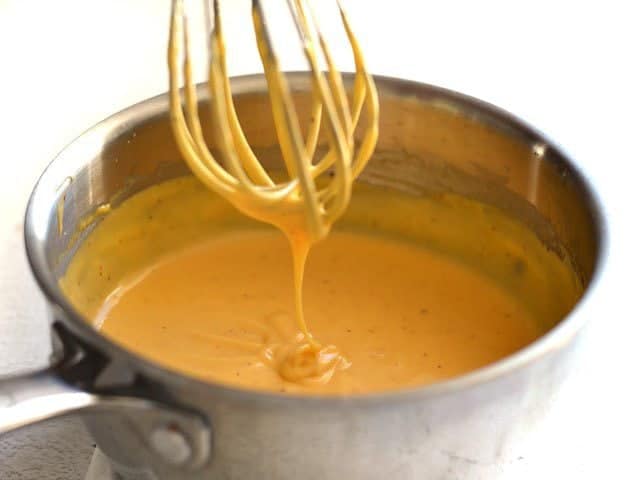 Taste the nacho cheese sauce and adjust the seasonings if needed. And that's it! Now you have a real ingredient, really delicious, homemade nacho cheese dip.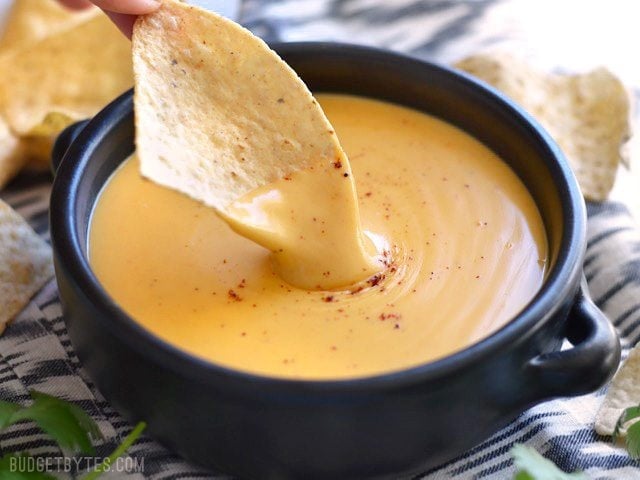 This post either just ruined your life or made your day. Or maybe both.
Try These Other Great Party Appetizers: