It's that time of year again! Time for me to round up the 20 best recipes of 2021, recipes that you don't want to miss! Since I'm (probably) the only one who has cooked every single recipe on this site, I hope you take my word when I say that these 20 recipes are the best of the best. Bookmark this page so the next time you can't think of something to make for dinner, you can scroll through this list and pick something you haven't tried yet. They're all winners!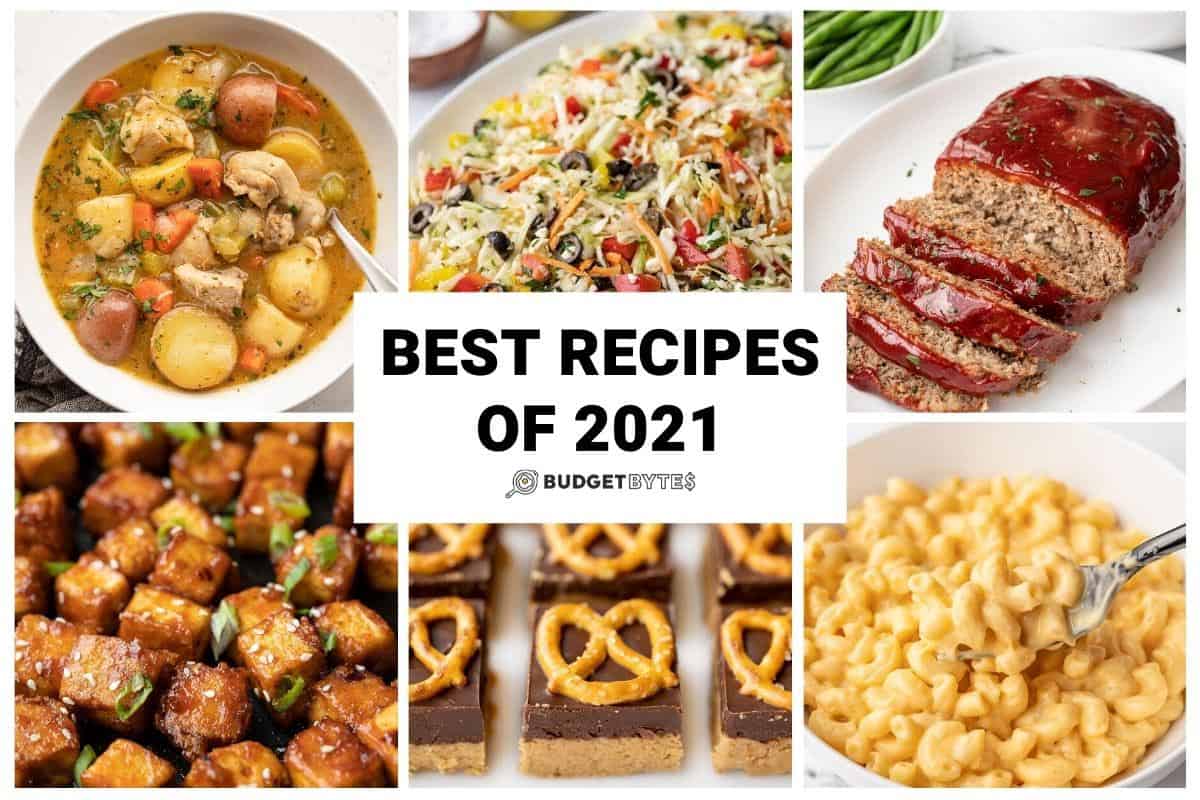 Without further ado, here are my top 20 favorite recipes from 2021, in order from newest to oldest!
Extra Cheesy Homemade Mac and Cheese – I was not expecting this "basic" recipe to be this good, but somehow it just is. It's extra cheesy, extra gooey, and will give you all the good cheesy ASMR vibes when you stir.
Mushroom Rice – This is another simple recipe that ended up blowing my mind. Just a few simple ingredients transform a pot of white rice from boring to, "can I eat this as my main dish?"
Chicken Stew – This tasty stew probably gets my vote for my absolute favorite recipe of the entire year, and that's saying a lot. It's so rich and hearty, and the flavor is absolutely off the charts. DON'T MISS IT.
Bratwurst and Sauerkraut – It's no secret that I'm in love with bratwurst and since I've also recently fallen in love with sauerkraut, it's only natural that I am in love with this recipe. It's super easy to prepare and the leftovers are deeeelish!
Classic Homemade Meatloaf – I don't know why meatloaf is always the butt of jokes on tv and cartoons because this stuff is SO GOOD. Total comfort food and definitely the type of leftovers that I look forward to the rest of the week.
Savory Oatmeal – Oats are a staple in my kitchen because they're cheap, good for you, and they can be used for a lot more than just a sweet breakfast bowl. These savory oats are great for breakfast, lunch, or a quick dinner!
BBQ Meatballs with Cheese Grits – I had this recipe sitting in my drafts for almost two months because I honestly didn't think anyone else would like it. Well, to my surprise, you guys liked it every bit as much as I did! This dish was one of the most viral recipes of the year.
Honey Sriracha Tofu – Food doesn't have to be complicated to be delicious, and this honey sriracha tofu is the perfect example. The sauce is basically three ingredients, sriracha, honey, and soy sauce, and yet it's so finger-licking good!
Mediterranean Coleslaw – I still have food dreams about this coleslaw. It's so light, refreshing, crunchy, colorful, and flavorful. If you're looking to switch up your usual side dishes for sandwiches or grilled meat, this salad is a fun new option.
Easy Lemon Cream Pie – Delicious simplicity at its best. This no-bake pie is crazy good, but you only need a few ingredients.
Chocolate Coffee Breakfast Smoothie – This surprising smoothie tastes just like a Wendy's frosty, but has way less sugar and a secret ingredient that packs in some extra fiber. ;)
One Pot Lemon Garlic Shrimp and Rice – I love this easy, light, and refreshing dish for summer. Add a green salad or some steamed veggies on the side, and dinner is done!
Classic Three Bean Salad – Months later, I'm still trying to figure out why this is so good. It's just some canned beans and a super simple vinaigrette, but I still want to sit down with the bowl and eat the entire batch myself. Oh, and it's one of those magical recipes that get better with time in the fridge.
BBQ Cheddar Baked Chicken – This chicken didn't get a lot of attention when I first posted it, but hopefully this will convince a few more of you to give it a try. It's a super simple mix of BBQ sauce, cheddar, fresh red onion, and cilantro, but the flavors are perfect together and this chicken couldn't be easier to make.
No Bake Peanut Butter Pretzel Bars – You guys loved this no-bake dessert as much as I did! It's like homemade peanut butter cups with a crunchy pretzel topping. Who wouldn't love that?
Easy Lemon Pepper Chicken – Lemon pepper is such a great all-purpose seasoning. It adds acidity, salt, and a peppery bite all in one sprinkle, which makes this lemon pepper chicken a fast, easy, and tasty option for busy weeknights.
Cheddar Drop Biscuits – I would eat these biscuits every day if I could. They're rich, cheesy, soft, and fluffy. And bonus, they freeze great so you can take just a few out of the freezer to serve with dinner whenever needed!
Sheet Pan BBQ Meatballs – We all love sheet pan meals, and this one has tasty bbq meatballs, sweet pineapple rings, and caramelized peppers and onions. The perfect combo!
Spicy Peanut Butter Ramen – I love easy ramen hacks, and this spicy peanut butter ramen is one of the best of the best. A super simple spicy peanut butter sauce makes these noodles absolutely irresistable.
Tortilla Baked Eggs – I couldn't end this roundup without an egg recipe. These tortilla baked eggs became my favorite way to eat eggs this year. The flour tortilla is used as a sort of shell or bowl, holding in your eggs, cheese, and whatever other fillings you like. It's fun, crispy, and tasty!
What new recipes did you try this year that ended up being winners (from here or anywhere else)? I'd love to hear about what you've been cooking!