Are you ready for a dinner that is seriously easy and is so good that it will make you go weak in the knees? Just wait until you try this Blackened Salmon with Zucchini. The preparation couldn't be more simple, yet the results are absolutely stunning. It's the perfect example of how food doesn't have to be complicated to be good.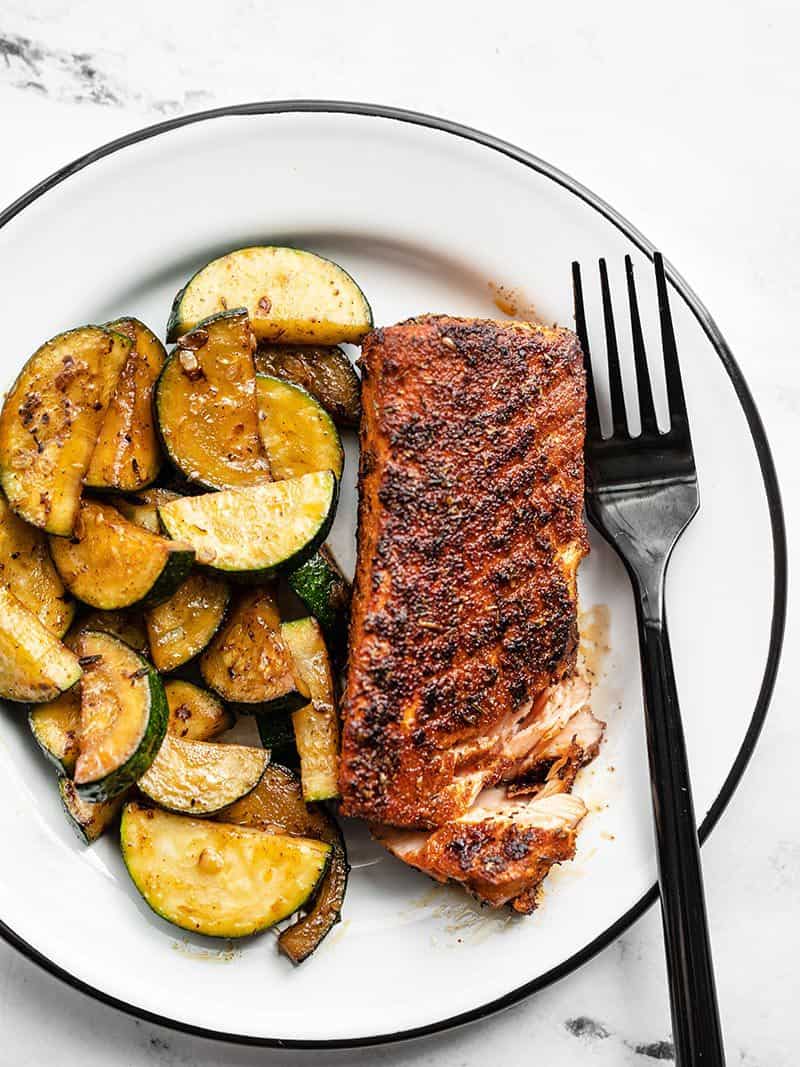 Blackened Doesn't Mean Burned
"Blackening" is a cooking technique popularized by Chef Paul Prudhomme in the 1980s. It involves coating the fish in spices and cooking at a high temperature in butter until the paprika in the spice mix and butter solids form a very dark and delicious "blackened" crust. While the exterior of the fish may appear very dark brown or almost black, there shouldn't be a burnt flavor.
What Spices Do You Use for Blackening?
I used my Homemade Cajun Seasoning for this blackened salmon, but you can take a short cut and use a store-bought blackened seasoning blend, if you prefer. Just keep in mind that store-bought seasoning mixes may contain a different amount of salt, so you may need to add more or less to compensate.
What Kind of Skillet is Best?
The blackening technique is traditionally done with a cast iron skillet, which is great at providing the high even heat needed to form that butter-infused spice crust. I used a non-stick skillet, which I know will make some people clutch their pearls, but I was still able to get a really nice crust on my blackened salmon so I was okay with it. I'm going to just go ahead and tell you to use whatever type of cookware is easiest for you and gives you the least amount of anxiety about the fish sticking because there is nothing more devastating than losing an expensive piece of salmon stuck to a piece of cookware (although there should be plenty of oil and butter to keep that from happening here). ;)
What to Serve with Blackened Salmon and Zucchini
I ate this as a meal on its own, but if you want to round out your plate with some carb action, I think this would be great on a bed of seasoned rice. A side of Vinaigrette Slaw with Feta would also be a nice compliment.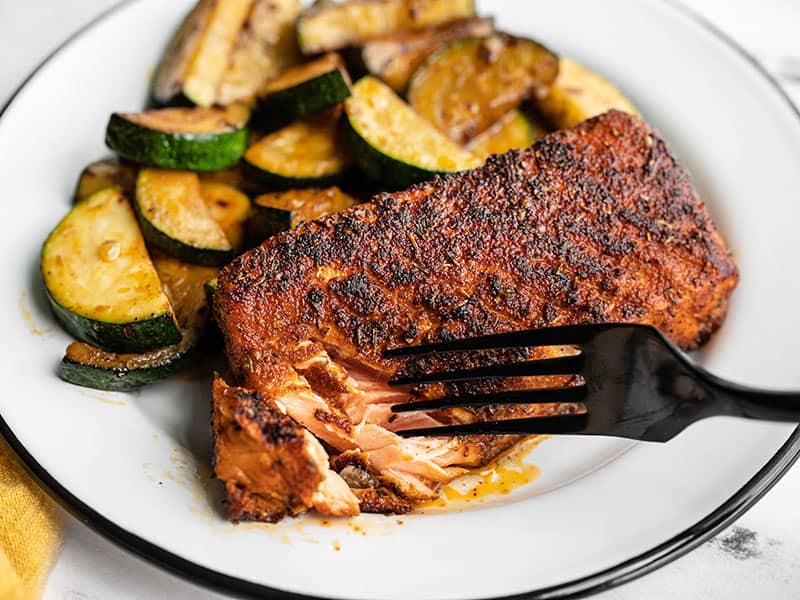 Blackened Salmon with Zucchini
Blackened salmon coated in Cajun spices, cooked to perfection in butter, and paired with simple sautéed zucchini makes a simple but delicious dinner!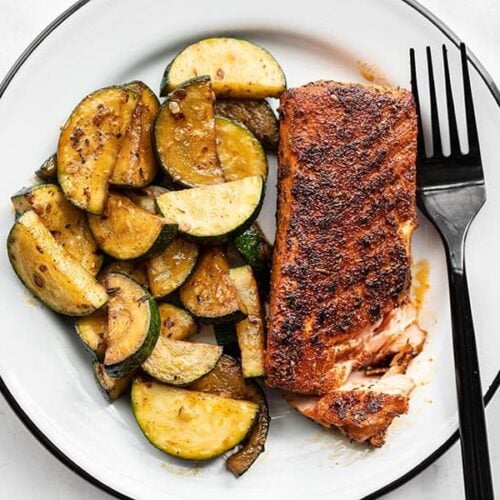 Ingredients
Salmon and Zucchini
1.3

lbs.

salmon

($10.65)

2

Tbsp

butter

($0.26)

1

Tbsp

cooking oil

($0.04)

1.3

lbs.

zucchini

($1.79)
Instructions
Combine the spices for the Cajun seasoning in a bowl (smoked paprika, thyme, oregano, cumin, cayenne, garlic powder, onion powder, salt, pepper).

Remove the skin from the salmon, then cut it into four equal-sized portions (if not already cut). Generously coat all sides of the fish in the prepared Cajun seasoning.

Slice the zucchini into half-rounds and set aside.

Add the butter and cooking oil to a skillet and heat over medium-high. When the skillet is hot and the butter is melted and foaming, add the salmon pieces. Cook the salmon for 5-7 minutes on each side, or until a dark brown crust forms and the salmon is cooked through*.

Remove the cooked fish to a clean plate. Add the sliced zucchini to the skillet in its place. Quickly sauté the zucchini in the residual butter and spices until it is tender. Serve the salmon and zucchini immediately.
See how we calculate recipe costs here.
---
Notes
*The FDA recommends an internal temperature of 145ºF for fish.
Nutrition
Serving:
1
g
Calories:
323.63
kcal
Carbohydrates:
6.35
g
Protein:
31.48
g
Fat:
19.3
g
Sodium:
405.18
mg
Fiber:
2.3
g
Read our full nutrition disclaimer here.
Love salmon? Try my Baked Ginger Salmon!
How to Make Blackened Salmon with Zucchini – Step by Step Photos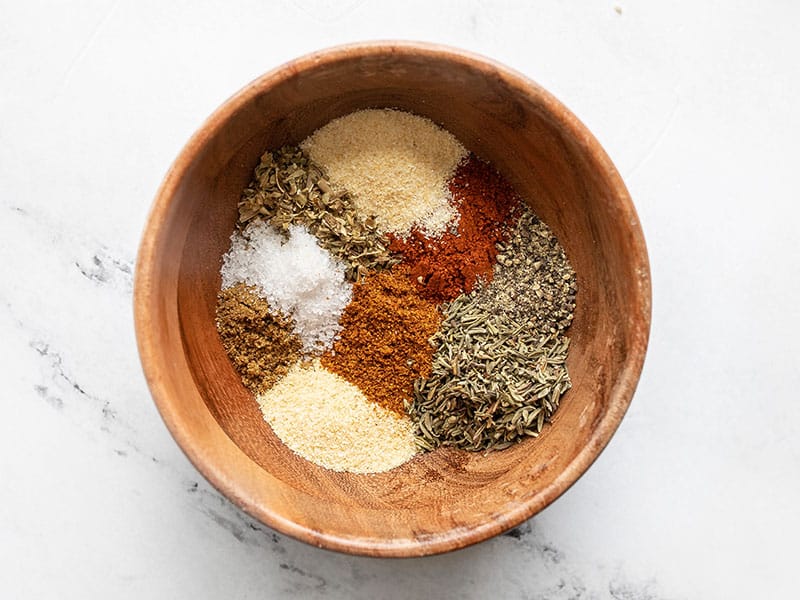 Make the Cajun spice mix first. Combine 2 tsp smoked paprika, 1 tsp dried thyme, 1 tsp dried oregano, ½ tsp ground cumin, ¼ tsp cayenne pepper, ½ tsp garlic powder, ½ tsp onion powder, ¼ tsp salt, and ¼ tsp pepper. Stir the spices together.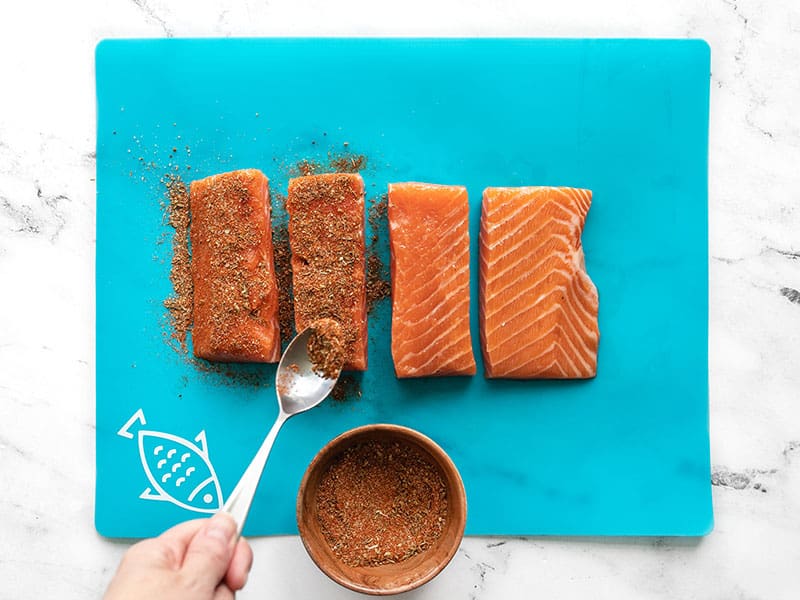 Remove the skin from one salmon filet (1.3 lbs.), then cut it into four equal-sized pieces, keeping in mind that one end is usually thicker than the other. Generously coat all sides of the salmon filets with the Cajun seasoning.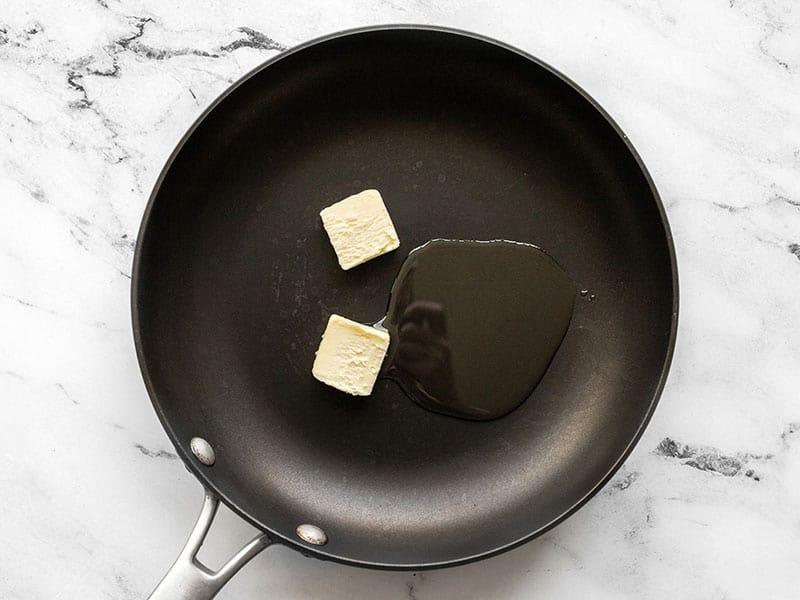 Add 2 Tbsp butter and 1 Tbsp cooking oil to a skillet. Heat the skillet over medium-high heat.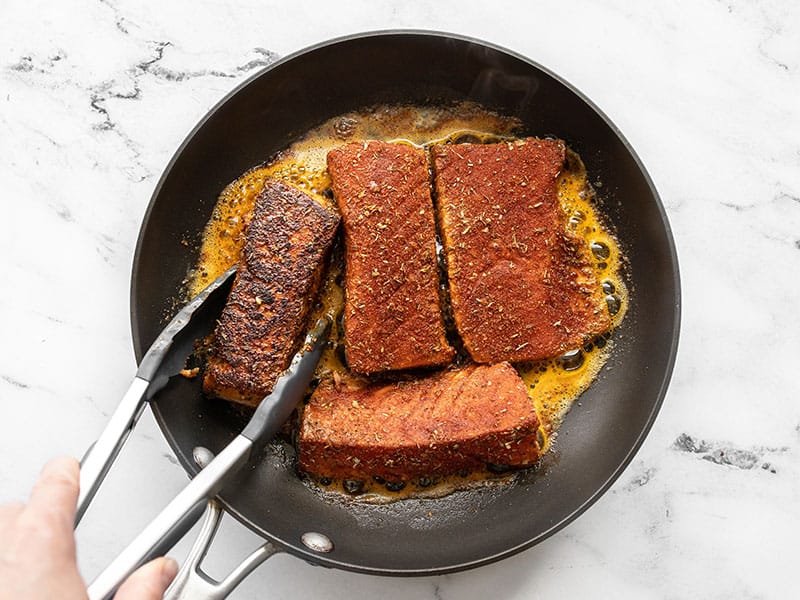 When the skillet is hot, the butter melted and foaming, add the seasoned salmon pieces. Let them cook for about 5-7 minutes on the first side, or until a dark brown crust has formed, then flip and cook for another 5-7 minutes on the other side, or until cooked through. The total cooking time may vary with the thickness of your salmon pieces.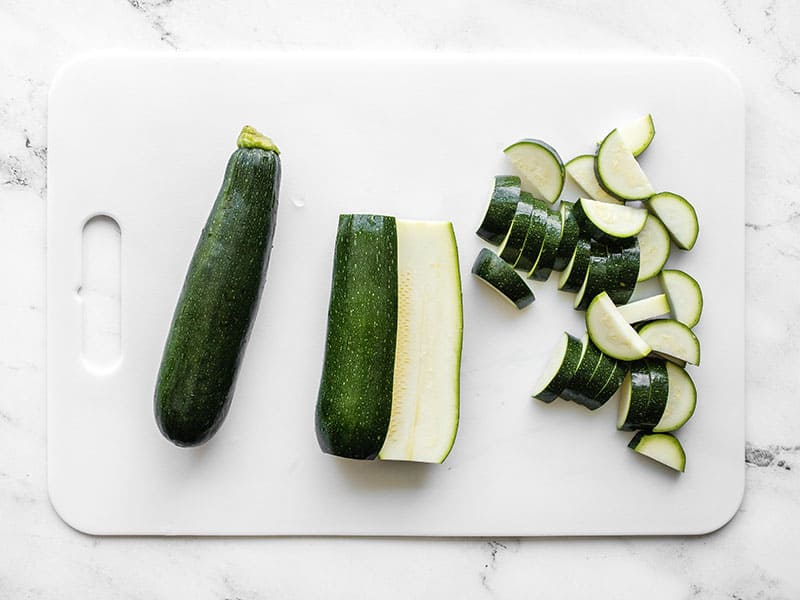 While the salmon is cooking, slice the zucchini into half-rounds.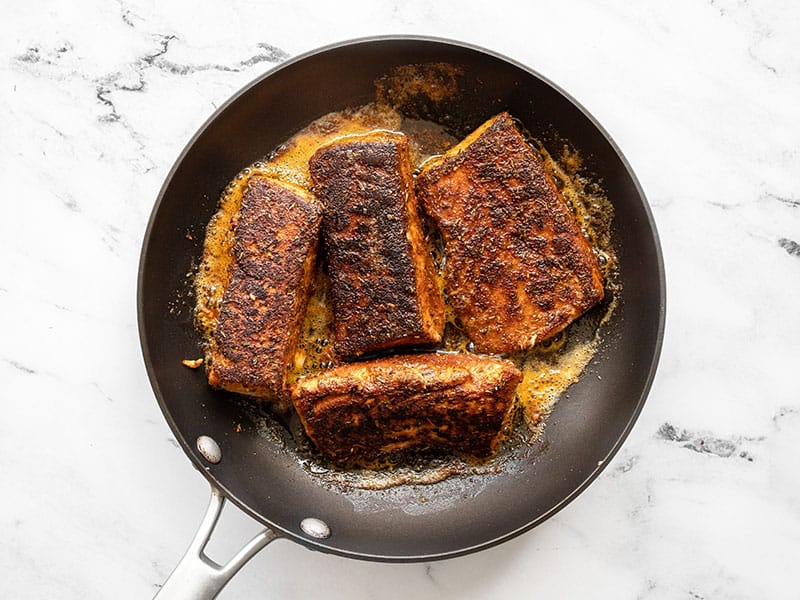 Once the blackened salmon is finished cooking, remove it from a skillet to a clean plate. There should be a ton of spice-infused butter still in the skillet, so we're going to take advantage of that for the zucchini!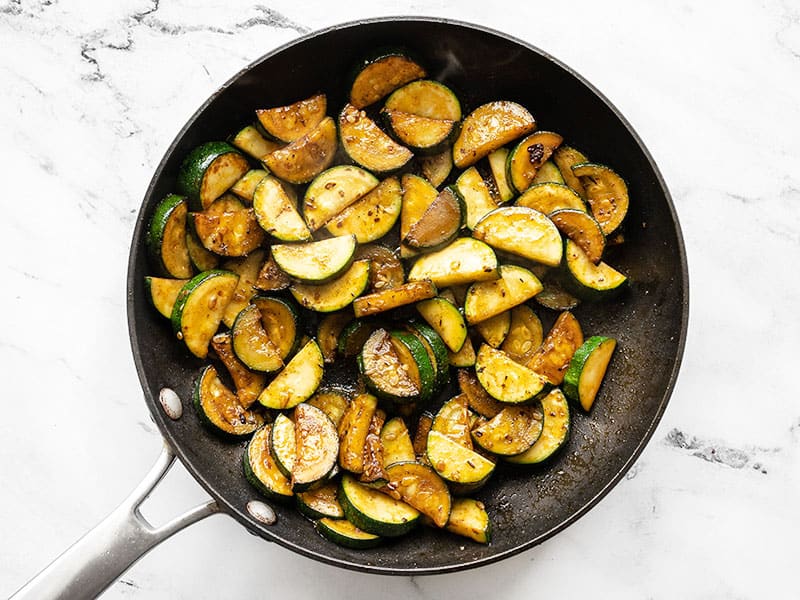 Add the zucchini to the skillet (still over medium-high) and sauté the zucchini for just a few minutes or until it softens just a bit. The zucchini will pick up all the leftover herbs and spices in the skillet.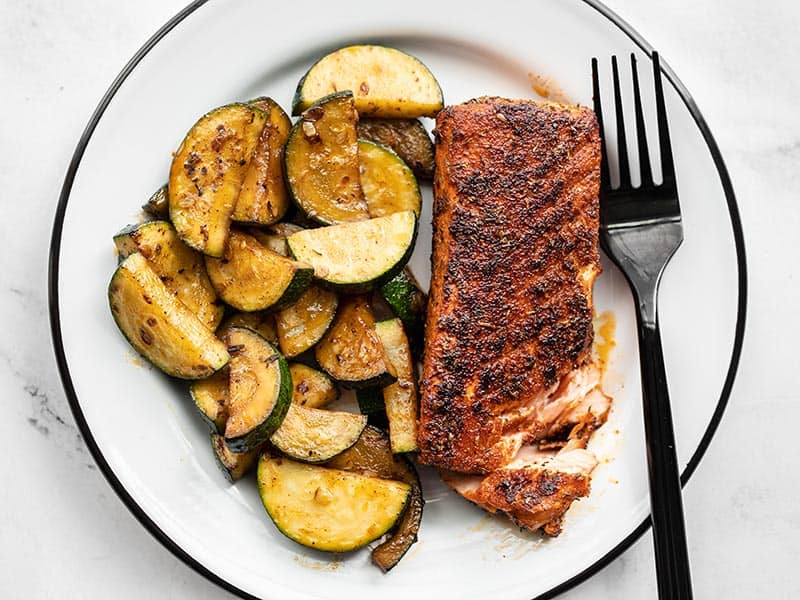 Serve immediately or pack it up into meal prep containers and enjoy for the next few days (I did!).