I made some simple Roasted Summer Vegetables as a side dish this week and I debated whether or not to give them their own recipe post. Roasted vegetables are so basic that it's almost not a recipe, more of a technique, but I had to remind myself that every time I post one of these very basic "recipes" there are at least a few people that have that "Aha!" moment, and that makes it totally worth it. So, if you're an experienced cook, you've probably done this a million times. If you're still getting your feet wet in the kitchen, prepare yourself for this simple technique, which will likely be a game-changer.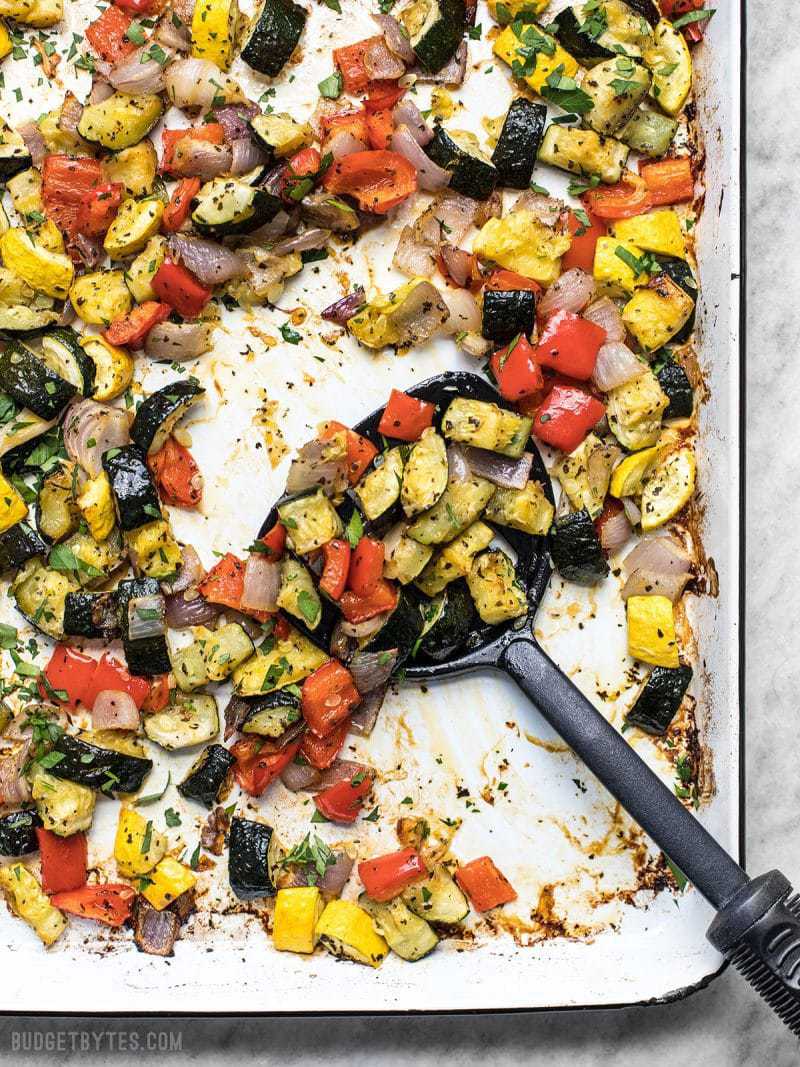 Why I Love Roasted Vegetables
Roasting is by far my favorite way to prepare vegetables. It takes very little effort, and although they do take a little time in the oven, it's hands-off time that can be used to prepare the rest of your meal. The flavor of roasted vegetables is unbelievable. If you're one that usually doesn't like vegetables because they're too bitter, definitely give roasted vegetables a try. Roasting in the dry heat concentrates and caramelizes the natural sugars in the vegetables, and it gives the vegetables a nice smoky edge. And best of all, roasted vegetables are extremely versatile.
Tips for Roasting Vegetables
Here are some tips for roasting vegetables:
The time it takes to roast your vegetables will depend on a few factors: the size of the vegetable pieces, how crowded they are on the baking sheet, the water content of the vegetable varieties you're using, and the nuances of your oven. The smaller the pieces, the faster they'll roast.
If your vegetables are too crowded on the baking sheet, the steam will get trapped and the vegetables will soften and stew, rather than caramelize and roast. So, if you're using a lot of vegetables, make sure to split them between two baking sheets.
Stir the vegetables occasionally, about every 15-20 minutes. This will help them roast more evenly and allow you to check their progress and determine how much longer they'll need in the oven.
Don't skimp too much on the oil. If there isn't enough oil the vegetables will simply dry out and not have that wonderfully rich flavor.
Experiment with seasoning. I kept my seasoning light for this batch, with just some basil, salt, and pepper, but you can experiment with your herbs and spices to match the meal that you're serving.
I like to add a little salt before roasting and then another small pinch after roasting so you get nice little pops of surface salt with each bite.
How to Use Roasted Vegetables
I served my roasted vegetables just as they were as a side dish, but there are so many other things you could do with them. Put them between some hearty bread or a tortilla with some cheese for an awesome sandwich or wrap, add them to your pizza or flatbread for more color, flavor, and nutrition, combine them with pasta and a balsamic vinaigrette for an incredible pasta salad, or add them to some pasta, red sauce, and cheese, and make an incredible baked pasta.
Roasted Summer Vegetables
Roasted Summer Vegetables are a super easy side dish and can be served as a simple side, or added to enhance several other dishes.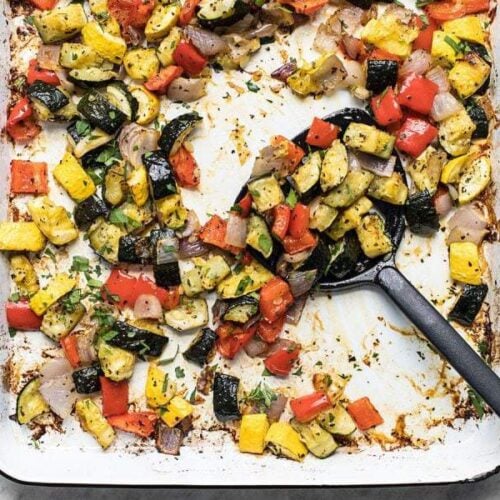 Ingredients
2

zucchini (about 1.25 lbs.)

($1.22)

1

yellow squash (about 0.5 lbs.)

($0.48)

1

small red onion (about 0.5 lbs.)

($0.70)

1

red bell pepper

($1.79)

2

Tbsp

olive oil

($0.26)

1

tsp

dried basil

($0.10)

salt and pepper to taste

($0.05)

1/4

cup

chopped fresh parsley (optional)

($0.25)
Instructions
Preheat the oven to 400ºF. Wash and chop the vegetables into approximately 1-inch pieces.

Spread the vegetables out over a large baking sheet (or two, if needed) so they're in a single layer and not piled on top of one another. Drizzle the olive oil over top, then add the basil and a pinch of salt and pepper. Toss the vegetables until they're evenly coated in oil and spices.

Roast the vegetables for 30-40 minutes, stirring once or twice (every 15-20 minutes or so), until the vegetables are soft and browned on the edges. Taste the vegetables and add another pinch of salt if desired. Sprinkle fresh chopped parsley over top just before serving.
See how we calculate recipe costs here.
---
---
Notes
You can use any mix of vegetables you like, and in any quantity. Just be sure not to overcrowd the vegetables on the baking sheet.
Nutrition
Serving:
1
serving
Calories:
129
kcal
Carbohydrates:
14
g
Protein:
3
g
Fat:
8
g
Sodium:
164
mg
Fiber:
4
g
Read our full nutrition disclaimer here.
How to Roast Vegetables – Step by Step Photos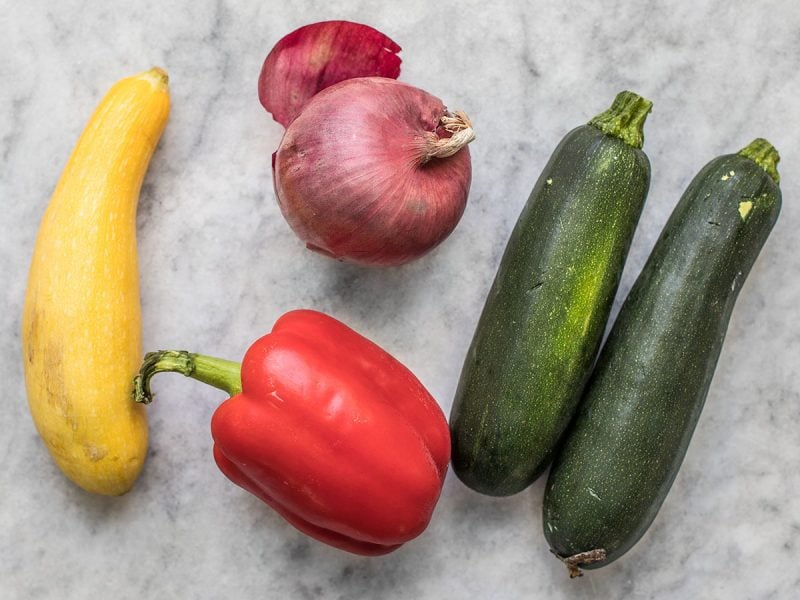 This time around, I used two zucchini, one yellow squash, one red bell pepper, and one red onion. This technique is very flexible and you can use just one or two types of vegetables, or even more if you like. Sometimes I like to use eggplant, but they tend to be quite large, so when I do I'll use fewer other vegetables. I also like roasting grape tomatoes. Whatever you roast, it's nice to have a variety of color.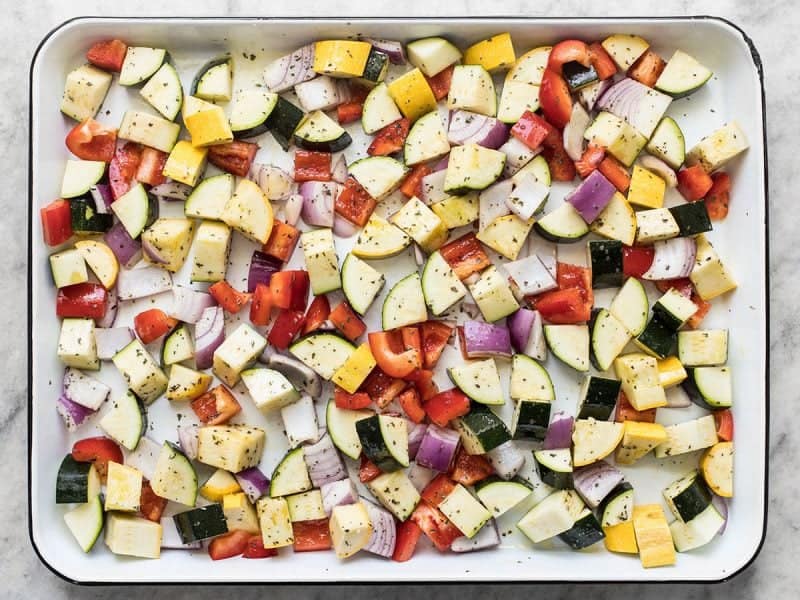 Preheat the oven to 400ºF. Wash and chop the vegetables into 1-inch pieces. Spread the chopped vegetables out over a baking sheet, or two if needed, so they are in a single layer and not piled on top of one another. Drizzle with 2 Tbsp olive oil, then add 1 tsp dried basil and a pinch or two of salt and pepper. Toss the vegetables until they're completely coated in oil and spices.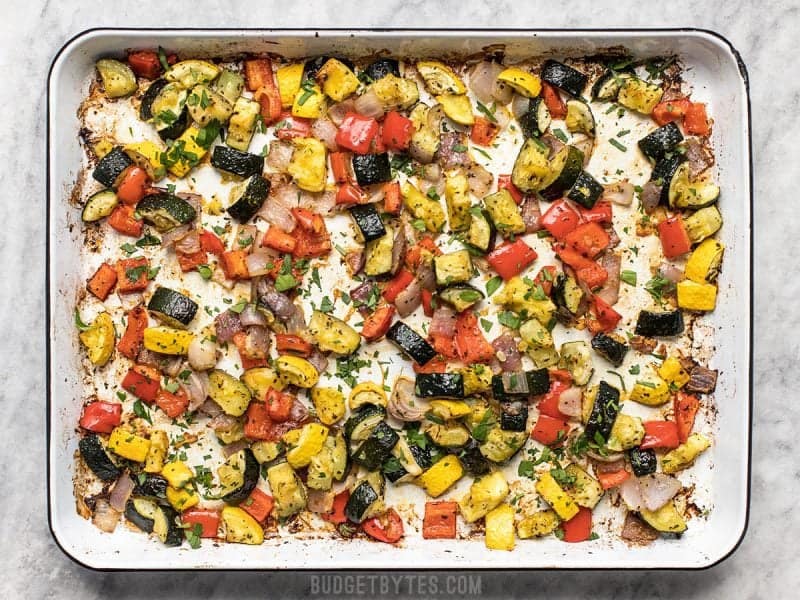 Transfer the baking sheet to the oven and roast the vegetables for 30-40 minutes, or until they're soft and have some nice browning on the edges. Make sure to stir the vegetables every 15-20 minutes to keep them roasting at an even pace and to check them for doneness. I like to add an extra pinch of salt after roasting, so you get some salt sitting on the surface to give each bite a little pop. I also like to sprinkle with a little fresh parsley for freshness and to add a pop of color, but that's optional.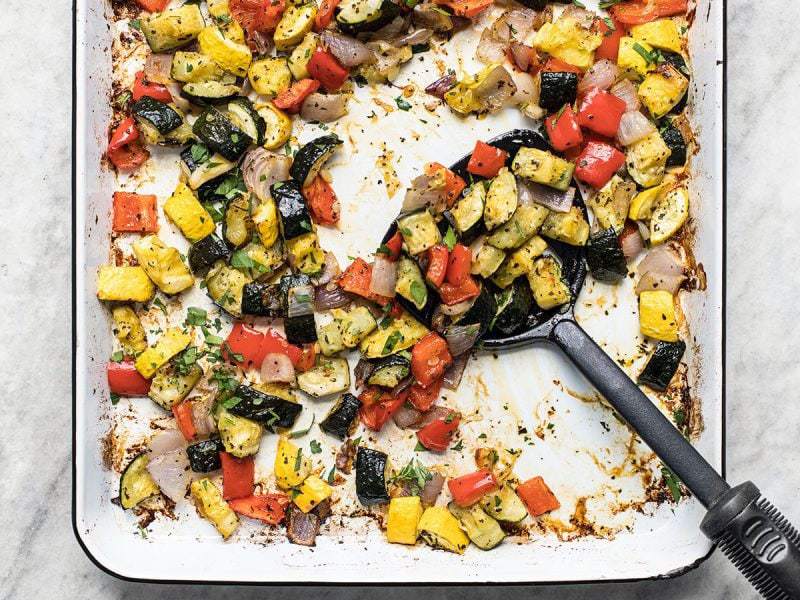 Eat those gorgeous Roasted Summer Vegetables as-is, or add them to your favorite recipe! 🤤
LOVE ROASTED VEGETABLES? TRY THESE RECIPES: