I use my freezer a lot. I love to stock it with leftovers from cooked meals so that I have a constantly rotating stock of single serving dishes to choose from on nights when I just need something fast. Figuring out which recipes are best for this purpose does take some experimentation, though, so I've done some of the heavy lifting for you and put together this quick roundup of my top 10 recipes for freezer leftovers.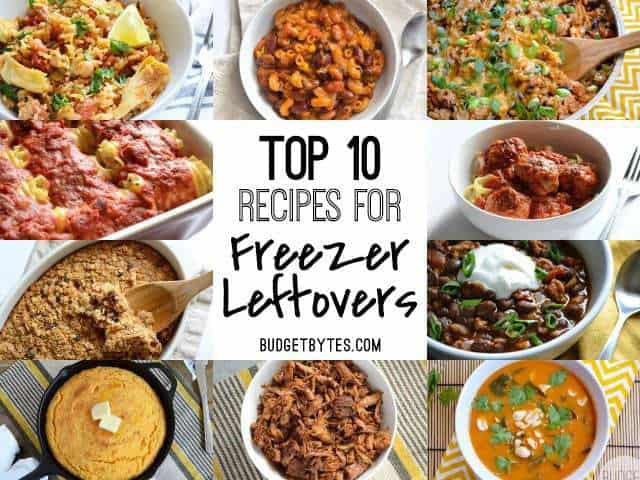 In general, I find that soups, stews, pasta or rice based dishes, and baked goods all freeze very well. I reheat almost everything in the microwave without thawing first (because I'm lazy and impatient), but soups and stews can easily be reheated on the stove in a sauce pot over low heat (add a lid and don't forget to stir!). Baked goods will thaw quickly at room temperature, or can be warmed with a quick 20-30 second zap in the microwave.
If you want more information on how I freeze my leftovers, check out my quick start guide on How to Freeze Leftovers.
Top 10 Recipes for Freezer Leftovers
Spanish Chickpeas and Rice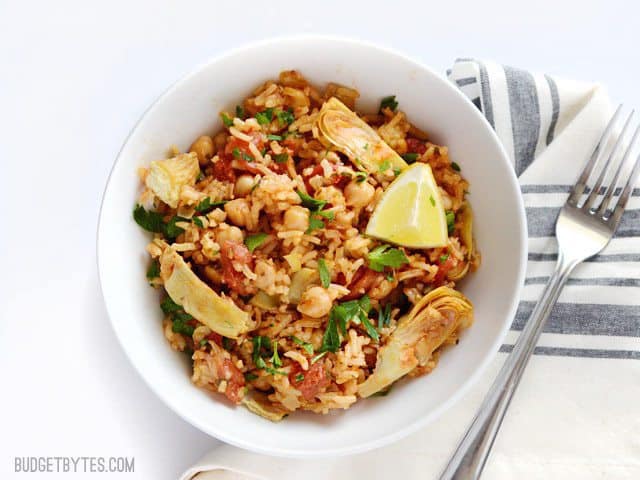 This one pot Spanish Chickpeas and rice has big flavor thanks to liberal dose of spices, artichoke hearts, and fresh lemon.
$7.39 recipe / $1.84 serving
Get the Recipe
Spanish Chickpeas and Rice – This vegan, pilaf style dish is hearty and flavorful enough to be eaten as a main dish, or just keep in on hand to use as a quick side for your summertime grilled meat.
Garden Vegetable Lasagna Roll Ups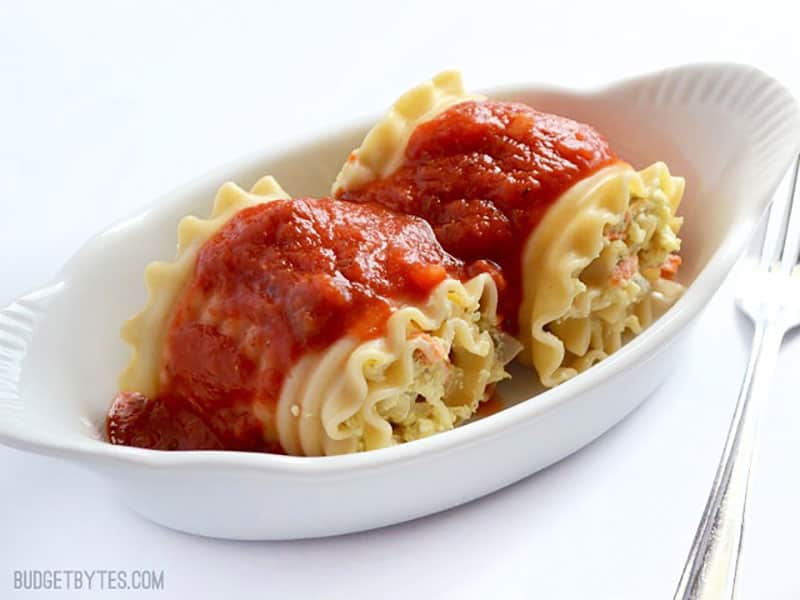 With a rainbow of vegetables and a trio of cheeses, these Garden Vegetable Lasagna Roll Ups are a flavorful and filling meal. Freezer friendly, too!
$11.70 recipe / $1.95 serving
Get the Recipe
Garden Vegetable Roll Ups – Pasta is one of my favorite comfort foods, so I like to always have some on hand. These convenient little rollups are stuffed full of vegetables and just enough creamy cheese to make it feel indulgent. I like to freeze two to a container.
One Pot Cheesy Vegetarian Chili Mac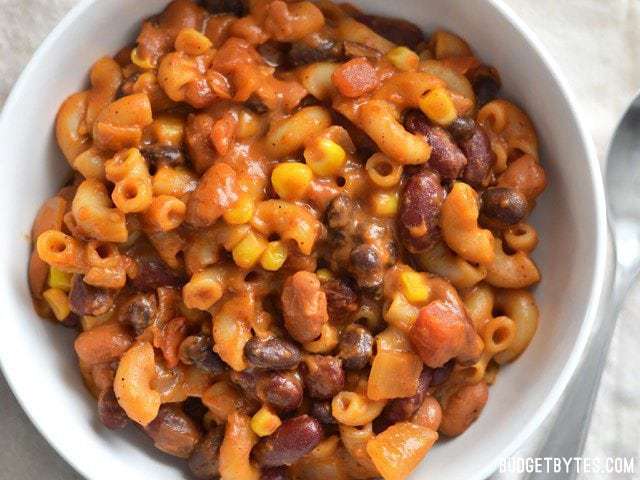 This rich and comforting One Pot Vegetarian Chili Mac and Cheese is the perfect quick and easy weeknight meal. Works great for meal prep!
$8.90 recipe / $1.11 serving
Get the Recipe
Cheesy Vegetarian Chili Mac – Seriously, comfort food to the max. Some people don't like when pasta gets a little softer after it's sat in the fridge or freezer, but it doesn't bother me one bit. It's almost more "comforty" at that point.
Chili Rubbed Pulled Pork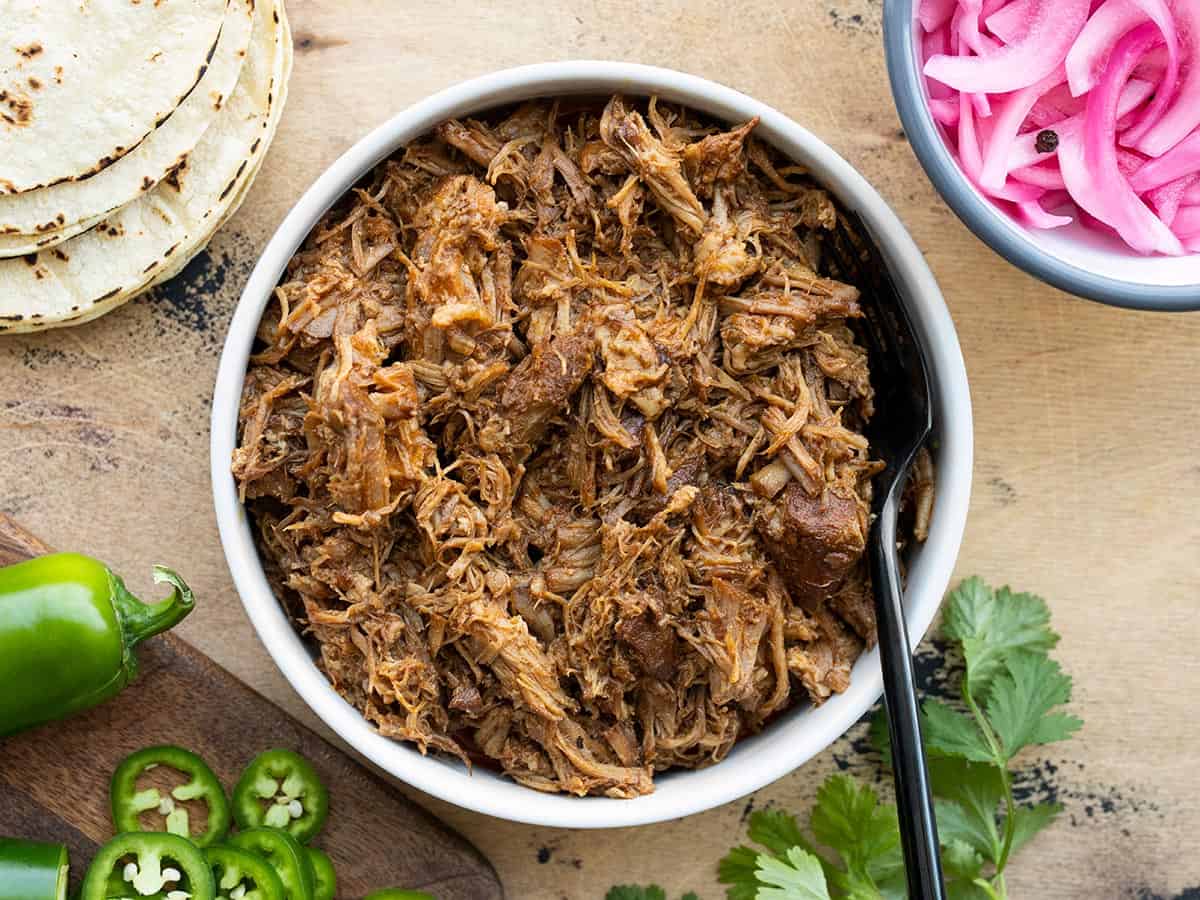 Chili Rubbed Pulled Pork is a tender, juicy, and flavorful meat that can be used for tacos, nachos, burritos, salads, and more!
$4.51 recipe / $0.75 serving
Get the Recipe
Chili Rubbed Pulled Pork – Whenever I can get my hands on an inexpensive pork roast or loin (not tenderloin), I make this. Having this ultra flavorful pulled pork ready and waiting in the freezer is just awesome. Use it in soup (like my 30 Minute Posole) or make a quick burrito bowl with rice, salsa, beans, cheese, and pulled pork. Oh, I've also stuffed it into breakfast quesadillas with an egg! :D
Vegan Peanut Stew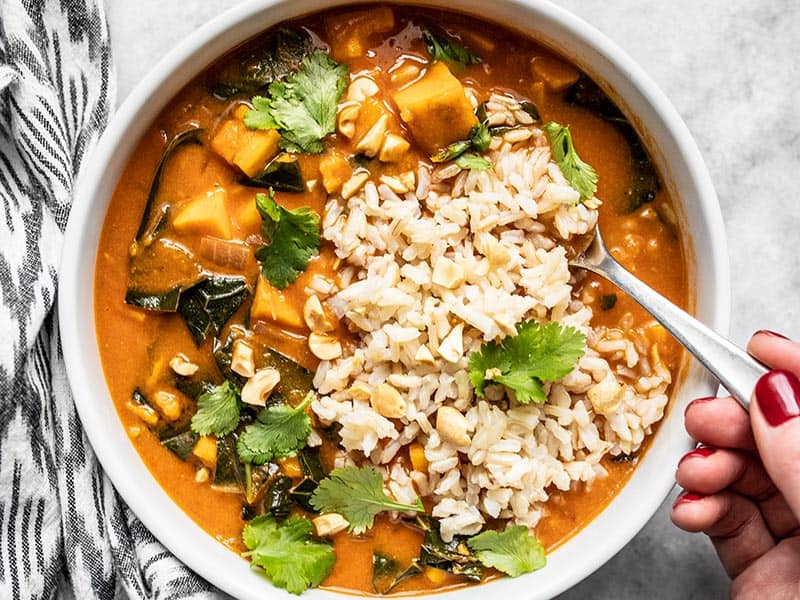 With a rich peanut and tomato sauce, sweet potatoes, collard greens, and crunchy peanuts, this Vegan Peanut Stew is comfort in a bowl!
$6.38 recipe / $1.06 serving
Get the Recipe
West African Peanut Stew – One of my all-time favorite soups and it also happens to freeze fabulously. I have two portions left in my freezer (each complete with a scoop of brown rice) as we speak. Every time I reheat one I'm pleasantly reminded of how awesome the flavor of this soup is.
Skillet Meatballs and Marinara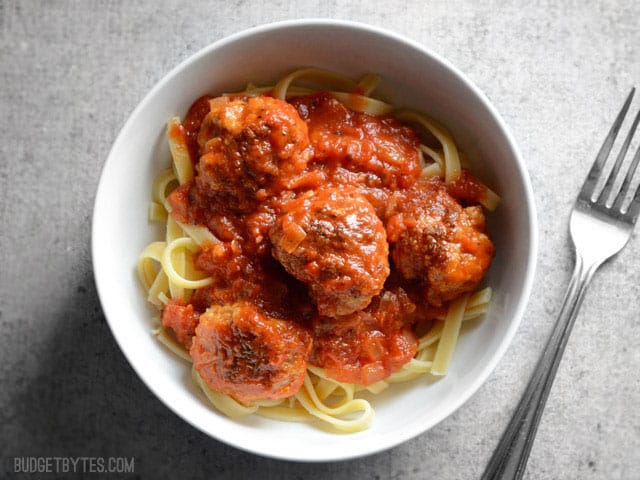 These quick and easy skillet meatballs are made in one skillet with marinara and pack a huge flavor punch. They're my new weeknight dinner favorite!
$7.98 recipe / $1.33 serving
Get the Recipe
Skillet Meatballs and Marinara – As mentioned, pasta is one of my favorite comfort foods, so it only makes sense to keep meatballs on hand. I've frozen these in the sauce with pasta, for a fast, complete microwavable meal, and I've also frozen the meatballs on their own, uncooked, so they can be quickly tossed into a hot skillet for browning (add a jar of sauce after they're browned).
Sweet Potato Cornbread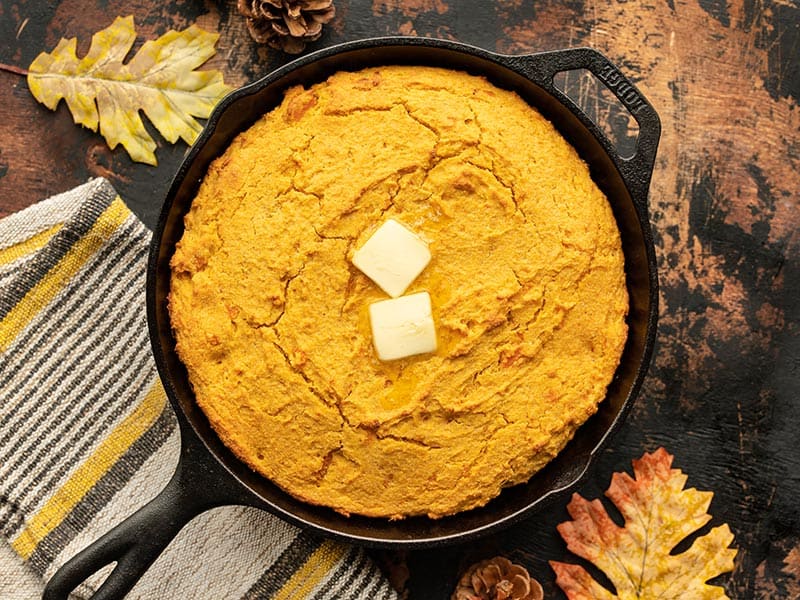 Mashed sweet potato, fragrant spices, and rich sour cream make this Sweet Potato Cornbread a decadent fall treat.
$4.00 recipe / $0.50 serving
Get the Recipe
Sweet Potato Cornbread – Okay, so I actually like to freeze any cornbread, but sweet potato cornbread is my favorite. If I know I'm going to freeze some (as opposed to devouring the entire batch), I'll bake them in muffin a muffin tins for single serving portions. Let them cool completely at room temperature before popping them into a gallon freezer bag and stashing them in the freezer.
Black Bean Chili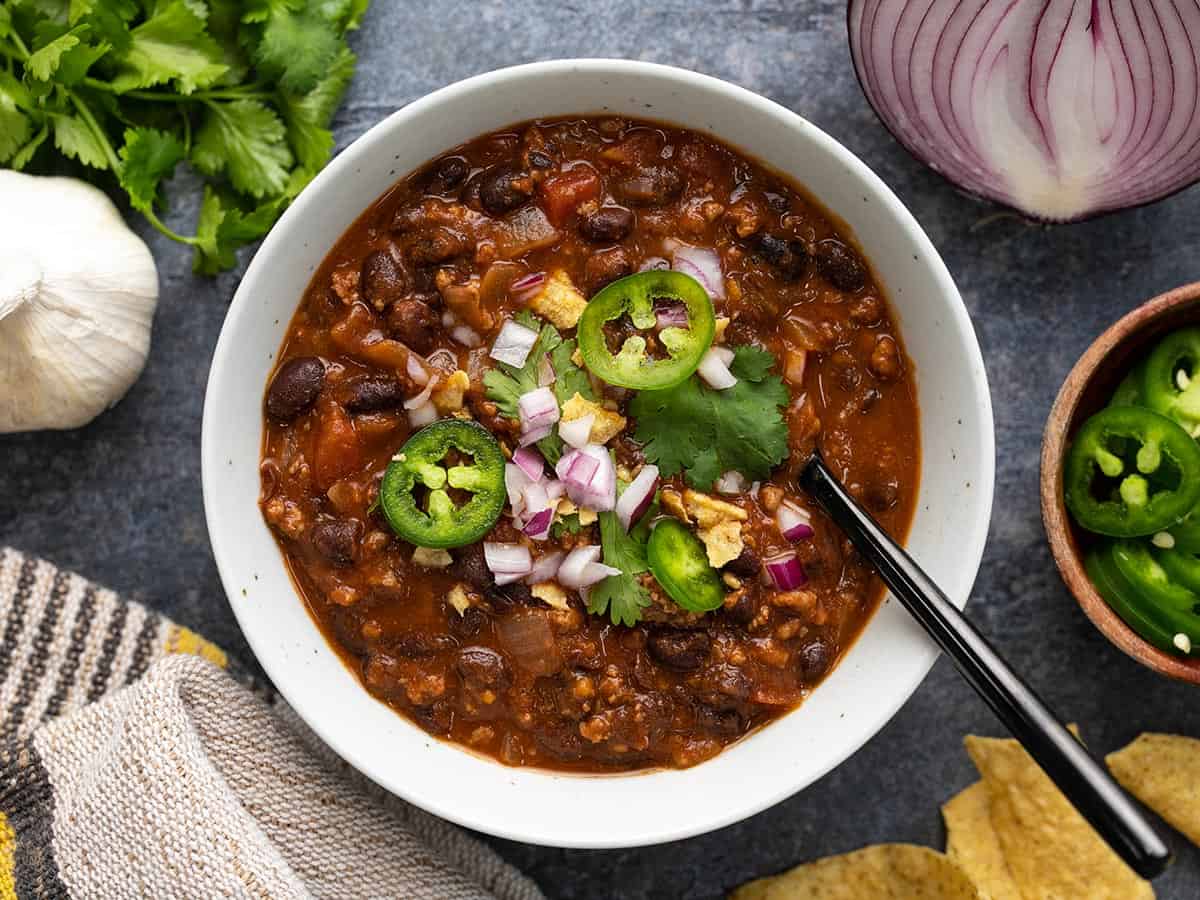 This easy and comforting black bean chili is rich, full of warm chili spices, and fast enough to pull together on a busy weeknight.
$9.19 recipe / $1.53 serving
Get the Recipe
Weeknight Black Bean Chili – Speaking of cornbread, this weeknight black bean chili is the perfect freezer companion! Chili freezes wonderfully and is the perfect thing to have on hand when those monster winter blizzards hit.
"Oatmeal Cookie" Baked Oatmeal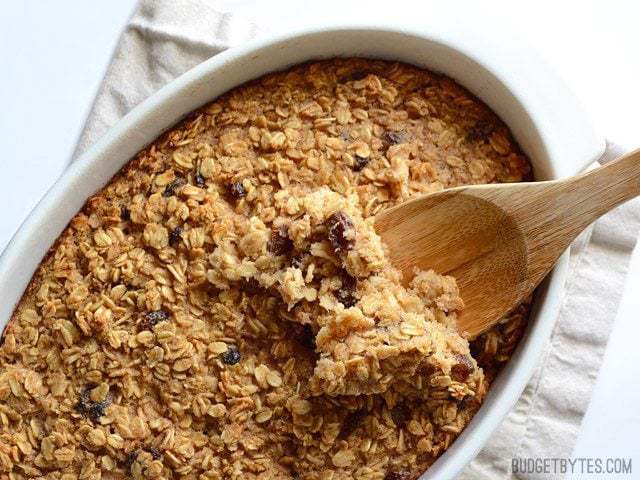 This freezable Oatmeal Cookie Baked Oatmeal tastes like an oatmeal cookie's older, more healthful sibling. Perfect for breakfast meal prep.
$4.15 recipe / $0.69 serving
Get the Recipe
Oatmeal Cookie Baked Oatmeal – Freezer leftovers aren't just for lunch and dinner. Baked oatmeal makes a great reheatable breakfast, and you can keep it in the refrigerator OR the freezer. All the flavors freeze great, but Oatmeal Cookie is my current fav. ;)
Southwest Chicken Skillet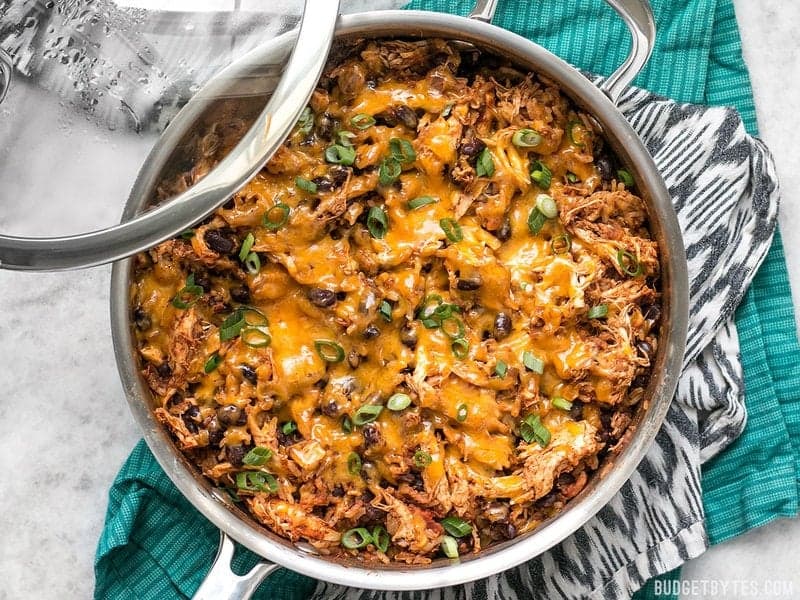 If you're looking for a quick and easy dinner, this Southwest Chicken Skillet is it! Precooked chicken makes this dinner possible in about 30 minutes.
$6.76 recipe / $1.69 serving
Get the Recipe
Southwest Chicken Skillet – Sure, this recipe only takes about 30 minutes to make anyway, but sometimes you just don't even have that much time. So, the next time you do, be sure to freeze a portion of two for those nights when you're extra busy.
So there they are! 10 of my favorite recipes to keep my freezer stocked. What do you like to keep on hand? Share your favorite recipes to stash in the freezer in the comments below (from anywhere around the web!). :)