I think I've hit the September Challenge jackpot with this one, folks. When I had my first bite of these Skillet Meatballs and Marinara I literally moaned and let out a quiet "Oh, hell yeah…"
These super easy skillet meatballs only have four ingredients and they come together in just a few minutes. If you want to be extra fancy, you can add a little grated Parmesan to the meatball mix, or even some frozen spinach (thaw and squeeze out the moisture first). But if you ask me, they're insanely delicious just the way they are and I'm a big fan of the easy, no-fuss prep.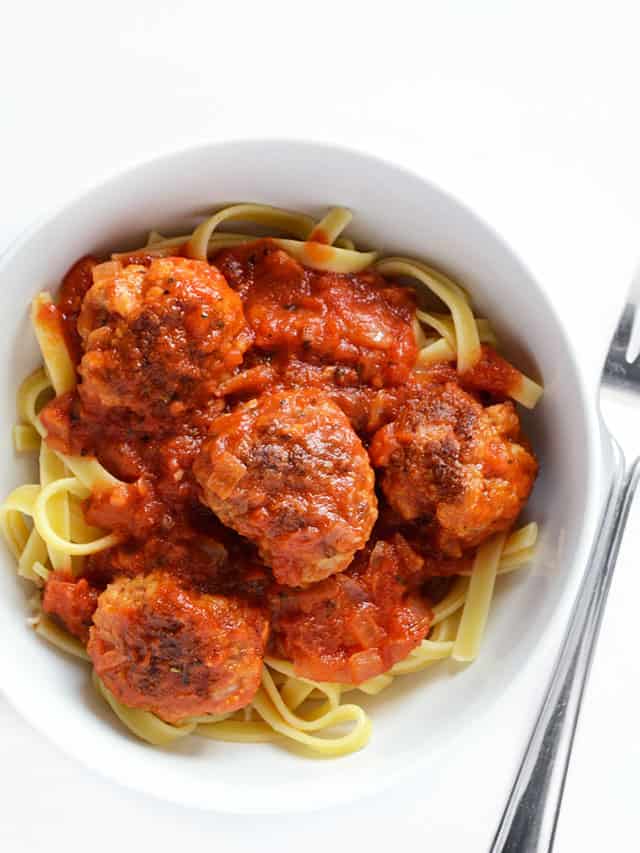 Use Italian Sausage for Fast, Easy Meatballs
I like to use Italian sausage to make my meatballs because it already comes with all the seasoning inside the meat, so you really don't have to add anything more. Just a little breadcrumbs and egg to hold the meatballs together, and some diced onion for good measure.
Can You Freeze the Meatballs?
Yes! Meatballs freeze very well. You can either freeze them uncooked, or just after you cook the meatballs in the skillet. I like the idea of freezing after cooking, so you can just toss the frozen meatballs into a pot of sauce to heat through whenever you want.
Take Another Short Cut
If you want to make this recipe even faster and easier, you can definitely just use a jar of store-bought sauce instead of making your own, and probably for about the same price.
Perfect for Meal Prep
This is one of my favorite meal preps. The meatballs and marinara hold up really well in the refrigerator for about 4 days. I like to pack them up with cooked pasta all in one container, but if you're picky about pasta, you may want to pack the pasta separate so they sauce doesn't continue to soften the pasta.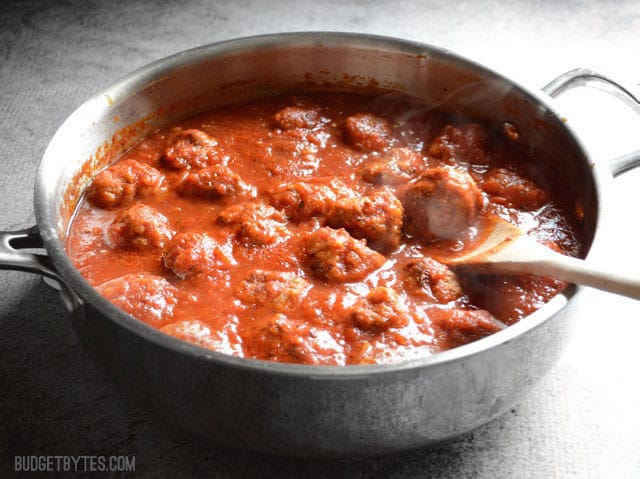 Skillet Meatballs and Marinara
These quick and easy skillet meatballs are made in one skillet with marinara and pack a huge flavor punch. They're my new weeknight dinner favorite!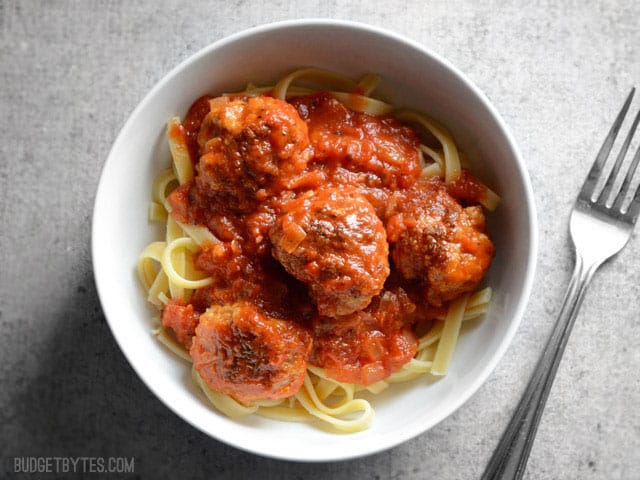 Ingredients
MEATBALLS
1

lb.

Italian sausage (mild, sweet or hot)

($3.23)

1

cup

breadcrumbs

($0.48)

1

large egg

($0.32)

1/2

yellow onion, finely diced

($0.19)
PASTA
12

oz.

pasta (any shape)

($1.00)
Instructions
To make the meatballs, squeeze the Italian sausage out of the casing and into a large bowl. Add the breadcrumbs, egg, and diced onion. Using your hands, mix the ingredients until combined. Form the mixture into about 24 ping pong ball sized balls.

Heat a large skillet over medium flame. Add the olive oil and tilt the skillet to coat. Add the meatballs and cook until browned on the outside (a couple minutes on each side). Work in two batches if needed to give the meatballs room to movel around. Once the meatballs are browned, remove them from the skillet to a clean plate.

Add the second half of the diced onion to the skillet, along with two cloves of minced garlic. Sauté in the leftover oil and fat from the meatballs until soft and transparent. Once soft, add the crushed tomatoes, oregano, basil, salt, pepper, brown sugar, and tomato paste. Stir until the tomato paste mixes into the crushed tomatoes.

Add the meatballs back to the skillet and gently stir to coat them in sauce. Place a lid on the skillet and let the meatballs simmer in the sauce for 15 minutes. Cook the pasta while the meatballs simmer.

Drain the pasta and serve each bowl with pasta, four meatballs, and a scoop of sauce.
See how we calculate recipe costs here.
---
Notes
To use store bought marinara, keep the browned meatballs in the skillet and pour a large jar of sauce over top. Allow the sauce to come to a simmer, then let the meatballs simmer in the sauce (with a lid) for 15 minutes.
Nutrition
Serving:
4
Meatballs
Calories:
632.18
kcal
Carbohydrates:
72.23
g
Protein:
27.6
g
Fat:
24.7
g
Sodium:
1106.7
mg
Fiber:
5.37
g
Read our full nutrition disclaimer here.
Scroll down for the step by step photos!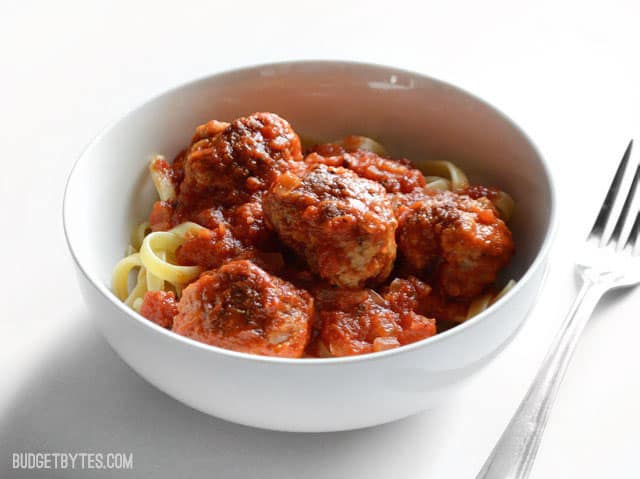 How to Make Skillet Meatballs – Step by Step Photos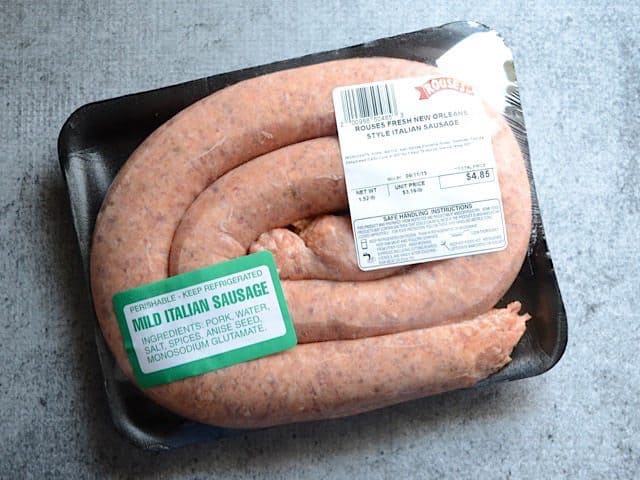 Italian sausage is great because it has a ton of herbs and spices already mixed in, which means less work for you. I usually buy Johnsonville sausage, but noticed this store brand which was far less expensive. This package is 1.5 pounds, so I portioned off 1/2 lb. and froze it for later. You only need one pound of mild, sweet, or hot Italian sausage for this recipe.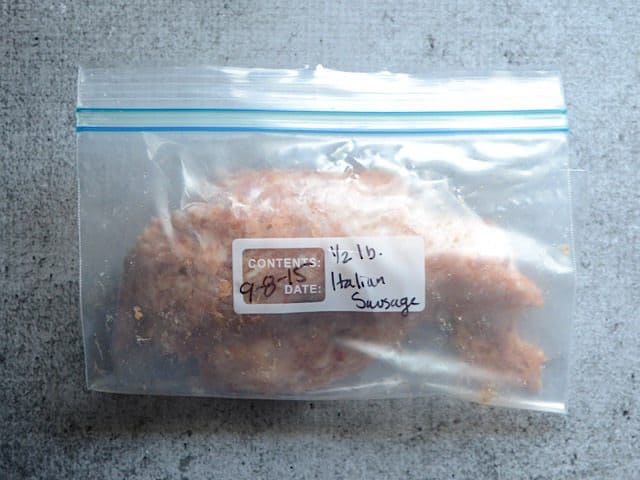 This extra little 1/2 pound of sausage is going to come in handy later on in the month!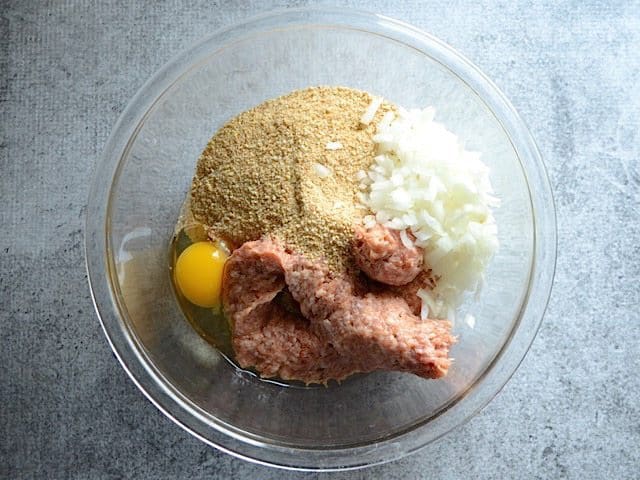 Add 1 lb. Italian sausage to a large bowl along with 1 cup breadcrumbs, 1 large egg, and 1/2 of an onion (finely diced).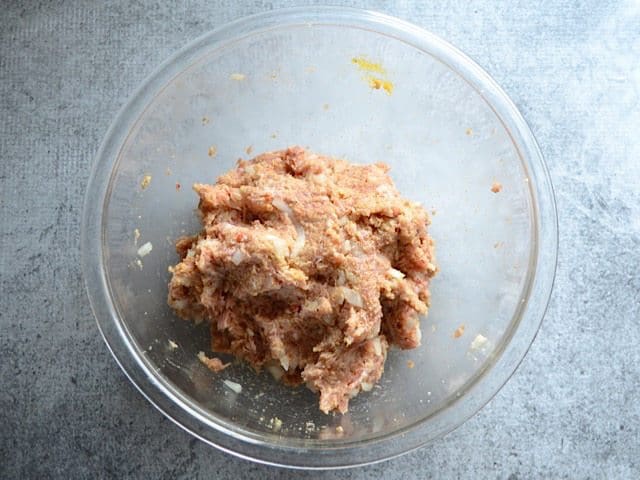 Use your hands to mix until everything is evenly combined.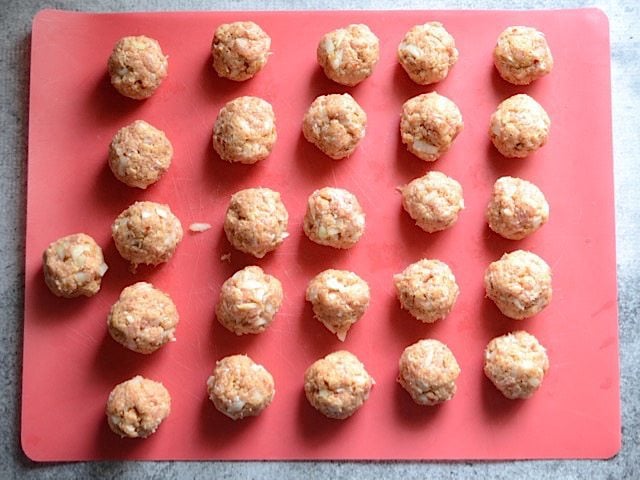 Start forming the meat mixture into ping pong sized balls. I wanted at least 24, so I could have six servings of four meatballs. I ended up getting 26 meatballs.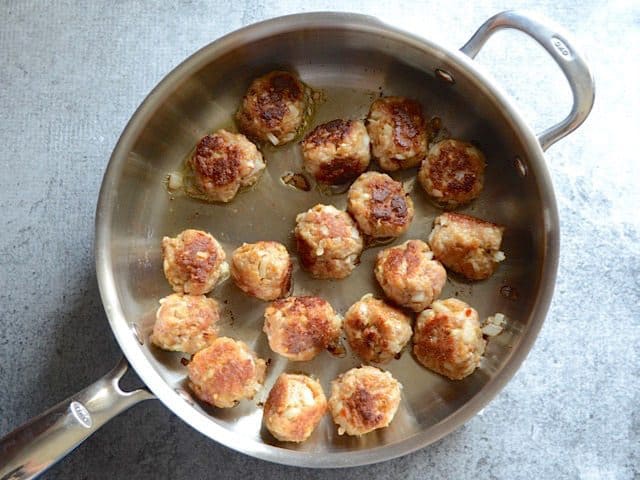 Heat a large skillet over a medium flame. Add 1 Tbsp olive oil, then tilt the skillet to make sure it's coated in oil. Add the meatballs to the skillet and brown on all sides. This is a fairly quick process. You don't need to cook them through, just until they are good and brown. They will simmer in the sauce later and finish cooking inside.
I worked in two batches to make sure the meatballs had room to roll around. Once browned, remove the skillet meatballs to a clean plate. (If you want to use a store bought sauce, don't remove the meatballs, just pour the sauce on top and let them simmer in the sauce for 15 minutes.)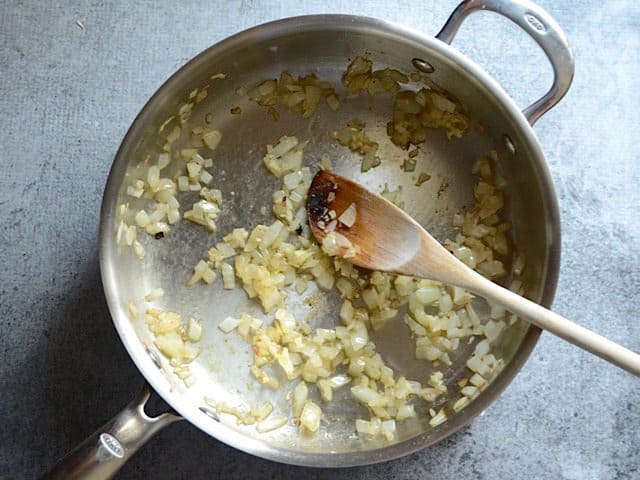 In the same skillet, add the other half of the onion (also diced) and two cloves of minced garlic. Sauté in the leftover oil until softened.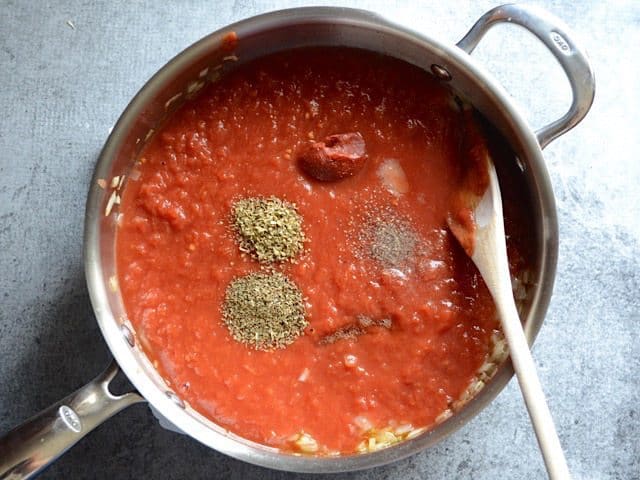 Add one 28oz. can of crushed tomatoes, 1 Tbsp tomato paste, 1/2 tsp dried oregano, 1/2 tsp dried basil, 1/2 tsp salt, some freshly cracked pepper, and 1 tsp brown sugar. Stir and heat these ingredients until the tomato paste has mixed into the crushed tomatoes.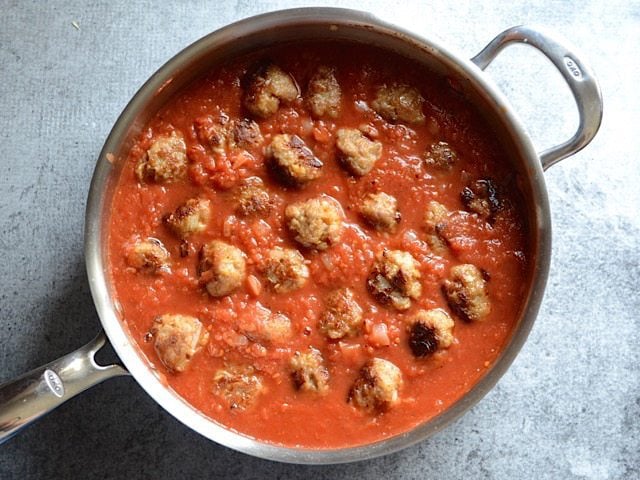 Add the partially cooked skillet meatballs back to the sauce and stir gently to coat them in sauce.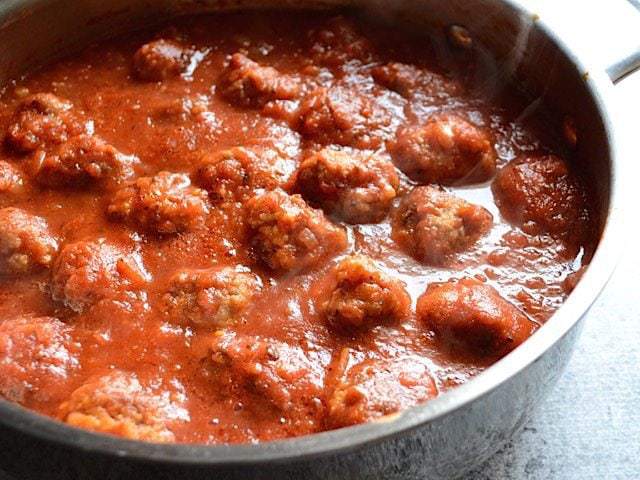 Place a lid on the skillet and let the meatballs simmer in the sauce for 15 minutes (turn the heat down slightly if needed to let it simmer gently). While the meatballs are simmering, cook the pasta.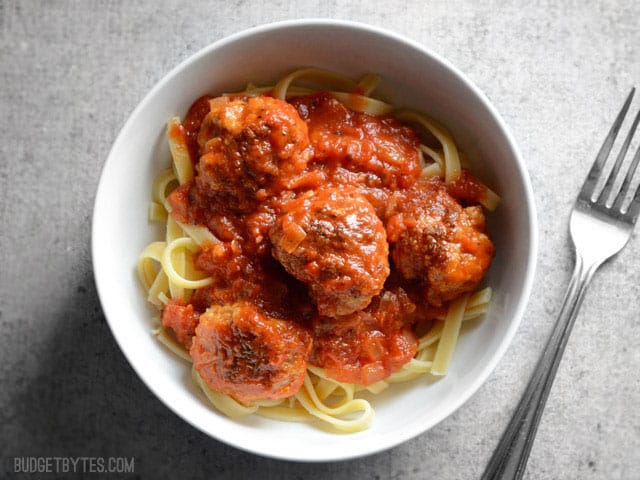 To each bowl of pasta, add four meatballs and a scoop of sauce.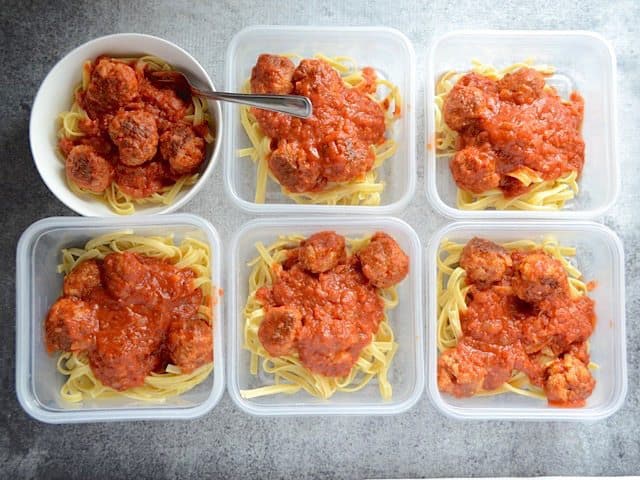 I portioned all of Skillet Meatballs and Marinara out ahead of time to make meal time easy. I may freeze a couple portions of this as well (but I have a feeling they'll all get eaten quickly!).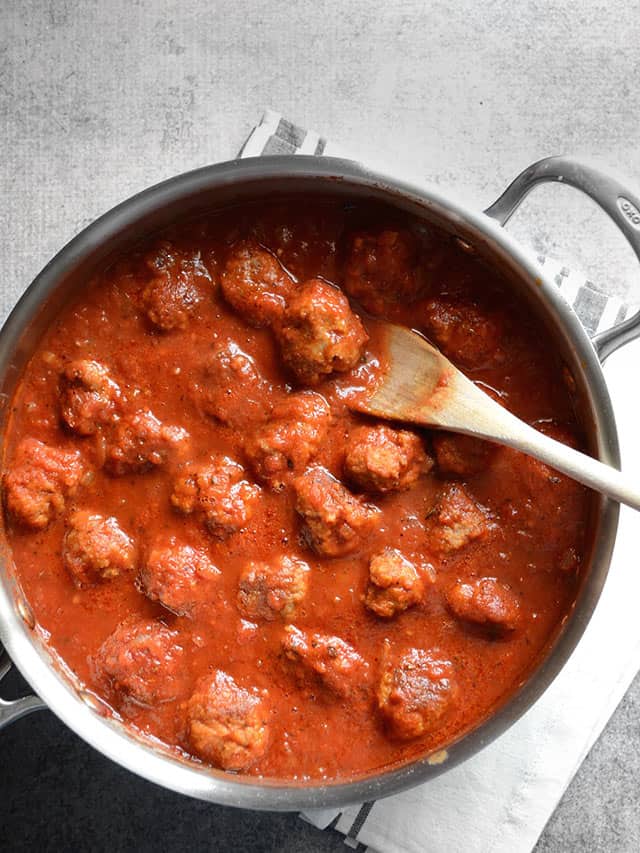 NOM. My new favorite! <3