I get a lot of recipe requests and ideas from readers and, although I can't try them all, I absolutely love hearing them. They're so inspirational! Not too long ago, Sarah dropped me a line on Facebook asking if I had ever thought about making an oatmeal cookie flavored baked oatmeal. Well, what could be more natural than Oatmeal Cookie flavored Baked Oatmeal?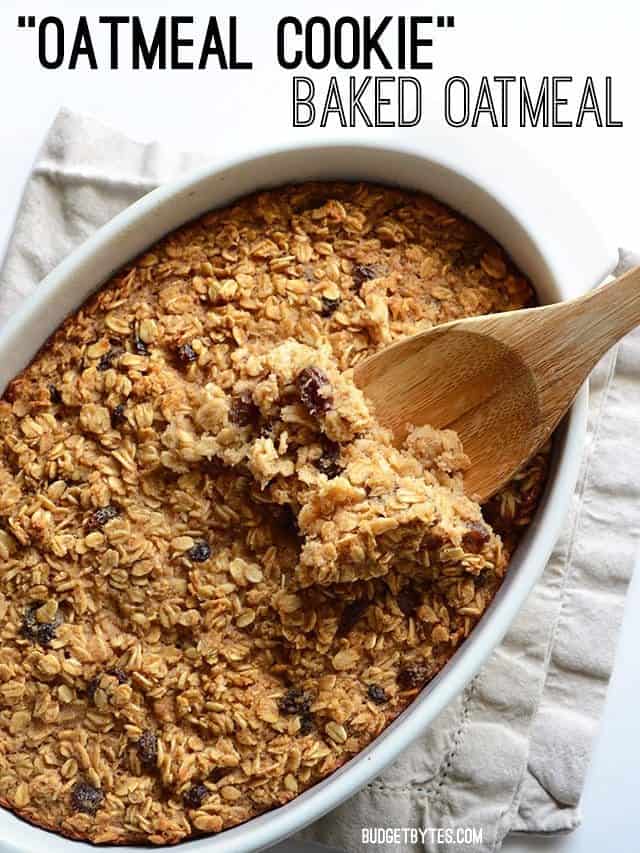 What's in Oatmeal Cookie Flavored Baked Oatmeal
So I asked myself, "what makes an oatmeal cookie taste like an oatmeal cookie? What could I add to my generic baked oatmeal recipe to make it less like regular oatmeal and more like an oatmeal cookie?"
Of course it will need a little extra sugar, but I still want my baked oatmeal to be breakfast worthy and not just a large casserole dish full of dessert. So, I used a little extra brown sugar, increased the vanilla and cinnamon, added a pinch of nutmeg, threw in some raisins (obvi), and used up some unsweetened apple sauce that I had left over in my fridge (for added sweetness). Oh yeah! And butter. We're going for "cookie" here, so I added a lil butter. The result?
It's like an oatmeal cookie's older, more healthful sibling. Not quite as rich and sweet as an oatmeal cookie (otherwise it would just be one), but it shares the same genes for sure. And yeah, this Oatmeal Cookie Baked Oatmeal WILL make your house smell like oatmeal cookies while baking!
What is Baked Oatmeal Like?
This tends to be a source of confusion on all past baked oatmeal recipes: the texture of baked oatmeal is not crunchy. It's soft and moist, yet solid. Baked oatmeal is just oats baked into a custard. So think of it like bread pudding, but made with oats instead of bread.
How to Eat Baked Oatmeal
I love baked oatmeal because it can be served several different ways. It's great hot right out of the oven, reheated in the microwave, or even cold. Sometimes I eat it as is, sometimes I add cold milk on top. This one is sweet enough for me, but if you want even more sweetness you can add a drizzle of maple syrup or honey.
Meal Prep It!
Baked oatmeal makes a great breakfast meal prep, or make-ahead breakfast. It will last about 4-5 days in the refrigerator, or can be frozen for long term storage. I suggest dividing the baked oatmeal into single serving containers just after baking, then refrigerating them overnight. Once completely chilled, transfer some to the freezer for later and save a few in the refrigerator for the next few days.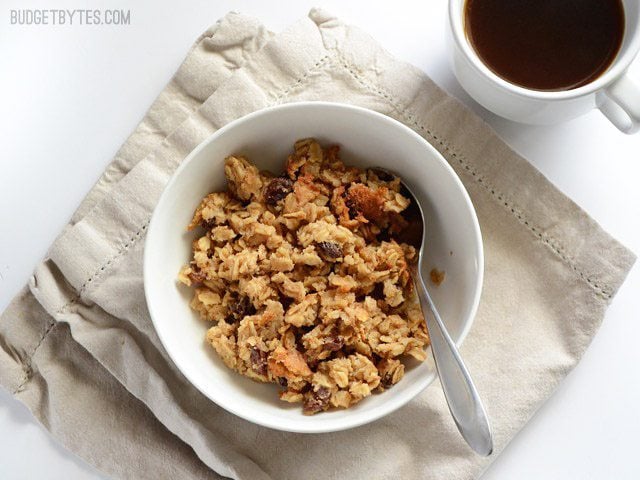 "Oatmeal Cookie" Baked Oatmeal
This freezable Oatmeal Cookie Baked Oatmeal tastes like an oatmeal cookie's older, more healthful sibling. Perfect for breakfast meal prep.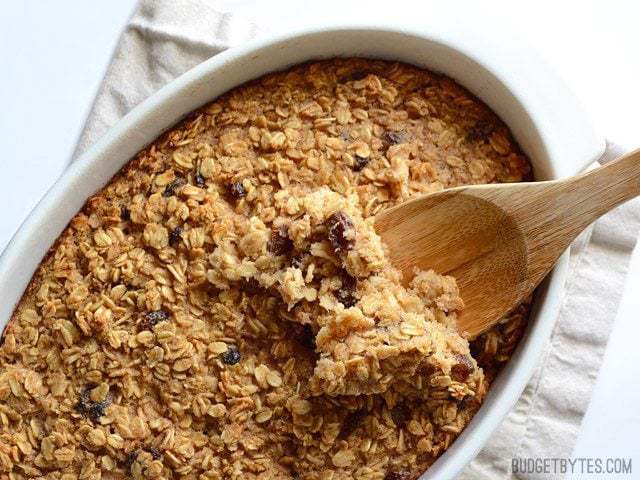 Ingredients
1.5

cups

unsweetened applesauce

($1.00)

1

large egg

($0.27)

1/2

cup

brown sugar

($0.16)

1/2

Tbsp

vanilla extract

($0.42)

1/2

Tbsp

cinnamon

($0.15)

1/4

tsp

nutmeg

($0.02)

3/4

tsp

salt

($0.05)

1

tsp

baking powder

($0.06)

2

Tbsp

melted butter

($0.20)

1.5

cups

milk

($0.56)

1/2

cup

raisins

($0.75)

3

cups

old-fashioned rolled oats

($0.51)
Instructions
Preheat the oven to 375ºF. In a large bowl, whisk together the apple sauce, egg, brown sugar, vanilla, cinnamon, nutmeg, salt, baking powder, and melted butter. Once whisked smooth, add the milk and whisk until smooth again.

Add the raisins and dry rolled oats. Stir with a spoon until the mixture is combined. Lightly coat a 9×9 casserole dish (or any 2-3 quart casserole dish) with non-stick spray, then pour the oat mixture into the dish.

Bake the oatmeal uncovered in the fully preheated oven for 45 minutes. Divide into six portions and serve. Baked oatmeal is good warm or cold and tastes great with cold milk poured over top.
See how we calculate recipe costs here.
---
Nutrition
Serving:
1
Serving
Calories:
370.6
kcal
Carbohydrates:
65.2
g
Protein:
8.58
g
Fat:
9.33
g
Sodium:
432.12
mg
Fiber:
5.48
g
Read our full nutrition disclaimer here.
How to Make Oatmeal Cookie Baked Oatmeal – Step by Step Photos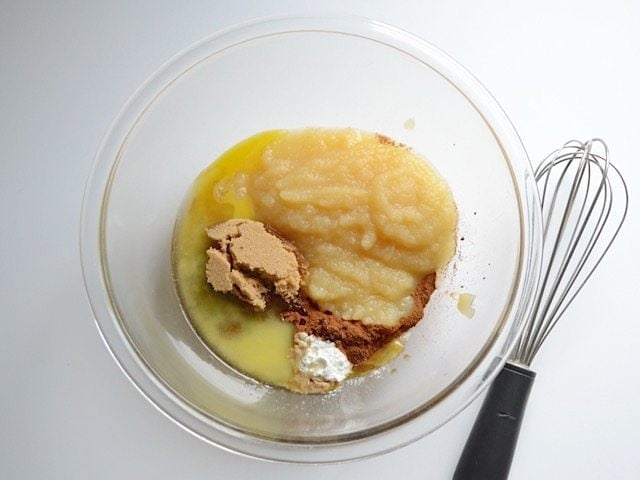 Preheat the oven to 375 degrees. In a large bowl, whisk together 1.5 cups unsweetened applesauce, 1 large egg, 1/2 cup brown sugar, 1/2 Tbsp vanilla extract, 1/2 Tbsp cinnamon, 1/4 tsp nutmeg, 3/4 tsp salt, 1 tsp baking powder, and 2 Tbsp melted butter.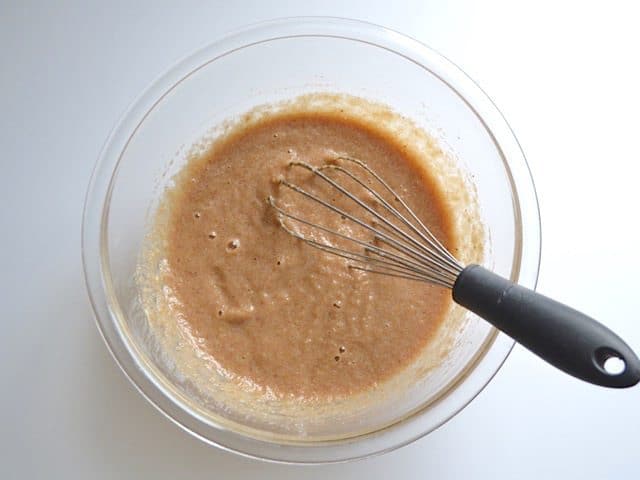 Whisk those ingredients together until smooth.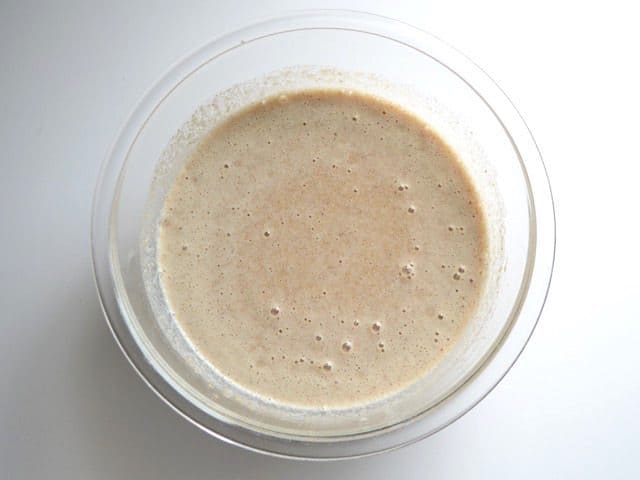 Then add 1.5 cups milk and whisk again. It's easier to add the milk after the thicker ingredients are already combined because it will be really splashy if you try to add the milk first.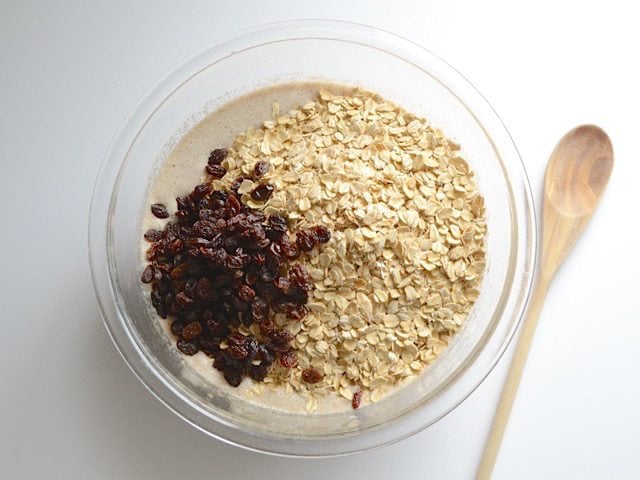 Add 1/2 cup raisins and 3 cups of dry old-fashioned rolled oats. I like old-fashioned rolled oats the best because the pieces are large and have a lot of texture. If you use quick oats, there will be less texture variation in your final product.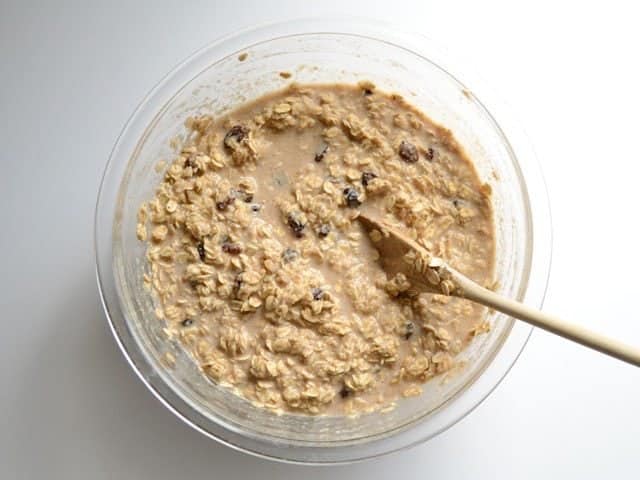 Switch from a whisk to a spoon and stir the oats and raisins into the wet ingredients.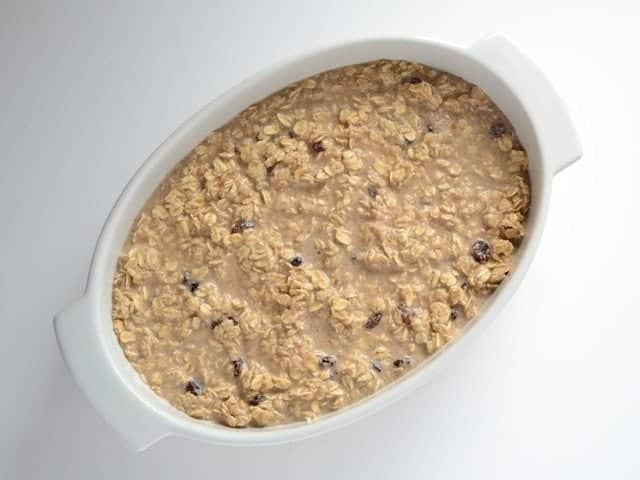 Lightly coat the inside of a 2-3 quart casserole dish (about 9×9 inches if using a square) with non-stick spray. Pour the oat mixture into the dish.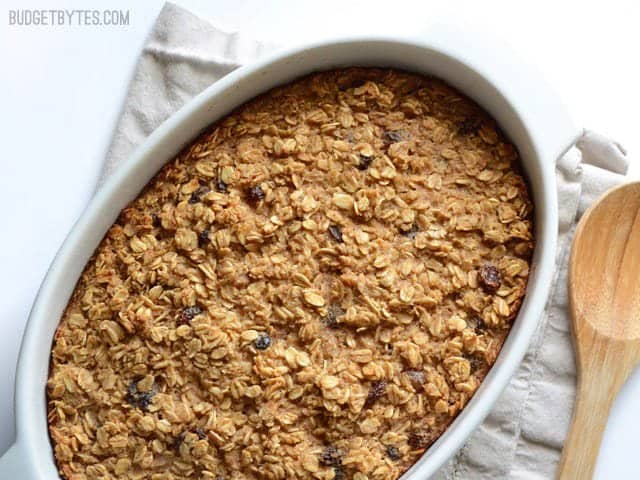 Bake the oats uncovered in the fully preheated oven for 45 minutes. The oats will absorb the liquid and become tender, but slightly chewy. The outer edges and surface should be ever so slightly browned.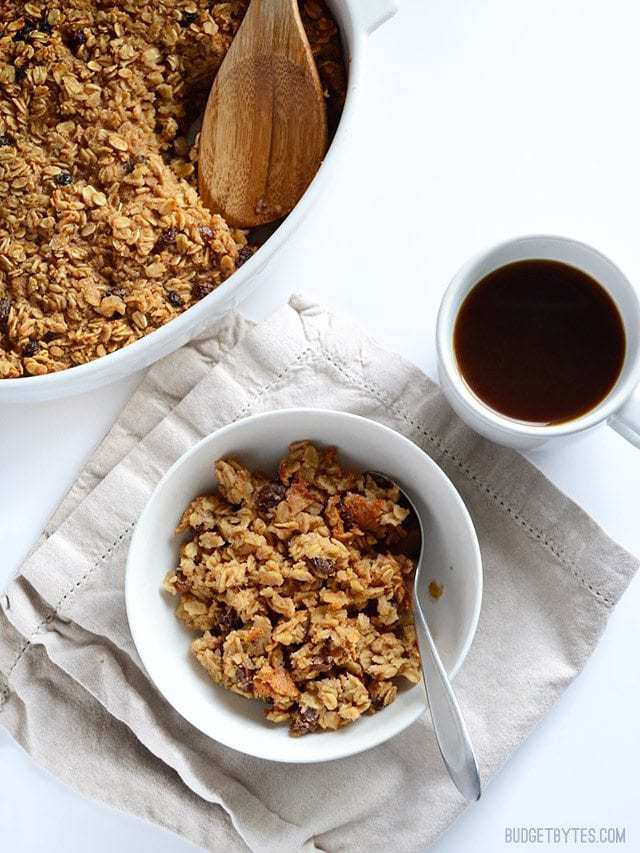 Baked oatmeal tastes just as good cold as it does warm. Sometimes I reheat it in the microwave in the morning, but sometimes I just eat it cold. I love it with some cold milk poured over top.
Baked oatmeal 4 life! (Especially when it's OATMEAL COOKIE Baked Oatmeal)