Fast French bread pizzas are a classic Budget Byte because they are super fast, ridiculously easy, customizable, and inexpensive! But one of my favorite reasons for making French Bread Pizza is because it's a great way to use up the leftovers in your fridge. You can top pizzas with just about anything, so dive into your refrigerator and find some creative pizza toppings! I'll post some of my favorite pizza toppings below. :)
Originally posted 11-29-2010, updated 9-15-18.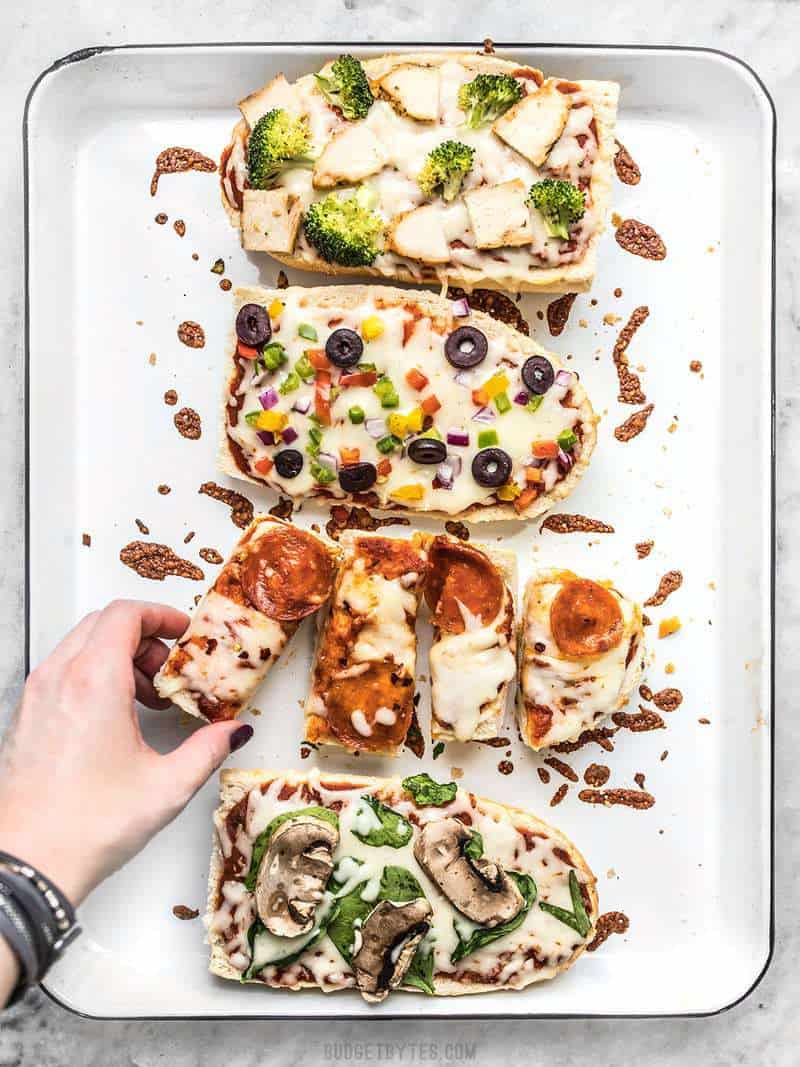 French Bread Pizza Topping Ideas
Leftovers: Scour your fridge to find unique combinations of meat, vegetables, and cheese for customized toppings on your French Bread Pizza. Some of my favorites are:
Spinach, mushroom, feta
Pepperoni, pepperocini, onion
Mixed Vegetable
Artichoke hearts, olives, roasted peppers
Chicken, broccoli, and cheddar
Hit The Salad Bar: One of my favorite ways to have fun with pizza toppings without spending a lot is to hit the salad bar at the grocery store. You can get a small handful of several different items to top your pizza, without having a lot of leftovers. Just remember to get less than you'd think. A little goes a long way and salad bars are priced by weight!
Freeze Your French Bread Pizzas
The only thing better than throwing together a quick French Bread Pizza is having them already pre-made in the freezer, ready to pop into the oven. To freeze your French Bread Pizzas, just top them as usual, press the toppings into the bread a bit, and freeze them on the baking sheet for an hour or so, or until solid. Once solid, transfer them into a gallon-sized freezer bag. They'll keep for a few months and you can bake them as usual, straight from the freezer, adding just a few extra minutes of baking time.
Want to try making your own Pizza Sauce? My Thick & Rich Pizza Sauce is super quick and easy, and freezable so you can always have it on hand!

Easy French Bread Pizza
French Bread Pizza is the perfect budget-friendly fast and easy weeknight dinner. Customize the toppings to fit your taste buds or what you have on hand!
Servings: 4
Ingredients
1 French loaf ($0.99)
1/2 cup pizza sauce ($0.42)
4 oz. shredded mozzarella (about 1 cup shredded) ($1.04)
toppings of your choice (variable)
Instructions
Preheat the oven to 400ºF. Cut the French loaf in half lengthwise, then cut each half open into two pieces. Place the pieces of French Bread, cut side up, on a large baking sheet.

Top each piece of bread with about 2 Tbsp pizza sauce and 1 oz. (or 1/4 cup shredded) mozzarella. Add any additional toppings you desire.

Bake the pizzas in the preheated oven for 10-15 minutes, or until the cheese is melted and bubbly, and the bread is slightly brown and crispy on the edges. Serve hot.
See how we calculate recipe costs here.
---
Nutrition
Serving: 1Serving ・ Calories: 366.85kcal ・ Carbohydrates: 49.38g ・ Protein: 15.7g ・ Fat: 12.4g ・ Sodium: 789.5mg ・ Fiber: 2.3g
Nutritional values are estimates only. See our full nutrition disclaimer here.
---
The equipment section above contains affiliate links to products we use and love. As an Amazon Associate I earn from qualifying purchases.
Are you ready to make this super delish fast pizza? Scroll down for the step by step photos!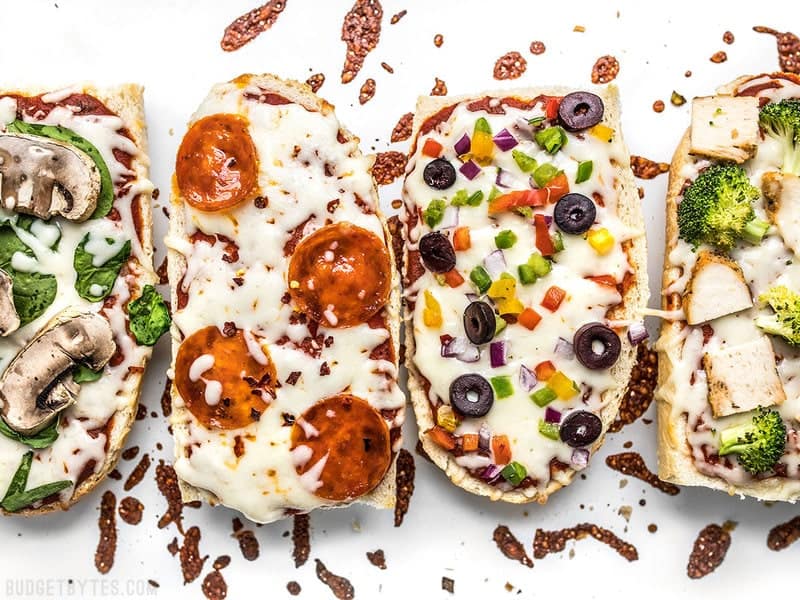 How to Make Fast French Bread Pizza – Step by Step Photos
Start by preheating your oven to 400ºF. You'll need one loaf of French bread, about 12-16 inches long. French bread is perfect for pizza because it's crispy on the outside and soft on the inside. YUM!
Cut the loaf of French Bread in half lengthwise, then cut each half open. Place the pieces of French Bread on a large baking sheet, cut sides facing up. Spread about 2 Tbsp pizza sauce over top of each piece of French Bread.
Add about 1/4 cup shredded mozzarella to each piece of French Bread.
I like to try to use up any leftovers in my refrigerator for pizza toppings, but I also like to grab small amounts of several different items from the salad bar. This allows me to have a lot of variety with my pizza toppings, without having to buy a bunch of different items or having a ton of leftovers!
Once your pizzas are topped, you can either bake them right away, or freeze them. To freeze them, press the toppings down into the bread slightly to help them stick, then freeze them for an hour or so on the baking sheet, or until they're solid. Once solid, transfer to a gallon-sized freezer bag for longer storage. Bake the frozen pizzas just as you would the fresh pizzas, with a few extra minutes of baking time added.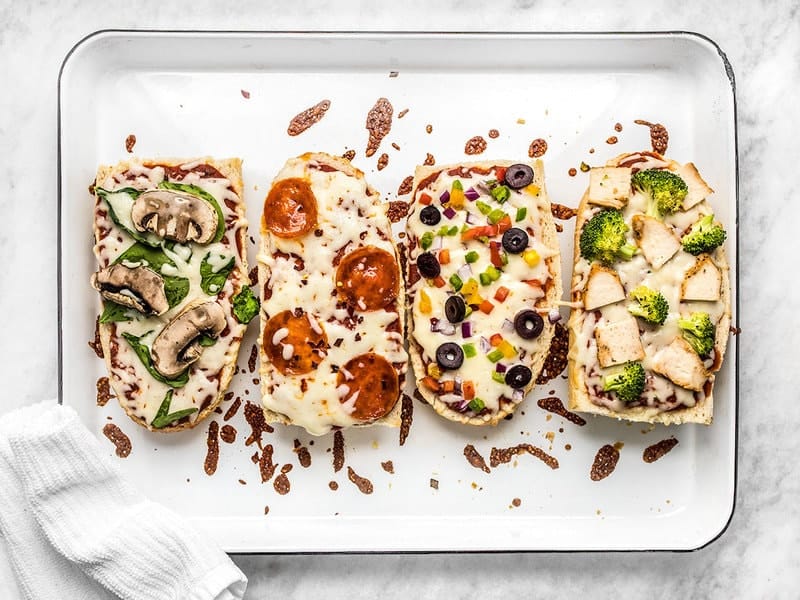 Bake the French Bread Pizza in the preheated oven for 10-15 minutes, or until the cheese is melted and the edges of the bread are brown and crispy. Serve hot! Sometimes I like to add a pinch or two of crushed red pepper flakes, too. ;)
Fast pizza doesn't have to be a freezer-burned cardboard disc! Make it fresh, but make it fast!