I'm an equal opportunity pizza lover. I love fancy hand tossed pizza as much as I love a $3 frozen pizza. I love thick pizza crust, thin and crispy pizza crust, and everything in between. And I love trying to make them all at home. This super fast, 30-minute thin and crispy pizza crust has quickly become one of my favorites because it's just so fast and easy. No rise time means I get my pizza fix FAST.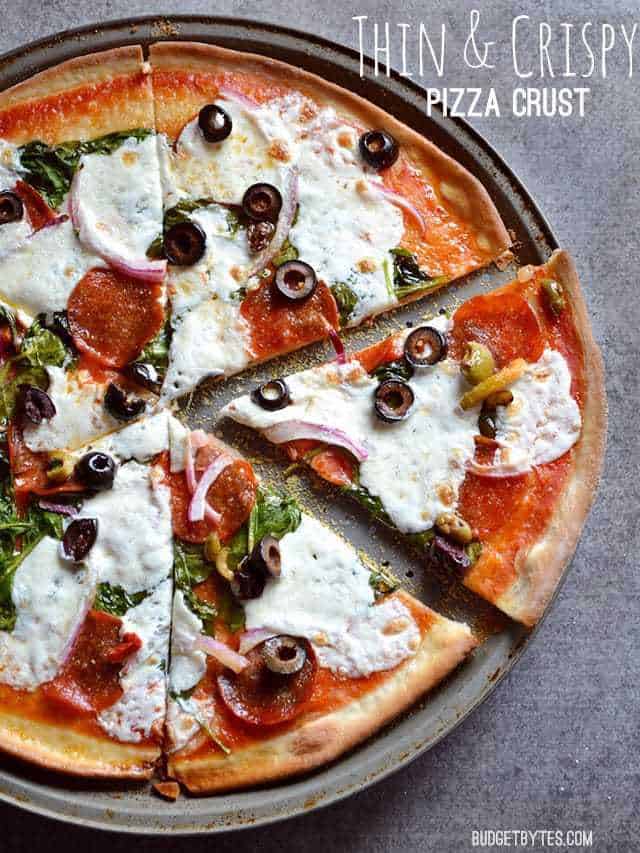 My love for thin crust has grown over the past few years and I've been on the hunt for a good thin and crispy pizza crust recipe. I've tried a few with less than stellar results, but when thekitchn.com claimed that their recipe was the result of "years of very meticulous testing," I couldn't help but trust their word. I tried their recipe with two small variations, the use of more yeast (one standard 0.25 oz. packet) and a little sugar to help super charge the yeast. I was very happy with the results!
This crust is crispy, but not dense (thank you, yeast), and has just enough "give" to keep you from thinking you're eating off of a saltine cracker.
Can I Make the Pizza Dough Ahead of Time?
Yes, you can make this dough ahead of time and keep it in the refrigerator up to two days, or freeze it for about three months. To thaw the frozen dough, place it in the refrigerator the day before, or place it on the counter top for about an hour to thaw at room temperature.
What Kind of Pizza Pan is Best?
The more heat that hits this thin and crispy pizza crust, the crispier it will be, so try to use a pizza pan that is perforated, or a preheated pizza stone.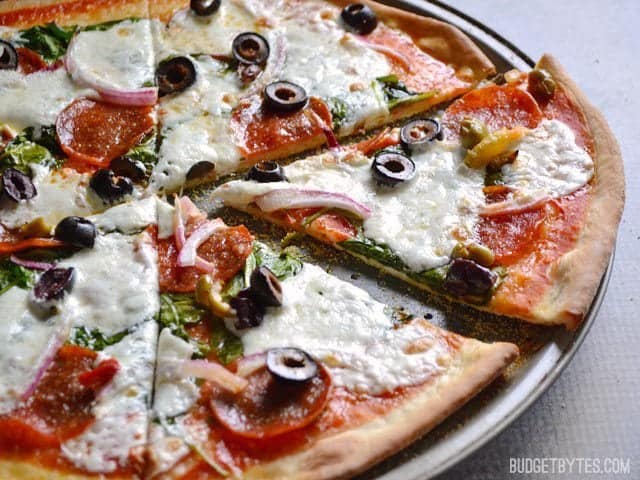 My pizza is topped with fresh mozzarella, a few vegetables from the salad bar, and leftover pepperoni from my Three Pepper Pasta with Crispy Pepperoni. It's important not to choose toppings that are very wet when working with a thin crust.
Thin and Crispy Pizza Crust
This awesomely thin and crispy pizza crust requires only a few ingredients and about 30 minutes to make. Better and FASTER than take out!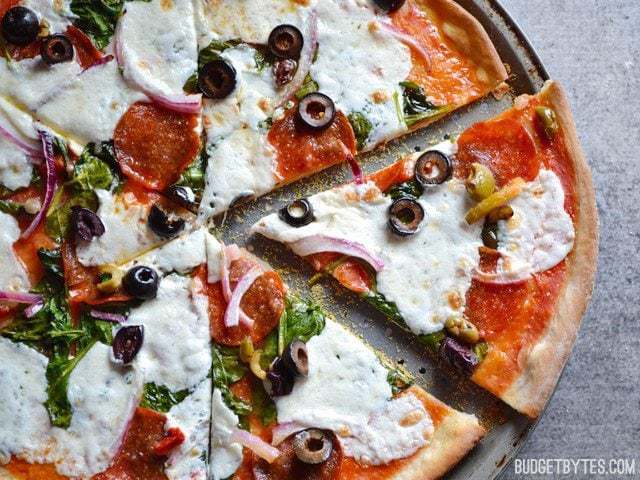 Ingredients
3/4

cup

warm water

($0.00)

1/2

tsp

sugar

($0.01)

2

tsp

active dry or instant yeast (or one 0.25oz. packet)

($0.19)

2

cups

all-purpose flour (plus more for dusting)

($0.34)

1

tsp

salt

($0.05)
Instructions
Adjust the oven rack to its highest position. Preheat the oven to 500 degrees, or its highest setting.

Dissolve the sugar and yeast into the warm water and let it sit until foamy (about 5 minutes).

While the yeast is soaking, combine 1 cup of the flour and the salt in a separate large bowl. Stir until the salt is evenly mixed into the flour.

Pour the yeast water into the bowl of flour, then stir with a wooden spoon until fairly smooth. Stir in an additional 1/2 cup flour. Turn the dough out onto a floured surface and knead for 5 minutes, slowly adding up to 1/2 cup more flour as you go. Be sure to add the flour slowly as you knead to prevent it from becoming too dry and stiff.

Let the dough rest for 5 minutes. Divide it into two equal portions and form each piece into a ball. If you do not wish to make two pizzas immediately, the second ball of dough can be wrapped in plastic and stored in the refrigerator for up to two days, or frozen for up to 3 months.

Press the dough down into a flattened circular disk, then use a rolling pin to roll it out into a thin circle, about 12 inches in diameter and 1/8 inch thick.

Prepare a pizza pan with either non-stick spray or a combination of spray and cornmeal, then carefully place the dough onto the pan. Spread a thin layer of your favorite sauce over the surface, then bake in the preheated oven for 5 minutes, or just until the edges develop a hint of color.

Remove the crust from the oven, add the rest of your toppings, then bake for an additional 7-10 minutes, or until the cheese is bubbly and the crust is a medium golden brown.
See how we calculate recipe costs here.
---
---
Nutrition
Serving:
1
Pizza
Calories:
471.85
kcal
Carbohydrates:
98.05
g
Protein:
14.5
g
Fat:
1.5
g
Sodium:
1184.55
mg
Fiber:
4.5
g
Read our full nutrition disclaimer here.
How to Make Thin and Crispy Pizza Crust – Step by Step Photos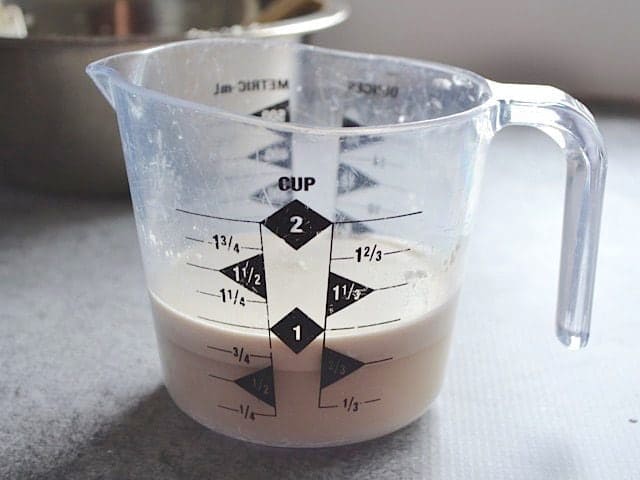 Begin by preheating your oven to 500 degrees, or as close to 500 as you can get it. It may take a while to get up that high, so start preheating as soon as possible. Also, move your oven rack to the highest position because that's where the air will be hottest. Hotter is better when it comes to pizza.
Next, dissolve 1/2 tsp sugar and 2 tsp (or one 0.25oz. packet) of yeast into 3/4 cup warm water. Let that sit until it forms a thick layer of foam like the photo above (that should take about 5 minutes).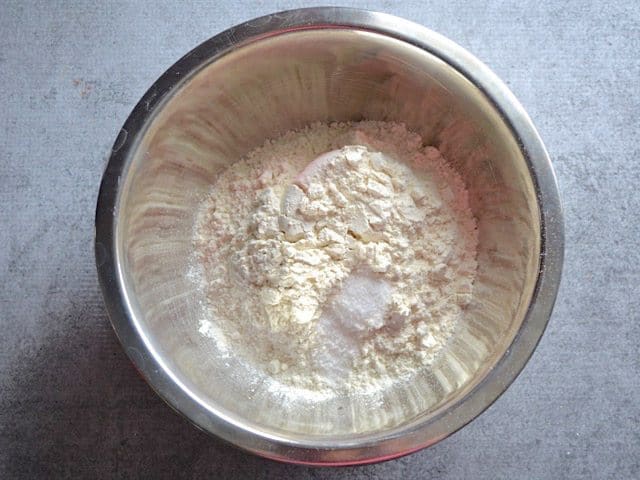 While you're waiting on the yeast, combine 1 cup all-purpose flour and 1 tsp salt in a large bowl. Make sure to stir them until the salt is evenly distributed throughout (or as best you can tell).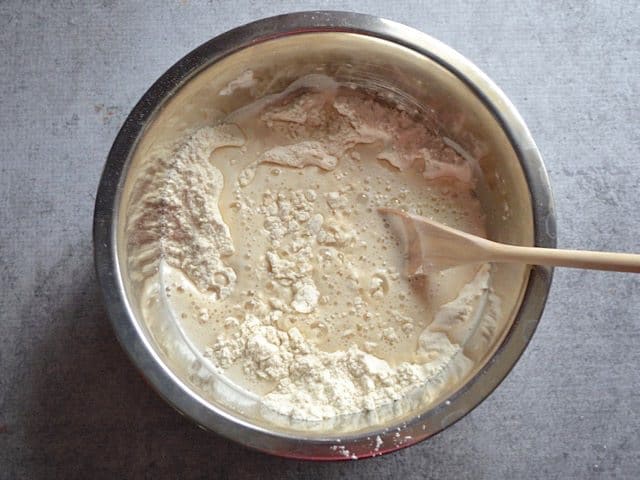 Pour the foamy yeast water into the bowl of flour and stir until fairly smooth.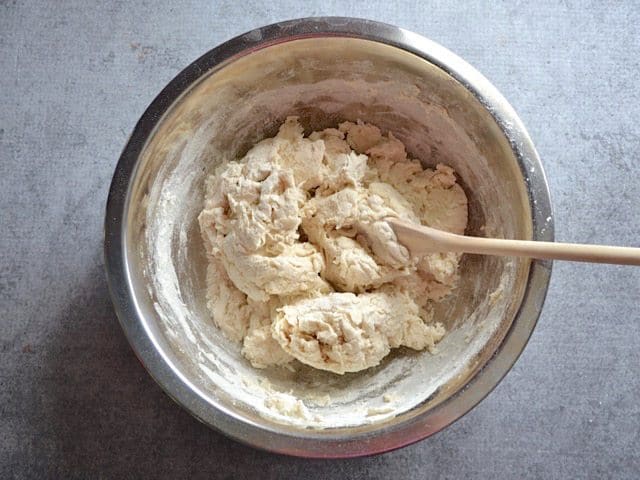 Stir in an additional 1/2 cup flour, then turn the shaggy dough out onto a floured surface and knead for about 5 minutes. Slowly add up to 1/2 cup more flour as you knead. Add the flour slowly so that the dough does not become dry and stiff. It should remain soft and supple.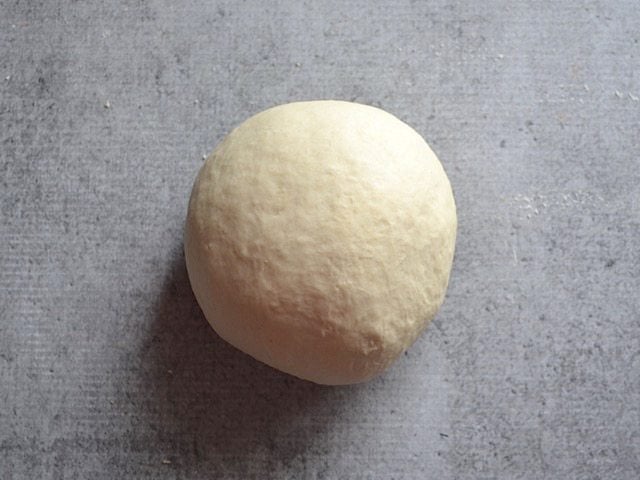 Let the dough rest for at least five minutes. This helps the gluten relax a bit, which will make it easier to roll out.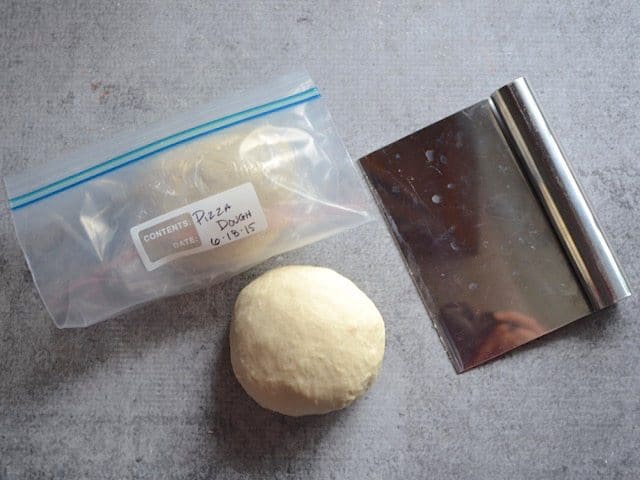 Divide the dough into two pieces and form each into a smooth ball. If you're not going to make two pizzas at this time, wrap one in plastic and store it in the fridge for a couple of days or in the freezer for up to a few months.
Flatten the ball of dough into a circular disc with your hands. People always ask me how I get my pizzas so round and the answer is (in addition to having YEARS of pizza making experience) this first "pat down" step. This is where the shape begins. If it's not a circle before you start rolling, good luck making it into one later! :P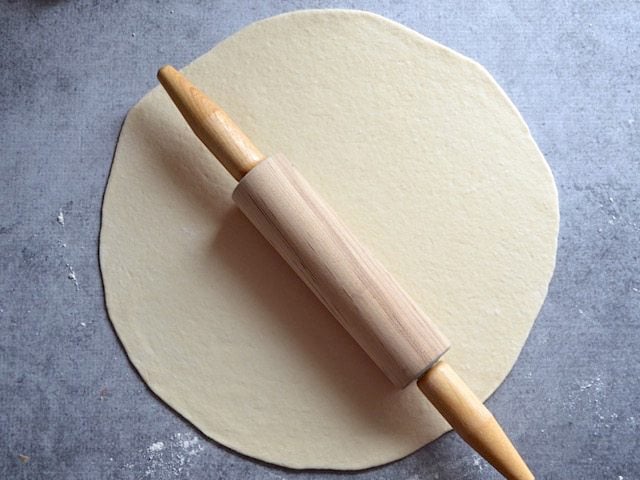 Use a rolling pin to roll the dough out into a 12 inch circle, about 1/8 inch thick. Using a rolling pin is very important to making the crust thin and crispy. It flattens out the tiny air pockets and kind of compresses everything down. If you simply stretch it with your hands (like hand tossed crust), it remains more pliable and will become more fluffy when baked.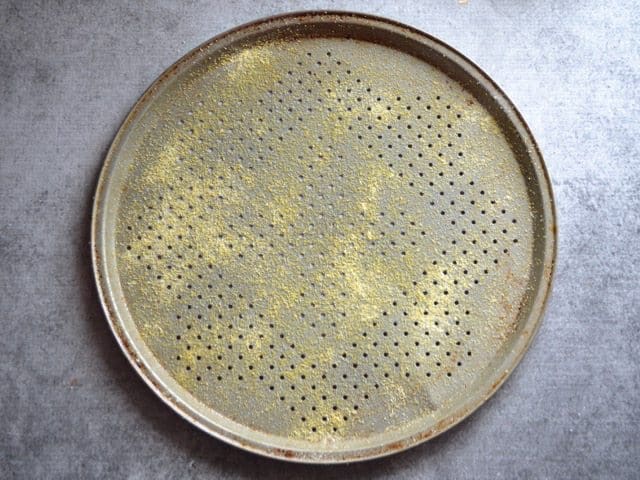 Prepare whatever pizza pan you prefer to use. I highly suggest using a perforated pan if you don't have a pizza stone because it allows air to get up under the crust to make it crispy. I like to use a thin layer of non-stick spray and then a generous sprinkle of cornmeal, but that's just my preference.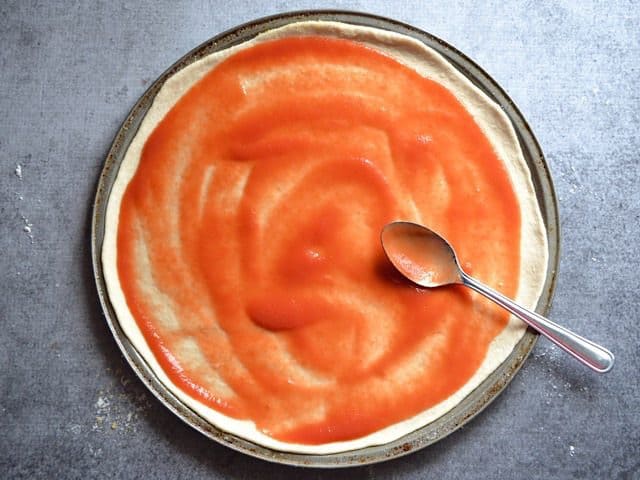 Carefully transfer the dough to the pizza pan. Folding it in half before picking it up will help it maintain its shape without further stretching. Then once it's on the pan, you simply unfold the dough. Spread a thin layer of your favorite sauce over the crust.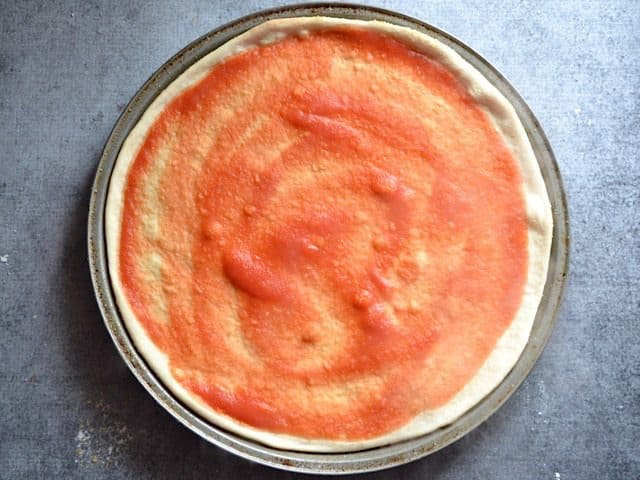 Bake the crust in the fully preheated oven for five minutes. This helps dry it out and prepares it for it's final crispy form. If you top it with everything first, it probably won't get enough heat and air exposure to fully crisp, so partially bake the crust and sauce first.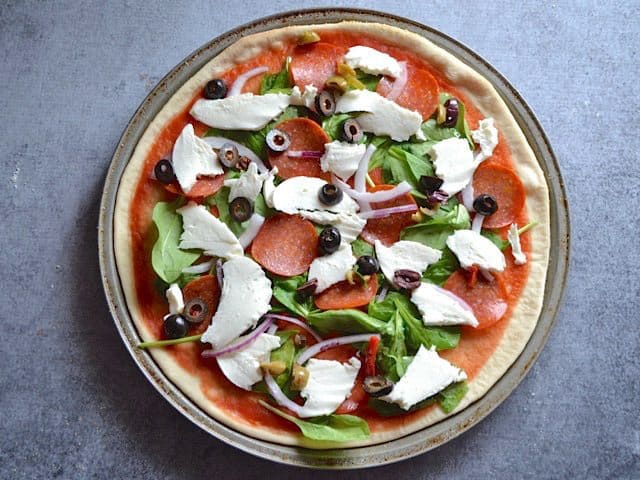 After baking for five minutes, add the rest of your toppings. Remember not to use anything too wet or heavy (like fresh tomatoes) because you don't want lakes to form on the pizza.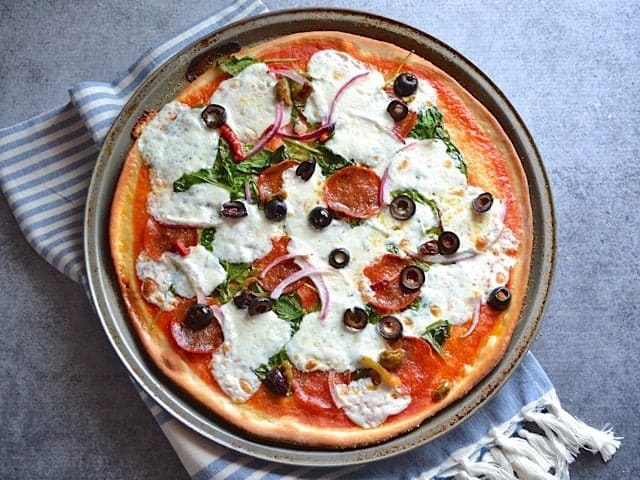 Pop the pizza back into the oven for 7-10 minutes more, or until the crust is nicely browned and the cheese is bubbly. When cooking at such a high temperature, the time will vary quite a bit from oven to oven, so just keep an eye on it and use those visual cues to tell you when it's done.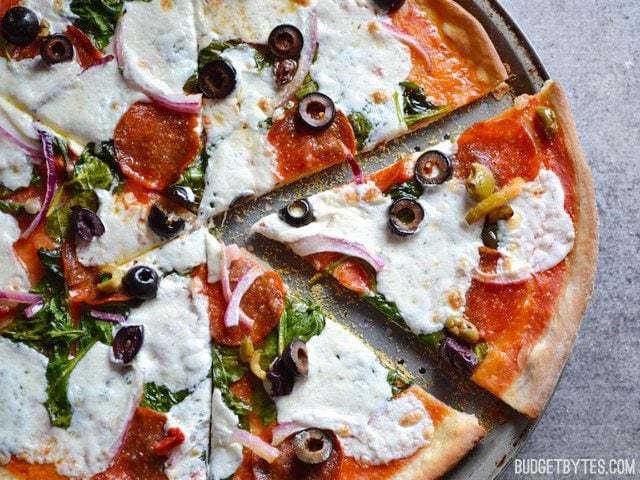 The edges have a nice crispy texture and the interior has a nice crunch on the bottom. Thin and crispy pizza crust heaven!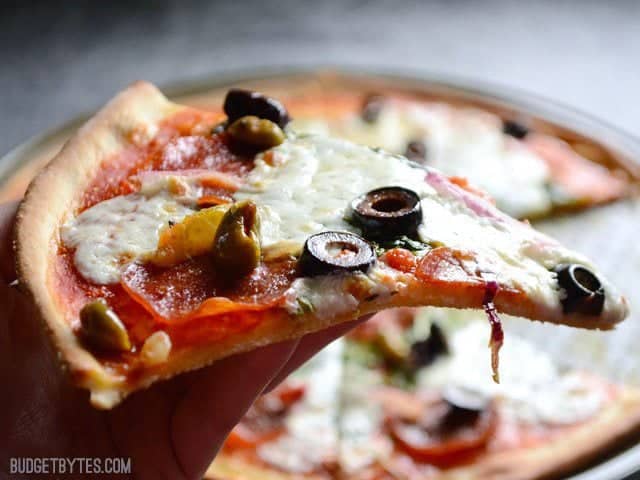 Super thin, but strong enough to hold up to toppings!